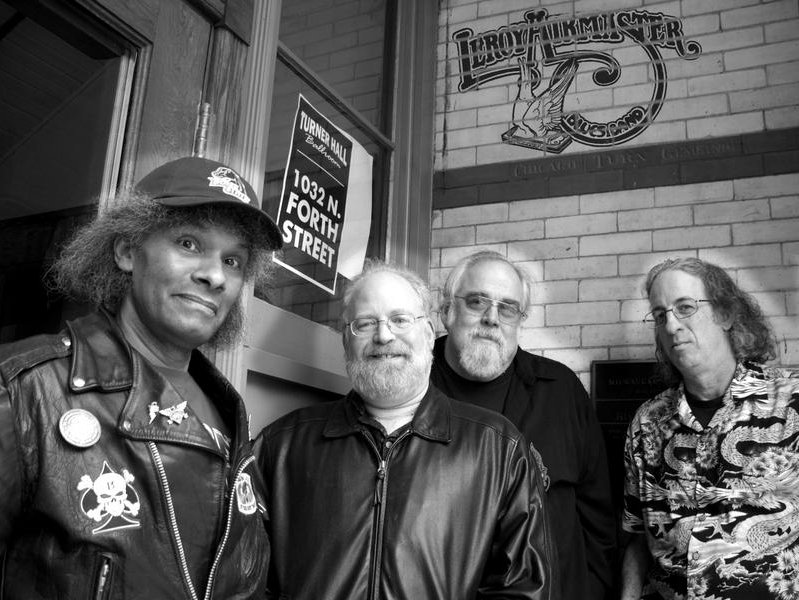 Yesterday, news emerged that veteran Milwaukee rock and roll and blues drummer Vodie Rhinehart passed away unexpectedly on Sunday.
Like many, I first knew Vodie as the drummer of Milwaukee punk pioneers, The Haskels. But as time passed, Rhinehart played with a number of groups. Most recently, he was the man kicking it up a notch behind the kit with the Midwest Blues All Stars and Milwaukee's most veteran blues band, Leroy Airmaster. 
Along the way, he performed with a number of local bands.
"This was such a shock," said Greg Koch, the famed Milwaukee guitarist. "I just can't believe it."
"He was such a sweet guy," said blues musician Jim Liban. "I am just sick about this. It is a terrible loss, not just to the blues community but for everybody. He was as good as they get."
Rhinehart played for over three decades with Steve Cohen and the Leroy Airmaster band.
"Vodie was a power drummer," Cohen said.  "I don't mean in the rock sense. His play propelled whatever ensemble he was playing with. He could play everything, jazz fusion, straight ahead jazz, blues, rock and roll.  He could kept great time and always moved the band forward. 
"Vodie and Bill (Airmaster guitarist) Stone were both at the conservatory" Cohen said. "There was this club owner who wanted us to form another band so we got Vodie. And we never separated. Vodie never left the band. He never missed a gig. He was dependable. When he said he'd be at a gig he was there. "
Cohen said that Airmaster would continue to play.
"Vodie is not replaceable," he said. "This is kind of like the end of an era. When you are together that long, it's kind of like a marriage. You grow together. And now that's over.
"But we are musicians and this is what we do. We can't replace Vodie, but Mark Wilson, who I played with in high school, has come back from Texas and he's stepped forward and we'll play with him. We have a busy summer. But I'll always miss Vodie."
Koch couldn't contain his admiration for Rhinehart.
"I met Vodie when I was 18 years old," he said. "I'd pick him up and we'd go to my prerent's basement and play.  He was a total standup guy. He could play anything. He was a real part of the whole music scene in Milwaukee."
"Vodie was a world class drummer. What I mean is that his skill set would have let him tour with any national act. He was that good. There were times when I was playing rhythmn and I'd try something and he was right there. I'd look back and he would smile at me. We had those magic moments of synchronicity.
"He was omnipresent in music in Milwaukee. I'll really miss him."
Services for Rhinehart are pending.
Facebook comments
Disclaimer: Please note that Facebook comments are posted through Facebook and cannot be approved, edited or declined by OnMilwaukee.com. The opinions expressed in Facebook comments do not necessarily reflect those of OnMilwaukee.com or its staff.
Recent Articles & Blogs by Dave Begel