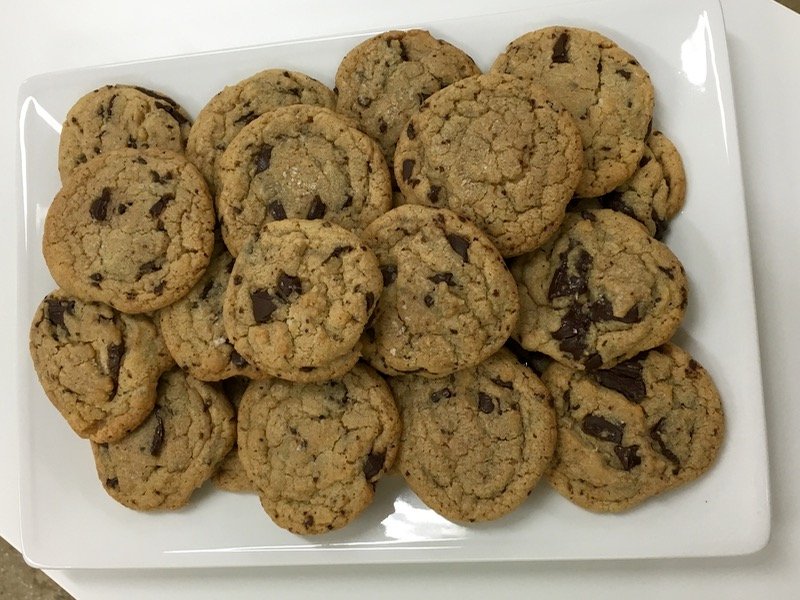 You have tasted Treat Bake Shop's spiced and candied pecans, right?
If not, your first mission is to head over to the nearest retail establishment that carries them and pick up a jar. Don't hesitate at the price. And don't dilly-dally looking at other delicious items. Just get that jar to the cash register as soon as humanly possible and pay for it. Then, on the way to the car (and no sooner, that's just rude), pop that lid open and raise it to your nostrils so that you can slowly and deliberately take in the spicy, nutty aroma.
Now put your fingers into the jar and lift out one (or three) of those delectable pecans to your mouth. *Le sigh* Just thinking about it literally gives me the chills.
But, let's presume that you've already gotten to know 'Äď and love 'Äď the pecans ...
Now the big news
Every Friday (starting tomorrow, Feb. 12) Treat will be trading in their nut-making prowess, putting on their cookie-baking aprons, firing up their ovens, and baking up some of the best cookies you've ever tasted.  Then, they'll be selling them for $2 each.
This new tradition is aptly called #CookieFriday. And you probably shouldn't miss it.
After all, the cookies for Feb. 12 are going to be of the chocolate chip persuasion ... made with European butter, dark chocolate chunks and a sprinkling of sea salt.
Yeah, that's a picture of them up there at the top of the blog. YUM.
Where to find those cookies
Treat Bake Shop recently moved into snazzy new digs. They've got a brand new kitchen in Suite #212 in the Marshall Building, 207 E. Buffalo St. where they bake up batches of their delicious pecans, spiced almonds and candied walnuts. Trust me, you can pretty much smell your way up to their facility on a production day.
Doors open at 10 a.m. And cookies are available for $2 each, until they are sold out.
For updates (including announcements of the #CookieFriday flavor), follow @TreatMKE on Twitter.
Facebook comments
Disclaimer: Please note that Facebook comments are posted through Facebook and cannot be approved, edited or declined by OnMilwaukee.com. The opinions expressed in Facebook comments do not necessarily reflect those of OnMilwaukee.com or its staff.
Recent Articles & Blogs by Lori Fredrich