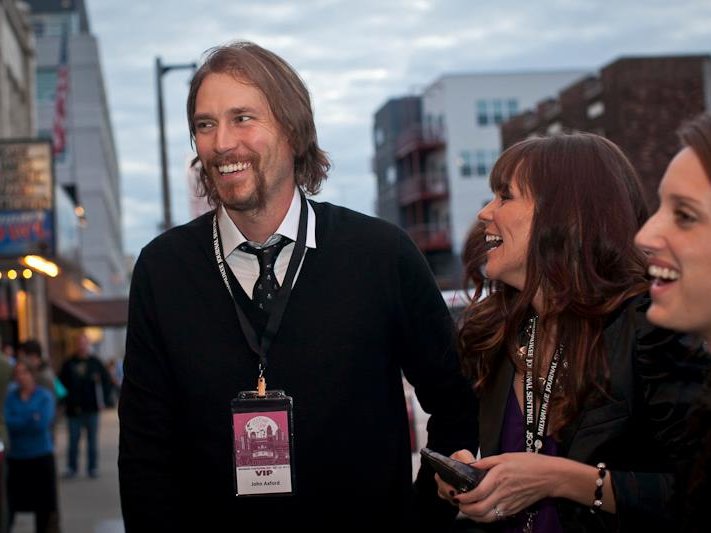 Axford presents: A Brewers guide to the Milwaukee Film Festival
In his three-plus seasons with the Milwaukee Brewers, few players have been more accessible than closer John Axford.
He allows fans to interact with him directly and he's always been open with the media to let the public know what's going on with him – good and bad.
Through this, he's allowed peeks into his life off the field. We know he'll jump into a music video to help out a band, or that he cut his teeth tending bar and pushing cell phones. We also know he has a particular affinity for celluloid, and he loves Milwaukee's movie scene – which culminated in his participation in the Milwaukee Film Festival last year.
This year, he wanted to have a little more involvement and worked with the festival to create a "John Axford Presents" feature.
"I had a choice of films," Axford said. "I gave (Milwaukee Film Festival artistic and executive director) Jonathan Jackson my choice of my top few favorites that I have and something I'd like to show at a screening."
The list included some foreign films, some personal favorites, even "2001: A Space Odyssey."
But there was a hitch.
"It turned out they have to get the film prints and the stock of it so when they try and get certain ones, they weren't allowed for public viewing or certain ones the stock was out at that particular time," Axford said. "So we ended up trying to figure something else out."
Since Axford already agreed to be a sponsor of the Milwaukee Children's Film Festival, Jackson approached with "something else" – presenting "The Princess Bride."
"It's not something I thought of as choosing," Axford said with a chuckle. "He was like, 'it's the 25th anniversary and we were going to play it anyway and do you like it for the Children's Festival?' I definitely like the movie a lot. It's a fantastic movie. You can't help but quote it all the time. Actually you hear Kam(eron Loe) pretty much every other day quoting it."
Axford jumped on board with it and will present the movie with an introduction on Saturday at 2:30 p.m.
"I think it'll be a fairly easygoing evening," he said. "Hopefully some kids can come out and watch the movie, too."
Axford's festival starts tonight though, as he is a judge for the Cream City Cinema Competition. He'll be teaming up with Deb McClutchy (Oscilloscope Pictures), Michael Raisler (Creative Director, Cinereach; Executive producer, Beasts of the Southern Wild) and Laurel Ward (VP of Development, Ocean Pictures) to determine a winner of three films.
Due to his schedule with the Brewers, he wasn't able to see any advance screenings, though he did get a rough cut of "The Jeffrey Dahmer Files."
"I'm excited to see the other two also," he said. "I think I got a little early cut of 'The Dahmer Files.' It'll be nice to see that finalized and finished up and in a theater, too, rather than on my laptop and on a plane."
Fans will also be able to catch up with Axford at SPiN Milwaukee on Saturday at 7 p.m., where he'll be testing his ping pong skills.
Here is the Milwaukee Film Festival's sponsor trailer, which plays before every viewing. Axford makes his appearance at the 1:42 mark.


Milwaukee Film Festival 2012 Sponsor Trailer from Milwaukee Film on Vimeo.
Facebook Comments
Disclaimer: Please note that Facebook comments are posted through Facebook and cannot be approved, edited or declined by OnMilwaukee.com. The opinions expressed in Facebook comments do not necessarily reflect those of OnMilwaukee.com or its staff.