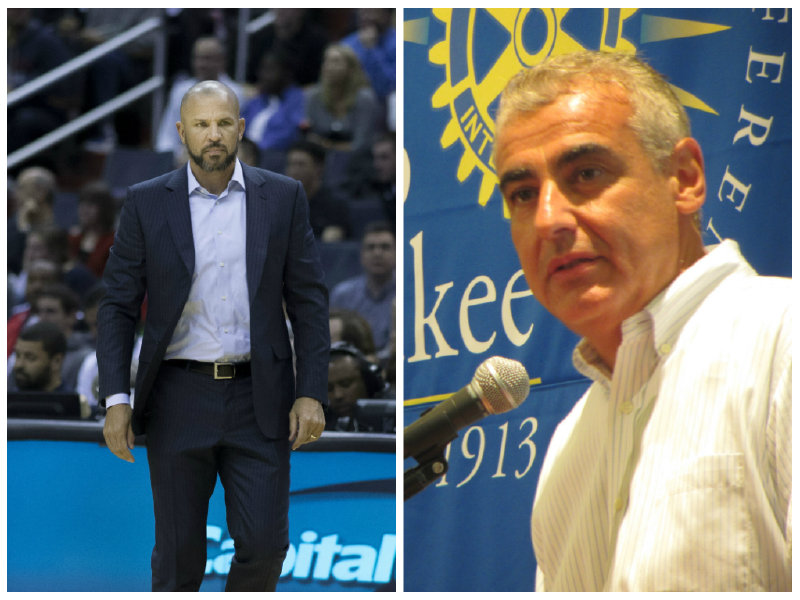 New Bucks owners getting a healthy welcome to life in the NBA
Hey Mr. Edens and Mr. Lasry.
Remember those heady days when you bought the Milwaukee Bucks for over half a billion dollars and then donated at least another $100 million for the new arena?
Remember when that cute Mallory dazzled the NBA ping pong ball fest? Remember going to a bar where everyone cheered like crazy? Remember the excitement of draft night when you got a player who is most likely going to be a huge star?
Well, welcome to the big leagues, where what you did for me yesterday doesn't mean a hill of beans when compared to what you are going to do tomorrow.
The current kerfuffle is over Jason Kidd coming to the Bucks to be the new coach. And who knows, he might eventually be the president of the team or the guy in charge of all the basketball operations.
It hardly matters what Kidd would do in Milwaukee. Passions are all inflamed about these negotiations.
The two Bucks owners can hardly contain their excitement over being NBA guys. And they make promises left and right, most of them about the eventual success of this franchise. Lasry and Edens are hedge fund managers and they are used to doing their homework and then pulling the trigger on a deal. Dilly-dally is not a word in their vocabulary.
No sooner had they talked about the process of hiring a president for the team than they got permission from the Nets to talk to Kidd. And they talked to him on Friday.
That's all it took for the chattering class to kick into high gear, and reports say the team is sending two second round picks to Brooklyn for him.
Who's steering this ship anyhow?
The ship is clearly being steered by these two neophyte NBA owners. I'm not about to tell two guys who have this kind of money and this kind of success how the world works. They are like a pair of young purebred colts who just got let out into the pasture of tasty green grass. And who can blame them?
But just as the colts have to learn that not all grass tastes great and that rocks in the road can hurt your hooves, NBA ownership is a minefield filled with little explosions, rarely fatal but sometimes making it hard to get to the end of the road.
I know there's this school of thought that these two guys ponied up the cash to buy the team and so they can just go ahead and do whatever they want and who the hell are we to criticize them or question them?
I don't know if Kidd will be good for the Bucks or not. In fact, I don't think anybody really knows, including Edens, Lasry and Kidd himself. Nobody knows until you really try.
But I do know that debate about what these two new kids on the block do is a good thing. It shows something that may have been slightly in doubt the last few years. People care. The fans are energized. They are thinking about the Bucks and about the moves they make or don't make.
On balance, that's a lot more important than Kidd or no Kidd.
Facebook Comments
Disclaimer: Please note that Facebook comments are posted through Facebook and cannot be approved, edited or declined by OnMilwaukee.com. The opinions expressed in Facebook comments do not necessarily reflect those of OnMilwaukee.com or its staff.