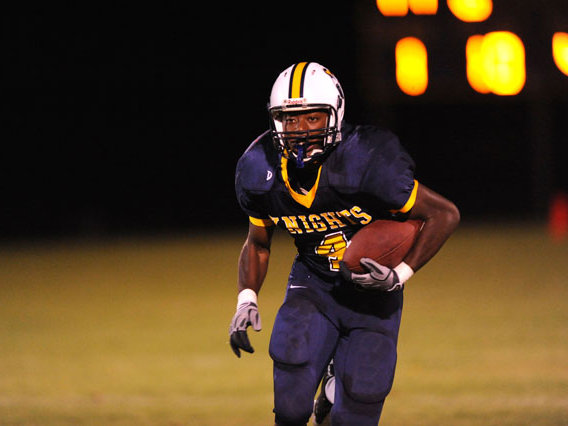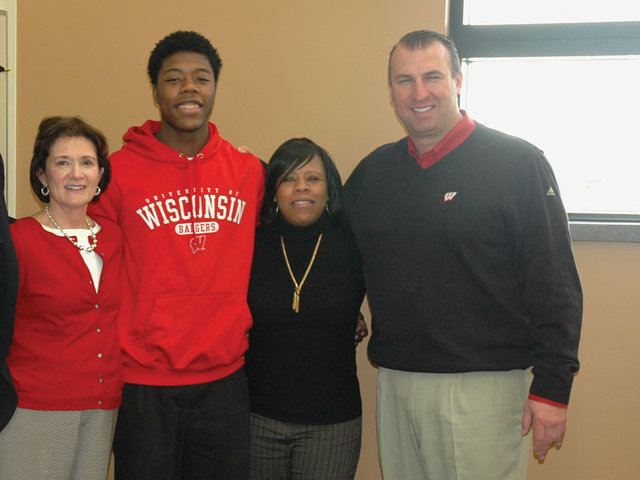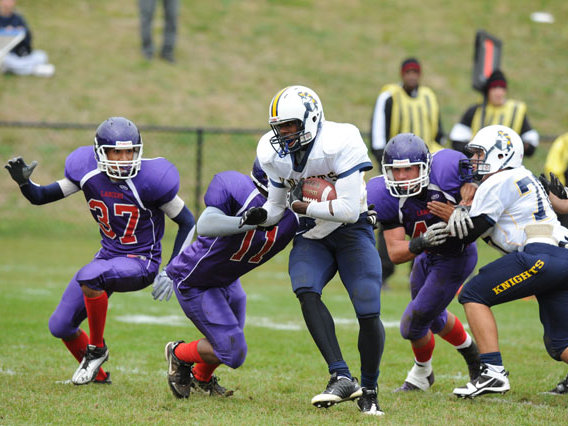 Milwaukee Talks: Wisconsin Badgers receiver Fred Willis, Jr.
In just over two weeks, the University of Wisconsin Badgers will host their spring game at Camp Randall in Madison, giving fans their first look at a team that will be expected to not only contend for a Big Ten Conference championship, but a BCS National Championship berth.
Milwaukee sophomore Fred Willis, Jr. is hoping to play a bigger role on offense this season. As a freshman, the 6-foot, 2-inch, 198-pound Brookfield Academy alumnus played in five games but missed the last half of the season with a concussion.
The engineering major took a few minutes after practice on Thursday to speak to OnMilwaukee.com in this installment of Milwaukee Talks.
OnMilwaukee.com: Where are you at this year with your development and your outlook going into this season?
Fred Willis, Jr.: Our new assistant (wide receivers) coach Zach Azzanni is very strategic on the fundamentals of being a wide receiver, so as far as fundamentally I'm improving much better than last year. As far as playing time, I don't really worry about that. I just try to work, play hard and impress the coaches. After that, everything will just fall into place if I work hard.
OMC: Last year, before your debut, head coach Bret Bielema called you very "detail oriented." What did he mean by that?
FW: As far as being detailed, it's about taking notes in the film room. If you write over, you write it over, it becomes habit and individually you'll pick up something new about a concept or a route that you didn't know before. You're constantly thinking, you constantly improve and constantly getting better as far as the film room.
As far as on the field, you want to do exactly what the position coaches – coach Azzanni in my case – what they tell us to do. Even though we might not know why, they know more than us as far as having experience and having been coaching, so you just try to do what they tell you. After that you want to know why, you want know the concepts. So you take it step by step, learn slowly, and eventually you become better.
OMC: Talk about running back Montee Ball's decision to come back and the effect it had on the team?
FW: With Wisconsin's traditional style of running the ball – not to say our other backs aren't capable – but having someone with game time experience, the clutch experience, will give him another chance to get a little bit of limelight and also give some of the other backup backs time and someone to look up to as far as experience so they can get the knowledge that Montee has to pass it on and keep the train moving.
OMC: Do you have conference title and national title expectations?
FW: As far as that, we just take it day by day. We work hard, we do what we have to do to improve daily. If you improve daily, special things happen as far as winning games. Even then we take it game by game, take it day by day, do what Wisconsin does: run the ball, be confident and line it up and do our job. We don't look forward to Big Ten championships or national championships – we just come to work every day ready to play hard.
OMC: Clear this up – how fast are you? We know you run multiple state titles in track, but your high school football coach said he hand-times your 40 at 4.4. Then a report when you signed with Wisconsin said you ran a 4.6. Then Bielema said you ran a 4.3. What is it?
FW: (laughs) Well, we haven't done a lot of 40s lately. I've lost 10 pounds so I may be a little bit faster, but I would say sub-4.4, high 4.3. I'm not really sure.
OMC: Do you miss track at all? Did you think about doing both for the Badgers?
FW: Oh yeah, definitely. I definitely thought about running both and coach Bielema was OK with it, but football pays the bills so you gotta do that first. And I'm trying to do an engineering major, so that takes a lot of time (laughs). Football on top of that is a full-time job, 32 hours a week. I don't have the time or the energy to try both. But, yeah, I talked to the track coaches and they were excited about it and they told me to let them know, but ultimately I couldn't do it.
OMC: You had gone down to New Orleans to help in the cleanup after Hurricane Katrina in 2005. You were only a kid – why did you go and what do you remember?
FW: Man. It was sad, honestly, seeing all those people without a home. We even saw a few stray animals tied up and just left behind. It was kind of a touching moment. Just giving back to people who don't have anything. We cleaned up some houses and we did some painting and we handed out some things, just trying to give back to the community. At the time I was in the Marquette Upward Bound program since freshman year, so we did things like that every year, maybe 25 hours every year, just giving back to the community.
OMC: What did the Upward Bound program mean for you?
FW: Honestly, growing up in Milwaukee, Upward Bound was for staying out of trouble (laughs). I learned how to stay sharp with the academics, taking a few courses. Some kids in Milwaukee aren't fortunate enough to see the rest of the world or whatever, so we would take college tours around the country.
We went to Florida, Tennessee, a whole bunch of big schools, smaller private schools. We just did a lot of things to keep us sharp, keep us focused, keep our dreams alive and not get caught up in all the mess in Milwaukee and just try and stay positive.
OMC: When you come home, are there any places you want to get out to?
FW: I just hang out with friends. I'm still pretty in touch with my middle school, Young Leaders Academy. They taught me a lot. I went there for eight years so I'm really close to a lot of the teachers. They call me their "son" and stuff like that. We're still pretty close, so I try to see them when I get back. But sometimes I just want to relax and just get away from everything, stay out of the limelight, stay focused.
But for the most part I try to hang out with friends, family. I see a few teachers that talk to me, keep me inspired, things like that. It's really chill. I don't really go out, just try to stay mellow, hang out with some people. But if I go out, it's definitely The Fresh Market (laughs).
OMC: Some quick thoughts when you hear a few words here. Camp Randall – first thoughts.
FW: Big state. Big day. Thousands of fans jumping around. Clutch situations. The excitement, electricity here is just awesome. It's a tough place to play in, but awesome.
OMC: Bret Bielema.
FW: Very, very humble guy actually. Some people say they don't like him but I like him, personally. He keeps me focused. He picks on me a little bit, but it's only to make me better. I like that part about him. No matter what it is, he tells the truth. He'll break it down for you if you don't understand something. You can go to him or other coaches and he'll be positive about everything even if you messed up as long as you messed up going 100 percent. Coach Bielema does a great job with the coaches and trying to get everything in order. Great guy.
OMC: Favorite Big Ten road venue?
FW: I would have loved to have been at the game at (Michigan State University) but I was hurt that game. That would've been awesome. I didn't do too much the second part of the season because I had a concussion, so most of my game experience was at home.
OMC: Your hometown – Milwaukee?
FW: I'm proud of where I've come from, it's made me who I am, but at the same time there's a lot of things wrong in Milwaukee that can't really change. You can only change your odds, change your circumstances and that's what I'm trying to do playing football, going to college and staying positive. A lot of people from Milwaukee don't go to college – I don't know if you guys know that or not. I'm not too proud of Milwaukee itself, but I'm proud that I came from there and I'm the person who I am today.
Talkbacks
TosaJim | April 13, 2012 at 1:26 p.m. (report)
I wish him all the best...but after suffering a concussion that keeps you out for half a season sounds very serious. I'm not sure the risk is worth the rewards.
Facebook Comments
Disclaimer: Please note that Facebook comments are posted through Facebook and cannot be approved, edited or declined by OnMilwaukee.com. The opinions expressed in Facebook comments do not necessarily reflect those of OnMilwaukee.com or its staff.