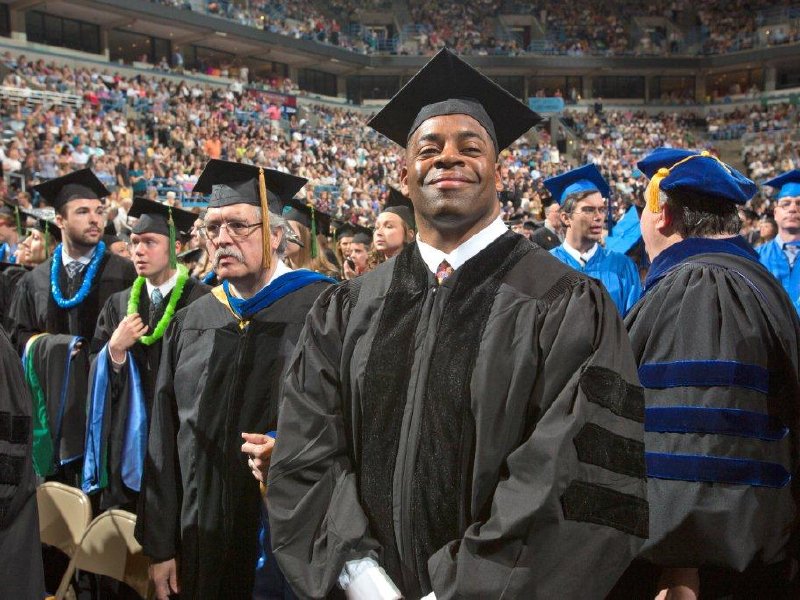 Milwaukee Talks: Former Packers linebacker George Koonce
George Koonce was a nine-year veteran of the National Football League, and eight of those years were spent in Green Bay as part of two Super Bowl teams with the Packers. When he left the game following the 2000 season at the young age of 32, he admitted he had suicidal thoughts and wondered what was next for him.
He wound up staying in football and headed back to his alma mater at East Carolina to work as the special assistant to the athletic director at from 2003 to 2006. After that, he returned to Green Bay as the director of player development from 2006 to '07.
Koonce also went back to the classroom, and earned a master's degree at East Carolina before joining the Marquette University athletic department in 2007. He served as the athletic director at the University of Wisconsin-Milwaukee from 2009 to '10 and is back at Marquette helping raise money for the Urban Scholars Program.
OnMilwaukee.com: You have a lot going on over at Marquette, but you're also getting back into the NFL in some capacity now, correct?
George Koonce: I've been asked to sit on the board with NFL Engagement Board, basically every ball club has a director of player development and their role is to help the players transition into the NFL and help the veterans to transition out. We all know that the average player plays about three and a half years and they say the NFL is an acronym for "Not For Long," so that person is to help that individual transition into everyday life. I've been very fortunate to be asked to sit on the board to help enhance the programs that they already have and think of other ways to help players with the whole transition out of the National Football League.
It's a very timely discussion we're having about the after-life. Hopefully in 15, 20 years we're not having the same conversation and we stepped up to help to make the sport of football better for the kids that are in Pop Warner and flag football currently. One day they're going to be in the National Football League and we've got to make things better for them.
OMC: There is a greater spotlight put on that transition out of the game. How important is this to you?
GK: It's what I did my (doctoral) dissertation on over at Marquette was the whole transition retired football players go through. I started the program about five years ago, the doctoral program, and at that time I knew I wanted to research and to write about it and talk to guys who were going through the whole transition, former players that some of them had some great transitions, some of them not so great.
I'm in constant contact with players like LeRoy Butler and Gilbert Brown, Santana Dotson and Sean Jones and every time you get a chance to talk the conversation kind of circles back to what is some of our teammates doing? And unfortunately a lot of my peers have struggled with the transition. I did as well leaving the National Football League. That was the premise behind my whole dissertation and the research. Then, you fast forward and we see things like Junior Seau on May 2 took his own life. Dave Duerson a couple years ago. He was an all-star and an unbelievable player for Notre Dame and he was an outstanding businessman as well and he took his own life as well.
Unfortunately it's been in the media and in the news as of late. (NFL Commissioner) Roger Goodell and (NFL Senior Vice President) Troy Vincent want to try to do everything they can to make sure those players that are currently out of the National Football League, and the ones that are in the National Football League, we'll do everything we can to make sure that transition is a smooth one.
OMC: You went to the NFL combine to talk to some clients of agents you know – what was the message?
GK: The NFL is great, you play the game with all the passion and joy that a lot of them have been playing with since they were little kids but they have to understand that it is a business, and the NFL is short-lived. It's only three and a half years on average. You may not want to think about it, but you have to start thinking about the after-life.
OMC: How much has this discussion changed since you entered the league back in 1992?
GK: A lot of it has changed, a lot of that is the television contracts. There is a lot more money in today's game than there was in the 90s and the 80s and the 60s. Back in the 60s and 70s, a lot of the guys I interviewed for my study, talked about having a second job. Some of them were part time teachers, selling insurance, working for dealerships. Now, a lot of guys, they get a trainer and a chef in the offseason.
Whereas back then they had to make ends meet. They had to get a second job so when the NFL didn't work for them, they were able to transition into another job. Now, the guys are really consumed and engulfed in the role of just being a professional athlete. When you were in college, it was more balanced. You had the whole social aspect, you had your friends, then you had the academic piece you had to stay on top of to make sure you were eligible to play football and then you had the whole football piece.
Then, when you get to the National Football league it's just one thing – being a football player. That's one thing we have to get away from. We have to make sure those guys are balanced, doing internships. Even though you may not think that you need to have a part time job in the offseason, you need to get accustomed to doing something else other than football.
If you do have a long career and play 10 years, you'll still be about 32, 33 years old when you're done. And your retirement doesn't really kick in with the National Football League until you turn 55 years old.
Page 1 of 2 (view all on one page)
Next >>
Facebook Comments
Disclaimer: Please note that Facebook comments are posted through Facebook and cannot be approved, edited or declined by OnMilwaukee.com. The opinions expressed in Facebook comments do not necessarily reflect those of OnMilwaukee.com or its staff.