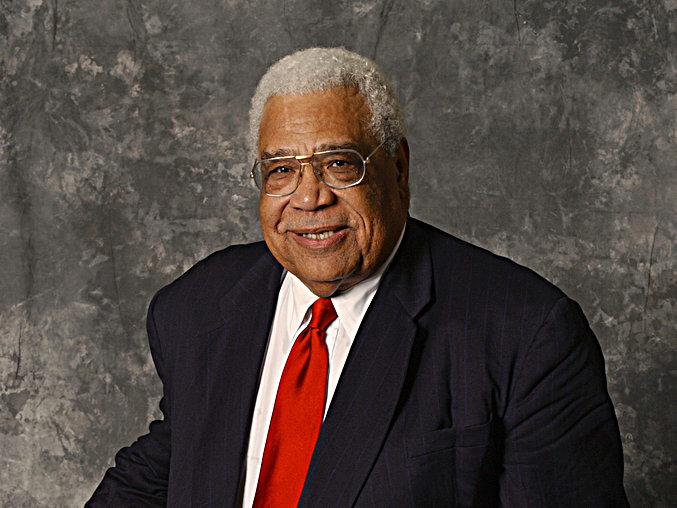 Milwaukee Talks: Former Bucks GM Wayne Embry
Four decades ago, the Milwaukee Bucks and Wayne Embry made history when the organization offered – and he accepted – the position of general manager.
Just three years prior, in 1969, Embry finished his playing career for the expansion Bucks, a career which included five all-star appearances and one NBA title with the Boston Celtics.
Suddenly, he was the first African-American GM not only in the NBA, but in all professional sports.
In recognition of that achievement, Embry was back in Milwaukee recently to be honored by his former teammate and fellow Hall of Famer Oscar Robertson with the Legends Award, which was presented during the Fellowship Open at Silver Spring Country Club in Menomonee Falls last week.
OnMilwaukee.com caught up with Embry, currently a senior basketball advisor with the Toronto Raptors, to talk about his pioneering role in the game, acquiring Robertson and trading away Kareem Abdul-Jabbar and how Michael Jordan prevented him from winning more championships in the 1990s.
OnMilwaukee.com: You're a Hall of Famer, you've been recognized for other off-court accomplishments – what is like to continue to be recognized for what you've accomplished like the Legends Award?
Wayne Embry: You're always appreciative that people recognize. As you get older you don't think much about what the consequences might be or what honors might come forth when you're doing it back during the day. But as you get older and you reflect back, it's just nice to know that there are those who appreciated what you've done. All the while we were in Milwaukee we came here as a player – I say "we" because my wife is very much a part of it – played a year, retired, went back to Boston and had a city job and not knowing what the future was. I did some color on the Celtics broadcast but I didn't know if broadcasting was going to be the future or what. I didn't have a clue what the future might be. Then (owner) Wes Pavalon came here later and asked me to come back to the front office. That was the defining moment in my life.
All the while I played offseason things with kids around here, clinics around the city in Cincinnati and Boston. I was there as the director of recreation – I started the Boston neighborhood basketball league which is still going strong – and when I came here I thought it was important to be involved in the community. The community embraced us and I wanted to return that and embrace them and make any contribution I could to the community and I've always encouraged our players to do the same, to be a part of the community where they played. It would be kind of mutual.
OMC: Do you feel like a pioneer?
WE: I feel that way only because people tell me I was! You just accept things as they come and you try to do the best you can and as you get older you reflect back and say "Wow, guess I was." I have that kind of attitude.
OMC: Former teammate and Bucks guard Oscar Robertson presented you with this award – does that add to the experience?
WE: I'm very appreciative that he accepted the role of presenting me. Oscar and I were roommates when we played together in Cincinnati and our families are very close and he meant so much to me as a player. He advanced my career as a player because of his greatness. Greatness defined is making other players better on your team and he certainly did that and did that with me. He encouraged me to the best I could be because he set a standard. If you responded to what his demands were and the challenges he presented to all of us on the team, we could probably be a better team. We were pretty good but we just couldn't beat the Boston Celtics.
Then in later years, when I was in the process of making the decision – after I was asked back here in the front office – Wes Pavalan said to me when he came to Boston to talk to me, "Oh by the way we're negotiating a trade for Oscar Robertson, would you mind giving him a call and give him a little bit of encouragement since you're coming back? What do you think of that?" I said if you get Oscar Robertson it'll be an instant championship. So I was kind of a prophet as well!
He said, "do you mind calling him," and I said, sure, "I'll call him." I called Oscar and told him the great experience we had here in Milwaukee and that I think he deserves to win a championship and you hadn't won anything until you won a championship and I said, by the way, I'm coming back to the front office and it'd be great. So we moved back here together.
OMC: How special were those years, from 1970 to 1975, which included a championship and another finals appearance?
WE: It was just great. A small market team advancing as we did. Of course we had great players. I often tell people when I launched my career as general manager how could you fail when you start with Oscar Robertson and Kareem Abdul-Jabbar and Bobby Dandridge? That's three great players who were already in place. The way the city responded was just amazing. They responded to us in our expansion year here (in 1968-69), I was just overwhelmed by the fan support even though basketball was coming into Packers land. We didn't know how it was going to be accepted or received, I should say. We were received with great enthusiasm and it was kind of an inspiration the way people came down to the old Mecca and supported us. The expansion year I think we exceeded expectations and I'm proud to be a part of that and I'm proud to have been captain of the team. I think that was my main purpose here, to provide veteran leadership to the other guys. Then, of course, bringing Oscar on board to go with Kareem and Dandridge and the rest, that was it. The fans responded well. It was just amazing as I look back on it.
Page 1 of 2 (view all on one page)
Next >>
Facebook Comments
Disclaimer: Please note that Facebook comments are posted through Facebook and cannot be approved, edited or declined by OnMilwaukee.com. The opinions expressed in Facebook comments do not necessarily reflect those of OnMilwaukee.com or its staff.