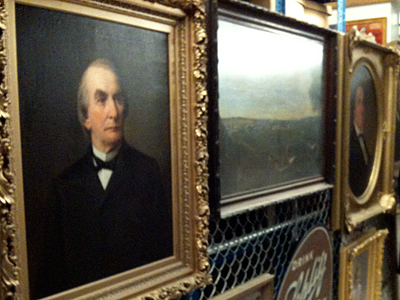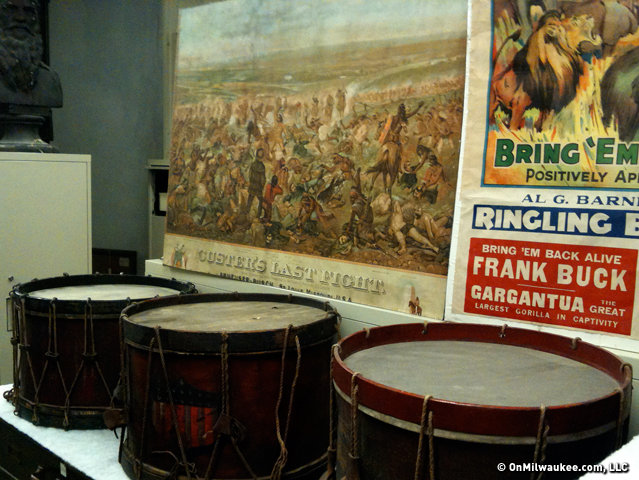 Milwaukee County Historical Society retools to bring our past into the future
If you haven't been in the Milwaukee County Historical Society, 910 N. Old World 3rd St., recently, you'd be surprised things have changed.
Sure, the interior of the building got a complete makeover in part due to Hollywood money that came when the former bank was used in the filming of "Public Enemies" with Johnny Depp a few years ago.
The marble columns are buffed to a shine, the gold detailing on the ceiling twinkles anew and there's a glass wall that opens up the second floor research library.
But, the changes go deeper than that. There are new faces in the office and they've been rethinking the mission, recalculating the future of the Milwaukee County Historical Society.
Curator of Collections Mike Reuter has been actively engaged in this process, helping to get online collections on to the website; heck, even creating a functioning website for the museum.
"It's been kind of an institutional challenge for the staff here to get out of that mode that this building will be solely dedicated to just exhibits and programs," says Reuter.
"Because that's really what it's been since 1965. But the reality is now, especially for a lot of museums not just us, is to generate revenue, to generate that value, to get people to value the society by going to these programs. While I think it's important to have something here, I think it's maybe even more important to get out into the community and engage the public actively."
These days Reuters is working on both fronts: bringing people into the museum and working on ideas to bring the collections through the historical society's doors and out into the community.
One example of the former is to open the museum's storage areas – long off-limits to the public – to visitors as a means of creating a special experience for guests but also as a way to show off the vast holdings that are not currently on display.
"We can really of play to the small museum aspect of being able to offer behind the scenes tours. how many curators can say, 'hey do you want to come in and see the collections in the basement.' I think we can really play to that as a small institution."
Visitors will get to see a seemingly endless trove of Milwaukee history treasures, including paintings of three main founders of Milwaukes – and other works from among the more than 700 paintings the society owns – a collection of Susan Frackleton ceramics, brewery memorabilia, sports artifacts, miniature models of Milwaukee landmark buildings, Civil War drums and uniforms, busts of prominent citizens, a library cabinet of books that circulated among Lake Michigan lighthouses, including the one at Wind Point, WPA Milwaukee Players theater group costumes, Billie the Brownie memorabilia and much more.
"We had about 780 people come for the Doors Open Milwaukee event," says Reuter, "which hopefully could be a preview of what hopefully could be possible in 2012 if we schedule it regularly. Hopefully in 2012 we'll be able to start charging to generate revenue for the collections."
Beyond the current exhibition on the mezzanine highlighting the history of Italian-Americans in Milwaukee, MCHS has nothing on view. While that was initially a result of the restoration work, it remains true even though that process is complete.
"It's still an ongoing conversation," says Reuter candidly. "Because we have our target goal for how many rentals we want to do for 2012 that really limits the static exhibits. The exhibits like (the Italian one) in my opinion are coming to an end due to lack of staff to move them (to accommodate rentals)."
So, while Reuter is working on opening the basement to visitors, organizing a brewery show and creating a permanent Milwaukee history exhibit in the main floor vault (the building used to house a bank), he's also looking beyond the museum's walls for ideas.
One idea is to create a mobile museum.
"Retrofit an RV and fill it with artifacts or an exhibit and take it throughout the county: schools, festivals," he says. "Even more important than us rebuilding our membership is rebuilding our schools program. Those are 1 and 1a for this next year."
He's also considering doing exhibits dispersed at other venues, with an introduction at MCHS and displays at other locations, linked perhaps by a trolley or a walking map.
"The idea is to draw people in here. This could be the portal for Milwaukee history. Grab their interest and have them go to the other sites to see the rest of the exhibit," he says. "We also want to integrate some QR code technology with phones, like interactive walking tours.
"That's the challenge. I think Milwaukee Public Museum offers a really great natural history experience, Milwaukee Art Museum is what it is – a great art experience. We have a great opportunity to position ourselves as the history experience."
Facebook Comments
Disclaimer: Please note that Facebook comments are posted through Facebook and cannot be approved, edited or declined by OnMilwaukee.com. The opinions expressed in Facebook comments do not necessarily reflect those of OnMilwaukee.com or its staff.