There are over 60 new foods in which you can indulge at the 2021 Wisconsin State Fair. But which ones are worth trying?
I spent the bulk of opening day working my way through a list of mostly reader-suggested foods, tasting every single one. I've ranked 12 of them from worst to best (12 being the worst) and included my tasting notes for your reading enjoyment.
12. Cinnamon Roll and Bacon Cheese Curds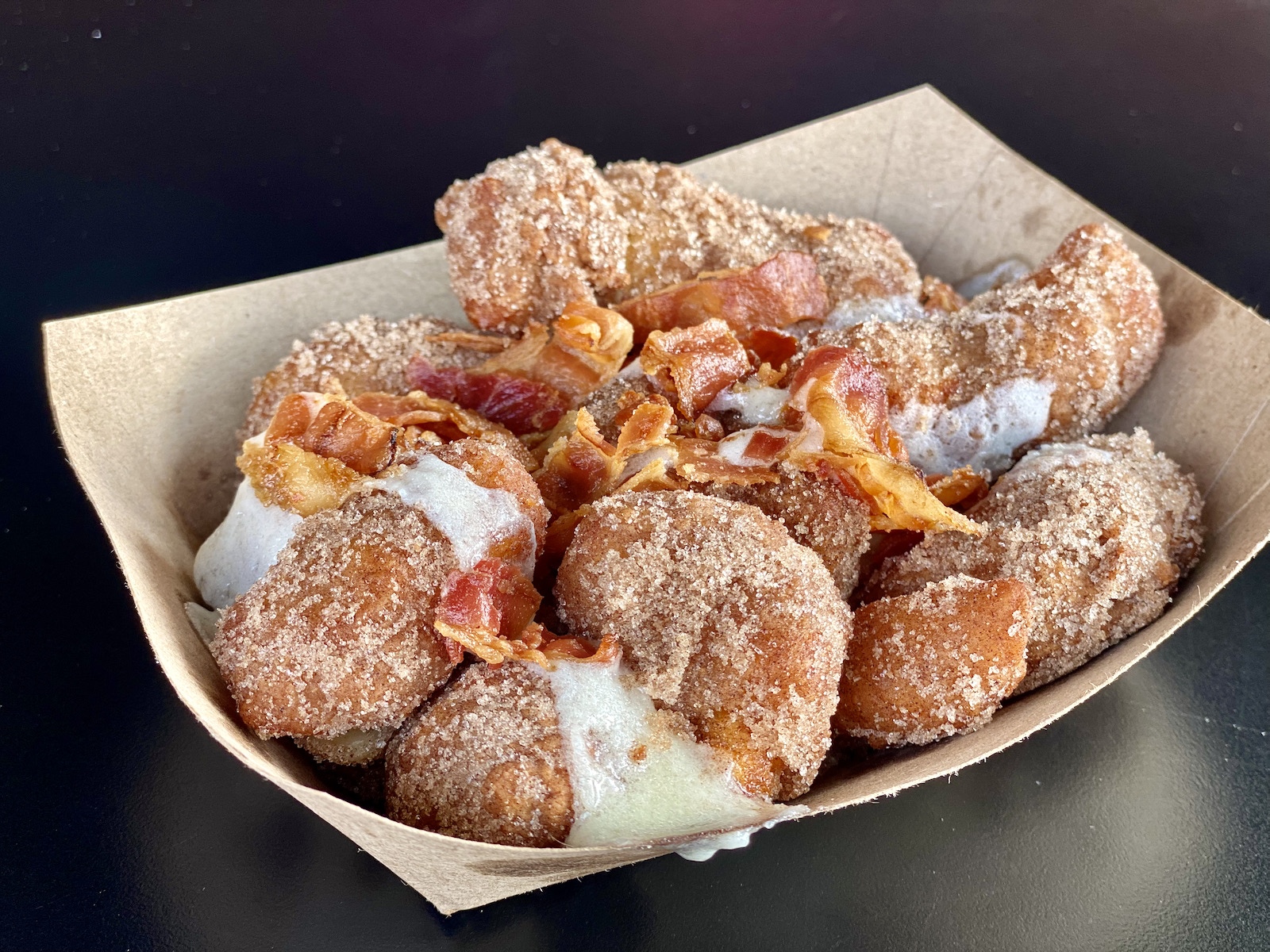 Where to find them: Slim's Lakefront (C11), $10
Description: deep-fried fresh cheese curds dipped in a sweet beer batter mixed with crispy bacon, topped with cinnamon sugar, cream cheese frosting, bacon crumbles.
Deep fried cheese curds are a delicious thing. In fact, I'd rank them at the top of my overall list of State Fair foods. Similarly, cinnamon sugar is delicious. And it's spectacular on a variety of things. Unfortunately, cheese curds are not one of them.
Strange combinations sometimes work in State Fair creations, which are meant to evoke joy in the form of creative eats. So I never discount a dish before trying it.
But, much as I wouldn't eat cheese melted on an otherwise delicious cinnamon roll, putting cinnamon and sugar on hot curds is a wild idea that just didn't come together.
Unlike a slice of cheddar melted over a slice of apple pie, the cinnamon sugar was far too sweet a companion for the fried cheddar cheese curds. It was an effect only underscored by the cream cheese frosting, which was too applied too scantily to adequately contribute much to the dish.
Meanwhile, the bacon seemed aimless, simply piled in the center of the curds where it flopped to the bottom of the paper container with nothing to help it cling to the strangely sweet fried curds. It may have served the dish better (and provided some salty balance) had it been worked into the curd batter or powdered and added to the cinnamon sugar. But it's difficult to say.
These were not quite as objectionable as the "Sweet Tots" I ate in 2018; but I definitely wouldn't seek them out again.
There was, however, something very heart-warming about the experience of trying these. When we walked into Slim's Lakefront, the crowds were gathered about for a round of "drag bingo," something I wasn't necessarily expecting to encounter at the Fair. So, thanks Slim's for creating a welcoming, inclusive atmosphere that embraces everyone.
11. Deep Fried Wisconsin Fish Fry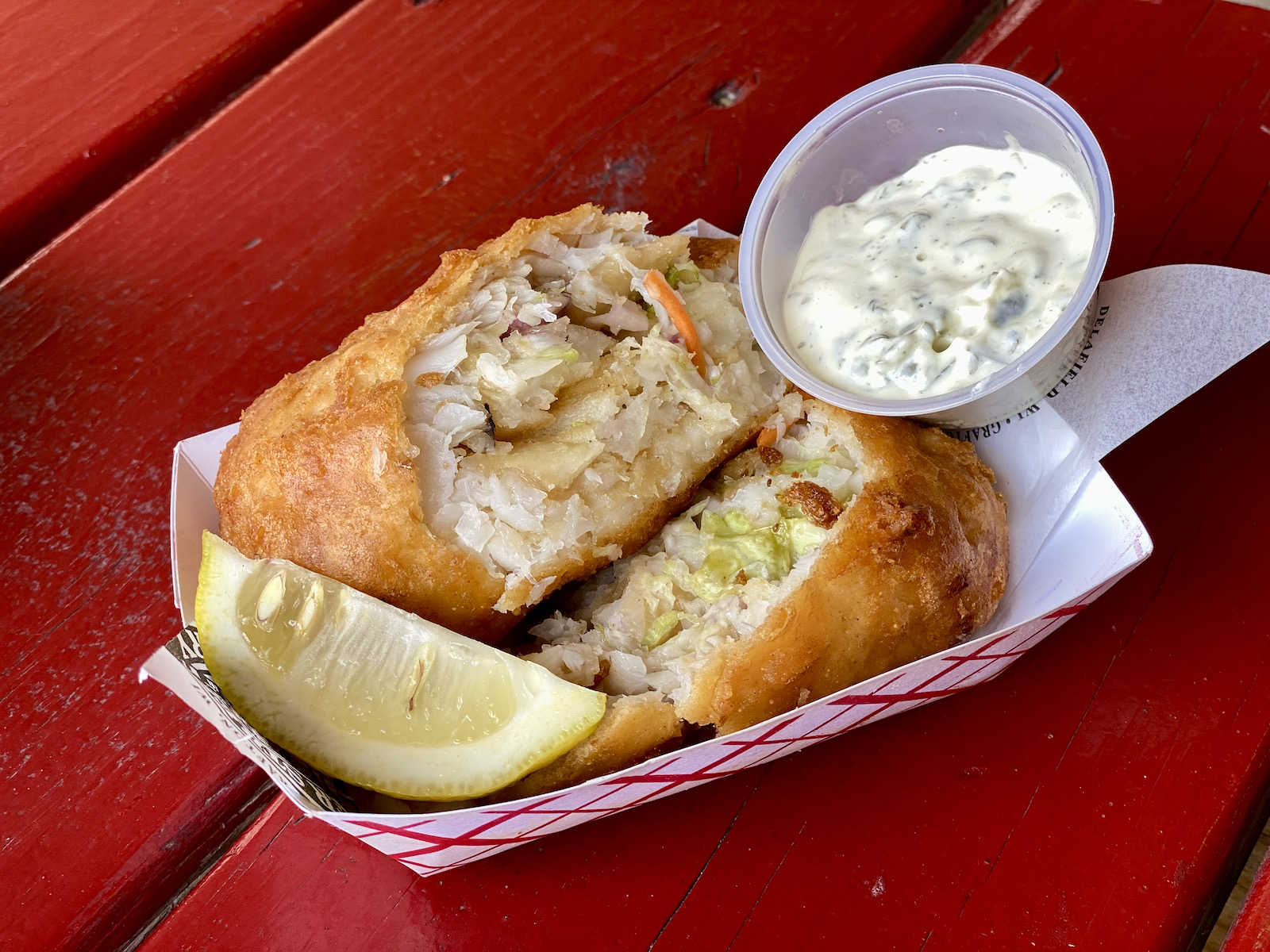 Where to find them: Water St Brewery (D9), $9
Description: Deep-fried elements of a famous Wisconsin fish fry.
Everything you want in a Friday fish fry breaded together in a biteable snack? Sure, why not? The idea wasn't a dead end, but the results didn't quite make the cut.
Inside these crispy rolls was tender white fish, crispy (if hot) slaw and what I'm pretty sure were French fries. The first two components were pretty darned good; and strangely, they created a delicious sort of fish fry egg roll. Add a dip into the classic tartar sauce served on the side, and these clever inventions almost worked. Almost.
The issue? The potatoes. They simply didn't fare as well. In fact, as I dug around inside the roll, trying to determine exactly what wasn't working, I realized that the potatoes didn't seem as thoroughly cooked as the other ingredients, leaving them somewhat texturally displeasing.
10. Cruller Crusted Chicken Sticks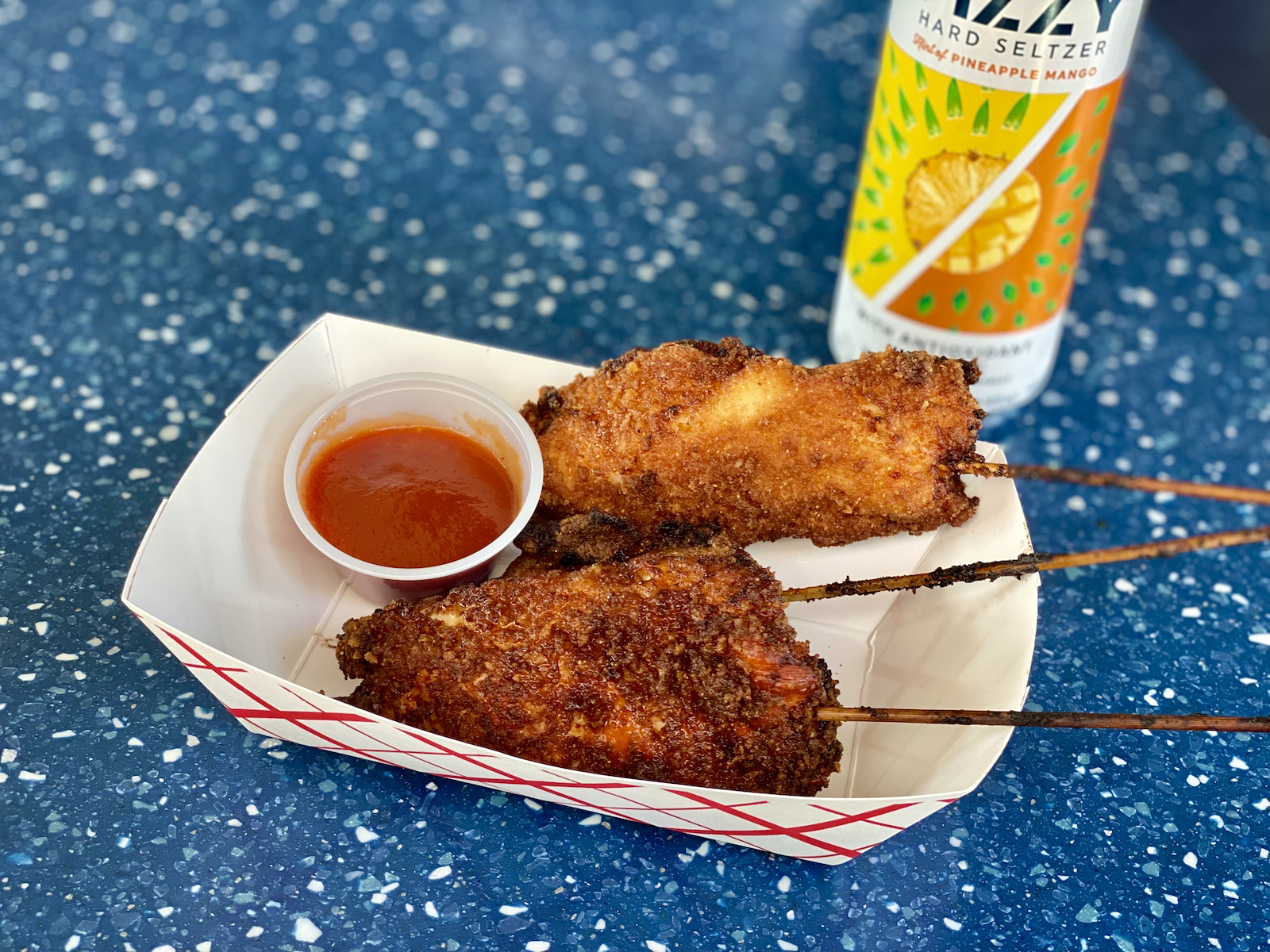 Where to find them: Miller Lite Sports Bar (F9), $11
Description: Three cruller-breaded and broasted chicken tenders; served with chipotle honey mustard.
I'm generally a fan of sweet and salty combos, which is what led me to put the cruller crusted chicken sticks on my list. After all, cruller crumbs are slightly sweet (but not too much so), and so I envisioned that they'd fry up beautifully crisp and caramelized.
That aspect of these chicken sticks was – in fact – spot-on. In fact, the cruller crust was, undeniably the best part, bringing together sweet and salty flavors in a beautifully crisped breading that was neither too greasy or too dry. Unfortunately, in at least two out of the three chicken sticks, the chicken breast pieces beneath were a bit dry and flavorless in comparison.
As for that chipotle honey mustard? I'm 99% sure that ours was a cup filled with ketchup (yes, I was shocked; and I hope it was a mistake). It's tough to say if actual chipotle honey mustard would have single handedly saved this dish, but a sauce that complemented the overall flavor profile definitely would have helped.
9. Dairyland Chocolate Shake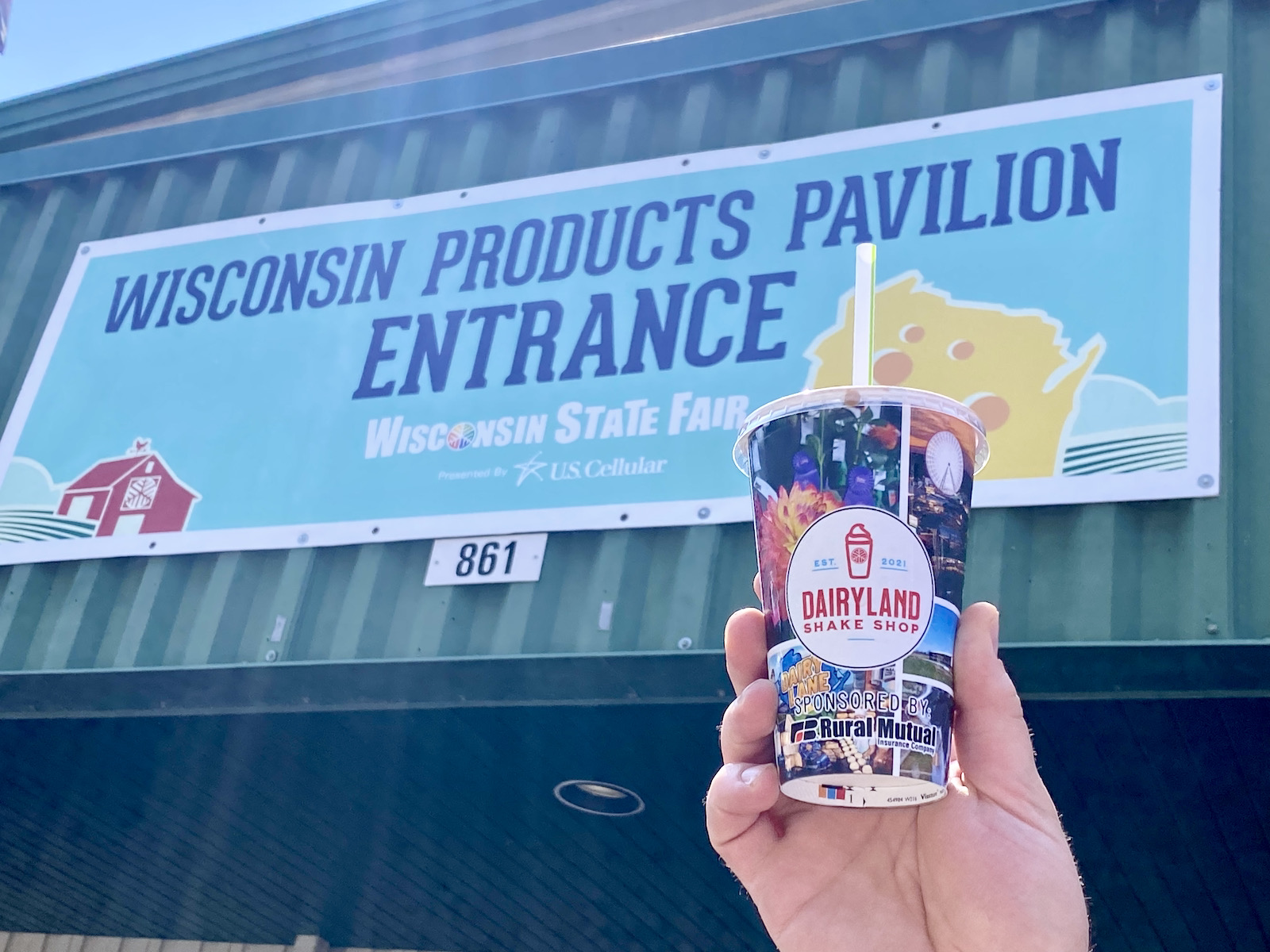 Where to find them: Dairyland Shake Shop (F8), $4
Description: Chocolate milk shake made with Wisconsin dairy.
When I heard that the folks behind the famous grilled cheese stand in the Wisconsin Products Pavilion had added a brand new dairy treat, I knew I needed to stop by and give it a try.
The weather on opening day of the fair was actually quite pleasant. A breeze kept the temperatures, which hovered in the high 80s, under control; but walking about on the hot concrete made the notion of a frozen drink pretty appealing. Plus, chocolate shakes can be pretty delicious.
This one teetered on goodness; but its chocolate flavor was quite muted and it didn't have the rich, creaminess that makes a shake truly great. In fact, as I sipped, I couldn't help but think that it possessed a flavor profile that closely resembled a Wendy's frosty (a frozen drink with a light chocolate flavor that's actually made with a combination of vanilla and chocolate). If I'm honest, it made me crave a side of fries.
Rumor has it that the Dairyland Shake Shop might add additional flavors in future years, if the shakes take off. So, I'll be curious to give those a second try.
8. Gator Claw On a Stick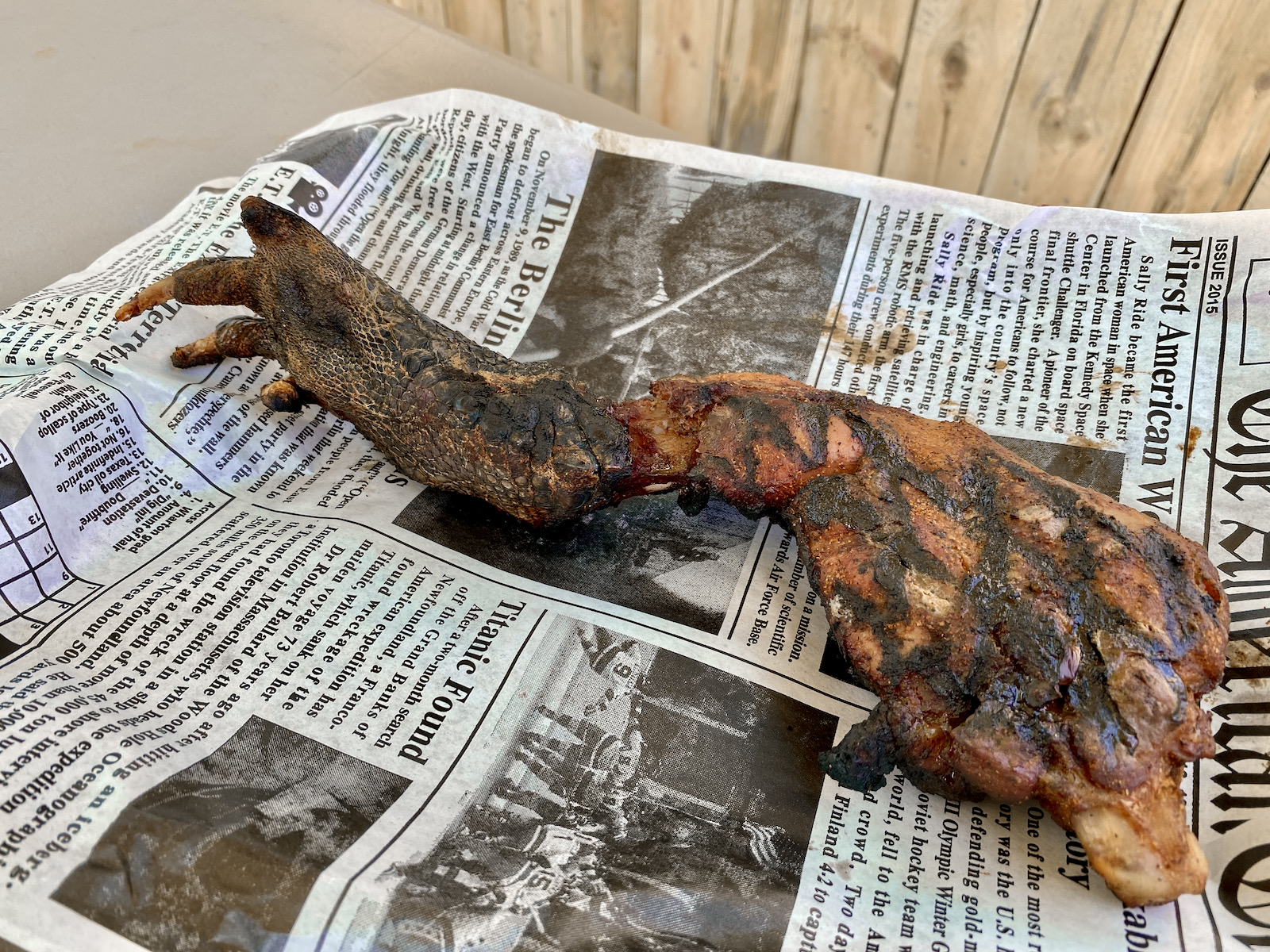 Where to find them: Exotic Meat (G14), $20
Description: Grilled alligator arm served on-a-stick with Cajun ranch sauce.
This pick was suggested by a slew of readers, so I knew it had to make my list. And no, it doesn't taste even remotely like chicken.
The first thing you'll note is that the gator arm is not "on a stick." That's not a deal breaker; but if you're expecting something hand-held, this is not a contender in that arena. It's also likely not something one person is going to polish off in a sitting. The gator claw, which also comes with the lower portion of the arm. It's definitely enough to share, making its $20 price tag a bit easier to swallow.
As for its flavor, this slightly creepy piece of meat was heavily brined, giving the exterior portion of the meat a pretty salty flavor (the saltiness dissipated as you got to the interior meat). The exterior was grilled, so each bite also came with a bit of smokiness.
As far as its texture, the meat erred on the slightly tough side. It possessed the stickiness of poultry (pulling it apart made me think about eating turkey legs); but it was far more firm, almost akin to pork (the "other white meat" pork, which has been bred to be leaner). It also had a slightly "aquatic" flavor that reminded me a bit of the flavor that often accompanies frog legs.
The bulk of the leg is robust in texture; but if you're looking for ultra tender bits, you'll want to pull open the claw, where you'll find tender bits of meat that are not only less salty, but amazingly tender (and, IMHO, well worth eating).
Our gator claw actually didn't come with any sauces when we ordered it. Since we were sitting at a nearby table, we went back and got a few (namely cajun ranch, Buffalo wing sauce and ghost pepper ranch). I tasted them all, but found the ghost pepper ranch to be pretty tasty with the meat; though be forewarned, it packs a bit of heat that sneaks up on you. You can also opt for bbq, regular ranch or sweet and sour sauce.
7. Deep Fried Pink Squirrel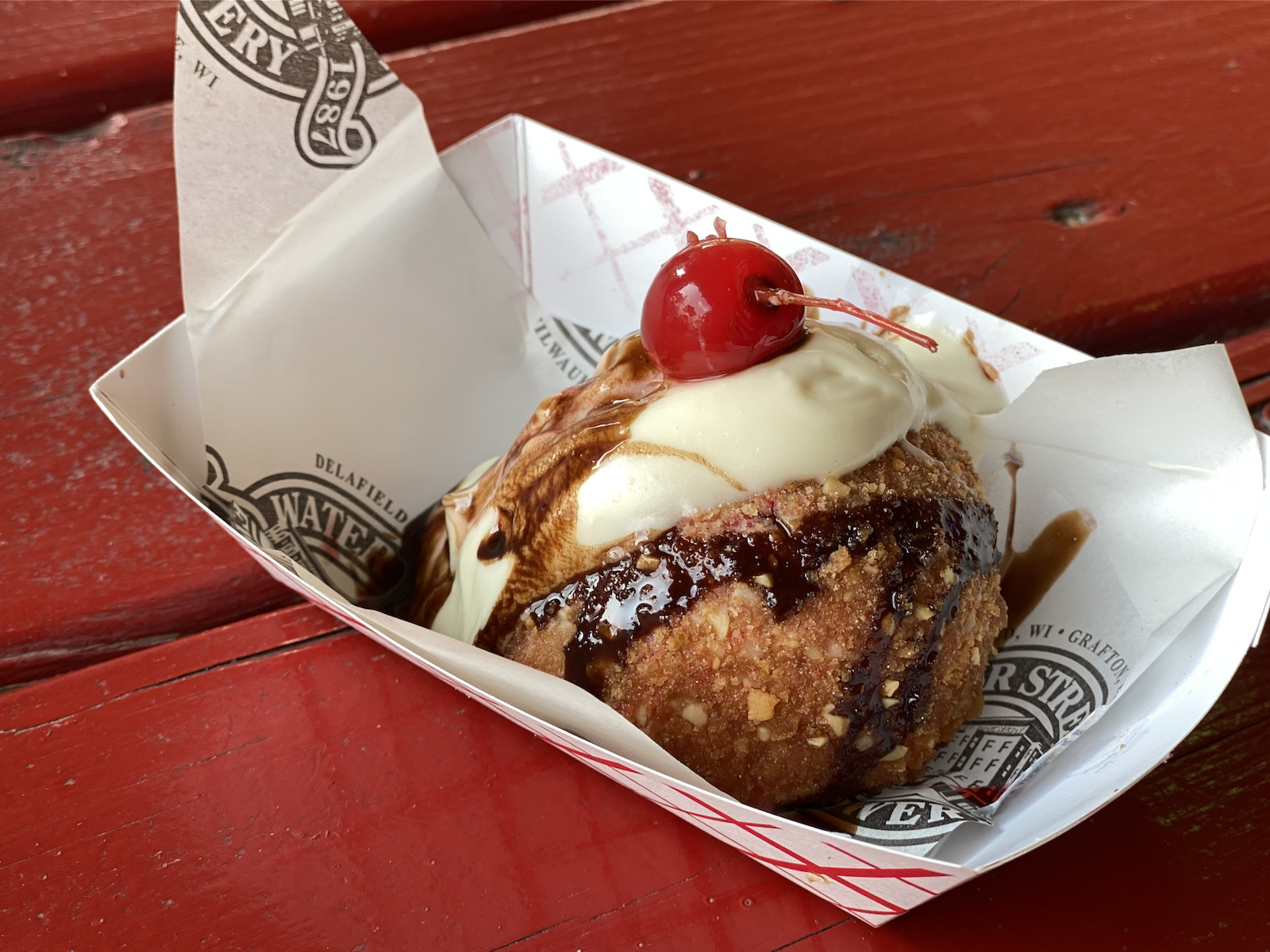 Where to find them: Water St Brewery (D9), $8
Description: Deep-fried pink squirrel vanilla ice cream drink cake.
Wisconsin supper-clubbers have been enjoying boozy ice cream drinks for decades, including the Pink Squirrel, a drink that actually has a history that traces back to Milwaukee. As the story goes, the pink squirrel was, in fact, created by the folks at Bryant's Cocktail Lounge in the 1940s. It's a drink that incorporates crème de Noyaux (an almond flavored crème liqueur) and crème de cacao (another crème liqueur that tastes a bit like milk chocolate), along with ice cream.
Much like the deep fried old fashioned that was popular at State Fair and Summerfest a couple of years ago, the deep fried pink squirrel doesn't quite hit the drink on the head, though I found it somewhat pleasant to eat.
The exterior of the dessert was crisp and warm on the exterior, much like fried ice cream, while the interior was – first and foremost – bright pink, but also heavily flavored with almond and cool throughout, with a very cold center that did remind me a bit of ice cream. That interior portion was quite soft, with a texture that was difficult to describe, but maybe slightly "bouncy.". To me, it resembled the almond-spiked spritz cookie dough that my mother would make around the holidays.
6. Peanut Butter Squealer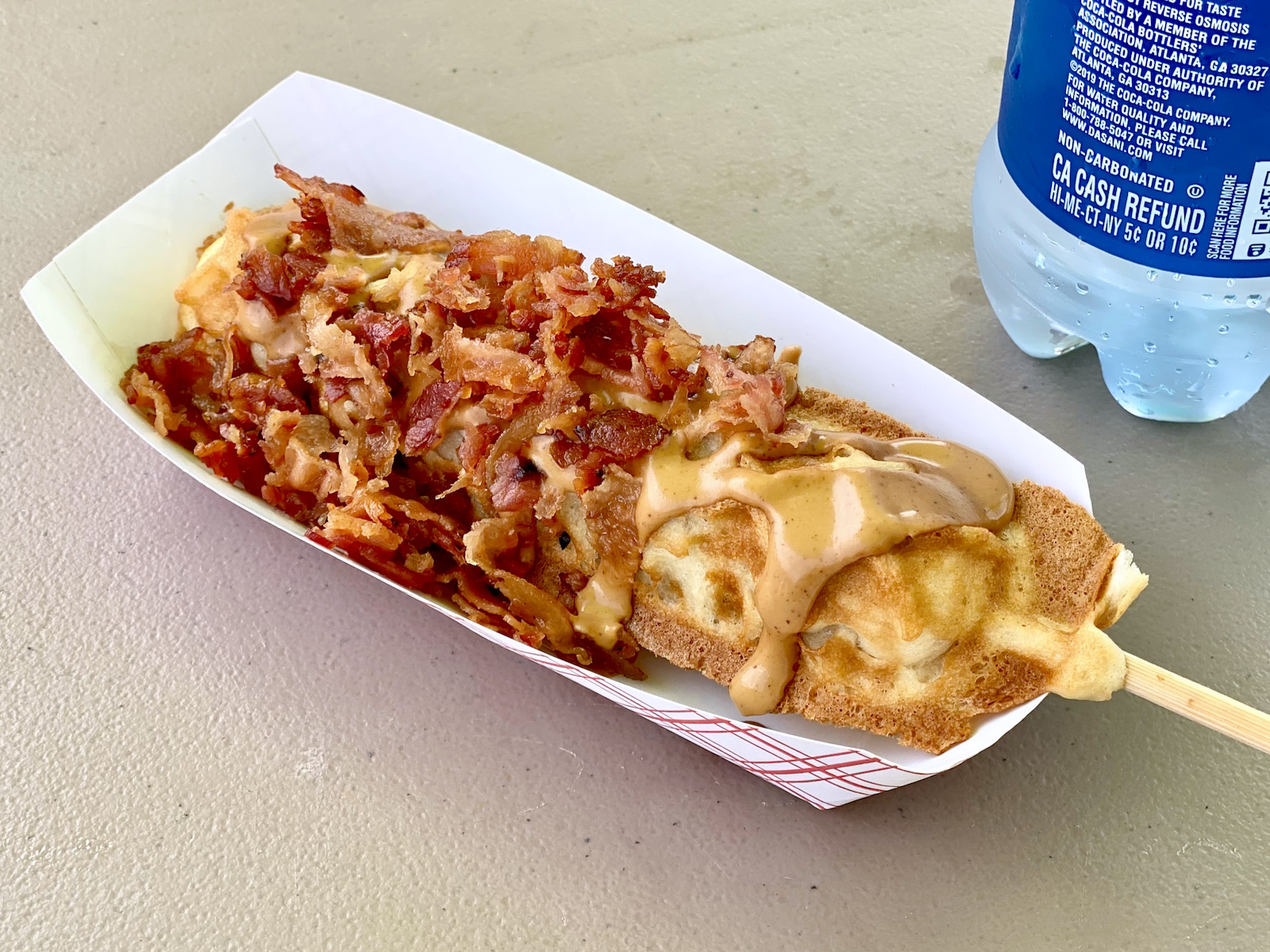 Where to find them: Waffle Chix (G15), $8
Description: Maple-infused breakfast sausage baked inside a Belgian waffle, smothered in peanut butter, topped with real bacon.
This waffle option definitely conjured breakfast vibes for me. And, if you like peanut butter, there's a fair chance you'll enjoy it. The waffle was tender and slightly sweet, as you'd expect a waffle to be. And inside it was a tender breakfast sausage that I found to be slightly sweet, but not overly maple-flavored. It was topped with a fairly generous portion of peanut butter and covered with moderately crisp bacon.
Overall, it was sweet, salty and nutty, and as easy to eat off of a stick as a classic corn dog.
5. Glazy Boy (Sporkies winner)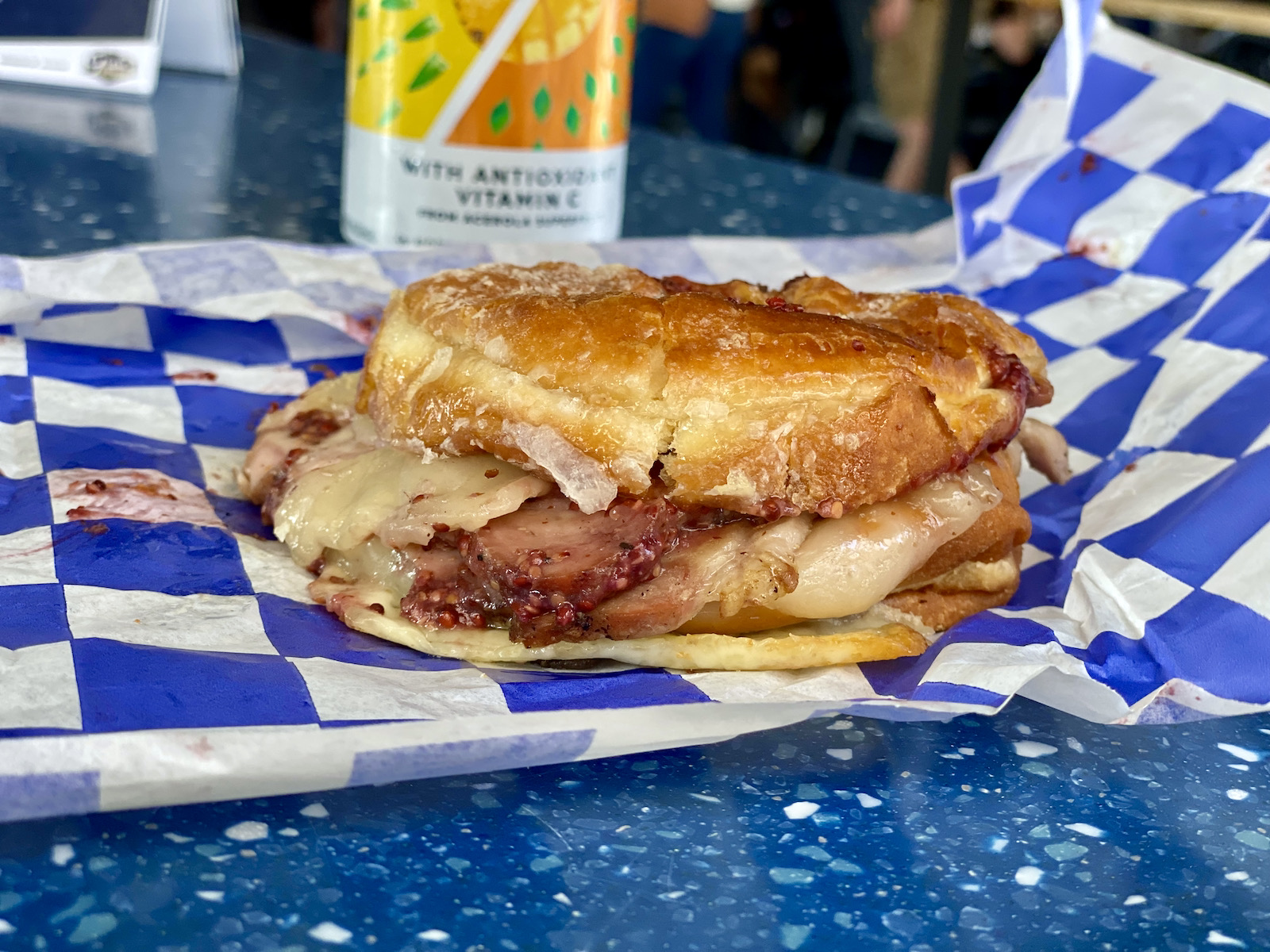 Where to find them: Miller Lite Sports Bar (F9), $12
Description: Two grilled Grebe's glazed doughnuts, pressed with two slices of BelGioioso Fontina cheese, brined and slow-smoked pork loin, raspberry whole grain mustard, and pickled jalapeños.
Thank goodness the Glazy Boy was tasty, because it was a sloppy mess. It came wrapped in paper and tucked inside a paper sleeve, which kept it warm. But whoever made it didn't take much care in the wrapping. Sweet sticky mustard was everywhere and the grilled doughnut (which I'd categorize as more "toasted' than grilled) was pretty smashed up.
That said, the sandwich was far tastier than the Krispy Kreme doughnut burgers that were served up at the fair years back. The doughnuts were tender, with that classic Grebes raised doughnut flavor (can we get a shout-out for supporting local?). And yes, it was sweet; but the lightly smoked pork brought in a sufficient amount of savory flavor and a balanced saltiness from its brine.
The cheese was mild, but beautifully melted, and the raspberry mustard knit things together with a combination of sweetness, slight sourness and mustardy sharpness (it was a good pairing with the cheese and smoky pork). I very much appreciated the pickled jalapenos, which brought another layer of flavor to the table; in fact, the best bites all included a bit of their salty, slightly spicy brininess.
4. Peppadew Olives on a Stick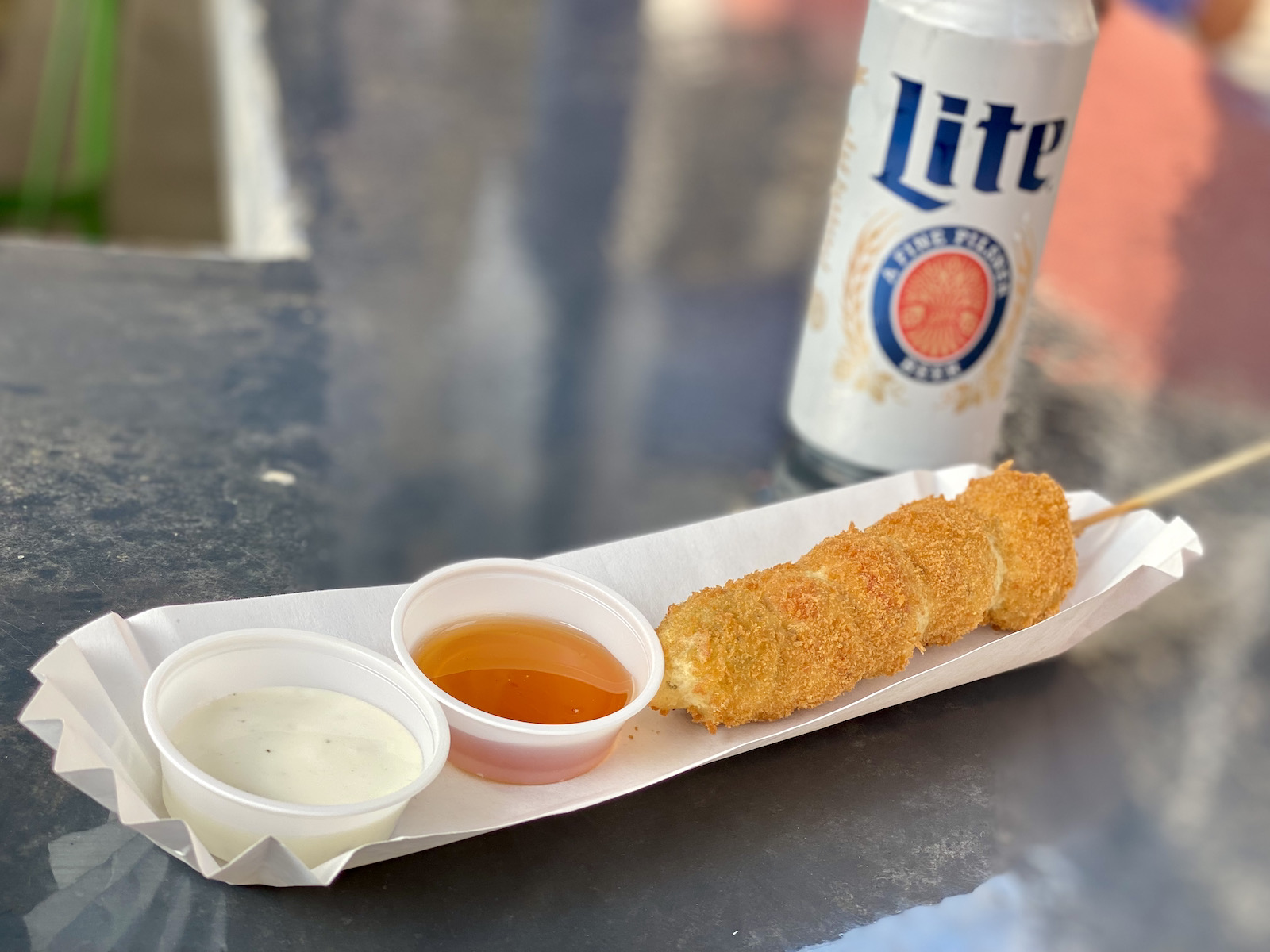 Where to find them: Fried Fruit & Fried Olives (G12), $9
Description: Green queen olives stuffed with fresh garlic nestled in a peppadew pepper, dipped in a seasoned crunchy batter, and served with dipping sauce.
I'm a sucker for fried olives. In fact, the olives from the Fried Fruit & Olives Stand have made my new foods list almost every year (since they are always thinking of new flavor combos for their olives). In fact, their standard deep fried olives made the top of my list in 2016, with their bacon wrapped olives and blazin' jalapeno olives trailing close behind.
These olives were definitely contenders. The coating was as crispy as ever, and the olives came cleanly off the stick, each garlicky, briny queen olive enveloped by a picante peppadew, which offered the briny olive both a bit of complexity and a hint of heat.
Remarkably, even though these were consumed on the tail-end of my six-plus-hour whirlwind new-food-eating spree, These olives seemed the perfect end to a long day of eating and drinking in the sun.
These are salty, so be sure to grab a beer to accompany (there's a bar right across from the stand). Miller Lite is a good choice, as the carbonation helps cut the fat and cleanse the saltiness from your palate. Remarkably, the brininess of the olives also seems to work a little magic on the beer itself, giving it a slightly more robust flavor profile.
3. Chicken Bacon Ranch Cheese Curd Taco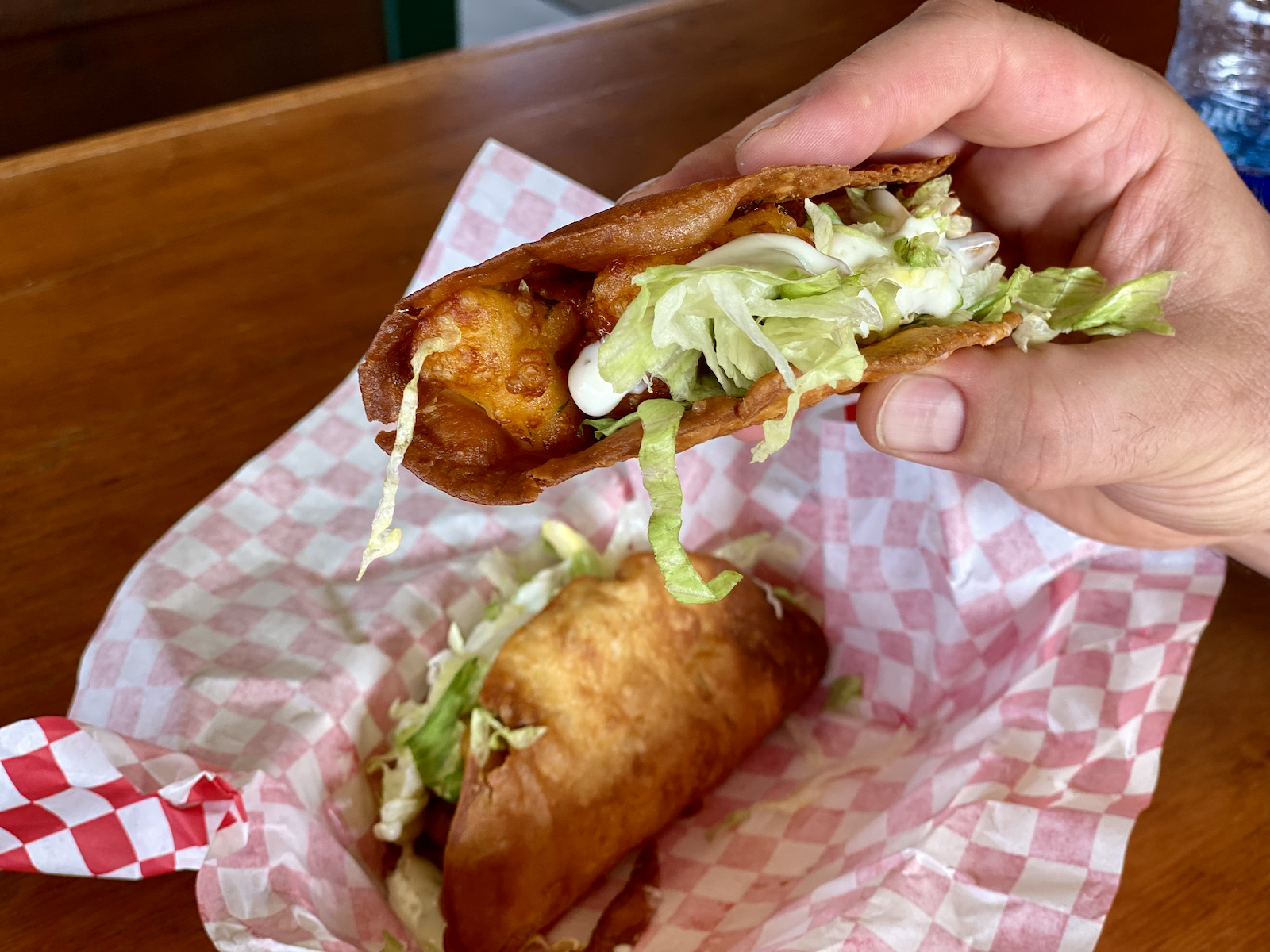 Where to find them: Richie's Cheese Curd Tacos (B12), two for $12
Description: A flour tortilla layered with grilled chicken, bacon and lightly battered ranch-flavored cheese curds is all fried together until the shell is crispy and golden. Topped with fresh cut iceberg lettuce and ranch dressing.
Chicken, bacon and ranch dressing has become a ubiquitous flavor combination that now appears in sandwiches, casseroles and even pizza. So, why not a taco? Combine that with the fact that the deep fried tacos at State Fair are often quite good, and it seemed like a no brainer to add this new food to my list.
From many angles, it didn't disappoint. The flour shell was sheer crispy goodness (think chimi-changa). Meanwhile, the breaded fried cheese curds from Wisconsin's Ellsworth Creamery were crisp on the outside and chewy on the inside (as they should be). They were also flavored of ranch, which punched up both the ranch quotient and the saltiness of these tacos considerably.
From there, the tacos were stuffed with fresh, crisp lettuce, nicely cooked bacon and a ranch dressing that was pretty classic in its flavor. Maybe not the best I've ever had, but definitely tasty. And that was a good thing; the dressing helped to mitigate the one chink in these tacos armor: dry grilled chicken.
2. Sorrentina Bites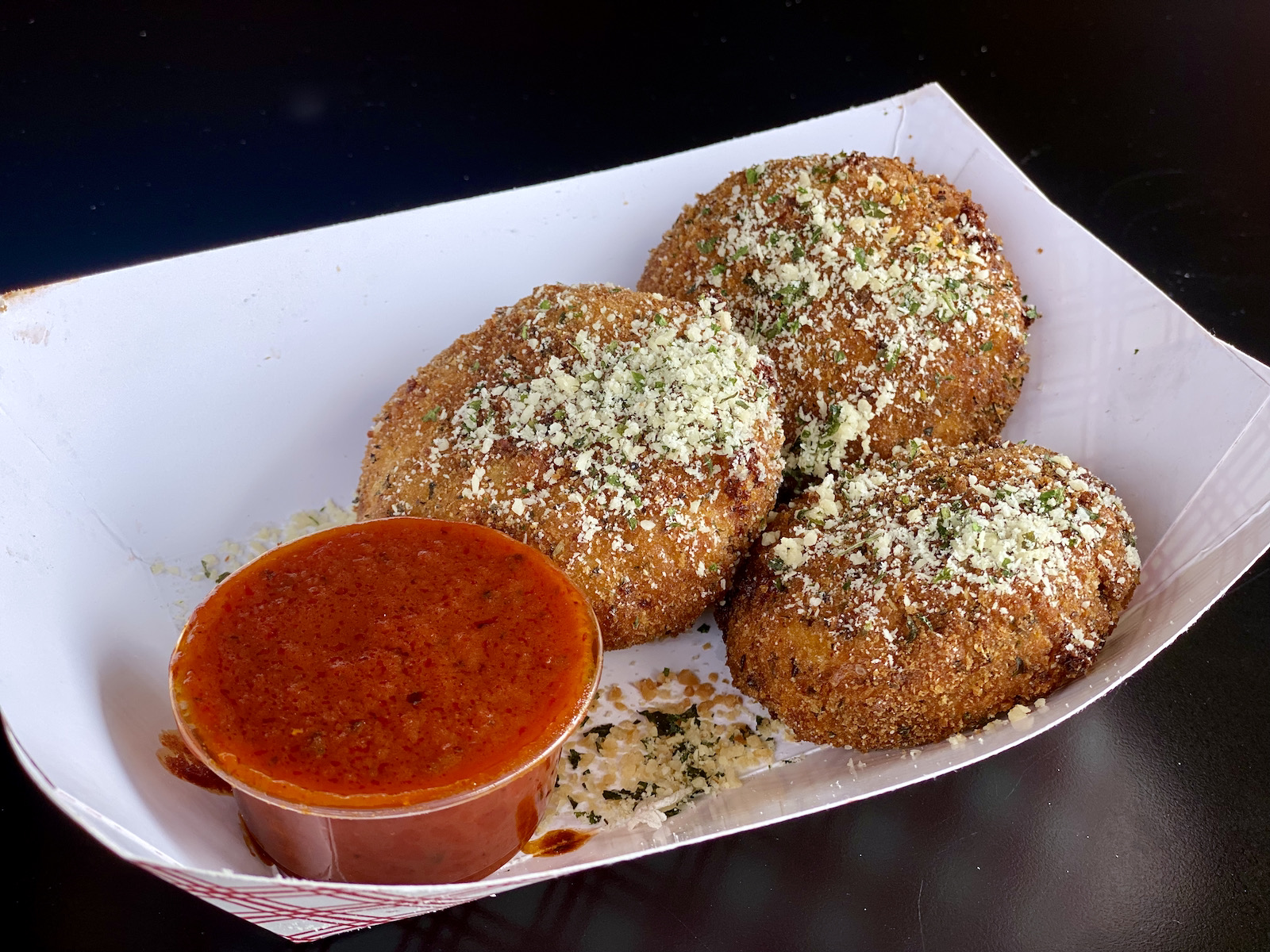 Where to find them: Albanese roadhouse (C10), $10.50
Description: Ditalini pasta with a blend of three Italian cheeses, breaded with homemade Italian breadcrumbs. Served with your choice of our signature vodka sauce or our famous marinara sauce.
Albanese's brings a pretty good game when it comes to creating comfort food-inspired State Fair foods. In 2018, they swept the field with their delicious lasagna bites. And this year, they've pulled out another winner with their Sorrentina Bites.
These circular shaped patties are pretty much the equivalent of deep-fried Italian macaroni and cheese. The bread crumb coating is ultra crisp, the noodles remained fairly close to al dente. And paired up with Albanese's classic tomato-forward marinara sauce, they were truly quite delicious. Mangia!
1. Caramel Apple Cinnamon Roll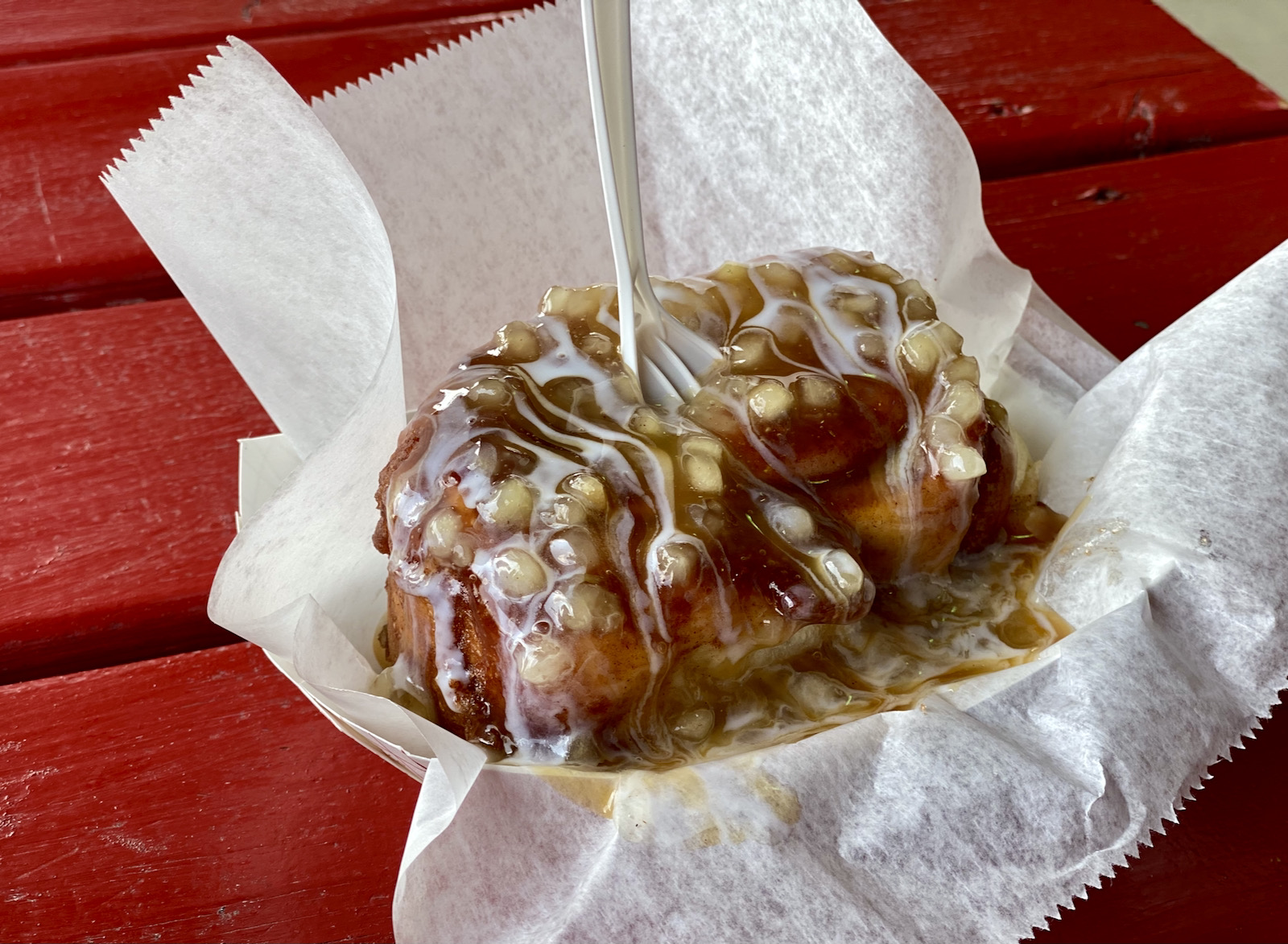 Where to find them: Grandma Brown's Cinnamon Rolls (E7), $9
Description: Fresh baked warm cinnamon roll with apple and a drizzle of caramel sauce.
If given the choice between sweet or savory, I usually fall pretty solidly in the savory camp. So, it's pretty unusual for a sweet treat to get my top bid for State Fair foods.
But the caramel apple cinnamon roll was sheer comfort.
The cinnamon roll itself was warm and soft with a chewy interior that was just barely baked. And, while it wasn't the most cinnamon-forward roll I've had, it made up for the deficit with a generous soaking of caramel sauce (it was more than a "drizzle"), tiny bits of tender apple and – on top of everything else – a drizzle of frosting. The frosting is optional, but while you're spending your calories on this very sweet treat, you might as well just go all the way.
My husband (who I often refer to as my "second stomach" during my State Fair eating escapades) was also a fan. In fact, I probably took two or three bites of this well sized cinnamon roll before he finished it off entirely.
The one that got away: Lobster Rangoon
Where to find them: Gooonies Fish & Beer Shack (E10)
Description: Real lobster meat blended with sweet cream cheese wrapped in a crispy wonton shell. Served with a choice of dipping sauces.
I'm a big fan of crab rangoon, so why not lobster rangoon? At least that was my thinking when I put this on my list of items to try. Unfortunately, my plans were foiled.
This list would have actually comprised 13 items, had it not been for the fact that Gooonies (yes, it's really spelled with three o's) had sold out of their lobster rangoon by the time I meandered over to their side of the grounds.
Obviously, a good number of fair-goers felt exactly the same as I did, which might mean this is an item that's worthy of trying. If I get back to the fair, I might just give it a go. If you get back before me, be sure to stop by Gooonies early in the day. And, if the rangoon is delicious, I'd love to hear about it. Shoot me a note or tag me in your review of the item on social media.
Lori is an avid cook whose accrual of condiments and spices is rivaled only by her cookbook collection. Her passion for the culinary industry was birthed while balancing A&W root beer mugs as a teenage carhop, fed by insatiable curiosity and fueled by the people whose stories entwine with each and every dish. She's had the privilege of chronicling these tales via numerous media, including OnMilwaukee and in her book "Milwaukee Food." Her work has garnered journalism awards from entities including the Milwaukee Press Club.
When she's not eating, photographing food, writing or recording the FoodCrush podcast, you'll find Lori seeking out adventures with her husband Paul, traveling, cooking, reading, learning, snuggling with her cats and looking for ways to make a difference.