Few would be surprised to learn that OnMilwaukee readers again voted Lakefront the city's best craft brewery in our annual Best of Bars balloting. But the fact that number two went to Bay View's 1840 Brewing, added to the knowledge that 1840's taproom topped the best new bar category, sure caught my attention.
Despite the fact that Lori Fredrich wrote a fine story about the brewery and founder Kyle Vetter when it opened last August, I decided I needed to go have a look for myself.
What I found was unlike any brewery I've seen. In fact, it's the only brewery I've visited that doesn't have brew kettles. Though there are a few fermentation tanks at the back, with its plethora of oak barrels, 1840 Brewing Co. actually looks as much like a winery or distillery as a brewery.
That's because Vetter buys wort from other area craft brewers and adds his own magic via the fermentation and barrel-aging processes.
You can get a taste of the kind of work he does at the next monthly release, Saturday, April 14, from 11 a.m. until 7 p.m., when he will unveil his Cashmere Sweater IPA, Biere de Vin – a wine/beer hybrid – and the visually stunning and quite unique Plumpy (pictured below).
The latter, which gets its name from the "Big and Chunky" song in the "Madagascar" film series is Vetter's attempt to create a beer using fruit smoothies as inspiration. More than a pound of raspberry and blackberry puree went into the tank for each gallon of the beer, giving it a full body and an amazing color.
"We want to make beers that are different than any other brewery in town," Vetter says, as we chat at the bar in his rustic-but-modern taproom. "We sell it in a different way, and we wanted the tap room to reflect all of that, too. We wanted it to have a real friendly, family vibe. Family and community are really what our brand are."
While Vetter's beer is anything but understated and his success so far has been hard to ignore, his brewery and taproom are easy to miss, tucked away as they are in a low-slung former industrial building at 342 E. Ward St. in Bay View, where there's only the smallest of signs, just above the mailbox, identifying the brewery.
The building runs all the way along Ward to Kinnickinnic Avenue, and Vetter shares it with Bigfoot Bike and Skate and Mac's Pet Depot Bakery. It was erected in 1946 and designed by Klug & Smith Architects, which specialized in industrial buildings and had clients like Allis-Chalmers, Miller Brewing, American Motors, Briggs & Stratton, Bucyrus-Erie Co., Evinrude Motors, Falk, Froedtert Malt, Grede Foundries, Harnischfeger Corporation and the City of Milwaukee.
Founded by engineers Julius Klug and Fred Smith in 1912, the company later expanded into building work, too, and helped construct the Marcus Center for the Performing Arts and an addition to the War Memorial Center.
Changes in the industry helped lead to the end of the firm, which closed its doors in 2002.
While the space that now houses the doggie bakery was home to many restaurants over the years, including Auggie's Restaurant, later Auggie's Pizzeria, Blue Bow Restaurant, Bay View Restaurant, Adrian's Fine Foods and Gene's Sandwiches, the back sections, along Ward Street, have always had grittier, more industrial work.
"I know my unit in particular most recently was a screen printing shop," says Vetter. "The guy like stored all of his bulk shirts here and he had those, you know, octopus-looking screen printers. There must have been a big gap between him and us because it was filthy was in here. Like it had just been sitting.
"So much dust. So, we had to come, and we got a leaf blower, and we blew off starting from the ceiling down. And then we power-washed everything: ceilings, walls, floors. The floors were covered in all this bright paint. Because he's got all his colors for the screen printing, and you could tell that the back pole there, people would get ink on their hands and they'd wipe it on the pole."
Now, while the back area, with the oak barrels, fermentation tanks, manual one-at-a-time bottling device, work bench and small lab has an industrial vibe, the front has what Vetter calls an "urban farmhouse" vibe.
And that's the approach he takes to making beer, too. He wants to create new and interesting things from whatever he can lay his hands upon. That explains the kumquat beer that's fermenting in one of the tanks when I visit.
I ask how he came to be one of a select few breweries in the country that make craft beer without a brewing system of its own.
"If I could do anything I want, like money was not an object, I would have my own brewery system," he says, with a caveat. "But I would (still) be making these types of beers.
"It's really expensive to make this kind of beer. So, I had to invest a lot in beer that was going to sit there for six, eight, 10 months before I would sell it. So, I figured, if I can reduce my capital expenses on the front-end and really invest in beer instead of stainless (steel tanks), we're going to have this opportunity to make the beer that we want to make."
Vetter says that he doesn't rule out expanding at some point to install his own brew kettles.
"While we're making the beers that we want to make, I would love to bring brewing back in house and that's definitely in the plan for us. We wanted to test the model. Everything we're doing is different. The beers, the space, the model. We wanted to make sure it was going to work before we doubled down and bought all the extra stainless.
"I'm very comfortable with this arrangement right now. I work with pros, so when I walk in I say this is what I need and I get that. So, I'm really, really happy with the wort I've been buying. Especially because I bring my recipe and my ingredients to these partner breweries, and if I've never brewed with them, we sit there all day together. So we can talk about it. Then after I brew with them once or twice, I'm comfortable that they're going to do a good job, which is nice because it frees us up a little bit."
Vetter says his biggest concern is scheduling. He works with the likes of Third Space and The Explorium (which is his biggest supplier) and those places are having success of their own, so finding time to make wort for Vetter – rather than for themselves – can sometimes be a challenge, he says.
'We had a time where we had to cancel a brew and reschedule it because of something that happened at the partner brewer," he recalls. "It's out of my control. Nothing we can do about it, and we just have to be ready to brew as soon as they're ready to brew for us. So, we've only had a couple of instances (of that), but I know that as all these other brewers grow, their schedules get tighter."
Vetter will order between five- and 10-barrel batches from The Explorium, while at Third Space, the minimum batch is 15 barrels, and he'll sometimes get 20 from them.
The wort is typically brewed from Vetter's recipes and to his specifications, but there are exceptions and, he says, he always discloses those exceptions.
"In the case of Explorium, I did take one of their flagship beers, Doc Rae, and we did our thing to it as a collaboration. But if we're going take their recipe, we're going to mark it as a collaboration. Or if we create it together. That will be clear for sure. Otherwise, I don't put the brewer that I got the wort from on the bottle because it's my recipe, my ingredient. I'm buying it as a raw ingredient. I don't put my grain supplier on the bottle."
The latest collaboration – Dank IPA, made in tandem with Eagle Park – debuts on April 20.
While some of 1840's beers – like the new IPA – are fermented in stainless steel tanks, 90 percent of the brewery's output spends at least some time in oak barrels. And that's where the magic happens.
"For example, Sumerian Origin was one brew we did at Third Space. It was a 20-barrel batch, and we brought it back here and split it up into a bunch of different barrels and gave it the same wild yeast. So, literally the only difference in those three products are the barrels.
"What's amazing is that they were distinctly different products. One drank like a whiskey sour because it was in bourbon barrel. The white wine was kinda of a white wine spritzer because it was in a chardonnay barrel, and then we had a cabernet version, which is real grapey. It was very interesting, you know, the magic, the power that the barrel has."
Vetter sources his barrels from a broker in Menomonee Falls called – wait for it – the Barrel Broker, and he gets red and white wine barrels that come from wineries in California and abroad. He gets bourbon barrels from Kentucky. When I visited, I noticed he even had a barrel that had been used first by Von Stiehl Winery in Algoma, and then by Great Lakes Distillery to age spirits and now is holding 1840 beer.
"The number one question I get here is where do you get your barrels. And, at first, I thought that was kind of interesting. I was like why is that a question, but I get it. You don't ever walk into a space and see this much oak. Your typical brewery is going to have between one and a handful, but their stainless is going to way outweigh the oak.
"So, I think people walk in and they see exactly the opposite and they're confused by that."
And the next question?
"What kind of bourbon," Vetter says.
Once I get past the standard queries, I ask Vetter about the barrels and what he's looking for in an oak barrel.
"The wine barrels we get, our winery called them neutral barrels," he says. "And what that means to them, is they no longer impart flavors for the oak. Sometimes I want all that wine flavor. I want all that bourbon flavor the wine flavor or whatever. That's something that I'm into and we look for. If we're doing our job right, we can use barrels over and over and over for a long time.
When a barrel arrives, Vetter has to examine it to make sure it meets his needs and isn't tainted in any way.
"We inspect all of our barrels when we get them for a number of things," he says. "Do they smell right? Do they look right? We shine a light inside and look for imperfections. Any obvious signs of leaking on the outside. Because if the barrel is leaking sitting still in a winery and you've got an obvious wine stain, chances are we're going to run into that same problem even if we properly hydrate that barrel. And the last thing we want to do is fill it with wort and have it squirting out the sides."
Bourbon barrels sometimes offer up evidence of leaks, too.
"In a lot of bourbon barrels you'll see these goopy ... I call them barrel tears. They smell amazing, but they're just caramelized sugars that plug the hole. We don't necessarily want a lot of that. If I see a couple on a bourbon barrel, I'm not really too worried. Bourbon has been in there so long, that stuff is so gooey and thick, I know it's pretty much clogged that hole. And they're just a tighter-built barrel in general. We look for that stuff, and we reject it, or ask for another one."
Vetter says he doesn't source barrels that had been used by specific producers, though he knows some of his colleagues do.
"I haven't gotten that into it yet. I know some brewers are very specific, and you know, in talking to the barrel people they'll say this person said he needed a barrel from a winery in this region and it had to be used no more than this many times. You know, because if you have a certain product that you're trying to create, you want the oak to reflect that.
"For now, we're just kind of learning. I'm going to continue to buy neutral barrels for these projects because they work and they've got a lot of wine flavor in them. And those barrels are less expensive because the winery has already gotten three to five to six turns of wine out of them before they clean them and send them to us. Whereas, in the case of bourbon barrels, they can only use them once. So, they're a little bit more expensive."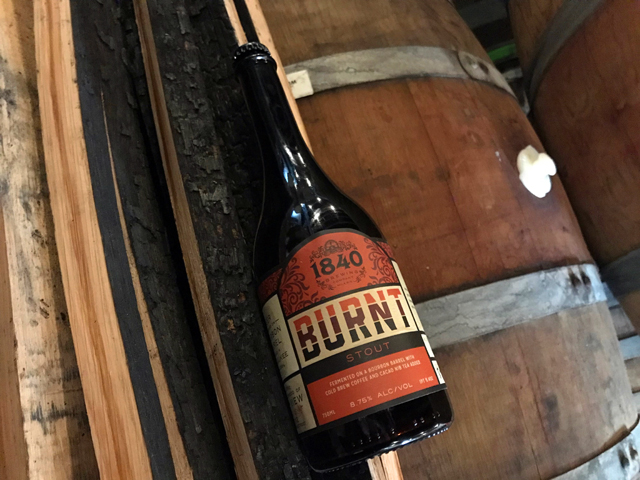 Barrels range in cost from about $110 to $1,000 depending on its size and what was previously aging in them, Vetter says.
It's fascinating to hear Vetter talk so passionately and in-depth about this aspect of making beer. He loves brewing but he's managed to really home in on what he loves most about the craft.
"I love this aspect," he says. "For me, brewing is real zen-like. I like to get in early in the morning and just get going, get my hands on the ingredients. And the smells, and the rhythm of it is something I really enjoy. There's just something different about barrel aging, there's like a little bit of like the magic to it. The science seems less important, even though it's just as every bit important, and you inject a little bit of the mystery, too. I really just love that part of it."
Born in Brooklyn, N.Y., where he lived until he was 17, Bobby received his BA-Mass Communications from UWM in 1989 and has lived in Walker's Point, Bay View, Enderis Park, South Milwaukee and on the East Side.
He has published three non-fiction books in Italy – including one about an event in Milwaukee history, which was published in the U.S. in autumn 2010. Four more books, all about Milwaukee, have been published by The History Press.
With his most recent band, The Yell Leaders, Bobby released four LPs and had a songs featured in episodes of TV's "Party of Five" and "Dawson's Creek," and films in Japan, South America and the U.S. The Yell Leaders were named the best unsigned band in their region by VH-1 as part of its Rock Across America 1998 Tour. Most recently, the band contributed tracks to a UK vinyl/CD tribute to the Redskins and collaborated on a track with Italian novelist Enrico Remmert.
He's produced three installments of the "OMCD" series of local music compilations for OnMilwaukee.com and in 2007 produced a CD of Italian music and poetry.
In 2005, he was awarded the City of Asti's (Italy) Journalism Prize for his work focusing on that area. He has also won awards from the Milwaukee Press Club.
He can be heard weekly on 88Nine Radio Milwaukee talking about his "Urban Spelunking" series of stories.