Before the champagne pops and the ball drops – on the year and on the entire decade – let's take one final look at a mere handful of the good, the bad, the ugly and the just plain odd events that we lived through over the past twelve months.
January
Mediocrity wins big at the Golden Globes
I choose not to remember that the evening's top movie prizes went to "Green Book" and "Bohemian Rhapsody." Instead, the only thing I will remember from this awards night – the most useless of all the awards shows, which is saying something since they're all fairly useless in the first place – is that random Fiji water girl who kept photobombing famous people.
This Fiji water girl...... I have questions #GoldenGlobes pic.twitter.com/eFPwWIxdsm — Mandy Rodgers (@Mkr512) January 7, 2019
Jason Momoa visits the Harley-Davidson Museum
Apparently when Aquaman isn't riding a dolphin, he rides a hog.
Packers hire Matt LaFleur as head coach
Despite a fairly short NFL resume, filled with admittedly unexciting results, the Packers selected Matt LaFleur as its new head coach. Safe to say the pick's worked, as in his first season, Green Bay notched a 13-3 record and a two-seed in the upcoming playoffs – the first rookie coach in Packers' history to go to the postseason, win 10 games and win the NFC North. And he's done all of that without the Pack ever seemingly playing at their peak. Here's to seeing that soon ...
The Bradley Center roof gets blown up
Welp, that just about says it! Here's the proof:
Boom! pic.twitter.com/PnOajbVcTo — Bobby Tanzilo (@BobbyOnMKEcom) January 13, 2019
Brewers confirm that American Family Insurance has bought the naming rights to the stadium
You've got officially one more of "Miller Park," as American Family Insurance bought 15 years of naming rights to the Brewers' stadium, starting with the 2021 season. However, we've JUST stopped calling it Milwaukee County Stadium, so we'll see if Wisconsinites actually move onto the new name.
Fyre Festival docs battle it out
I could get into technical reasons why Netflix's "Fyre: The Greatest Party That Never Happened" is better than Hulu's rival doc about the infamous failed music festival – it tells the story of the scam better, with more access and quality interviews as well as a deeper insight into why this botched punchline actually matters or means something beyond a LOL. But really, it comes down to "Fyre" had this guy: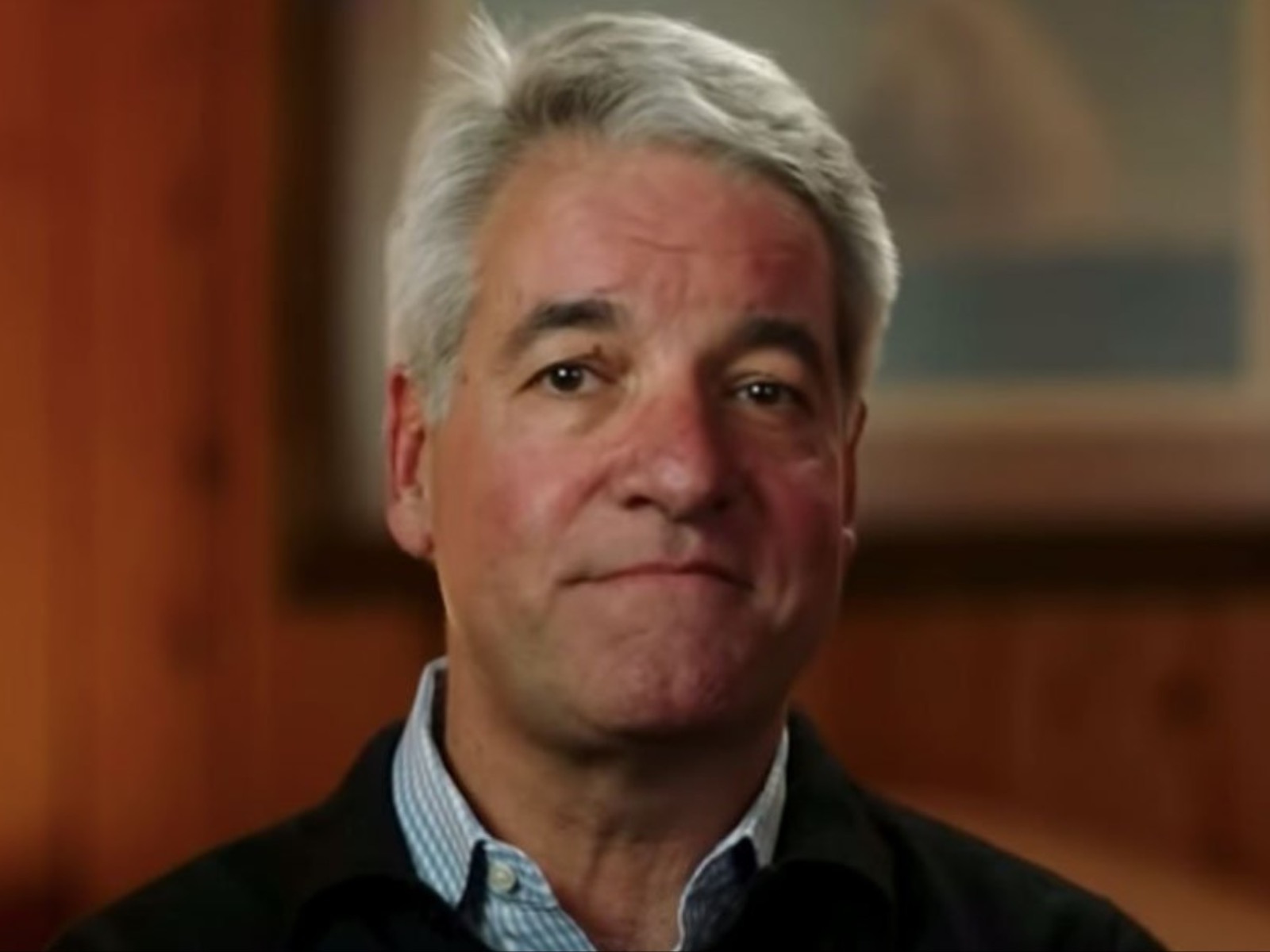 Polar Vortex strikes Milwaukee
Always a good sign when weather conditions sounds more like a "Star Wars" creation than a forecast. Indeed, Milwaukee terrifyingly transformed into the Arctic during the cold wave, with temperatures dipping consistently into the negative 20s and even 30s, and Gov. Tony Evers declaring a state of emergency due to the wind chill. Maybe it was worth it for the impressive photos, though? (It was not.)
Government shutdown ends
The longest government shutdown in U.S. history, started on Dec. 22, finally ends on Jan. 25. And then surely everything went back to normal! No other news to report on the political front this year!
Marie Kondo cleans up America
It only makes sense that, during these crazy times, one of the year's big television hits was a calm, pleasant show about bringing order and "sparking joy" in one's life. Indeed, Netflix's "Tidying Up with Marie Kondo" turned into one of 2019's early breakout hits, inspiring people to cut the clutter out of their homes ... or at least inspiring people to watch OTHER people cut the clutter out of their homes.
People we lost:
Carol Channing, actress ("Hello, Dolly")
February
Super Bowl LIII crowns the Patriots champions again
Super Bowl LIII answered a question nobody asked: What's worse than another New England Patriots Super Bowl win? The answer: Another New England Patriots Super Bowl win delivered in a painfully boring punt-a-thon of a game, complete with a Maroon 5-soundtracked intermission that was as inspired as the Los Angeles Rams' offense. Liked Harrison Ford's dog, at least.
Miller vs. Bud Light vs. corn
Somehow the only real heat fight that took place on Super Bowl Sunday came between Miller and Bud Light, with the latter deciding that the former's use of corn syrup made it evil. Unsurprisingly, those in the corn industry weren't pleased – and neither were consumers, who had to watch this silly slap fight rage on for weeks and across multiple ads. At least, thanks to MillerCoors, we got free beer out of it.
Childish Gambino and Kacey Musgraves win big at the Grammys
Also a big winner at the Grammys: pianists, as Cardi B's intensely awesome key-master made quite an impact while host Alicia Keys had a highlight of her own as she played two pianos at once during a jazzy interlude. Less of a winner is this guy, who probably thought we all forgot about this:
Me in literally any public setting pic.twitter.com/Upj369BFyx — Dave Itzkoff (@ditzkoff) February 11, 2019
Ja Rule "performs" at the Bucks halftime show
Ja Rule got Ja Roasted by social media after his surprising '90s Night halftime performance at the Bucks-Timberwolves game at Fiserv Forum – though I'll confess that I didn't think it was too bad! Sure, I wouldn't dare put him in the same sentence as a Red Panda halftime performance, but it could've been far worse. Just ask the rich people on that island with the cheese sandwiches and rescue tents. I suppose that's the benefit of having a Fyre Festival on your resume: Everything else you do will seem better in comparison.
Mediocrity wins yet again at the happily host-less Oscars

With "Green Book" winning Best Picture, I'll let newly crowned Best Adapted Screenplay Oscar winner Spike Lee take it from here:
Interviewer: is there something about Green Book that offends you?

Spike Lee: pic.twitter.com/fXy2TLM7yc — sad voter (@mxr_ly_) February 25, 2019
People we lost:
Peter Tork, musician and founding member of The Monkees
Albert Finney, actor ("Miller's Crossing")
Karl Lagerfeld, fashion designer
March
Milwaukee gets the Democratic National Convention
Don't mind me: I'll just assume that the thousands upon thousands of visitors coming to Milwaukee from across the nation from July 13-16 are all in town to celebrate my 30th birthday on that final day. You shouldn't have, everyone!
The Crew continued their streak of starting the season already as winners with its latest movie spoof, this time riffing on the 2000s comedy hit and its map of the Milwaukee lunch room.
Not today: The Crew wins Opening Day with Lorenzo Cain's game-saving catch
Who needs to make "fetch" happen when you've got Lorenzo Cain and his kids coming up with the ultimate "catch" phrase after defeating the dreaded St. Louis Cardinals at Miller Park:
The Bucks entertainment block gets a name: Deer District
An excellent name – though when can we get around to turning The Beer Garden into "The Deer Garden"? It's the only thing Downtown's newest hot spot is missing – other than an NBA Finals championship parade.
Aunt Becky and Felicity Huffman are caught in college admissions scandal
God bless this Mad Libs of a 2019 news story. And in case you forgot, yes, Lifetime already made a movie about it.
People we lost:
Luke Perry, actor ("Beverly Hills 90210")
Nipsey Hussle, rapper and activist
April
Scientists capture first photo of a black hole
What a beautiful and incredible moment for science as we stare into a concept that before we could only imagine ... and then meme it to death. Though, in fairness, that's what you get when you show up looking like the poster for "The Sixth Sense."
Notre Dame survives an intense fire – for now
A devastating fire raged through the iconic Paris cathedral, and while the more than 800-year-old landmark seemed to have survived after the blaze was extinguished, that may have been optimistic. Recent reports say that there's a good chance the worst news may come true and the structure may prove too damaged and fragile to save. Here's to this miracle of architecture receiving a miracle of its own.
"Avengers: Endgame" comes out, earns all of the money
At least one major multi-chapter Disney-adjacent franchise came to a satisfying conclusion this year, as Marvel's massive movie project came to a happy end for fans – and for stockholders, as the sequel to end all sequels grossed almost $2.8 billion worldwide, making it the highest grossing film of all time. You ever think about that time Paramount could've bought Marvel? I bet Paramount does ...
People we lost:
Peter Mayhew, actor behind Chewbacca
John Singleton, director ("Boyz N the Hood")
May
"I think it's over," said former Boston Celtic and current ESPN analyst Paul Pierce after his old team won the first game of their series against the Milwaukee Bucks. Spoiler alert: It was not over – at least certainly not for the Bucks, who wouldn't lose another game to the Celtics en route to a series win. I wonder if the Bucks noticed ...
LMFAO BUCKS WERE JUST HOLDING THIS THEN PLAYED IT POSTGAME ON THE JUMBOTRON 😭😭😭 @paulpierce34 pic.twitter.com/ZtvWgN7LQM — MKE Bucks News (@BucksNewsNStuff) May 9, 2019
Ah. So they did. Anything to say for yourself, Paul?
pic.twitter.com/4or4PLPOoZ — Paul Pierce (@paulpierce34) May 4, 2019
Fair enough – though, in the end, Pierce got pretzels from Milwaukee to further troll his wrong prediction. That's not fair; I don't get tasty salty treats when I mess up! I just get humiliated!
"Game of Thrones" ends happily for literally no one
No one would ever call "Game of Thrones" a particularly crowd-pleasing show, but its much-anticipated final season in particular made no one happy thanks to its rushed character development and unearned story choices. AND I STILL DON'T KNOW WHICH CHARRED KING'S LANDING CORPSE WAS AARON RODGERS!
Bucks lose to Raptors in the Eastern Conference Finals
Only in Milwaukee could we have the most successful and exciting season in years – an incredible regular season, leading to the first playoff series win in over a decade and the first ECF appearance since basically the turn of the millennium – and still end it in a way that's uniquely depressing as hell, as Kawhi Leonard and the Raptors stifled Giannis and the Bucks after two losses to take the Eastern Conference, then the NBA Finals. And here I was thinking Canadians are supposed to be polite ...
People we lost:
Doris Day, actress ("Pillow Talk," "The Man Who Knew Too Much")
Bart Starr, Green Bay Packers quarterback
Tim Conway, actor ("The Carol Burnett Show")
June
South Milwaukee unveils The Crusher statue

When it comes to delightfully kitschy statues, Milwaukee refuses to be beat, adding a tribute to wrestling sensation The Crusher to its portfolio of public art. And I could not be happier.
Mindy Kaling drops by Milwaukee
The "Office" star made a surprise visit to Milwaukee for Baird's 100th anniversary – as well as a surprise request, turning to Twitter for lunch recommendations in town. The winner: Cafe Benelux for a very Brew City combo of cheese curds and bratwurst.
"Big Little Lies" returns
The star-studded HBO soap came back with more stars – a screaming Meryl Streep! – but a little less quality thanks to more behind-the-scenes drama than on-screen drama. However, the second season still gave us this:
The Greek Freak wins NBA MVP
Giannis was already our MVP, but after his impressive 2018-19 campaign, he became the NBA's, becoming the first Bucks player to win the awards since Kareem Abdul-Jabbar in 1974. And if there were fans somehow not charmed by Giannis before, they certainly were after his humbled and emotional acceptance speech. (OK, maybe not in Houston, but nobody likes them anyway.)
Summerfest rocks per usual
Despite some unpleasantness at Lizzo's highly anticipated grounds stage performance, the Big Gig once again put on an incredible show with the help of Jennifer Lopez making her Milwaukee debut, Billie Eilish, The Lonely Island, Snoop Dogg and Lil Wayne, Bon Iver and many, many ridiculously more. And next year: Bieber! (No, seriously, it's Justin Bieber.)
People we lost:
July
U.S. dominates the Women's World Cup
Led by Megan Rapinoe, the U.S. women's national soccer team steamrolled its way to the title at the World Cup, defeating the Netherlands in the final, 2-0. You get the impression these ladies should be paid more, no?
People we lost:
Rip Torn, actor ("Dodgeball," "The Larry Sanders Show")
Cameron Boyce, actor ("Descendants")
John Paul Stevens, former U.S. Supreme Court justice
Rutger Hauer, actor ("Blade Runner")
Hal Prince, Broadway producer and director
Ross Perot, business and politician
August
Topher Grace goes to Wisconsin State Fair
After spending years acting like a Wisconsinite on "That '70s Show," Topher Grace fully committed to the bit this summer by dropping by the Wisconsin State Fair and almost assuredly eating something deep-fried and on a stick.
Popeye's chicken sandwich cooks up craziness
A hearty congratulations to Popeye's for finally discovering the concept of a sandwich, as "what if Popeye's chicken but on bread" swept the nation – and swept its way right out of the fast food chain's kitchen, selling out in just a few line-filled weeks. It's OK, though; the sandwich is back – and even if it wasn't, you could make your own with essentially a roll and an order of Popeye's chicken tenders.
Headless woman mural in Third Ward creates conversation
This large mural of Bavette chef/butcher Karen Bell created by artist Andres Von Chrzanowski may not have a mouth itself, but it certainly got people talking about what and who it represents, as well as how it goes about it.
Yelich goes in the buff for ESPN The Magazine, appalls Roxane
Following in the large footprints of Prince Fielder, Christian Yelich took to ESPN The Magazine sans clothes for its infamous Body Issue. And if you thought he was a knockout in the photoshoot, wait until you see his savage Twitter smackdown of a Very Concerned pearl-clutcher.
Kombucha girl becomes one of the memes of 2019

My face while thinking about whether I'm excited or not about 2020:
People we lost:
Toni Morrison, author and Pulitzer Prize winner
Peter Fonda, actor ("Easy Rider," Ulee's Gold")
Eddie Money, musician
September
Christian Yelich powderizes knee cap with foul ball
Sh*t. That still just about covers it – though this helped soften the blow a bit.
Wahlburgers opens at The Corners of Brookfield
The Mark Wahlberg-approved burger shop opened up its first Wisconsin location to much ballyhoo, then seemingly disappeared from everyone's minds. The maiden voyage into Wisconsin must be working, though, because the chain already announced a second location in the Third Ward.
"Storm Area 51" takes the internet by storm, if not the actual base
Much like any party I throw, despite a viral Facebook event noting a large number of people planning to attend, the plan to "Storm Area 51" only ended up drawing a tiny fraction of that crowd – reportedly 150 – to the gates of the legendarily secretive base. A fine demonstration of the "Snakes on a Plane" Theorem: Just because something's a hit on the internet doesn't mean it'll be a hit in reality.
The Jeremy Renner app dies a horrible death
When he wasn't trying to sell you a Jeep or an album of Daughtry Light songs, Jeremy Renner also wanted you to join his odd fan app – which then descended, as all things on the internet do, into chaos and trollery. He killed the app in September. I guess he'll just have to console himself with his millions of "Avengers" residual dollars.
Antonio Brown drama
After a tumultuous offseason with the Oakland Raiders, involving cryptic tweets and frostbitten feet, the star wide receiver was eventually released by the team – only to be predictably picked up by New England. But after more (and increasingly serious) off-field troubles were reported, even the unscrupulous Patriots cut ties with Brown after just one game. But hey, it was worth it to beat the dreaded ... Miami Dolphins?
People we lost:
Cokie Roberts, journalist
Ric Ocasek, musician and lead vocalist for the Cars
October
Brewers blow Wild Card playoff game against the eventual World Series champion Washington Nationals
Despite jumping on Nats stud pitcher Max Scherzer early and taking a 3-1 lead into the bottom of the eighth inning, with one of baseball's best relievers on the mound, the Crew lost its one-game playoff game, 4-3, to Washington. In fairness, everybody ended up losing to the Nationals in the playoffs, so that stings a little less.
Front Row Friday's at Miller Park becomes ... "Restaurant to be Named Later"
Somehow, this news has not changed and revealed itself to be an "IHOP/IHOB" situation. Honestly the most surprisingly development of 2019.
No snarky comment here – this is just delightful! A congratulations to Giannis and Mariah Danae Riddlesprigger, who made the announcement on her Instagram. I'm not a father myself, but I have heard that babies love NBA championships ...
Milwaukee Film Festival brings in record attendance
With two new theaters in the fold and the help of buzzy titles like "Parasite," "Marriage Story" and "Cold Case Hammarskjold," just to name a few, the annual fall cinematic extravaganza brought in a new record number of attendees. Now keep going to the movies (to see good things, not "Cats").
"Hamilton" finally comes to Milwaukee
Better late than never! And it certainly didn't spoil, as the touring Marcus Center production was worth the wait.
"Joker" dances toward monster success
"Murray, one small thing: When you bring me out, can you introduce me as the first R-rated movie to gross one billion dollars worldwide and almost certainly a multiple Oscar nominee?" (*dances strangely yet hypnotically for 338th time*)
"OK, boomer" sweeps the nation
Leave it to millennials to get blamed and chastised for a catchphrase that they didn't even come up with.
People we lost:
Elijah Cummings, politician and civil rights activist
Robert Forster, actor ("Breaking Bad," "Jackie Brown")
Diahann Carroll, actress ("Julia," "Dynasty")
November
Bay View man scores pinball record
And in case setting the record for most continuous pinball playing wasn't impressive enough, he did it all while raising money for Children's Hospital of Wisconsin AND battling hackers. Kinda sounds like the premise of a "Speed" sequel ... SOMEONE GET ME KEANU'S NUMBER!
Netflix's "The Irishman" debuts, is very good, also very long
After spending a month (validly) ripping on Marvel movies and sharing his concerns about the (provably unstable) state of cinema, Scorsese put his money where his mouth was and made another masterpiece – and almost certainly his final crime film. If so, he's going out with a brutally brilliant final blow.
Brewers unveil new uniforms and logos
Well, "new," as the Crew's new look is a slightly altered throwback to the beloved ball-and-mitt logo from the '80s. And while there were some slight grumbles about the tweaks and the brand new blue alternate (though I predict, when people see it in person, they'll be fast fans), the overall verdict seemed to be the rebrand was a home run. (I'm so sorry.)
The first major streaming competition for Netflix (sorry, AppleTV+, sit down) arrives, offering a massive library of Disney classics, Pixar favorites, Marvel blockbusters, "Star Wars" adventures, breathtaking National Geography docs and also 1969's "The Computer Wore Shoes." (Listen, Disney wasn't always making winners.) Also amongst the release day collection: "The Mandalorian," which speaking of ...
Baby Yoda takes over the world
And here Detective Pikachu was, thinking he was going to be everyone's favorite big-eared, big-eyed, itty-bitty, adorable pop culture character of the year. Though maybe hold off on getting tattoos of the viral "Mandalorian" star (complete with a White Claw, because this IS 2019 after all) until we can confirm he's a good guy. It's like we learned nothing from "Game of Thrones."
December
"Star Wars: The Rise of Skywalker" ends the trilogy of trilogies
I've got a bad feeling about this. Indeed, trying to follow the plot and logic of the "Star Wars" finale (for now, at least) wasn't quite as mind-melting as "Cats" ... but it's about as dangerously close as you'd like to get.
President Trump impeached
On Dec. 18, the House of Representatives formally voted to impeach President Trump on two charges: abuse of power for withholding military aid to Ukraine in order to force an investigation into Democratic presidential nominee Joe Biden and his son, as well as obstruction of Congress.
White House reopens as a restaurant
On the topic of a very different White House, after remaining closed for almost two years, the Bay View icon reemerged in late December as a fine dining establishment.
People we lost:
Caroll Spinney, performer behind Big Bird and Oscar the Grouch on "Sesame Street"
Juice WRLD, "Lucid Dreams" rapper
Marie Fredriksson, Roxette singer
Danny Aiello, actor ("Jacob's Ladder," "Do the Right Thing")
As much as it is a gigantic cliché to say that one has always had a passion for film, Matt Mueller has always had a passion for film. Whether it was bringing in the latest movie reviews for his first grade show-and-tell or writing film reviews for the St. Norbert College Times as a high school student, Matt is way too obsessed with movies for his own good.
When he's not writing about the latest blockbuster or talking much too glowingly about "Piranha 3D," Matt can probably be found watching literally any sport (minus cricket) or working at - get this - a local movie theater. Or watching a movie. Yeah, he's probably watching a movie.