Stand even for a moment on the landing just inside the doors of Glorioso's Italian Market on Brady Street and your olfactory system will be stimulated, not only by the spicy, yeasty and vegetal odors of a typical grocery environment, but also by the pungent aromas of Italian cheeses and spicy Italian sausage.
"People from Philadelphia or New York will stand on the landing crying," says Michael Glorioso, general manager of the family-owned grocer. "And they'll tell us: 'This reminds me of my grandma or grandpa taking me to the Italian grocery store when I was a child.'"
And those moments, Michael notes, are at the heart of the family business, which turned 70 this past February.
"Everything about Glorioso's has always centered around family and food," he says. "It was always about people, whether it was family or community … about sticking together and supporting one another. And that's still what makes this business special."
Humble beginnings
The story of Glorioso's begins, as you might expect, with a tale of immigration. Felice Glorioso was about twenty years old when he made the journey from his home in Sicily to join his cousin in Milwaukee. Although he envisioned he'd continue his livelihood as a fisherman in the American city by the lake, he soon became rapt by a city filled with Italian immigrants for whom the produce business was a mainstay.
He soon nabbed a job on the old Commission Row on Broadway, buying and selling produce. For years, he manned a horse drawn wagon from which he'd peddle fruits and vegetables to neighborhoods across the city.
"You can't sell off of an empty cart," he'd say – a maxim that has been passed down through the Glorioso family for nearly a century.
Eventually, Felice met Theresa, a young Siclian girl whose family had also settled in Milwaukee, and they were married and started a family which included six boys and a girl: Joe, Eddie, Nicky, Teddy, Rosalie, Anthony and Charles.
When the boys got to be teenagers in the early 1940s, they enlisted in the armed services. Each took a different post, with Joe serving as Dwight D. Eisenhower's personal assistant.
When they returned to Milwaukee, Joe and Eddie secured just over $1,000 from Mr. Gagliano, their father's Third Ward employer. After acquiring matching funds from the bank, they purchased the original store at 1018 E. Brady St.
And on Feb. 14, 1946 – armed with passion, a 150-pound wheel of provolone, and an interminable work ethic – the brothers opened Glorioso Brothers Foods.
At the time, the Brady Street business district was in a transition. Once an Irish, Polish and German neighborhood, it was slowly filling with Italians. And that bode well for the new shop, which was in good company. At the time, there were likely 50 other Italian grocers operating across the city.
Teddy, who had been working from the time he was nine at an Italian grocer in the Third Ward, quit school at 15 to help support the family business – bleaching floors, stocking shelves and unloading goods off of delivery trucks and into the windows of the basement storeroom.
Eddie, who was 22 when the grocery opened, had already spent years working for Busalacchi's. At Glorioso's, he handled deliveries. He also held down a job at the Heil Co., using the extra cash to help out the family business.
Meanwhile Joe, who had started his career with a Jewish owned grocer Seeman's on Port Washington Road, ordered everything from fruits and vegetables to imported olive oil and pasta, supplying the community with a variety of items that they couldn't find anywhere else.
"In the early years, Italian products just weren't available – canned tomatoes, olive oil, cheeses," remembers Michael, who grew up in an apartment behind the store. "There were no distributors in Milwaukee. So every Monday they'd go down to Chicago and pick up whatever they could find. And they'd stop at Lezza's bakery and bring back cannoli for my grandmother and the family."
In the beginning, Glorioso's meat counter was managed by cousin Ted Russo, who ran the business under the moniker Russo Meats. But in 1950, when Joe married Mary Frinzi, an Italian girl whose family had run Italian grocery stores on Water and Broadway, Mary helped to pull the Glorioso's into the meat business. With her help, the family began producing fresh Italian sausages using a recipe Felice had brought with him from Sicily.
For 65 years, Glorioso's maintained its business on Brady. For a time, the Gloriosos started a wholesale business, which not only allowed them to carry more products, but also offer them in larger quantities. Eventually, they were the only Italian grocers left among the 50 that once inhabited the area.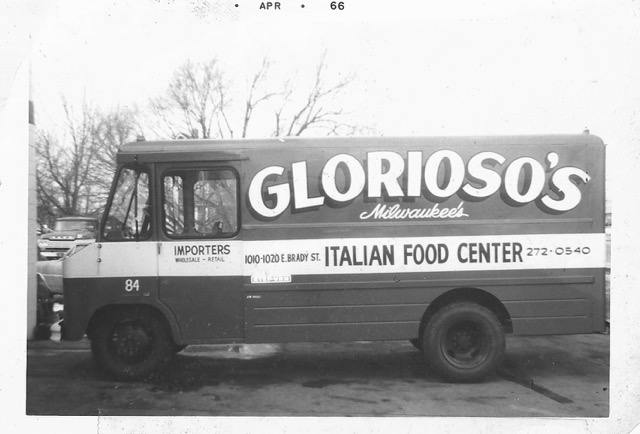 Glorioso's restaurants
While Glorioso's is known primarily for its grocery business, the family also forayed into the restaurant business for a number of years.
Around 1951, the brothers noted a new phenomenon. Pizza joints were slowly cropping up around the city, and the notion of starting their own gained momentum.
"My dad [Teddy] went and learned how to make pizzas, and they opened up their first place in the back of a bar on the corner of 1st Street and Kinnickinnic," says Michael.
Eventually, the brothers purchased the space next door to Glorioso's and established a small pizzeria, which they called Trio's.
"It was probably the third pizza restaurant in the city in the early 1950s," says Michael. "And they were the first pizza place to offer delivery."
In 1960, they also bought the property to the west of Trio's at 1010 E. Brady St. – then a gas station – and opened a full service fine dining restaurant, which they called Glorioso's Italian Villa. The restaurant offered up sit down dining along with a bar and party room that was used frequently for weddings and a variety of gatherings. Glorioso's operated there for nearly 40 years, closing up shop in the '90s and giving way to Emperor of China, which now inhabits the space.
Along the way, Michael says he grew familiar with certain aspects of the restaurant business, though his memories today focus primarily on the long hours his parents put in and the mischief he got into along the way.
"Dad was the cook and mom was the waitress," he notes. "So, for a while my older sister Terry and I had a nun from St. Hedwig's who used to babysit for us in the evenings."
Michael recalls secret excursions to Campanelli's grocery, which was located just across the street, to trade in soda bottles for penny candy.
"The grocery store would stack the wooden crates for soda bottles right next to our apartment door," he says. "So, whenever I needed candy, I'd sneak down and grab a few bottles, and cash them in."
Years later, when Michael confessed that he'd been trading in the family's bottles to another grocer, family members nodded. "Oh, we knew," they said. "We were more worried about you crossing the street."
The modern Italian grocery
Seventy years later, Glorioso's has grown. In 2010, the grocery store moved into its current location at 1011 E. Brady St. In the new location – which took the business from 1,000 square feet to 10,000, shelves are stocked with more than 12,000 different products.
And the family is still at the helm. Joe passed away in 2013 at the age of 91, making Teddy the sole owner. Although he is no longer a partner in the business, Eddie still works behind the sausage and meat counter.
Meanwhile, Joe's son Felix (Felice), who has worked in the store since he was a child, is now store manager. And Teddy's son, Michael, general manager, joined the grocery store's team around 2008 after retiring from 28 years working in the corporate world.
"I came in with a lot of respect for the family business -- which includes my cousin Felix, who really worked to help get us where we are now," says Michael. "We got computerized. We put ordering systems in place. We got managers. And we changed the business to fit not only the trends, but also what people here want from us."
"It's a family business," notes Michael. "And as much as we love each other, we don't always agree. And it takes a lot of patience sometimes. It took a long time to get past 'the way we've always done things.' But, one of the big reasons we've gotten better is that we began surrounding ourselves with people who know more about wine, more about cooking, more about their individual areas than we do."
Michael notes that the expansion, which allowed the grocer to add various new product lines including different ethnic foods, artisan products and locally made goods, was a mixed blessing.
"We went down the organic route, and some people appreciated it, but it wasn't what people wanted from us," he says. "So, about two years ago we got sophisticated enough where we had reports from every department. And we could see what people were actually buying. As a result, we've eliminated 1,500 products in the past two years, none of which people necessarily miss. Instead of eight sea salts, we have two. Instead of many types of truffles, we have one, and it's Urbani."
Currently, Glorioso's is focusing on strengthening its Italian cheese selection.
"We'll never have the biggest cheese department out there," he says. "But we just brought in a new cheese manager. And while we'll be carrying a number of Wisconsin cheeses, and things that are in alignment with our Italian experience, the main goal is to have the best Italian cheese department there is."
The business is also in the midst of putting the final touches on a hands-on cooking school located in the old shop, which may be open as early as this fall.
"Right now we're focusing on putting family recipes into retail packaging," he says. "It's a slow process. But, we currently have 13 sauces available. And this year we'll probably see 20 new products introduced, including salad dressings, eggplant caponata and tomato bruschetta."
As for additional expansion, Michael says he'll never say never.
"People always ask: Would we ever build another store?" says Michael. "And the answer is, probably not in the near future. But, it's definitely a possibility down the road. The store has always been the heartbeat of our family. We have a great brand. It's a great business to be in."
Lori Fredrich (Lo) is an eater, writer, wonderer, bon vivante, traveler, cook, gardener and girlwonder. Born and raised in the Milwaukee area, she has tried to leave many times, but seems to be drawn to this quirky city that smells of beer and alewives.
Some might say that she is a little obsessed with food. Lo would say she is A LOT obsessed with food. After all, she has been cooking, eating and enjoying food for decades and has no plans to retire anytime soon.
Lo's recipes and writing have been featured in a variety of publications including GO: Airtran Inflight Magazine, Cheese Connoisseur, Cooking Light, Edible Milwaukee, Milwaukee Magazine and the Milwaukee Journal Sentinel, as well as on the blog Go Bold with Butter, the web site Wisconsin Cheese Talk, and in the quarterly online magazine Grate. Pair. Share.