Remember when Aaron Rodgers headlines were fun? When they talked about hosting game shows and shaking off bad answers from contestants rather than hoping for offers from other teams and shaking off contract negotiations from the Packers brass? Those were the days – and to help you remember those sunnier times, here's a new bobblehead of the current NFL MVP hosting "Jeopardy!"
Created by FOCO, the bobblehead features Rodgers behind a personalized "Jeopardy!" podium – complete with the now infamous "Who wanted to kick that field goal?" incorrect (but actually very correct) answer. The bobblehead also comes with a special and innovative feature that, if you say the name "Brian Gutekunst" around it, steam pumps out of its ears. (OK, that part's not true.)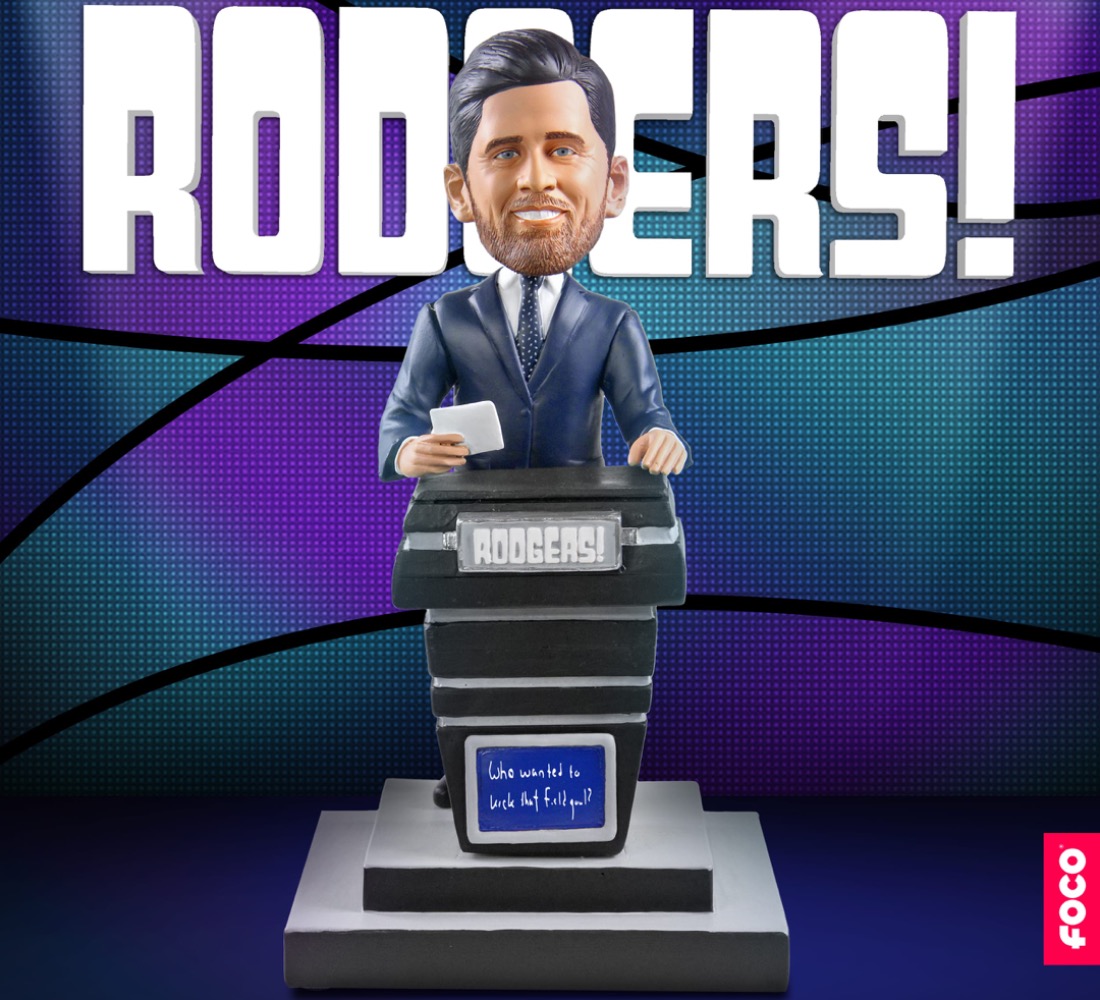 The collectible serves as a tribute to the quarterback's popular guest hosting gig on the game show for two weeks last month, earning generally rave reviews from many fans and solid ratings – to the degree that he's considered a genuine candidate to earn the full-time job. But as with apparently Rodgers' on-field employment status, who knows what the future may hold! (*nervous laughter, tugs at shirt collar*)
"Everyone knows just how great Aaron Rodgers is on the field, but we're excited to change things up with a bobblehead that depicts him off the field," said Matthew Katz, Senior Licensing Manager at FOCO, in a release. "It's a unique portrayal of one of football's best players, and we're confident Aaron Rodgers fans will be eager to add this unique limited edition bobblehead to their collections."
The bobbleheads will go on sale at FOCO's website starting today at 11 a.m., costing $50 with delivery times estimated for August. For more information, visit FOCO's website – and for more updates on this super enjoyable, not-at-all stressful offseason drama, stay tuned to OnMilwaukee.
As much as it is a gigantic cliché to say that one has always had a passion for film, Matt Mueller has always had a passion for film. Whether it was bringing in the latest movie reviews for his first grade show-and-tell or writing film reviews for the St. Norbert College Times as a high school student, Matt is way too obsessed with movies for his own good.
When he's not writing about the latest blockbuster or talking much too glowingly about "Piranha 3D," Matt can probably be found watching literally any sport (minus cricket) or working at - get this - a local movie theater. Or watching a movie. Yeah, he's probably watching a movie.