Everyone from Bucks superstar Giannis Antetokounmpo to OnMilwaukee President Jeff Sherman has campaigned for a Topgolf location in Milwaukee. And next year, Ballpark Commons will bring the same experiential concept to Franklin in the form of Luxe Golf Bays, a golf entertainment facility that promises fun for both scratch golfers and never-touched-a-driver hackers.
Luxe Golf Bays will be a massive, three-level entertainment center with 57 heated, open-air bays overlooking approximately 215 yards of turf, as well as two locally branded restaurants and a four-season beer garden called the Hinterhof.
The first of its kind in the Midwest when it debuts in Summer 2019, Luxe Golf Bays in Franklin's Ballpark Commons will be the flagship location for at least half a dozen other Luxe ranges planned to open within the next seven years.
The $15 million facility will provide a unique setting and experience for big and small groups who want to share food, drink and friendly – or even serious – competition. According to ROC Ventures, which manages Ballpark Commons – the $125 million mixed-used development that breaks ground this spring – and made the announcement on Wednesday, each bay is a fully furnished private suite complete with a big-screen TV and is climate-controlled for year-round comfort.
"This is golf meets technology and entertainment and dining," ROC Ventures CEO Mike Zimmerman said in a statement. "You definitely don't have to be a golfer to enjoy Luxe Golf – it's a tremendous way to bring people together, enjoy and share great food and beverages, and introduce the game to a new audience."
Luxe Golf Bays will be served by two distinctive restaurants, each with a different concept, created and run by a local hospitality group. Between the restaurants will be the Hinterhof beer garden, a year-round, open-air gathering space.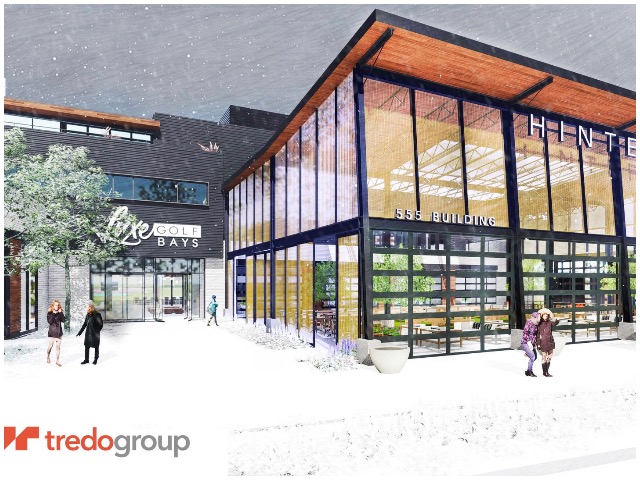 "'Hinterhof' is German for 'backyard'," Zimmerman said. "And that's the atmosphere we're after. The structure will have a retractable roof so it's open to the sky as much as possible, and removable panels that create a controlled environment no matter what time of year it is."
Similar to Topgolf, Luxe Golf deploys Doppler radar ball tracking software and a gaming platform that allows players in different bays and even in different facility locations to compete against one another and play famous courses. There are also graphics-interactive games that can be monitored on a big screen in the bay, as well as shot tracking and shot data analysis in practice/training mode.
According to ROV Ventures, "even a person who doesn't know a putter from a sand wedge can't help but get caught up in the fun." But for guests who actually want to improve their golf game – or just get started – lessons by certified pros will be offered. Luxe will also offer leagues for kids and adults throughout the year where participants can "meet, eat and compete."
In addition, the facility will feature a 2,500-3000 square foot event space available to host all kinds of gatherings.
"We are seeing an 'Experience Economy' emerge, where people desire experiences much more than simple goods and services," Zimmerman said. "Every element of Ballpark Commons is curated with experience, sustainability and community at its heart, and Luxe Golf is a terrific expression of that focus."
Born in Milwaukee but a product of Shorewood High School (go 'Hounds!) and Northwestern University (go 'Cats!), Jimmy never knew the schoolboy bliss of cheering for a winning football, basketball or baseball team. So he ditched being a fan in order to cover sports professionally - occasionally objectively, always passionately. He's lived in Chicago, New York and Dallas, but now resides again in his beloved Brew City and is an ardent attacker of the notorious Milwaukee Inferiority Complex.
After interning at print publications like Birds and Blooms (official motto: "America's #1 backyard birding and gardening magazine!"), Sports Illustrated (unofficial motto: "Subscribe and save up to 90% off the cover price!") and The Dallas Morning News (a newspaper!), Jimmy worked for web outlets like CBSSports.com, where he was a Packers beat reporter, and FOX Sports Wisconsin, where he managed digital content. He's a proponent and frequent user of em dashes, parenthetical asides, descriptive appositives and, really, anything that makes his sentences longer and more needlessly complex.
Jimmy appreciates references to late '90s Brewers and Bucks players and is the curator of the unofficial John Jaha Hall of Fame. He also enjoys running, biking and soccer, but isn't too annoying about them. He writes about sports - both mainstream and unconventional - and non-sports, including history, music, food, art and even golf (just kidding!), and welcomes reader suggestions for off-the-beaten-path story ideas.