Like most of us, Jenneca Younger is figuring it out, piece by piece. So far, at only 24, she has a job that she loves, a solid tribe of service industry friends and a newfound ability to cook and consume chicken without the risk of poisoning herself.
Younger has worked at The Belmont Tavern, 784 N. Jefferson St., for almost two years, and although she's not sure what the future will bring, she knows she's finally in the right professional arena.
"I feel like there are so many options. I have friends who went into management; friends who own bars; friends who work as liquor reps," says Younger. "The sky's the limit."
OnMilwaukee: What led you to bartending and is this a temporary job or career for you?
Jenneca Younger: After high school, I went to UWM for social work. Ironically, I wanted to be a drug and alcohol counselor. But that didn't work out. So I went to cosmetology school. And that wasn't right for me, either. So I started out as a bartender because I didn't know what else I wanted to do, and I realized I really love it. It's definitely a career path for me.
What do you love about it?
I love the social aspects of it. When I'm not behind the bar, I'm not the most social person in the world, but when I am behind the bar, it's different. I love talking to all kinds of people. I think it appeals to the part of me that wanted to be a counselor.
So in your experience is it true that customers really open up to bartenders?
I have definitely heard a lot of stories – happy, sad, you name it. Then I have to bottle them up, keep them to myself.
Do you consider yourself an extrovert or an introvert?
I'm an extroverted introvert. I typically don't like people, but for some reason having two feet of granite between me and other people is totally different. Suddenly, I'm good with people.
Do you get hit on often?
I have, but not too often. I can have an intimidating face because sometimes I get kind of OCD working behind the bar and I give off a standoff-ish vibe for a few minutes. So when someone does hit on me, I'm a little empathetic and impressed because it means they overcame the scary creature behind the bar.
What was your first bartending job?
Prior to working here, I was a bartender at Shaker's Cigar Bar for about a year and a half.
Do you smoke cigars?
I occasionally indulge, but it's not an all-the-time thing.
What is your favorite drink to make behind the bar?
I really can't pick a favorite drink. It's the bartender's version of picking their favorite child. But we have a new menu here and lately I've been in a Tom Collins kind of mood.
What's your favorite drink to consume?
Gin. I'm a huge gin fan. I love going to other bars with great gin selections, like Tin Widow. I hated gin in college, but I didn't understand it then. Also, my friends at Izzy Hops are helping me get over my beer phobia.
Do you have to keep yourself in check about drinking or is it easy for you to manage?
My entire life is alcohol. I am a full-time bartender. I live above a bar. And I do enjoy drinking. But after more than two years in the service industry, I toned it down. I'm getting into cooking and going to the gym. I think I hit my "service industry point" one day and thought, "Hmm. I'm starting to get chubby after all those bombs." So I dialed it back.
What do you like to do when you're not bartending?
I'm super into food and just started cooking. That might sound weird – I'm 24 and just learning how to cook, but that's what happened. I also like painting or anything else that's creative. Most bartenders have a lot of creative intuition. A lot of us are art nerds in one way or another.
So what are you cooking these days?
Again, this might sound weird, but I just mastered chicken, thanks to YouTube videos and a couple glasses of wine.
What are your thoughts on Milwaukee? Gonna stick around for a while?
I love it. There's so much going on Downtown and it's fun to interact with different types of people all the time. The Belmont in specific draws such a mishmash of people and it's awesome to serve them and see them have fun together and everyone just getting along.
If you could travel anywhere in the world, where would you go?
I'm Italian, so I have big goals to make it to Italy someday. But first things first: I should probably take a day off and get a photo for a passport.
Do you ever want to own your own bar?
I don't know. People who own bars deserve a lot of credit. (The Belmont Tavern owner) Mike Vitucci is a great boss. They have a lot of gusto and I'm not sure I have it in me. Currently, I am happy with where I am. I'm not really sure where I see myself in five years, but I'm having fun right now and I know that will continue.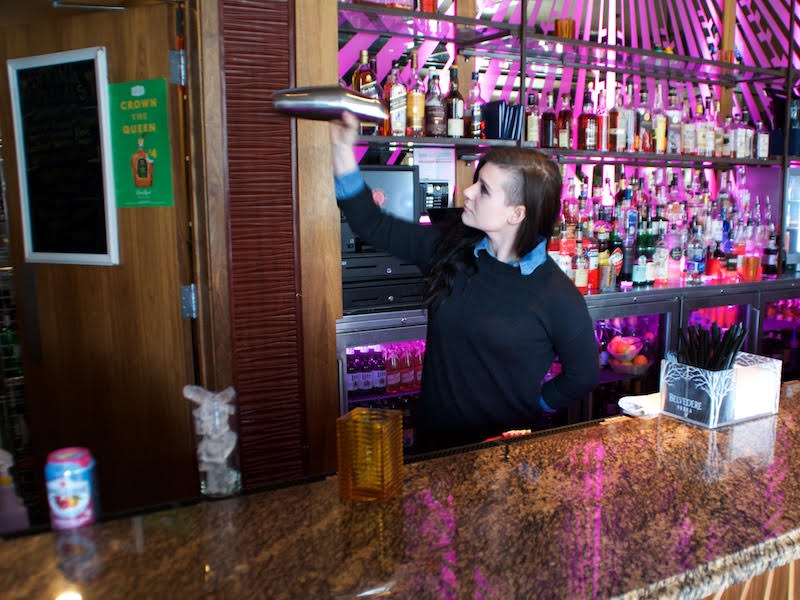 Molly Snyder grew up on Milwaukee's East Side and today, she lives in the Walker's Point neighborhood with her partner and two sons.
As a full time senior writer, editorial manager and self-described experience junkie, Molly has written thousands of articles about Milwaukee (and a few about New Orleans, Detroit, Indianapolis, Boston and various vacation spots in Wisconsin) that range in subject from where to get the best cup of coffee to an in-depth profile on the survivors of the iconic Norman apartment building that burned down in the '90s.
She also once got a colonic just to report on it, but that's enough on that.
Always told she had a "radio voice," Molly found herself as a regular contributor on FM102, 97WMYX and 1130WISN with her childhood radio favorite, Gene Mueller.
Molly's poetry, essays and articles appeared in many publications including USA Today, The Writer, The Sun Magazine and more. She has a collection of poetry, "Topless," and is slowly writing a memoir.
In 2009, Molly won a Milwaukee Press Club Award. She served as the Narrator / writer-in-residence at the Pfister Hotel from 2013-2014. She is also a story slam-winning storyteller who has performed with The Moth, Ex Fabula and Risk!
When she's not writing, interviewing or mom-ing, Molly teaches tarot card classes, gardens, sits in bars drinking Miller products and dreams of being in a punk band again.