"Bar Month" at OnMilwaukee is brought to you by Miller Brewing Company, calling Milwaukee home since 1855. For the entire month of March, we're serving up fun articles on bars, clubs and beverages – including guides, the latest trends, bar reviews, the results of our Best of Bars poll and more. Grab a designated driver and dive in!
Step into Hudson on a weekday evening, and you can expect to see the cozy café – the public-facing front of the Third Ward coworking space at the corner of E. Buffalo St. and N. Broadway Ave. – transitioning from a quiet, work-focused coffee shop to a casual, more sociable lounge.
The lights dim a bit, jazz music plays softly, an older man reads a book by the fireplace and two women in professional attire chat about projections over wine and salads. At the bar, there's a line of open laptops, with concentrating heads buried inside and foamy beers beside them, while a well-built, gregarious man pours drinks and makes connections. Soon, as David Kotke, the bar manager at Hudson, affably makes introductions – some of the patrons are Hudson members, others are guests, all of them Kotke gets to know quickly – the laptop screens start closing and the conversations pick up.
Hudson, 310 E. Buffalo St., is a creative, collaborative work and meeting space, so networking is in its DNA. And while it's after 5 p.m. and the mood is decidedly more relaxation than business-card exchange, Kotke – with a self-proclaimed "reputation to babble" – can't help it, extending the business lounge's mission of cultivating community and inclusive energy from behind the bar, where he's been for four years after more than three decades working in the service industry at establishments all over Milwaukee.
The 54-year-old Kotke wasn't always this extroverted and self-assured. He grew up in Cudahy in the 1960s and 70s, then went to UW-Parkside, at which he was co-captain of the college cheerleading squad, before moving to Milwaukee. Kotke worked at a bowling alley in South Milwaukee for several years, a dance club on Van Buren Street for a short while, the M&M Club in the Third Ward off and on for 16 years and La Cage, where he participated in a Vegas-style cabaret show with drag queens and female impersonators called Holly and Company and, he says, "life got a little more colorful."
While at La Cage, Kotke started competing in male beauty pageants, and in 1986 he won a statewide contest held Downtown at the old Marc Plaza and was named Mr. Gay Wisconsin. On the pageant circuit, Kotke traveled around the country – to Nashville, Memphis, even Los Angeles – and, thanks to the "camaraderie and excitement of jumping out there in front of 2,000 people," became more comfortable with himself. At one competition in Tennessee in 1987, during the height of the AIDS epidemic, he spoke for 20 minutes in response to a judge's question about what a condom, tossed on a table in front of him, signified. His thoughtful, sincere answer helped earn him first runner-up.
Kotke says, looking back now, he learned a lot about himself and about interaction with other people through those experiences, gaining the confidence to stand in front of people and talk, perform and work.
"I developed the ability to take more initiative and direct rather than follow," he says. "In my profession, it helped me. You get a bar full of people, it's the bartender that's going to make someone feel welcome and guide them. I think probably back then I didn't put the pieces all together, but as we grow older and analyze why we did certain things, it kind of brings it all into perspective. The story comes together."
After the pageant chapter of his life, Kotke's story continued back in Milwaukee, where he was still bartending at M&M Club and had also started serving at Elsa's on the Park. It was at Elsa's where Kotke says, "I cut my teeth and really learned about working in service for Karl Kopp" because "you're busting your butt and right alongside you is the owner, who's busting his butt." He also learned – through stern looks from Kopp – not to call a dish towel a rag, as well as "the art of the martini" and other little jewels.
Kotke remembers M&M Club, one of Milwaukee's most popular and cherished LGBT bars that opened in 1976 and closed 30 years later, as one of his favorite spots and the site where he developed his snark.
"That's where I got my sass, smart-ass persona, where you can provide fantastic service and still have a lot of fun without being offensive," he says, recalling quarters being bounced off his butt while working. "It was kind of the society model that we all hope for – a gay-owned establishment but patronized by gay, straight, every race, it didn't matter, as long as you came in and enjoyed yourself and treated everyone with respect."
In the early 90s, though, Kotke felt he needed a change and left Milwaukee. "I decided to run off and find myself, so I ended up in Dallas, before Texas kicked me out," he says, laughing, of his time at The Wave, a beach-themed dance club that was equally fun and exhausting. After five years in Dallas, Kotke returned to Milwaukee and "was very fortunate" to be one of the few former Elsa's employees to leave and be hired back by Kopp. He worked his way up to assistant wait staff manager there, then spent a happy decade at the former Eagan's On Water, where he created the beloved all-you-can-eat seafood brunch, "one of my career-highs," he says.
Eagan's closed in 2011, and Kotke worked a few different jobs, including at Coquette Café, Café Lulu – at which he's been in some capacity for the past 14 years – and The Cheesecake Factory, where the latter's regimented, scripted corporate shtick didn't jive with his jovial and interpersonal style, so he lasted just two weeks.
Then, sadly, four years ago, Kotke's husband of 18 years, Ron, passed away because of a head injury. The tragedy left Kotke heartbroken and despondent.
"When you walk through the door – you hear this at any establishment – you're supposed to leave your cares at home, leave your troubles behind at the door," he says. "I was finding that I couldn't, so I needed to take some time off to regroup, to get my mojo back."
So Kotke took a year off. During that time, Jenny Hochschild, the chef and café manager at Hudson, called him twice offering a job, and twice he turned her down. But, even after selling his and Ron's Glendale house and moving to West Milwaukee, the bills kept piling up. Finally, after Hochschild's third inquiry, Kotke agreed to come in, interviewing twice with co-managing partners Gary Lato and Dan Walsh, and then getting the job as bar manager.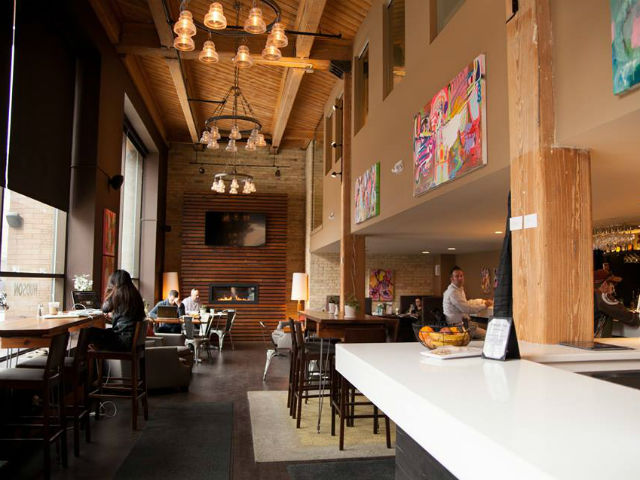 Hudson Business + Lounge - MKE Facebook
"I walked in, took the ball and ran with it," Kotke says. "It's been a fun journey."
Hudson's primary focus is on its members, who utilize the brightly lit private back area's open collection of office services and resources, starting at $79 per month. But when someone walks through the lounge's front door, Kotke and his staff make sure to give the person a hearty hello and individual attention, no matter who they are.
When asked what differentiates Hudson from other local bars and coffee shops that allow people to work while eating or drinking, Kotke talks about the diligent customer service, the carefully (personally, painstakingly) selected wine list and craft cocktails, and the professional but laidback atmosphere.
"I kind of call us an upscale Starbucks, without the attitude," he says, noting Hudson's café coffee is Lavazza, the fine Italian espresso they get from Chicago. "I've always been a giver and a nurturer, and the art of service isn't just, fill this person's glass of water. It's caring about filling the glass of water. You can teach anyone off the street how to pour a drink, but I can't teach them how to care, teach them to notice small things and anticipate the needs of the guest – those are the people that survive in service."
Scott Lorenz, Hudson's business development manager, says there's an appeal in having everything – a functional workspace, high-quality food, well-made drinks after a successful meeting or project achievement – in-house and accommodated.
"People have to work, and they have to eat and drink; we have something for everyone," he says. "You don't have to feel like you're not welcome at another coffee shop after you've been there for an hour or two and you're taking up a table. We welcome all that. Flexibility is a huge part of our business model, from that café-lounge side."
Hudson hosts regular events, for members and non-members, to inform people about the business lounge and its services, as well as to bring together and stimulate professionals in Milwaukee. Hudson also has an all-day happy hour – with $6 featured wines, $3 bartender's choice beers, $5 Van Gogh cocktails and a whiskey of the week – and a full menu of all-day breakfast items, sandwiches, salads, soups, smoothies and desserts.
This Thursday, March 22, Hudson is hosting a free networking event. For more information on Hudson Business Lounge, click here.
Born in Milwaukee but a product of Shorewood High School (go 'Hounds!) and Northwestern University (go 'Cats!), Jimmy never knew the schoolboy bliss of cheering for a winning football, basketball or baseball team. So he ditched being a fan in order to cover sports professionally - occasionally objectively, always passionately. He's lived in Chicago, New York and Dallas, but now resides again in his beloved Brew City and is an ardent attacker of the notorious Milwaukee Inferiority Complex.
After interning at print publications like Birds and Blooms (official motto: "America's #1 backyard birding and gardening magazine!"), Sports Illustrated (unofficial motto: "Subscribe and save up to 90% off the cover price!") and The Dallas Morning News (a newspaper!), Jimmy worked for web outlets like CBSSports.com, where he was a Packers beat reporter, and FOX Sports Wisconsin, where he managed digital content. He's a proponent and frequent user of em dashes, parenthetical asides, descriptive appositives and, really, anything that makes his sentences longer and more needlessly complex.
Jimmy appreciates references to late '90s Brewers and Bucks players and is the curator of the unofficial John Jaha Hall of Fame. He also enjoys running, biking and soccer, but isn't too annoying about them. He writes about sports - both mainstream and unconventional - and non-sports, including history, music, food, art and even golf (just kidding!), and welcomes reader suggestions for off-the-beaten-path story ideas.