Sam Lukasavitz is only in her early thirties, but she's been bartending for a long time. That's probably because she started serving drinks when she was in high school at an old club on Water Street called Six Degrees.
While bartending at age 17 is illegal, Lukasavitz has held numerous legit gigs around town, too, from Lucky's Irish Pub & Grill, Red Robin, Kelly's Bleachers, Aliota's – and now at On The Edge Bar & Grill in Greenfield for the past three years.
We caught up with Lukasavitz on a Friday night, and she's not kidding when she says every customer knows her name. "If you came and you weren't a regular, you're leaving a regular," says Lukasavitz. "And then you become a regular because you're always coming back."
OnMilwaukee: Why did you pick On The Edge for your current bartending job?
Lukasavitz: I needed a job because we were on COVID hours, and my old regular, who I knew from one of the places I bartended at, posted something looking for bartenders. I was like, I have extra time because I'm only working five hours a day." And she asked, "You want to work here?" And I took the job sight unseen, and I've been here now for almost three years.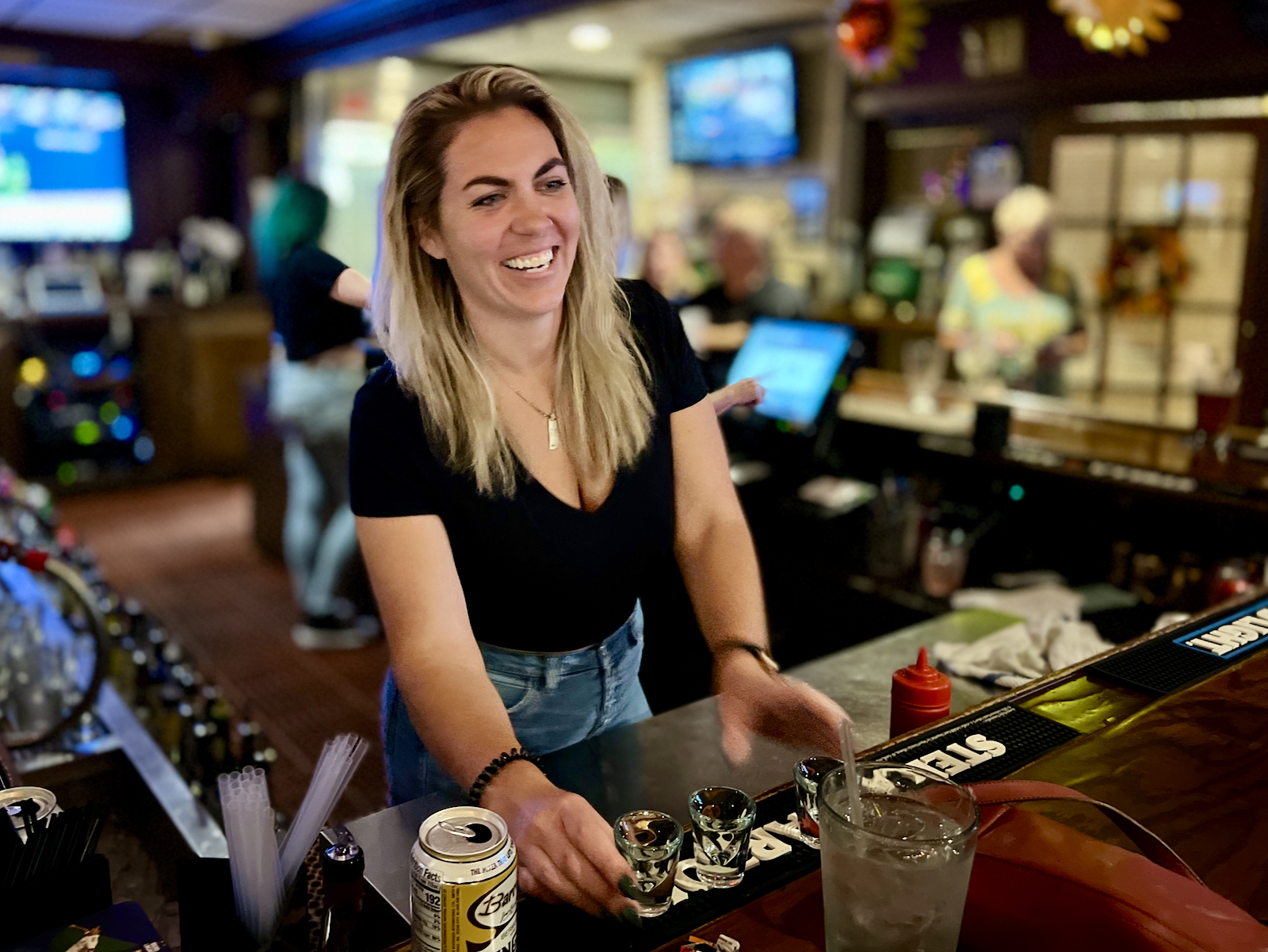 Do you do things other than bartend or is this your full-time gig?
Lukasavitz: I have another full-time job. I do hospital billing for Ascension.
Well, I guess you're making people feel better at both jobs.
Lukasavitz: I mean, I don't talk to anybody at my other job. I do the back end of it, the billing part of it. So I get to sit at home and digest everything that happened from bartending.
What's the vibe like here?
Lukasavitz: Everybody just comes here and just is free to be themselves. There is no judgment. We have people from young to old. And everybody just comes in, they know each other. It's one of those neighborhood bars where you know if that person's not here that day, something's going on. Everybody comes at the same time. You all get to know each other. You leave friends with everybody in the bar.
Do you have a signature drink that you like to make … or drink?
Lukasavitz: Rumple. That's my shot. Everybody knows what Sam wants a shot of. And then my cocktail that I drink is raspberry vodka and seltzer with a lime.
Do you have a drink that you hate to make?
Lukasavitz: I absolutely hate making Bloody Marys from scratch. It's so hard because everybody has their kind of taste to it. So it's like everybody wants something different. So even if you have the greatest Bloody Mary to a handful of people, there's going to be that person that hates it. And then it just makes you feel like sh*t because then your Bloody Mary sucks all of a sudden.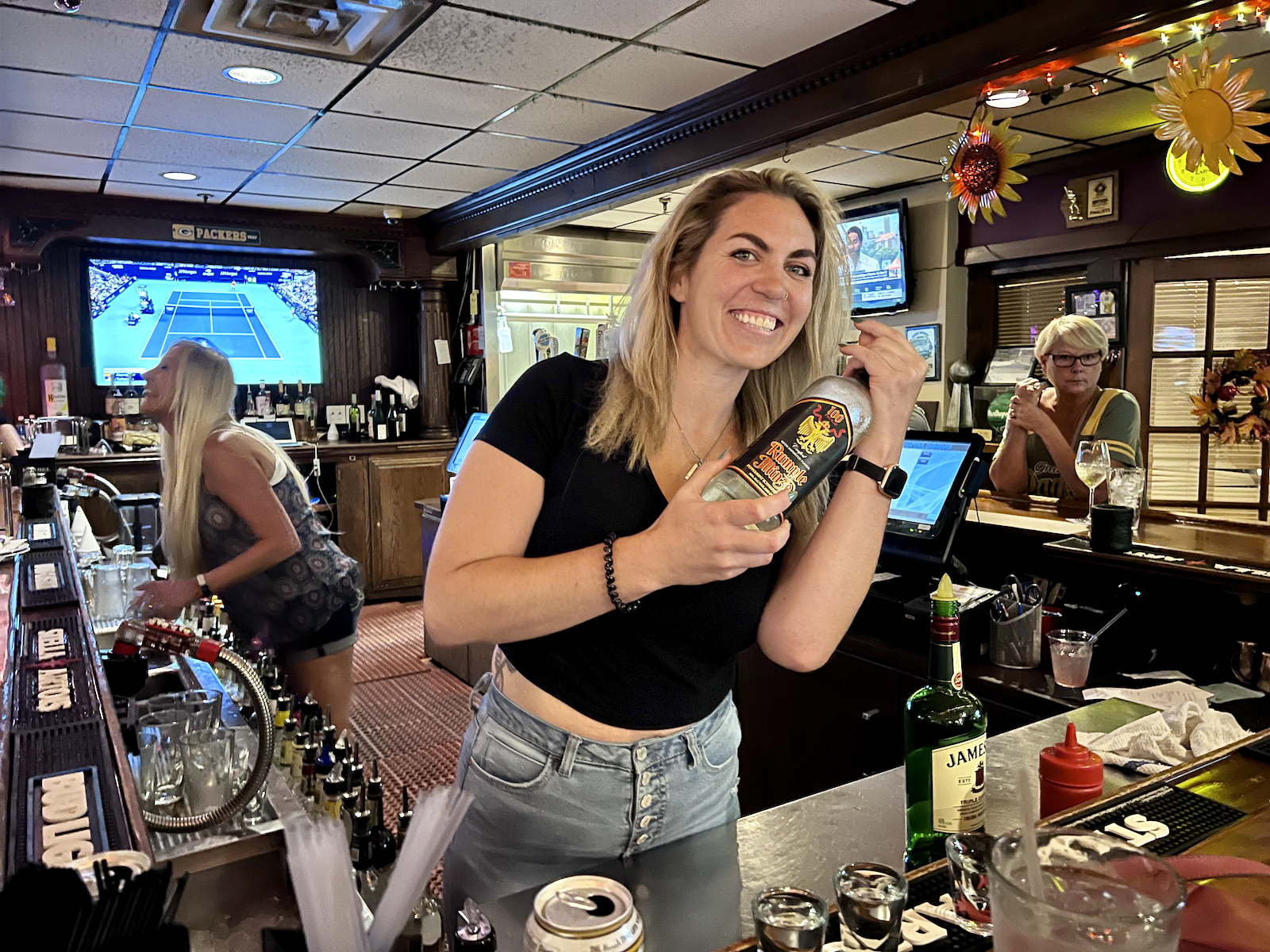 Who are better tippers, men or women?
Lukasavitz: Men for me. Definitely men. I think I once got a $100 tip and a bottle of really expensive tequila. It was a business dude and he was like, "Here you go." And he thought it was my birthday, and it was December and was not my birthday.
You didn't tell him it was your birthday? He just assumed it was?
Lukasavitz: He just assumed because ... I don't know why, but he was like, "Happy birthday." And I don't know if it was a joke or whatever, but it was the one tequila with the bell and then $100 on top of that. So it was a good time.
Did you ever have to break up a bar fight?
Lukasavitz: I have not, no. I have never had to break up a fight. An argument, a little spat, but never an actual fight. I've definitely seen bar fights. I'm definitely a lover, not a fighter. I would actually lose if I ever had to be in a fight or try to break up a fight.
What's the craziest thing you've seen as a bartender, either at this bar or somewhere else?
Lukasavitz: I once worked at a bar where there was naked volleyball organized. It was on the fly and it was a little after hours, but the whole staff got together and decided that it was a really good idea to play naked volleyball. And then I didn't realize that the owner had cameras.
So it didn't turn out so well?
Lukasavitz: I may or may not got fired for being the ringleader of that job.
Do you frequently see nudity in bartending?
Lukasavitz: I used see a lot of boobs, a lot of boobs. Girls just whip those babies out.
You guys just let it roll or make them put their clothes back on?
Lukasavitz: It's usually a quick flash or whatever and then if it gets out of control it's like, "Come on now. Put your t*ts away."
What's your favorite thing about being a bartender?
Lukasavitz: I would say, honestly, it's meeting people. I've traveled all over the world, meeting different people from different places. And then I've gone to Europe to visit people that I've met – friends – being a bartender. And I've actually stayed in contact with those people. And even just if it's just Facebook like, "Hey, can I stay here? Where should I stay or where should I go?" And I love that, and getting to know people.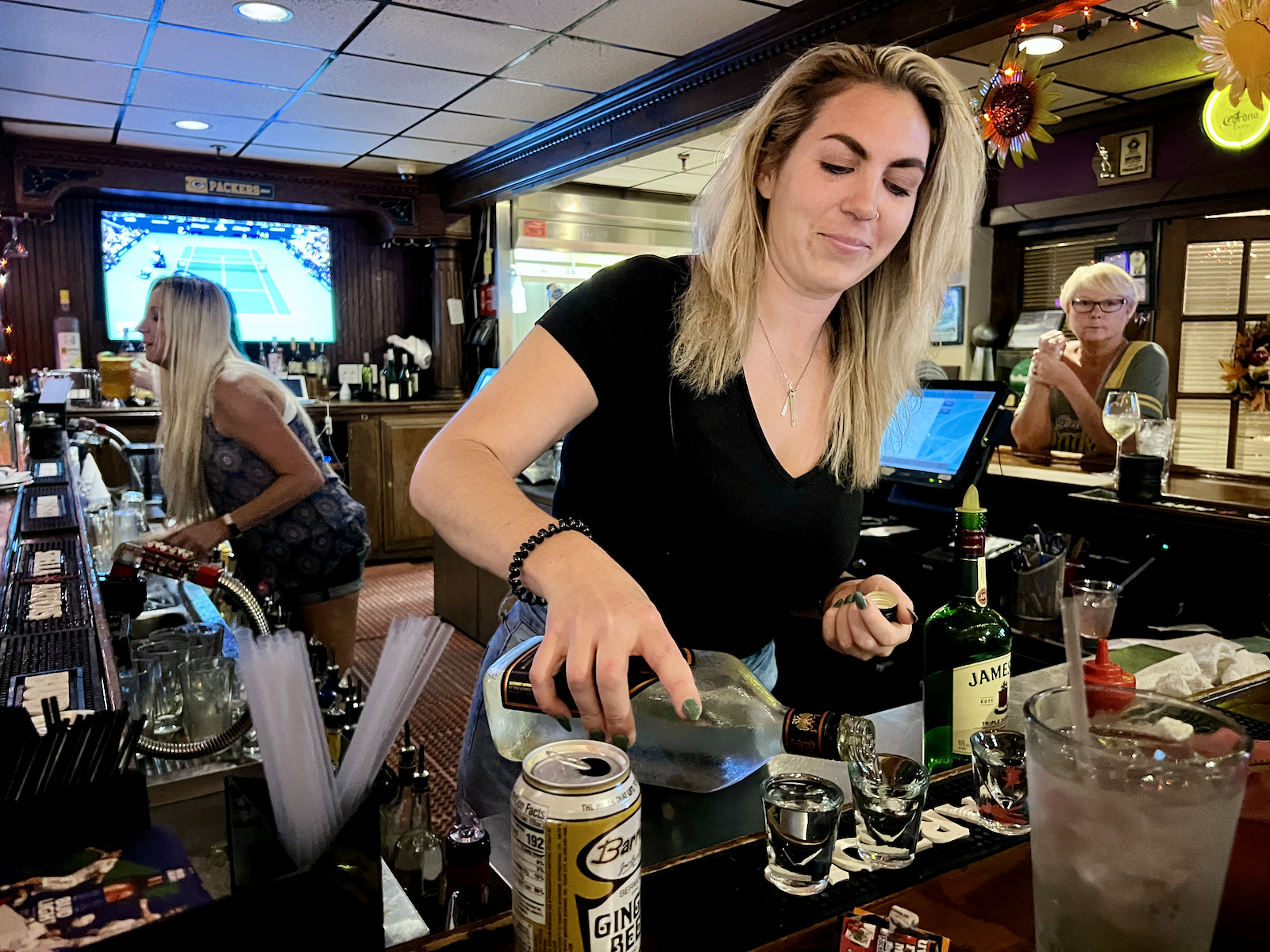 What's the worst part?
Lukasavitz: The people who think that because you're a bartender, you're a little sleaze or you're messing around with anybody and everybody, just because you're friends.
I think I know the answer to this, but do you drink when you bartend?
Lukasavitz: I mean, I'm working now and drinking, so yeah, definitely. Yes.
Is it harder to drink and bartend, or is it easier to drink and bartend?
Lukasavitz: I like to drink and bartend only because it loosens you up and it allows you to let go and have more fun. When I walk in, it's like, all right, I'm going to do a shot of Rumple right away just to chill out and mellow out, because otherwise you're tense.
Do you ever have to cut people off?
Lukasavitz: Yes, especially here. I'm just like, "Hey, here's some water. I think we're good to go." And I was like, "You can still stay here but we're going to have to switch it up. Water, or here's some MiO and pretend you're drinking." And usually they're good with it because usually they know.
Do you ever have to do a fake shot if someone buys you one?
Lukasavitz: I've done fake shots before. I used to have a bottle of what I called Skittles vodka that I would drink if I had too many Rumples already earlier. There's a little bit of alcohol in it, but it was mostly just water and MiO, and I would do that. And that's just what it was.
Andy is the president, publisher and founder of OnMilwaukee. He returned to Milwaukee in 1996 after living on the East Coast for nine years, where he wrote for The Dallas Morning News Washington Bureau and worked in the White House Office of Communications. He was also Associate Editor of The GW Hatchet, his college newspaper at The George Washington University.
Before launching OnMilwaukee.com in 1998 at age 23, he worked in public relations for two Milwaukee firms, most of the time daydreaming about starting his own publication.
Hobbies include running when he finds the time, fixing the rust on his '75 MGB, mowing the lawn at his cottage in the Northwoods, and making an annual pilgrimage to Phoenix for Brewers Spring Training.