Brooke Faletti has been bartending since it was legal for her to do so. In those seven years, she's moved to Milwaukee from her home in central Illinois, working her way through college. Starting at a Buffalo Wild Wings, she progressed to gastropubs and breweries before landing at The Explorium Brewpub, 143 W. St. Paul Ave.
And, while Faletti didn't necessarily expect she'd have bartended for this long, she says she loves the social aspect of her job. That $700 tip she received once didn't hurt, either.
As we celebrate Bar Month at OnMilwaukee, we sat down with Faletti to chat about the ins and outs of the job, as well as where she, herself, drinks when she's not working.
OnMilwaukee: What's the best part about being a bartender?
Brooke Faletti: I like meeting new people. We're right next to the train station, so we get a lot of travelers. I like learning new things. Even though I have a good knowledge of everything we sell, I'm always learning new cocktails and new beer styles.
Well, based on your history in the craft beer world, can I assume you actually like drinking beer?
Yes, I love beer.
So, what's your favorite Explorium beer?
Definitely our "Lost in the Sauce" series. I love hazy IPAs. I'm an IPA snob.
What's your favorite cheap drink?
I do like Miller High Life now that I've moved to Milwaukee. I used to turn my nose up at it, but now I drink it pretty frequently.
What's with this special, off-the-menu cocktail that you created?
I am a pear lover. I did a cocktail last fall called the Pear Witch Project, so I knew when I made a cocktail this time I wanted to do another pear-flavored drink with a more spring and summer feel. It's not a secret: It's pear vodka, elderflower liquor and lime juice, and then it's topped with kombucha.
What's the craziest thing you've ever seen in a bar as a bartender?
Um, someone sh*t themselves here at the bar. It was on St. Patrick's Day.
What did you do?
I was not involved in it. But we obviously got them an Uber home.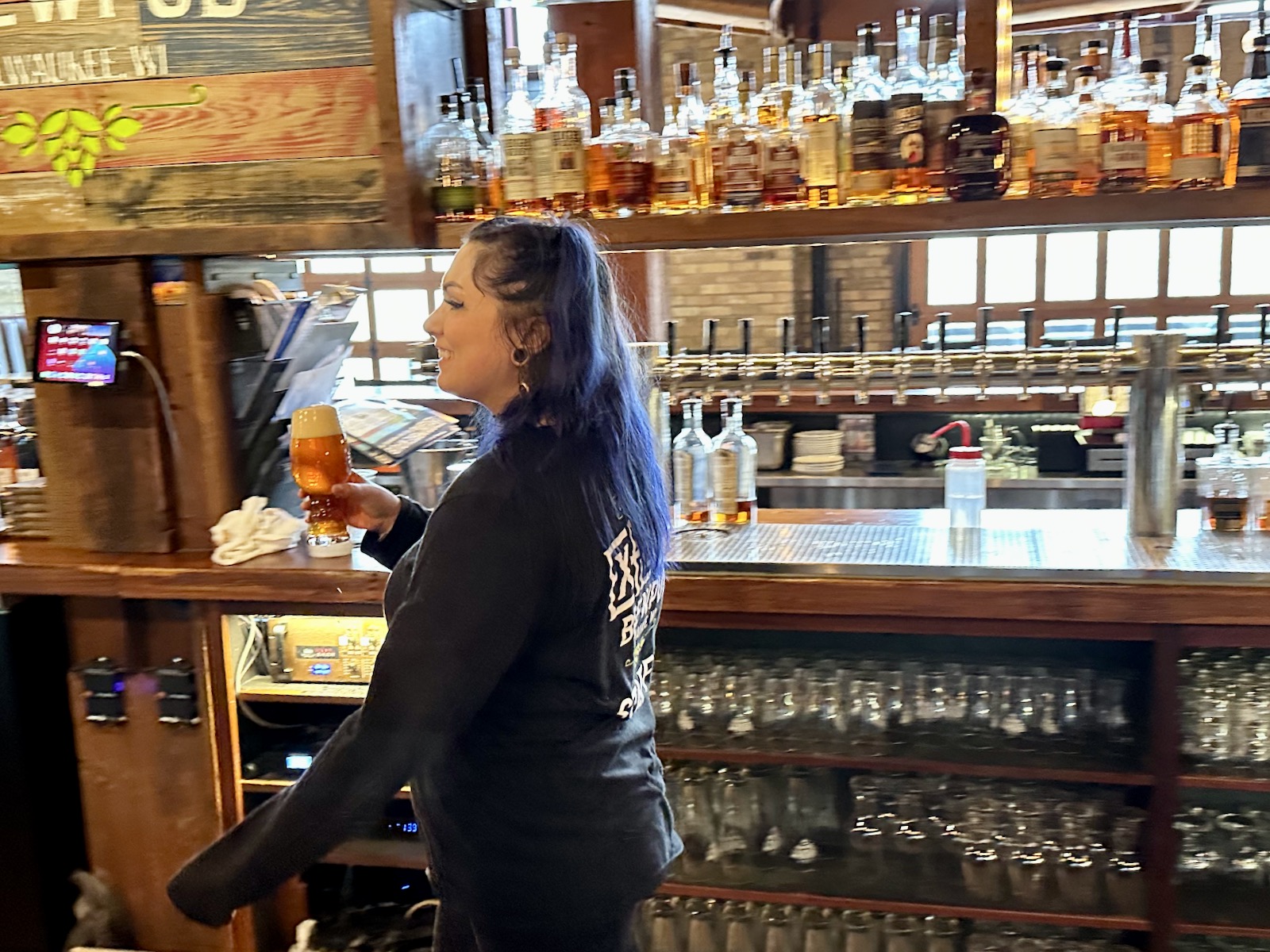 Have you ever had a break up a bar fight?
Not, not myself, no. I've witnessed it, but I've never done it. I would if I had to. I've been practicing my hurdles so I can jump over the bar top and just take someone head on.
Where do you drink when you're not bartending here?
I usually go to Bay View bars, because I live in there. I like the Trailer Park Tavern and Lee's, and go there with my friends. I like Tin Widow, too.
Who tips better, men or women?
Women. Hands down.
Why do you think that is?
I don't know. I mean, I'm a woman and I usually prioritize the women in the situation, so I think that probably has something to do with it.
What's the biggest tip you ever got?
Here, actually I got a $700 tip.
What?? Was it a huge group?
It was a big group, yes. But it was still way excessive over what they needed to tip me.
Are you that great at your job?
I'm a nice person, frankly.
Will you continue to bartend after college?
Absolutely. I don't think I'll ever be able to get away from the service industry.
Do you drink when you bartend?
Yes.
Does that make your job harder or easier?
I think it's easier to bartend when you've been drinking. You get on the same level as the people you're serving. You can relate with them a little better.
Andy is the president, publisher and founder of OnMilwaukee. He returned to Milwaukee in 1996 after living on the East Coast for nine years, where he wrote for The Dallas Morning News Washington Bureau and worked in the White House Office of Communications. He was also Associate Editor of The GW Hatchet, his college newspaper at The George Washington University.
Before launching OnMilwaukee.com in 1998 at age 23, he worked in public relations for two Milwaukee firms, most of the time daydreaming about starting his own publication.
Hobbies include running when he finds the time, fixing the rust on his '75 MGB, mowing the lawn at his cottage in the Northwoods, and making an annual pilgrimage to Phoenix for Brewers Spring Training.