"Hey! Hey! We all still here?" Billy Currington asked around the seventh song of his Country Thunder opening night set.
The crowd's response was a resounding, "Yes!"
I completely anticipated a mellow first night. I mean, the opening day of Country Thunder can sometimes be … quieter than the rest of the weekend. People are still moving in, adjusting to tent life. And frankly, lots of people still have to work on Friday.
Currington and his super laid-back country style seemed a perfect pairing for a steamy Thursday night in the Thunder Bowl. For sure, I was definitely was expecting a much more chill crowd. In fact, I was kind of looking forward to an easy-going night listening to one of the bluest-eyed, most underrated, understated and successful charting country artists around.
But instead, there was a pumped up Currington and a raucous crowd. There wasn't anything laid back about Thursday night. It was off the chain.
@billycurrington is unreal — alex (@_Alex_Soriano) July 21, 2017
Setting the stage for a second: The day was blistering, disgusting and sweat-filled (even in those places you never ever sweat, like behind your ears. So gross.) As the sun set, it cooled down – marginally. And so, as Currington took the stage, it was almost comfortable – unless you were a high-energy performer like Currington turned out to be. Wearing a black tee, jeans and backwards trucker hat, Currington dripped sweat. You couldn't get any farther away from mellow. At least I don't think you can …
Currington opened in quick succession with three of his hits, "Don't It," "That's How Country Boys Roll" and "Pretty Good at Drinkin' Beer." By the time he asked the question if we were all still there, it wasn't even a question. He had the audience at note one. It didn't hurt that he was high fiving and signing autographs along the way, either.
Olivia says thank you, @billycurrington !! @countrythunder pic.twitter.com/NJlakW5P0B — MURF (@murflydick) July 21, 2017
Currington played in rapid succession, with the stage going dark after almost every song and very little interaction with the audience in between songs. He pulled hits and some not-so-common songs from pretty much every one of his albums. He even laid out one of his new songs, "Wake Me Up," a sweetly fast-paced song about the urgency of love and making sure you wake him up whenever you think about him or wonder what he's doing. It all made for a super sweet night, under a clear, starry sky.
One of my favorite moments was the really cool pairing of Currington's voice with the crowd and the sweet soaring song of the steel guitar during "Doin' Something Right." Just so cool.
Country Thunder always brings incredible moments. And it seems like every headliner has one – like the time Luke Bryan climbed up the sound tower. But when they happen musically, you kind of just want to stand there and live the moment over and over again. Currington did that with the last song of his set, "We Are Tonight." Knocked it out of the park. Completely. I can't even really tell you why it felt so perfect, but it did. The Thunder Bowl brought the thunder and so did Currington. The whole place seemed to explode.
The only downfall of the night was that Currington's set seemed so short, playing just over 80 minutes. His opener played longer. I mean, I guess the good thing is that it left everyone wanting more. But I just really, really wanted more.
His opener, Dallas Smith, is a Canadian country singer with several albums and multiple number one Canadian hits. Smith's brand of rock country was a great lead in for Currington. His 90-minute set was pretty much as non-stop and as high energy as that of Currington. Admittedly, I'm completely unfamiliar with Smith's music – and sometimes that can be excrutiating. But tonight, it was a total blast.

Canadian country singer Dallas Smith opened the show.
Billy Currington, meanwhile, is a native of Georgia. Growing up on Tybee Island, his family later moved inland. After singing in church from early on and listening to Waylon, Willie and Kenny, Currington made the decision to move to Nashville. He was 18.
Before hitting it big, Currington laid concrete and worked as a personal trainer, playing in bars at night. He met a ton of songwriters there, and it led him not only into writing his own song but, because of his caramel smooth voice, he wound up singing other songwriters' demos. The work Currington put in here turned out to be so worth it.
He landed a record deal, and in 2003, his debut album dropped. Currington established himself as a true talent in the field with ten number one singles under his belt. And so, as they say, the rest is really history.
But it's not. What Currington does on stage, making it look easy, takes work – picking the right songs, feeling what his music is saying. His songs are just so spot on life that you always want more. And you get the feeling that his music comes straight from his heart. Because he's written or co-written much of what's on his setlist, it's no wonder that you're moved when he's on stage.
This is a guy who's gonna be around for awhile. It's good thing because I definitely want more.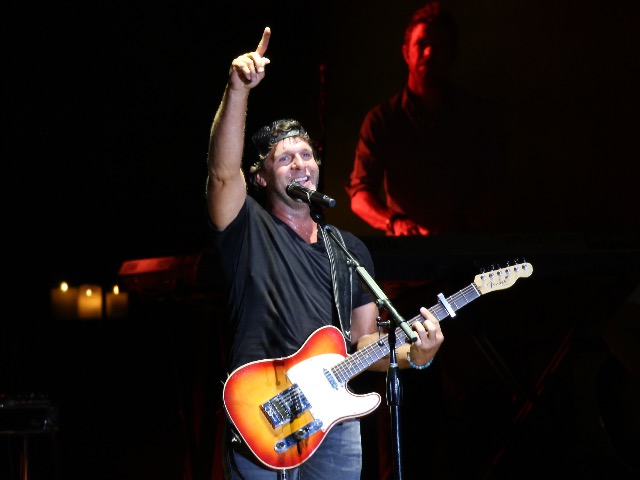 Billy Currington at Country Thunder.
Set list
"Don't It"
"That's How Country Boys Roll"
"Pretty Good at Drinkin' Beer"
"Wake Me Up"
"Let Me Down Easy"
"It Don't Hurt Like It Used To"
"Do I Make You Wanna"
"People Are Crazy"
"I Got a Feelin'"
"Love Done Gone"
"Family Tradition" (Hank Williams, Jr. cover)
"Must Be Doin' Somethin' Right"
"Don't"
"Hey Girl"
"We Are Tonight"
Encore
"Friends in Low Places" (Garth Brooks cover)
"Good Directions"
Moving to Milwaukee in 1998, Lora quickly adapted to and embraced big city living. A graduate of Carthage College and Marquette University Law School, Lora clerked for the Hon. Diane Sykes at the Wisconsin Supreme Court, worked as a litigator in private practice, and most recently was employed as a development officer for the MACC Fund.

In all of her experiences, time was focused on writing which has been a passion since junior high school. A series of food service industry jobs both before and after law school taught her that bringing out the human side in any story is key to great storytelling and good writing.

A die-hard east side girl, you'll usually find Lora down by the lake or on the Oakleaf. She's an avid photographer, and sometimes storm chaser.

Hobbies include biking, gardening, cross country skiing, swimming, blogging, and of course working on her fictionalized autobiography--fictionalized, because whose life is really interesting enough to fill 400 pages?

She's in IMDb. Look her up.