Since its inception, Braise Restaurant, 1101 S. 2nd St. has committed to the goal of reconnecting diners with the food they eat. To accomplish this mission, they've striven to create opportunities for guests to spend time on farms where food is grown and engage in meaningful conversation with farmers and chefs who grow and utilize locally harvested fare.
In keeping with these goals, Braise will host three upcoming dinners featuring accomplished Midwestern chefs who uphold a firm commitment to supporting and developing the tenets of a healthy local food ecosystem.
Each Sunday dinner will include four courses prepared by the visiting chef followed by a lively discussion about each chef's work and how it contributes to a more viable and prosperous local food system.
Aug. 25th: Chef Andrew Holladay of Lula Cafe (Chicago, Illinois)
Founded in 1999 by Jason Hammel and Amalea Tshilds, Lula Cafe was at the fore of the then-burgeoning farm to table movement in Chicago. For nearly two decades now, they've contributed to the development of an up-and-coming neighborhood, supported the work of local farms and showcased local, seasonal produce in creative ways, including regular prix fixe vegetarian menus. Their work has earned accolades in national publications including "Bon Appetit" and "Food & Wine" magazines.
Today, Chef de Cuisine Andrew Holladay carries on that mission, producing a menu of notable, and often unexpectedly delicious dishes that showcase the best of seasonal fare.

Dinner begins at 6 p.m. with chef chat at 8 p.m.
Cost is $55 per person; wine pairings are available for an additional $15.
Purchase tickets online.
Sept. 29: Yia Vang of Union Hmong Kitchen (Minneapolis, Minnesota)
Born in the Ban Vinai refugee camp on the border of Laos and Thailand, Chef Yia Vang's family came to the U.S. by way of St. Paul Minnesota and lived in Wisconsin for a time before returning to the Twin Cities, home of the largest Hmong community in the U.S.
Union Hmong Kitchen, Vang's Minnesota-based pop-up restaurant, has no walls. It's not unlike his food, which unravels in a rich, flavorful tale that communicates the story of Hmong cuisine's nomadic roots.
His food not only tells the story of his family home, but of the war that his father survived and the sacrifices his mother made. He believes that each dish bears a distinct narrative, a tale of origins, customs and memory. And his food -- which relies in great part on seasonal, local produce -- seamlessly weaves together the traditions of both his American and Southeast Asian backgrounds.
Dinner begins at 6 p.m. with chef chat at 8 p.m.
Cost is $55 per person; wine pairings are available for an additional $15.
Purchase tickets online.
Oct. 27th: Sarah Mittelstadt of Farm Table Restaurant (Amery, Wisconsin)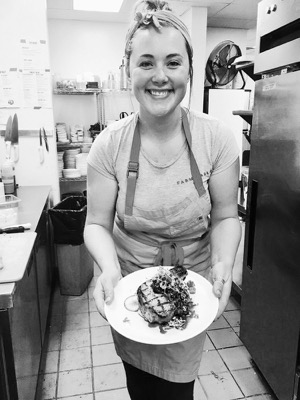 Located in Amery, Wisconsin (Northwest of Eau Claire), Farm Table is a non-profit restaurant which sources as much as 84% of its products from within a 60-mile radius.
Ingredients at the restaurant are purchased from small farms which utilize sound ecological practices, including USDA Organic certification. Like Braise, the restaurant relies heavily on preservation, pickling and freezing produce during the summer months for use in the off season and cellaring traditional storage crops for use year round.
The restaurant is an arm of the Farm Table Foundation, an organization which focuses on education, events and initiatives (heritage breeding, heirloom seeds, biodiversity) that support a central tenet: How we feed ourselves matters.
Dinner begins at 6 p.m. with chef chat at 8 p.m.
Cost is $55 per person; wine pairings are available for an additional $15.
Purchase tickets online.
For more information, visit braiselocalfood.com.
Lori Fredrich (Lo) is an eater, writer, wonderer, bon vivante, traveler, cook, gardener and girlwonder. Born and raised in the Milwaukee area, she has tried to leave many times, but seems to be drawn to this quirky city that smells of beer and alewives.
Some might say that she is a little obsessed with food. Lo would say she is A LOT obsessed with food. After all, she has been cooking, eating and enjoying food for decades and has no plans to retire anytime soon.
Lo's recipes and writing have been featured in a variety of publications including GO: Airtran Inflight Magazine, Cheese Connoisseur, Cooking Light, Edible Milwaukee, Milwaukee Magazine and the Milwaukee Journal Sentinel, as well as on the blog Go Bold with Butter, the web site Wisconsin Cheese Talk, and in the quarterly online magazine Grate. Pair. Share.