"Bar Month" at OnMilwaukee is brought to you by Miller Brewing Company, calling Milwaukee home since 1855. For the entire month of March, we're serving up fun articles on bars, clubs and beverages – including guides, the latest trends, bar reviews, the results of our Best of Bars poll and more. Grab a designated driver and dive in!
The road to many craft breweries begins in the basement, where the founder got his start perfecting the basics of the trade as a home brewer.
While Biloba Brewing's Gordon Lane began brewing at home in the mid-1970s, his arrival at a craft brewery was no straight shot. It was more like the arrival at a confluence of experiences that, in retrospect, feels a little predestined.
More than a traditional intersection, this confluence is a bit like a roundabout, where all that previous experience continues to swirl around Biloba, allowing Lane to draw on it as necessary to create his beers.
Biloba Brewing, 2970 N. Brookfield Rd., in the heart of the old village, was started in 2014 by Lane's wife, Jean, in a smaller building nearby. After a six-month break to make the move, the brewery opened in its current location in February 2017.
"I got out of Madison with a food science degree," Lane tells me as we sit in the tasting room at Biloba. "I actually started home brewing when I was in Madison in '74. Then I worked in the dairy industry and became a licensed cheesemaker. For a total of six years, I was making cheese. Then I went into the equipment industry doing capital projects. It was all dairy related.
"And then I went to work for Chris Hansen Labs in Milwaukee: color, flavor and enzymes, then I moved into the VP of operations for them. When I was doing that I also was a cheese grader, and do USDA grading."
Next, Lane worked at Briess Malt in Chilton, which supplies malt to the beer industry. His position there?
"I was the president of the company; chief operating officer. I brought in the CFO and a few other people, and we really changed the direction of the company. We grew pretty dramatically. We grew about five-fold in the 14 years I was there."
Walk into his brewery and you'll quickly realize that Lane's experience at pretty much every level of the food production business – did I mention he has made beer with hops and malted barley from his own farm up in Kiel? – set him up perfectly to make beer.
He built his own brewery exactly how he wanted it.
He knows machines, he knows food science, he knows ingredients, he knows how to clean brewery equipment to dairy industry standards – which is exactly what he does – he knows the market, he knows the malt industry, he knows the business end (did I mention that MBA he earned?) and he's made a ton of connections at every level of the game.
"It really fed off my background really nicely," he says, suggesting that he also knows understatement.
But the best part?
Biloba is a female-owned business – Jean owns it and Gordon is an employee – and a family business. Their two adult daughters also work at Biloba. And the decision to do it?
"Well, it was really our family," Lane says. "We were sitting around one day and my daughter said, 'You know, it'd be a lot of fun to do something as a family.' And I said, 'Well, we can do one of two things: I can make cheese – since I still hold licenses and everything – or we can make beer.' I said, "cheese making is a very nice art form but you really have to make sure everything is exactly the way it has to be to make a healthy product.'
"And I said, 'I'm not afraid of doing that but I'd like to have you guys be able to do something, and if we make beer, beer is a lot of fun, people enjoy beer and we can always bring cheese in, so why don't we make beer?'"
The Lanes agreed and set to work creating Biloba in an area that had (has) a dearth of small craft brewers. Though they expected some resistance, the Lanes found Brookfield officials eager to help them get going.
The original location, a short distance from the current one, opened in April 2014.
"I taught my youngest daughter Kristen how to do brewing and she was doing all the brewing at our old location," Lane says, "but she's pretty occupied with her young one. My oldest daughter Kathryn is really good with people, she's a very good communicator, so she does the tasting room."
Lane himself ... well, he decided to retire. Or, "retire."
"I'm an employee," he says, leaning back in his chair. "It's a lot of fun. It gives me a creative outlet that I can do things that I want to do and so we do a lot of different things. In any given year, we make about 50 different beers."
The Lanes are not looking to grow.
The focus is on supplying the tasting room, which is open Wednesday-Saturday, a few tap customers (notably Parkside 23, which was Biloba's first tap customer) and filling some 750ml bottles for sale in the taproom.
There is no plan to can, no plan to bottle, no plan to seek distribution. Gordon, after all, is "retired."
"I don't want to work 70-80 hours a week," he says and he recounts for me the week leading up to our talk. He visited his son (who supplies yeast to the beverage industry) out of town, came back, checked the beer in the brewery and went up north to go walleye fishing. Then to the farm.
"I really don't want to work any more than four days a week, if that even because I like to go sit on my tractor and plow fields and do dumb stuff like that," he says.
That's the thing about Biloba. The beer is really good – just ask Randy Sprecher, who raved about Biloba when prompted to name a local brewery he thinks is really doing things right – and Gordon Lane actually appears to be relaxed. Like he's having a good time.
"I've done enough running of businesses and that and could we grow," he asks rhetorically. "Yeah, I could probably get a distributor lined up and get into canning and bottling and everything but I don't really want to deal with that anymore. I know all the trappings that come along with that.
"I would say that's probably our biggest difference; the younger brewers all have mortgages, have families, have commitments and we don't."
The result is not only that Lane is having a good time being "retired," but he has the freedom to do whatever he darn well pleases back in that 10-barrel system he's got behind the taproom.
He doesn't have to worry about supplying Miller Park or filling cans for orders from a distributor. He just tinkers and experiments and makes the beer he wants to make.
"We do enjoy that freedom," he says, "I've got something going right now, for instance, (my son) gave me a yeast that could do high gravity, so we decided to try it. So, instead of doing the normal thing of making a beer and putting it in a tank, I made a 50-gallon batch of really high sugar content barley wine, put it in a barrel and I fermented it around 60 hours and it's 18% alcohol.
"We're really different than most breweries. We really focus on doing different beers, doing a lot of things with yeast and bacteria."
When I visited, that barleywine was still aging in the barrel and Lane was prepping some beer – a stout (pictured below) and an Irish red – for St. Patrick's Day. Tanks also held a saison, a porter and a berliner weiss.
The brewery offers tours but on a casual basis on Saturdays. Tours are free and Lane will do them when he's there. It's probably a good idea to call ahead, though you can also just walk in and ask nicely for a tour.
You'll get to see pretty much everything in the building, which was erected in 1946 as the Brookfield city offices, Lane says.
"They sold it to a guy in '63 that built stone fireplaces. He put living quarters upstairs, so there's fireplaces up there, and then he sold it out to a guy that was doing men's formal wear and then another guy bought it and turned it into an office space."
When the Lanes bought it they had to gut the offices and, in fact, the entire building. The small parking lot out front between the building and sidewalk became the patio.
They recycled pretty much everything, which is how Lane knows that they removed 2,600 pounds of conduit out of the first floor alone. And 360 pounds of copper wiring.
"We had walls that were plaster, plywood, burlap, paneling and drywall," Lane says. "Fve different owners, five different walls. We filled two 30-cubic yard dumpsters."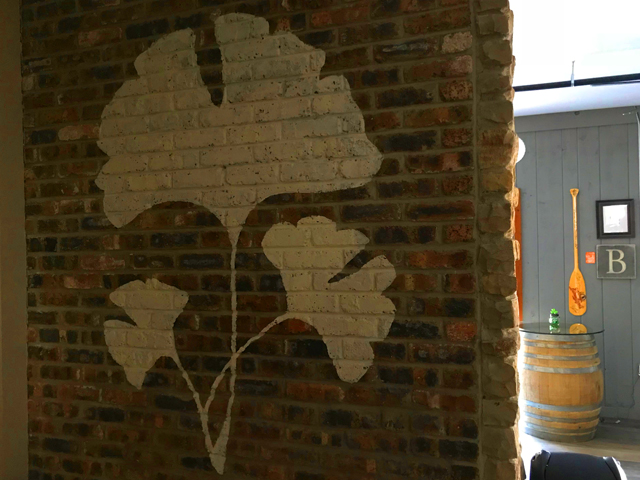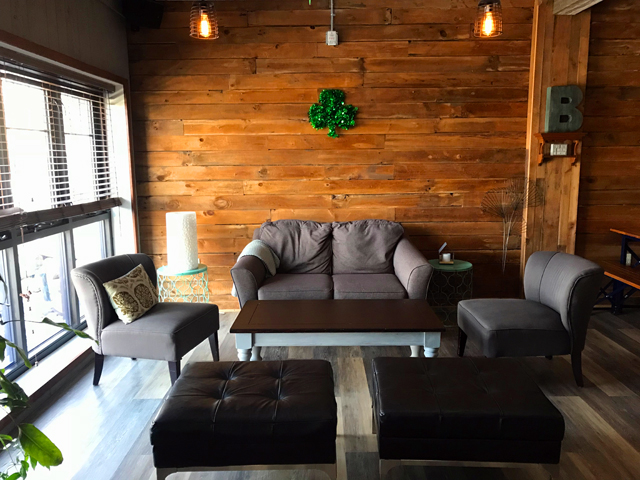 The result is a really warm, welcoming, homey taproom, with material salvaged from barns, and purchased at Habitat's ReStore. In the first room, there's a bar with a half dozen or so stools. Off to the left, past the gorgeous stone fireplace, there's a living-room-like lounge area with a comfy couch.
Adjacent to that is a slightly larger space with picnic-table-style seating. Behind that are the office, restrooms and the brewery.
Fridays and Saturdays are typically busy ones at Biloba, though Thursday can compete pretty well, too, some weeks, according to Lane.
"Wednesday night is probably the lightest night but we also know that when we put a beer garden in out here, we know once it gets nice, that'll be pretty popular," Lane says.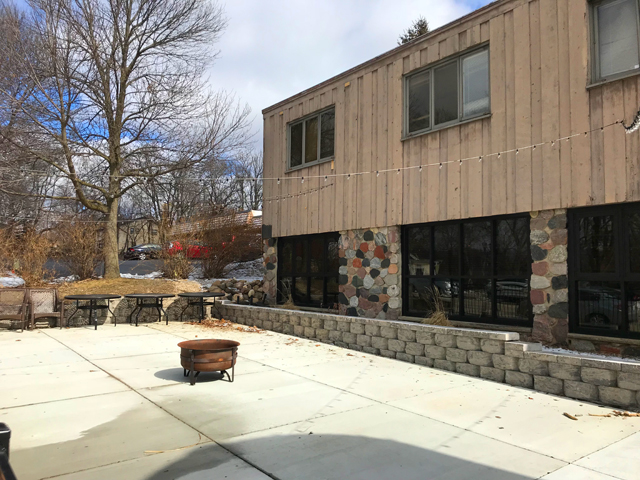 "It was really kind of our decision that we wanted to be a community-based brewery, and one of the things we believed was that out here in the suburbs, there was really no place to just go sit and talk, unless you want to go to a coffee shop," Lane says.
"So, when we did this, we purposely said ... no TVs in here. What a novel concept, people have to talk. And we wanted to set it up so it was family friendly, so people could bring kids and dogs (on a leash)."
Born in Brooklyn, N.Y., where he lived until he was 17, Bobby received his BA-Mass Communications from UWM in 1989 and has lived in Walker's Point, Bay View, Enderis Park, South Milwaukee and on the East Side.
He has published three non-fiction books in Italy – including one about an event in Milwaukee history, which was published in the U.S. in autumn 2010. Four more books, all about Milwaukee, have been published by The History Press.
With his most recent band, The Yell Leaders, Bobby released four LPs and had a songs featured in episodes of TV's "Party of Five" and "Dawson's Creek," and films in Japan, South America and the U.S. The Yell Leaders were named the best unsigned band in their region by VH-1 as part of its Rock Across America 1998 Tour. Most recently, the band contributed tracks to a UK vinyl/CD tribute to the Redskins and collaborated on a track with Italian novelist Enrico Remmert.
He's produced three installments of the "OMCD" series of local music compilations for OnMilwaukee.com and in 2007 produced a CD of Italian music and poetry.
In 2005, he was awarded the City of Asti's (Italy) Journalism Prize for his work focusing on that area. He has also won awards from the Milwaukee Press Club.
He can be heard weekly on 88Nine Radio Milwaukee talking about his "Urban Spelunking" series of stories.