"Bar Month" at OnMilwaukee is brought to you by Miller Brewing Company, calling Milwaukee home since 1855. For the entire month of March, we're serving up fun articles on bars, clubs and beverages – including guides, the latest trends, bar reviews, the results of our Best of Bars poll and more. Grab a designated driver and dive in!
If you're looking for evidence that the craft beer boom is still going strong in Milwaukee, look no further than Eagle Park Brewing Co.
Founded in 2017 in a tiny space at the Lincoln Warehouse on the western edge of Bay View, the brewery – owned by brothers and Eagle Trace bandmates Jackson, Cass and Max Borgardt, along with Jake Schinker – the brewery's popularity, and output, has exploded.
It now occupies a 1920 former Gallun Tannery garage at 823 E. Hamilton St., just north of Brady Street, that occupies a space upon which some buildings had previously stood, as can be seen in the 1894 Sanborn fire insurance map image.
The garage was renovated to house The Hamilton restaurant in 2011 (which replaced a furniture manufacturer and retailer) and after that closed in 2015, Like Minds, a brewery co-owned by Sanford's Justin Aprahamian, until it, too, shuttered in 2017.
Eagle Park's Cass, Max and Jack Borgardt and Jake Schinker.
Head brewer Jack Borgardt says he got his start brewing in his family's garage, not very long ago.
The new space, which includes a kitchen and a taproom that's become more popular than the owners ever expected, has been a game changer for Eagle Park.
"It means everything for us," says Borgardt. "We started out on the one barrel in Bay View. We had a 12-gallon system. So we were brewing three times for the one-barrel fermenter. So we did that three times a day for six days a week every week, and it was just never enough beer."
So, Eagle Park contracted with Octopi Brewing in Waunakee to be able to meet the growing demand.
Borgardt used that connection to amp up his own brewing skills.
"To see an operation like Octopi's and learn how it was run and how they run a canning line and how they run the brewery from a professional who's been doing it for years actually gave me a lot of insights," he says. "You pick up a lot of tricks."
Borgardt says he was on hand at Octopi to oversee every single batch of Eagle Park beer that was brewed there.
"There's always something scary about not having 100 percent control but Issac (Showaki) up there is really awesome," he says. "I was there every batch, every brew day. I wasn't actually manning the controls, but I was there at every step telling him what temperatures to hit, this is the mix of water to grain that I want, this is how long a boil, this is where we add the hops.
"Whenever we were packaging I was up there to make sure it was to my specifications and packaged the way I wanted it. So, we had complete control and that's kind of the stigma about contract brewing that not everyone realizes, is that you're as involved as you want to be. We were up there every batch."
But, still, Eagle Park needed a bigger home and so, when it heard that Like Minds was going to close and an outfitted East Side brewery was going to hit the market, they stepped into action.
"They knew they were going to close, so they were trying to find a person to take over the assets and we leased this building. It was just perfect timing," says Borgardt. "It was a good step up from us."
But the system wasn't perfect, so Eagle Park made some modifications. It added a canning line, more fermenters, a keg washer and tinkered with other things, too, including re-piping the glycol chilling system.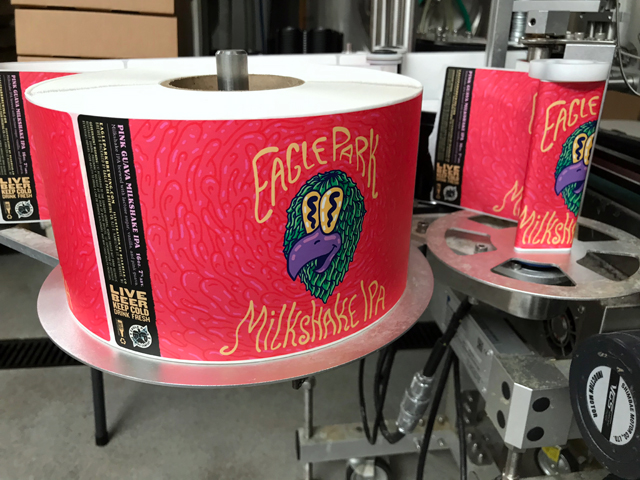 "The original setup was five seven-barrel fermentors," Borgart says. "We added a sixth seven-barrel and two 15-barrel fermentors. So that took us up to about 1,500 barrels a year. What it was before was probably around 7-800 depending on what kind of beer you make."
That's a nice step up from the 350-400 barrels a year that the brewery was doing in Bay View and up at Octopi.
A bigger concern was the fact that two restaurants, one with a brewery on site, had just shut their doors in the same building. Was that a sign of a bad location? Bad karma?
"We were definitely a little nervous," says Borgardt. "We were definitely concerned because we know how restaurants are ... up and down and it adds a whole other level of service. And people's expectations, you know. If you come in and you have fantastic beer, great. But now you're adding food, now the food has to be as good as the beer, otherwise that could bring the whole ship down.
"It definitely was very nerve-wracking, but I think ultimately we just kind of leaned hard on our experience and hoped that we knew what we were doing enough to make it okay. And so far so good.
"We had to reassure ourselves that we were different, we have a different crowd, and ... we had to convince ourselves that we know what we're doing, how to run a tap room."
To that end, the owners tinkered with the space to make it more their own.
The exterior of the brick building is lovely, especially for a garage, with three arched bays – two smaller fenestrated ones flanking the larger entry bay.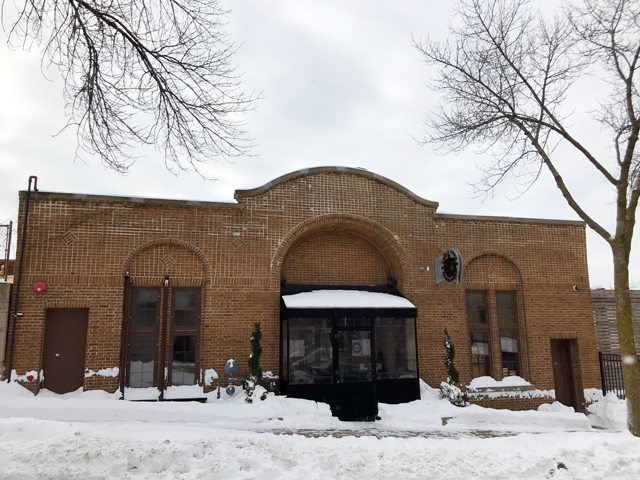 Inside, they painted and they tinkered with the bar, because it had the name "Like Minds" engraved into its concrete.
They removed the wood laminate floor in the tasting room to expose the original garage floor with its century of imperfections that provide character.
"You can see, in the floor, the age and everything that's been done in here," Borgardt enthuses. "There's a rumor that I guess The Hamilton (folks) think that Al Capone at one point stashed cars here. Whether that's true or not ..."
They kept the 900-square foot kitchen the same – it was designed by one of the best chefs in town, so why mess with it, right? – and didn't move any walls, but made the decor their own, riffing on their band, Eagle Trace, by adding instruments and other rock and roll-themed objects. Those also reflect the brewery's beers, which all have rock-related names, like Amarelo Submarine, Hey Aqualung, Huey Lewis, and the Booze, MC Hammerschlagen and Bowie's Space Suit.
"It's just kind of a cool little building," says Borgardt. "It's only, what, 4,800 square feet, the entire thing."
Wait, that sounds like he thinks it's too small.
"Well, it's a little undersized, obviously, for what we wanted to do, but this location is so perfect. There are not many places on the East Side that have a parking lot. It's almost ridiculous for that to be a thing. And so it's really cool, and the neighborhood's been great to us. We get a lot of foot traffic just from the neighborhood."
But?
"Keeping up with production is a problem," Borgardt says. "We just ordered more fermenters. And that will max us out here. We have no more space. We're planning right now what the next step is for us. We'll never get rid of this, no matter what we do, this tap room is too awesome."
Capacity is such a problem, in fact, that Eagle Park has pulled its product from stores. Which sounds astonishing considering how many small brewers are desperate to get shelf space and SKUs in retail.
But Borgardt dispels that notion.
"It's much better," he says. "We prefer it this way. And I think most breweries, if they could, they would, for sure. We've just, over the last year, really focused hard on growing the tap room and really growing that following of 'Hey, we're releasing a beer this weekend, come have beer, maybe grab a burger and grab a four-pack to go.' And that's been kind of our strategy for the last year is just focus heavy on that. Create that demand.
"We used to have 30-40 stores that we were selling in in Southeastern Wisconsin. Now we only sell our cans here. The other day we figured out it was about 95 percent sold in-house now. It's a better price point for us, obviously. And we're close to the beer, we can control the beer. We know it's always going to be fresh. When we can control it 100 percent, it means it's the best."
There's basically no basement in the building, other than a small one beneath the front part of the tap room. Calling it "almost a root cellar-type basement," Borgardt says that the tap room's cooler and draft system is down there and there's not room for much anything else.
So, what you see on the main floor is all that there is, and expanding the building to the west is the only option, but that would eat into the parking, which is extremely precious is this densely packed neighborhood.
So, for now, Eagle Park – which recently hired brewer Curt Dubois from Upland Brewing in Bloomington, Indiana – is squeezing what it can out of its much-larger but still too small brewery.
"We actually had to specially design the new fermenters that are coming, so we could fit them in," says Borgardt. "We made them a little skinnier and taller. So they not only get through the door – because they're 21-barrel fermentors so they're even bigger than the ones we have – but also just because of the space constraints so we could actually move in here."
Pointing out the small collection of perhaps 10 barrels currently in use aging beers along the east wall of the brew house, Borgardt adds, "We want to get into more barrel aging and all sorts of stuff. And we just can't."
Born in Brooklyn, N.Y., where he lived until he was 17, Bobby received his BA-Mass Communications from UWM in 1989 and has lived in Walker's Point, Bay View, Enderis Park, South Milwaukee and on the East Side.
He has published three non-fiction books in Italy – including one about an event in Milwaukee history, which was published in the U.S. in autumn 2010. Four more books, all about Milwaukee, have been published by The History Press.
With his most recent band, The Yell Leaders, Bobby released four LPs and had a songs featured in episodes of TV's "Party of Five" and "Dawson's Creek," and films in Japan, South America and the U.S. The Yell Leaders were named the best unsigned band in their region by VH-1 as part of its Rock Across America 1998 Tour. Most recently, the band contributed tracks to a UK vinyl/CD tribute to the Redskins and collaborated on a track with Italian novelist Enrico Remmert.
He's produced three installments of the "OMCD" series of local music compilations for OnMilwaukee.com and in 2007 produced a CD of Italian music and poetry.
In 2005, he was awarded the City of Asti's (Italy) Journalism Prize for his work focusing on that area. He has also won awards from the Milwaukee Press Club.
He can be heard weekly on 88Nine Radio Milwaukee talking about his "Urban Spelunking" series of stories.