"Bar Month" at OnMilwaukee is brought to you by Miller Brewing Company, calling Milwaukee home since 1855. For the entire month of March, we're serving up fun articles on bars, clubs and beverages – including guides, the latest trends, bar reviews, the results of our Best of Bars poll and more. Grab a designated driver and dive in!
Sprecher Brewery, 701 W. Glendale Ave. in Glendale, is a hometown treasure – the daddy of all micro and craft brewers here.
So, I was interested to learn that founder Randy Sprecher's road to Milwaukee brewing was a little circuitous.
A Eugene, Oregon boy, Sprecher got a taste for the diversity and depth of flavors of European beers during his stint in the military.
"I spent 18 months in Bavaria at the end of my tour of duty for the Army," Sprecher recalls. "Vietnam. Late '68. I tried to buy import beer and realized it was not the same as what they're selling over there. Then I started reading about export formula, and I said, well, I guess I'll start making my own.
"As a home brewer, I started working on all these things that I liked, had enjoyed in Germany, one became Black Bavarian, which I've been making for 46 years."
That led Sprecher to study brewing at University of California, Davis, which led to a job offer from Pabst. And that's how Sprecher landed in Milwaukee.
"(I did) four years as supervisor of brewing operations for them," Sprecher says. "Ended up working every department they had. I worked all divisions from malt house to packaging. Then they had a big cave-in and half the place went in one day."
Though he considered moving back out west, Sprecher decided instead to try his hand at brewing here in Milwaukee.
Sprecher was committed to making the kind of flavorful beer he fell in love with in Europe. Not the kinds of beer that the big producers were making; beer he calls "little more than water with foam on it."
"If you want low calories and no aftertaste," Sprecher told the Journal's Tom Strini in December 1985, "we're not the people to buy from."
Using construction skills gained from years of working on sites and remodels, plus his brewing experience and his background studying chemistry and other things, Sprecher opened his eponymous brewery in 1985.
"I saw a way to do it here," he says, "with all my building and engineering skills, and I was a big auction guy, (so) I got stuff for peanuts, got the whole place going. We built our own gas-fired stainless kettles. We still do that.
"I could see that I could get it going. The problem was I didn't realize that they (the big brewers) were going to try to kill me off right away."
(PHOTO: Sprecher Brewing)
I guess that answers the question in the lead of a 1985 Journal article about Sprecher that asked, "Will Sprecher Special Amber Beer be the next brew to make Milwaukee famous? Or St. Louis furious?"
That first brewery was at 730 W. Oregon St. in Walker's Point, right where the south branch of the Menomonee River splits into two canals.
All that remains of the original Sprecher Brewery on 7th and Oregon Streets.
"It was a chemical building," Sprecher says, "the heaviest-built building in the whole Pfister and Vogel Tannery complex. It was the biggest tannery in the world. I was there, 80-100 hours a week."
After the first year, making fewer than a thousand barrels of beer – Amber, Black Bavarian, Milwaukee Pils – Sprecher – with its staff of about three, counting Randy himself – began to make root beer, too, and nearly from the get-go, Sprecher root beer and other sodas have been the company's bread and butter.
Though the company's logo can still be seen on the Oregon Street smokestack, the building is no longer there.
"I didn't outgrow it," he says. "I added to the buildings in that complex where you come over the railroad track. But the thing is the canal wall fell in that one day, because of the tugboats that were pushing the cement barges around. And then the whole parking lot fell in the canal, I couldn't get in my door cause it was up in the air, over the water.
"They had to build a cantilevered thing to get us in there, then they worked really hard on getting me out of there.

Spent grain, headed to a farm for use as animal feed.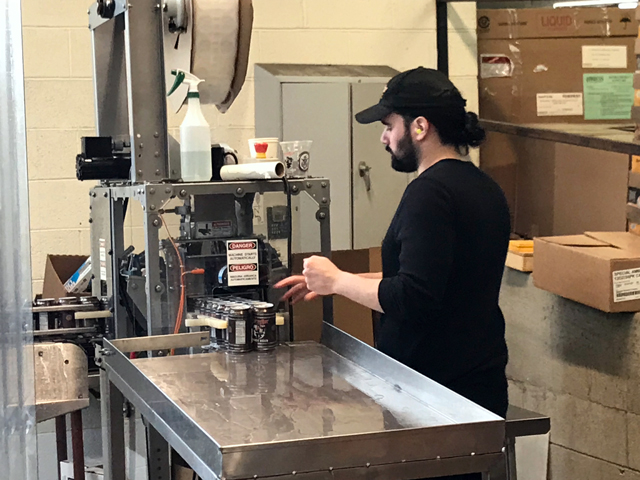 It went down as soon as I got out of it, they knocked it down."
That leads us to Sprecher's current Glendale home, just west of I-43 on Glendale Avenue, a building that might appear to be new construction, thanks to the old world themed renovation, but is actually an old industrial building.
The building was home to International Trading Co., until, in 1951, the company lived up to its name (in part) by swapping buildings with the Globe-Van Doorn elevator company, which had been located at 1027 W. Atkinson Ave.

Bourbon barrels for aging specialty beers.
Sprecher moved there in 1995.
"We got it going here, and added on to make the docks, then after things got rolling then we couldn't keep up. I could never make enough beer. I was the one that was growing all the time. I was always bigger than all the other guys."
For a time, Sprecher tapped Capital Brewery to help keep up with production of Sprecher Amber, the company's most popular brew, but that arrangement ended many years ago and Sprecher brews all its own beer and soda at the Glendale brewery now.
"We added on to the back warehouse, added a half acre, and then added on the side. Then I added a two-story deck thing here. We couldn't keep up, but that business is gone now."
Though competition from other soda producers and craft breweries has led Sprecher to take a hit in recent years.
"When I started there were, I think, 56 breweries in the country, now over 6,000," Sprecher says. "We added 14 around here in one year."
This led Sprecher to diversify into restaurants – though the brewery neither owns nor operates them – which Sprecher views more as bierstubes, or tasting rooms; places for folks to sample the brewery's diverse offerings. The same theory led Sprecher to purchase the former Brenner Brewing site in Walker's Point and reopen it as a taproom.
It's a plan Sprecher has eyes on expanding to other parts of the metro area.
"My idea is a small little place, you have taps there. You sell them, and then you have retail to go. 'Oh, I like that beer, I wanna take it home now'."
Of course, you can also visit the Sprecher Brewery itself, which has a fully stocked shop full of beer, soda, cider, wine, Sprecher-branded snack foods and condiments, clothing and other items.
And Sprecher's guided brewery tours are among the most popular in town, with a great tented indoor beer garden offering samples at the end.
Views of the tasting room at tour's end, above and below.
On the tour, you'll see the production areas, the bottling and canning lines and more. It's an actual guided tour through the brewery, not just a self-guided peek through windows into the production areas.
Sprecher said that although there was a time when more than 50,000 people a year would come for the tours, that number, too, has eased back a bit. But the brewery has seen a renewed interest and sales and tour numbers are back on the rise.
"We just had a big overflow day, two weekends back," Sprecher says.
Most of the drop in demand was for beer, Sprecher says, adding, "beer's going back the other way now. We have all the awards and super beers that we've perfected over the years: Oktoberfest, mai bock, Black Bavarian – that's won World Cup Gold, couple sessions back. We have a bunch of other specialty ones, too, because we have our own hop yards up north."
But the biggest seller in the beer line?
"It's still the amber," Sprecher says, "But the heavy tripel has really been well received by the right age group. We have the Citra Bomb (limited edition IPA) that's just terrific. We always have tons of limited things (available only at the brewery shop). You just have to come here to find out."
Born in Brooklyn, N.Y., where he lived until he was 17, Bobby received his BA-Mass Communications from UWM in 1989 and has lived in Walker's Point, Bay View, Enderis Park, South Milwaukee and on the East Side.
He has published three non-fiction books in Italy – including one about an event in Milwaukee history, which was published in the U.S. in autumn 2010. Four more books, all about Milwaukee, have been published by The History Press.
With his most recent band, The Yell Leaders, Bobby released four LPs and had a songs featured in episodes of TV's "Party of Five" and "Dawson's Creek," and films in Japan, South America and the U.S. The Yell Leaders were named the best unsigned band in their region by VH-1 as part of its Rock Across America 1998 Tour. Most recently, the band contributed tracks to a UK vinyl/CD tribute to the Redskins and collaborated on a track with Italian novelist Enrico Remmert.
He's produced three installments of the "OMCD" series of local music compilations for OnMilwaukee.com and in 2007 produced a CD of Italian music and poetry.
In 2005, he was awarded the City of Asti's (Italy) Journalism Prize for his work focusing on that area. He has also won awards from the Milwaukee Press Club.
He can be heard weekly on 88Nine Radio Milwaukee talking about his "Urban Spelunking" series of stories.