Check in early and stay late during OnMilwaukee's "Hotel Week" sponsored by VISIT Milwaukee. The next seven days will be packed with stories about historic area hotels, reviews, history, food and drink, staycations and more. Find out what it's like to be a tourist in this town. (Chocolate on your pillow not included.)
Every time I find myself walking among the campus of the former Pabst Brewery, I have to sigh, because I imagine what it could've been. Not just how the brewery left Milwaukee, abandoning its employees and retirees and leaving a wasteland of beautiful but decomposing Cream City brick buildings.
Rather, I remember how "Pabst City" was totally teed up, at least until Milwaukee's short-sighted Common Council put the kibosh on an entertainment district that would've breathed new life into the sprawling property.
But that keg has been tapped. Even though its true potential won't be realized until the arena district comes to fruition, thanks to Joseph Zilber, the former brewery is now home to several interesting mixed-use businesses, from office space to apartments to college satellite campuses.
The most fun development, however, has to be the Brewhouse Inn & Suites.
For OnMilwaukee Hotel Week, my family spent a night at the Brewhouse Inn, 1215 N. 10th St. It turned into a great staycation, not just because of the retro elegance of this boutique hotel, but because of what it represented: my father-in-law spent many years working for Pabst – the last few right below the hotel in the "powerhouse." Not only does my wife remember visiting what is now the common area of the hotel as a kid, where the tops of copper brew kettles strike a majestic pose, but my daughter saw where her grandpa once made beer. She thought it was pretty cool, and she was right. It is cool.
In fact, those common areas are the least common you'll see at a boutique hotel: the gorgeous stain glass King Gambrinus, patron saint of brewing, shines down at his guests. Original Pabst (and Best Brewing) artwork and signage remain throughout; the spiral staircase to nowhere hearkens back to a time when breweries ruled Milwaukee. The front desk was built with 1,550 beer bottles from area breweries.
It all makes you pretty thirsty, so it's fortuitous that Jackson's Blue Ribbon Pub connects to the south, with its gigantic pretzels, tasty burgers and PBR on tap, naturally.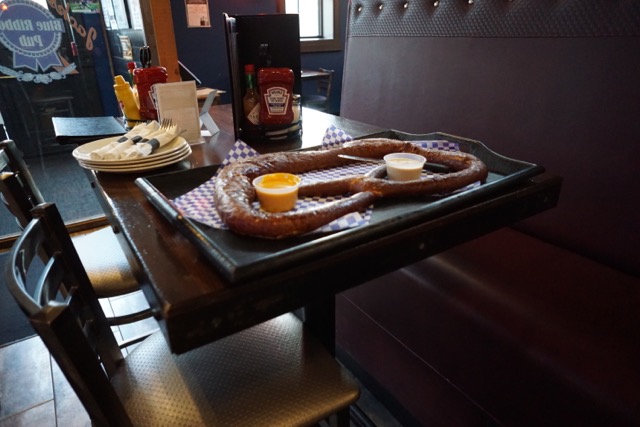 As for the rooms, themselves, the Brewhouse Inn & Suites offers a range. Completed in spring of 2013, the hotel features 90 suites with full kitchenettes, and our room still looked brand new. The director of sales and marketing told me that guests use their rooms both for overnights and extended stays, and they're all fully equipped.
We stayed in the smallest studio room – at 330 square feet, it's tighter than one would expect in a suburban hotel at this amenities level. Ours also contained a single full-sized bed (not a queen) which was too tight for two adults and a first-grader, but we cuddled up and made it work.
But you didn't come here for huge rooms, right? With a modern kitchenette and an urban rustic palette of steampunk touches like gas pipe shelves and a reclaimed wood headboard, it's the stylistic details that take this place over the top. As someone who really digs this aesthetic, I found it to be a little bit of a décor mishmash, but that's just because I'm looking with such a critical eye. My guess is that the typical guest will describe the stay with one word: cool.
Which is important, because the Brewhouse Inn & Suites has to stand on its own for a few more years. Other than Jackson's and the amazing Best Place gift shop a block away, there's little to do within short walking distance (parking is handled for $16 a night in a garage across the street, or valet for $26 a night). This will obviously change when the new Bucks arena and entertainment district arrives; then, this hotel will be right on par with some of the most chic urban boutique places I've visited, like the Kimpton in Phoenix that sits across the street from where the Suns play.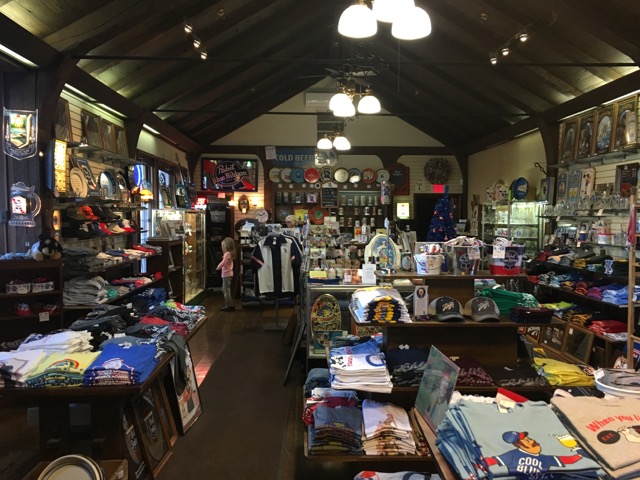 I spoke to the front desk employees (all of the customer service staff was polite and professional), and she said a room like ours would range from the high $100s to mid $200s during peak season, which makes it arguably a little on the pricey side – but just for right now. As the Park East corridor comes into its own, this area will get better and better.
The Brewhouse Inn & Suites pays homage to its past and looks toward Milwaukee's future. It's a great place to be a tourist in your own town, because you really feel the history all around – and there aren't a ton of places in Milwaukee that you can stay that were in use as early as 1882.
Still, it feels a little bittersweet: I remember taking the amazing Pabst tour shortly before it left town, and I remember the sense of abandonment Milwaukee felt when it shuttered in 1996. Believe me, hipsters weren't drinking PBR back then, and your grandpa wasn't, either. He was pissed, and so was I.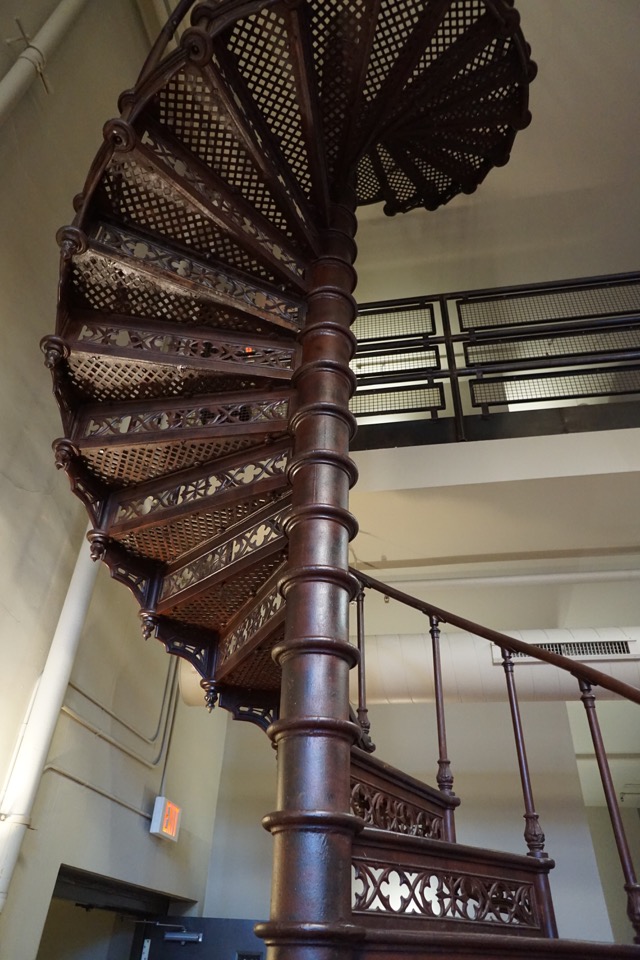 So it feels a little weird to celebrate only the tipsy times for this once-great Milwaukee business; though if you can appreciate it as an example of how Milwaukee can redefine its blue-ribbon self, the Brewhouse is a pretty cool place to stay, indeed.
Andy is the president, publisher and founder of OnMilwaukee. He returned to Milwaukee in 1996 after living on the East Coast for nine years, where he wrote for The Dallas Morning News Washington Bureau and worked in the White House Office of Communications. He was also Associate Editor of The GW Hatchet, his college newspaper at The George Washington University.
Before launching OnMilwaukee.com in 1998 at age 23, he worked in public relations for two Milwaukee firms, most of the time daydreaming about starting his own publication.
Hobbies include running when he finds the time, fixing the rust on his '75 MGB, mowing the lawn at his cottage in the Northwoods, and making an annual pilgrimage to Phoenix for Brewers Spring Training.