Proclaiming that it will be one of the finest facilities of any college program in the country, Marquette University and the Milwaukee Bucks on Tuesday signed a new seven-year lease for the Golden Eagles men's basketball team to play its home games in the new arena, beginning next year.
The much-anticipated announcement, which formalized the long-expected agreement, was made during a press conference on the main concourse of the arena that is currently under construction Downtown. Terms of the deal were not disclosed.
"Marquette basketball is a staple of Milwaukee, and we are proud to welcome the Golden Eagles to their spectacular new home," said Bucks President Peter Feigin. "As Marquette continues to grow as a national basketball power, we expect a lot of exciting college hoops to be played at the new arena for years to come."
Added Marquette President Michael R. Lovell: "As Marquette University enters its second century of basketball, today marks another historic milestone for our community and passionate alumni. They'll now experience elite-level basketball in one of the most innovative arenas in the world. This is a time of unprecedented growth for Milwaukee. So much of that excitement is centered on this remarkable arena, and we are proud to call it our home."
The @Bucks and @muathletics officially announced a new seven-year agreement for @MarquetteMBB to play its home games at the new #Bucks arena pic.twitter.com/kcryvgCaLp — Jimmy Carlton (@jimmycarlton88) August 15, 2017
Marquette will be the primary tenant at the $524 million arena, which the Bucks are building with $250 million in public funding and leasing from the Wisconsin Center District under a 30-year contract signed in April 2016. That deal requires the Bucks to make annual average payments of $1.5 million and allows them to receive all revenue from tenants, in addition to sponsorships, concessions and other events.
According to the team, the state-of-the-art venue, scheduled to open in the fall of 2018, will host not only Bucks and Golden Eagles home dates, but also concerts, family shows, boxing, MMA, NCAA men's basketball tournament games and special events.
The two teams have each played their last 29 years at the BMO Harris Bradley Center and will play one more season at the facility, before moving just north to the new arena, for the start of their respective 2018-19 campaigns.
"The Bucks have been such great partners throughout this process, and we're so proud to continue that relationship with today's agreement," said Marquette Vice President and Director of Athletics Bill Scholl. "It's such an exciting time for basketball fans in Milwaukee right now. When the doors open and the lights go on in this building, we believe it will be the best basketball arena in the world.
"Playing here will be a privilege for our student-athletes, and the experience will be such a thrill for our fans."
On Tuesday, Raj Saha, general manager of the Wisconsin Entertainment and Sports Center, said the new arena would be a "special environment" for Marquette basketball. "There's no doubt in my mind that the atmosphere and sightlines here will make this the best arena not only in the Big East (Conference), but in the country," he said at a podium in front of the new venue's bowl at the Milwaukee Tool Construction site.
A Daktronics electronic sign in a Mortenson Construction trailer just offsite holds project managers accountable and serves as an organizational reminder, counting down the time until the new venue opens. At one point on Monday, just before the Golden Eagles' lease announcement, it read: 293 days, 19 hours, 23 minutes, 33.6 seconds. Inside the arena, the nearly completed roof enclosed the rapidly progressing interior work, including the players' locker rooms, glass panels on the building's north side, escalators and staircases being installed.
If this is one of the "worst" seats in the #Bucks' new @WisconsinESC arena, it's not too bad. pic.twitter.com/en7qvEaNk2 — Jimmy Carlton (@jimmycarlton88) August 15, 2017
Concourses are starting to take form; from the east end of one on the upper-level, visitors could look out toward Downtown and below at what will become the Bucks' Live Block entertainment district.
In April, the new arena landed its first major national event, as the Bucks and Marquette successfully bid for it to host NCAA men's basketball tournament first- and second-round games in 2022.
Though the Golden Eagles' seven-year lease is a relatively short term, but officials sounded overjoyed to be continuing their partnership with the Bucks.
"So much of our brand is based on our college basketball program," Lovell said. "To be able to play in a world-class facility … I couldn't be more excited that the Bucks arena is our new home, as well."
Marquette head coach Steve Wojciechowski said his team "can't wait until the first game." He's had renderings of the new arena up in his office "for what seems like forever," he said, and they've been an "attention-grabber" whenever he has visitors.
"The construction of the new arena has generated a tremendous amount of excitement within our program and we are thrilled by today's announcement," Wojciechowski said. "Both our current and future players, along with our fans, are going to be able to enjoy games in one of the finest arenas around."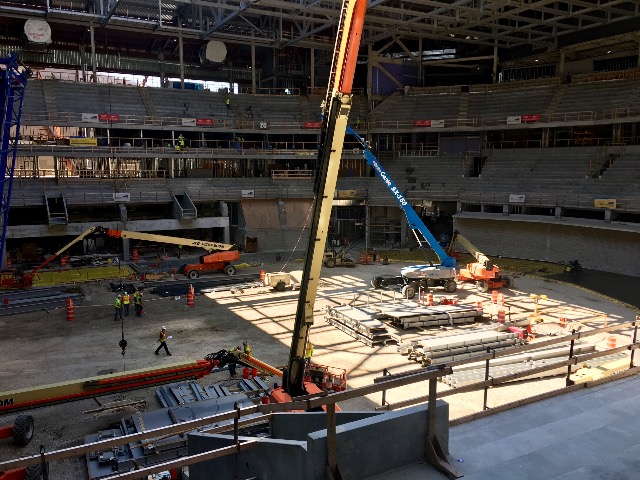 Construction underway inside the #Bucks' @WisconsinESC arena. pic.twitter.com/KCw8JpwUTq — Jimmy Carlton (@jimmycarlton88) August 15, 2017
Born in Milwaukee but a product of Shorewood High School (go 'Hounds!) and Northwestern University (go 'Cats!), Jimmy never knew the schoolboy bliss of cheering for a winning football, basketball or baseball team. So he ditched being a fan in order to cover sports professionally - occasionally objectively, always passionately. He's lived in Chicago, New York and Dallas, but now resides again in his beloved Brew City and is an ardent attacker of the notorious Milwaukee Inferiority Complex.
After interning at print publications like Birds and Blooms (official motto: "America's #1 backyard birding and gardening magazine!"), Sports Illustrated (unofficial motto: "Subscribe and save up to 90% off the cover price!") and The Dallas Morning News (a newspaper!), Jimmy worked for web outlets like CBSSports.com, where he was a Packers beat reporter, and FOX Sports Wisconsin, where he managed digital content. He's a proponent and frequent user of em dashes, parenthetical asides, descriptive appositives and, really, anything that makes his sentences longer and more needlessly complex.
Jimmy appreciates references to late '90s Brewers and Bucks players and is the curator of the unofficial John Jaha Hall of Fame. He also enjoys running, biking and soccer, but isn't too annoying about them. He writes about sports - both mainstream and unconventional - and non-sports, including history, music, food, art and even golf (just kidding!), and welcomes reader suggestions for off-the-beaten-path story ideas.