Since 1875, the three-story cream city brick J.L. Burnham Block has stood at 9th and National, playing a variety of roles – meeting and concert hall for a variety of groups, retail shops, taverns, apartments and hotels.
With its tall, slender arched windows, arcade of arches capping the first floor and its central pediment, it is one of the more graceful commercial structures by landmark architect Edward Townsend Mix, whose work also includes the Henry Button's home, Mitchell and Mackie Buildings, The Fitzgerald, Old Main at the Soldiers Home and the Central Standard Crafthouse Kitchen building, among others.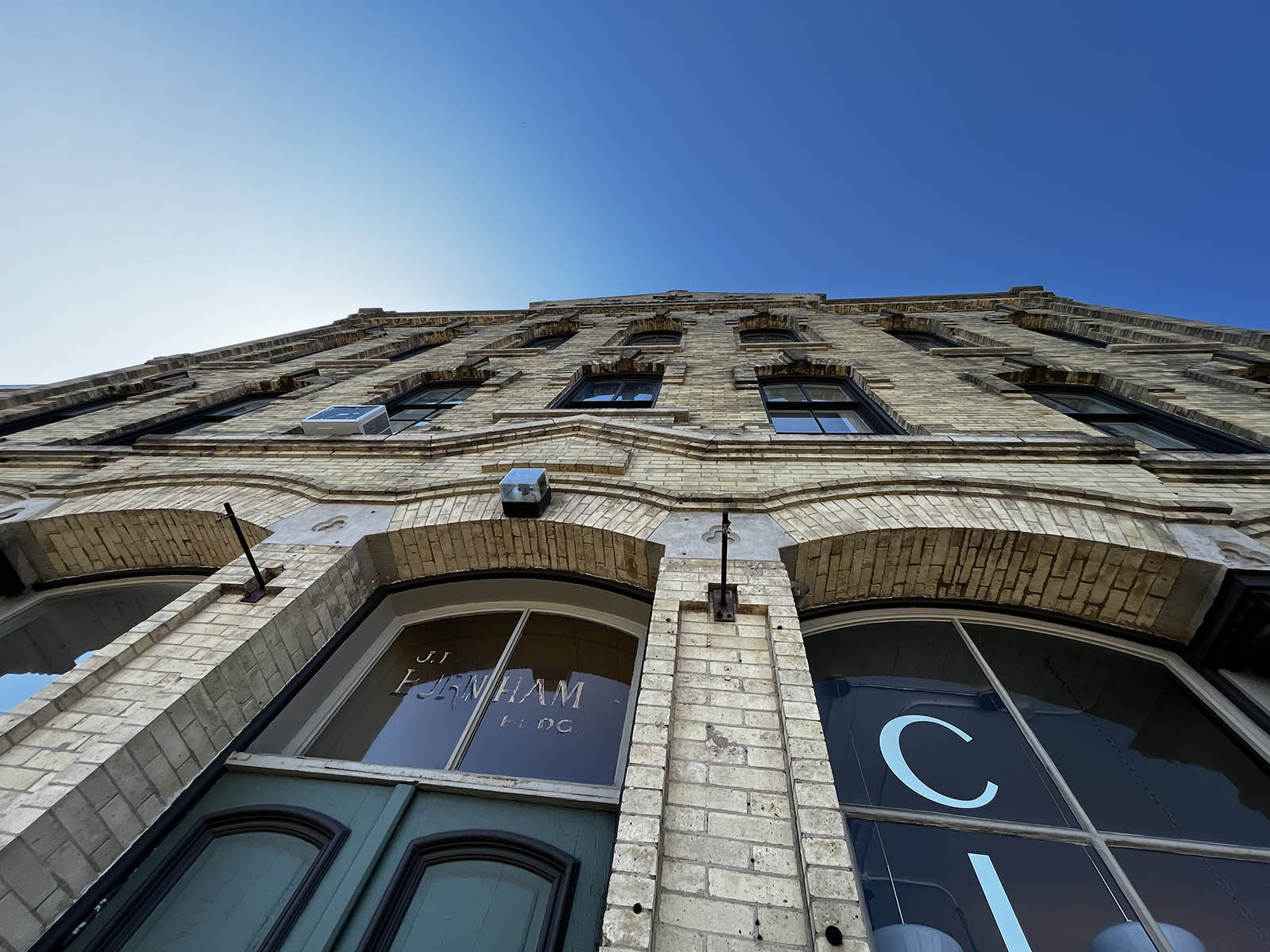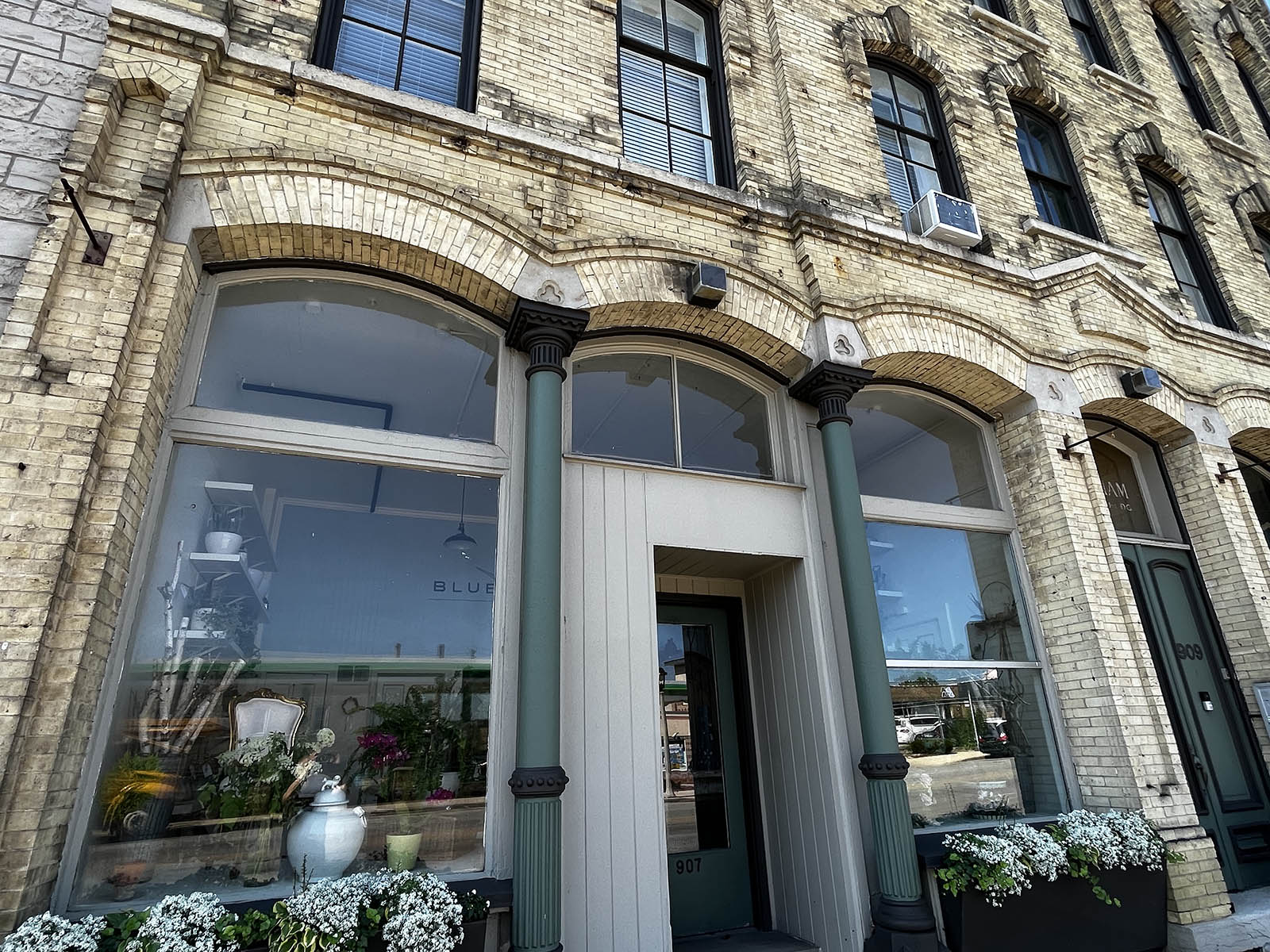 The 10,300-square-foot landmark – it is on both the state and national registers – is now for sale, with an asking price of $1.3 million.
There are two retail spaces – about 1,700 square feet each – three apartments (two at 1,700 square feet each and the former hall at 3,500 square feet), plus a deck, secure parking in back and some leasable space in the basement.
"Excellent cream brick commercial block," notes the Wisconsin Historical Society. "Original in form and appearance with many intact original details including decorative brick cornice, semi circular window arches with keystones and unusual arcaded storefront.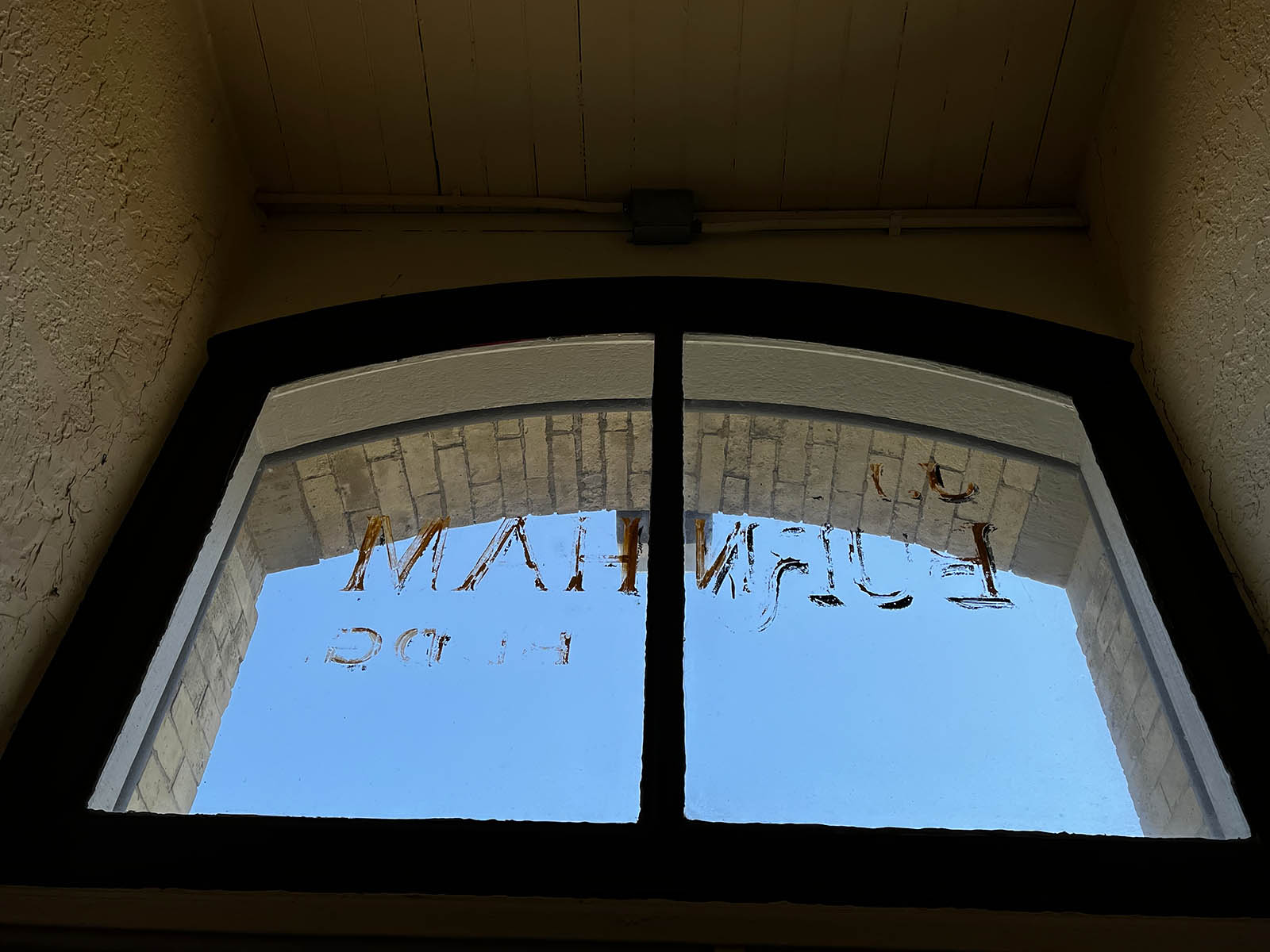 "The Burnham Block is one of Milwaukee's few surviving commercial buildings with a top-floor public meeting hall. In the 19th and early 20th centuries, Milwaukee proliferated with these upper-story rental halls that played a crucial, though now forgotten urban community role, hosting charity events, weddings, lectures and labor, political, and social group meetings. Rental halls were also home to myriad fraternal societies organized in the 19th century, often by immigrants seeking mutual aid while socializing with others and sharing their culture and language."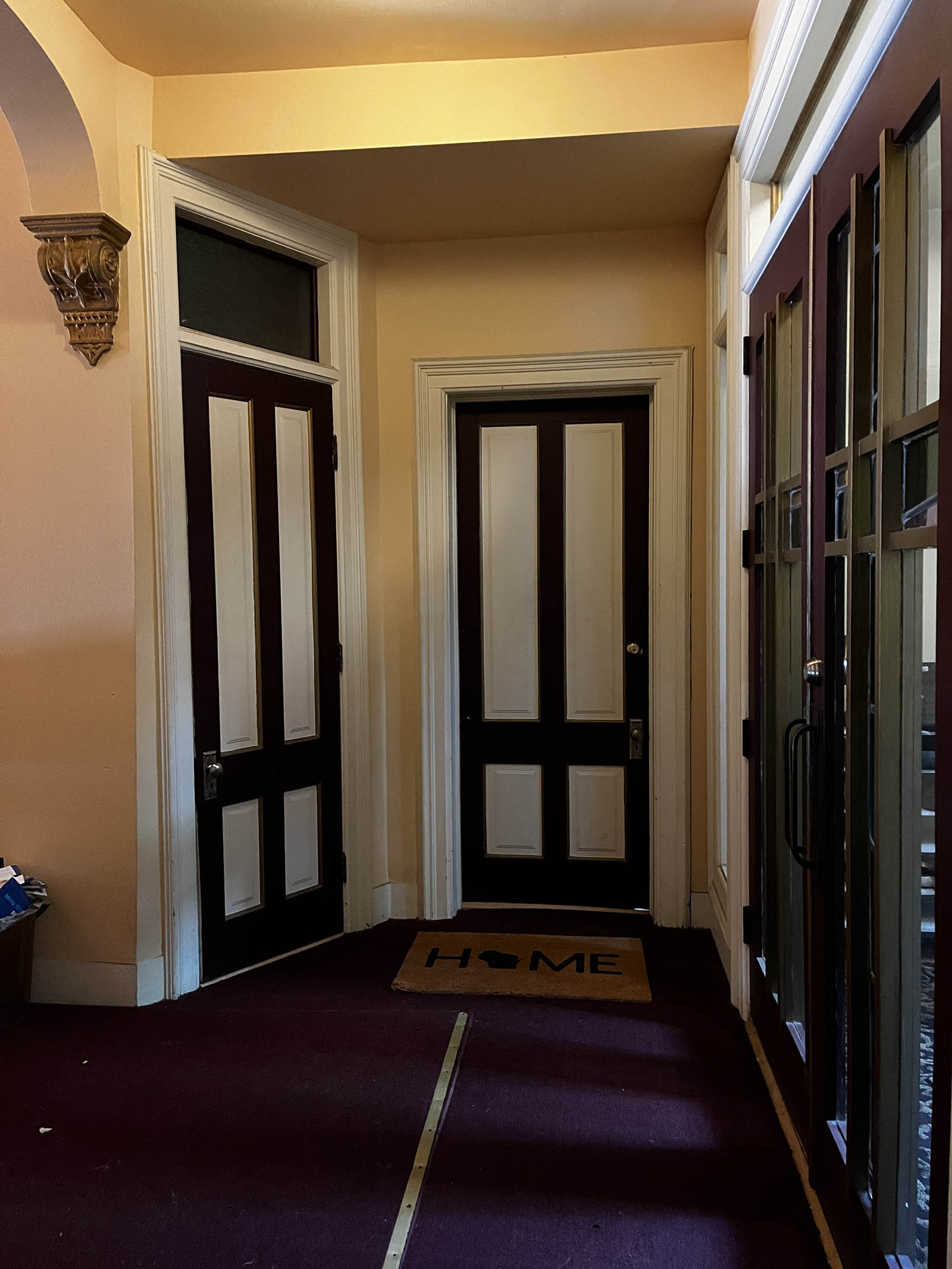 The block is across from The National cafe, 1/10 of a mile from the freeway entrance and walking distance to all the amenities Walker's Point has to offer.
While it's listed as a potential owner occupancy – the current owners lived in the top-floor hall apartment for many years, but do not now – really this looks like an investment property. And that makes perfect sense as that's exactly why cream city brick magnate Jonathan Levi Burnham built it in the first place.
A little history
Burnham was born in Plattsburgh, New York in 1818 and moved to Milwaukee in 1843 with his brother George, born two years earlier. Their father, Andrus – who moved with his wife to a farm near Waupun – was a brickmaker, a trade into which George also followed.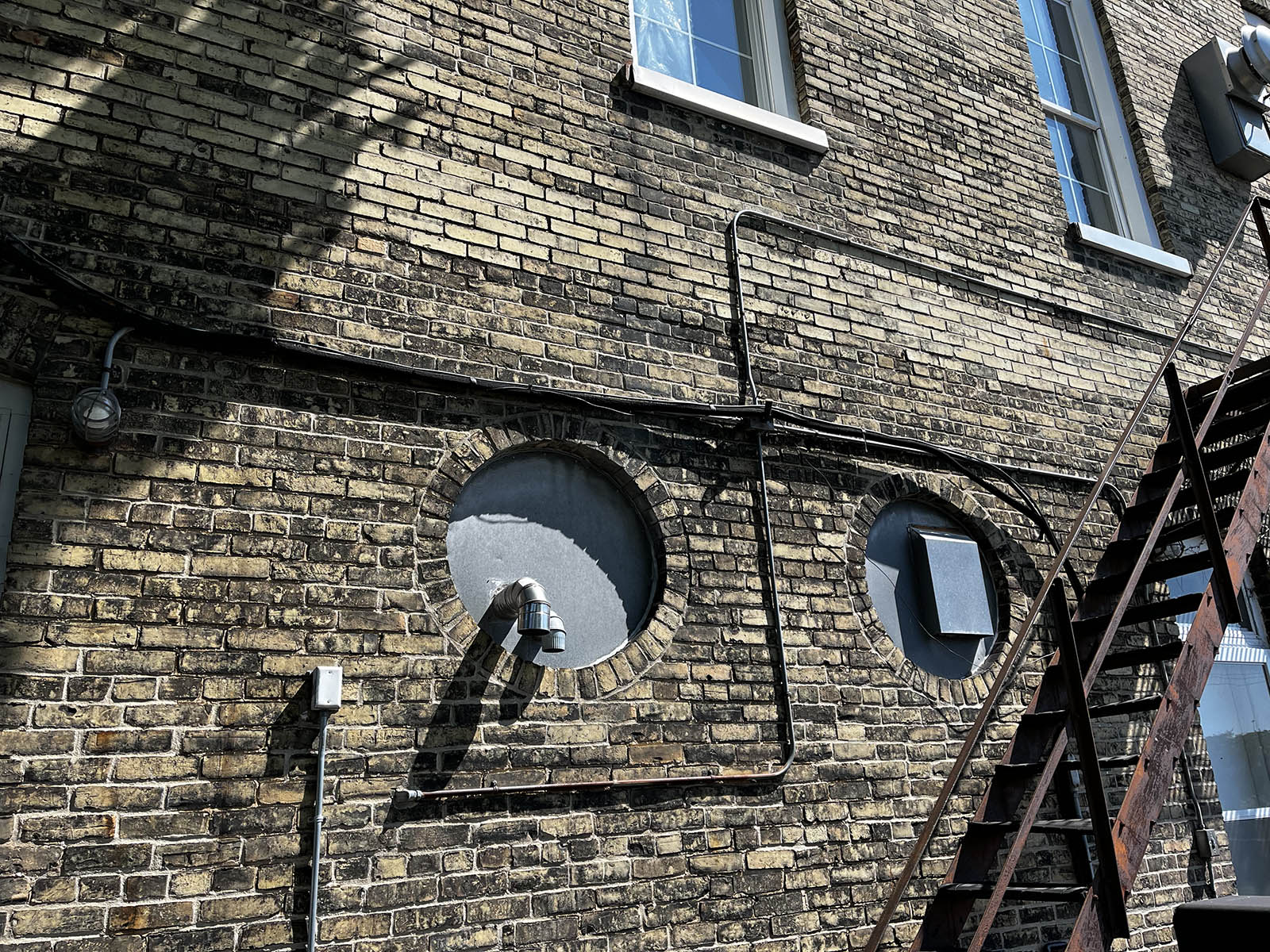 In 1832, Jonathan left school and worked as a cook on an Erie Canal boat for three years. Later, the family moved to Buffalo, where George (and maybe his younger brother) made bricks.
Buying 80 acres of land for $400 once here, Jonathan started a taxi business ferrying ship passengers between the lakefront and inland settlements. In 1844, the brothers set themselves up as brickmakers on rented land around 18th Street in the Menomonee Valley. There, they began to make cream-colored bricks with the local clay using a steam-driven brickmaking machine they had invented with an employee, a "Mr. Martin."
Though they initially struggled, reportedly losing $1,000 that first year, they grew the business into a growing concern – thanks to that machine that allowed them to produce bricks more affordably – and by 1848 bought a site near 12th and Bruce.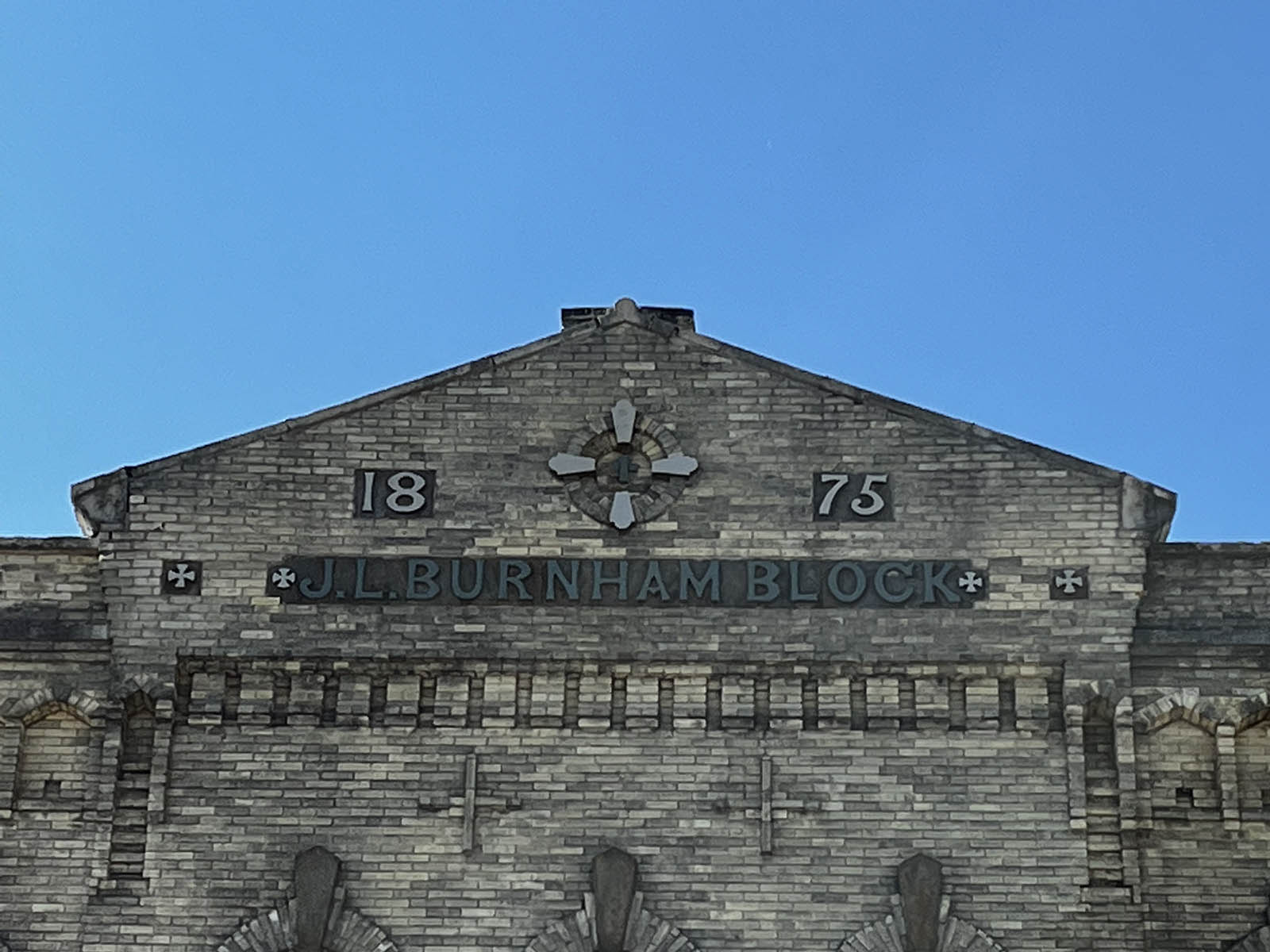 The brothers split in 1865, though both continued making bricks. However, by that time Jonathan had already been elected, in 1852, to a term in the Wisconsin Assembly. Like his brother, Jonathan had diversified into real estate and, with George, into milling flour, opening the Phoenix Flour Mills.
By 1881, George and his sons were atop an impressive brickmaking concern, with 200 employees churning out 15 million bricks a year. Jonathan's smaller brickyard, also operated with his sons, was making about 10 million bricks around 1890 and had 100 employees.
Real estate was where the money was for Jonathan, whose initial investment of $400 for 80 acres was now worth as much as $10,000 per acre.
"His real estate holdings, largely concentrated on the South Side, were among the most extensive of any Milwaukeean of his day," noted the National Register nomination report. "He developed a number of his lots with commercial buildings constructed of brick from his yard, including the Burnham Block at 907-911 W. National Ave."
Another of those developments was the 1870 investment building at 100 Seeboth Street that was demolished a few years ago after sitting vacant for many years, but it was just one of many real estate deals.
"Burnham is also said to have sold vacant land to industrial and commercial buyers with the understanding that they build on them with material from his brickyard, thus profiting both from real estate speculation and brick sales," the nomination continued. "Burnham's diverse business interests did not end with real estate speculation and brickmaking, because the 1865 city directory also listed his occupation as produce merchant."
In fact, Burnham also played a key role in tumultuous moment in Milwaukee history, according to the Seeboth designation report.
"Burnham's ties to the business community were strong due to his numerous ventures and he was also well-respected among his peers During the bank riot of 1861 hundreds of disgruntled laborers who had been paid in worthless bank notes stormed Alexander Mitchell's bank. Mitchell avoided disaster by packing up all of the deposits and securities and giving them to J.L. Burnham for safekeeping. Burnham took the bank's assets onto a Lake Michigan steamer and returned with the valuables when the panic had subsided."
Jonathan Burnham died on Sept. 24, 1891 – two years after his brother George had passed – and his real estate holdings (which also included 240 acres in Marathon County) were left to his daughter Annie Towne.
Both brickyards continued to operate for a time under the direction of Burnham descendants and were ultimately merged back into a single company that appears to have wound down by 1930.
(Side note: George Burnham's home was a few blocks west on National Avenue and survives today. It was recently purchased by the Clarke Square Neighborhood Initiative.)
Meanwhile, a survey of sources shows the kind of variety of activity at the Burnham Block on National Avenue across the decades.
A 1982 history of the property written by then-owner Roger J. Lieske says that lore holds that the building initially served as a hotel, becoming especially popular with hunters shooting at ducks in the marshy Menomonee Valley nearby.
"The first floor of the building was a tavern whose walls were covered with large painted murals," Lieske wrote. "According to the story, one wall have pictures of ducks and related hunting scenes. The other three walls were covered with pictures of nudes."
The top floor was a hall for dancing and entertainment.
Lieske added that, "the building continued to be used in this manner until Prohibition," though other sources are in conflict.
For example, the National Register report says the second floor was planned as flats and not converted to sleeping rooms until later. And in 1886, P. Stamm ironwork operated in the retail spaces, while Zwoster's Hall on the top floor in the 3,500-square-foot space served as meeting space over the years for groups like the Mitchell Club, the Eighth Ward Club, the Modern Woodmen, the Pythian Temple, The Independent Order of Foresters, The Knights and Ladies of Honor and others.
The first group to rent the hall was The Armin Lodge No. 9 of the Sons of Herman, a German social group named for Harming, a folk hero who trounced the Roman army repeatedly in the ninth century. The cultural and mutual aid society met in the hall every Thursday evening from 1875 until 1881.
From 1881 until 1890 the hall hosted meetings of the German Harugari social society. For part of that time – 1886-90, the Ancient Order of United (Railroad) Workmen Milwaukee Lodge No. 98 met Thursdays.
On Mondays, the American Legion of Honor, T.B. Elliott Council 1086 met on the third floor from 1883 to 1888, and a trio of Knights of the Maccabees of the World chapters – including Hunter Tent No. 14, Juneau Tent No. 3 and Natiional Tent No. 87 utilized the space from 1893 until 1911.
You get the idea ... Americans were joiners back then.
In 1896 that space was called Burnham's Hall. In 1915 it was Vanderviefen's Hall.
In 1892, Ott & Rinzel, makers of saloon, store and office fixtures, was occupying one of the retail spaces. The Van Der Viefen family lived on the second floor and would remain there for many years (at least through 1915), and they operated the tavern in the other retail space.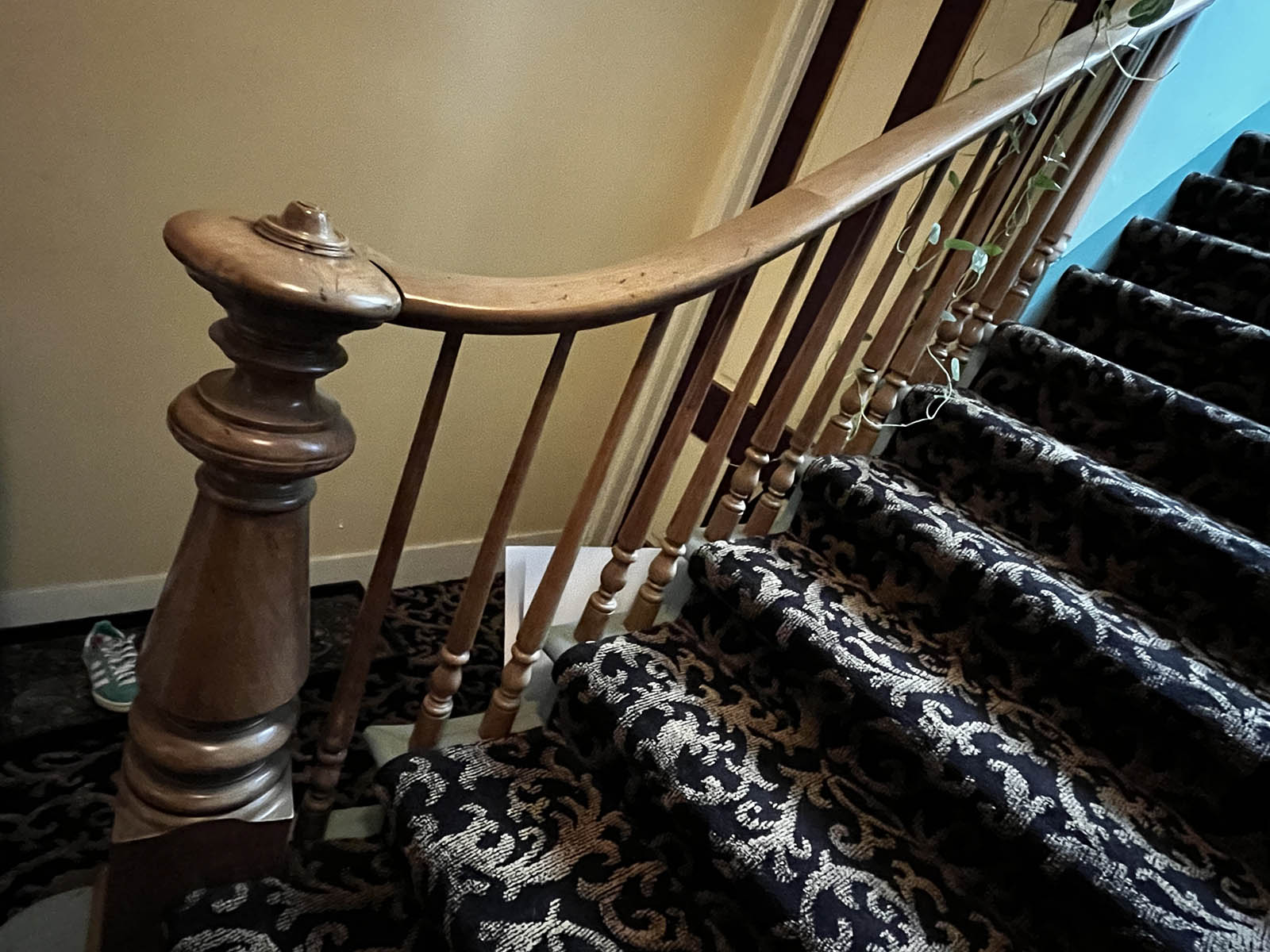 Newel post on the stairs to the hall.
Among of their neighbors was poor Benjamin Connell, found hanging in his room in 1894, after suffering from depression. And Lewis and Annie Foster, who were arrested as "drunkards," and two of their kids sent to the orphanage at Sparta, with a third living nearby at St. Vincent's Orphan Asylum on Greenfield Avenue.
In the early 1920s, a coal dealer had space in the building and by 1923 Dr. F.W. Milke, veterinarian, had opened his dog and cat hospital, which would remain into the late 1930s.
In 1931 Henry B. Bruce was arrested for violating Prohibition laws in his saloon in the retail space to the left of the hall entrance. That same year, P.E. Burany's National Welding and Machine Co. was doing business in the other retail spot.
Lieske recorded that Annie Towne – Burnham's daughter – sold the building to Joseph and Rosa Szasz in 1928.
In 1932, Lawrence Kenny ran the tavern and in 1933, as Repeal arrived, it was likely James Pogas who served the first legal beer there.
Two years later the building was sold at a sheriff's sale to Zora and Eli Radjenovich for $8,000.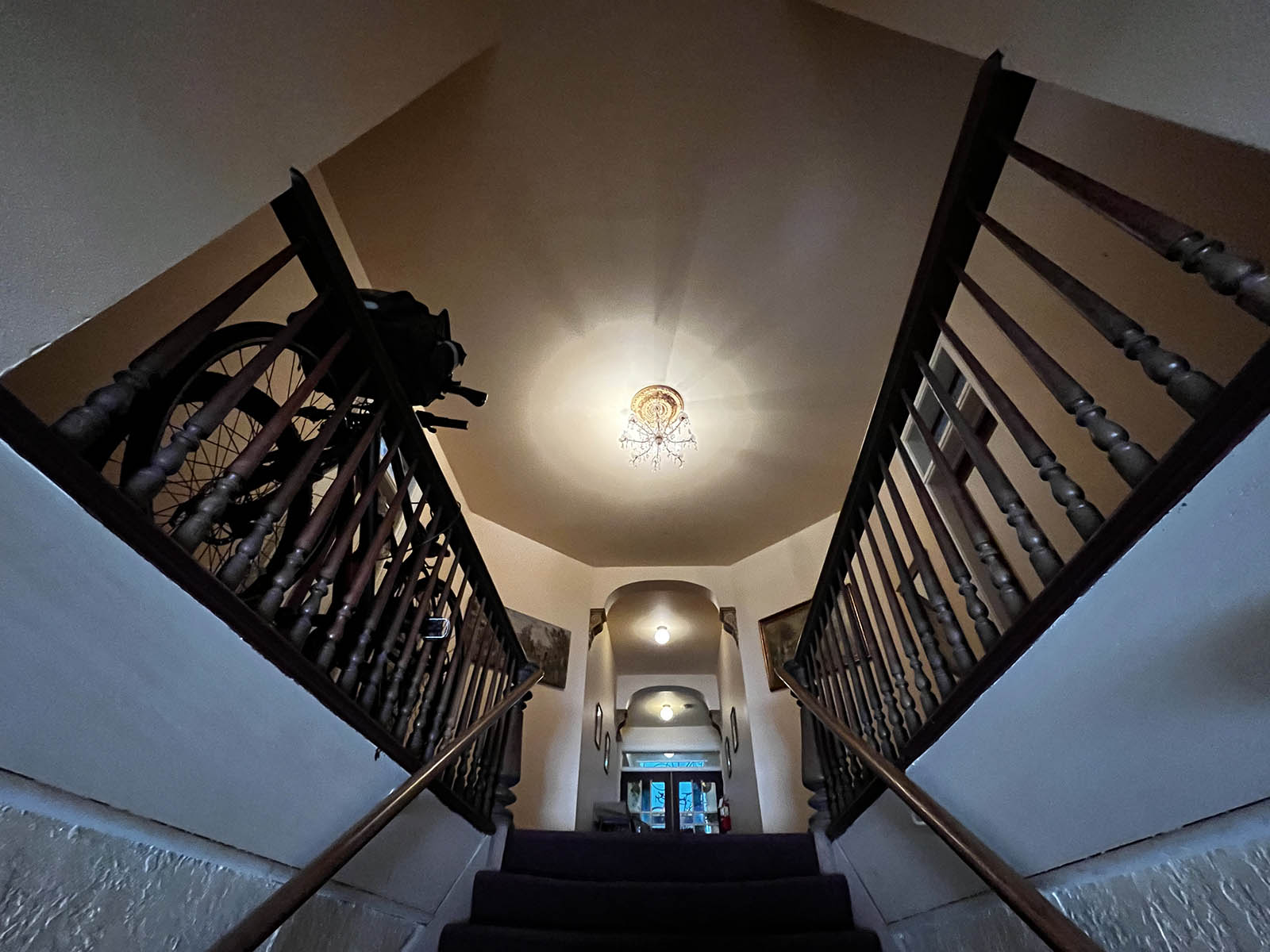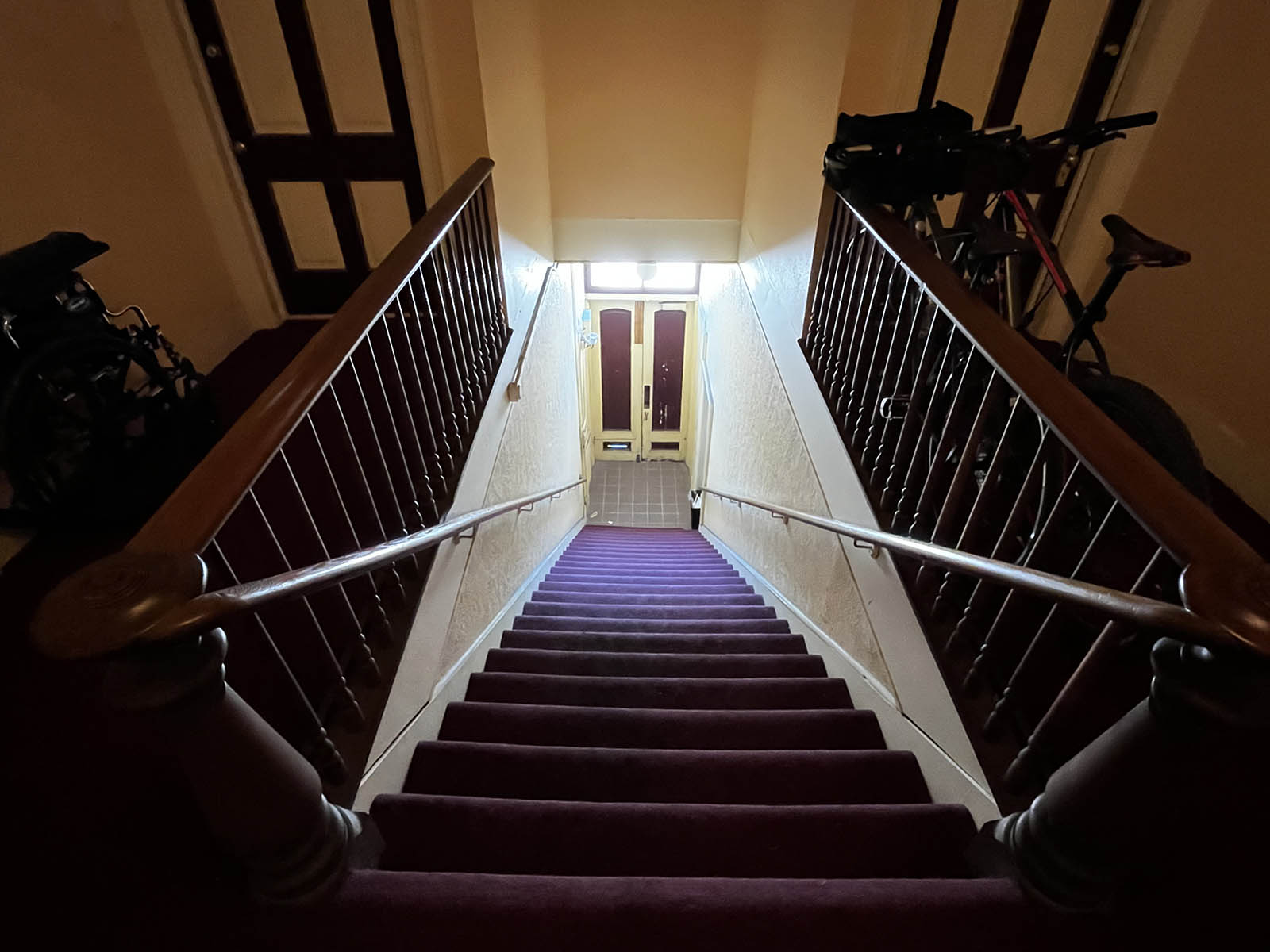 In 1937, the city took the building for $268.74 in delinquent taxes, and John and Marie Osmanski bought the place for $4,500 in 1943.
They moved their businesses, Osmanski's sheet metal works (which had been next store at 907 W. National since 1923) and Marvin Machine – which had moved from 20th and Fond du Lac – into it.
Later occupants on the first floor were more industrial: Midwest Tool & Die, C&C Tool & Supply, and in 1982, Lieske's Reliance Heating. Lieske rented the 911 storefront to Chuck's Transmissions.
The second and third floors were reportedly vacant for much, if not all of the Osmanski era.
Mirroring changes in the neighborhood, the building took an artsier turn later as Art Muscle magazine moved in just in time for its first anniversary in 1987 and started hosting concerts and other events in the Art Muscle Ballroom (aka Club DuPah, named for local musician Bobby "DuPah" Friedman). One show featured Die Kreuzen, Couch Flambeau and Monkey Bar.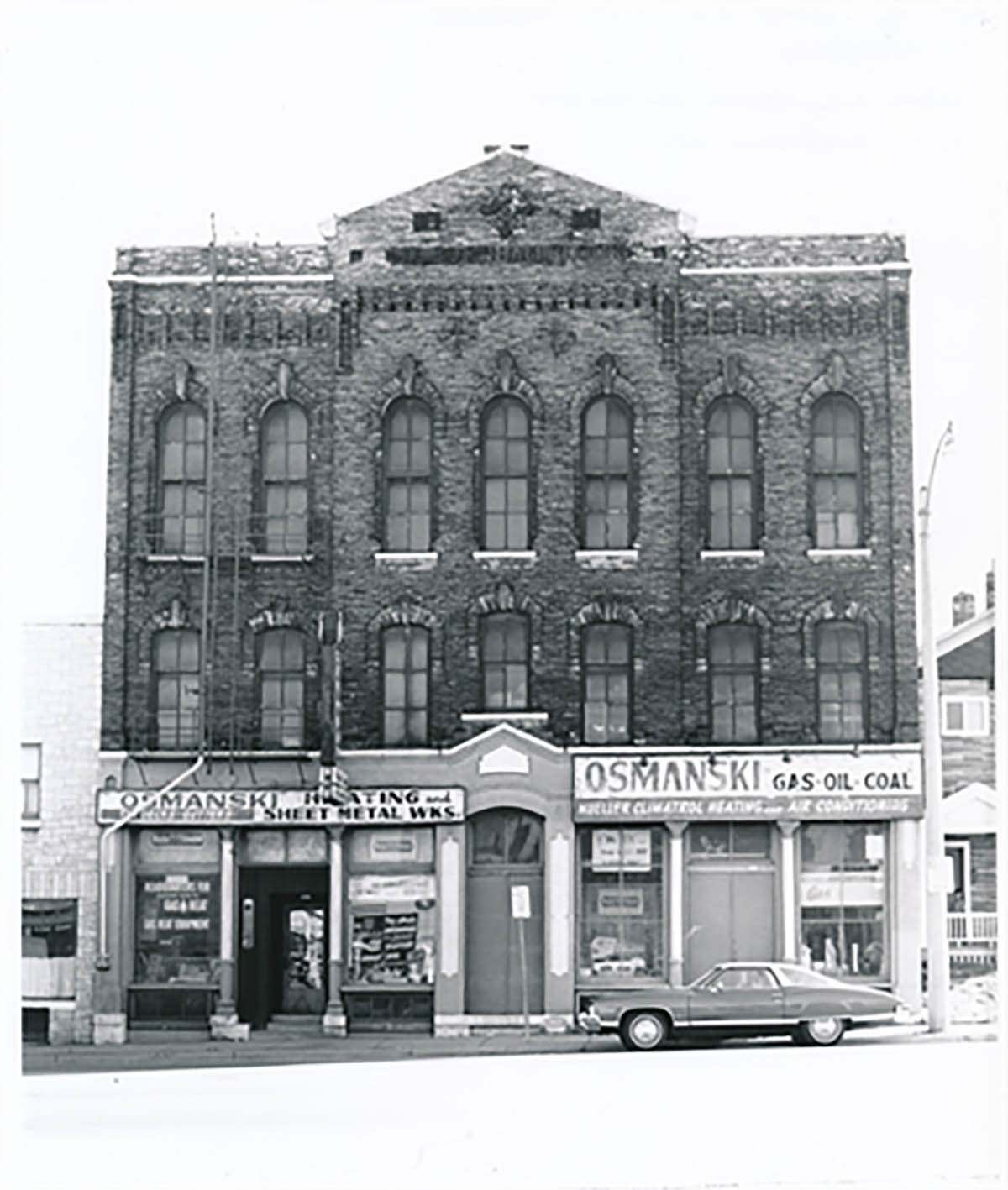 In 2018, Walker's Point Center for the Arts occupied both retail spaces, which had been rather un-artfully connected by a hole smashed through the brick wall.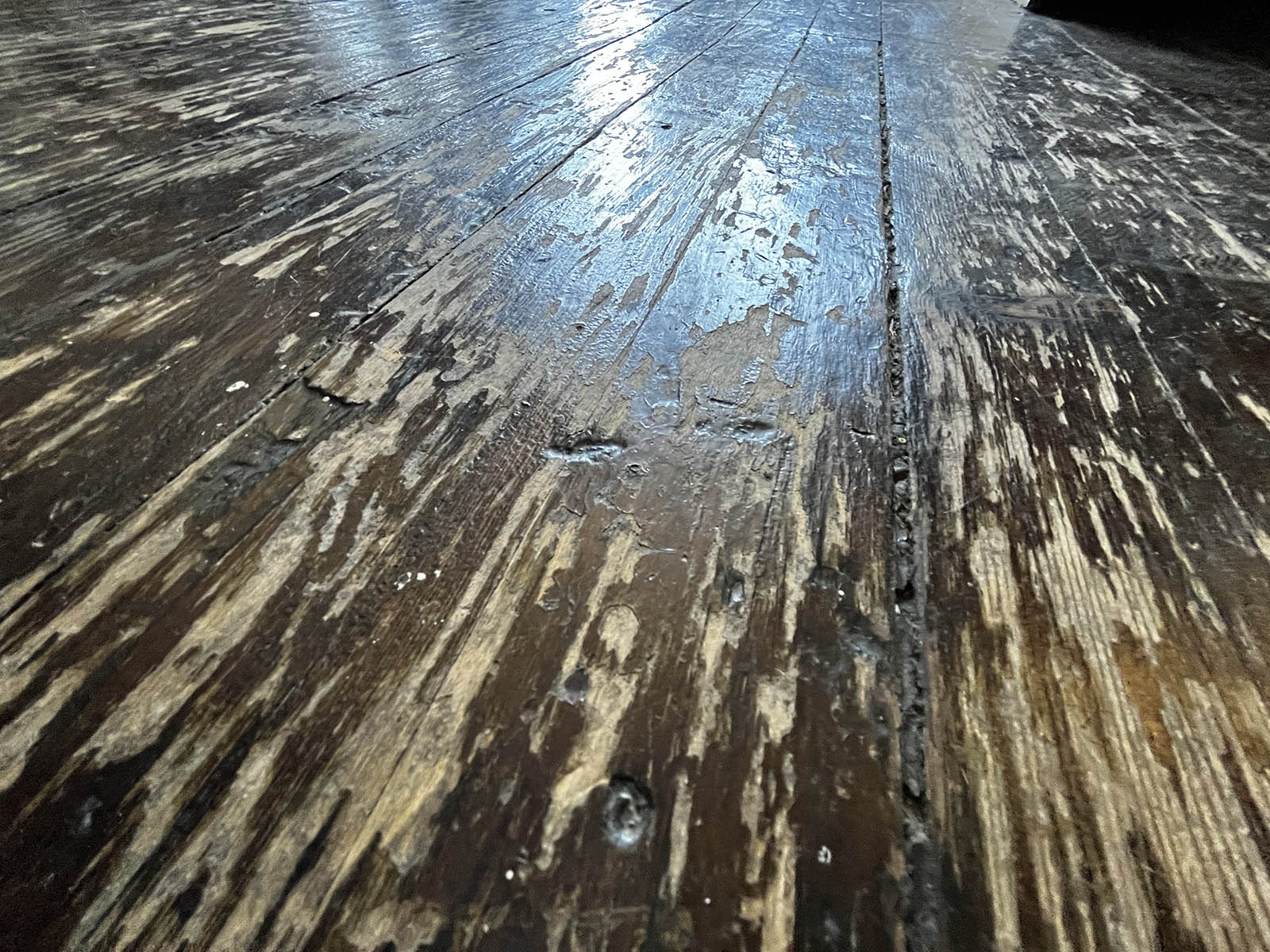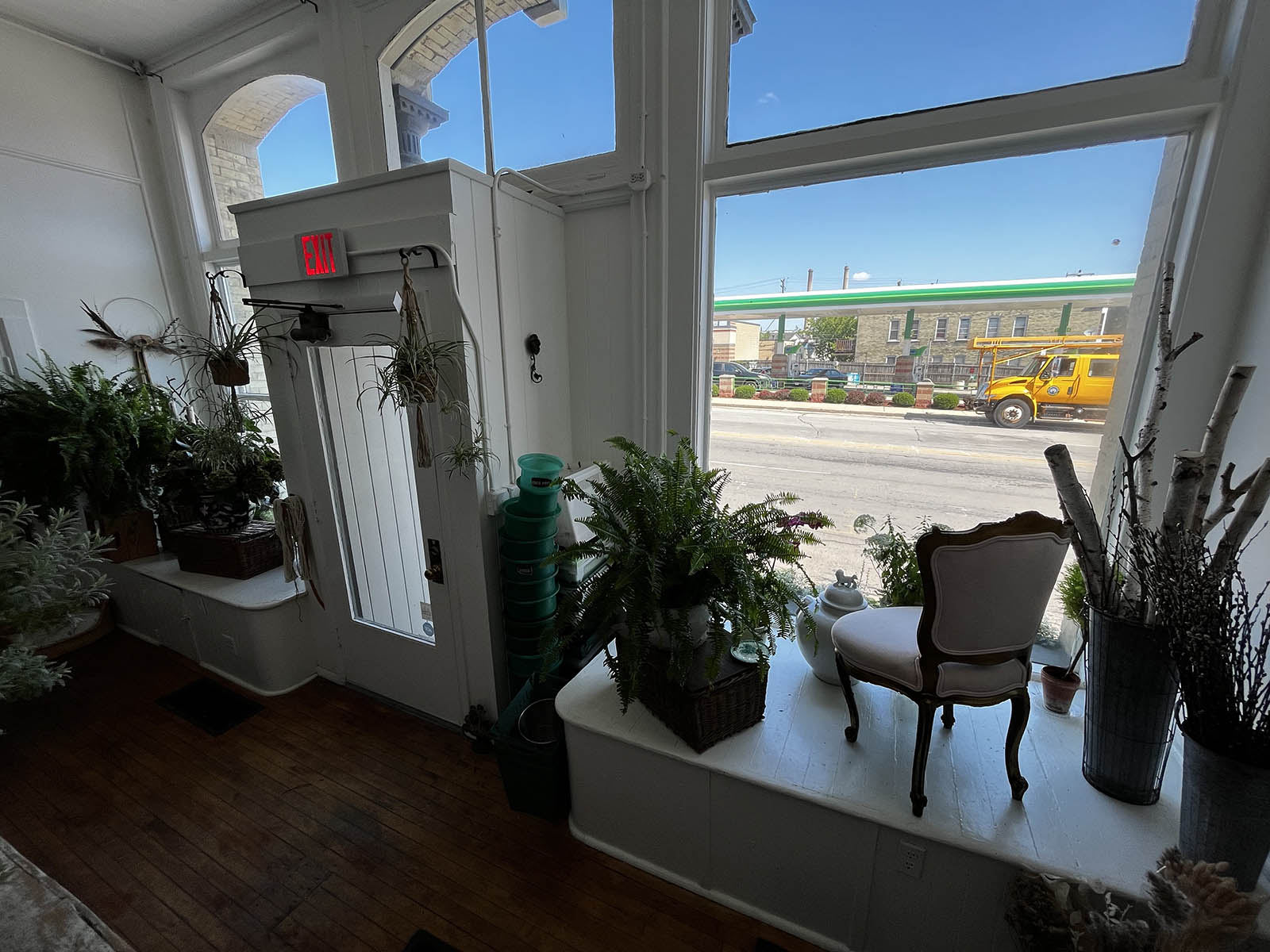 These days, both retail spaces are occupied – one by a flower shop called Blue Bird Design and the other by a jewelry store called Cival Collective. They both are beautiful spaces with original floors and elevated display window platforms.
The Cival Collective jewelry store includes a gorgeous long and low display unit that was found in the basement and brought upstairs (pictured below).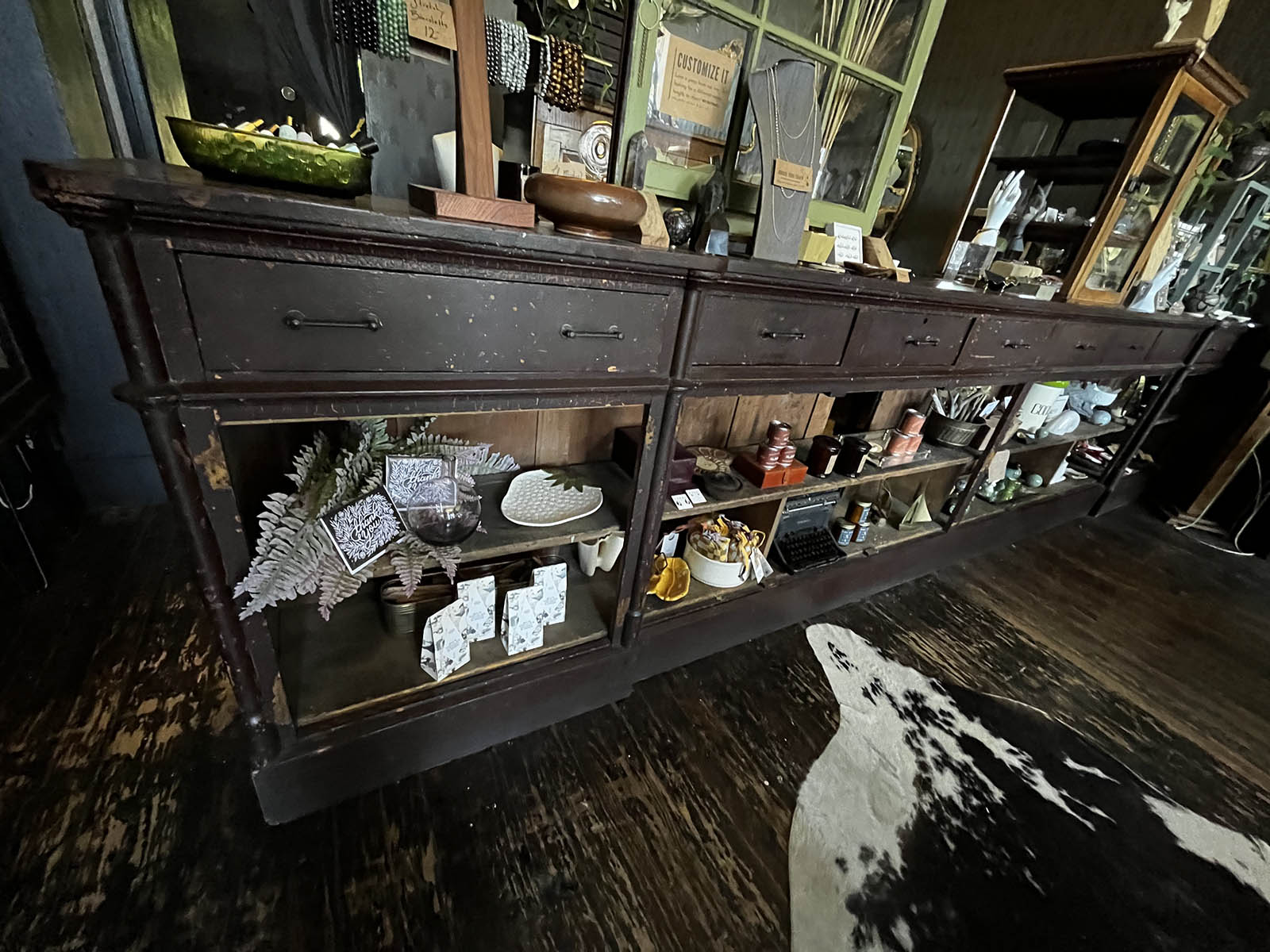 In the basement – where you can see that the building has floor joists double the typical width – a carpenter has his workshop.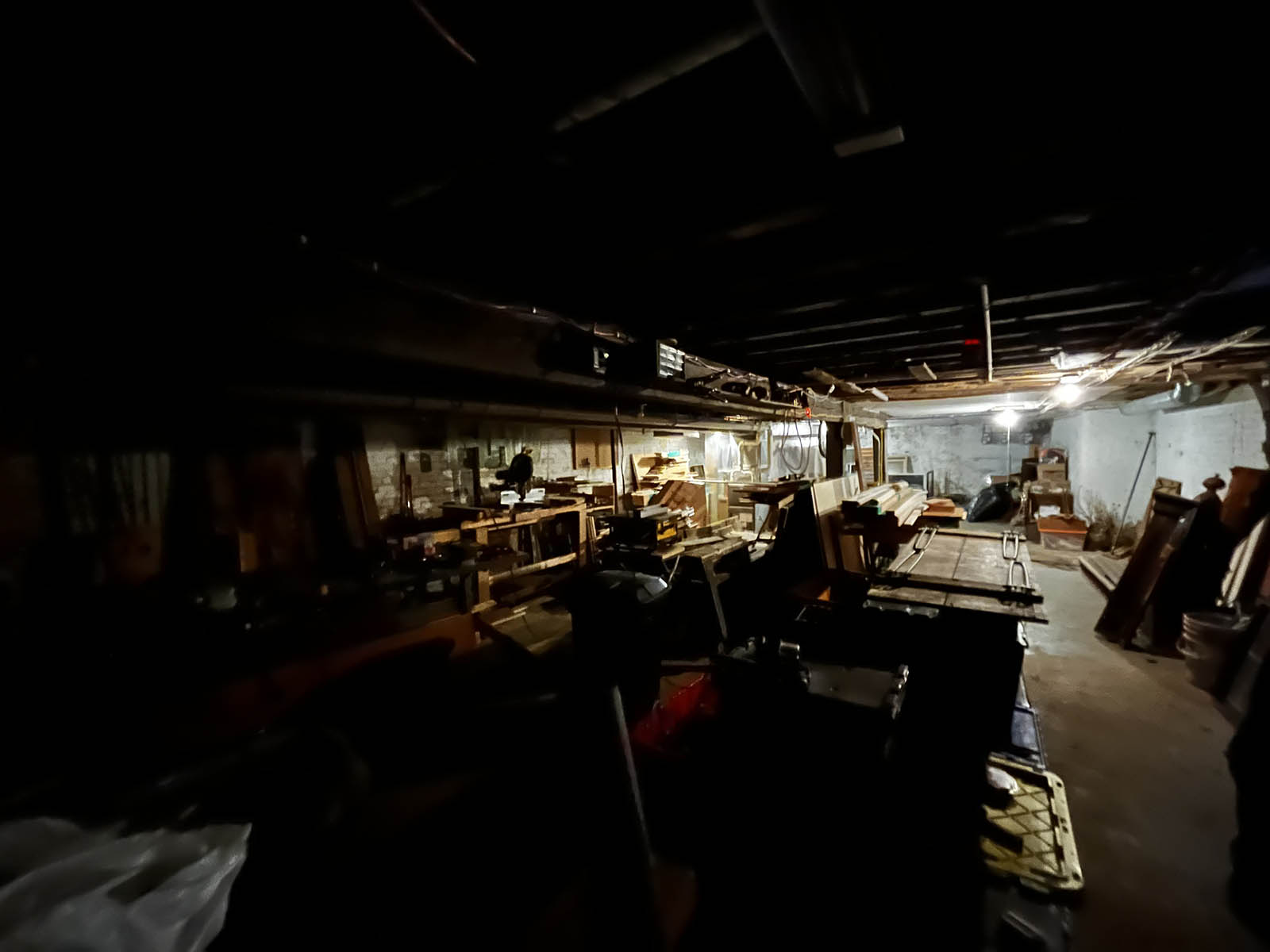 Inside the main entry to the upper floors is a dramatic steep staircase and what appears to be all the original wood ceiling and wall panels.
The two apartments on the second floor – one on each side of the corridor, made up from the once separate smaller rooms – are bright and spacious, and one has a deck out back. But it is the top floor unit that is the stunner.
Most of the doors to the public spaces have transoms above.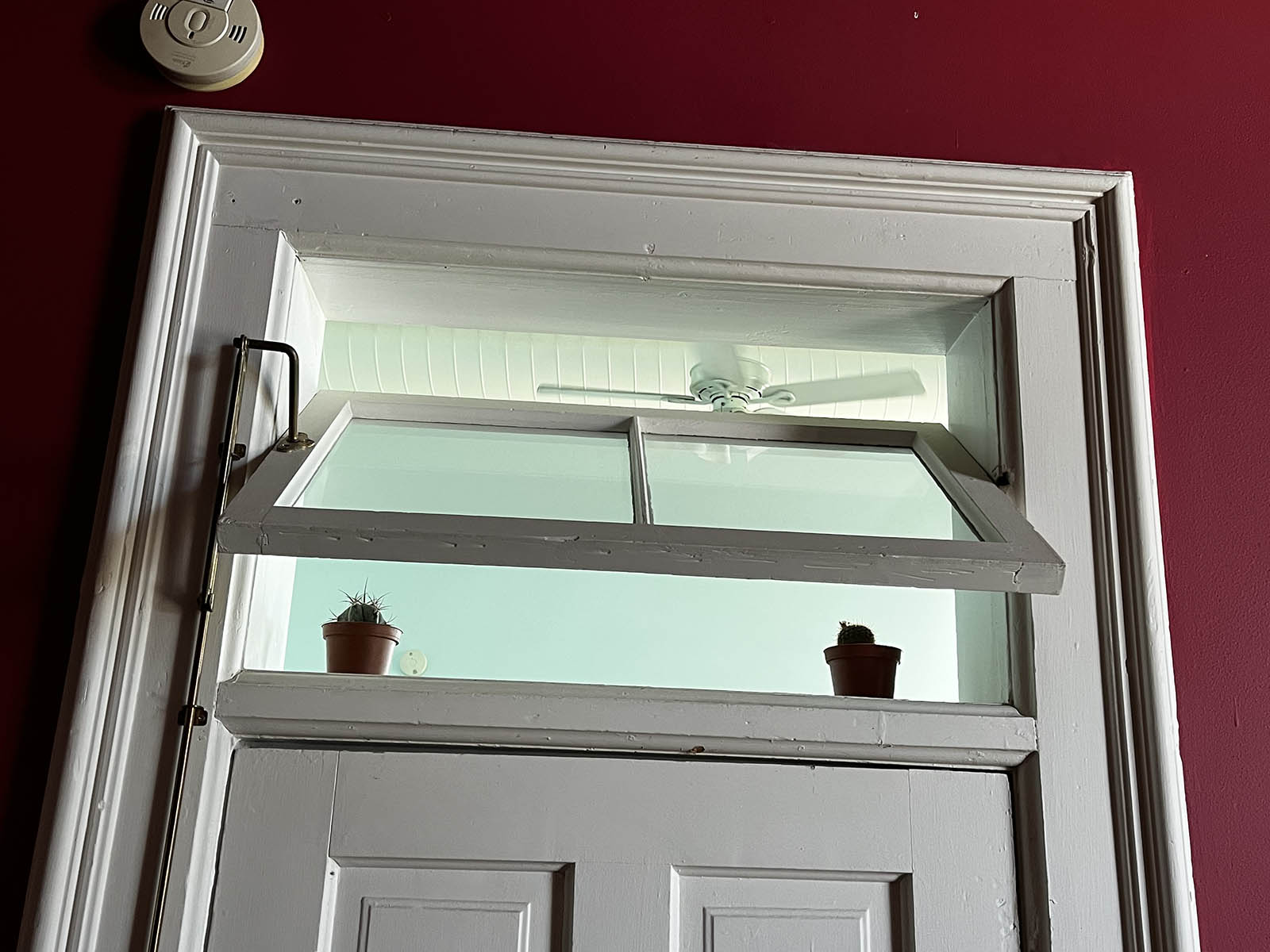 Arriving at the landing, which would've been the ballroom foyer, there's a former coatroom at left and what is now the kitchen at right. A staircase from the kitchen leads up to a loft space that serves as an office for the two artists who rent the apartment. Tucked below the loft is a bathroom and laundry room.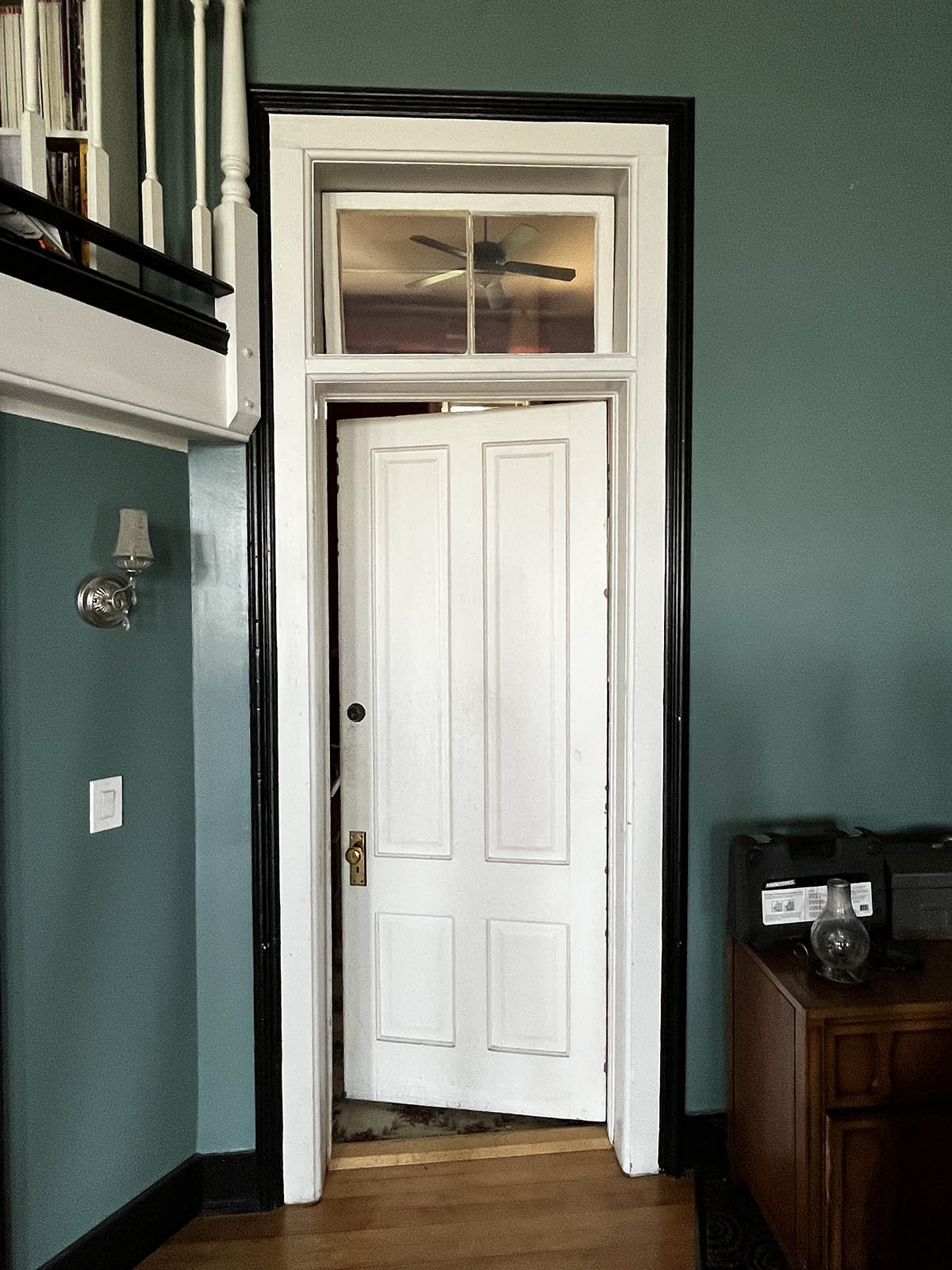 The big open hall space remains much as it was with its two entrance doors with transoms, high ceilings and those tall windows, looking out over the neighboring buildings and the Menomonee Valley where once the Burnhams made their bricks to a view of Downtown.
Andrew Megow, who lives in the space with a fellow artist says that legend has it that boxing matches (bare-knuckle, according to some) were held up here, as were basketball games.
"It's always had a good vibe to it," he says.
"We've been here since 2020. It's incredibly insulated. We can blast music. We're music fans here," he adds, and I note the drum set, the guitars and amps, "and the people downstairs can't hear anything."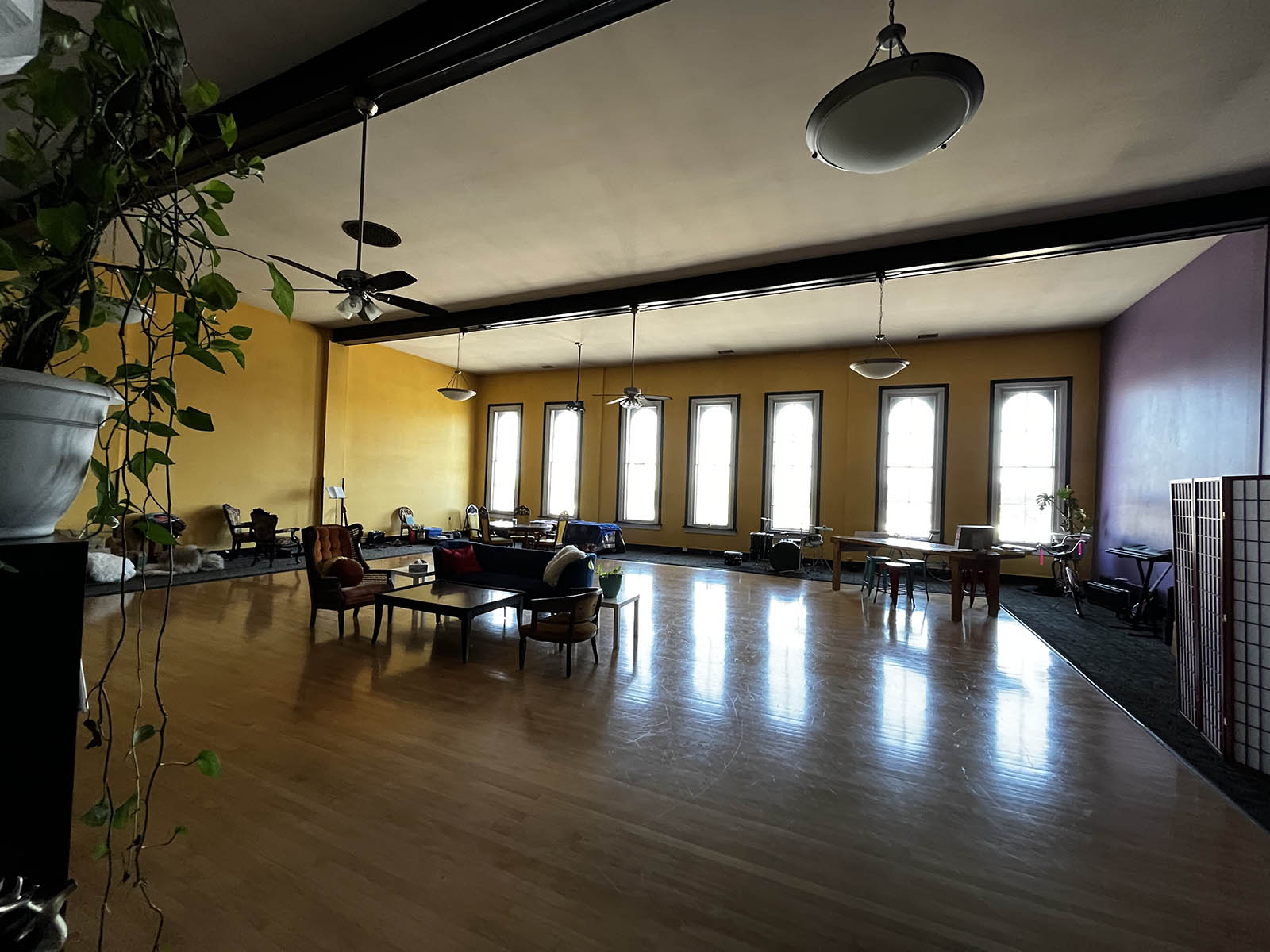 Of course, living in an unusual space can have its challenges, too, Megow says.
"We have 'ballroom problems,' is what we call it," he says with a laugh. "Just because if we need to get up to the ceiling, it's like, 'Well, we really need to get up to the ceiling.'
"But there's a lot of upsides. The view is incredible. We sometimes just park chairs in front of the windows and just watch the traffic up there on the bridge."
Born in Brooklyn, N.Y., where he lived until he was 17, Bobby received his BA-Mass Communications from UWM in 1989 and has lived in Walker's Point, Bay View, Enderis Park, South Milwaukee and on the East Side.
He has published three non-fiction books in Italy – including one about an event in Milwaukee history, which was published in the U.S. in autumn 2010. Four more books, all about Milwaukee, have been published by The History Press.
With his most recent band, The Yell Leaders, Bobby released four LPs and had a songs featured in episodes of TV's "Party of Five" and "Dawson's Creek," and films in Japan, South America and the U.S. The Yell Leaders were named the best unsigned band in their region by VH-1 as part of its Rock Across America 1998 Tour. Most recently, the band contributed tracks to a UK vinyl/CD tribute to the Redskins and collaborated on a track with Italian novelist Enrico Remmert.
He's produced three installments of the "OMCD" series of local music compilations for OnMilwaukee.com and in 2007 produced a CD of Italian music and poetry.
In 2005, he was awarded the City of Asti's (Italy) Journalism Prize for his work focusing on that area. He has also won awards from the Milwaukee Press Club.
He can be heard weekly on 88Nine Radio Milwaukee talking about his "Urban Spelunking" series of stories.