The "Avatar"-inspired Cirque du Soleil called "Toruk: The First Flight" opens tonight in Milwaukee at the BMO Harris Bradley Center and runs through Sunday. Earlier today, I snuck backstage and clandestinely took a bunch of behind-the-scenes photos.
Fine. I didn't really sneak backstage, I was invited by Kim Harris, the marketing manager from the BMO Harris Bradley Center, but that sounded more exciting. Regardless, the experience was intense and colorful – similar to when I went behind the scenes in New Orleans for a Cirque show in 2014.
Whether you've seen the film "Avatar" or not doesn't matter. "Toruk" is a prequel to "Avatar," and takes place thousands of years prior to the era of the movie.
"Toruk" is the first time Cirque hired puppeteers for a show, and there are six on staff. They take turns operating the various creatures and all of them move the Toruk through a "reverse marionette" process which means the strings are below the "puppet" rather than above. The Toruk has a wingspan of 40 feet and weighs 240 pounds.
It is also the first Cirque show to have an English-speaking narrator.
"This show is completely different then what we've done in the past," says Jessica Ward, an acrobat in "Toruk" from Sydney, Australia. "It's a pleasant surprise."
During my sneak peak today I noticed a lot of large gray set pieces on the stage, but was told nothing during the show is actually gray because all these pieces have projected images on them throughout the duration of the performance. I also marveled at the incredible focus and flexibility of the acrobats and the grace of the puppeteers. One actually rode the Toruk on her back. (Yes, I was told the "Toruk" is a she.)
Aside from being in complete awe, I was constantly reminded that I should really get more exercise. Get tickets. It looks gorgeous.
Here are 10 behind the scenes photos from the show:
1. On the rack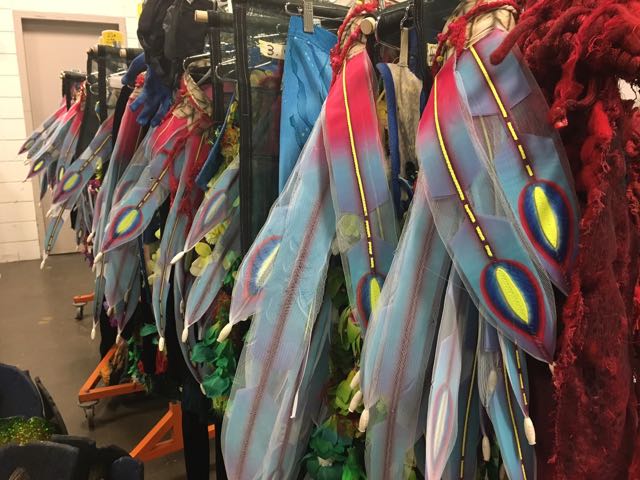 2. Head shop
3. It's a Turtapede
4. Unpacking the puppets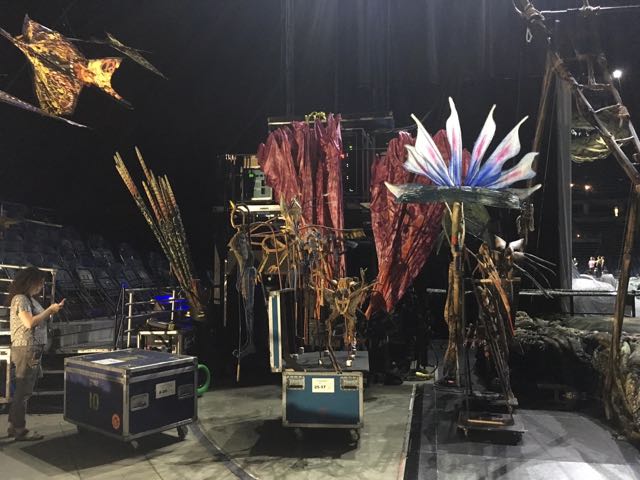 5. This guy
6. Hand stands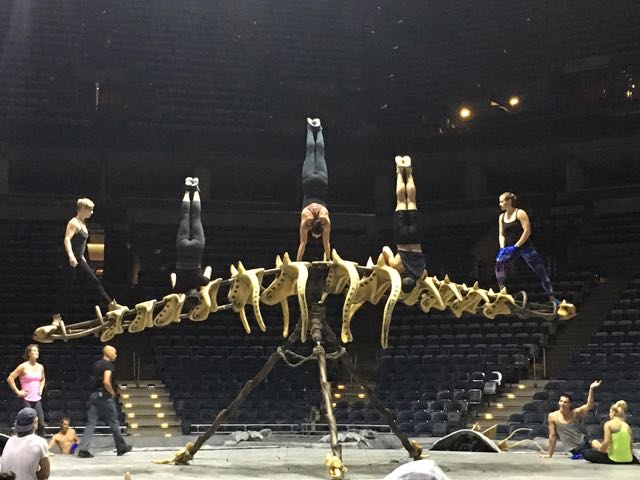 7. Direhorse
8. Props during performances are covered in projected images
9. Ride 'em, cowboy
10. Strings attached

Molly Snyder started writing and publishing her work at the age 10, when her community newspaper printed her poem, "The Unicorn." Since then, she's expanded beyond the subject of mythical creatures and written in many different mediums but, nearest and dearest to her heart, thousands of articles for OnMilwaukee.

Molly is a regular contributor to FOX6 News and numerous radio stations as well as the co-host of "Dandelions: A Podcast For Women." She's received five Milwaukee Press Club Awards, served as the Pfister Narrator and is the Wisconsin State Fair's Celebrity Cream Puff Eating Champion of 2019.