Thanks to Drew Carey, we all know that Cleveland rocks.
If you visit expecting the city on a great lake – yeah, the Lake Erie shore on the north end of the city really threw off my geographic bearings – to be the old rust belt Cleveland, think again.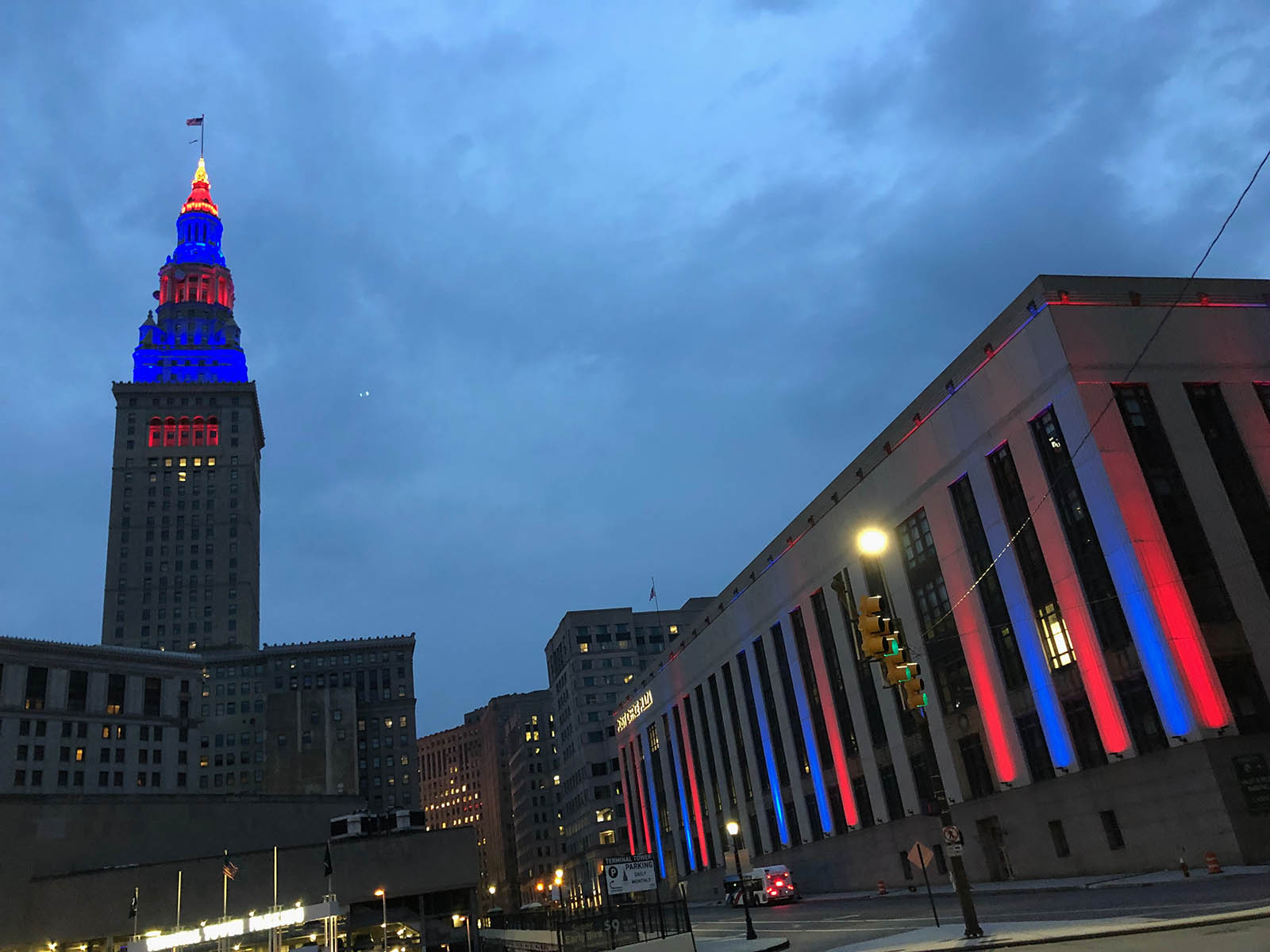 The city is rich in pro sports, in museums, in craft brewing, in parks and trails, in public transit, in vintage architecture and more.
One of the things that struck me most about Cleveland was how many broad streets there are in downtown, making it feel like a city much larger than it actually is. With about 383,000 people, it's considerably smaller than Milwaukee, but with more of a Chicago look thanks to those wide avenues stretching across the city center.
Otherwise, Cleveland feels a whole lot like Brew City, with its mix of classic and new architecture, its walkability, its distinctive neighborhoods, its industrial valleys spanned by a variety of bridges.
I spent a little more than three days there recently – my second visit ever, the first having been nearly 20 years ago – and had a great time exploring as much as I could squeeze in.
Geting there
Of course you can fly to Cleveland, or you can drive. A single tank of gas and about seven hours will get you there.
I opted for a more relaxing route and hopped on the Lake Express Ferry in Bay View. About a quarter of a gallon of gas after leaving home, I was already across the lake, having avoided Chicago traffic.
Where to stay
Even before I saw it in person, I was wowed by and mildly obsessed with the 1890 Arcade and so the Hyatt Regency Cleveland at The Arcade, with rooms offering views directly out into the lavish Arcade shopping mall pioneer seemed like a must.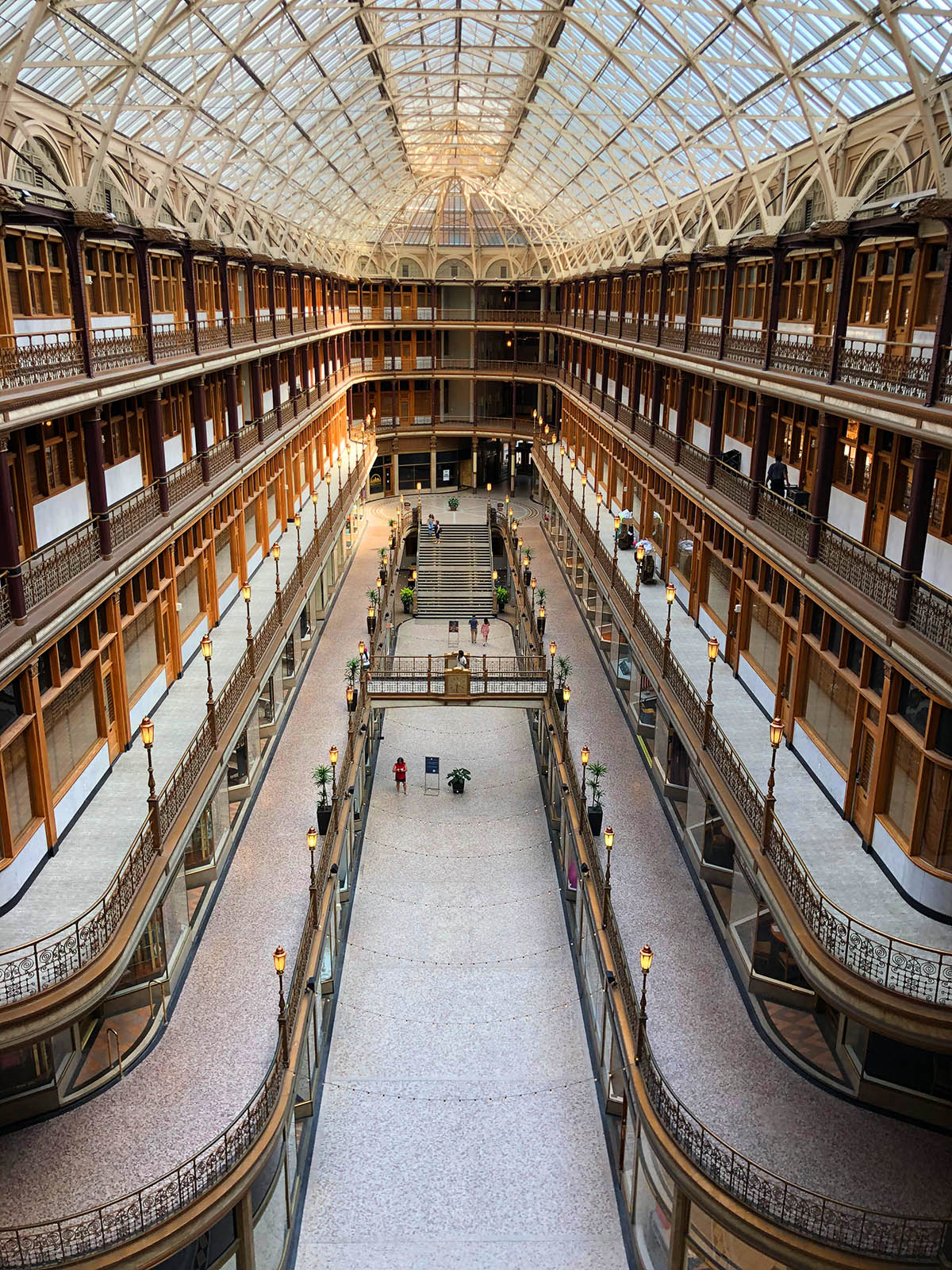 And I was right.
The hotel opened in 2001 and the rooms are comfortable, there's a fitness center, a small lobby and an on-site restaurant. But best of all is swinging open the door and stepping out into the stunning Arcade – which you can read about in-depth here – every time you leave your room.
Plus, my room – a former office – had large windows with blinds, so I could enjoy the view with my morning coffee, too.
Getting around
There's a lot to see in and around Downtown, and the popular Flats and Ohio City/Hingetown neighborhoods are pretty easily reached on foot for most. But the University Circle, Little Italy and Detroit/Shoreway neighborhoods are a bit farther afield.
You can, of couse, rideshare, plus there are buses and bus rapid transit, too. My preferred way to get out to the neighborhoods was the light rail system, which runs through the lower level of the iconic Tower City downtown.
There are four lines, but if you're sticking to an itinerary similar to mine the red line will get you to pretty much every neighborhood I visited.
As is the case in most big cities these days, dockless scooters are also everywhere in Cleveland for shorter trips and there is the HOPR bike share system and now Lime e-bikes, too.
Things to see & do
The top attraction for pretty much everyone who comes to Cleveland is the Rock & Roll Hall of Fame, which sits right on the shore of Lake Erie, next to the also popular Great Lakes Science Center.
The museum offers an interesting range of materials, from instruments to documents to photographs to vinyl records to costumes and much more, covering a really broad spectrum of musical styles, suggesting it should really be called the Popular Music Hall of Fame since there's much more than rock and roll here.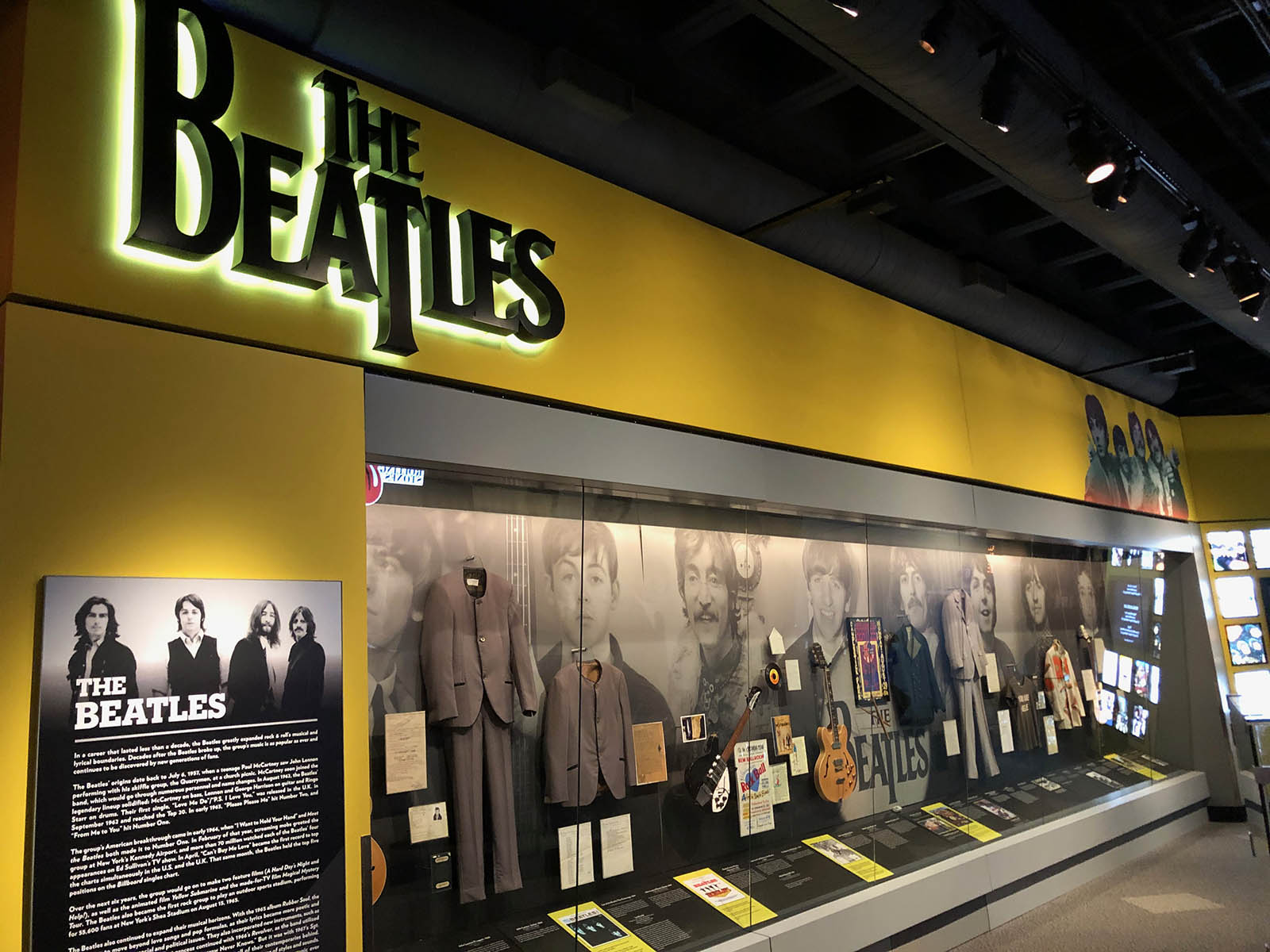 Some of my favorite objects: Parliament singer Gary Shider's famous on-stage diaper, the late-era CBGB awning, the Mellotron that the Beatles used to record "Strawberry Fields Forever," Joe Strummer's Telecaster, a turntable used by Public Enemy's Terminator X and John Lennon's 1964 Rickenbacker 325.
Upstairs, there's an area called The Garage with instruments that you can plug and play. After bashing away on one of the drum kits, I plugged a Fender P Bass into a classic Ampeg SVT and fumbled through the bassline to Bob Marley & the Wailers' "So Much Trouble in the World."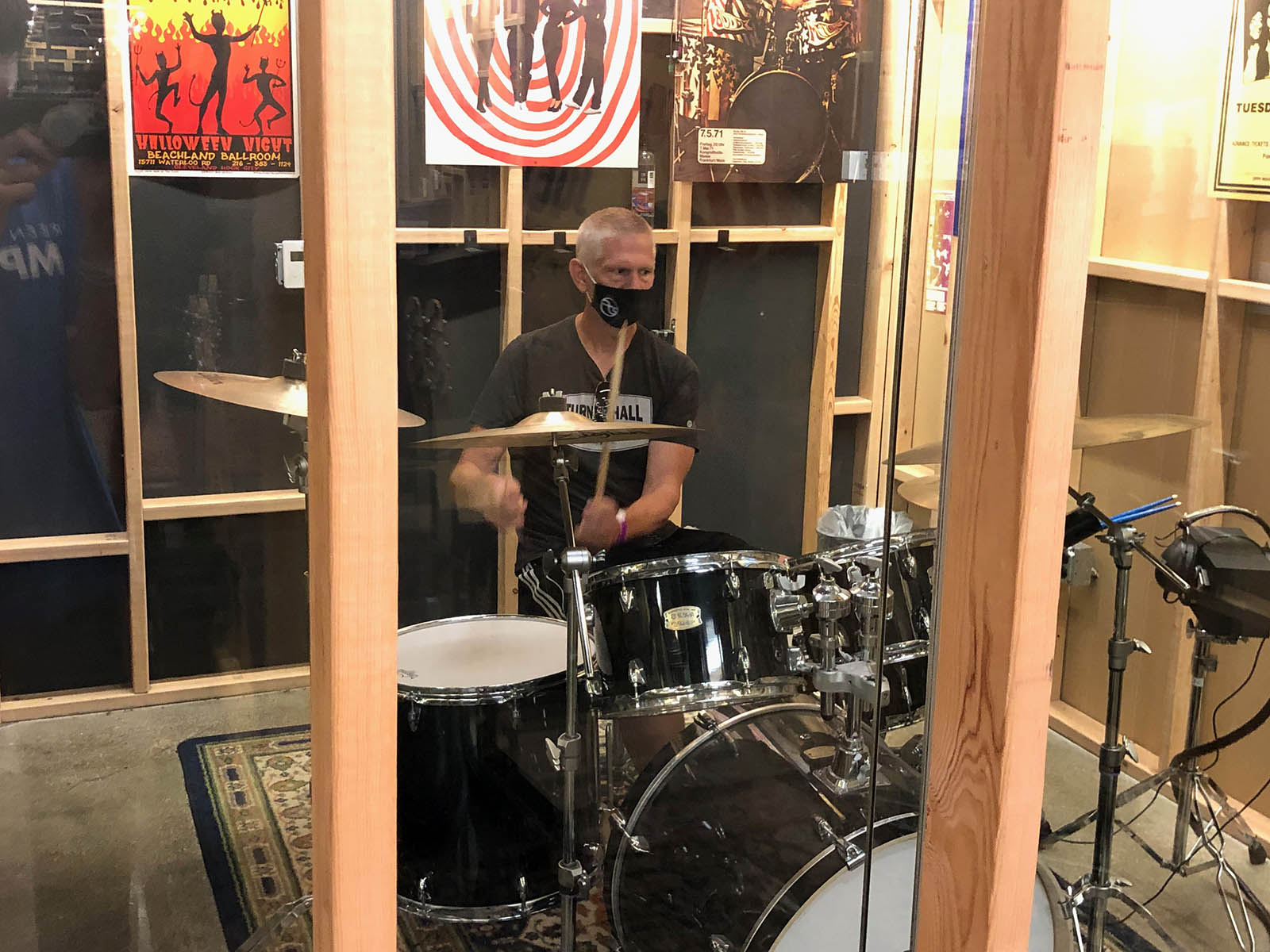 I then closed out my brief but surely grating set with "Smoke on the Water" through a Marshall stack, leading another museum guest to warn me that I'd surely get kicked out of Guitar Center for that.
Just outside the shrine to the inductees at the pinnacle of the place, I (surely futilely) voted on a touch screen to nominate The Jam's Paul Weller for inclusion in the Hall and headed out.
Though I was only inside for about two hours, some friends who were there the same day passed twice that amount of time at the Hall, so plan accordingly depending on your interest and, seriously, get there early. It gets crowded fast.
The Cleveland Museum of Art is another must-see. There's a great collection of art across eras. And the building – with an addition by architect Rafael Viñoly, that includes a soaring and beautiful atrium – is worth a look, too.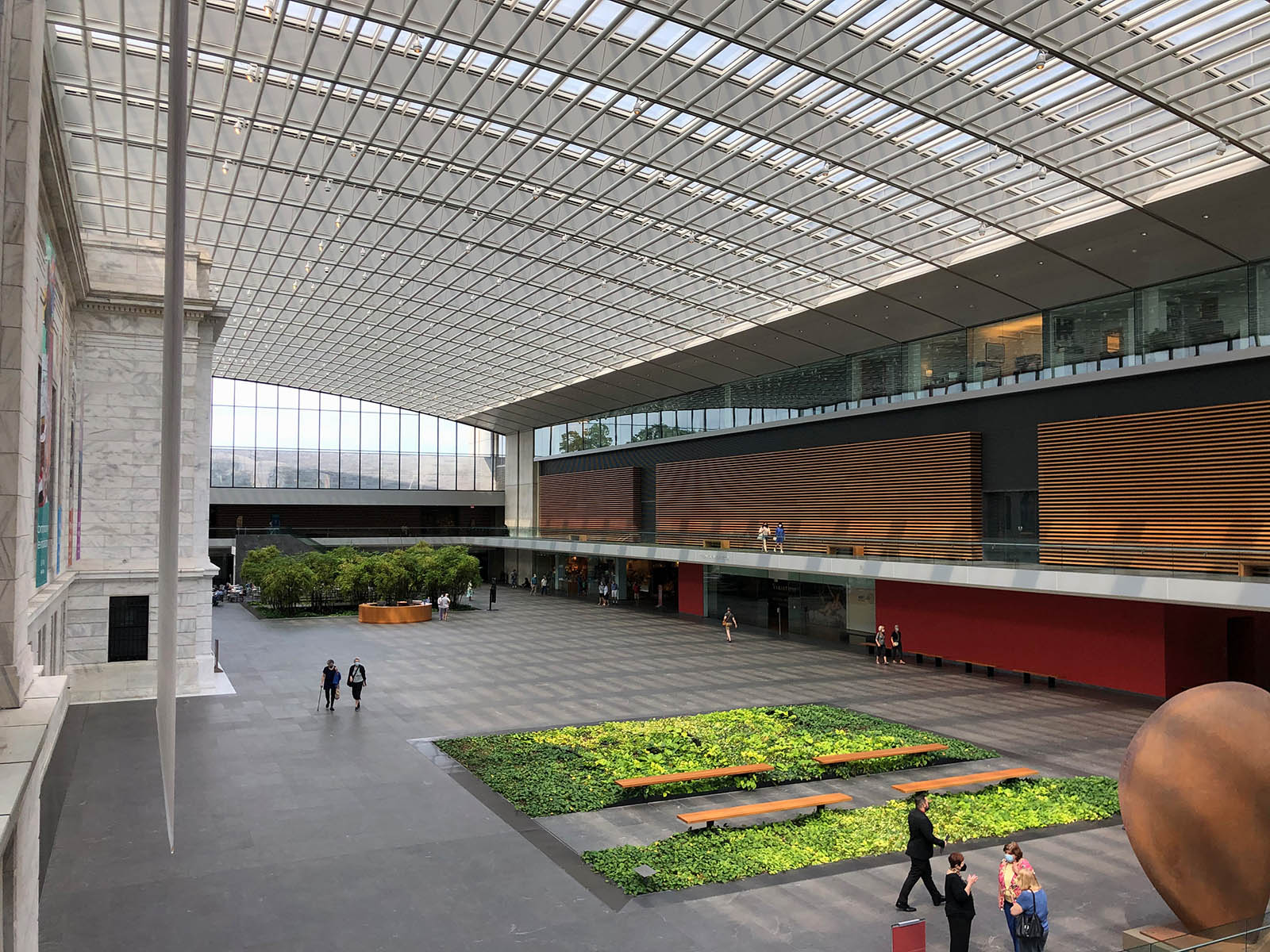 In addition to its collection – which is impressive (Van Goghs, Cezannes, a Modigliani, a Soutine were highlights for me) – the museum also does some interesting small shows.
I really loved two: "A New York Minute: Street Photography, 1920–1950," which runs through Nov. 7, and "Variations: The Reuse of Models in Paintings by Orazio and Artemisia Gentileschi," which, sadly, closed Aug. 22.
Did I mention that it's always free to enter?
While you're nearby, stroll five minutes east to check out Frank Gehry's 2002 Lewis Building on the Case Western University campus (below). Another two blocks southeast and you're at the Museum of Contemporary Art Cleveland, housed in another striking building, this one designed by Farshid Moussavi. Alas, it was closed when we passed twice (it's open Thursday-Sunday), so I can't vouch for what's inside.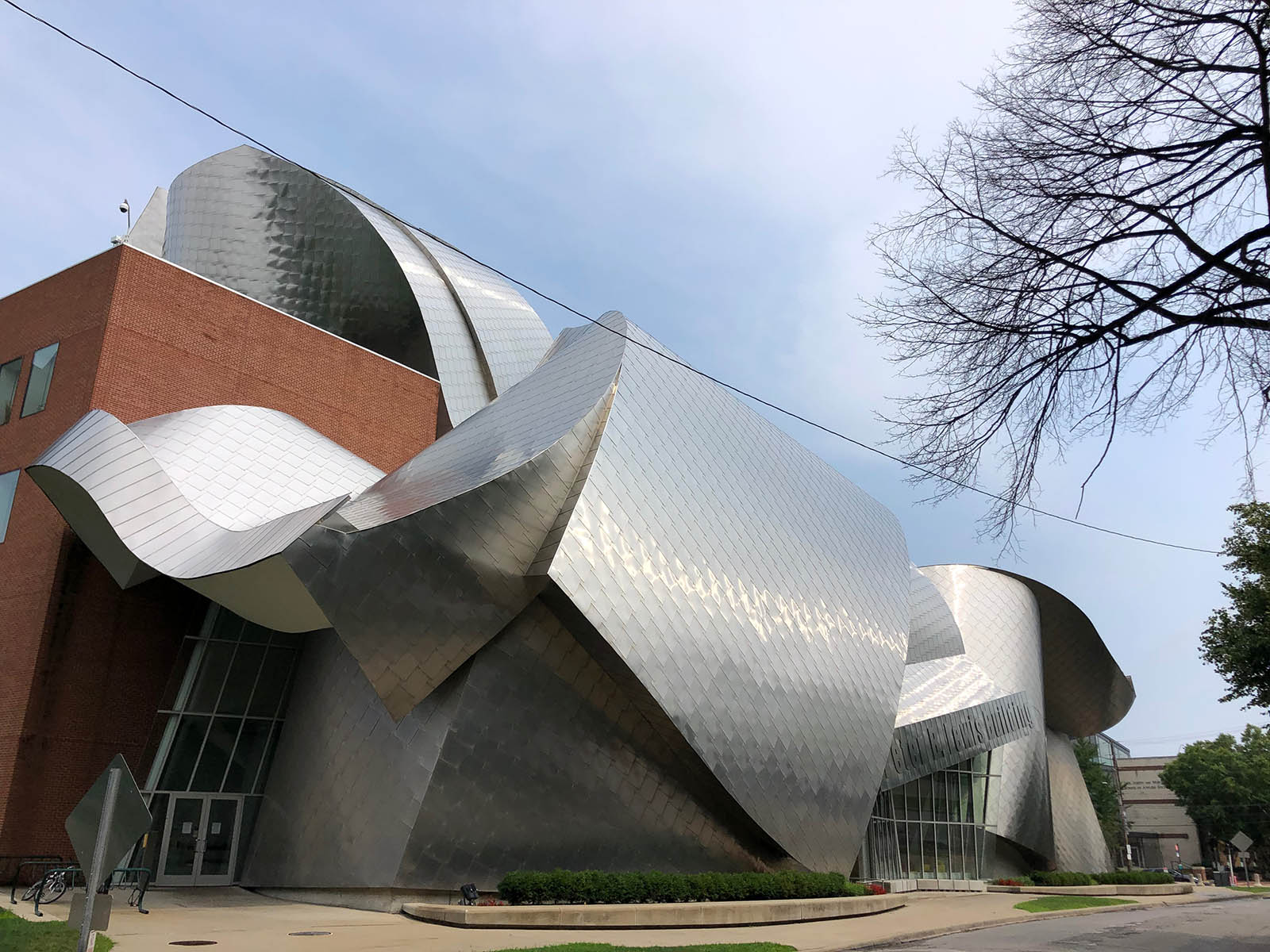 Also in the area, just north of the Museum of Art is the Cleveland Museum of Natural History, which is currently undergoing a massive expansion.
Inside are exhibits about the evolution of humans, paleontology, wildlife conservation and more.
My favorites were the top-notch gemstones collection and both the actual fossils and the massive recreation (including a cheeseburger in its mouth) of Dunk, a ferocious looking Lake Erie swimmer called Dunkleosteus terelli. Though he looks like a shark, he was actually an armored, vice-jawed giant fish.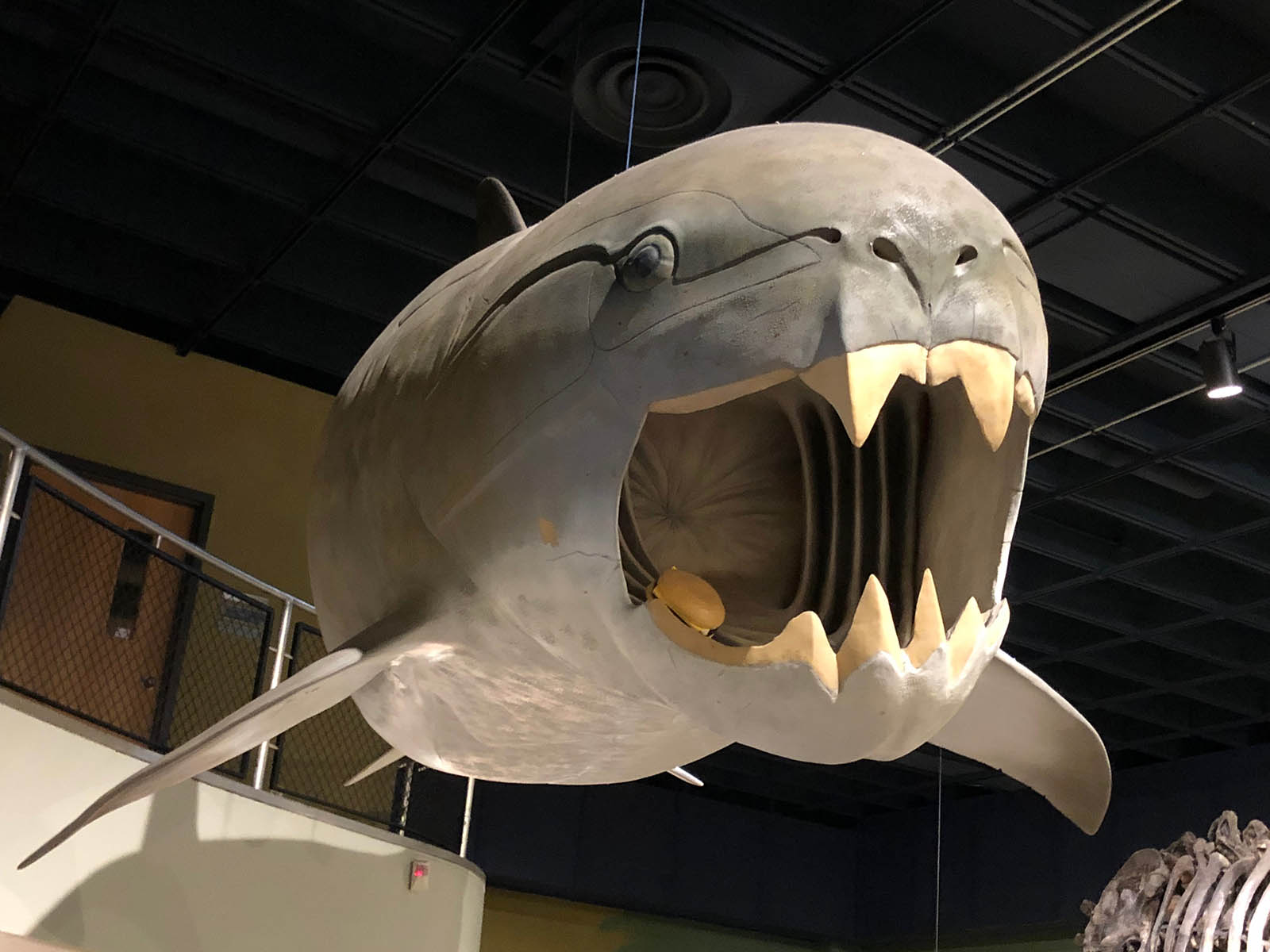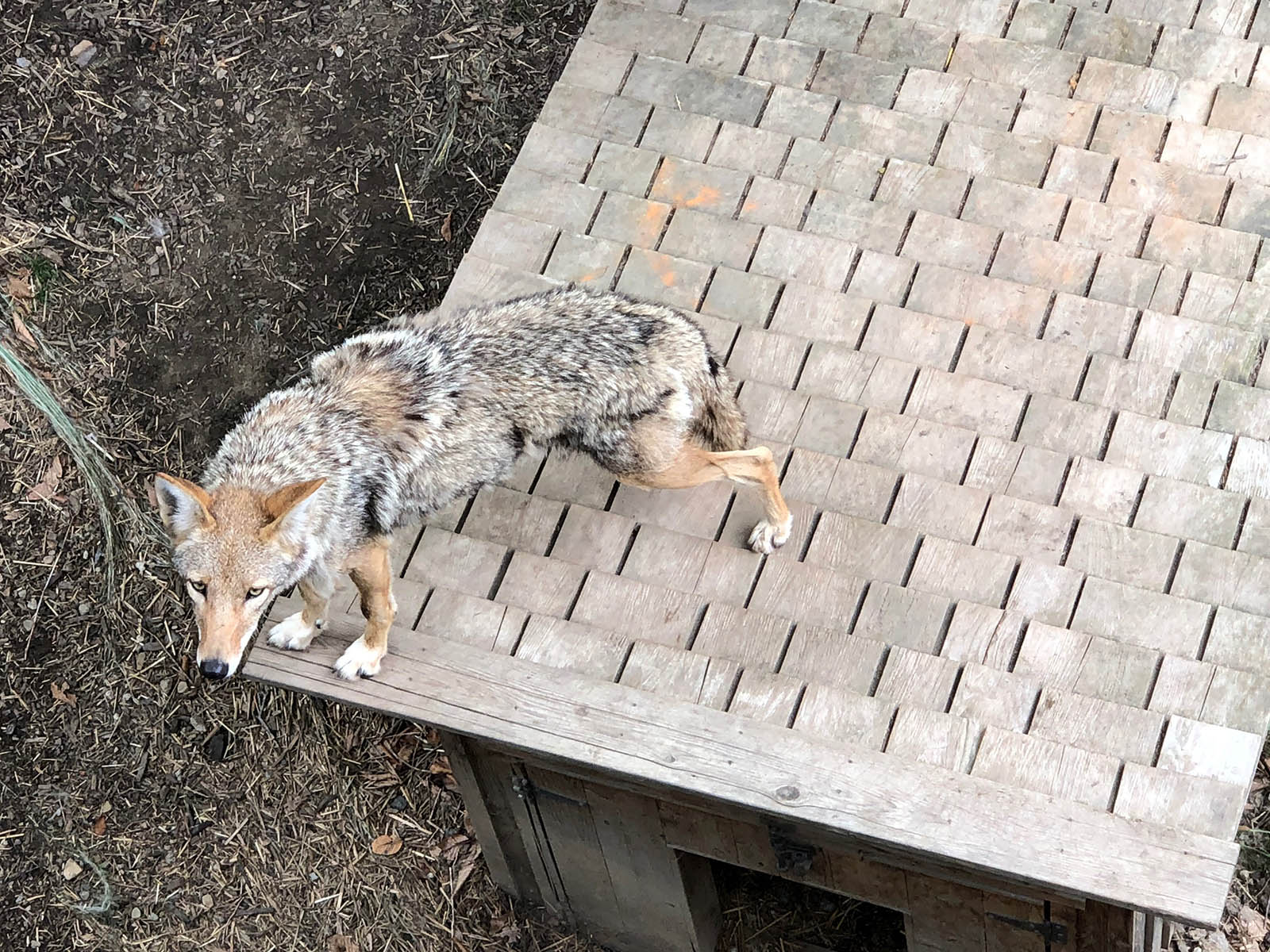 Outside, there's the Perkins Wildlife Center, which is basically a small zoo that you traverse via a snaking wooden boardwalk though exhibits of coyotes, otters, bobcats, sandhill cranes and other beautiful creatures. It was an unexpected highlight.
While you're out this way, wear your walking shoes and check out the Cultural Gardens: 33 distinctive little landscapes – one for each cultural group represented in Cleveland – which run along a parkway in Rockefeller Park. The southern end park is just across the street from the museum.
Some are more elaborate than others, but it's interesting to see what each group chose to represent in its garden, from cultural and scientific figures to replicas of sacred monuments to plantings, etc.
There are also guided tours of the gardens available. Details on tours, the gardens and maps are here.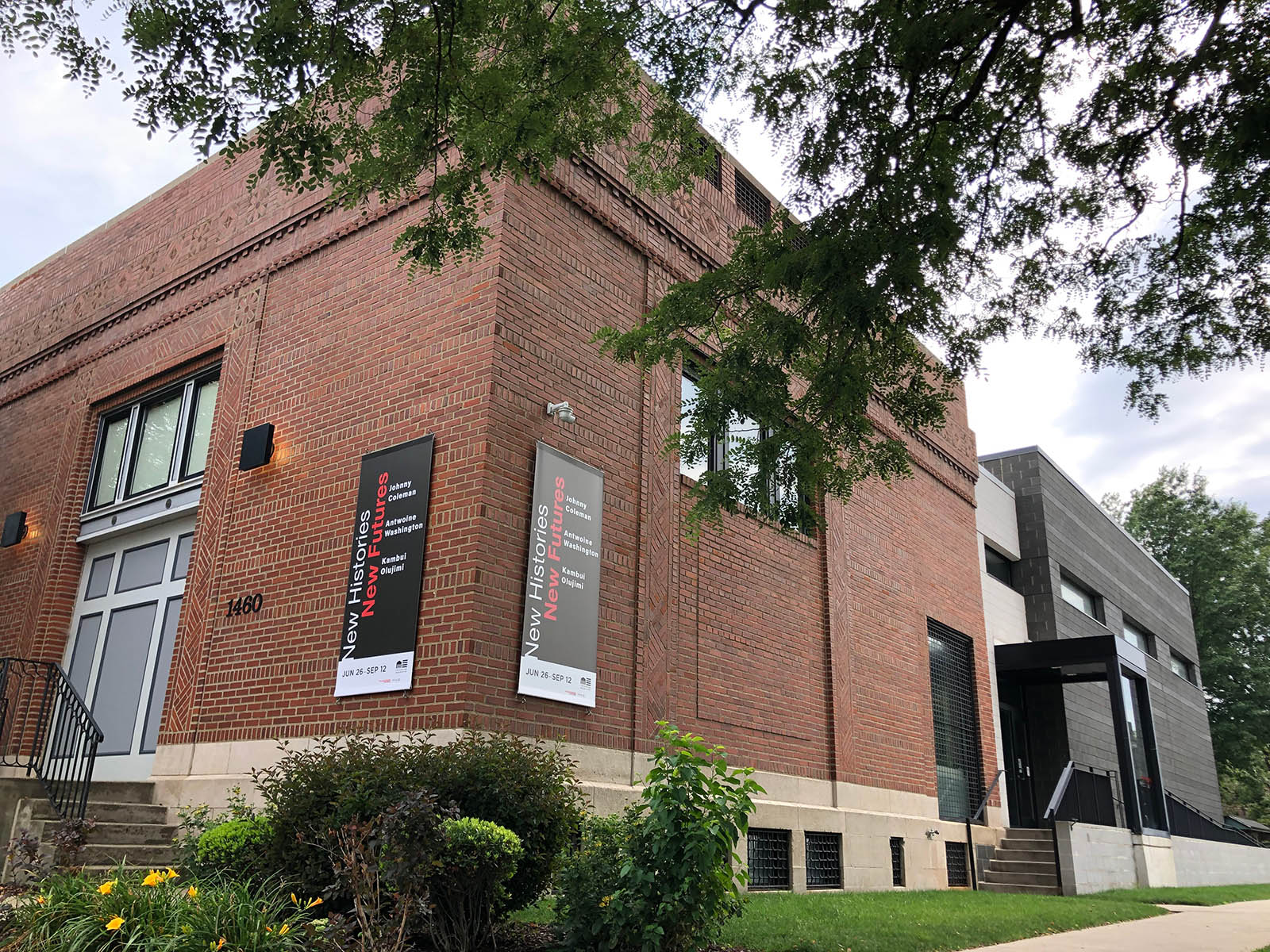 Across town in Ohio City/Hingetown, Transformer Station – named for its location in an old power substation building – is a small art museum that presents four shows a year giving contemporary artists a chance to show their work.
Across the street, a beautiful 1854 firehouse has been converted into a hot restaurant, Larder Delicatessen and Bakery.
No visit to Cleveland would be complete without a visit to the downtown ballyard – long known as The Jake (for Jacobs Field), but now called Progressive Field – for a little baseball.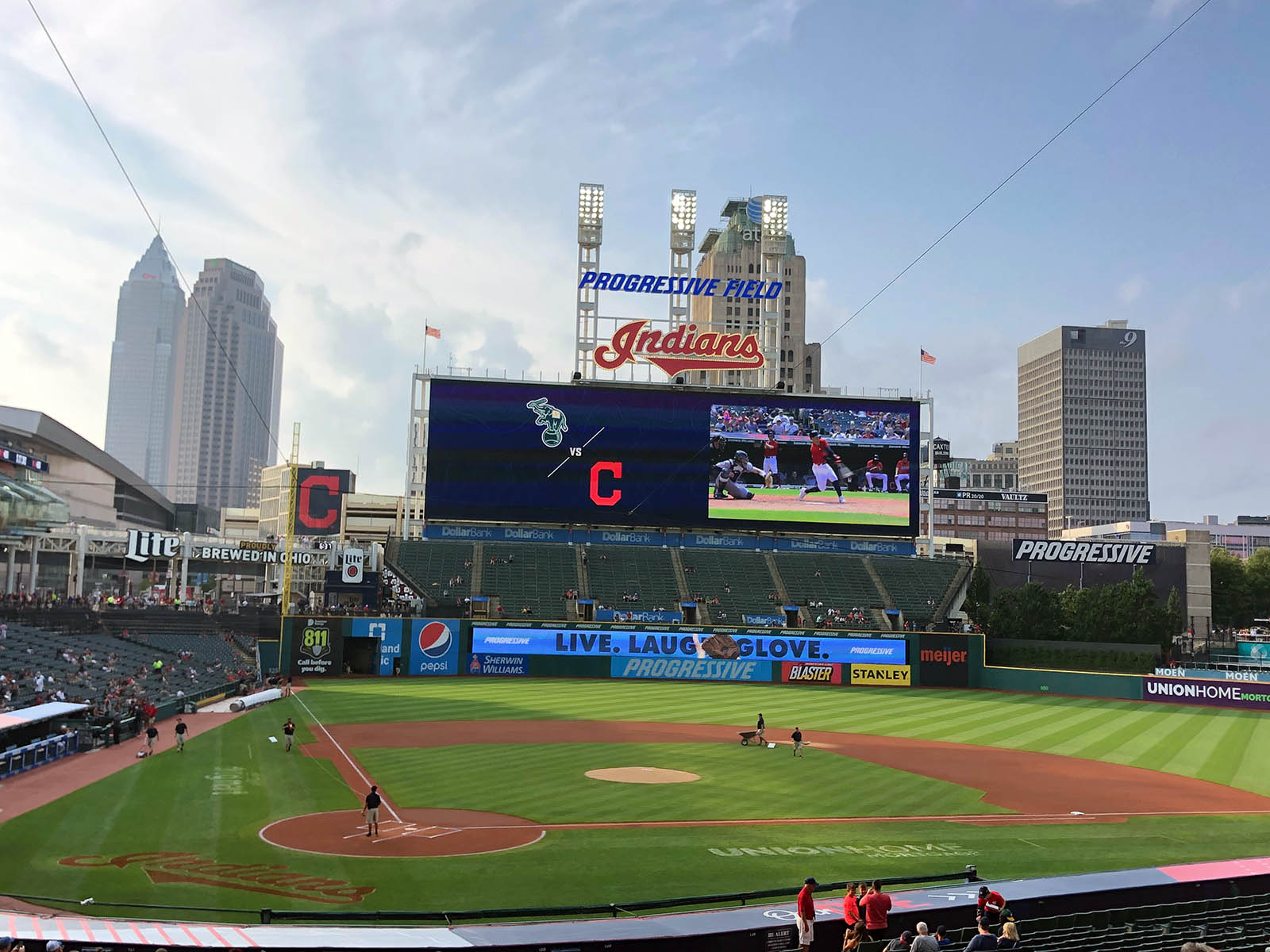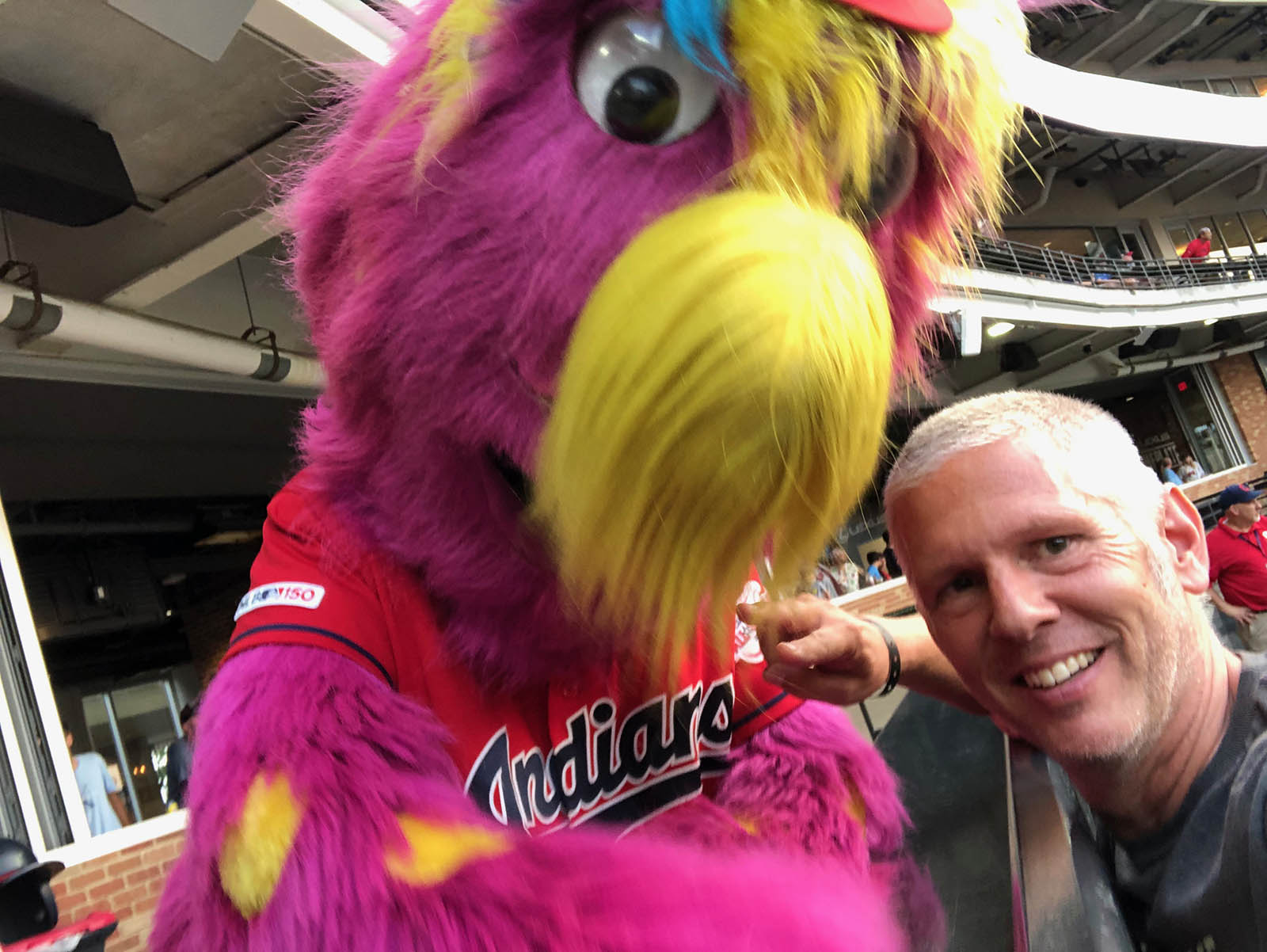 There's nothing like watching a game on a beautiful summer night with a city skyline as a backdrop, and the stadium is a nice one: easy to get to on foot, great sightlines, etc.
This is the last year before the team is renamed the Guardians and looking around the stadium, one gets the sense that it'll be a very long time before the last of the fans' Indians gear is retired.
Once back out through the gates, be sure to walk around downtown.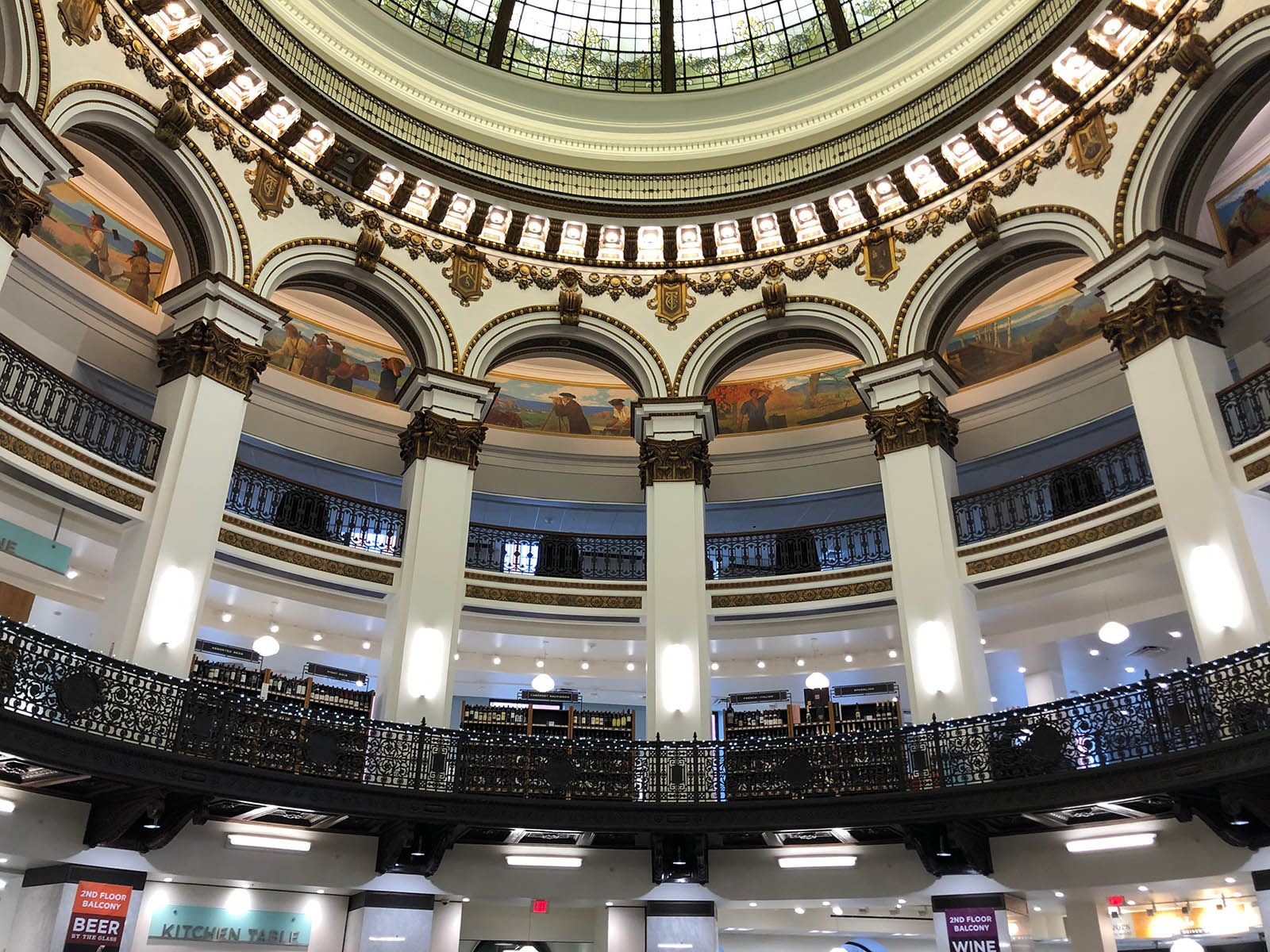 Check out the arcades (there are three downtown these days); pop into Heinen's, a locally owned grocery store located in a stunning former bank building with a stained glass dome inside (pictured above); peek into Tower City, an Art Deco landmark, and the main public library on Superior Avenue (pictured below); and stroll the nearby mall, which is said to be one of the most complete existing examples of City Beautiful design in the country.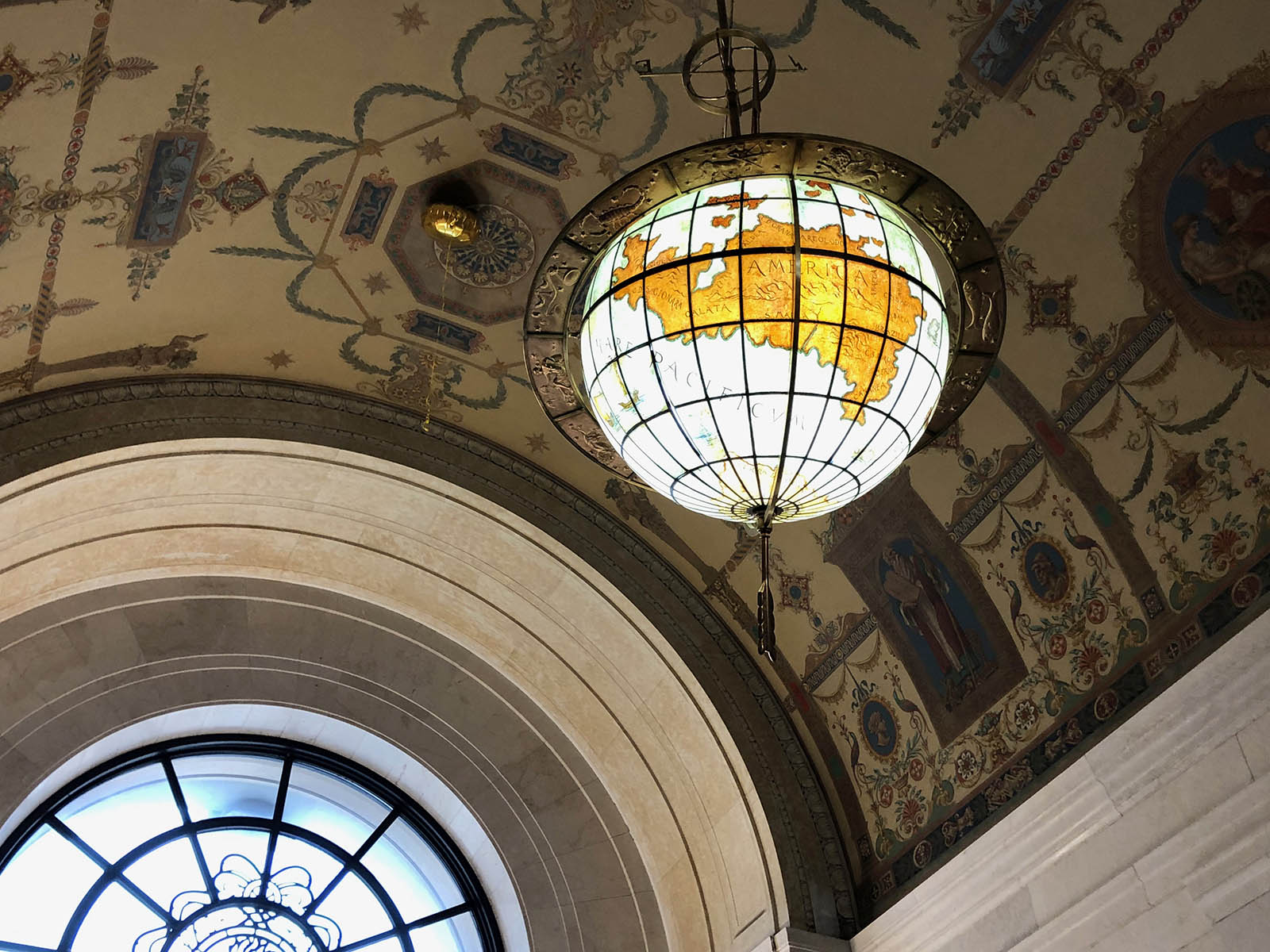 Food
Thanks to some great recommendations, I experienced a variety of kinds of restaurants in different neighborhoods in Cleveland. All were really good.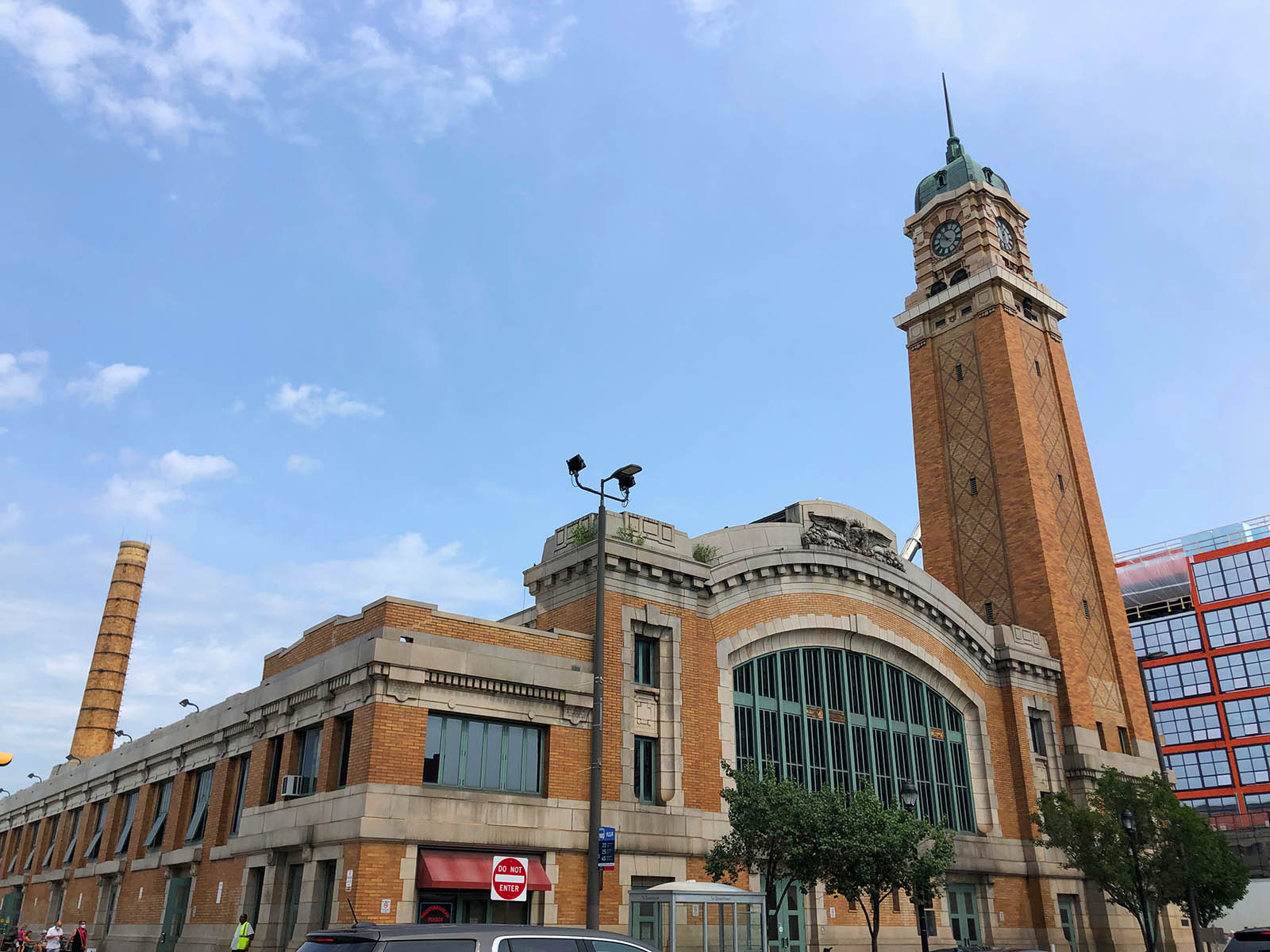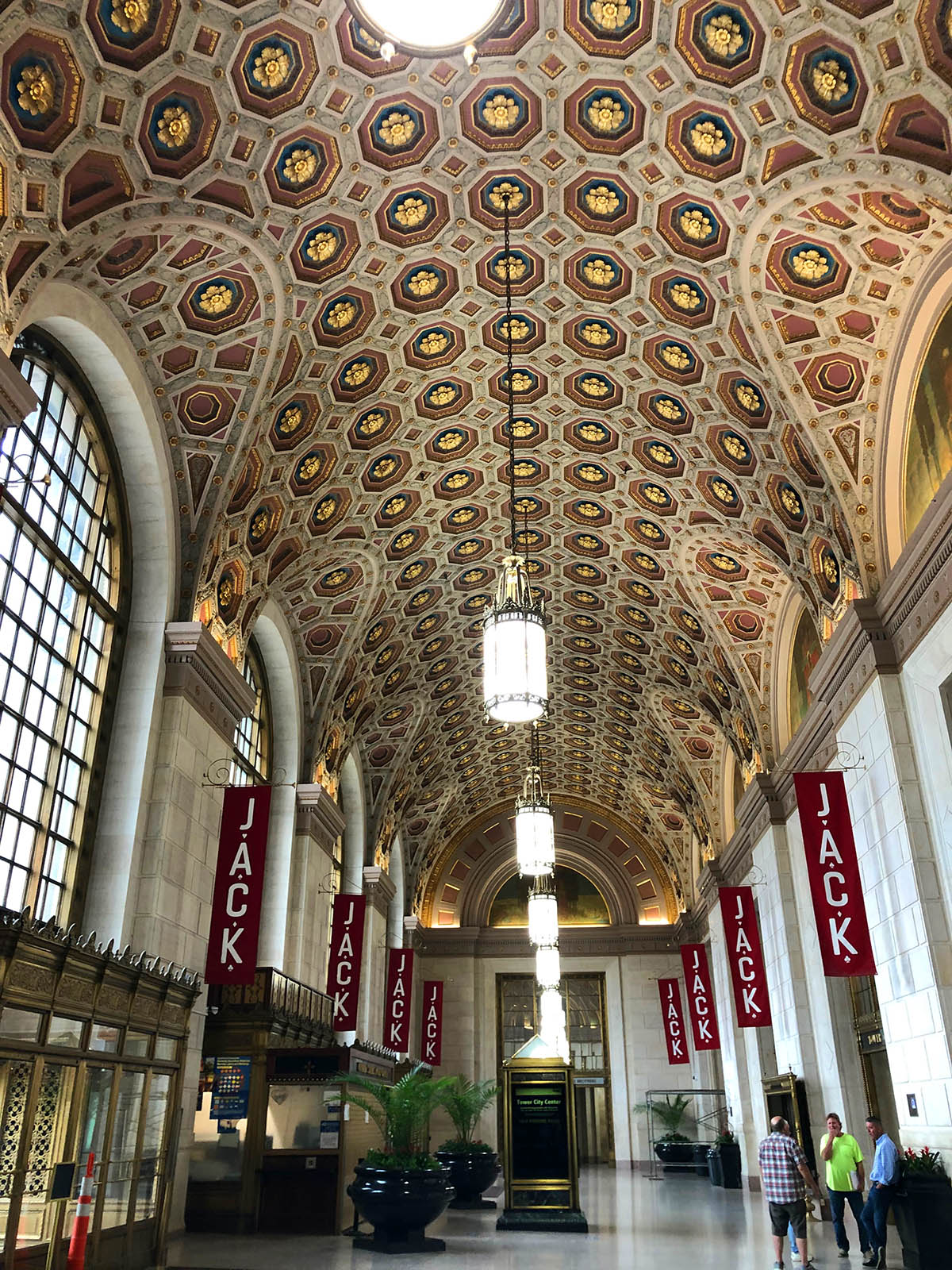 First, be sure to check out the West Side Market in Ohio City, which has been open since 1912 in an incredible building with a soaring clocktower outside and Guastavino tilework inside. A true market, there are not only prepared food vendors, but also numerous butchers, bakers, fishmongers and produce sellers, too.
Go check out the architecture and even if you think you're not hungry, you'll likely magically develop an appetite.
In Little Italy, we had lunch at Guarino's, which claims the title of Cleveland's oldest restaurant, and is beloved in the Italian community and beyond.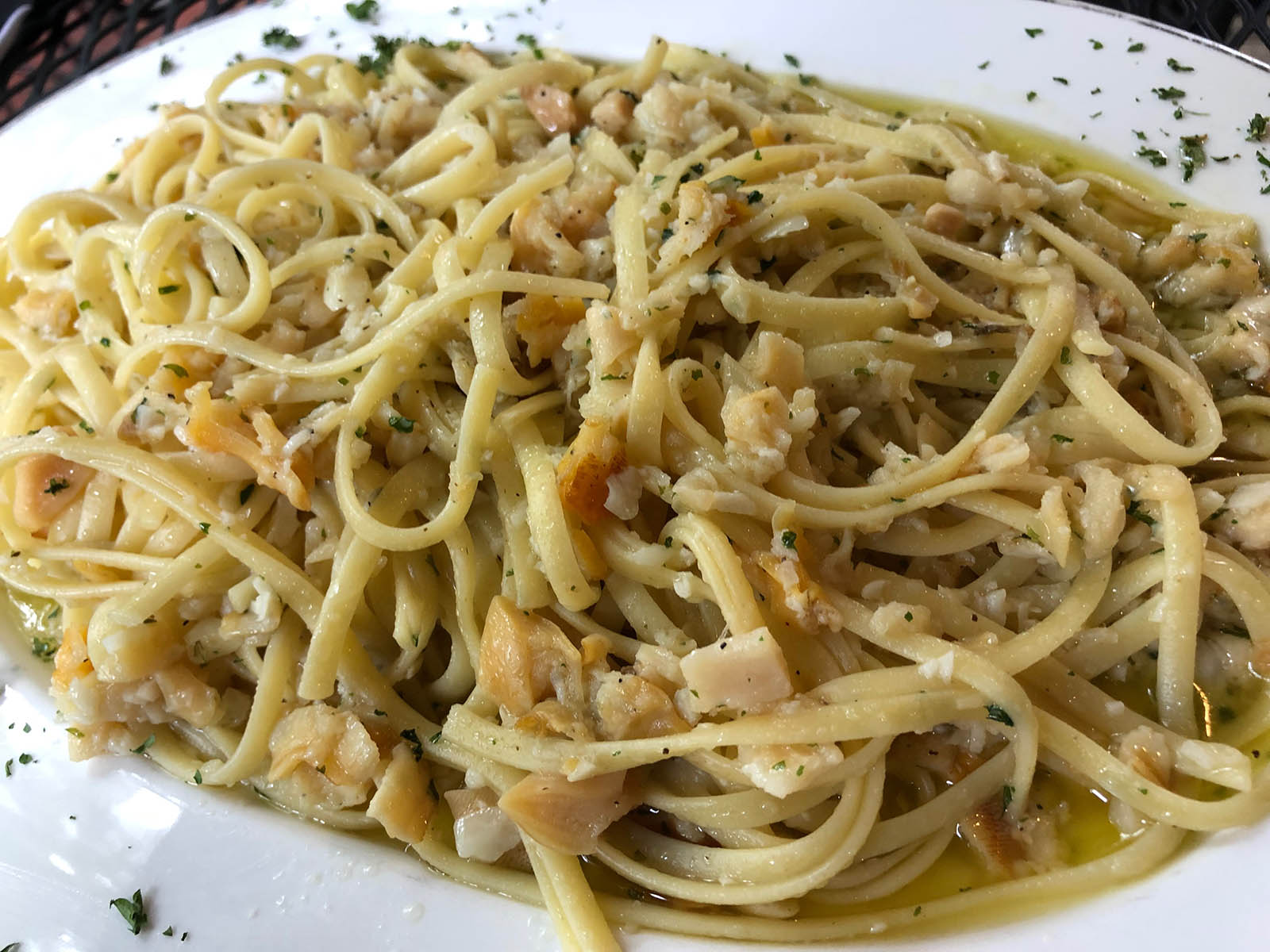 Plates nearly overflowing with pasta (literally!) were share-worthy, but nobody told me that in advance! I had a great linguine in clam sauce (white, of course) and my lunch mate had the gnocchi al pesto, and we made respectable – if not, unwisely big – dents in our overwhelming portions.
Outside, the neighborhood was preparing for the Feast of the Assumption set to begin the day we left Cleveland, and over in the park, organizers were setting up a ceremony honoring Indians great Rocky Colavito.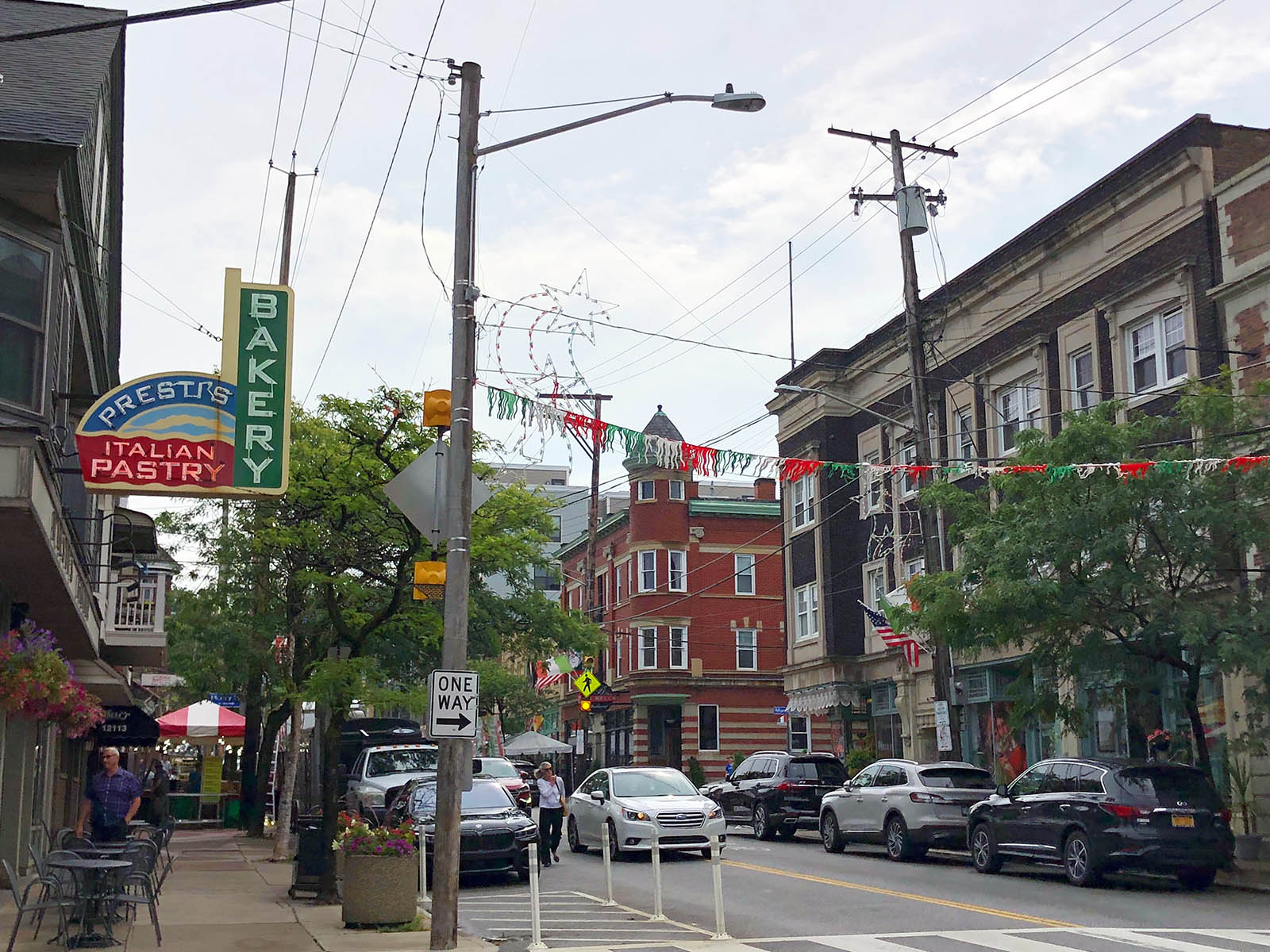 There were strings of red, white and green flags, Italian phrases carved into the RTA station, a small but interesting Little Italy museum and at least two bakeries, which we visited another day for "breakfast."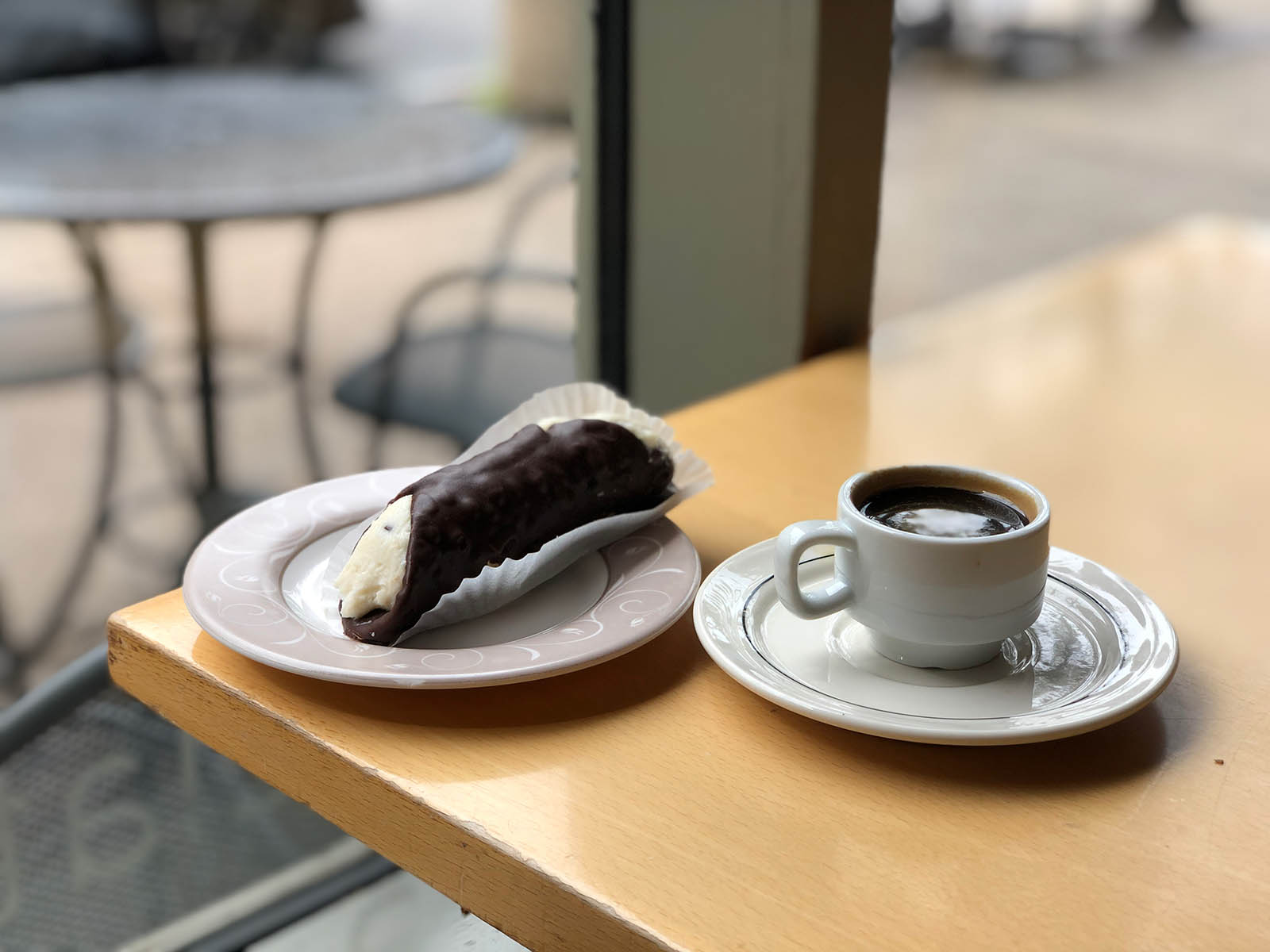 I put that in quotes because we started with chocolate-dipped cannoli at Presti's (opened in 1903!), which was bustling as the espresso machine hissed. Then we walked across the street to the quieter, but more traditional-style order-and-go Corbo's Bakery (below) where we had Neapolitan sfogliatelle.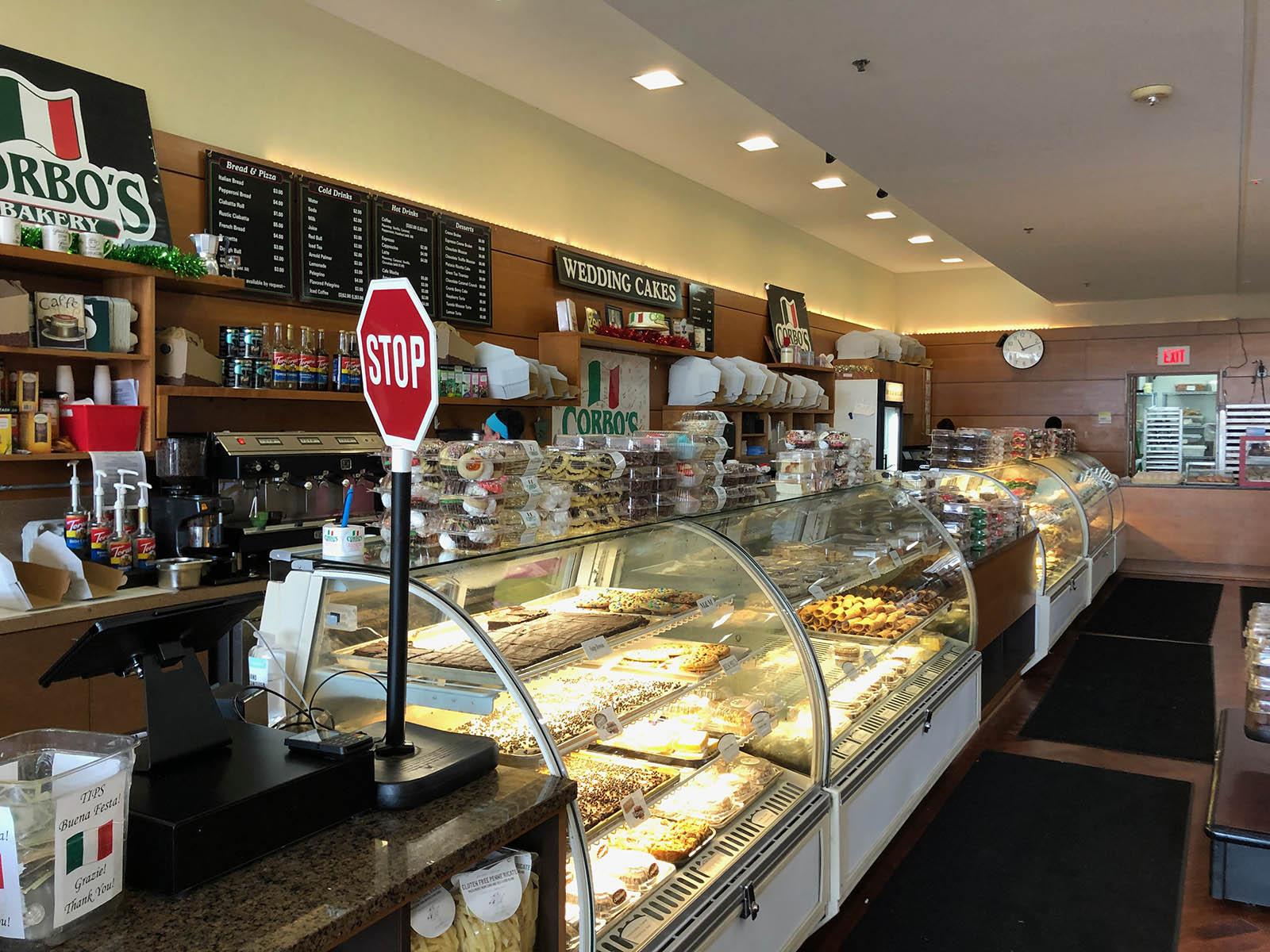 As the grandson of an Italian bakery worker and a regular visitor to the feste on Carmine and Mulberry Streets in New York, it felt comfortingly familiar.
At Alley Cat Oyster Bar in the Flats, we dined on halibut and lobster mac and cheese (pictured below).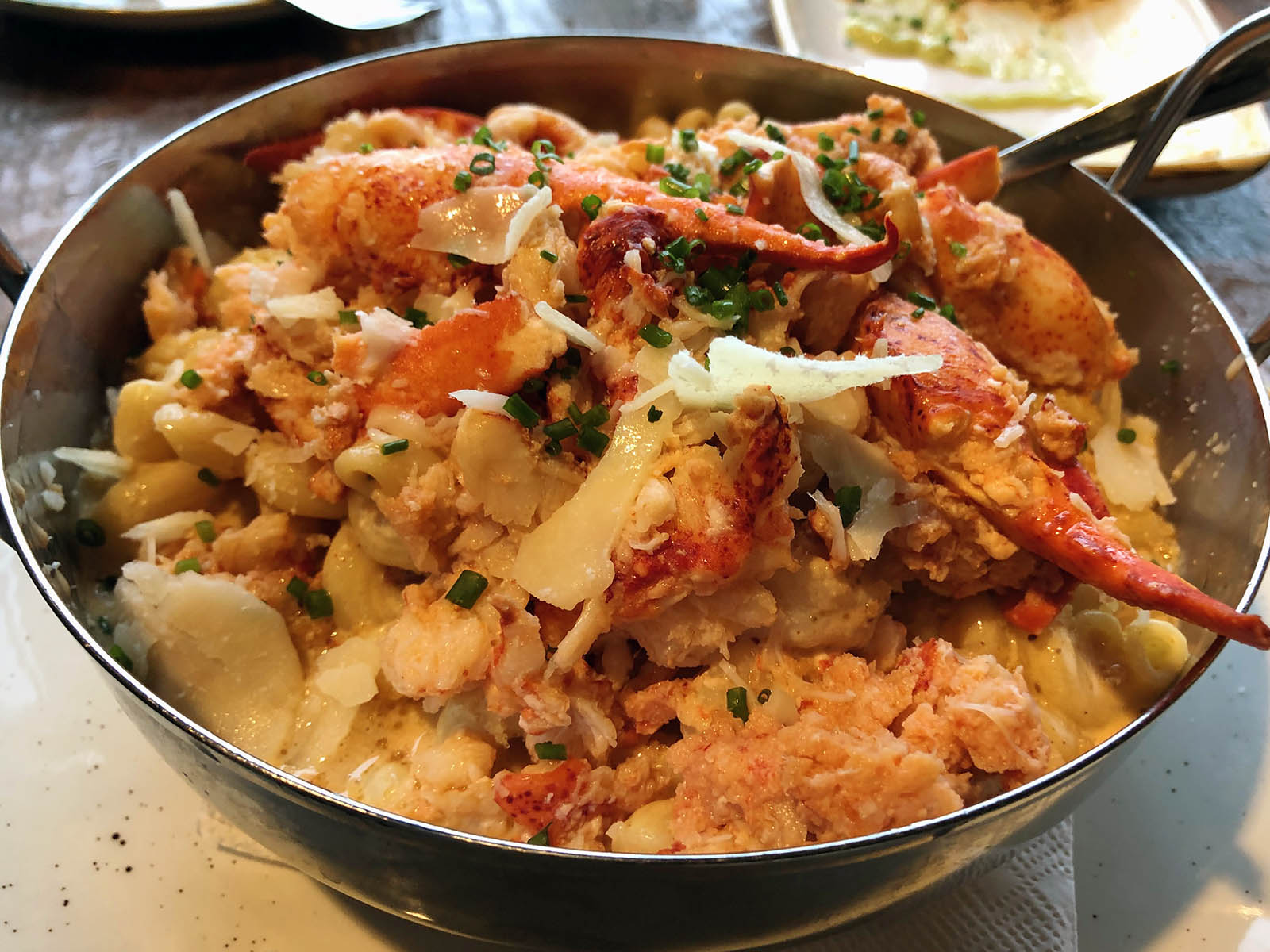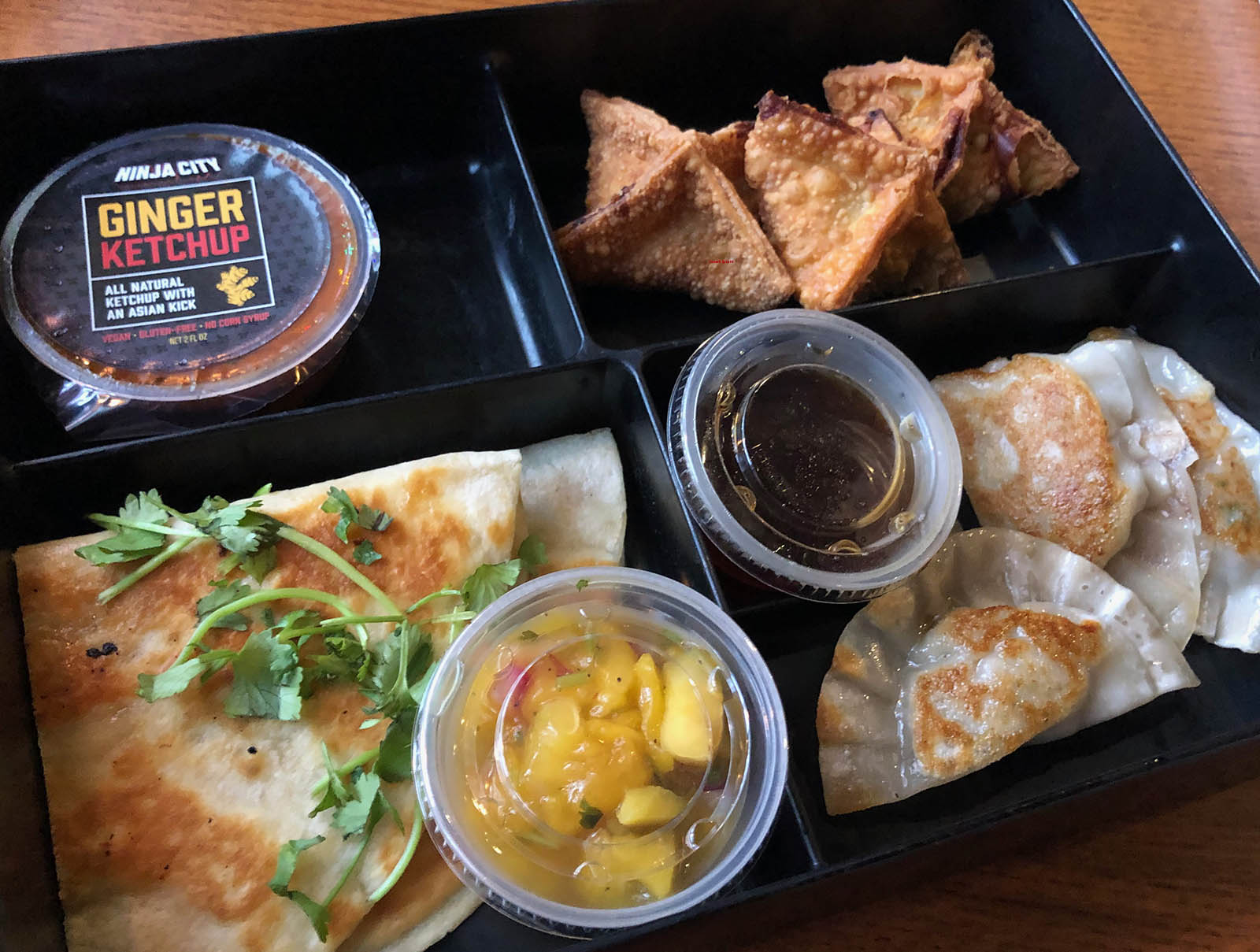 At the lively, comic book-themed Ninja City in Detroit/Shoreway, west of downtown, we had customized bento boxes and pad Thai (pictured above).
Saucy Brew Works in nearyby Ohio City dished up solid thin-crust pizza, which we enjoyed before heading over to Mitchell's Homemade Ice Cream's kitchen and shop in the former 1919 Rialto movie theater.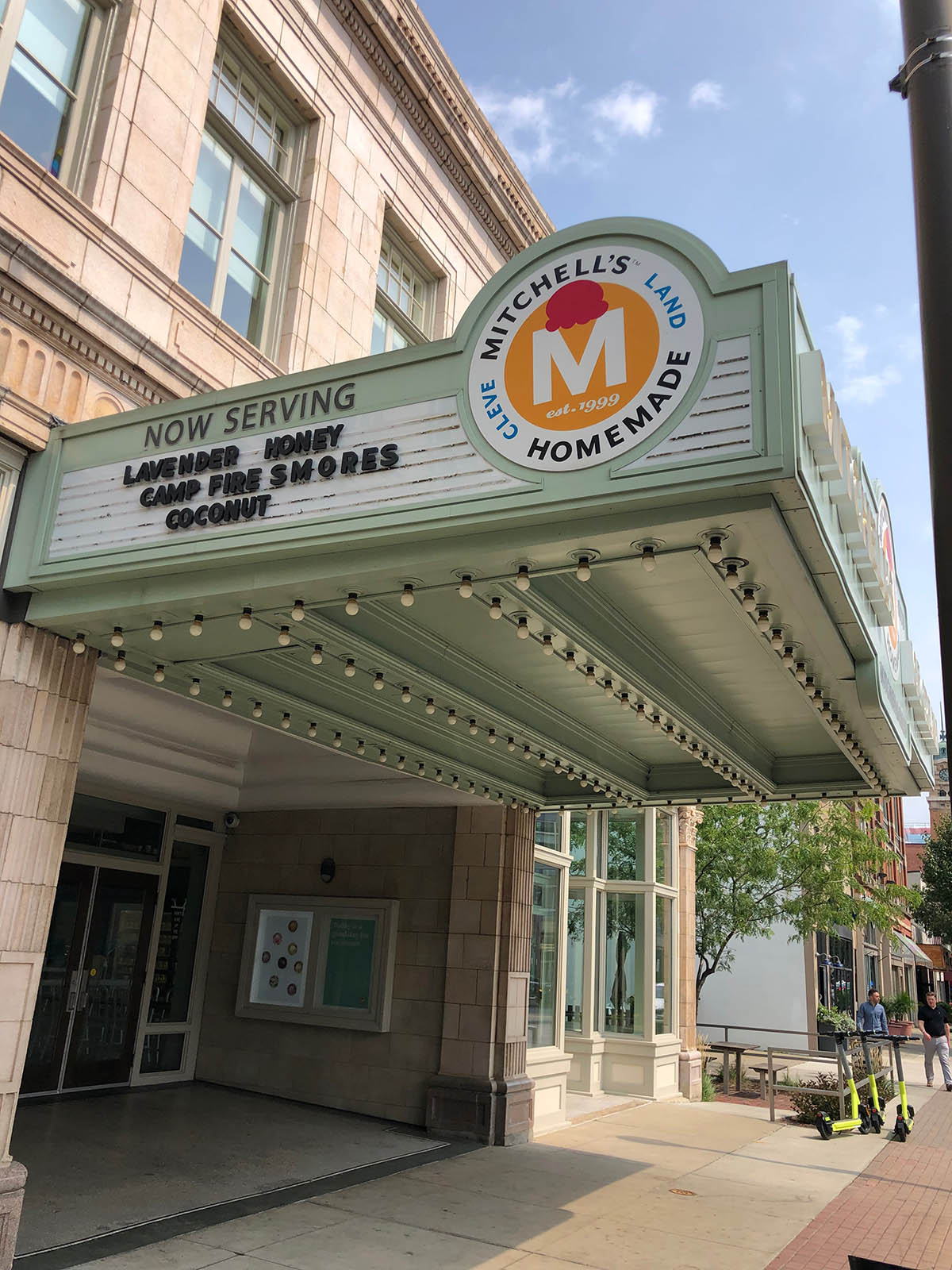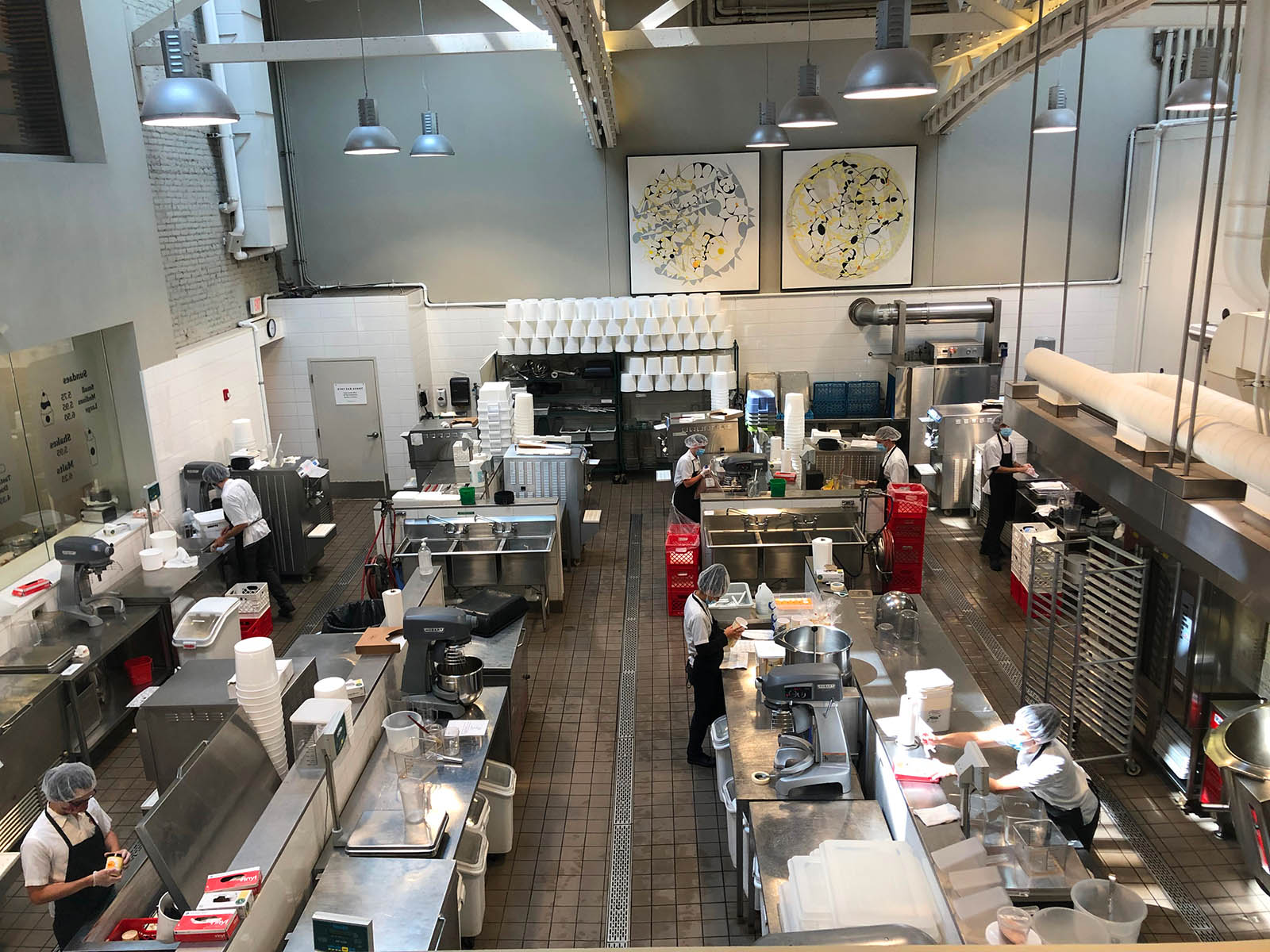 While we watched the kitchen workers make and pack ice cream for Mitchell's 10 locations and grocery store accounts (above), we enjoyed some of the best craft ice cream we've had anywhere.
Just after returning home, I nodded knowingly while reading The New York Times' Ben Ryder Howe's positive mention of Mitchell's in his article, "The Cutthroat world of $10 ice cream."
We said goodbye to Cleveland on our last morning with a hearty and classic greasy spoon breakfast at Addy's Diner in the Colonial Arcade.
Beer
Due to coronavirus shutdowns and geography – plus the fact that while craft beer is booming in Cleveland, craft distilling isn't quite as explosive yet – I didn't get to any distilleries (gasp, I know, right?!), but I did make an effort to check out as many breweries as possible.
Most I visited were in Downtown, The Flats and Ohio City, though there were far more than I could explore in just a few days. Plus, due to timing, numerous were closed when I visited.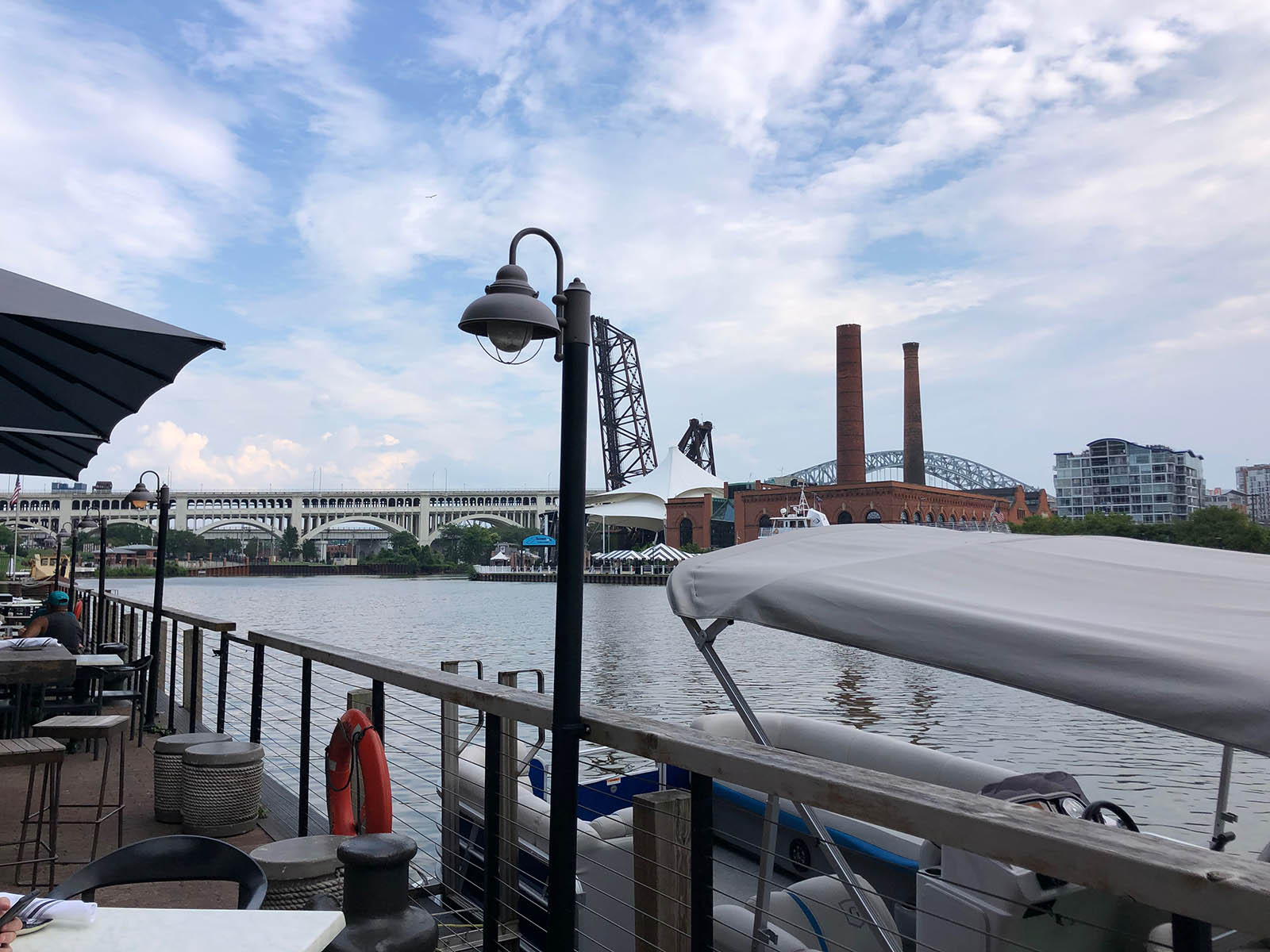 Collision Bend is on The Flats and has perhaps the best brewery patio in town (pictured above), where you can watch kayakers, pleasure boaters, rowing teams, paddle boarders and more, while enjoying solid brews. The kitchen was doing an impressive business, too, but with Alley Cat Oyster Bar visible from the patio, it's hard to resist running over there for dinner.
Downtown, I checked out Masthead, Noble Beast, Southern Tier and Butcher and the Brewer.
Masthead has a huge taproom that even on a weekday mid-afternoon was quite busy. While there I found that craft brewers in Cleveland are much like in Milwaukee: collegial and supportive.
When two guys sitting next to me at the bar told the beer was better at Noble Beast, a 10-minute walk away, the bartender laughed and pointed out that they work at that brewery.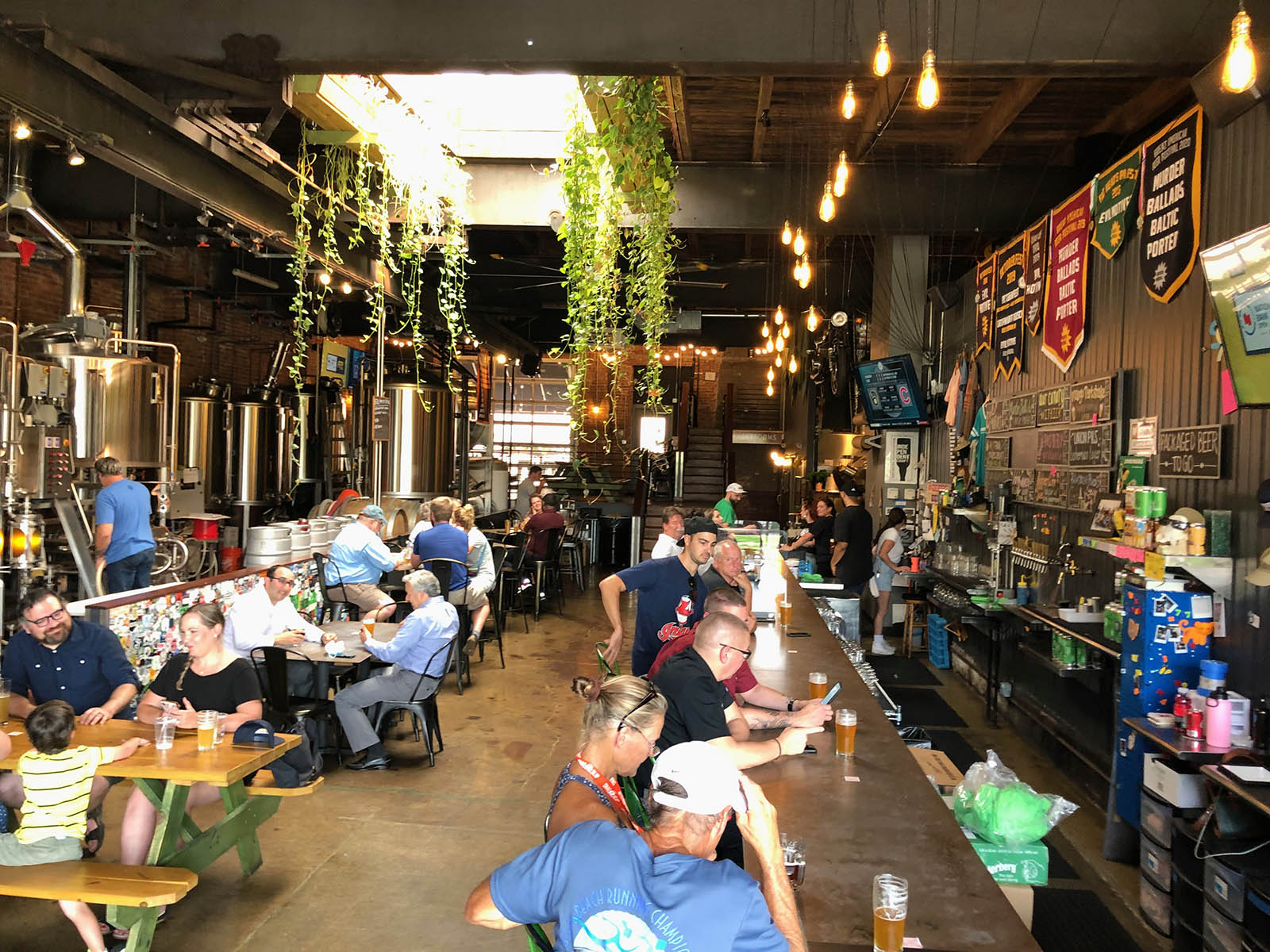 So, of course, I walked over to Noble Beast and found what looked like the busiest taproom I'd seen on the trip, this one warm and comfortable, adorned with hanging plants, and full of families with young kids. I had a nice Czech amber lager here.
Later, I made my way to Butcher and the Brewer on 4th Street – a pedestrianized block full of restaurants, bars and interesting shops, just across from the Hyatt – where the patrons skewed younger. When the Indians game finished, the street and the brewery filled up.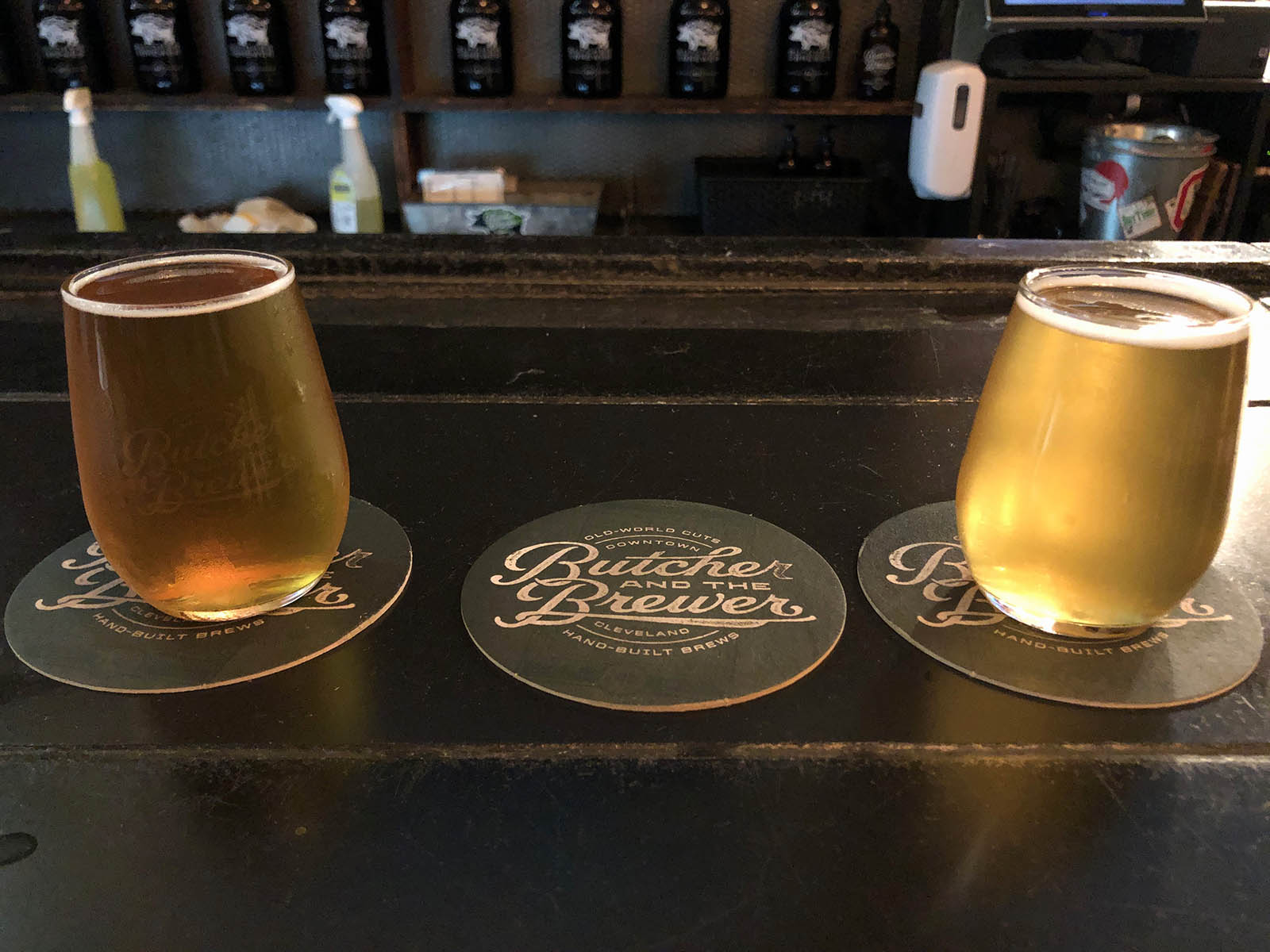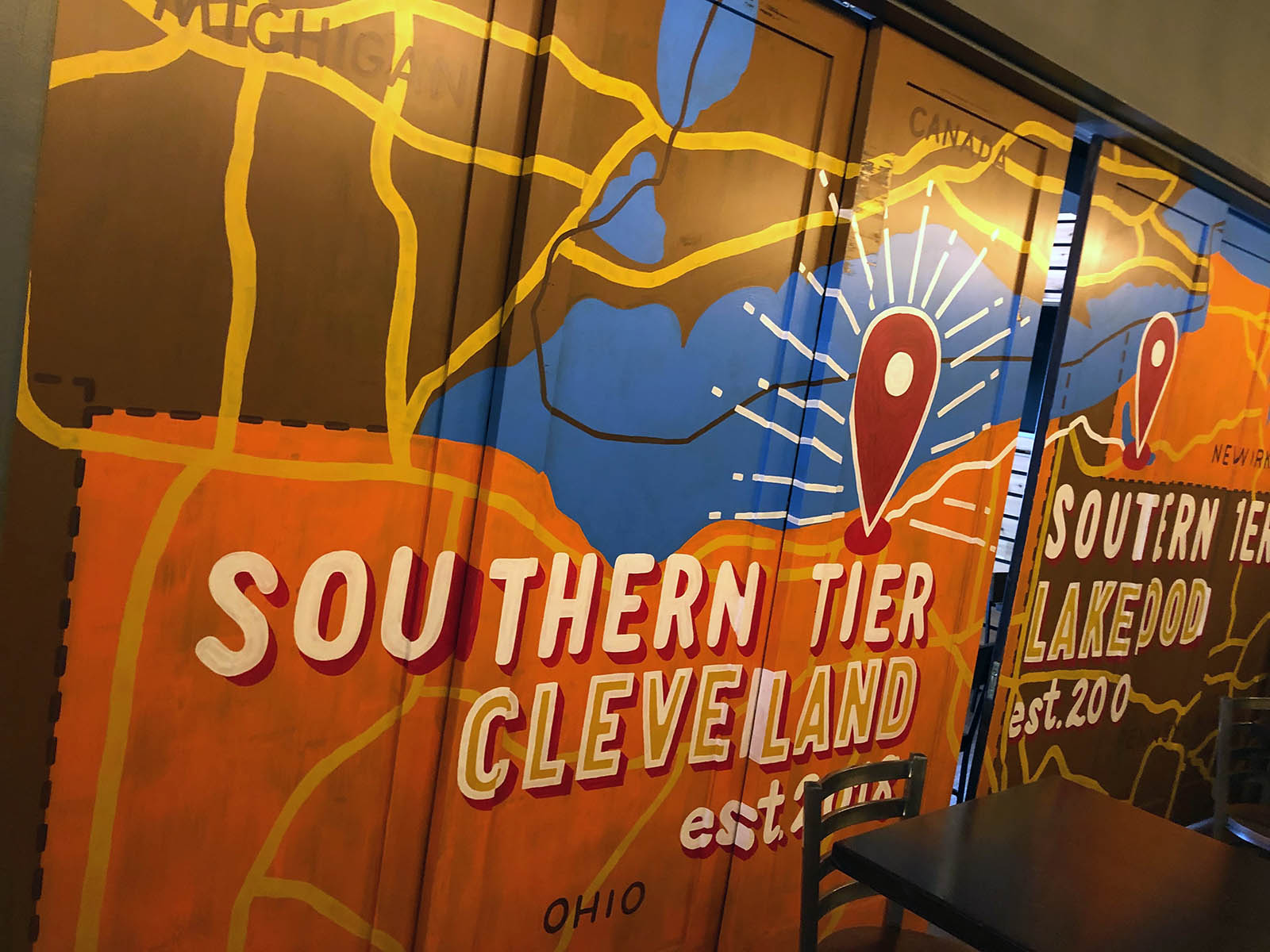 The same was true just east on Euclid Avenue at Southern Tier, a two-story outpost of the far western New York State brewery and distillery. Though the Cleveland location brews its own beer, the whiskey – I tried a lightly hopped one – is made in New York. (Pro tip: the pretzels here are great.)
Out in Ohio City, I couldn't resist a stop at Great Lakes, Cleveland's oldest and best-known brewery, where I was pleased to see (and taste) the Oktoberfest beer that had just been released.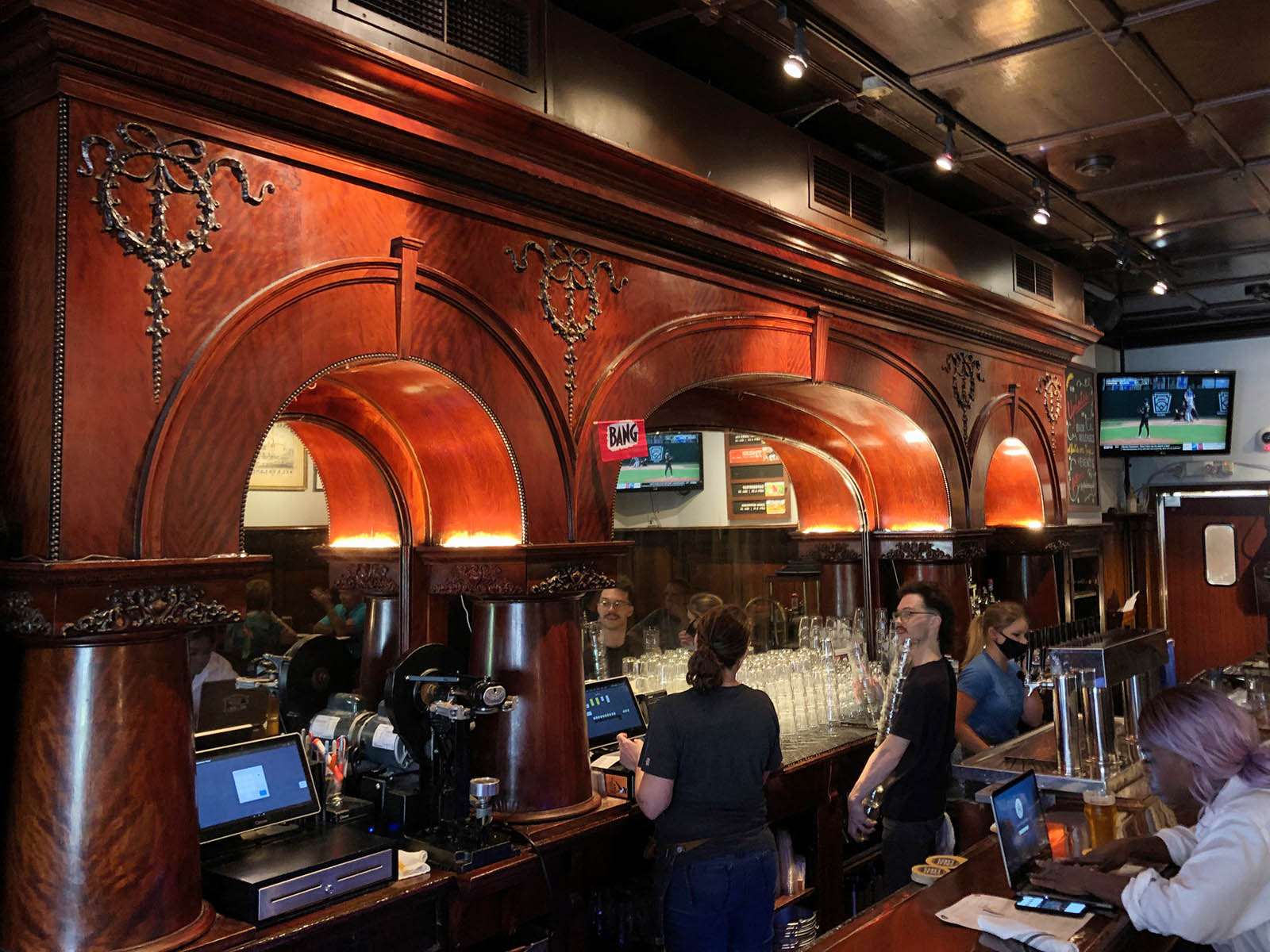 Here I was wowed by the incredible interior of the taproom, which is in an old tavern that still has its sturdy and beautiful old bar and back bar.
Up at Saucy (across from Transformer Station and Larder), I tried a flight of solid beers with the pizza, before checking out Bookhouse, one of the most anticipated stops, around the corner.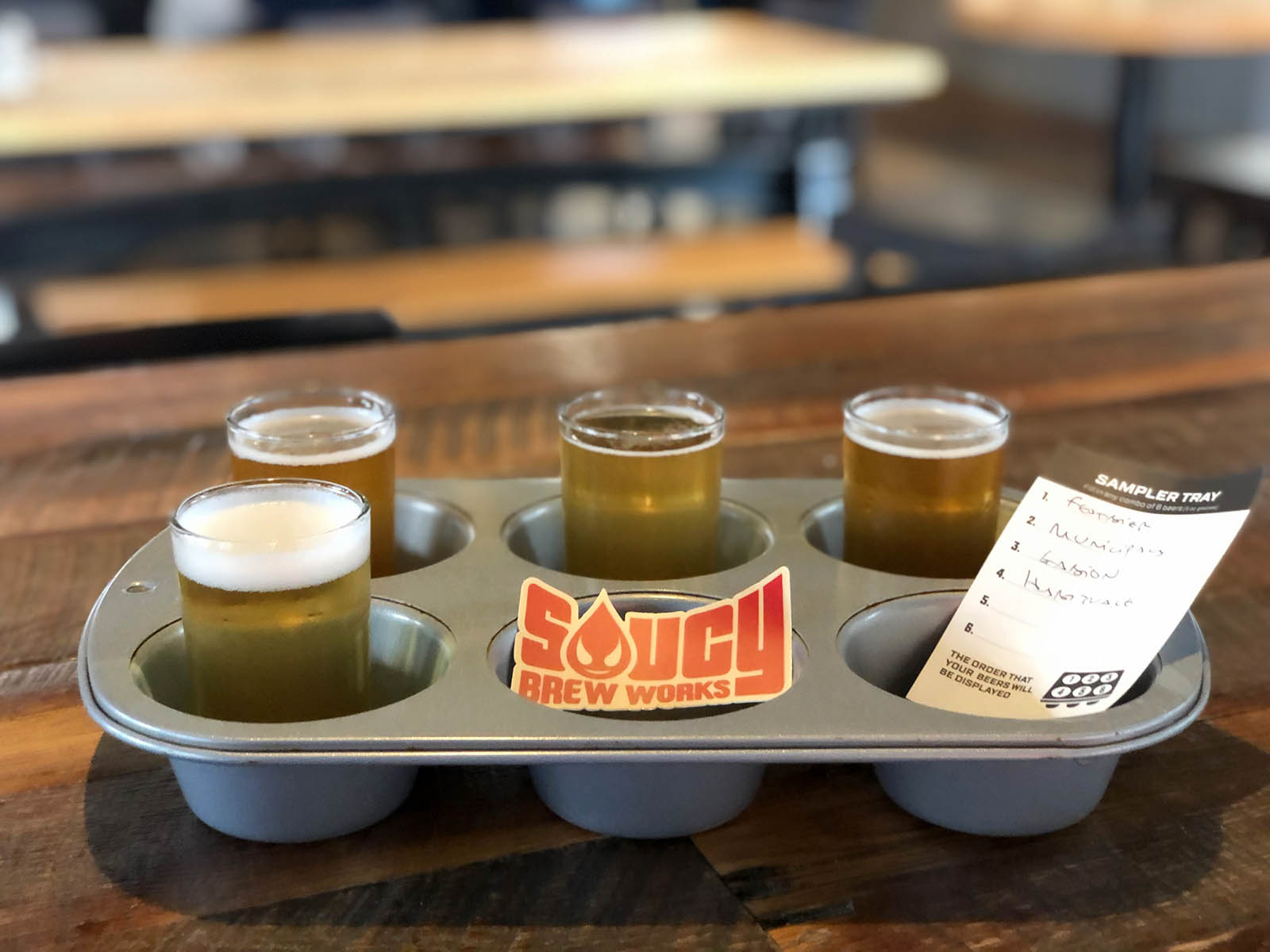 Bookhouse pairs craft brews with a library vibe. There are books everywhere, which I loved, but what I most thrilled to find was that it's located in a 19th century brewery and taproom building.
There are original tin ceilings (rescued from the basement and rehung) and a clear panel that allowed you to view the layers of a section of wall, where you can see varieties of 19th century wallpaper and horsehair plaster, too.
Bookhouse was a perfect encapsulation of my Cleveland experience: a pleasing mix of history, architecture, culture and beer.
Born in Brooklyn, N.Y., where he lived until he was 17, Bobby received his BA-Mass Communications from UWM in 1989 and has lived in Walker's Point, Bay View, Enderis Park, South Milwaukee and on the East Side.
He has published three non-fiction books in Italy – including one about an event in Milwaukee history, which was published in the U.S. in autumn 2010. Four more books, all about Milwaukee, have been published by The History Press.
With his most recent band, The Yell Leaders, Bobby released four LPs and had a songs featured in episodes of TV's "Party of Five" and "Dawson's Creek," and films in Japan, South America and the U.S. The Yell Leaders were named the best unsigned band in their region by VH-1 as part of its Rock Across America 1998 Tour. Most recently, the band contributed tracks to a UK vinyl/CD tribute to the Redskins and collaborated on a track with Italian novelist Enrico Remmert.
He's produced three installments of the "OMCD" series of local music compilations for OnMilwaukee.com and in 2007 produced a CD of Italian music and poetry.
In 2005, he was awarded the City of Asti's (Italy) Journalism Prize for his work focusing on that area. He has also won awards from the Milwaukee Press Club.
He can be heard weekly on 88Nine Radio Milwaukee talking about his "Urban Spelunking" series of stories.