Door County, Wisconsin is a buzzing destination during the summer months when tourists flock to the northern peninsula to enjoy fish boils, cherry picking and any number of lakeshore activities.
But a recent trip only served to provide that the Northern Wisconsin destination's charms only multiply during the quieter months of winter when the overall pace slows, the crowds dwindle and the area's hidden gems sparkle even more brightly.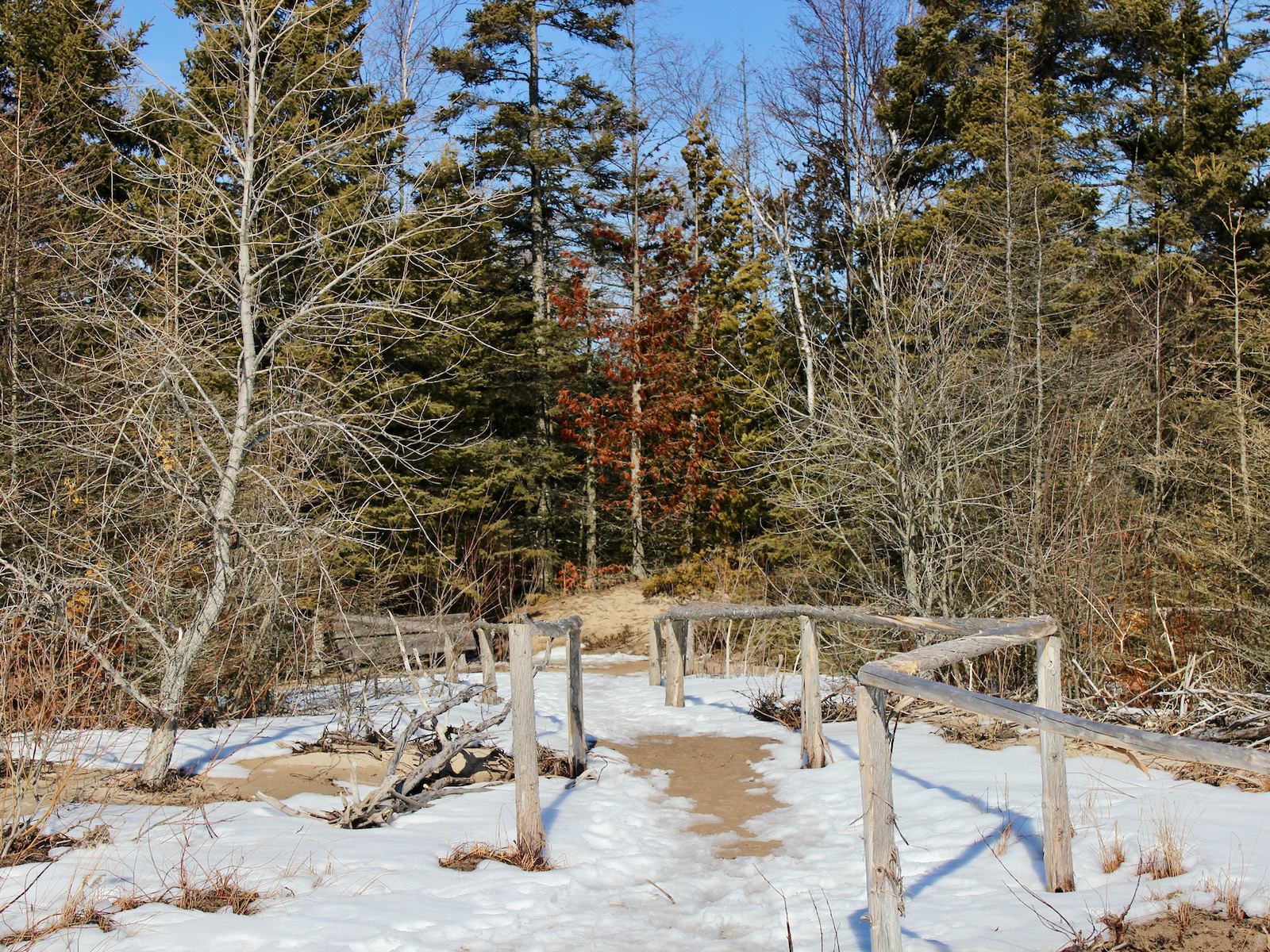 Experiencing friluftsliv
There's been much written in recent years about the Danish concept of hygge, the notion of finding comfort and warmth in the simple joys of life. It's a notion which has become more widely understood, and potentially even more widely misunderstood thanks to the world's marketing engines, which have used the concept to boost the sale of cozy socks, candles, and blankets.
Less has been written about the spirit of friluftsliv ("open-air living), a passion and appreciation for nature and its reviving energy. It's a notion that's prized throughout Scandinavia, leading to the appreciation for (and prioritization of) outdoor activities year-round, even during the colder winter months. And, thanks to Door County's cultural foundations, which were built in great part by Scandinavian settlers, it's an idea widely embraced by residents, and one which is easily adopted by open-minded travelers who can look beyond the sometimes cold temperatures of Northern Wisconsin and find beauty in the picturesque landscapes and winter scenes that make Door County a perfect cold-weather destination.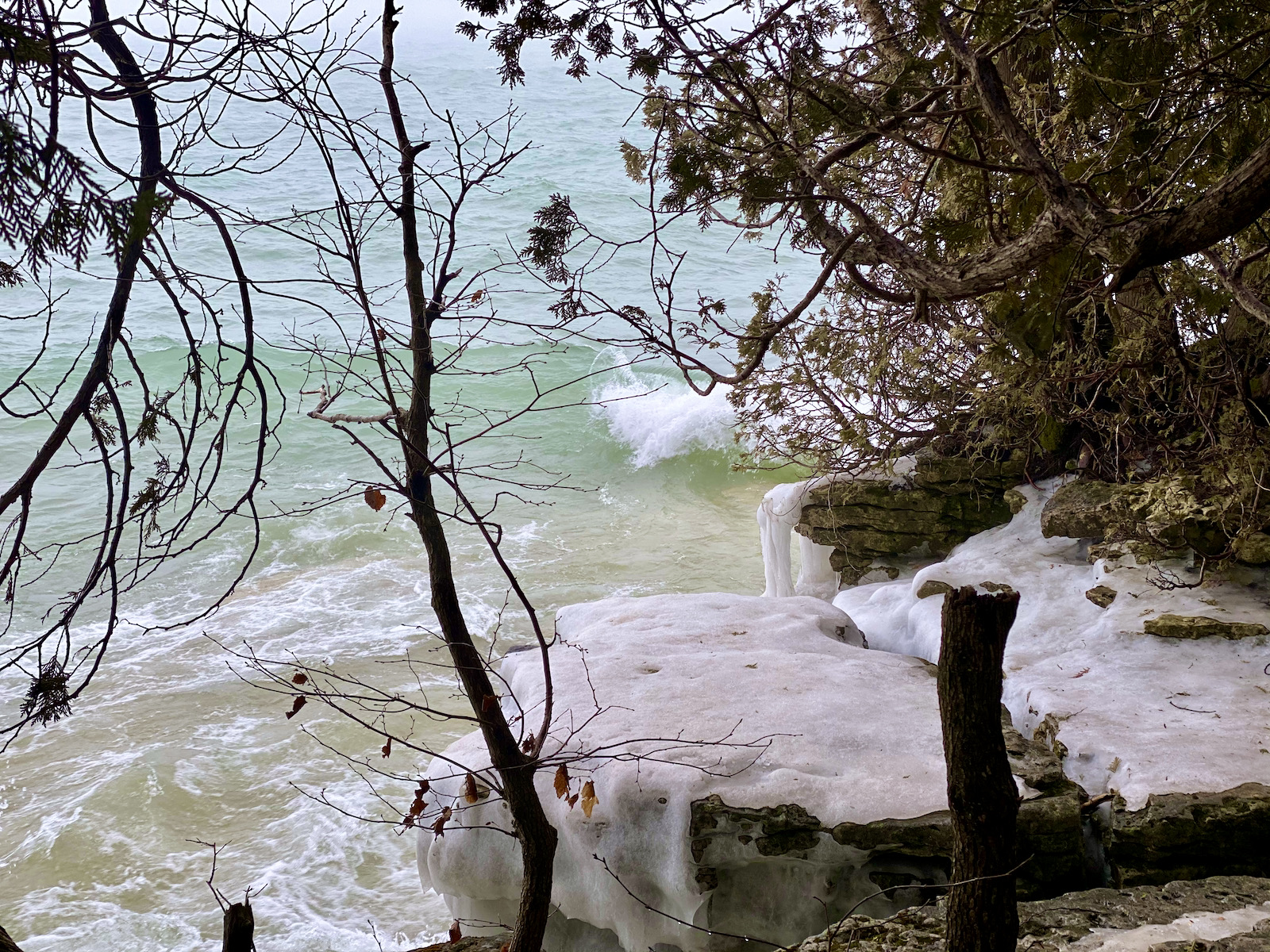 Few people who know me would describe me as particularly "outdoorsy." While I've definitely enjoyed casual hikes and outdoor activities over the years – including foraging, fishing, camping and snow shoeing – you're more likely to find me preparing a multi-course dinner for friends than traversing the bluffs at Devil's Lake.
But fresh air has definitely taken on new meaning for me over the course of the COVID-19 pandemic, resulting in a renewed appreciation for nature and outdoor activities. And that definitely played out during my latest Door County trip, which took place over a long weekend in late February when temperatures fluctuated between the mid-20s and high-30s, flurries flew and cool fog and rain interspersed with both high winds and periods of welcome winter sunshine.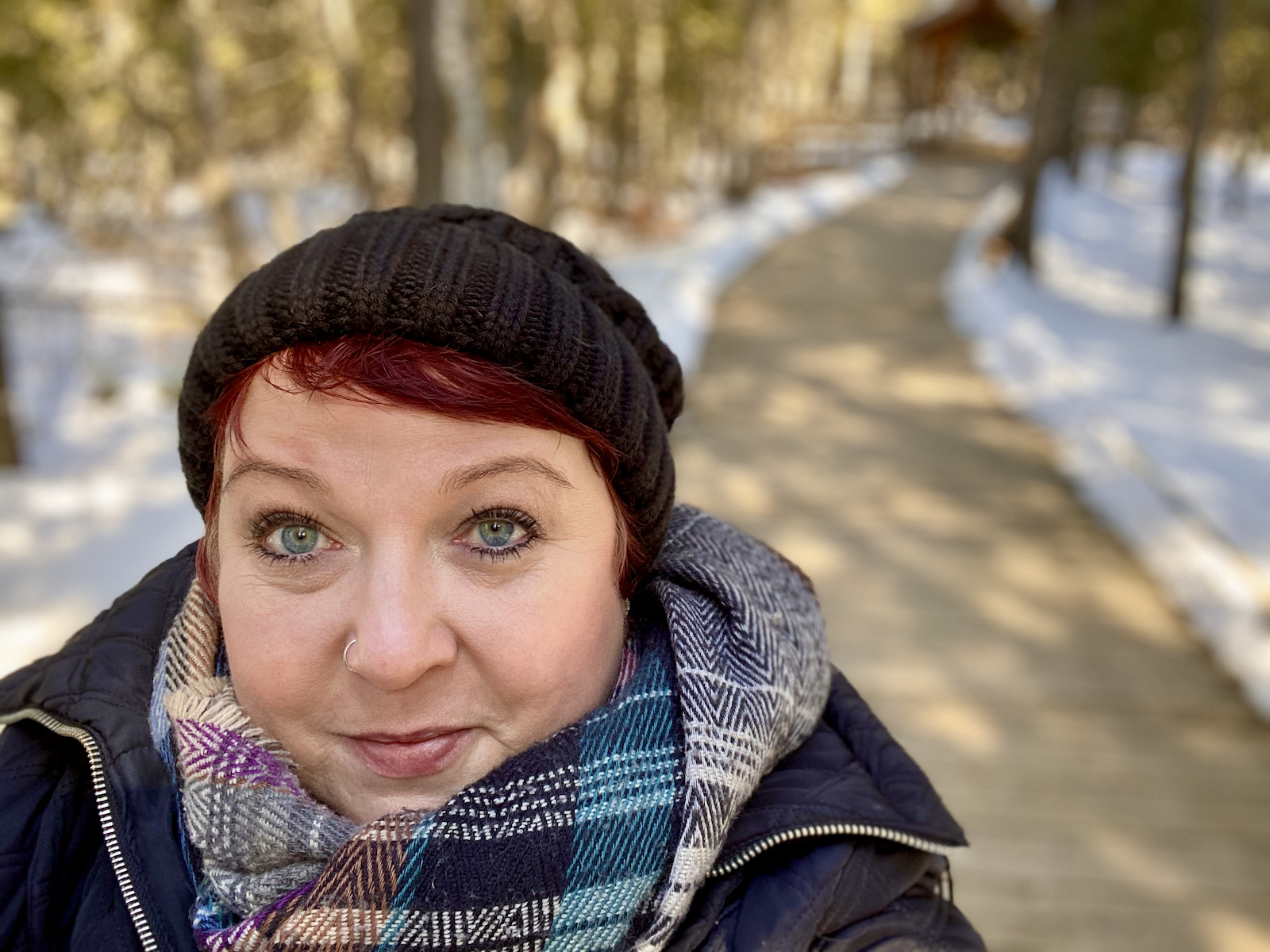 Classic bites & home base in Sister Bay
My weekend began in Sister Bay, the largest village on the peninsula and a popular hub for both shopping and dining. It's the home of popular spots like Al Johnson's Swedish Restaurant, Butik & Stabbur (open year round) along with some of my seasonal favorites like Door County Creamery and The Kitschinn Juicery, home of the Tapuat Brewing Co.'s kombucha tap room.
In winter, it's also home to quirky finds like these rare bush gnomes spotted in their natural habitat.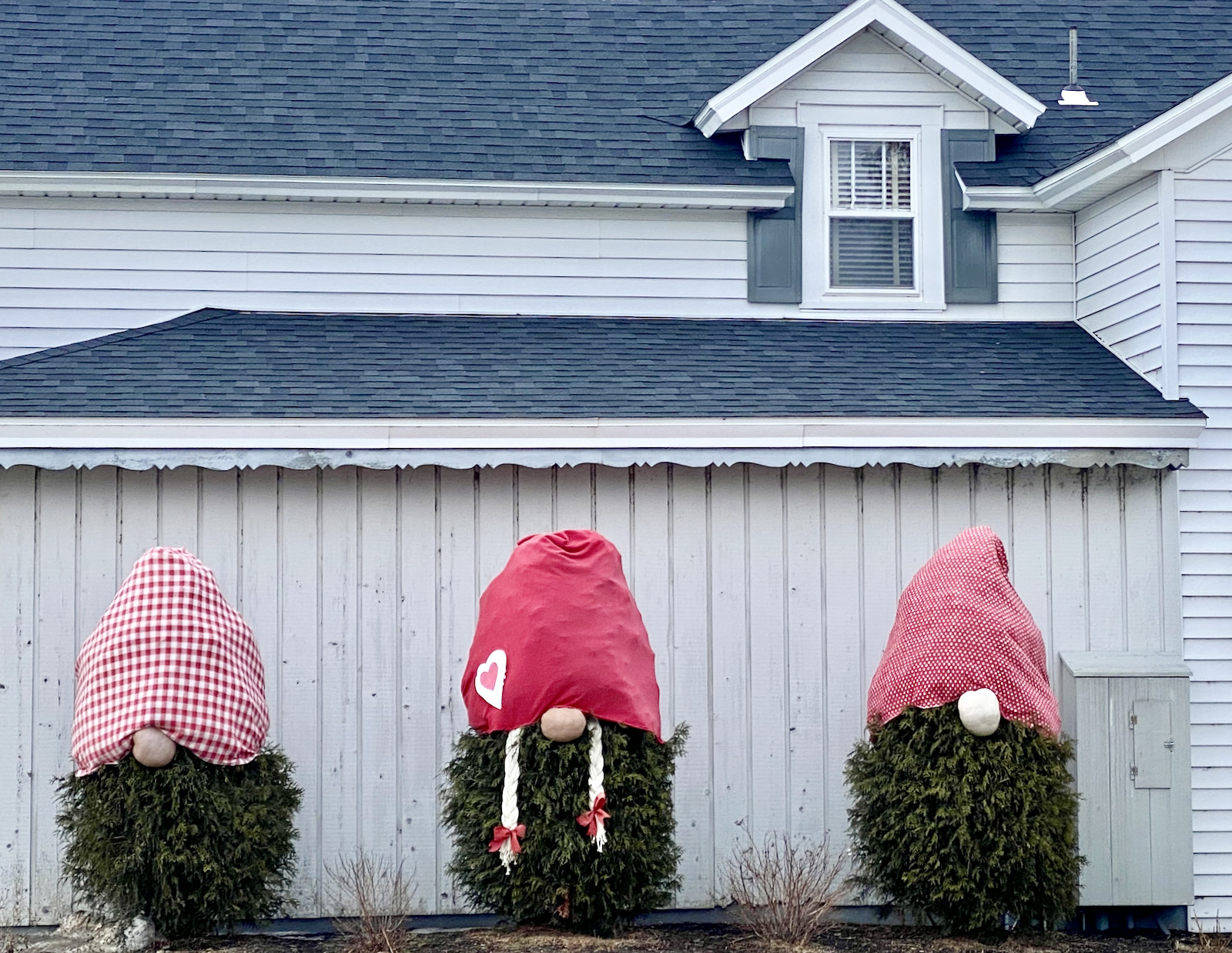 During our trip, we established our home base at Pheasant Park, an all-seasons resort offering two and three-bedroom suites and amenities including both indoor and outdoor pools, access to gas grills for barbequing, a playground for kids, laundry facilities, a fitness center and an indoor whirlpool and sauna. And yes, they observed a variety of COVID-19 protocols from mask-wearing to cleaning procedures that made us feel safe and at home.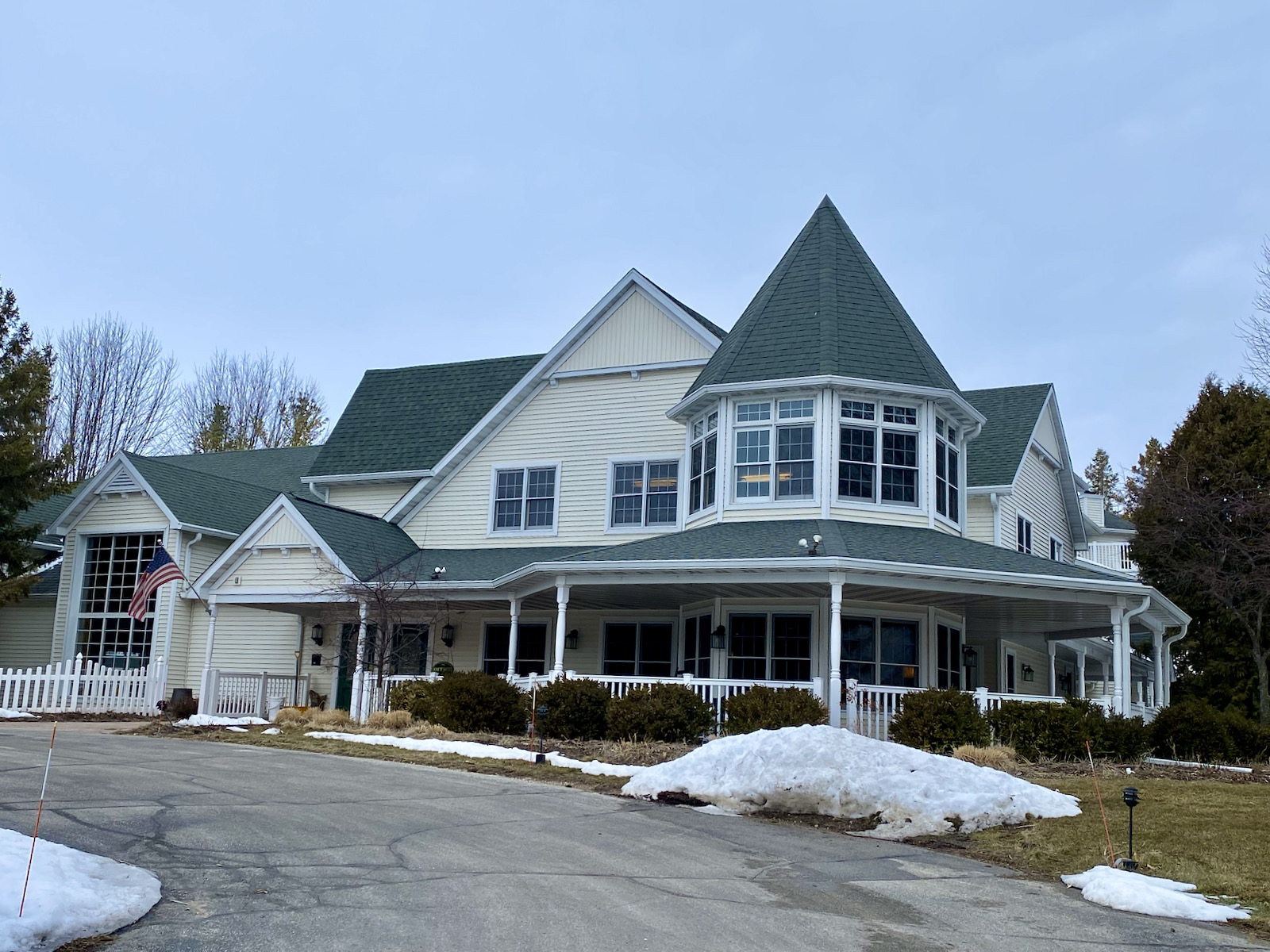 Our suite room was clean and comfortable with both king and queen rooms, two bathrooms (one with a whirlpool bath) and a well-equipped kitchen (we easily made coffee and reheated leftovers to enjoy during our stay).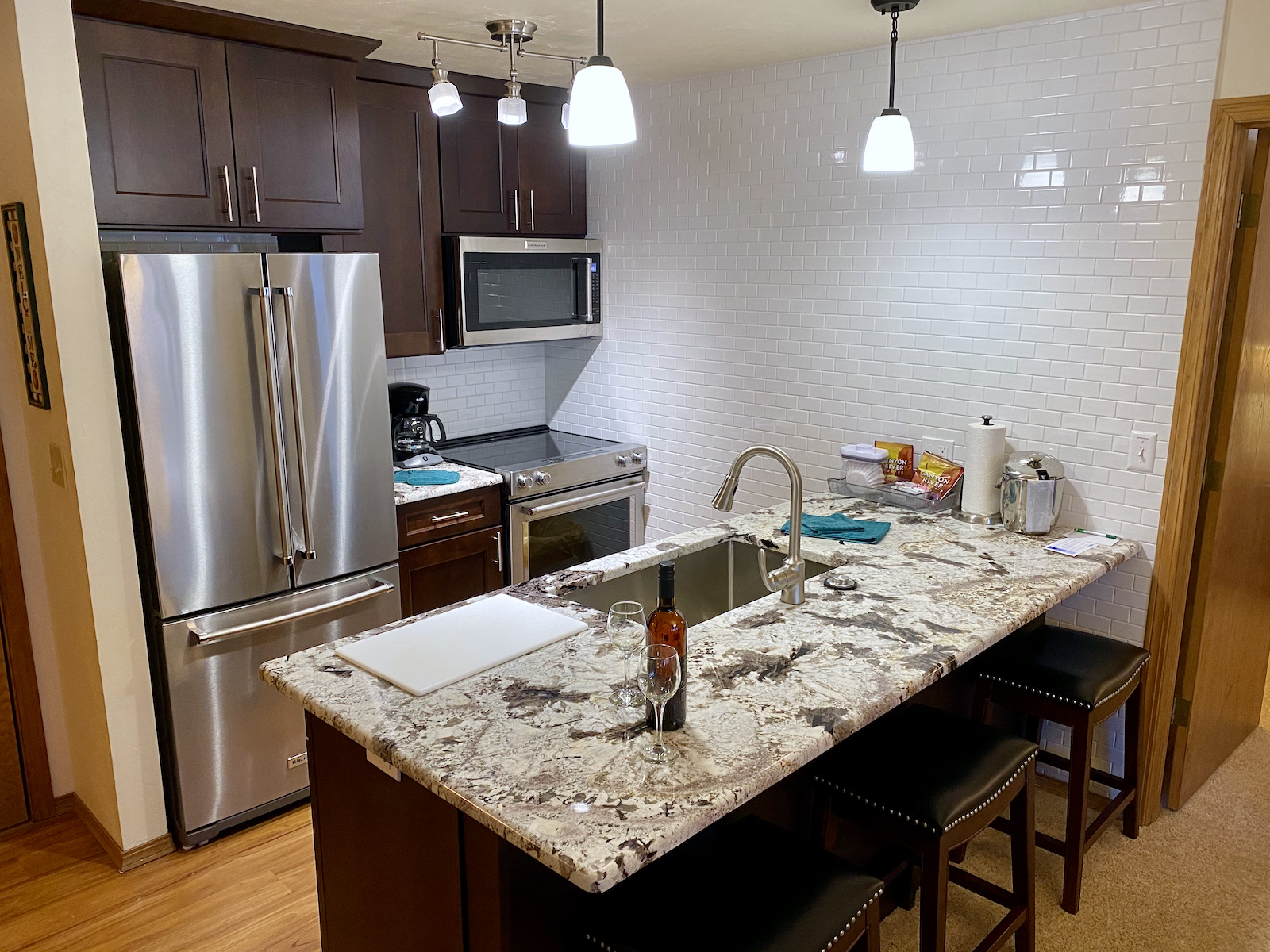 There was also a first floor patio and living area with plenty of room to work and lounge.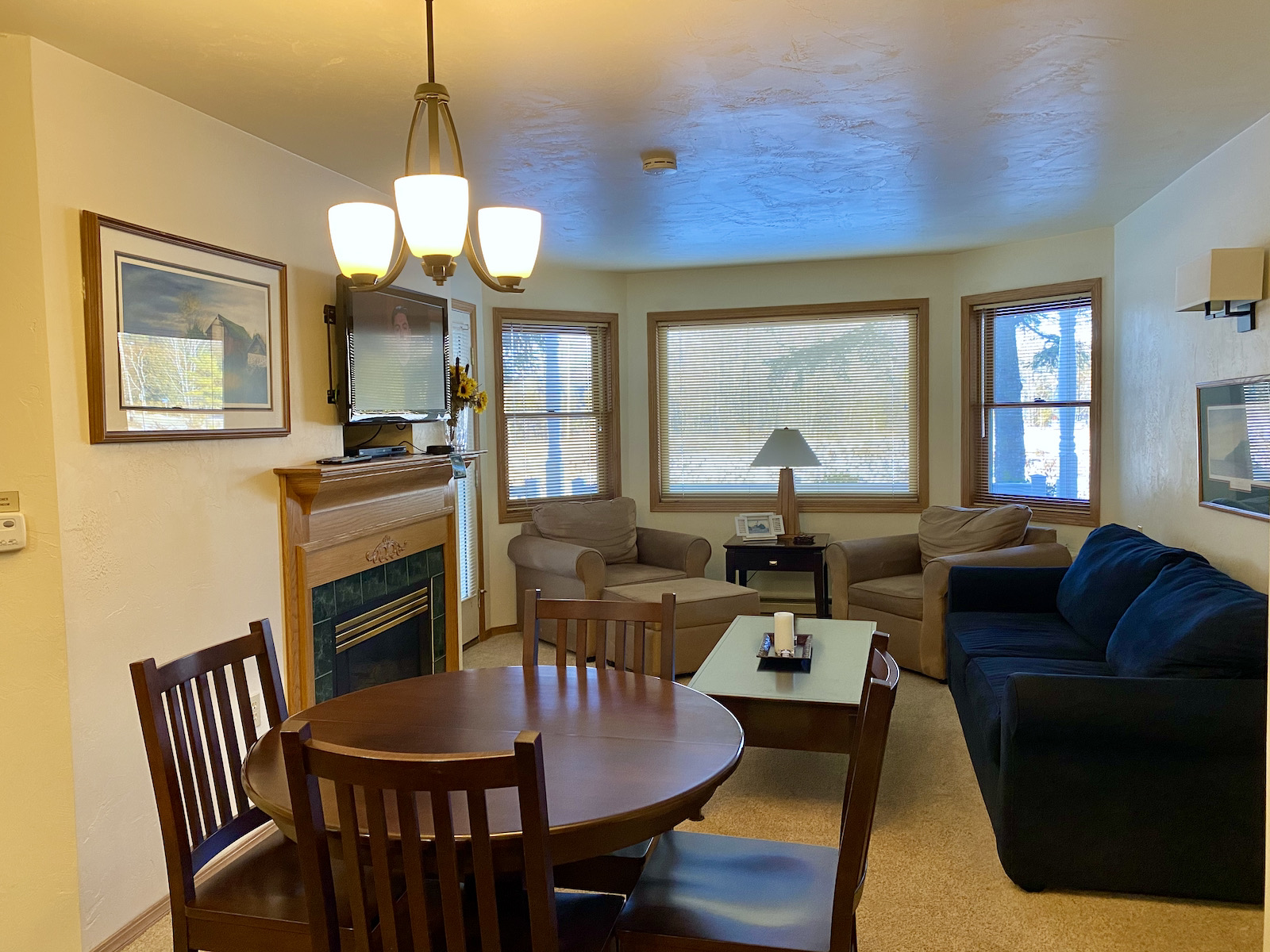 When we didn't enjoy coffee in our room, we gladly got our daily buzz from Skip Stone Coffee Roasters, an adorable little shop that offers a menu of coffee and espresso-based drinks made with local Kick Ash Coffee (Ellison Bay), Rishi tea and a selection of breakfast sandwiches and pastries.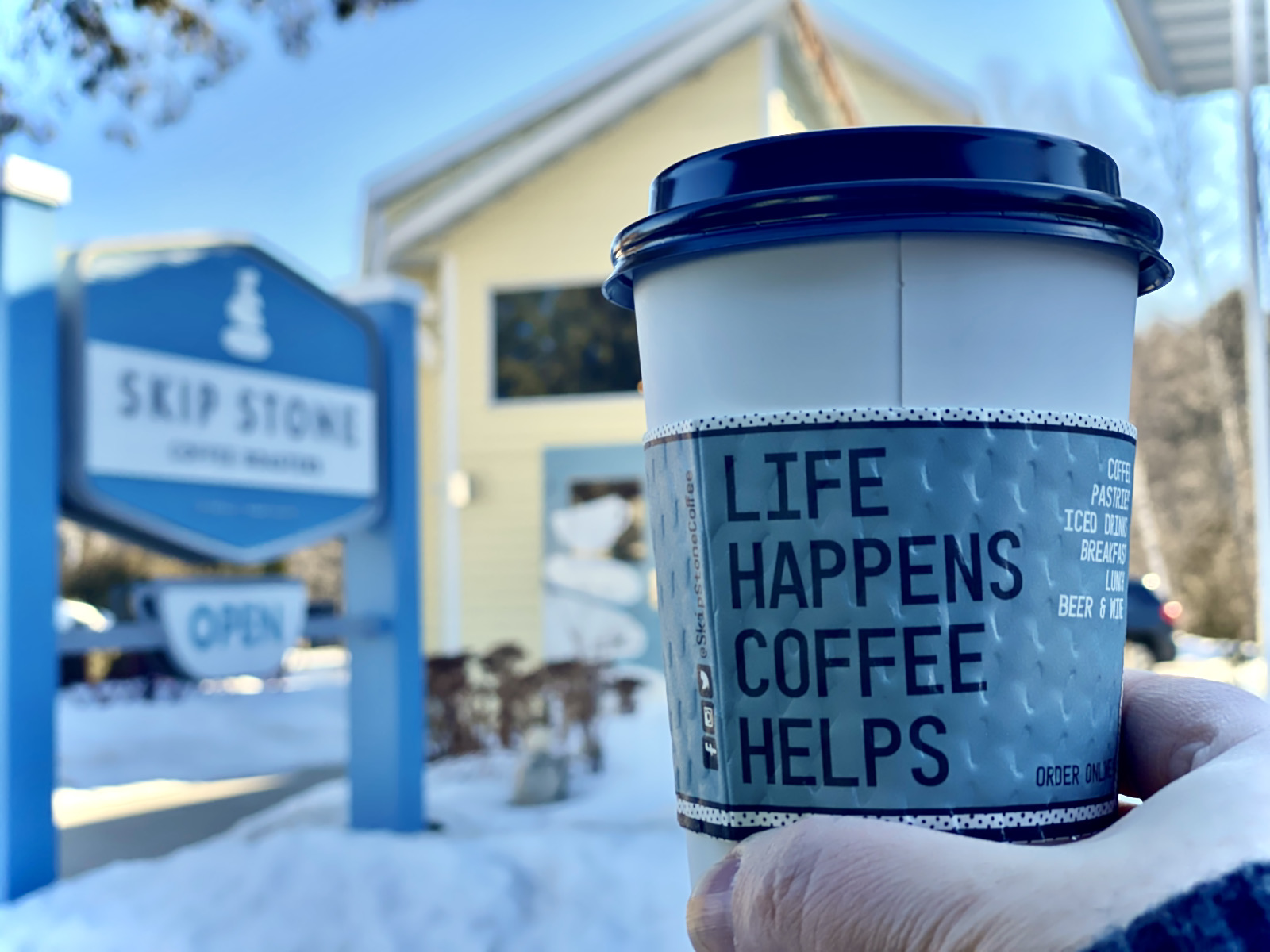 The welcoming shop sports a quirky, angular exterior and a welcoming interior which incorporates rustic reclaimed wood, trendy black and white tile and eye-catching red chandeliers. It's not only among a number of year-round establishments in Sister Bay, but within easy walking distance to the marina and beach at Waterfront Park.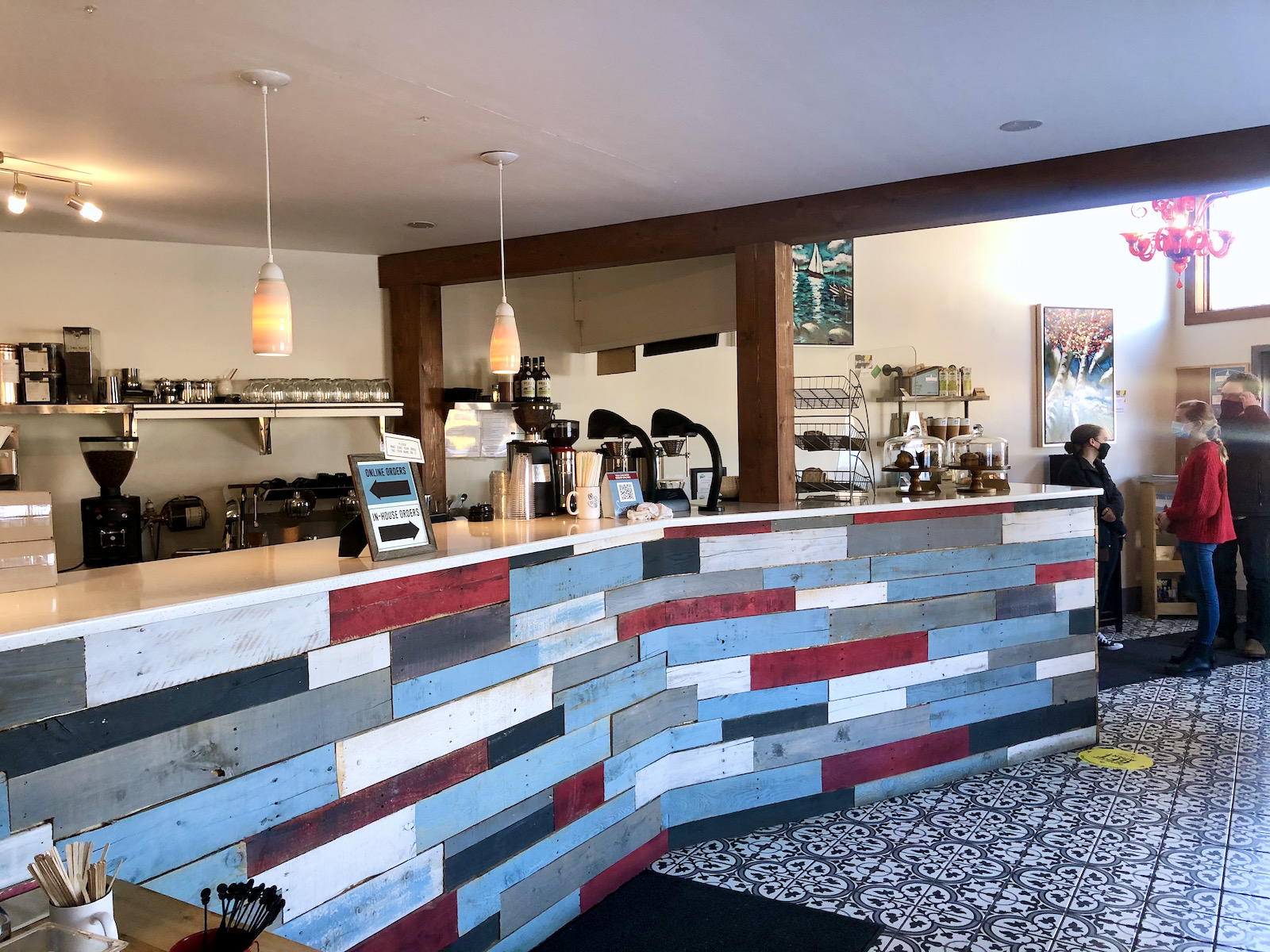 We also had the privilege of dining at Sister Bay Bowl, a restaurant and bowling alley with a long history in the area and a legacy of simple, well-made supper club style fare.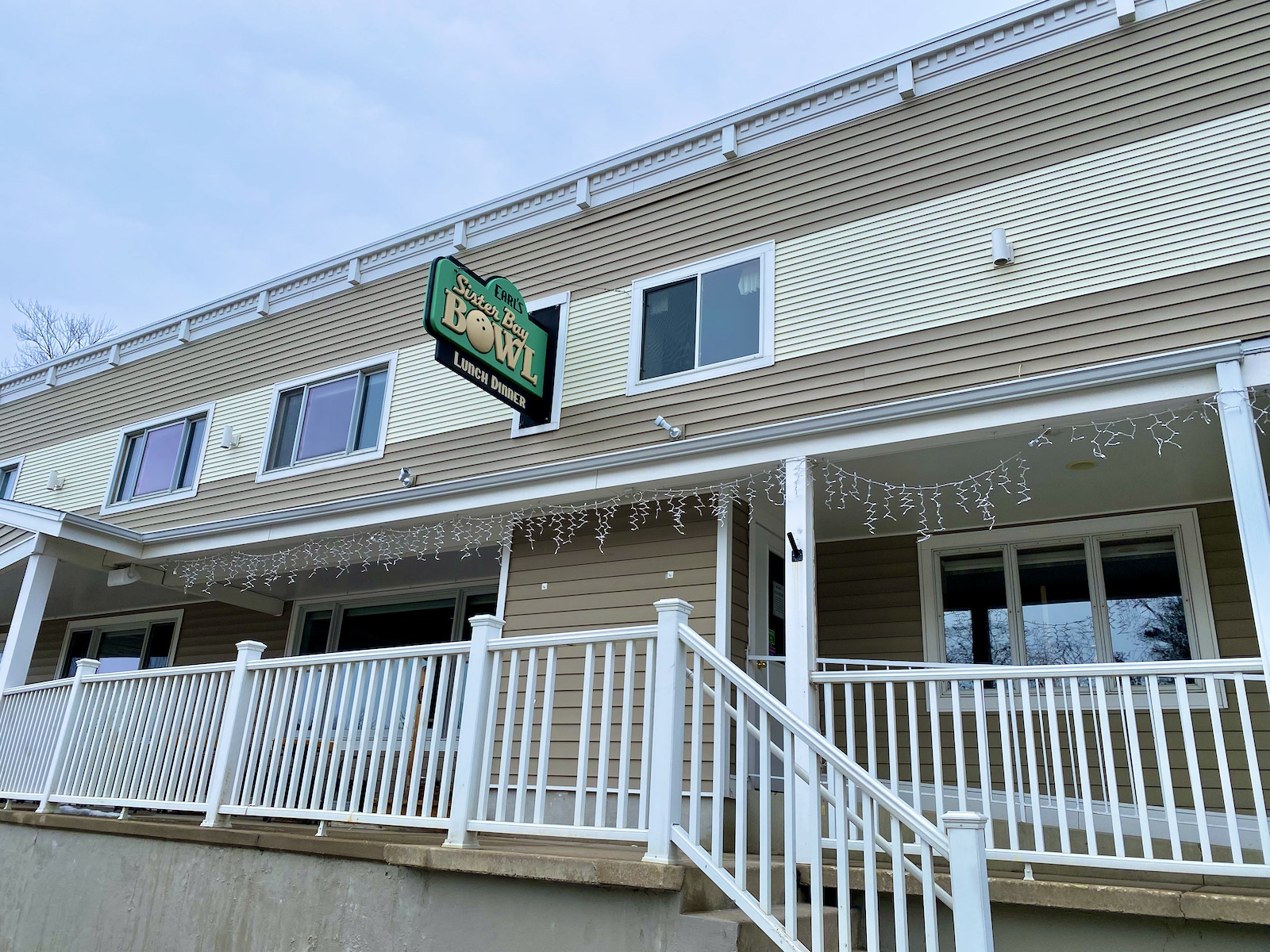 Visit and you're likely to find folks like Paula Anschutz, proudly counts herself among the fourth generation of Willems family members to own the beloved eatery. She moved back to Door County after years working in Chicago to help run the establishment that her great-grandfather purchased as an investment property in 1942.
For almost a decade, the property remained an investment. But in 1950, Anschutz's grandparents Earl and Rita Willems, bought the hotel from Earl's father, tearing down the dance hall and installing a six-lane bowling alley. By 1964, they also turned the family's living quarters (formerly part of the hotel) into a dining room, creating the Sister Bay Bowl Supper Club (now the Sister Bay Bowl).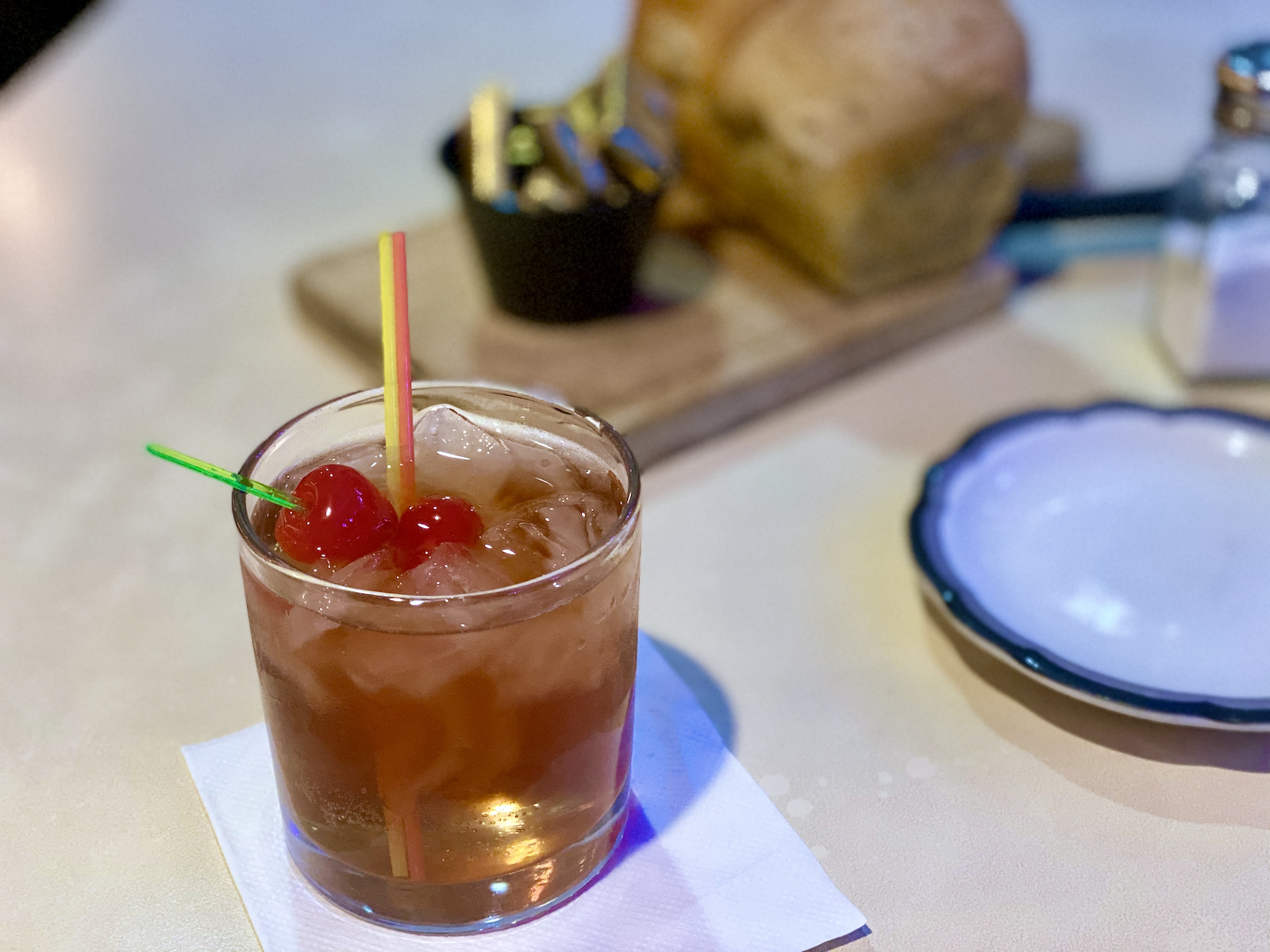 To this day, the restaurant is known for its simple (and delicious food) including some of the best marinated, broasted yellow perch I've had of late. The fish is harvested by a Green Bay-based company from Lake Michigan and sold at market price, due to recent Great Lakes shortages.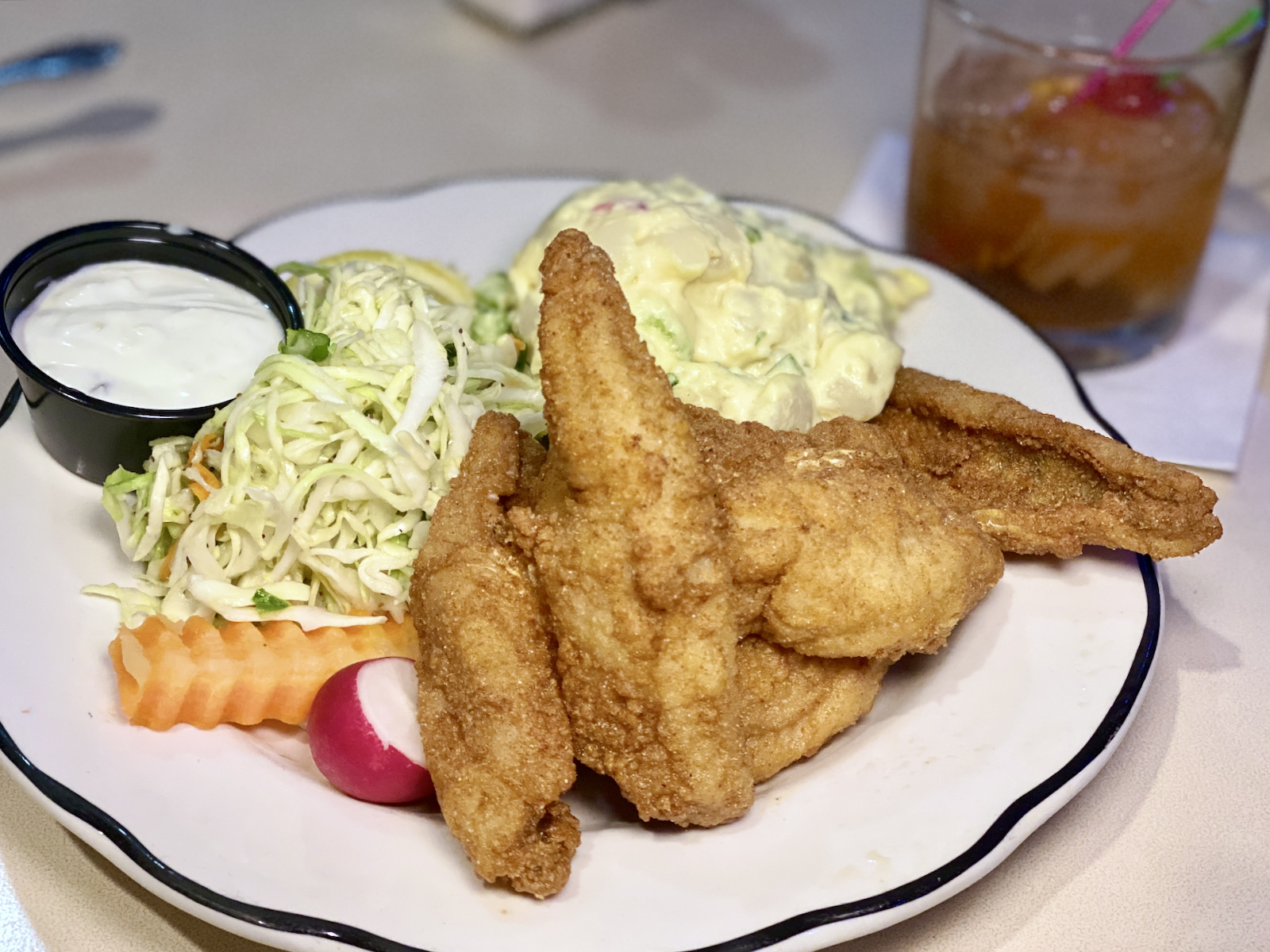 There are also popular fall-apart tender ribs and broasted chicken, both made with the same broaster today as was used in the 1960s.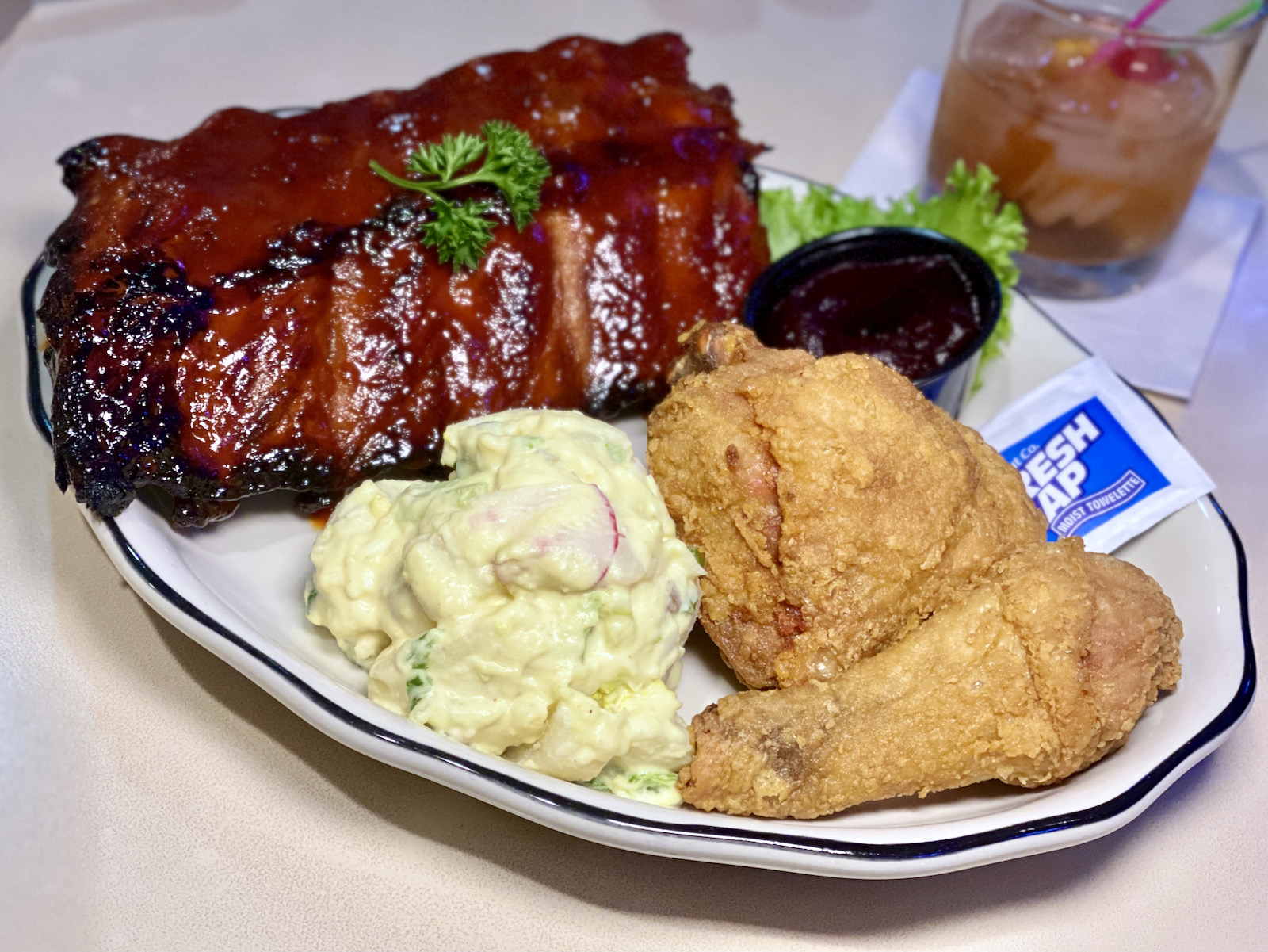 Cheese and tapas in Egg Harbor
Among the most swiftly developing villages in Door County is Egg Harbor, a town that's seen lots of new over the past five years. That includes countless new retail shops, coffee shops and cafes, waterfront apartments and restaurants.
Among them is an 18,000 square-foot facility, which houses Door Artisan Cheese Co., a retail shop and restaurant established by Wisconsin Master Cheesemaker Michael Brennenstuhl in 2017. The creamery was founded not only to produce excellent, award winning cheeses, but as a place to celebrate Wisconsin's cheesemaking expertise.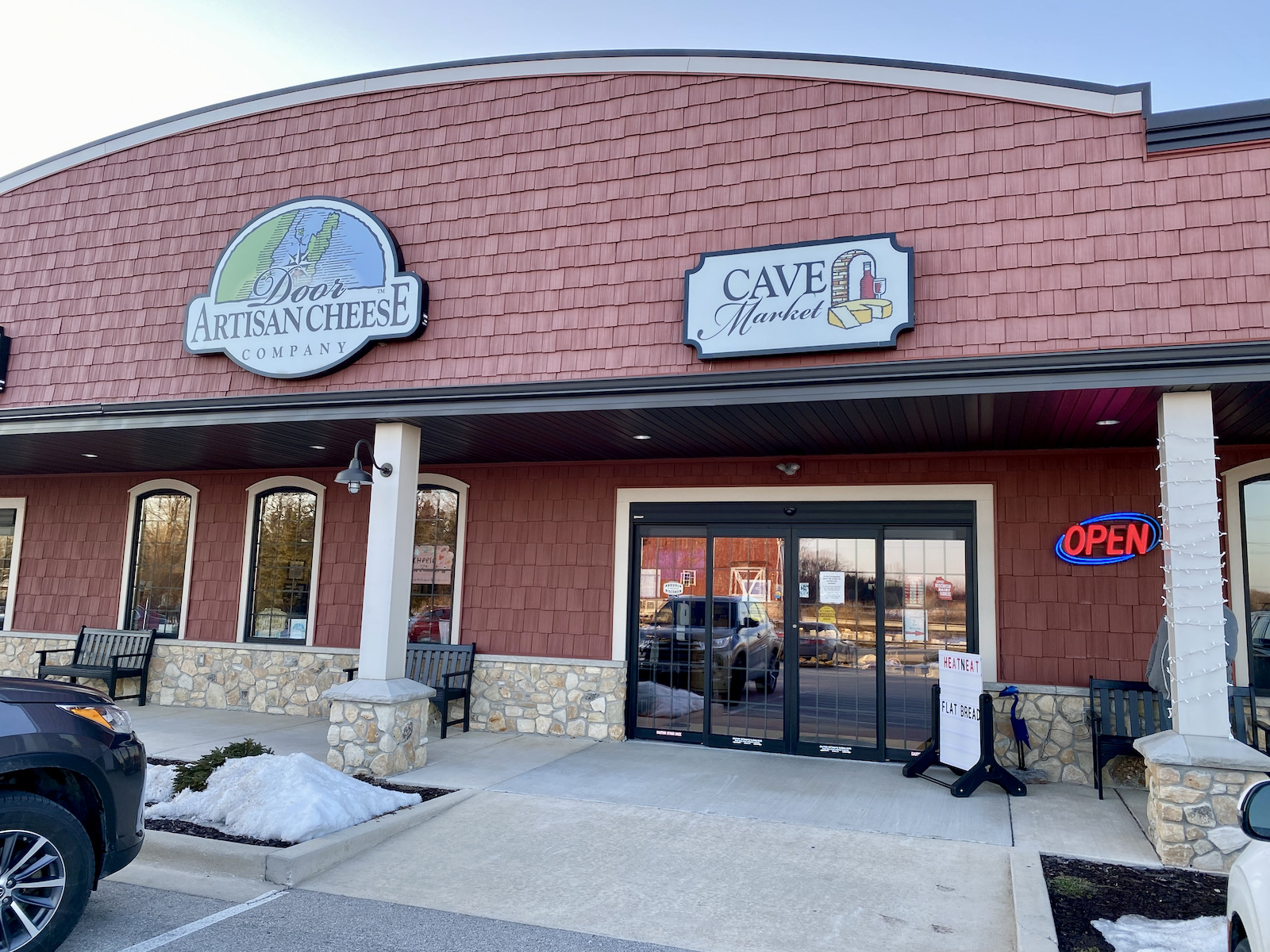 The creamery currently makes 30 cheeses, including selections like Top Hat Cheddar, a traditional English style cloth wrapped cheddar, which is aged on premise in the creamery's cheese cave for a minimum of six months. The cheese, which presents with a smooth rich flavor is also the recipient of a World Cheese Championship award.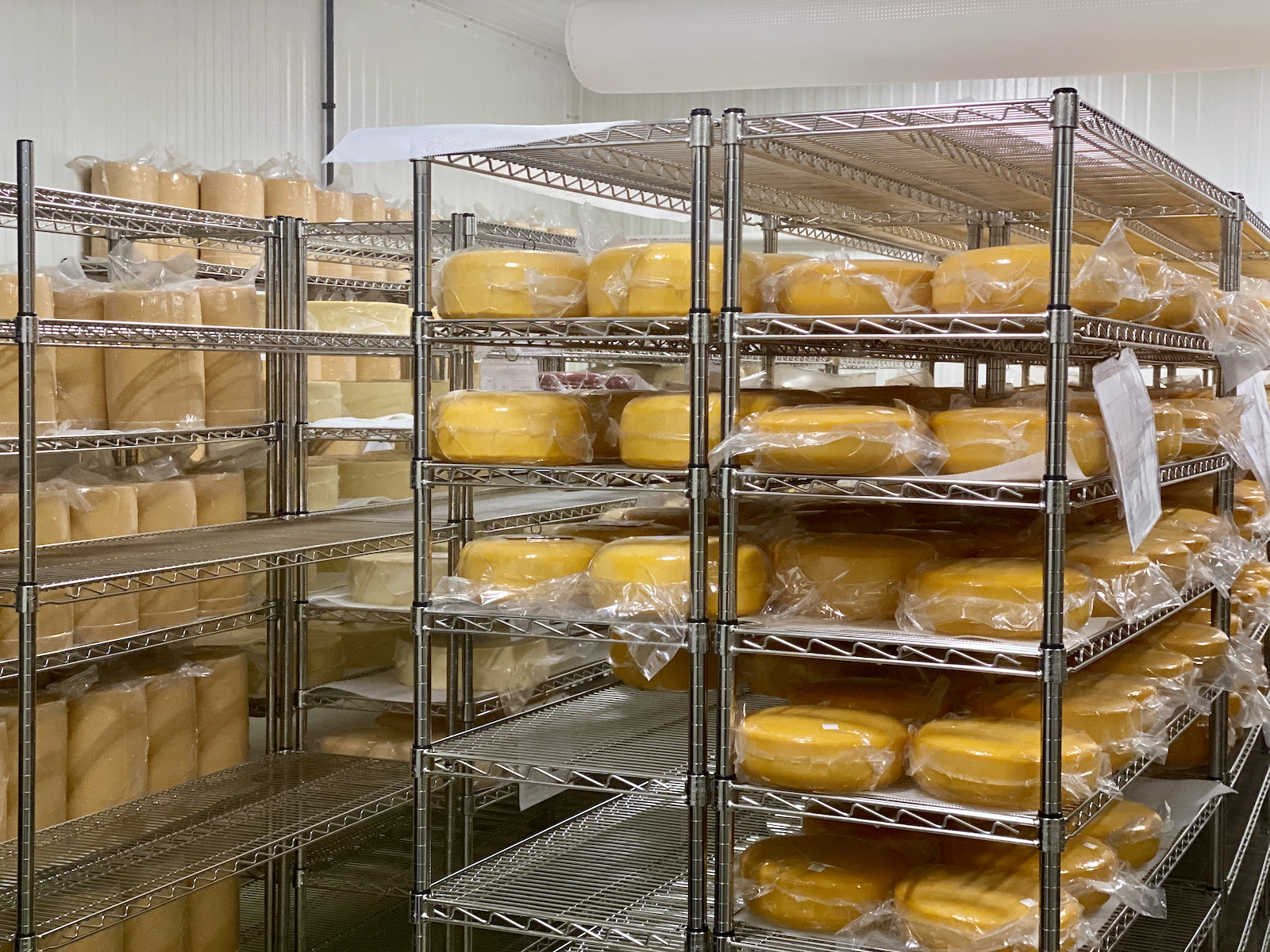 The attached Cave Market retail shop features a full complement of Door County Artisan cheeses, along with a variety of other award winning Wisconsin-made finds, a curated selection of beer and wine and a variety of accoutrements including preserves and charcuterie.
In keeping with the creamery's mission, Cave Market guests can see the cheesemaking process firsthand through windows that oversee the production area. During production, cheesemakers wear headsets, allowing them to talk about the process and answer customer questions as they work.
As for the restaurant, the aptly named Glacier Ledge pays homage to Door County's location along the Niagara Escarpment, a prominent rock ridge that spans nearly 1,000 miles in an arc across the Great Lakes region.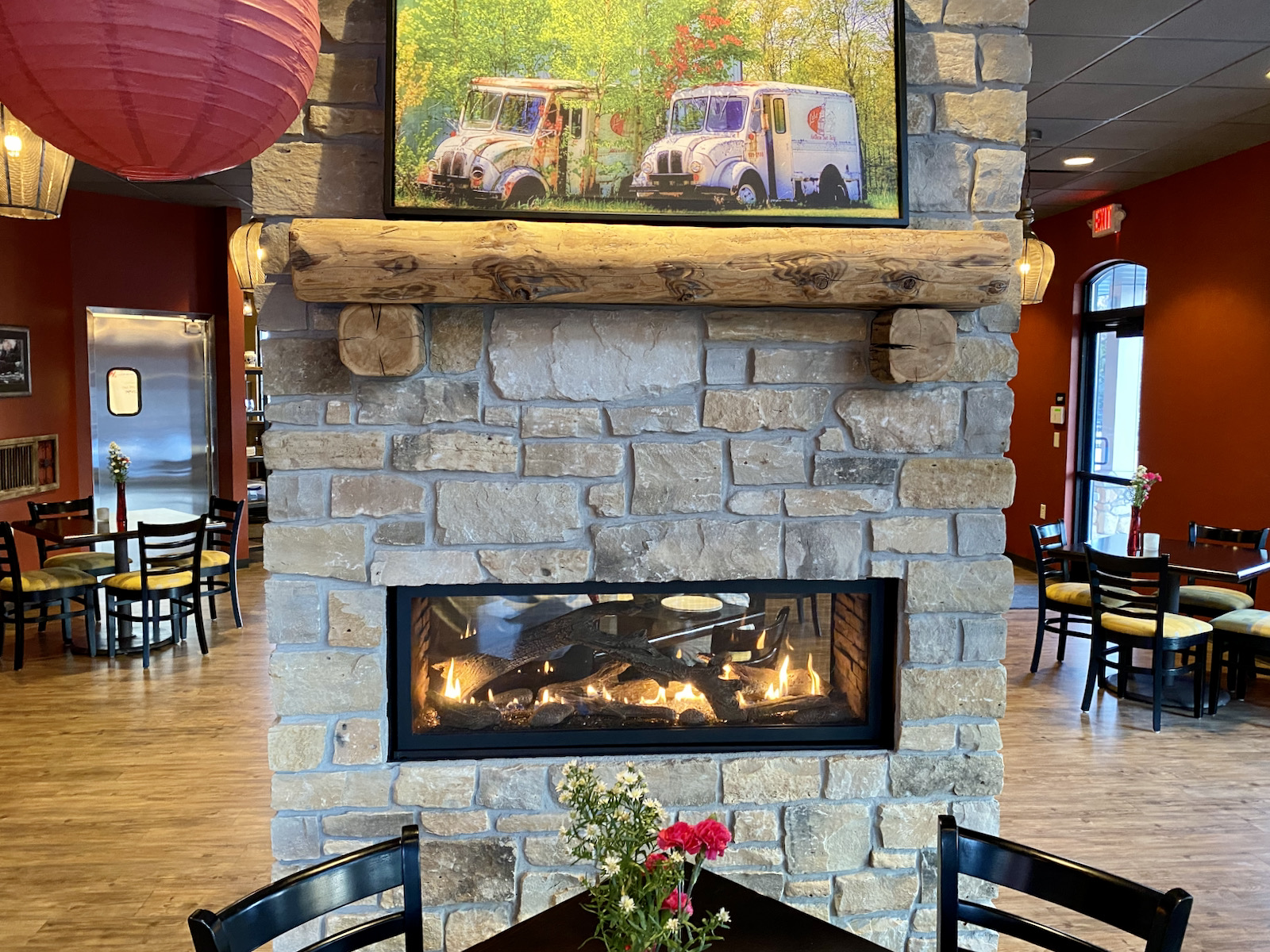 Glacier Ledge offers dining in a beautiful modern space grounded by a double-sided cozy hearth, as well a picturesque patio made with crushed rock repurposed from the stone excavation needed to build the creamery.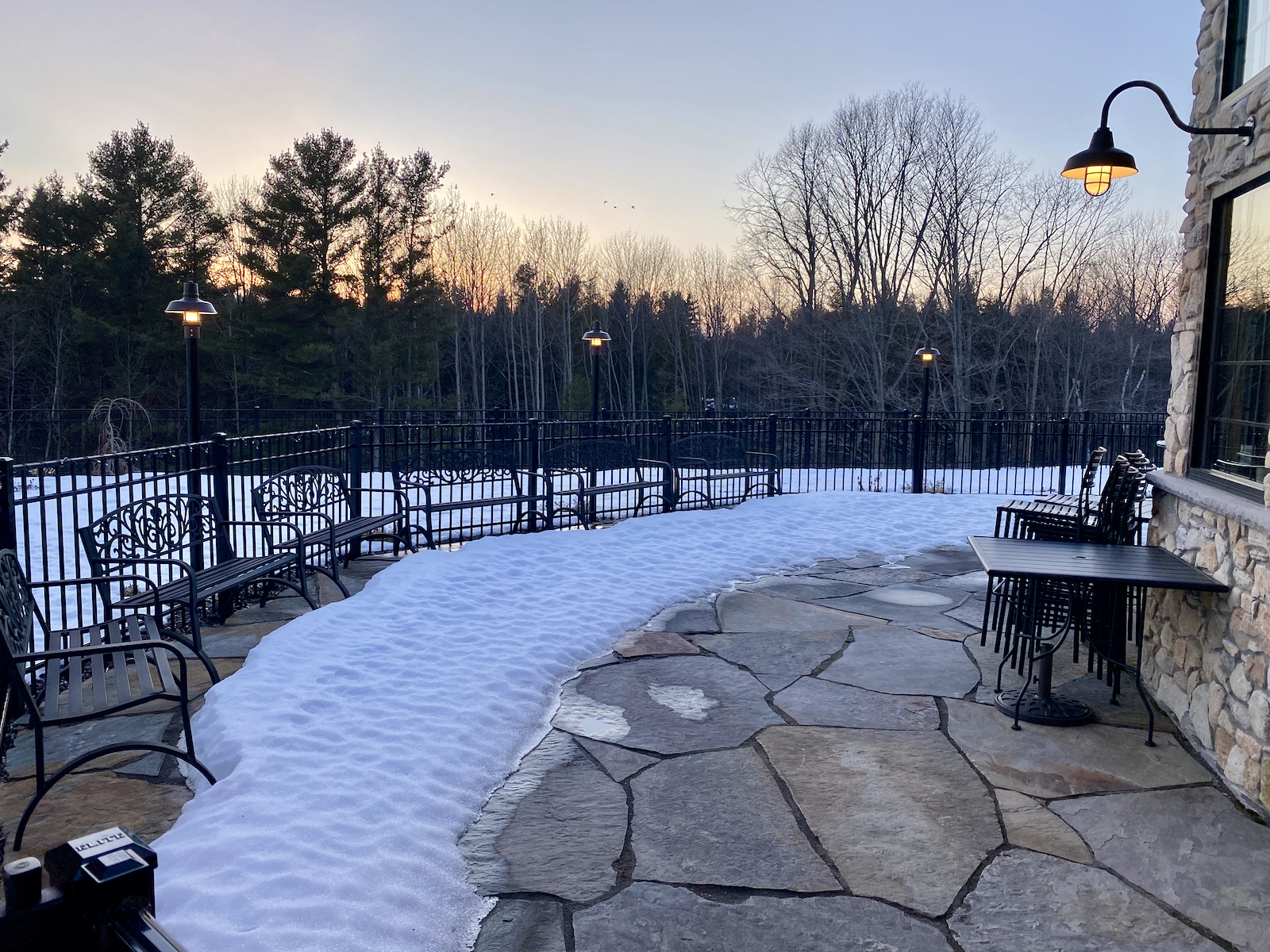 The menu at Glacier Ledge aims to showcase the best of Wisconsin (and Wisconsin cheese) through a menu of seasonal, shareable plates, wine, craft beer and low-ABV cocktails. At the helm is Chef Lawrence Hutchinson, a culinary veteran whose career has included work in California with the Ritz Carlton in Marina del Rey, feeding film crews in Los Angeles, operating his own restaurant and teaching culinary students.
A relaxed dinner featured numerous dishes including a well appointed cheese board featuring crackers, nuts, fruit and a variety of Door Artisan Cheese Co. cheeses including both 6-month and 3-year aged Top Hat Cheddar; Valmy, a creamy cheese made in the Trappist style and washed with chocolate stout; and Zivily, a semi-soft creamy fontina-style cheese. Perfect alongside an Americano from the bar.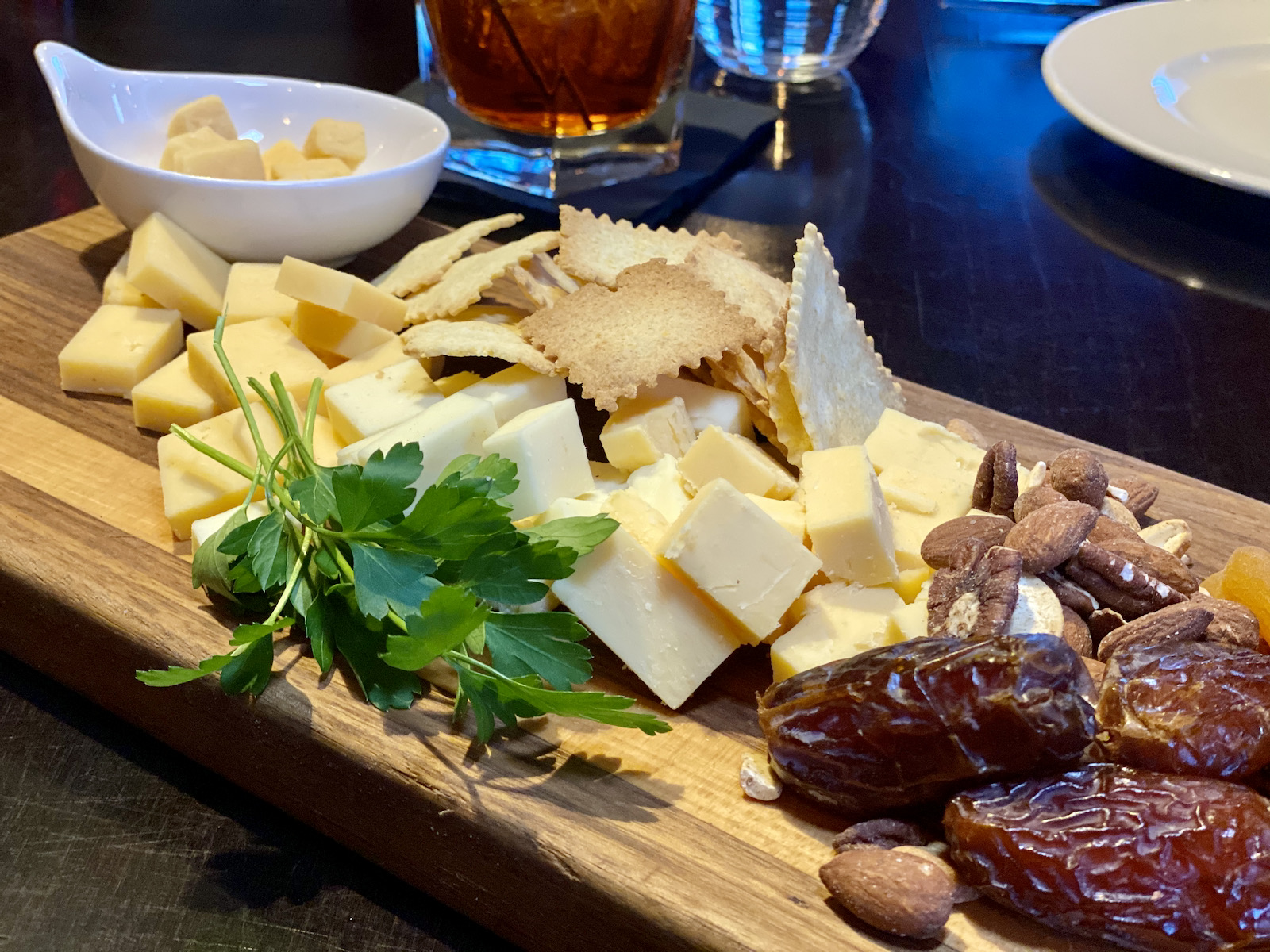 We also enjoyed roasted cauliflower and onions topped with melted Daclette, an Alpine-style semi-firm cheese hand rubbed with olive oil and Spanish smoked paprika (the name reflects the cheese's resemblance to Swiss raclette); Spanish style garlic chicken served with grilled bread; and Thai sausage stuffed shrimp, an amply spiced dish served on a bed of fresh vegetables, including cucumbers, tomatoes and pickled onion.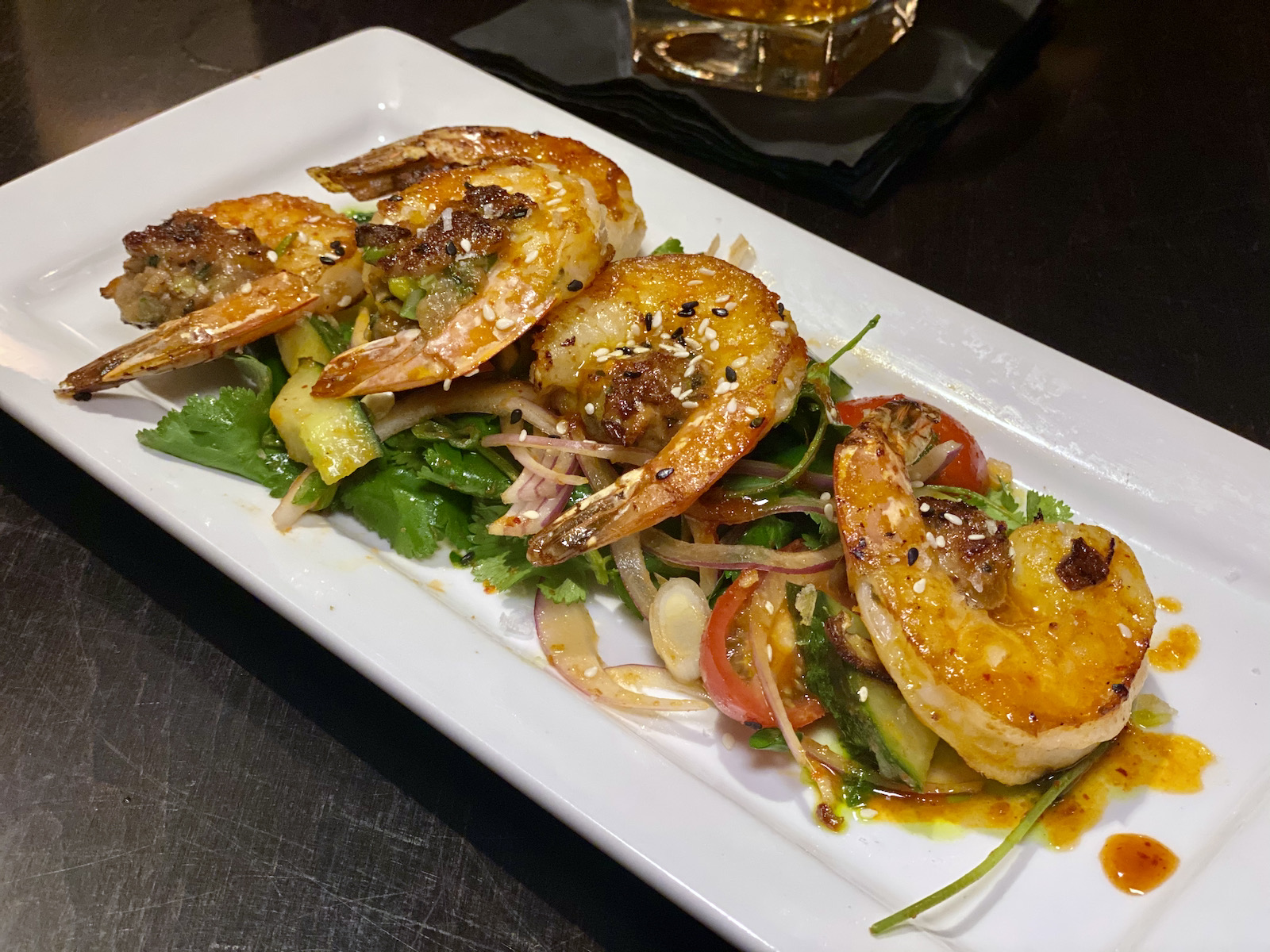 Sweet sour cream panna cotta topped everything off beautifully.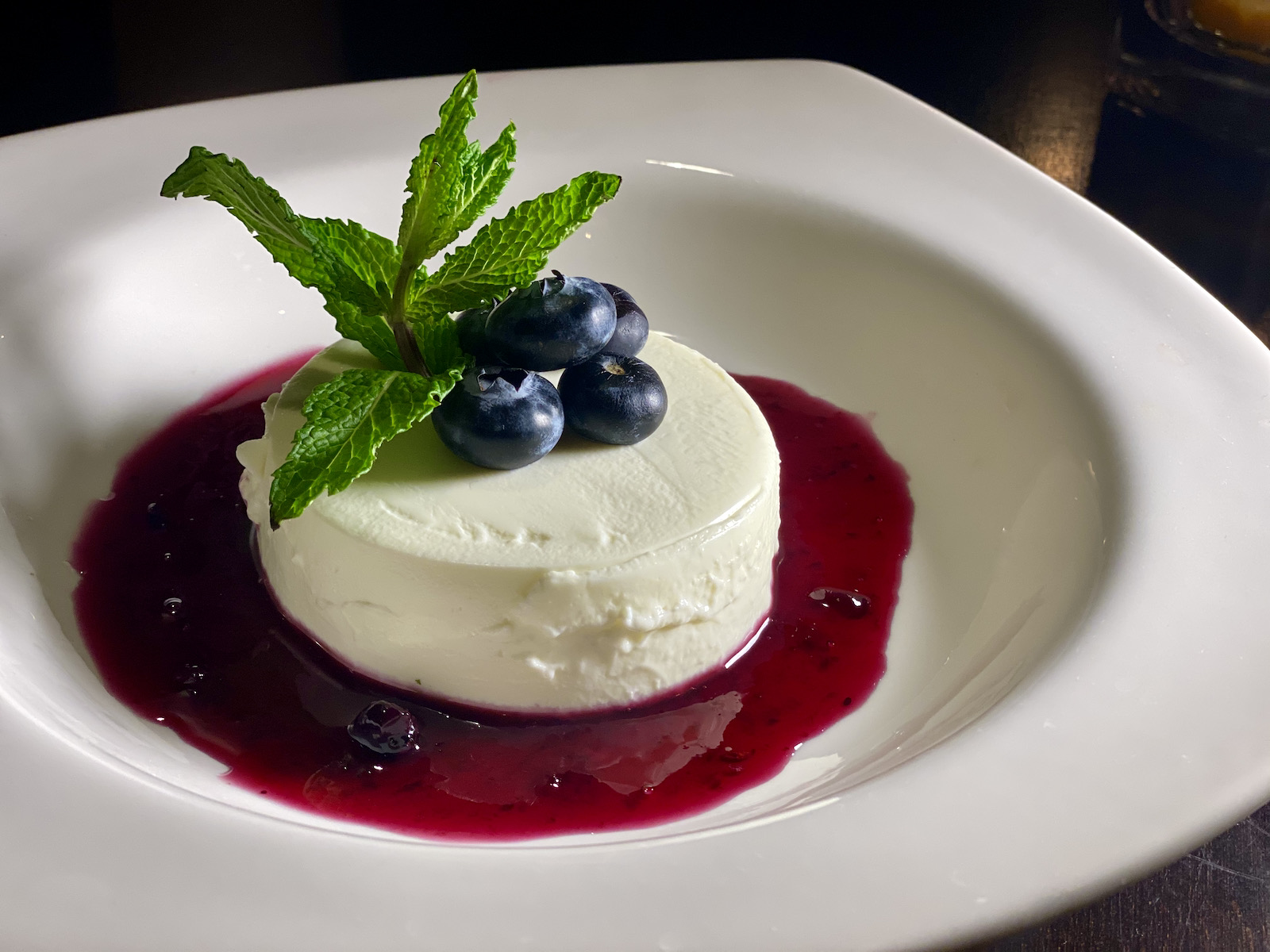 History in Ephraim
Among the most edifying portions of our trip was an historic walking tour of Ephraim, given by John Grochowski, director of operations for the Ephraim Historical Foundation, during which we gleaned scads of information about the historical roots of the village, founded by Rev. Andres Iverson, a Moravian pastor from Norway who settled in the area with his congregation of Norwegian immigrants. Together, they created a town that became a hub for Door Co. logging, an unsustainable industry which was eventually eclipsed by tourism.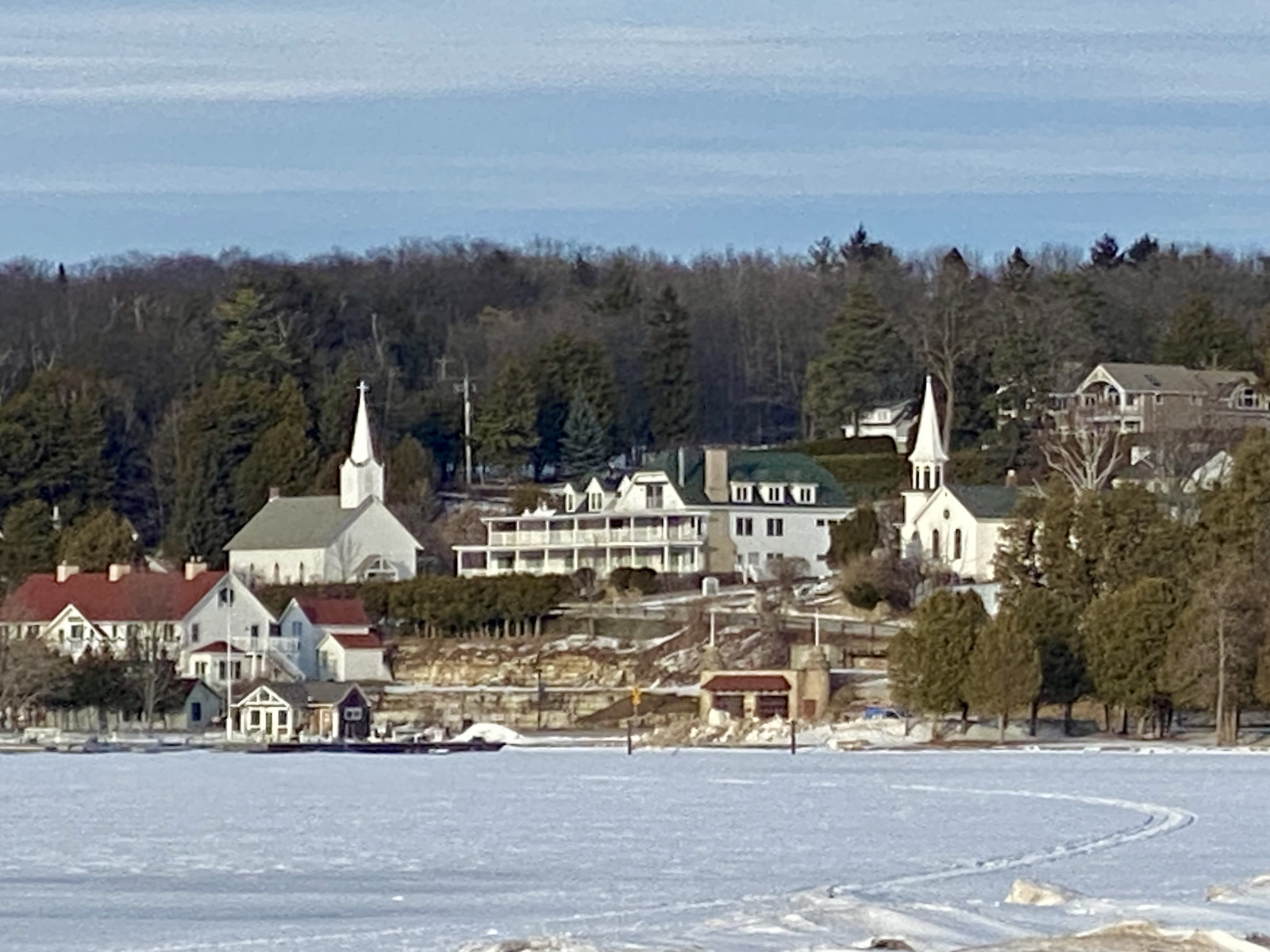 We toured the Anderson General Store, which was founded in 1858 by Aslag Anderson and operated for almost a century before being transformed into an historical museum. Anderson, a carpenter by trade, built Ephraim's deep-water dock, ensuring that items, including cedar posts, shingles, cordwood and salted fish could be exported from the village.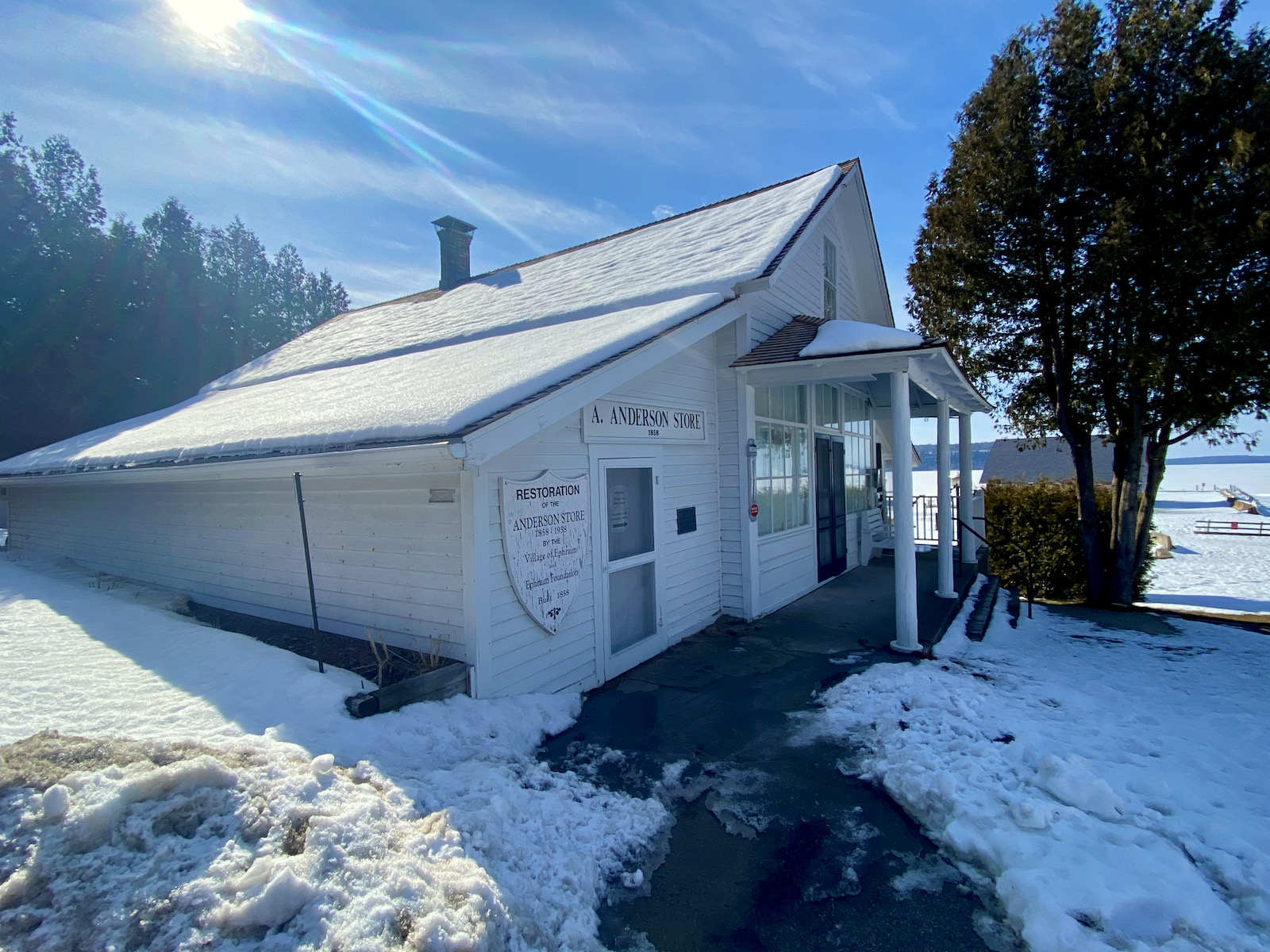 A living memorial, the store tells the tales of the settlers through hundreds of artifacts (remarkably preserved from the original store, which closed in 1958) from shelves of medicinal tonics, to original boxes of Scandinavian windmill and butter cookies.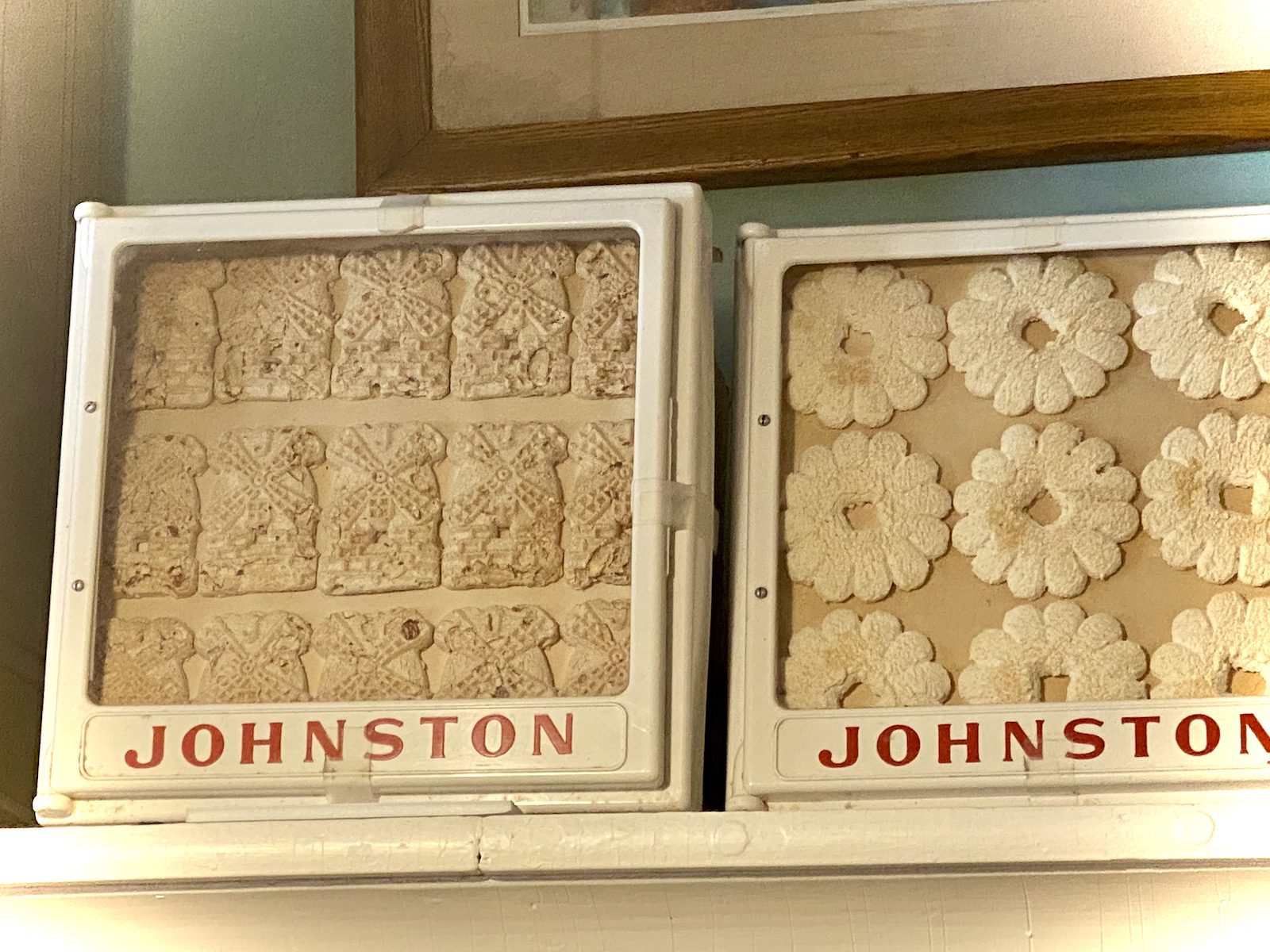 You'll also find shoes, womens' fashion catalogs and numerous artifacts that help to tell the history of strong women from Door County.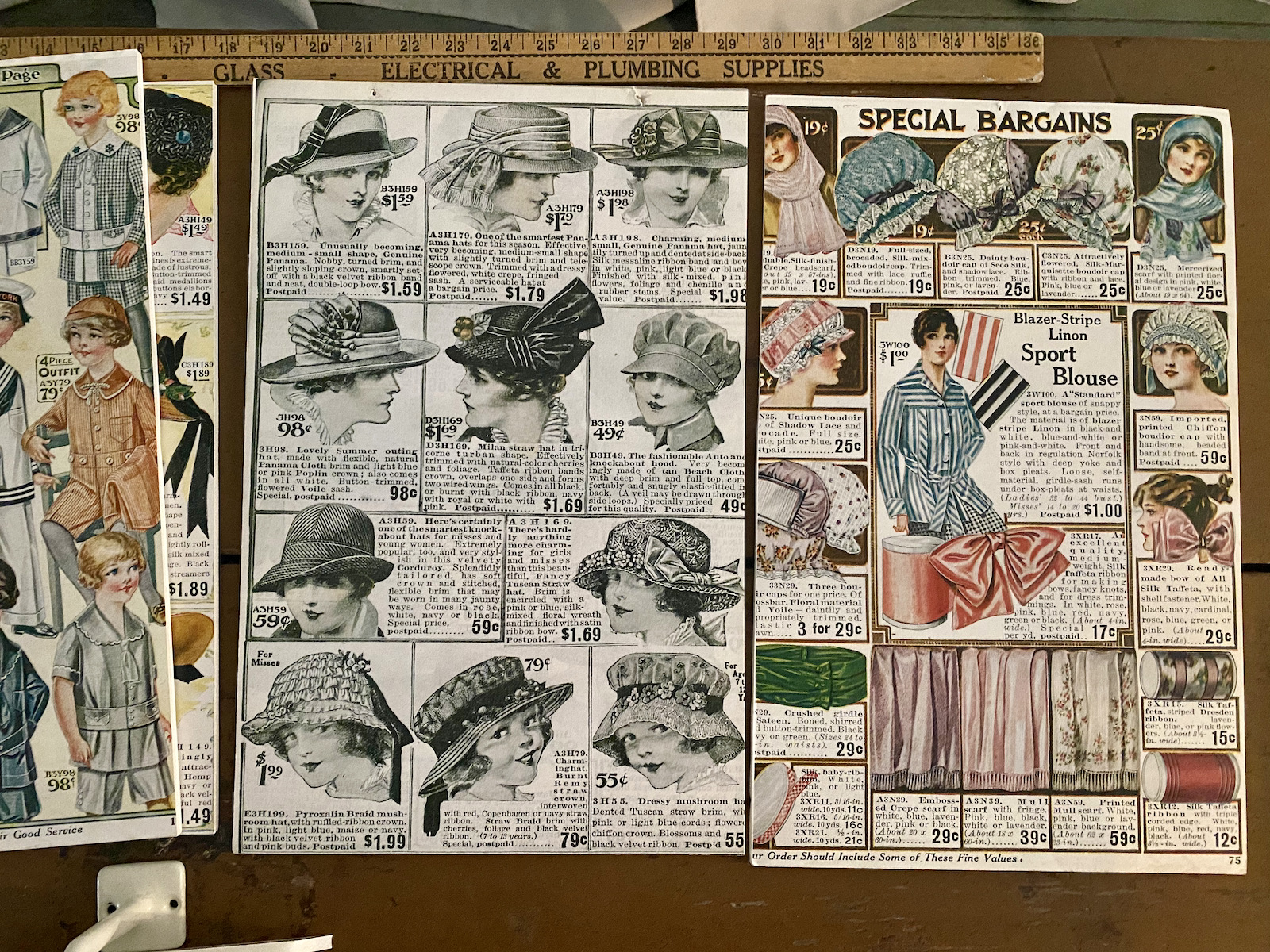 For instance, consult a docent at the museum and ask about Lizzie Anderson, who managed the shop, and you'll hear the tale of a strong moralistic woman, who allowed the sale of pipe tobacco and medicinal tonics, but banned cigarettes, whiskey, playing cards and dice. As the story goes, she was also friends with the Duchess of Windsor, who vacationed on the peninsula.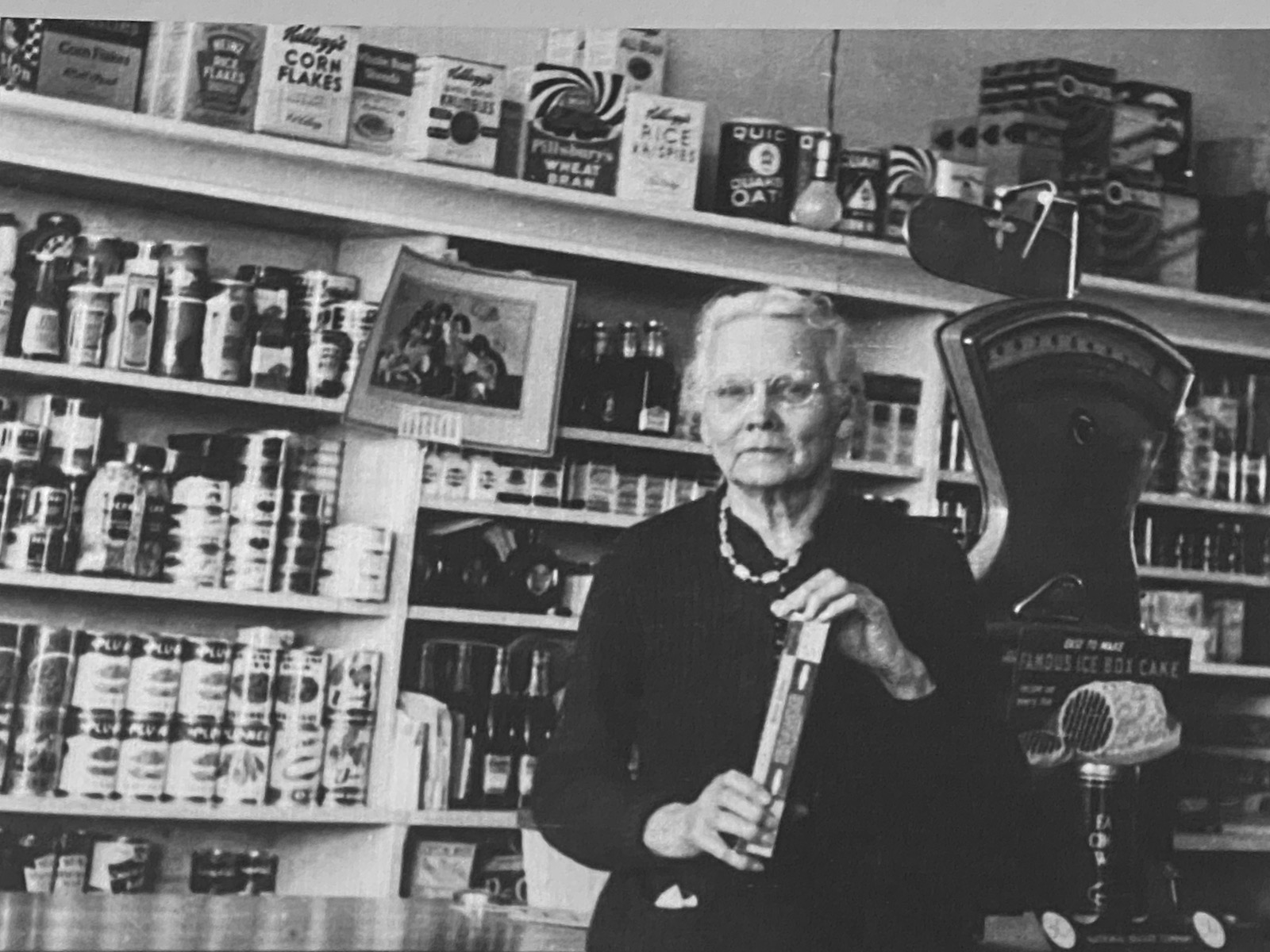 On the shore beyond the general store, you'll also find a building – once a warehouse for the general store – that currently houses the Hardy Art Gallery. The building is covered in intentional graffiti, which began with captains recording the names of their ship on the dock and now provides a living work of art that evolves with each visitor's addition.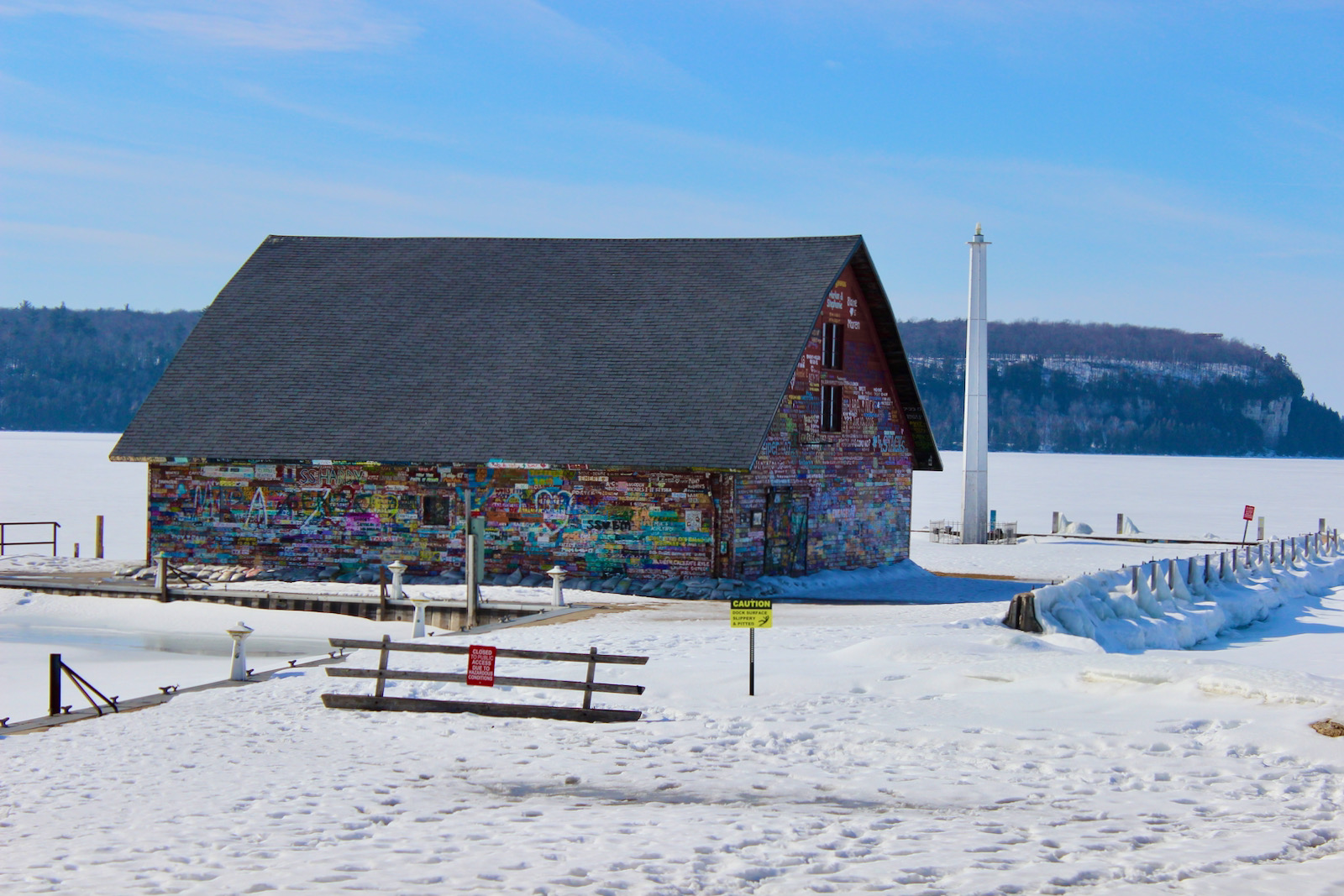 Along the remainder of our journey, Grochowski shared tales of the rivalling Moravian and Lutheran churches in the village (the steeples of both are prominent in the photo of the village above); the village's first schoolhouse (now a museum); and the stories behind numerous resorts, including the Hillside Waterfront Hotel, initially built as an affordable alternative to more all-inclusive resorts, but now among the most luxurious stays in the village.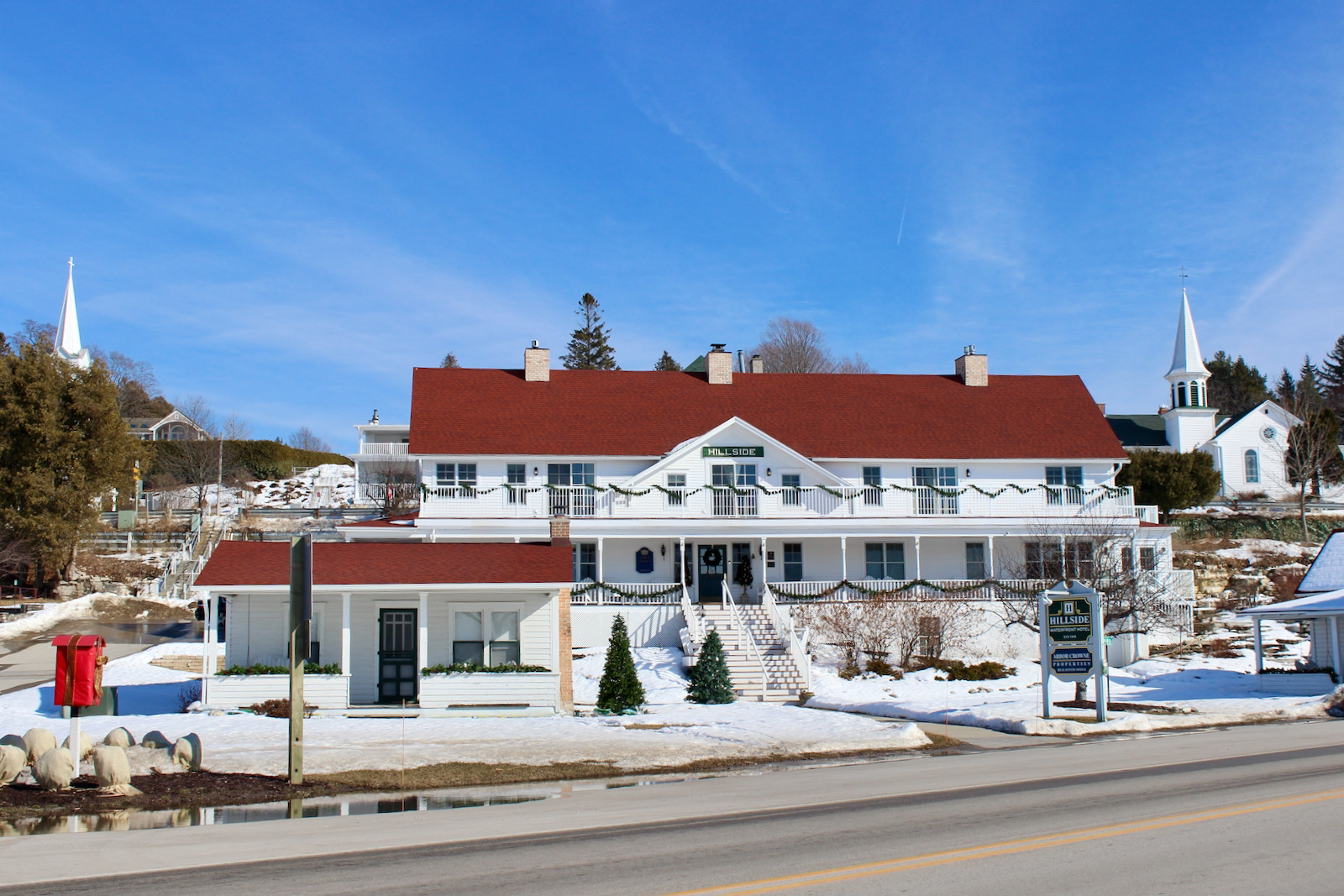 We peeped one of the oldest buildings in the village, a residence that also served as the first location for Wilson's Restaurant & Ice Cream Parlor, an iconic Ephraim staple since 1906 that's since become known for its flame-broiled burgers and house-brewed rootbeer (current building pictured below).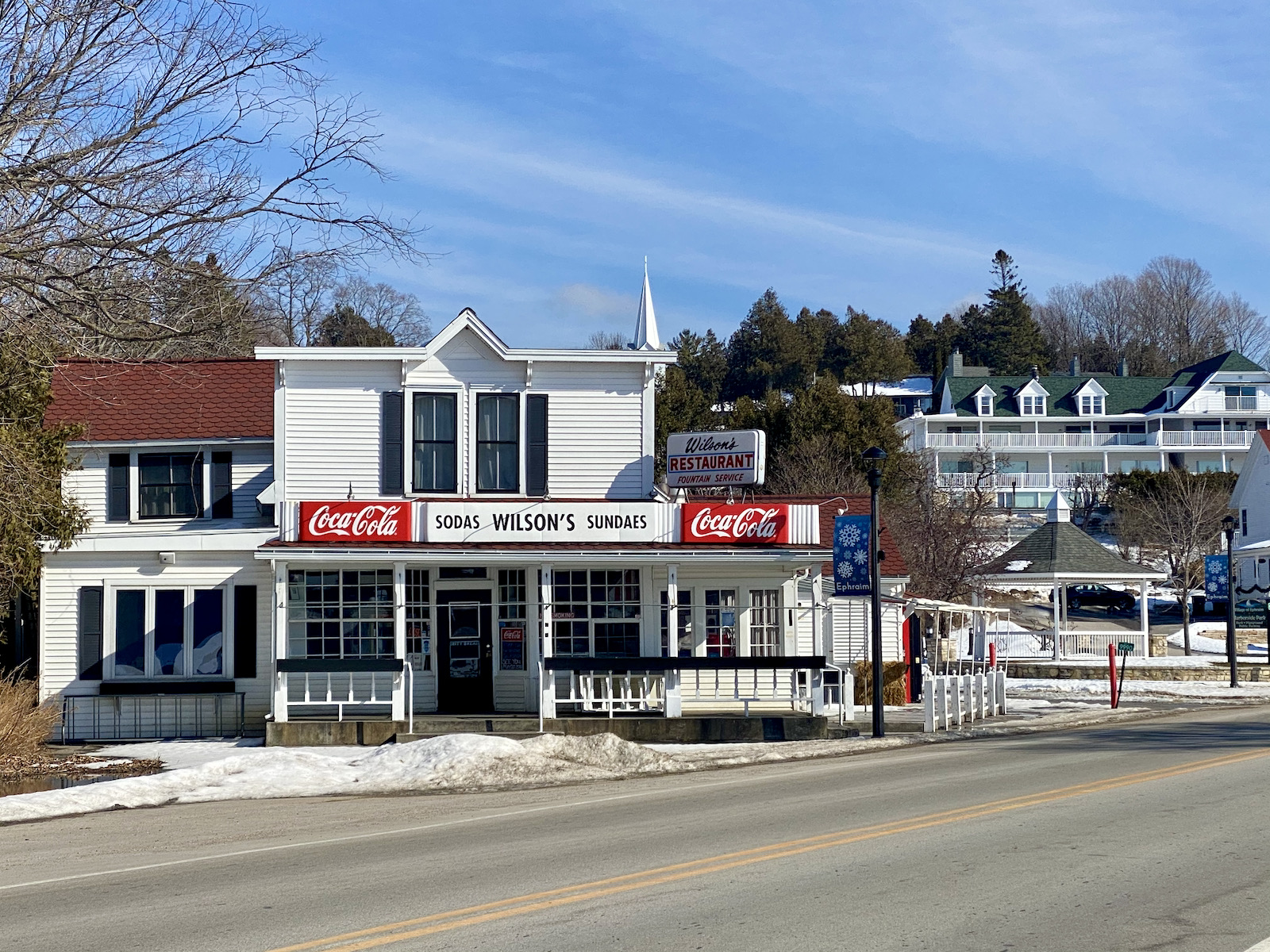 And yes, we learned the story of Ephraim's history as a dry village. It remained, in fact, the last dry dry town in the State of Wisconsin until 2016, when a referendum was passed to allow the sale of wine and beer. The first beer in Ephraim was sold at the Chef's Hat Restaurant.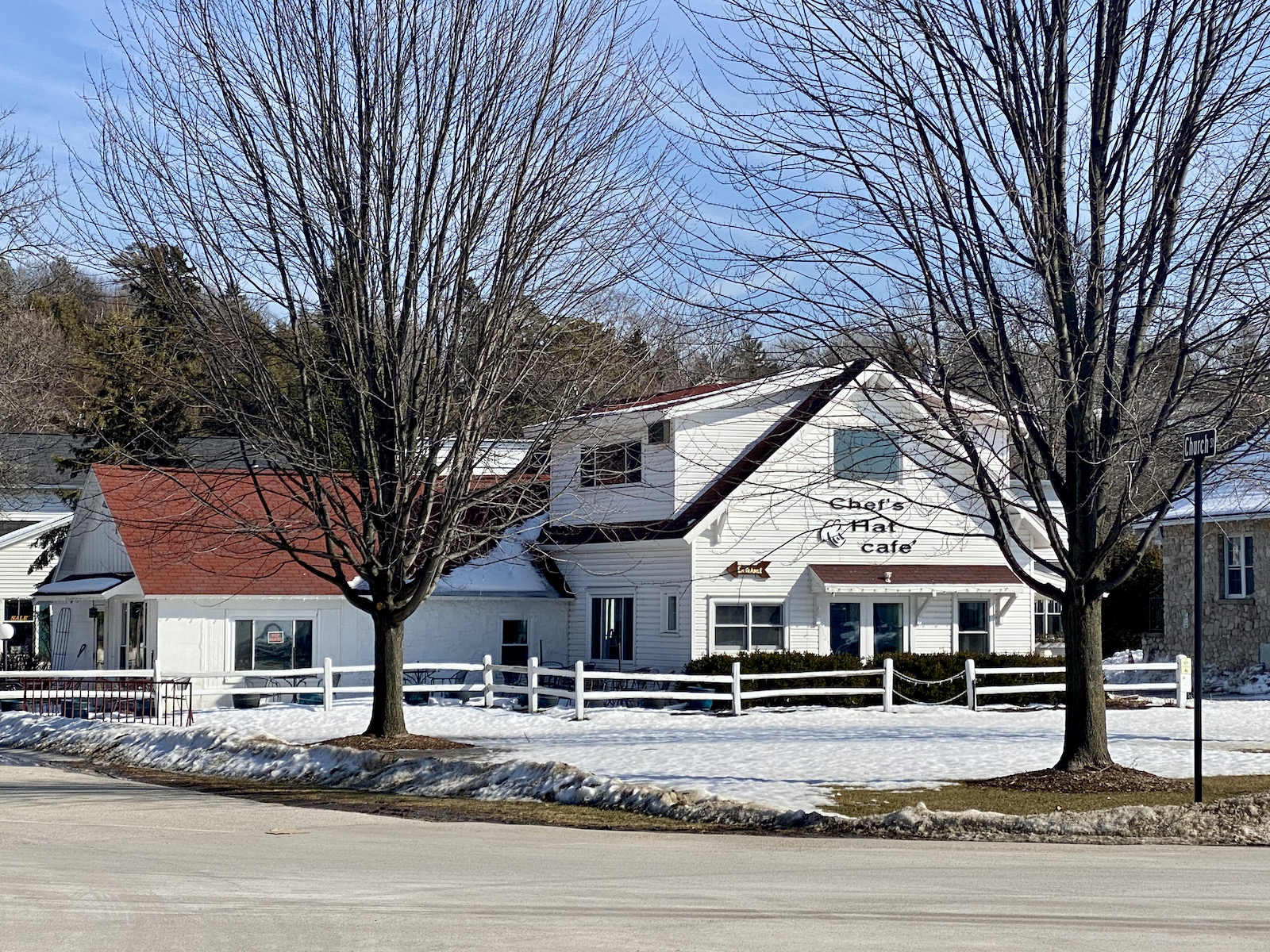 Brunch & beverages in Fish Creek
Fish Creek provides much in the way of offerings, from its picturesque shoreline to its walkable shop-filled downtown filled with historic structures that hearken back to the 1860s when the village served as a booming port for the fishing and lumber industries.
A great example is the Whistling Swan. The oldest operating inn on the peninsula, the building itself was constructed in 1887 in Marinette, Wisconsin. In 1907, it was ambitiously moved across the ice of Green Bay by teams of horses. Today it's part of the Welcker Historic District, listed on both the State and National Historic Registers. Since 2003 the Inn (and its accompanying restaurant) has been operated by owners Bill and Michelle Tressler, names which might sound familiar if you are fans of Green Bay's Hinterland Brewery.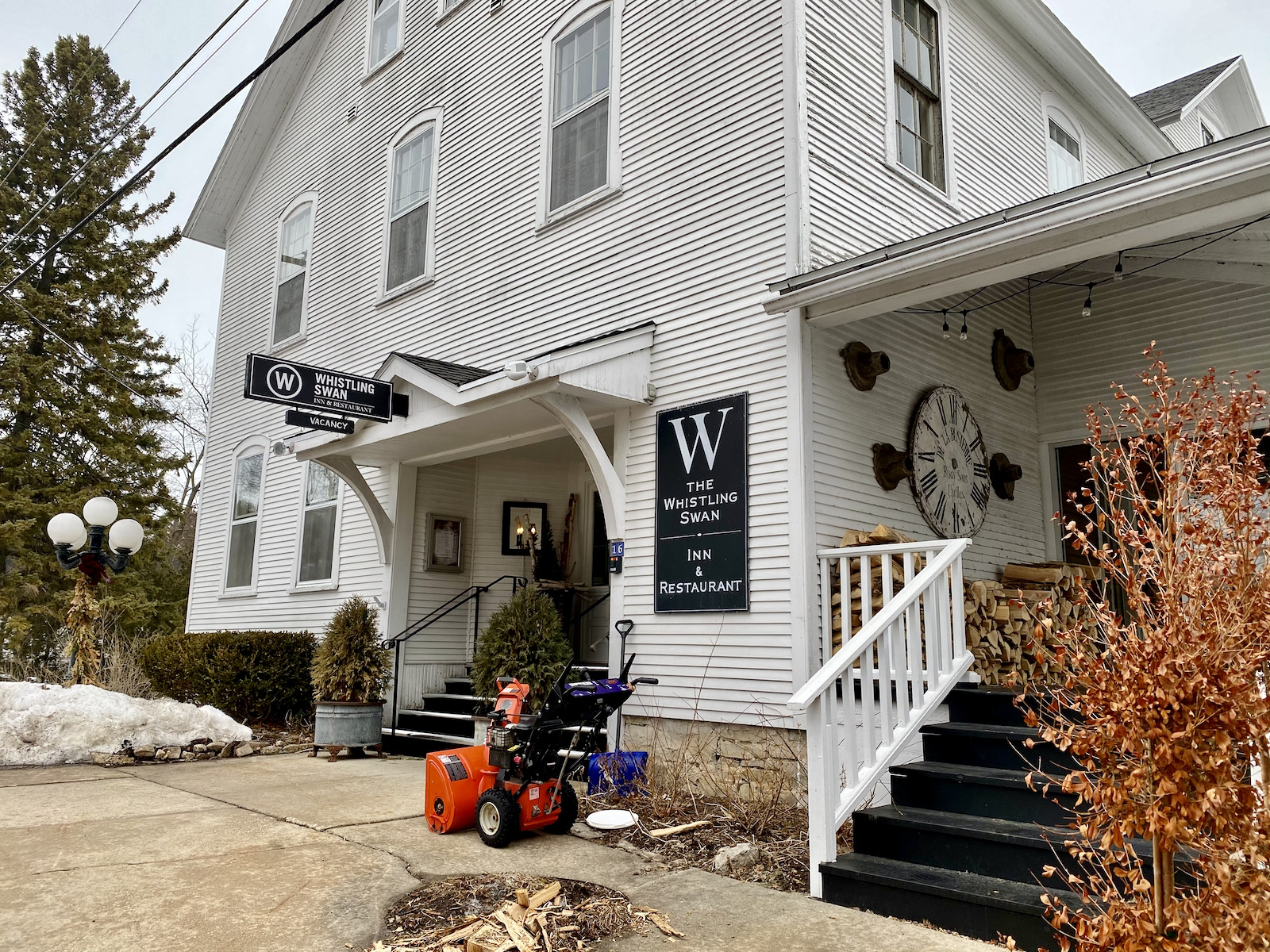 Not only is the cozy 56-seat restaurant among the county's finest – known for top notch seasonal new American cuisine – it's also among a precious few places across the peninsula to offer brunch, a surprising fact considering the growing number of eateries that have sprung up in the area over the past decade.
You'll only find the leisurely meal on Sundays; but that might be a fact that makes the offering even more beloved (and likely crowded during tourist season). Overall, it's a beautiful place to dine, with areas outfitted with a combination of rustic and modern chic touches. And its menu is exactly what you'd expect: seasonal, expertly prepared and delicious.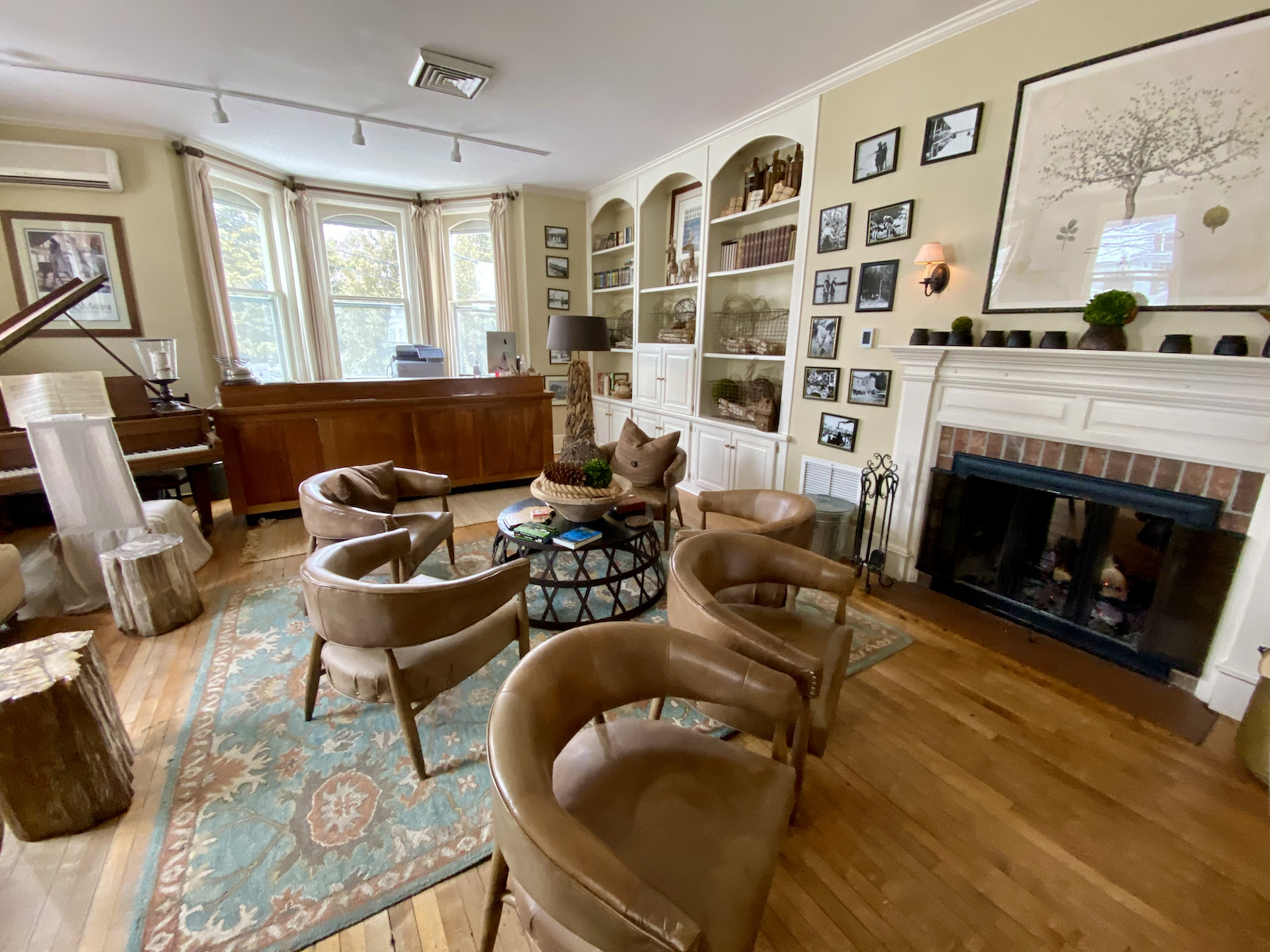 On our trip, we made a reservation for late morning, catching the end of an older breakfast-inclined crowd and the start of a younger rush of guests looking for brunch cocktails and hangover cures.
You'll find a cadre of brunch drinks, from a Michelada made with Hinterland pilsner to a classic mimosa. But we opted for cups of coffee and glasses filled with the refreshing Cherry Thyme, a refreshing eye-opener that seemed befitting of a Door County trip with brut, tart cherry juice and fragrant thyme.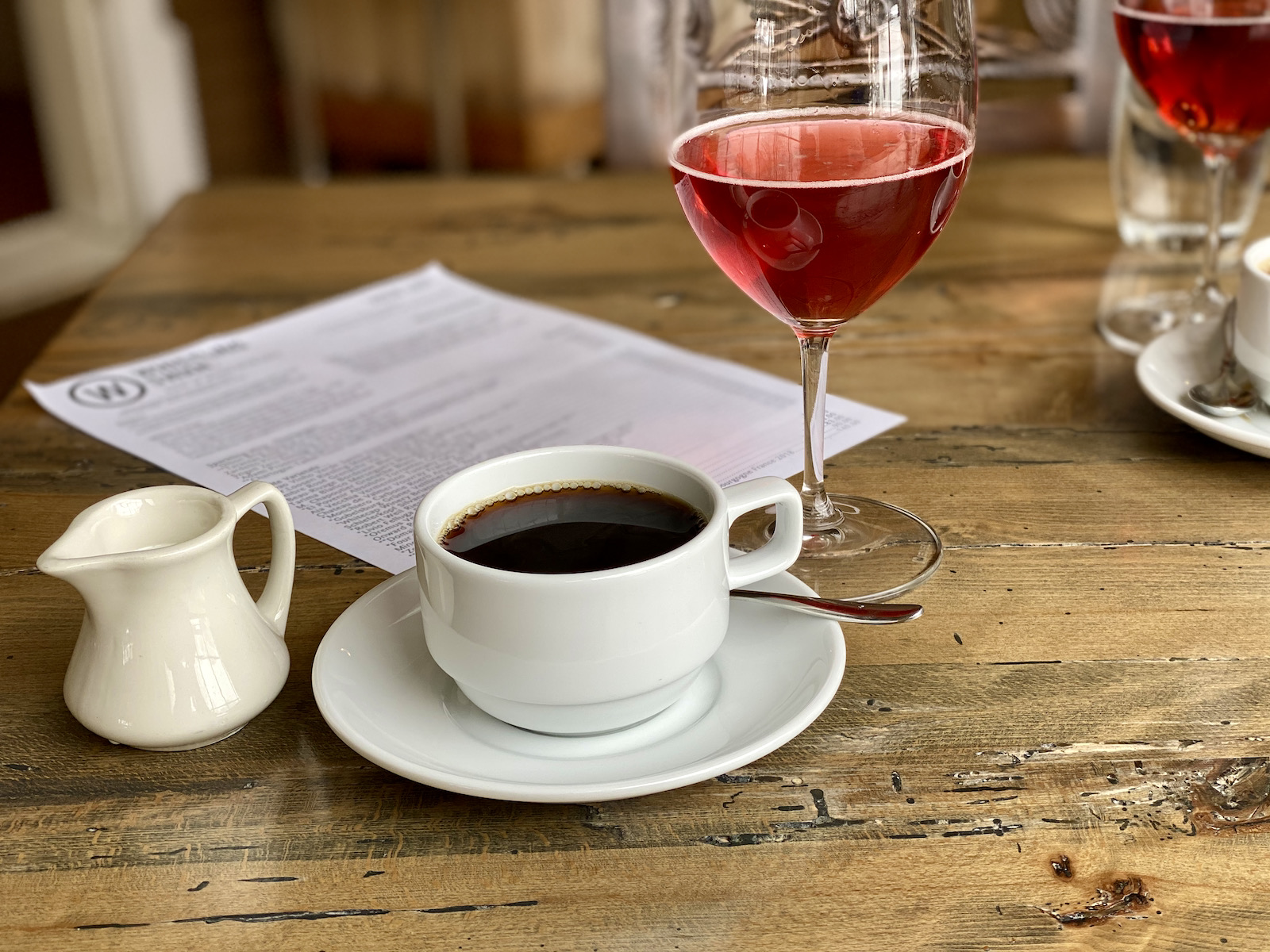 An updated classic eggs benedict featured tender prosciutto, roasted potato and poached eggs served atop English muffins with some of the most well-executed hollandaise I've enjoyed in some time.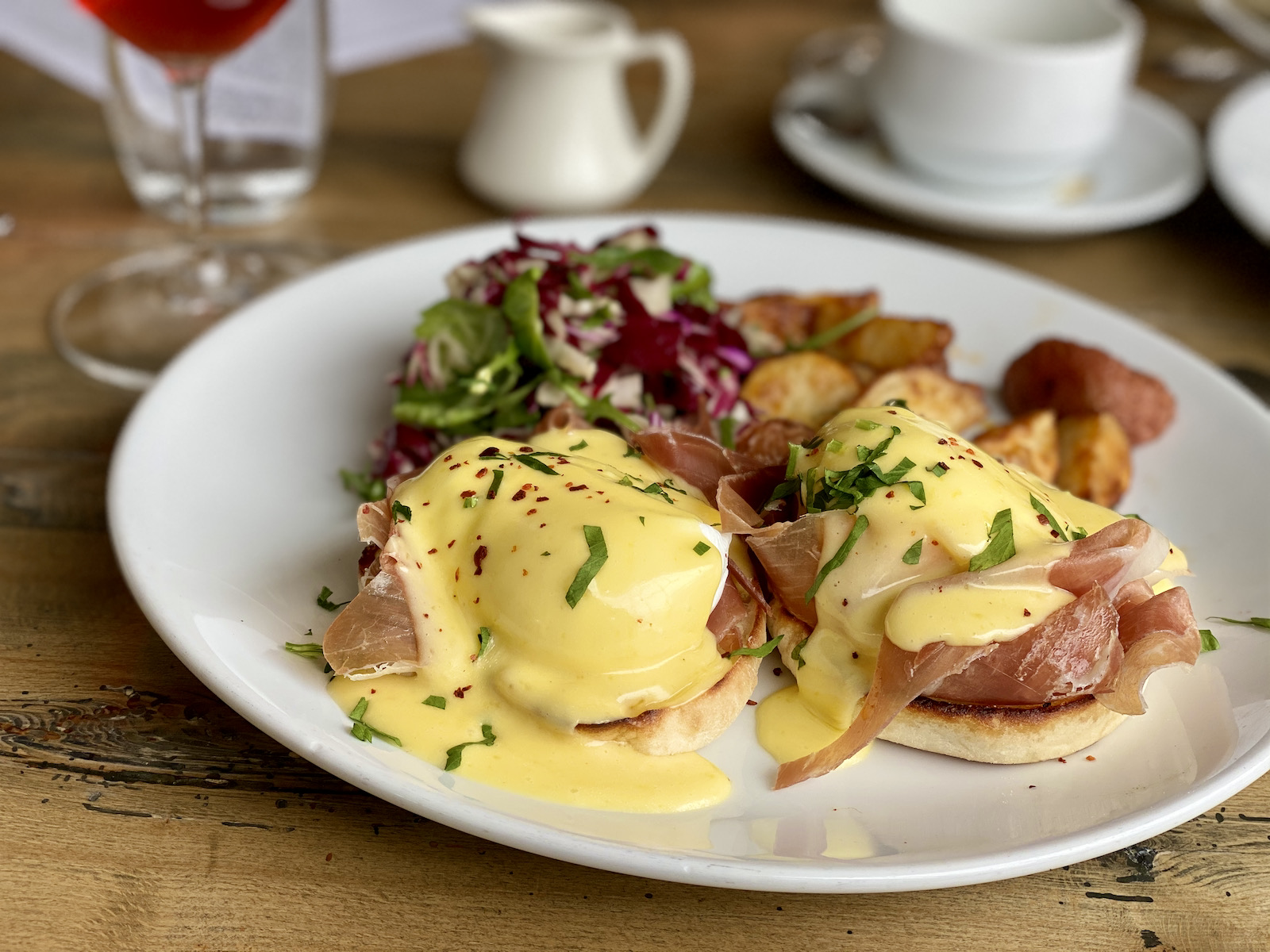 Steak and eggs was similarly sublime with 4 ounces of perfectly grilled tenderloin, a choice of egg (over-easy) and beautifully crisp breakfast potatoes.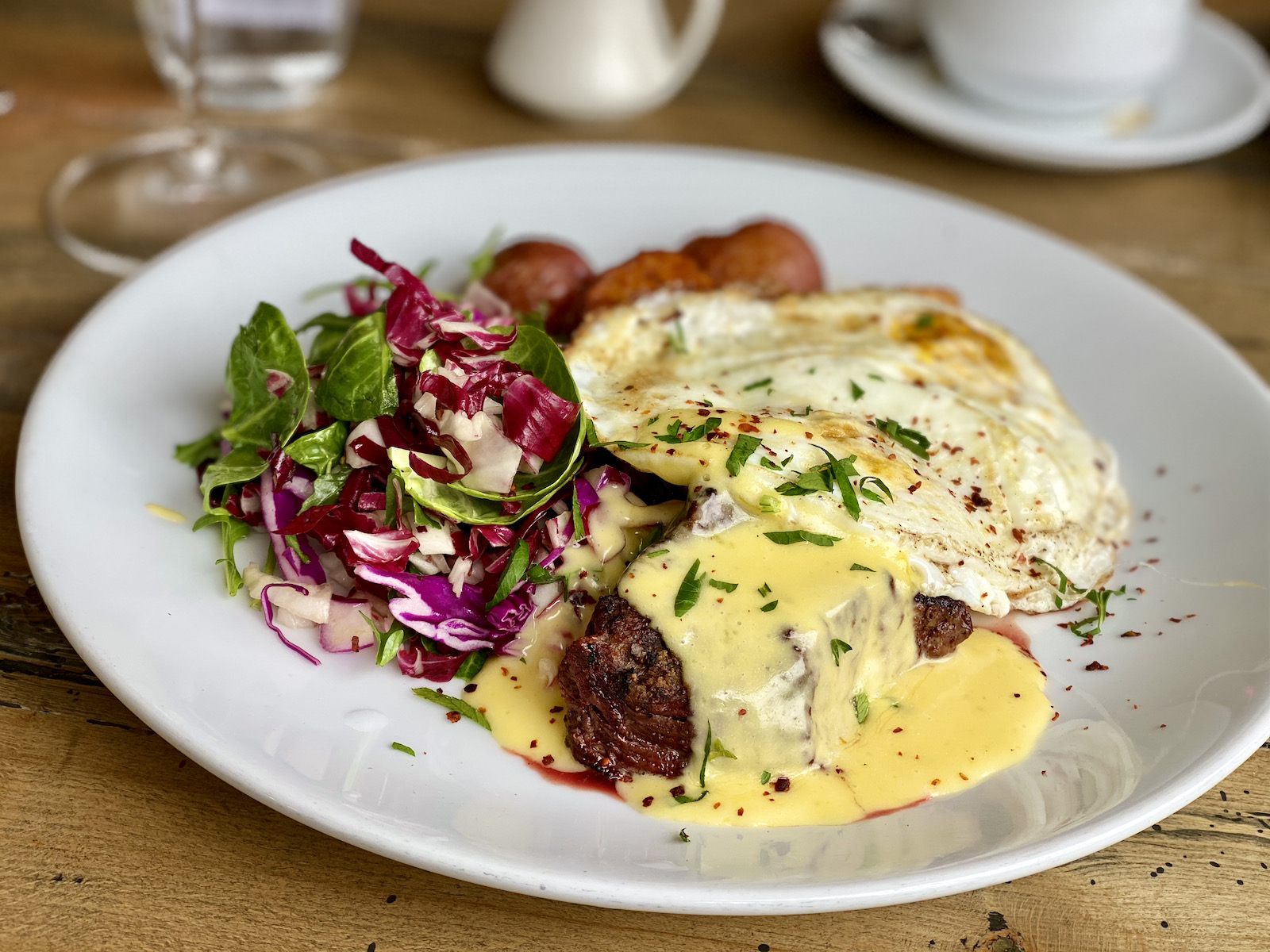 We also managed to scoop up the very last housemade chocolate glazed cake doughnut topped with almond crunch. And yes, we were very glad we did.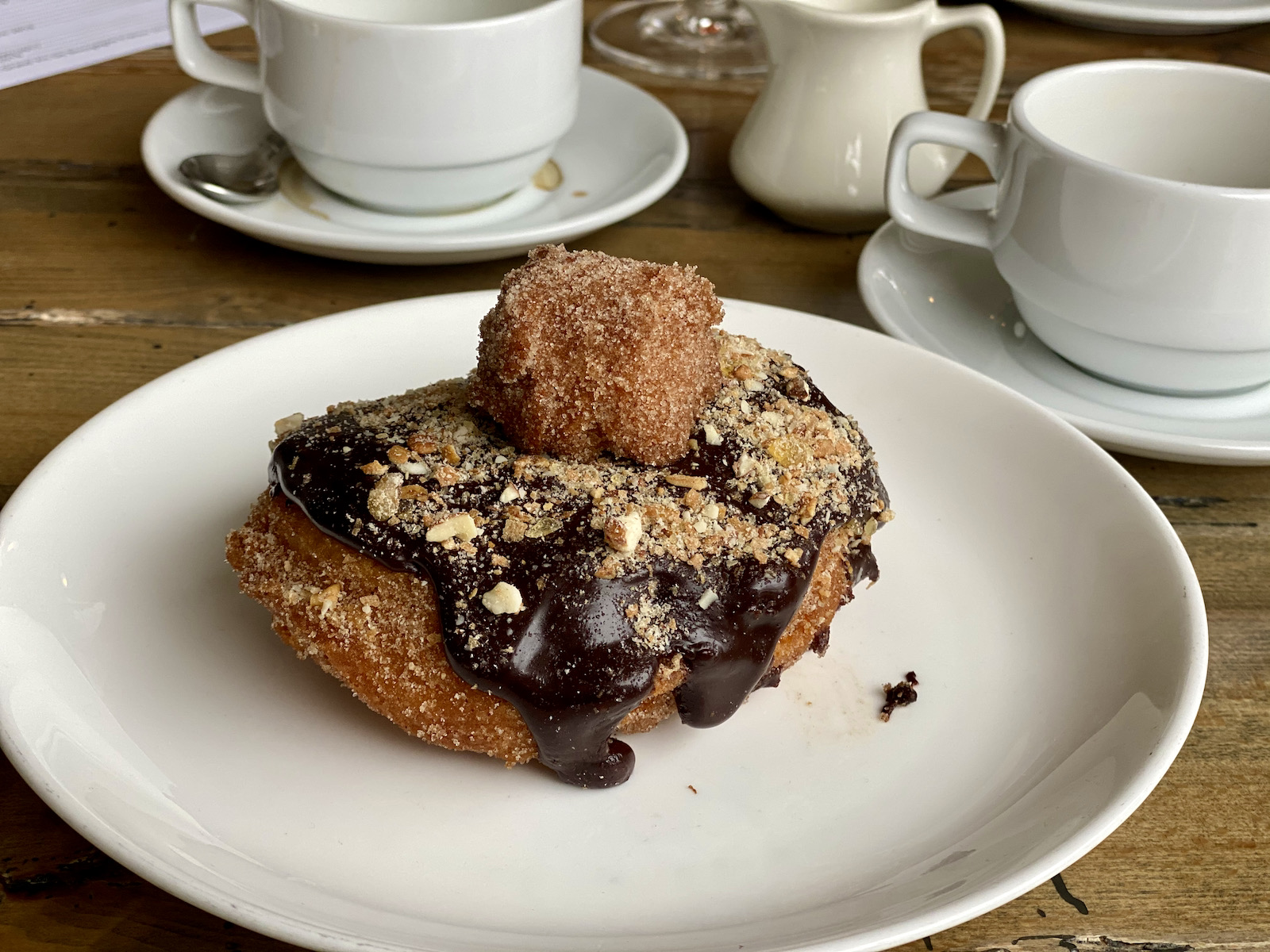 While in Fish Creek, we also paid a visit to Lautenbach's Orchard Country Winery & Market, a popular destination, particularly during cherry season when the orchards are filled with fresh Montmorency cherries. And – even in winter – you'll still find an abundance of cherries (albeit frozen) and cherry-related products at the family owned and operated market.
But we weren't there for the cherries. I'd heard good things about the progress at their on-premise winery, so I was eager to pay them a visit.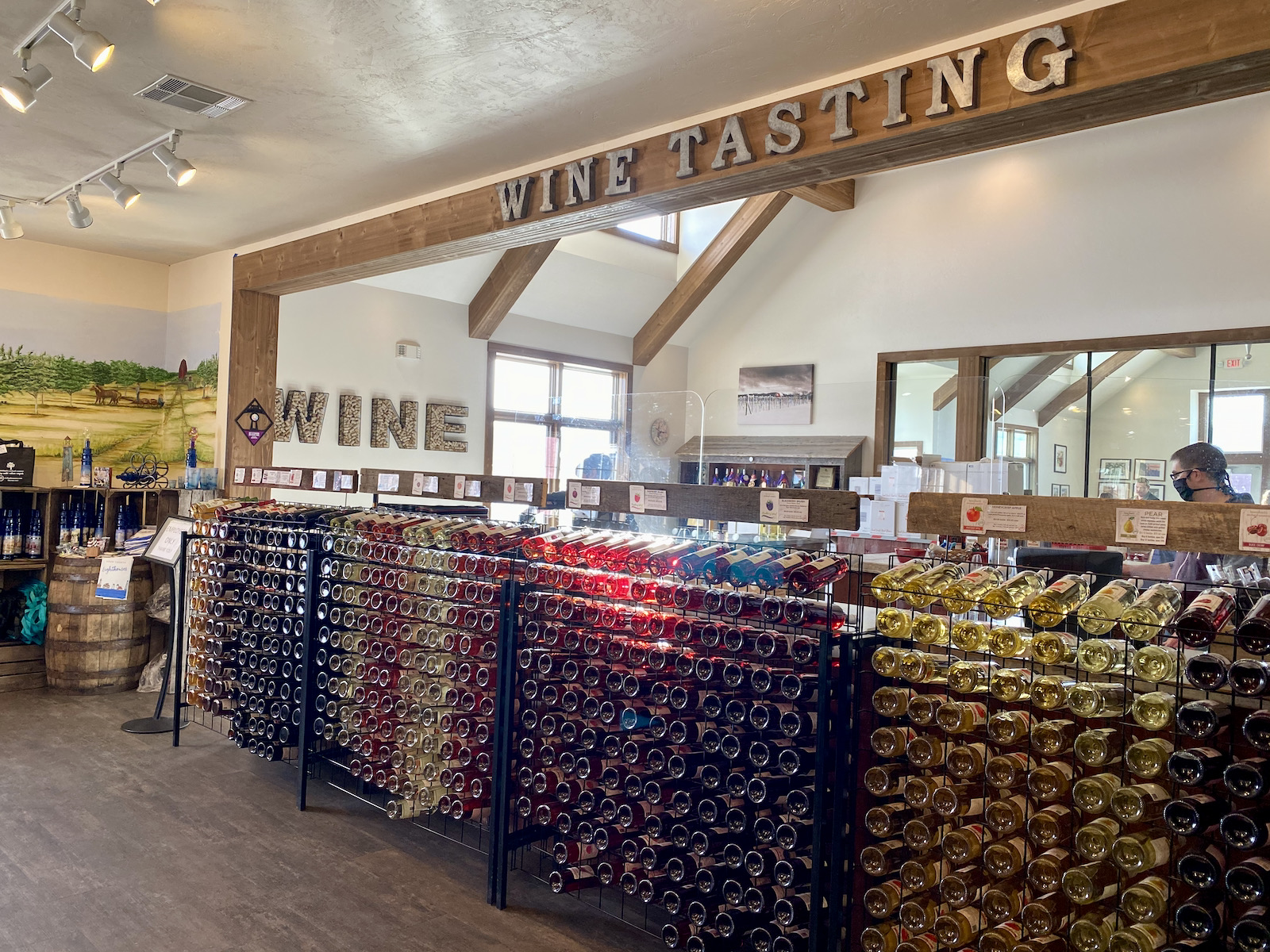 The business, which started with a small farm now occupies 100 acres of land, which bears apples, cherries, pears and multiple varieties of grapes, including hybrids like Marquette developed by UW-Madison and the University of Minnesota bred specifically for the Wisconsin climate.
The winery produces fruit wines, fruit-enhanced grape wines and fruit ciders produced under the Door County Cider Co. label. According to Carrie Lautenbach-Viste, who grew up in the business, the winery veers towards a more modern style, with most wines aged in stainless steel and the aim of creating the best fruit flavored wines possible.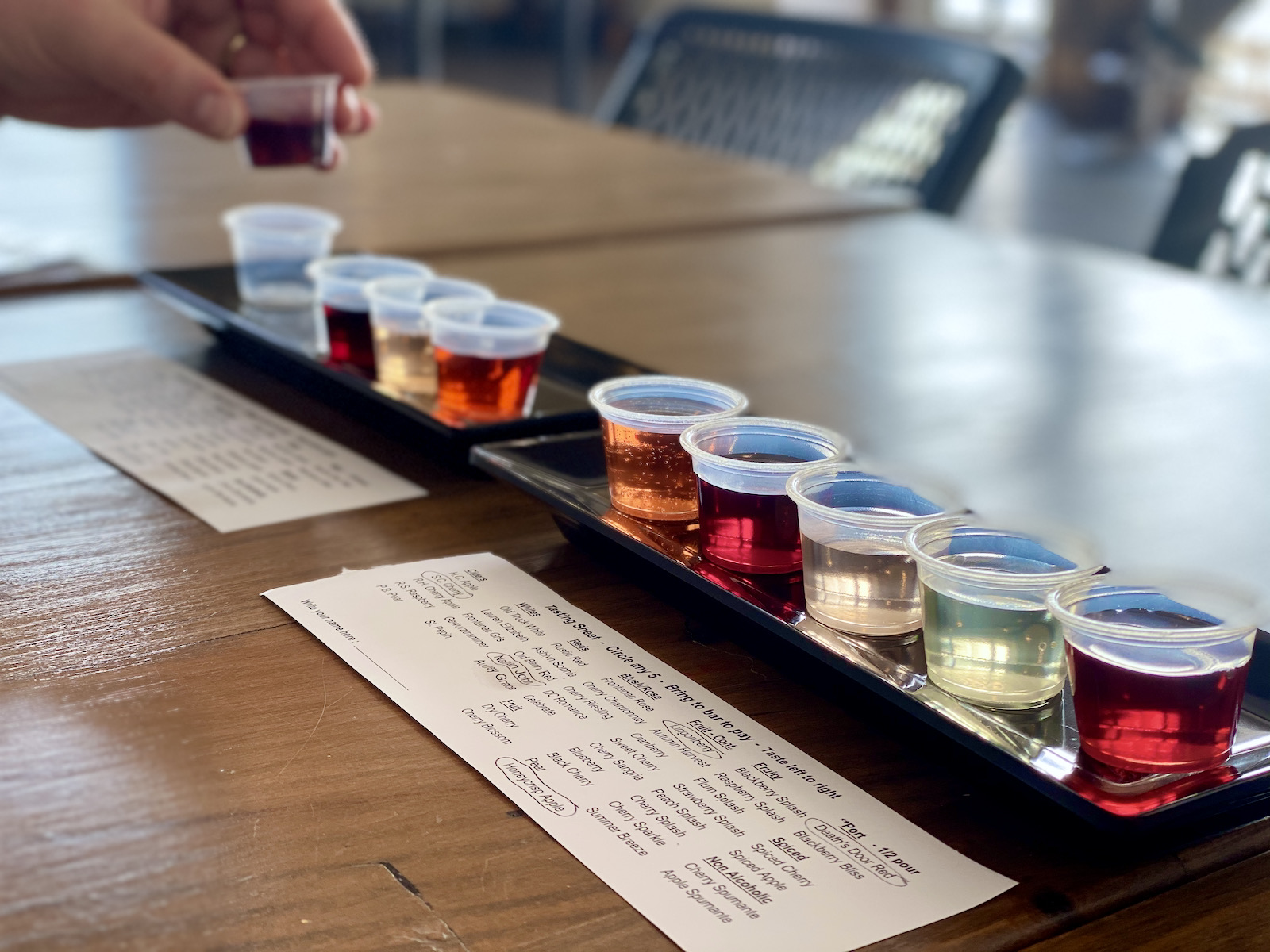 Taste through a variety of Lautenbaach wines and you'll find profiles from dry and semi-dry to sweet. Estate grown grapes produce wines that bear the names of the family's grandchildren, including Nathan John, Lauren Elizabeth, Audrey Grace and Ashlyn Sophia.
We tasted through a wide range of wines and ciders, and I found a number I liked enough to purchase including the Lauren Elizabeth, a semi-dry, fruit forward blend of La Crescent grapes and Honeycrisp apples (much like dryer ciders, it will be great with seafood); and Stone Cold Cherry Cider, a beautiful all-cherry cider with a semi-sweet finish that was a delight to drink.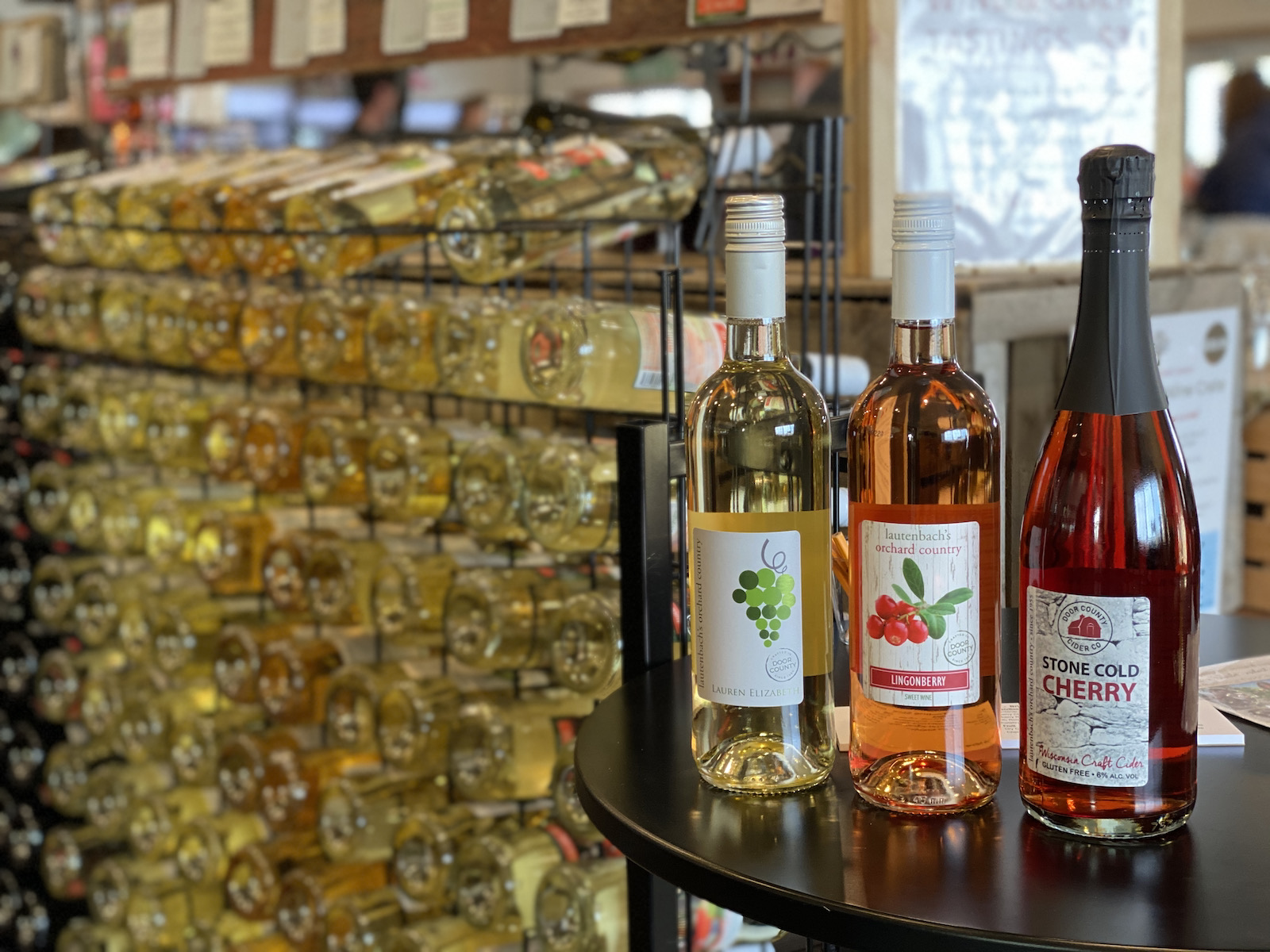 I also bought a bottle of Lingonberry wine, a surprisingly earthy find that's semi-sweet, but intriguing with a flavor complex enough that I suspect it would be delicious incorporated into a cocktail. It's also a beautiful nod to the peninsula's Scandnavian roots.
Star-gazing in Ellison Bay
The tiny unincorporated village of Ellison Bay is a Danish settlement located on the Northern tip of the peninsula. The quaint town is home to a number of worthy gems, from the historic Wickman House, Island Orchard Cider (known for their French style ciders) and The Clearing Folk School, a creative hub focused on life-long learning which offers retreats, workshops and classes focused on creative arts, poetry and writing, nature and philosophy.
It's also home to Newport State Park, Wisconsin's only wilderness-designated state park The park also has the distinction of being Wisconsin's first designated International Dark Sky Park, offering a perfect setting for stargazing on clear nights.
There are three main arrears designated for optimal viewing in the park, including both meadow and lakeside views. On our trip, we headed to Newport Bay. Despite the cloudy skies, which obscured most of the stars, there was magic to be found in hiking along the snowy trail to the lake and tracking the bright moon against the black waves and the uneven grass and sand-covered beach.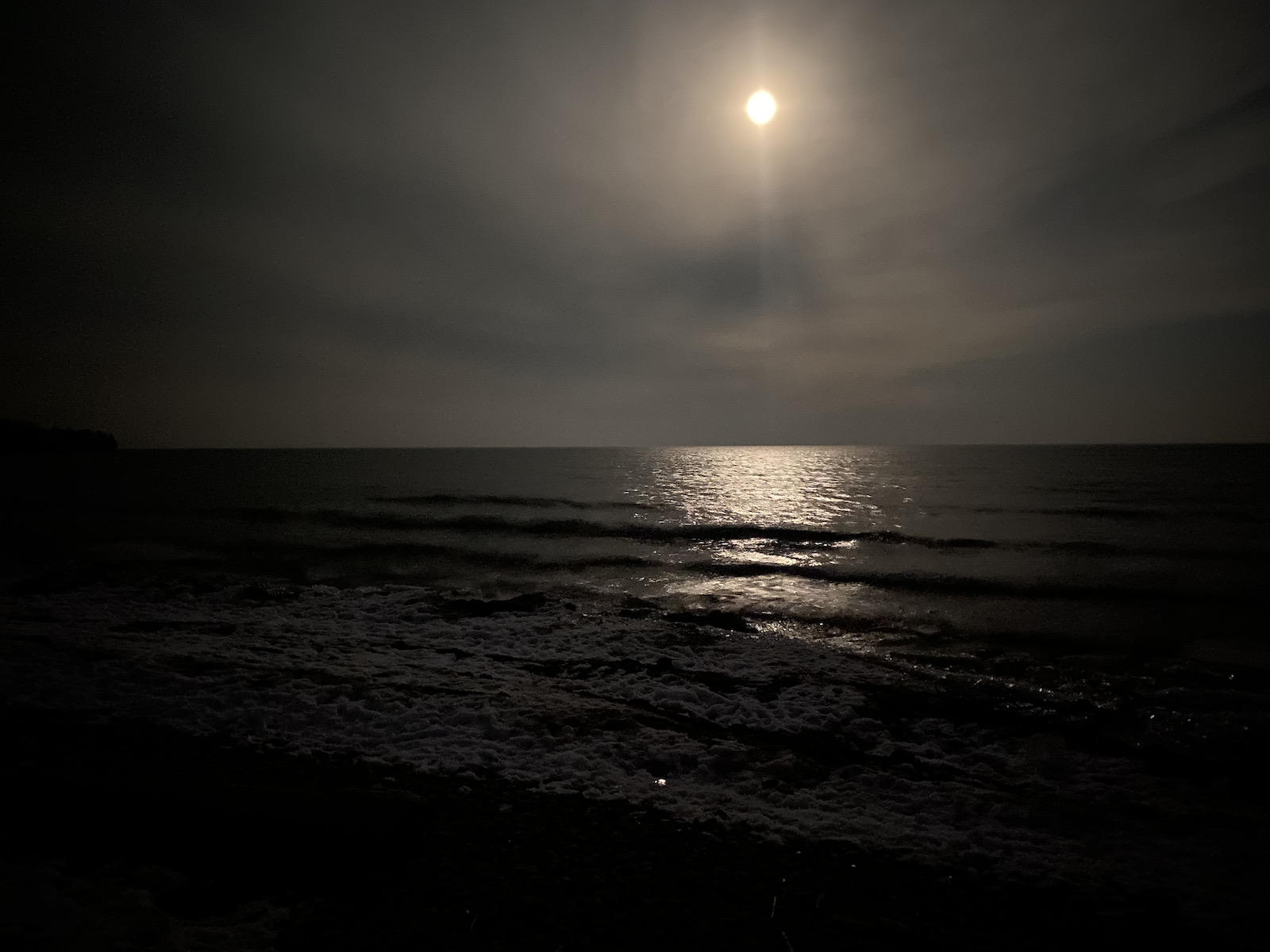 Traversing terrain in Bailey's Harbor
On past trips, Bailey's Harbor has always been a stop for food and crafty beverages. I always make a pilgrimage to Bearded Heart Coffee, which has one of my all-time favorite lattes, A visit to the locally-focused Heirloom Cafe & Provisions always provides something new and interesting to try, especially at the height of the summer harvest season. Meanwhile, a trip to Door Co. Brewing, where you can sample brews and (in non-pandemic times) catch live music, is always worthwhile.
But this time, I visited the wilder Lake Michigan side of the peninsula to roam the frozen tundra of Wisconsin's oldest nonprofit nature preserve, The Ridges Sanctuary. The 1,600-acre natural preserve and land trust is a designated State Natural Area and home to 5 miles of rustic trails that showcase the series of 30 ridges and swales formed by the ever-changing coastline of Lake Michigan.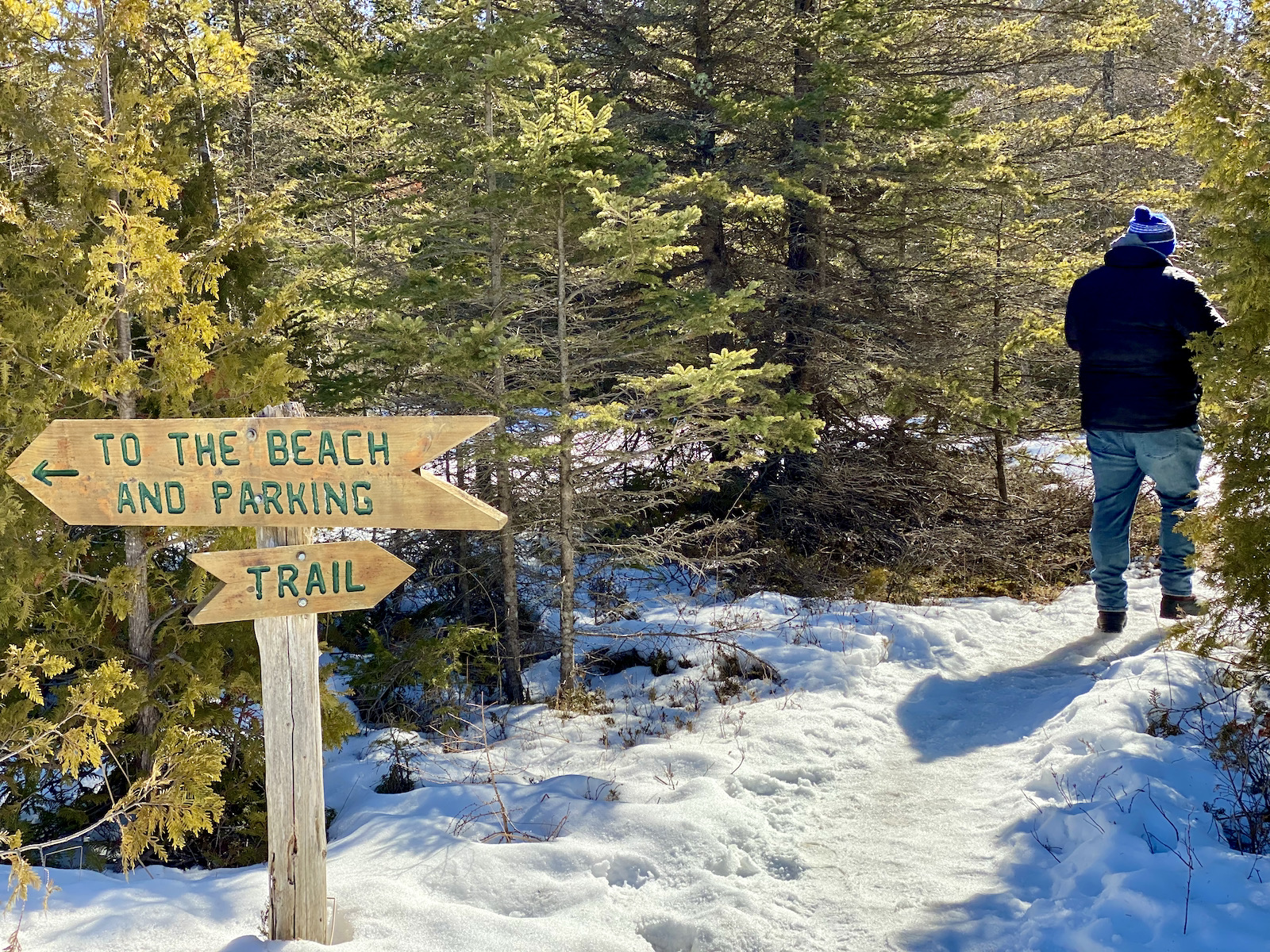 The sanctuary is also home to two historic range lights, which (much like lighthouses) helped guide ships into Bailey's Harbor. Built in 1869, both lights are easily accessible via wooden footbridges that lie along more rustic hiking trails, giving you lots of options in terms of how far you hike and the type of terrain you see.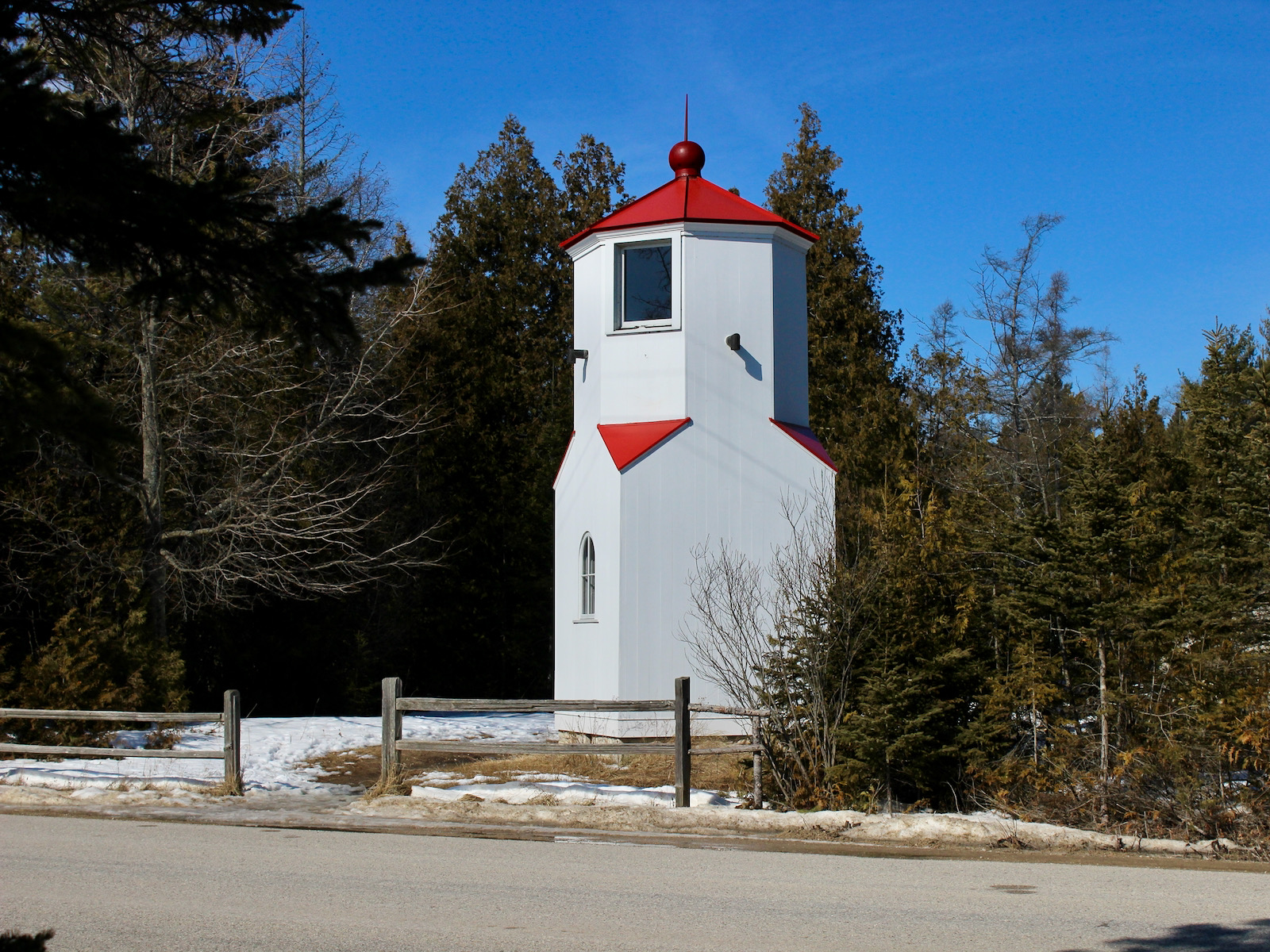 Venture through the picturesque wooded trails via any number of routes and you'll eventually reach the Lake Michigan shoreline, where you'll find a hauntingly sparse landscape and waves crashing against rocks and the last of winter's ice.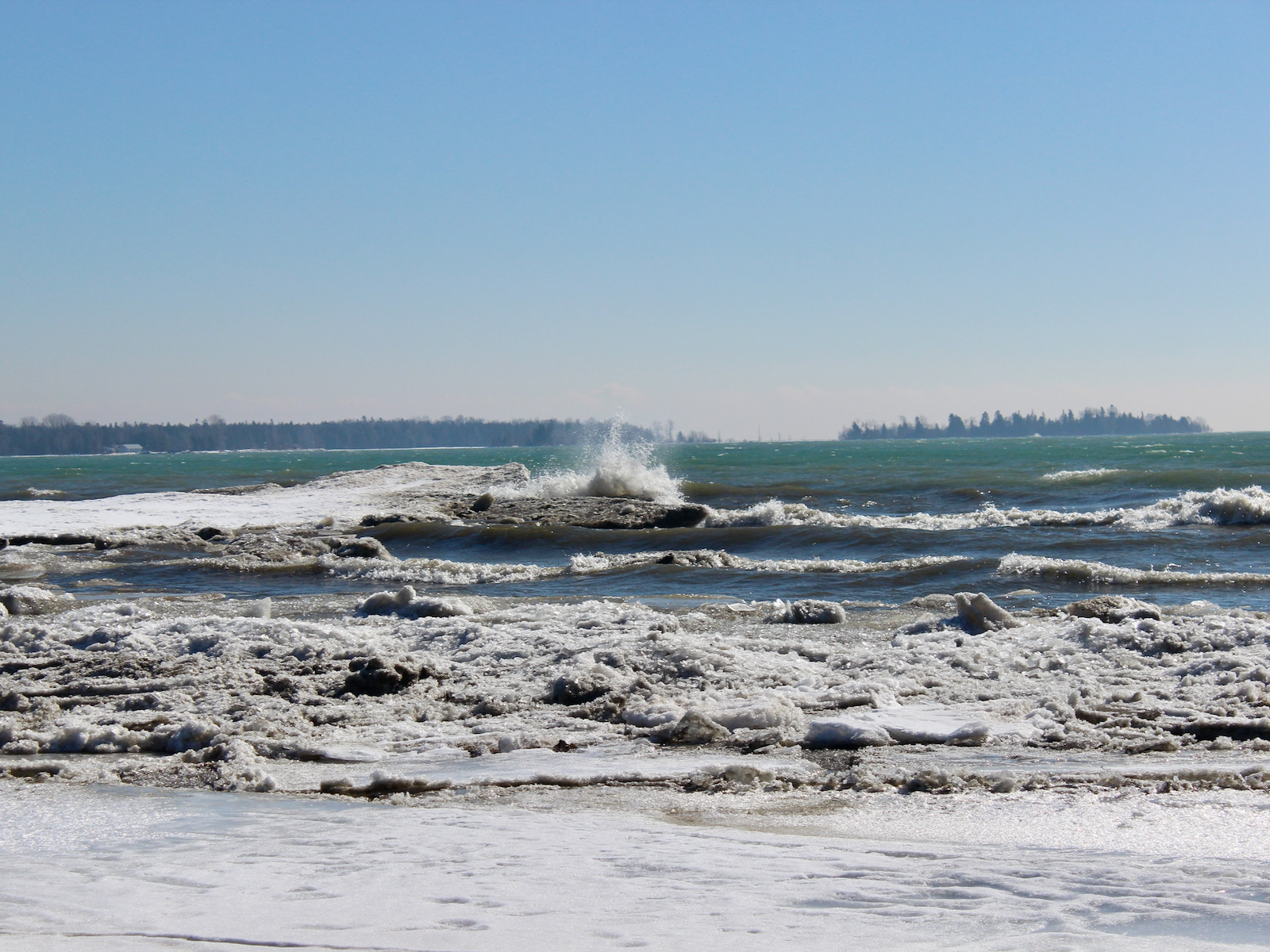 Wine & waves in Sturgeon Bay
Named for the long, fish-shaped bay along its border, Sturgeon Bay has been long recognized as a world-renowned shipbuilding hub. That's largely thanks to the canal that was built to link Sturgeon Bay to Lake Michigan, providing a safer passage than the former Death's Door strait (infamous for its storied shipwrecks). And while boats and water are both undercurrents in this developing town, it's also a hub for shopping, dining and music.
It's also home to the Door Peninsula Winery, the third oldest winery in Wisconsin, and Door County Distillery, a craft distillery which operates under the same roof.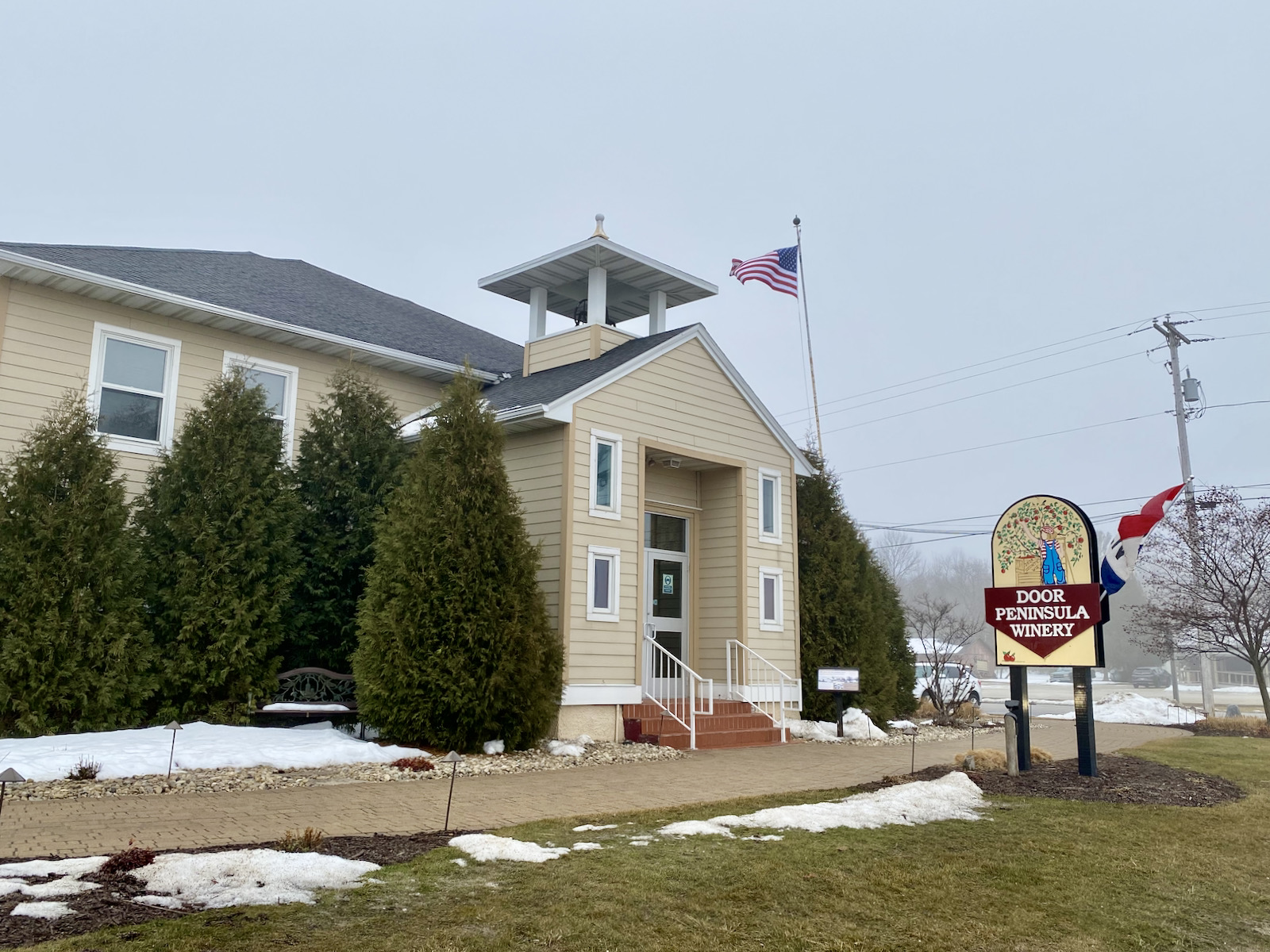 Take a tour and you'll learn much about the winery, which was founded in 1974 by Mark Fehls and Tom Alberts and established in a former two-room schoolhouse which dates back to 1868. The cool stone basement in the former school provided an ideal space for wine storage and production. It's also a locale which has become the source for many tales, including the paranormal, as illustrated in a 2020 episode of Haunted State, a Wisconsin-based docu-series, the first season of which focuses on sites in Door County.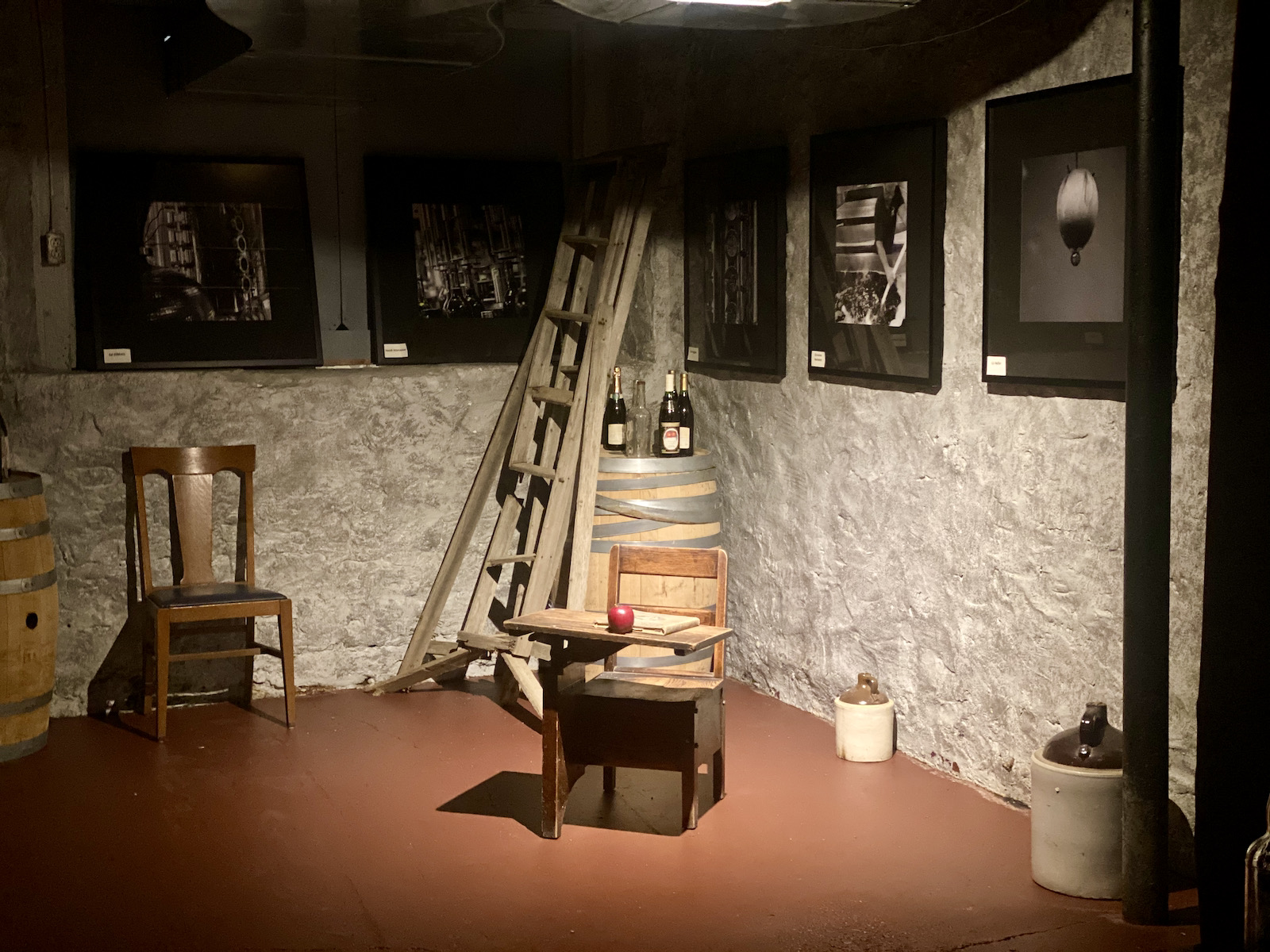 Initially, the winery focused on wines made from locally grown fruit including cherries and plums. But, as time went on, the winery's selection expanded. Under new owners Bob and Noreen Pollman, who purchased the winery in 1984, the winery began pioneering fruit and grape blends using grapes from California. Within the last decade, the winery has also embraced the use of Wisconsin-grown grapes including La Crosse, Marquette, St. Pepin, Marchal Foch and Itasca, which appear in blends like Radiance and Rose Soiree.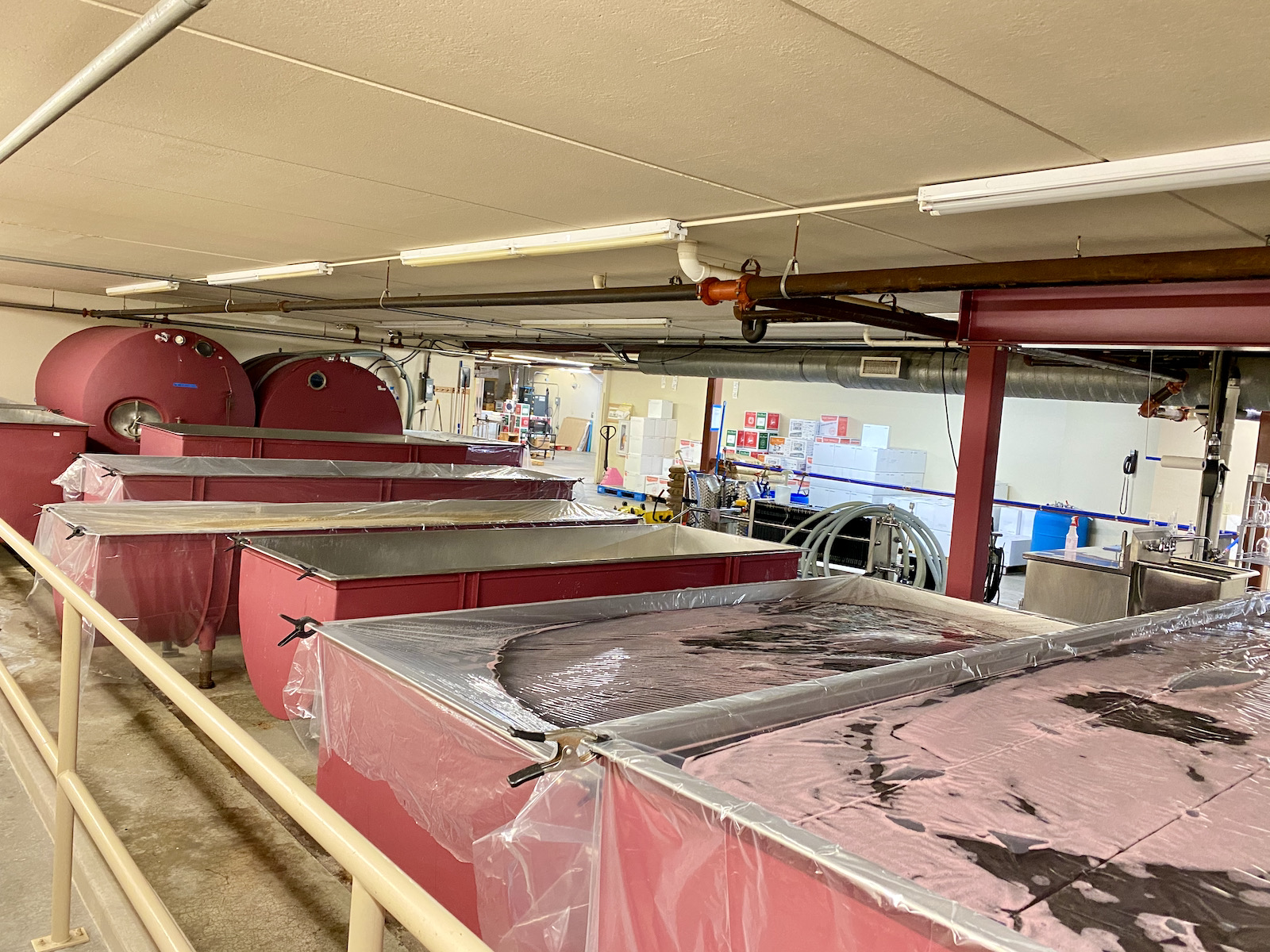 In fact, there are wines for just about every taste, from sweet fruity options like Plum Loco (plum cherry wine with a hint of watermelon) to semi-sweet Sinless (a light bright white with grapefruit and tropical notes) and dry, full-bodied Bourbon Barrel Cabernet. Be sure to try a selection of their apple-based ciders (cherry mimosa is very nice) and mead made with Door County wildflower honey, a product which showcases distinctive nuances based on the flowers the bees select for pollination.
Over the years, the winery has seen a variety of expansions, more than quadrupling its square footage in the past two decades, adding production space, a large retail shop and a tasting room. In 2011, they expanded to add a still, and Door County Distillery was born.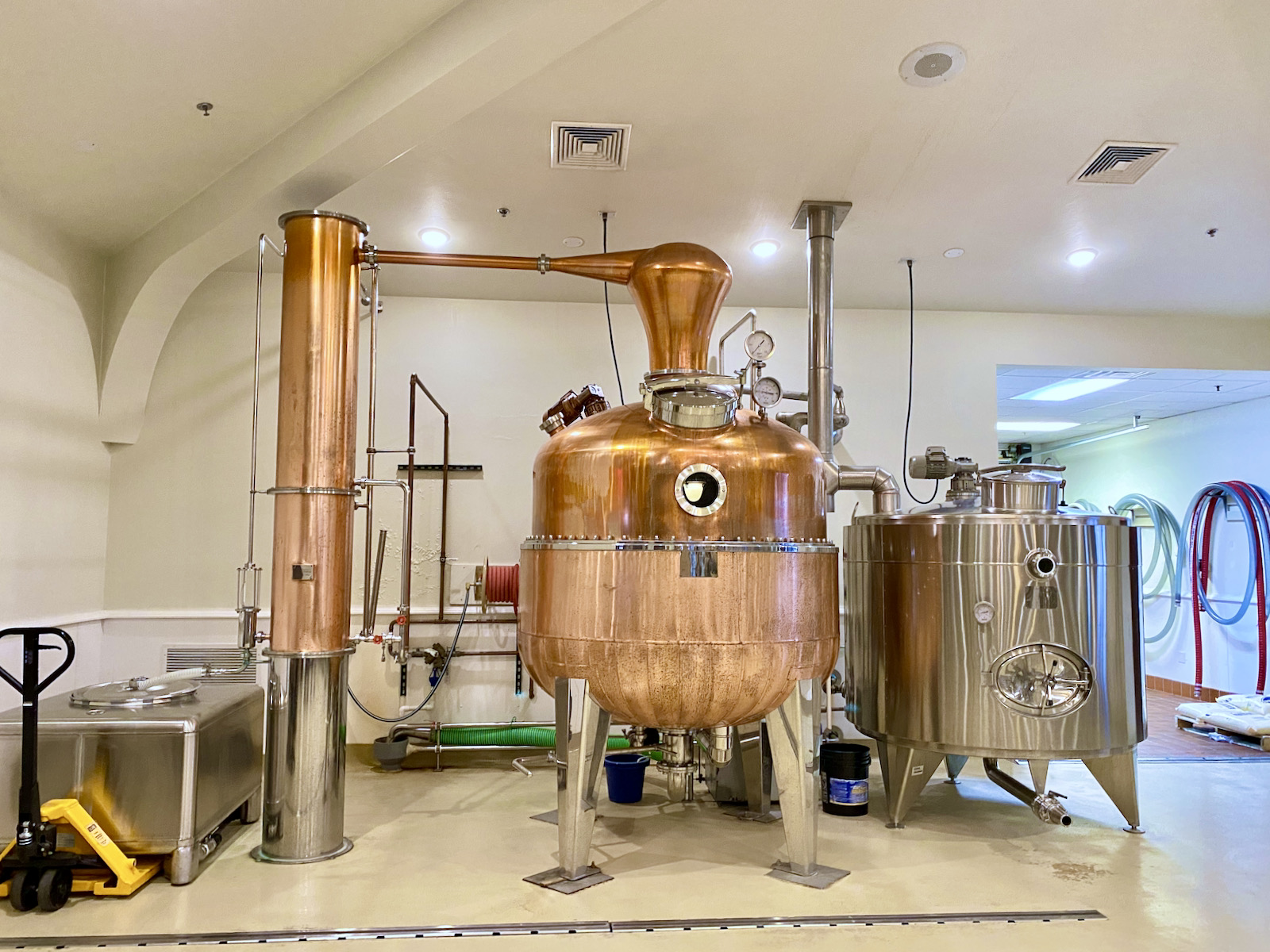 Today, the distillery produces 17 spirits including vodkas, brandies, rums, whiskey and 100-proof cherry moonshine. They also produce an award winning gin with a new world profile thanks to citrus, juniper and eight select botanicals; it's among my favorite locally-made spirits.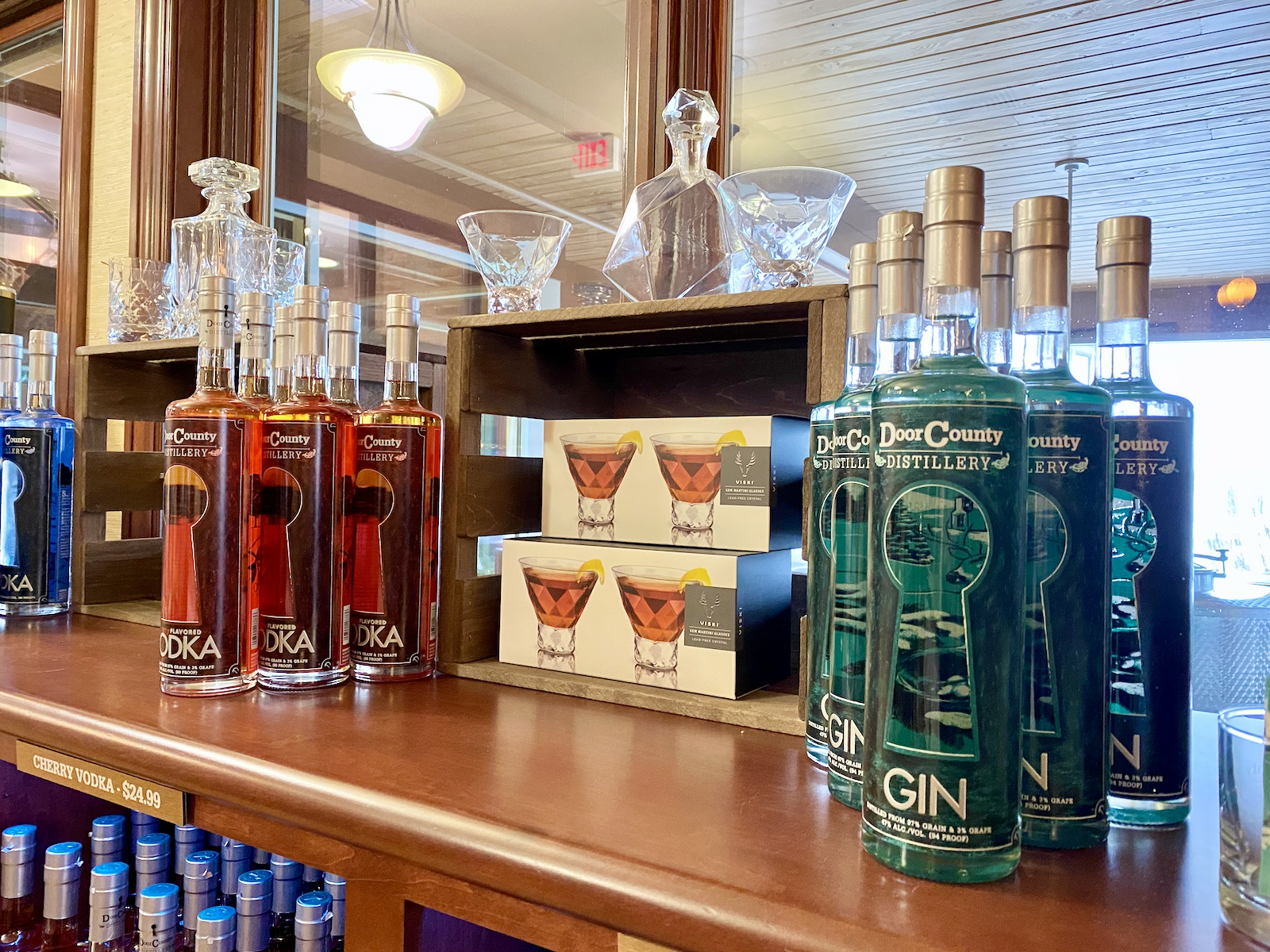 If, like me, you're intrigued by the idea of Wisconsin-grown grapes (and the potential for a fully realized Wisconsin industry), you won't want to miss a stop at Door 44 Winery, the sister winery of Green Bay's Parallel 44.
Both wineries are named with a nod to location, a latitude marker which infamously runs through world-renowned grape growing regions including Piedmont, Bordeaux, New York, Oregon and (yes) Wisconsin.
In fact, what many might not realize is that – from April to October – the area surrounding the 44th parallel in Wisconsin has nearly identical weather conditions to Bordeaux and Tuscany, providing ideal conditions for grapes varietals (provided they are able to withstand winter conditions).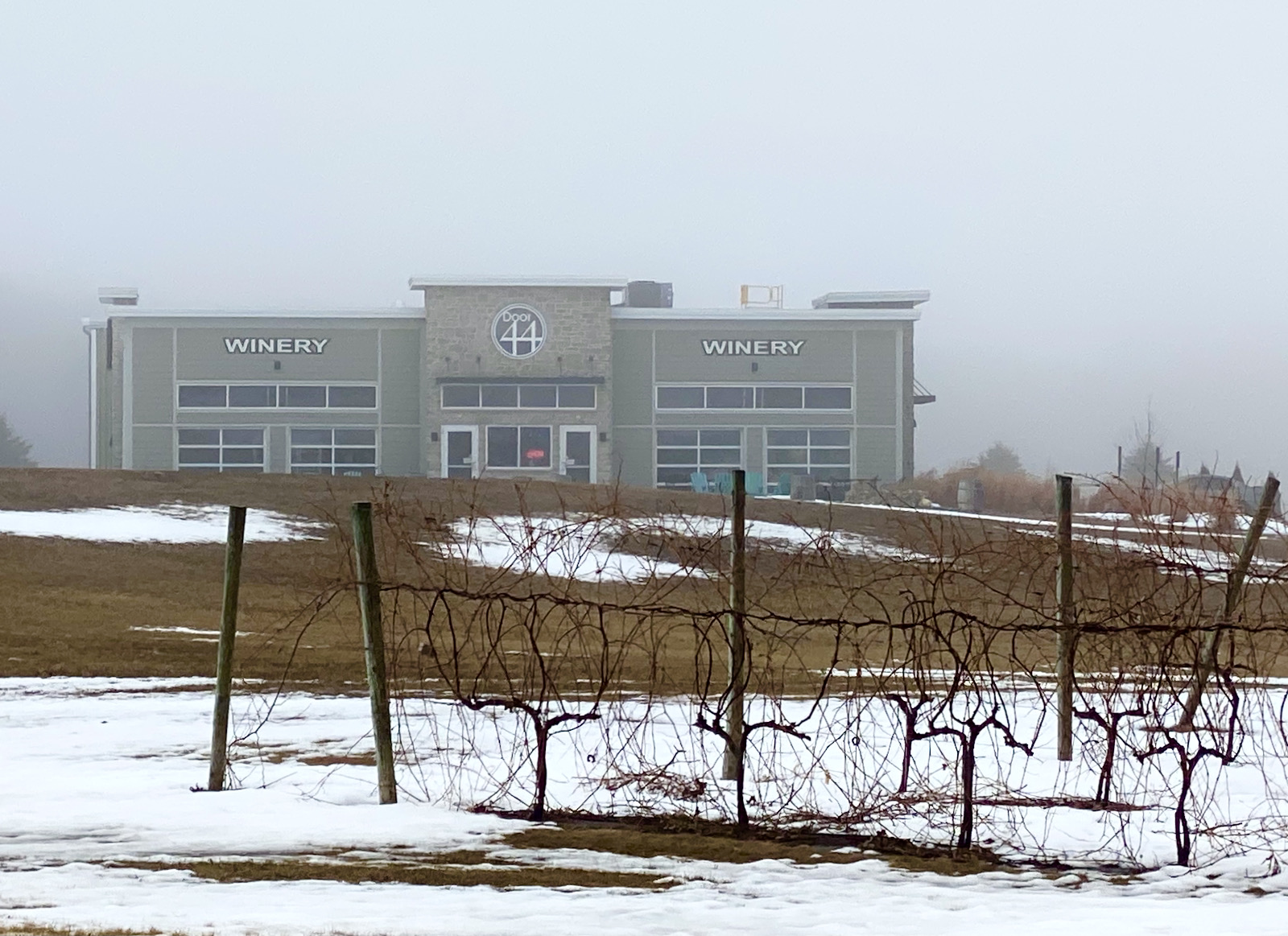 As a result, Door 44's husband and wife team, Steve Johnson and Maria Milano, operate with the goal of representing (and educating interested wine drinkers about) the Wisconsin wine industry and grape growing in the area.
In May of 2019, Door 44 moved its production from a smaller location about three miles to the south to a brand new facility that's beautifully situated against a six acre working vineyard which supplies some of the grapes used for wine making.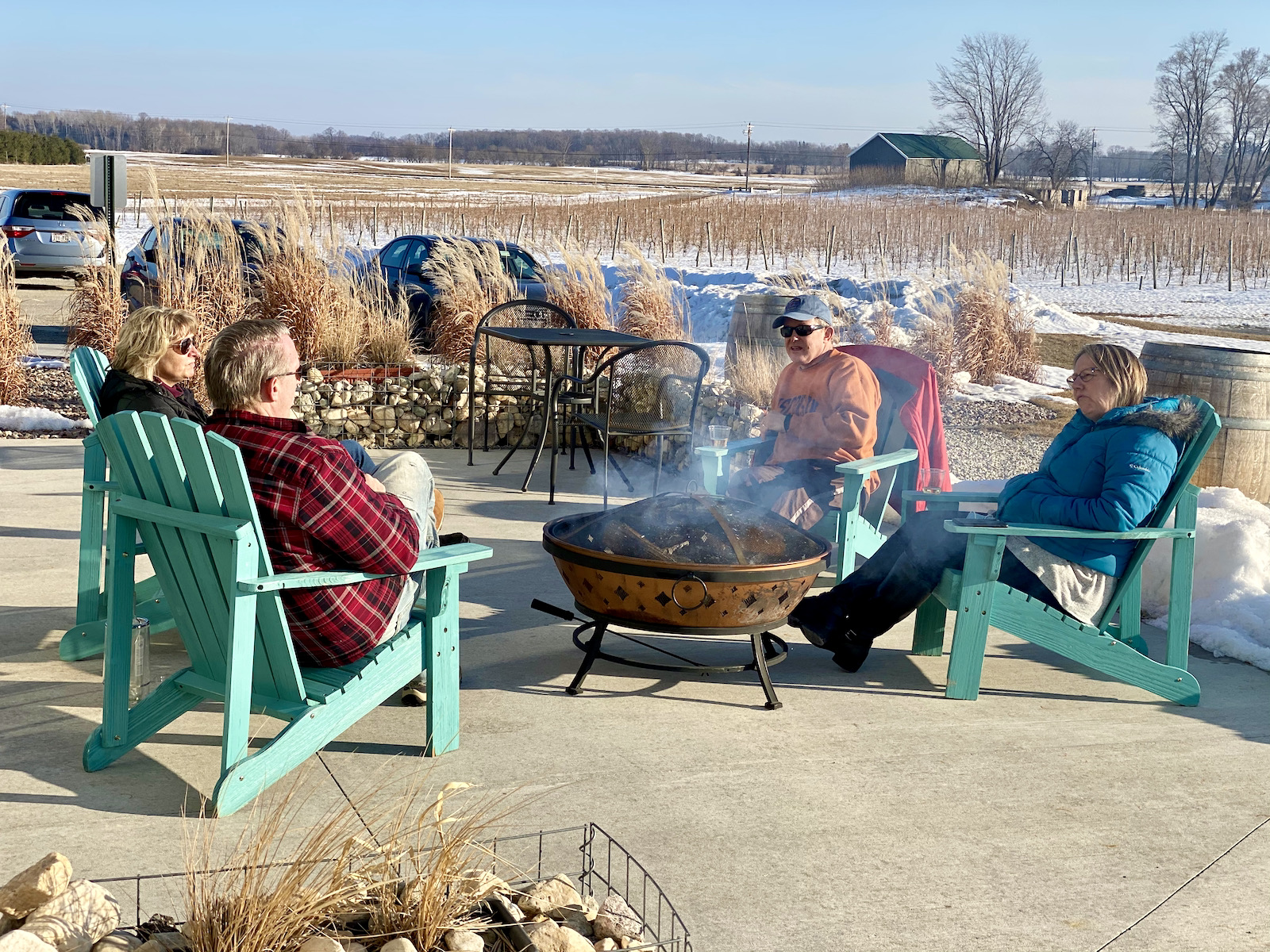 The winery boasts a production facility visible to guests through a large glass window, a large retail shop and tasting room and a beautiful patio overlooking the vineyard.
As for their grapes and wine, Door 44 currently operates two vineyards and contracts with eight Wisconsin growers to produce the grapes used for their wine (90% of those grapes are grown in Wisconsin).
We tasted quite a number, finding favorites among options like Sparkler, an award-winning semi-dry sparkling wine which has been awarded best sparkling wine in Wisconsin; Itasca, a semi-dry white made with grapes of the same name that's eerily similar to white Bordeaux; La Crescent, a semi-dry fruit forward wine made with the La Crescent grape (a grape that boasts Moscato in its lineage and resembles it in flavor); and "M," a dry medium-bodied red made entirely with the Marquette grape.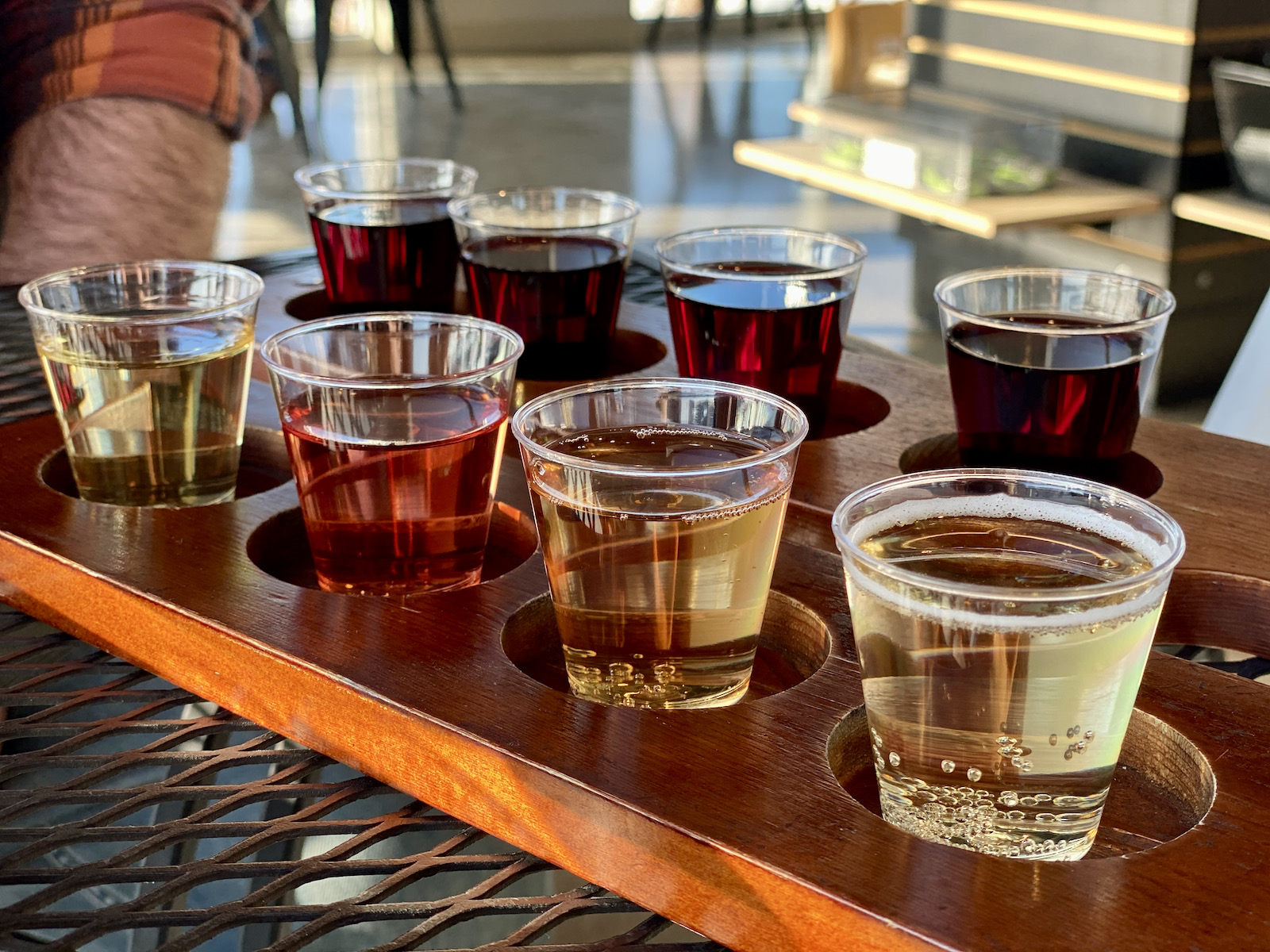 "We're still really in the infancy for wine in Wisconsin," says Milano. "But I see real potential, especially for the production of whites, roses and sparkling wines made with Wisconsin grapes."
But wine wasn't the only offering in the area; there were more natural wonders to be found.
Even crisp winter air can't dispel the beauty of Cave Point County Park, which offers scenic hiking trails and breathtaking views of Lake Michigan and the limestone cliffs and underwater caves forged by hundreds of years of waves crashing along its rocky shores.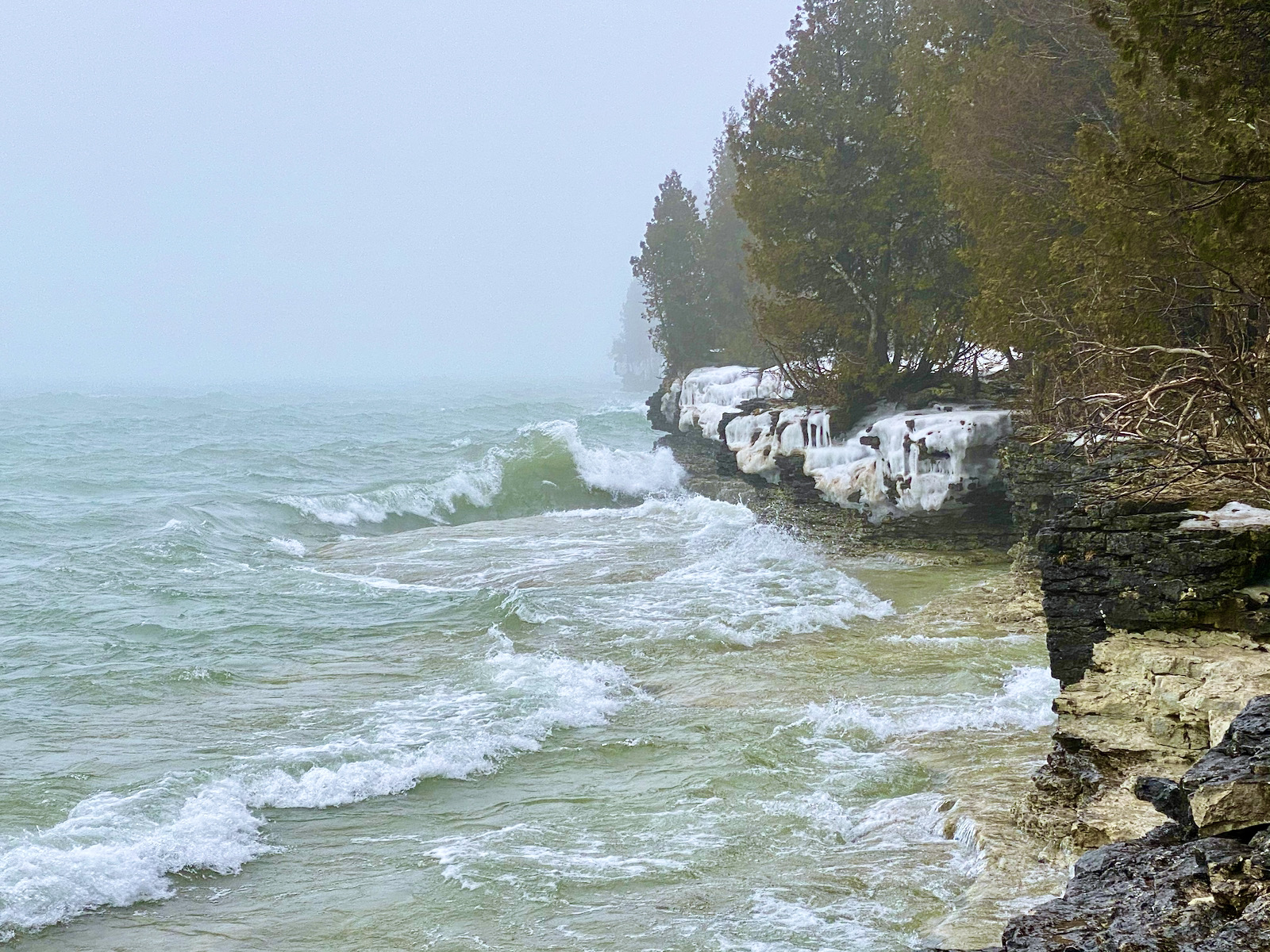 During the winter months, the Point is particularly stunning as the cold water freezes to the bluffs and vegetation, forming stunning icy sculptures. The day we visited, the weather was balmy and foggy and some of the ice from winter's deep freeze had begun to dissipate. But the views were still spectacular.
As powerful waves crashed against the rocks, it's easy to see how – over the years – erosion has resulted in the incredible rock formations and caves which litter the park's bluffs.
A word of caution is probably prudent. There are no barricades along the cliffs, which are strewn with crevices and beautiful (but sometimes unexpected) tree roots which have grown into the rock; so watch your step as you explore. Waves can also reach up to 30 feet, washing over both the cliffs and rocks, creating slick spots.
Winter on Washington Island
It was 9:15 a.m. on a Saturday when we showed up at the Northport Pier for our 9:30 a.m. ferry ride to Washington Island. Unlike the summer, when the ferry runs on a regular schedule, it runs just twice a day in the winter, and reservations are required (just call ahead to make yours).
The ferry ride through the storied Death's Door passage to Washington Island is a beautiful trip anytime of year; but it's glorious (and even more haunting) during the winter months when sheets of ice cover the waters near the island.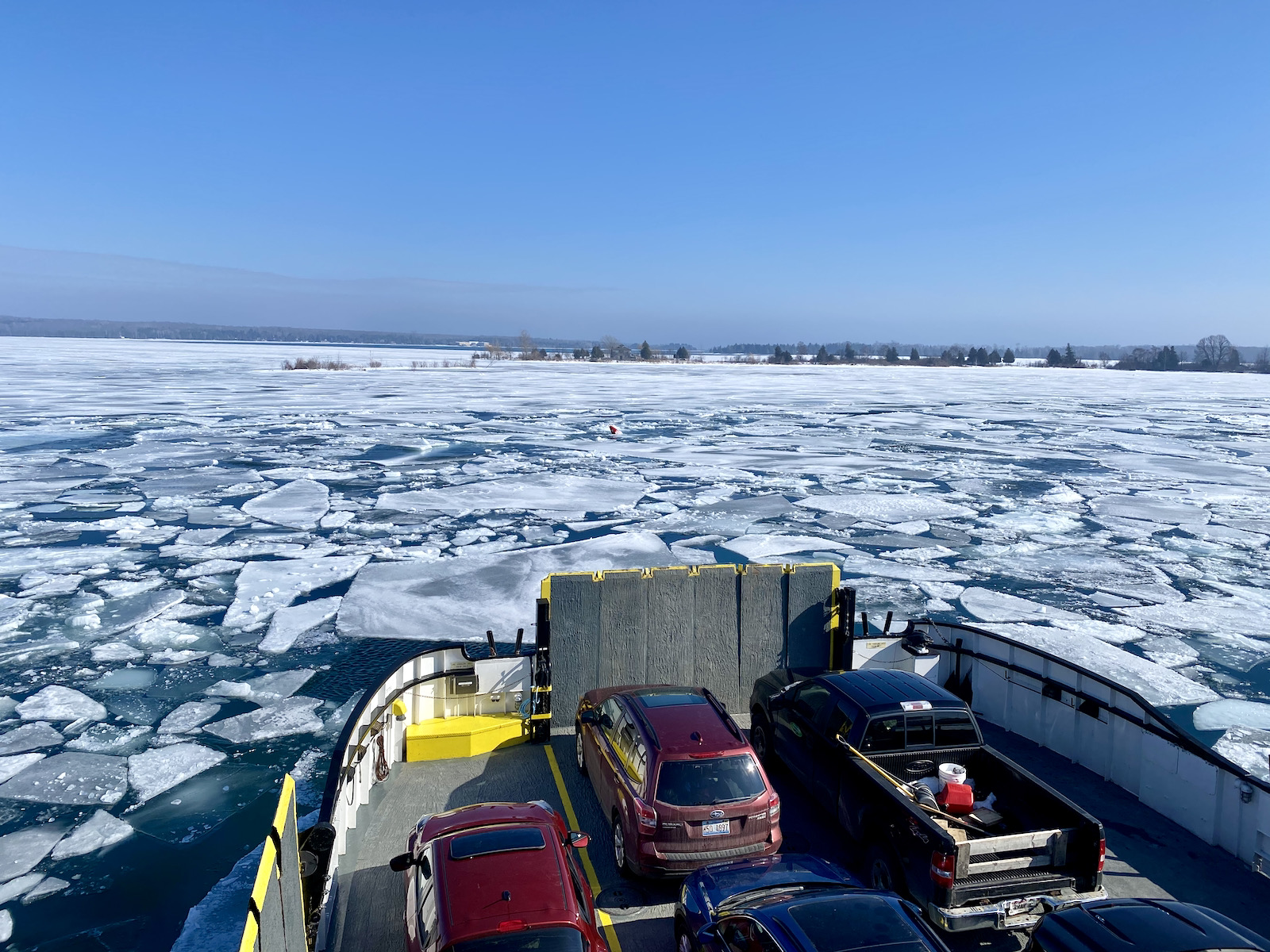 The ferry itself weighs 500,000 pounds and is built with the capacity to break through up to 15 feet of ice. And there was plenty of ice to break through that day.
We stood, bundled in our winter coats, scarves and hats, on the upper observation deck of the ferry, which was otherwise devoid of humans (most remained in their cars or stood on the main deck, watching the ferry part the icy waters.
Even in the brisk wind, I took hundreds of photos and countless videos of the vast expanses of ice, which churned in the wake of the ferry and scared up fish for excitable sea gulls, who followed and swooped to catch their lunch.
Once on the island, we spent at least an hour slowly driving the quiet country roads, winding around picturesque bends and through stretches of farmland. As we drove, it was almost as if we'd gone back in time to the days when people lived slower, more deliberate lives. Locals waved as we took off from stop signs (truly, every car we met had a friendly waving driver); and we truly felt welcome as we aimlessly meandered.
Along the way, we ventured to find the magical Stavkirke (Church of Staves), a labor of love built through volunteerism and community effort to resemble the oldest and best preserved Stavkirke in Borgund, Norway, which was built in 1150 AD.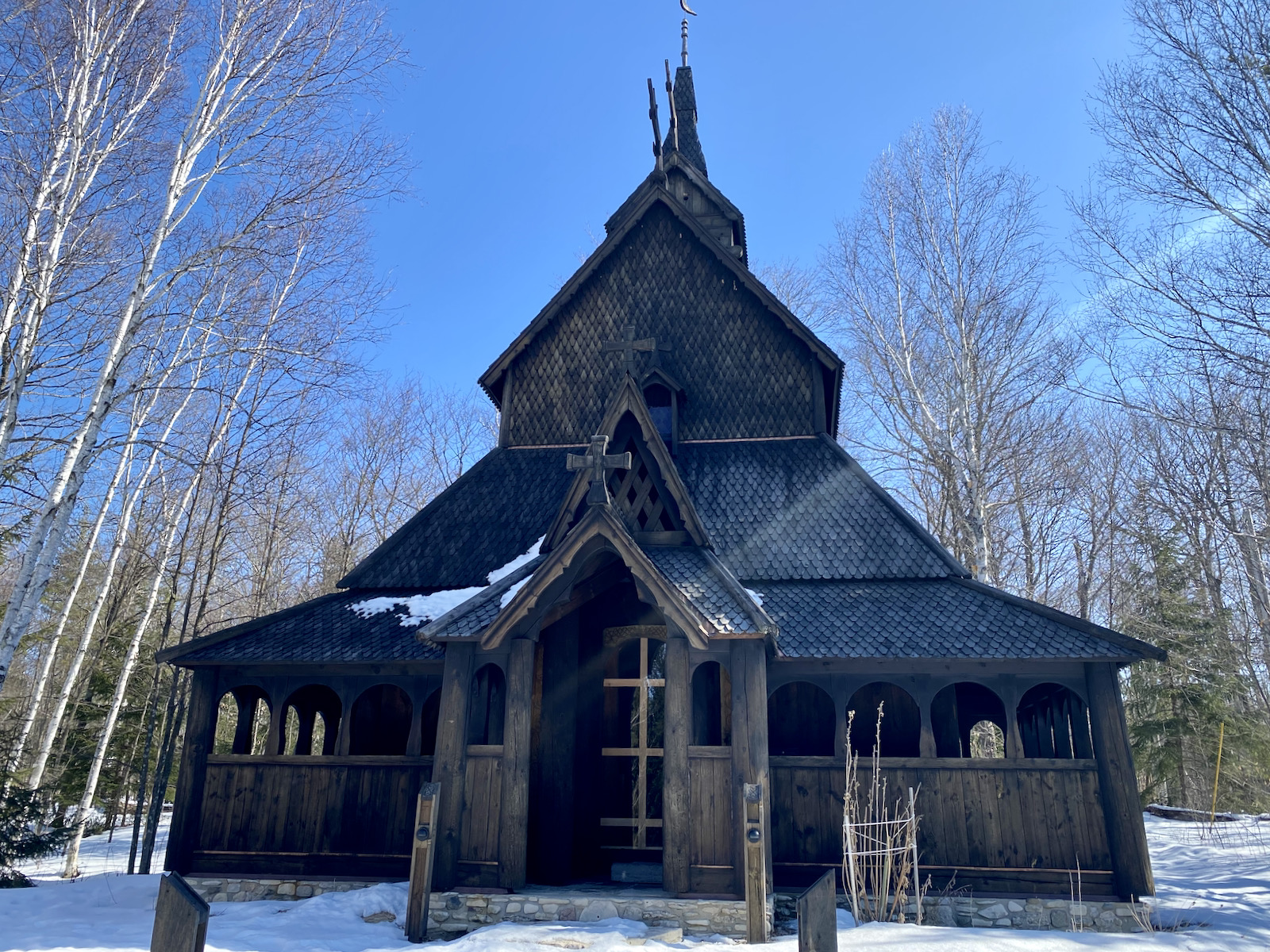 This modern structure was built using old methods and well-researched detail to reflect the influence of Norwegian immigrants on the island. It pulls together elements of Celtic art, Viking traditions and Romanesque spatial structures through the depiction of dragon heads and intricate wood carvings.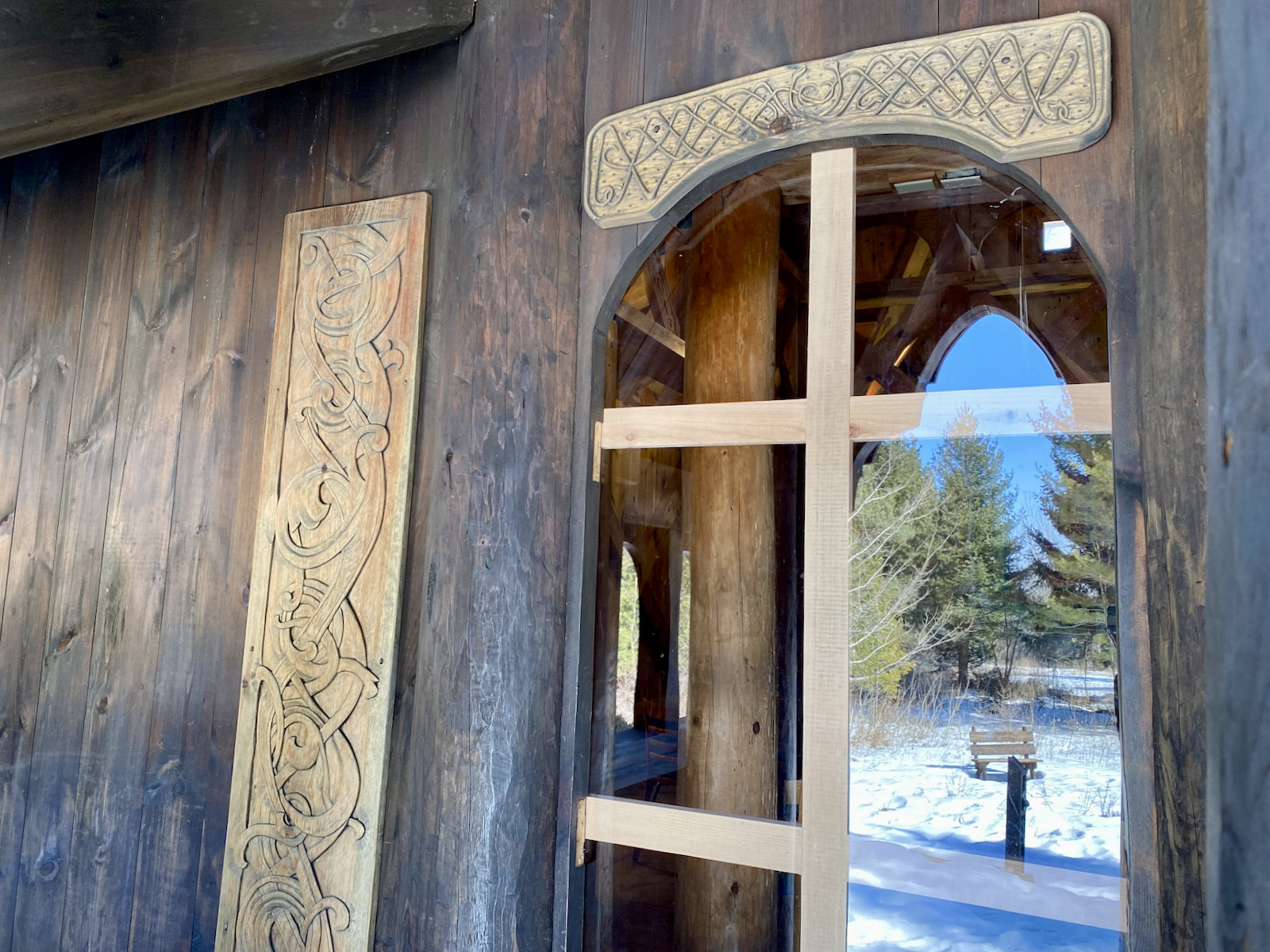 Regardless of your beliefs, the church will give you pause, and the forest around it a reason to slow your pace and meditate.
We also made a stop at one of only five sandless beaches in the world: Schoolhouse Beach. This protected harbor (Washington Harbor) was named in homage to the first one-room log school house on Washington Island, built in 1850 and later relocated.
The quiet cove is a natural wonder, largely thanks to its beach of polished limestone rocks, which were smoothed – not by rushing water – but by the glaciers which moved through the area and deposited them ages ago. Even during the winter months when the harbor is covered in ice, you'll find these hidden treasures in unexpected places.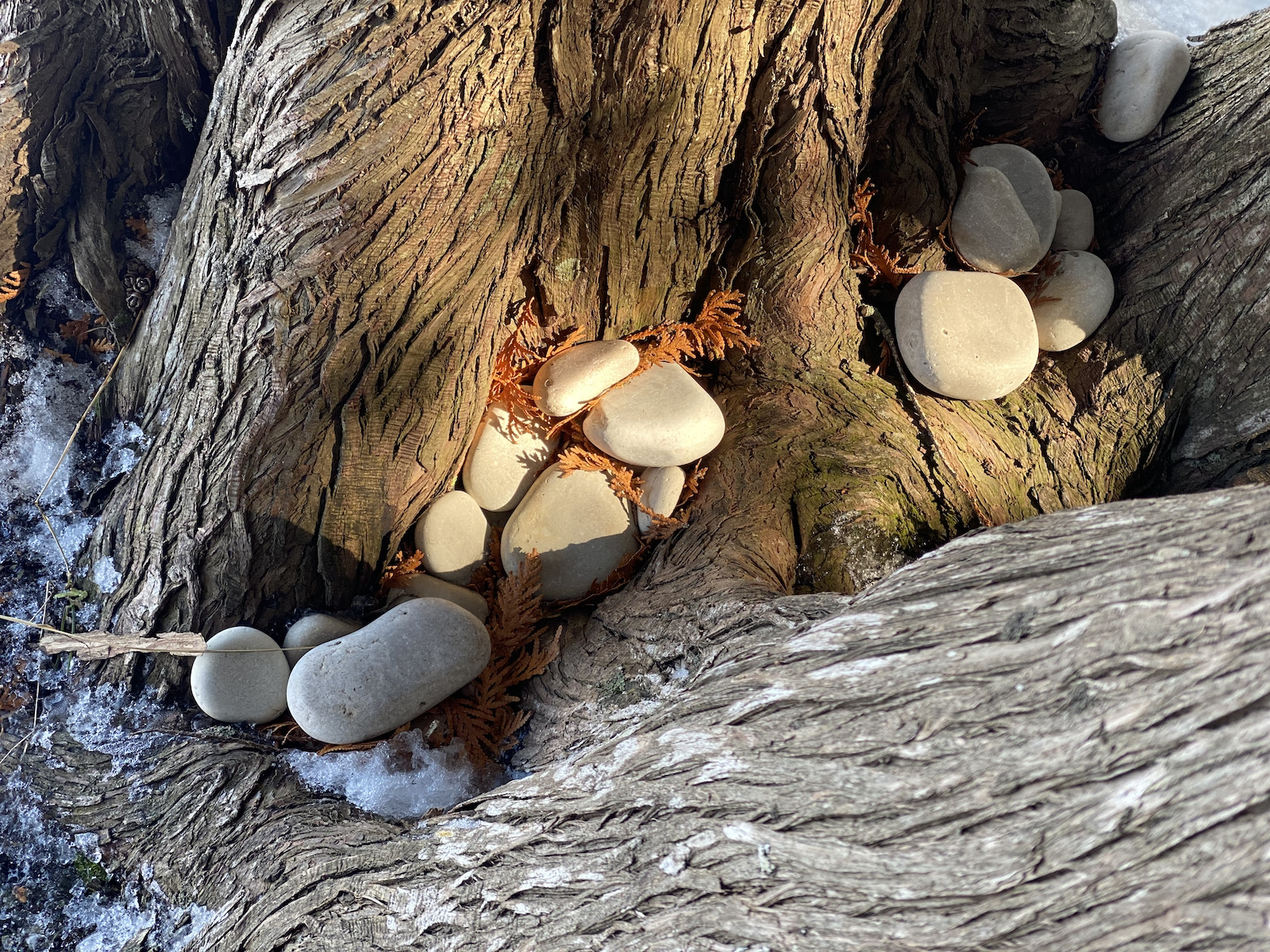 They're waiting for visitors to happen upon them, to run their fingers over their smooth clean edges, to stack them into picturesque towers.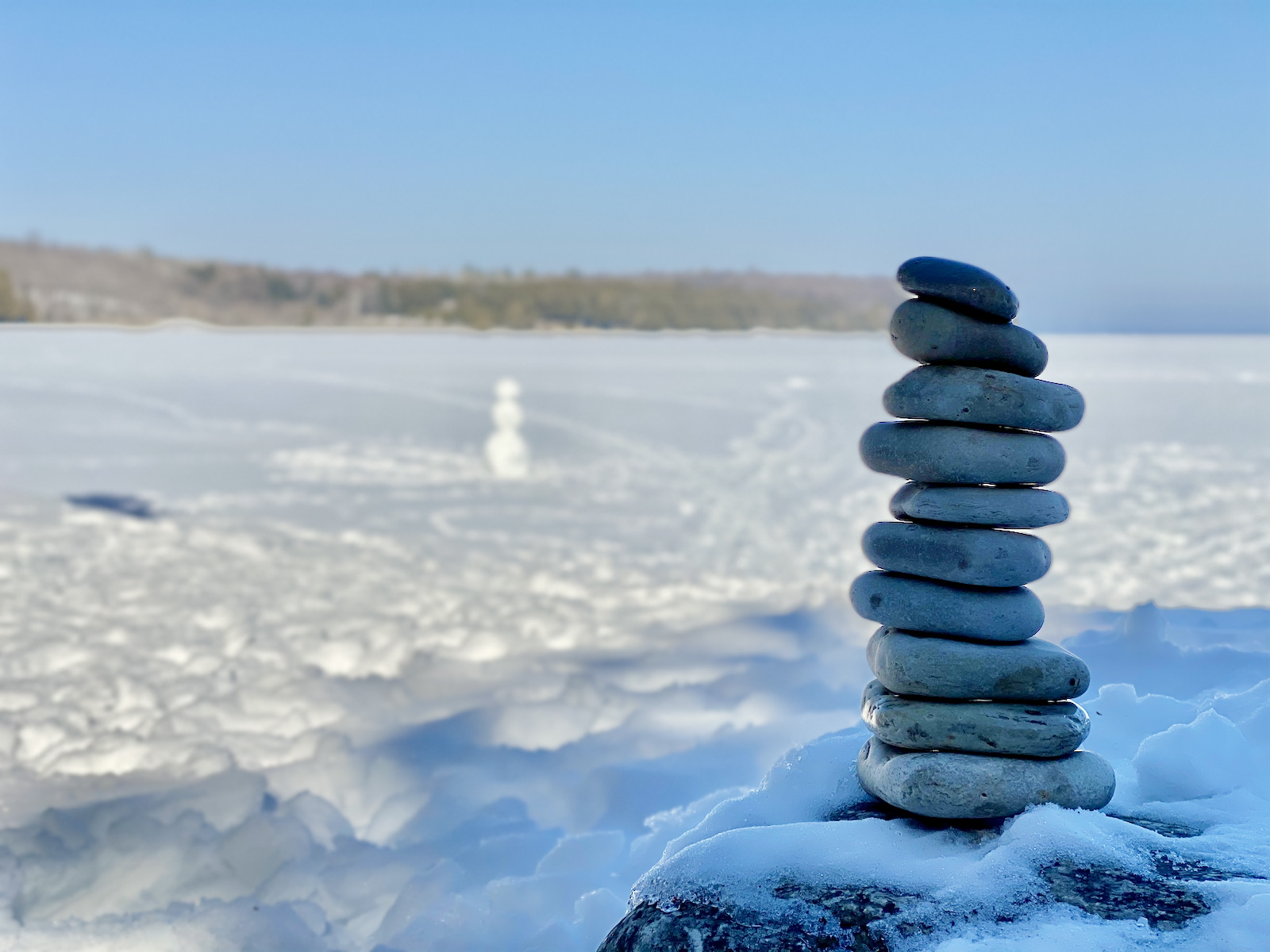 Do as you like while you're there, just don't remove the stones from the beach and surrounding area. For years, these geological wonders were swiped in bulk by souvenir hunters. Removing them from the beach is now prohibited by law, with steep fines attached for those who disregard the warning.
We also stopped and grabbed a bit at KK Fiske, a restaurant established in 1983 by Ken Koyen, a former commercial fisherman. The restaurant is likely best known for offering a unique Great Lakes catch called lawyers. These tender, highly perishable whitefish are the only freshwater members of the cod family. The tender fish is lightly breaded, fried and served as a dinner plate, a basket or in a sandwich.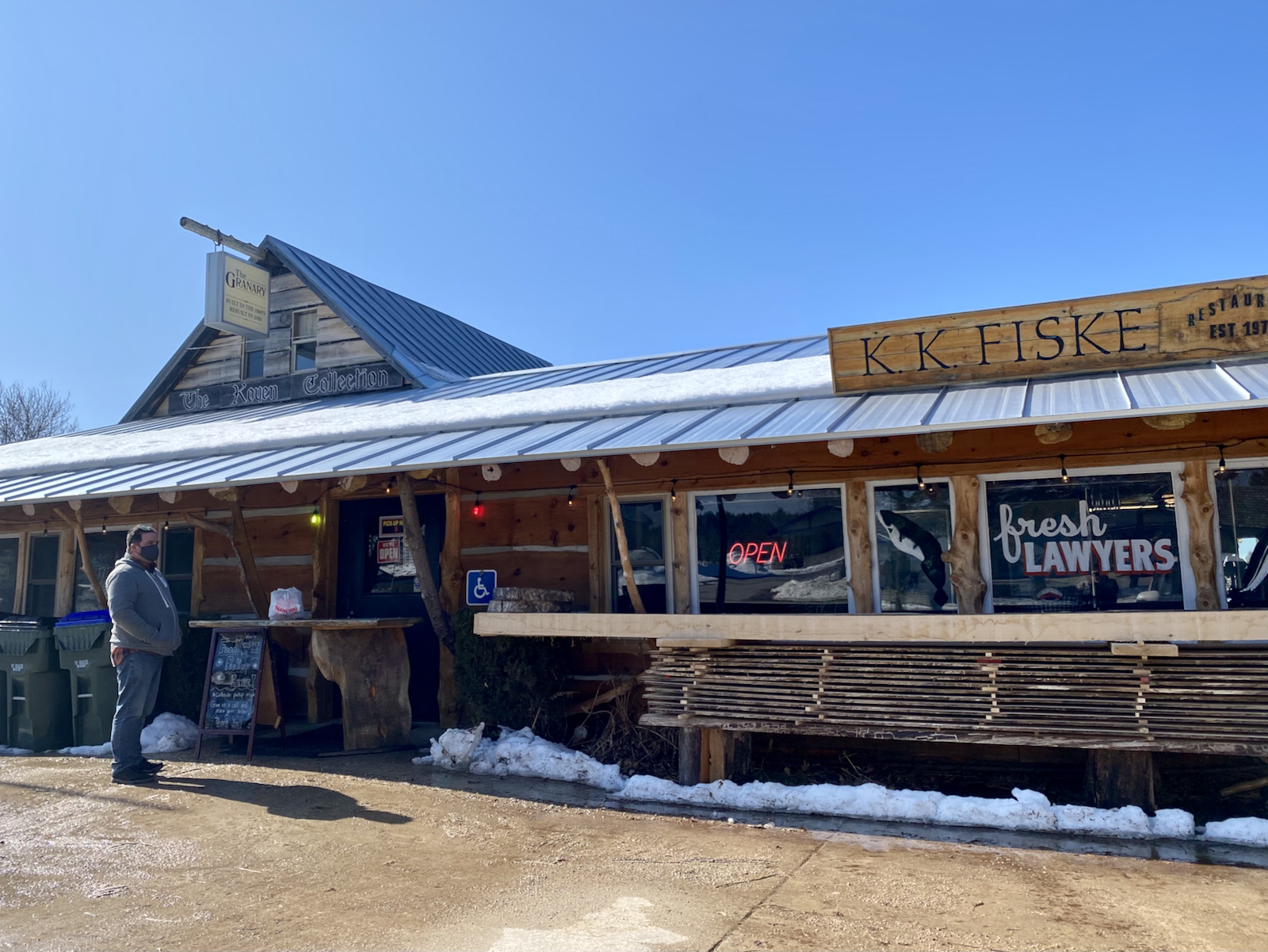 We didn't land lawyers that day; but we did enjoy some delicious take-out, including a fantastic whitefish reuben, battered cheese curds and canned ginger ale.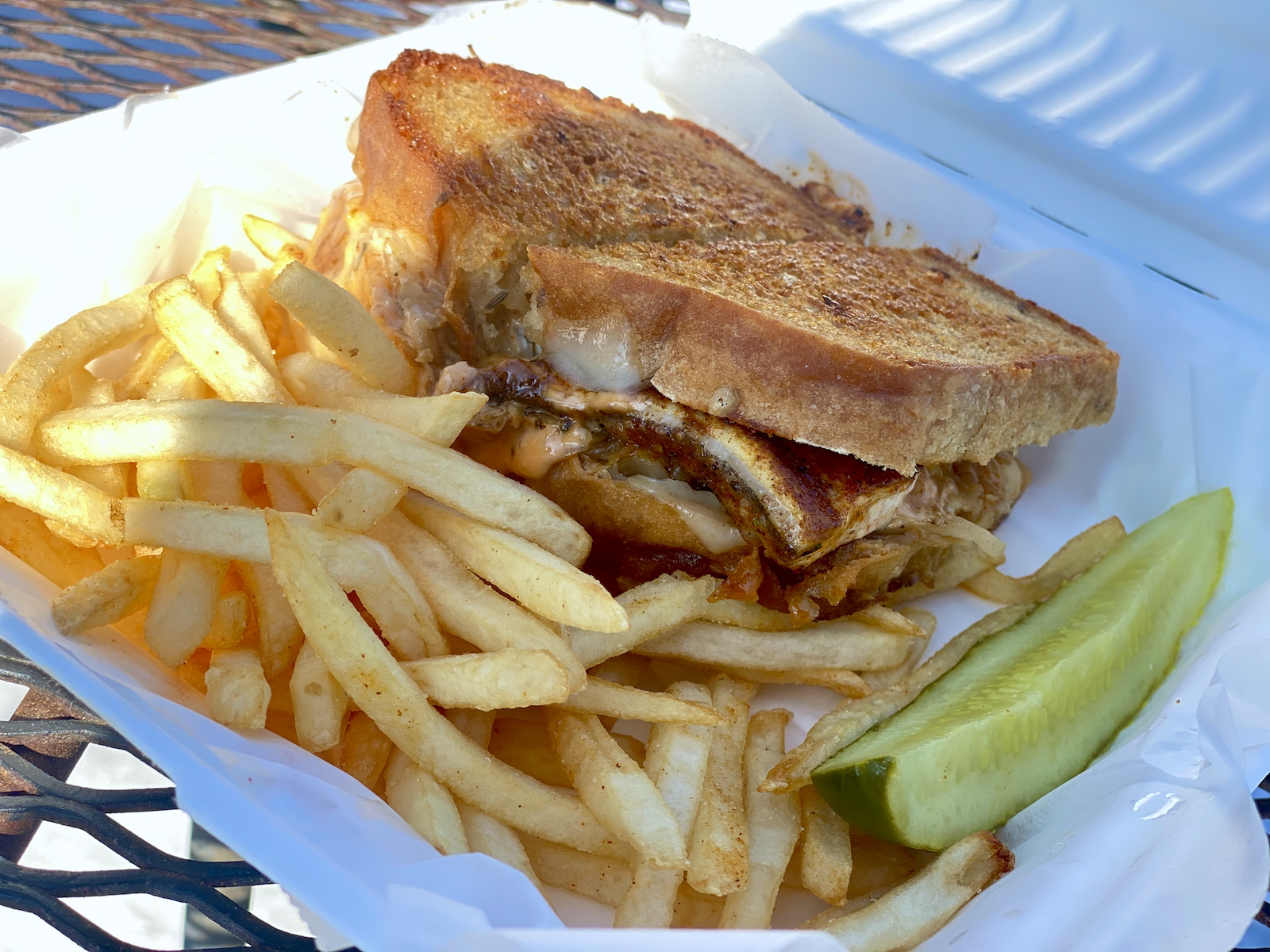 The temperature was in the 30s, but the sun was shining, so it felt almost balmy outside. We sat outside at their one metal patio table and enjoyed lunch against the backdrop of melting snow as it dripped from their rustic rooftop. It was perfect.
This article was made possible, in part, thanks to a partnership with Destination Door County and Geiger & Associates. All opinions expressed belong solely to the author.
Lori is an avid cook whose accrual of condiments and spices is rivaled only by her cookbook collection. Her passion for the culinary industry was birthed while balancing A&W root beer mugs as a teenage carhop, fed by insatiable curiosity and fueled by the people whose stories entwine with each and every dish. She's had the privilege of chronicling these tales via numerous media, including OnMilwaukee and in her book "Milwaukee Food." Her work has garnered journalism awards from entities including the Milwaukee Press Club.
When she's not eating, photographing food, writing or recording the FoodCrush podcast, you'll find Lori seeking out adventures with her husband Paul, traveling, cooking, reading, learning, snuggling with her cats and looking for ways to make a difference.