The "Coming Home" series, brought to you by the Milwaukee Art Museum, explores the lives of Milwaukeeans who moved away but ultimately returned to make a difference. The series is in conjunction with three current exhibitions at the Museum that expose how travel provides different ways to see the world and the everyday. Learn more about the Museum's season of travel at mam.org/travel
"You cannot step twice into the same river." – Heraclitus of Ephesus
Sharon Foster Adams, co-founder of Walnut Way Conservation Corp., says her decision to return to her hometown of Milwaukee was born of a spiritual calling.
She'd spent more than 27 years away, pursuing graduate work and establishing her career in cities like Detroit and New York. But it was an overwhelming desire to return home and restore her childhood home on 17th Street and North Avenue that was the impetus for her return.
However, while Adams was away, much had changed. The long-term plans for the Park East Freeway had been abandoned, and in their wake what remained was a ravaged neighborhood, devoid of commerce and prosperity, filled with crime and desolation.
"I returned," she says. "And I moved into the duplex where I grew up. But it wasn't the same. All the trees were gone. Police sirens filled the air at night. And the neighborhood just felt … unhappy. The stores were mostly gone. Over 1,000 homes had been torn down. It was blighted and abandoned."
"I was confused," she says. "How could this have happened? But I'm a doer, so I took my confusion to the library, to the historical society. I was hungry to understand how this could happen to my home. And the more I searched for answers, the more disappointed and angry I became about the systematic isolation of people … and that it was covered up in a way that was so dismantling … people didn't care.
"If I screamed – which I didn't – I would have said in my actions: We are not victims. We have to be the change. I knew it was complex. And I knew it was going to be harder and deeper than anything we've ever done. I felt that we couldn't fail, but I also knew it was beyond me."
What Adams didn't know is that her silent scream would be the spark that fueled a movement which would eventually prompt the ongoing revitalization of 110 blocks in Lindsay Heights, one of Milwaukee's forgotten neighborhoods.
Gathering the tools
"It was the home where I'd grown up," she says. "My family bought our home on 17th and North Avenue around 1954. It was a duplex, and it truly was a family home. My uncle, aunt and cousin lived downstairs and we lived upstairs. There were two marvelous cooks, marvelous men who cared for us, and lots and lots of love.
"When I was a girl, I walked to school every day. My mother was a homemaker, and the blocks around us were safe and beautiful. And the streets were filled with trees that sort of kissed in the middle of the block."
Adams attended West Division high school and earned her undergraduate degree in political science from UW-Milwaukee. It was a decision, she says, she now sees as divine intervention.
"I was living through a social readjustment. I lived through Martin Luther King and the Kennedy assassinations," she says. "I went through and understood … and didn't understand, how people could be denied voting privilege … or why my father would leave 200 acres of land in Tennessee, where it was warm and there were horses, to move to Milwaukee.
"My father said over and over again that he wanted a good education for both my sister and me. But I was still left not understanding how Milwaukee and its institutions were so mean. There were a lot of things that made me curious … I was attracted to systems ... how people make decisions, and what their motivation is for making those decisions. I didn't have a desire for a political career, but I wanted to understand how we could live in a civil way."
In the late 60s, she moved to Detroit to earn her master's degree in social work from Wayne State University. It was a program, she says, focused on advocacy and leadership, and it allowed her not only to take a more detailed look at the management of systems and organizations, but also to discover her love for assisting children and families.
Upon graduation, Adams says she responded to an advertisement in the newspaper for a position with the Girl Scouts.
"I'd been a Girl Scout for only one year during my middle school years," she says. "And it made such a difference in my life. I'd been so nurtured by my family, and the Girl Scouts took me outside of that."
It was a time of civil unrest in Detroit, says Adams. Neighborhoods had been left devastated by rioting. During her tenure with the Girl Scouts, she worked not only in Detroit, but also in more affluent neighborhoods like Gross Point and suburban environments including Southern Oakland.
"I saw disruption, or lack of it, in a geographic way," she says. "And I learned many lessons. One of which is that there is human kindness and strength and resiliency in both economically suffering and high profile communities.
"And the troubles that are focused on – like family dysfunction, mental illness or troubled children – they're often pushed on disrupted neighborhoods that have been isolated. But they are really happening everywhere. And I had the privilege of loving the children and their families in all of these communities."
By the 1980s, Adams had established a career with the Girl Scouts. She'd moved to Rochester, New York, where she oversaw five counties and thousands of acres of camp land. It's a position she now recognizes as a precursor to the land stewardship and conservation she would eventually foster through the Walnut Way Conservation Corps in Milwaukee.
From there, Adams rose through the ranks, eventually taking on the role of executive director for the Girl Scouts of Greater New York, which gave her oversight of the city's five boroughs.
"This was of such importance to me," says Adams. "I was working for an organization that is committed to girls. And it was led by women. Now just imagine the amount of confidence that I gained as a young executive director surrounded by all of these women who thought it was very normal to run multi-million-dollar organizations."
Adams says she took away so many things from the experience, many of which she brought back to her work in Milwaukee.
"There was the Girl Scout promise," she says. "Which was a true commitment to serve and to do our best; it was a calling. And that's such an important part of living in society. There was also this incredible commitment to service and excellence and integrity. And there was a commitment to acting locally and thinking globally."
The journey back home
Adams says her journey back to Milwaukee began on New Year's Eve in 1996. She was with her niece celebrating at Rockefeller Center, when she made the suggestion they go to The Abyssinian Baptist Church, a landmark institution and notable center for black spirituality, politics and community in Harlem.
While they were there, she says that Rev. Calvin Butts said something that gave her pause: "Take a risk," he said. "Do something different."
"Now, I was pretty comfortable," she says. "But that notion: 'Take a risk,' took hold. And a year later, I returned to my home with the spiritual calling of restoring my family home, which had remained in the family for all of those years."
When Adams moved back to Lindsay Heights in 1997, she found devastation. But she also found hope.
"As I walked the streets, I found people who cared," she says. "There were people who chose to stay in the neighborhood for various reasons. And I met my husband, Larry."
Adams was working as a national consultant at the time, and she realized she needed to rewire her home so that it could be set up with internet access. However, after making countless calls, she found no one willing to make the trip to Lindsay Heights to complete the work. So she began soliciting help from individuals in the neighborhood. Larry, a licensed electrician who was working as a contractor, heeded her call.
"He wired my life," says Adams. "And we were married a year later."
From there, Larry and Sharon began meeting with their neighbors. It was an effort, she says, inspired in part by a planning process that was being sponsored by the City of Milwaukee.
"We asked: 'What's planned for 17th and North?'" she recalls. "And they said, it was 'unidentified' … And if you're unidentified, it really means you don't exist … "
And, if her neighborhood really didn't exist to the powers that be, Adams decided the residents needed to take things into their own hands.
Making the invisible visible
"This brought into play all of my political understanding, my organizational understanding … and I had the strength, backbone and brains of Larry Adams, who – if I would make what would appear to be even the most absurd request – would make it happen."
Her first request: to transform the vacant properties on her block into community gardens. It was a project that took place over the course of a year, with the help of many neighbors, but at the end, there were beautiful, nourishing plants growing where there had formerly been blighted land.
"It was that call and response. You say you're going to do something, and then you do it. And when it's done, you realize what's possible. My mind flashes back to the little girls at the camp who we taught how to swim. And we never told them they were going to swim a mile in the pool; instead we'd say: 'Take a lap.' And they could do that. And then we'd tell them to take another, until they'd gotten their mile in."
And what began to take shape was a neighborhood reclaimed and transformed.
"Wherever you see a Walnut Way garden, that was a home, with families living in it, with memories. The same type of family experience that I had. And you take that away for two generations, it's pretty awful. It's very very ugly. On so many occasions I've listened to those family stories … those memories are still inside of them, and they're memories of a holistic, caring neighborhood."
More stories were unearthed when the Adams connected with a faculty member from UW-Milwaukee's anthropology department who proposed collecting the stories of the people who lived in the neighborhood.
"These young students in this freshman honors class came, and they were huddled up and nervous, and they would go into the homes of black folks and talk," she says. "But ultimately, they were riding their skateboards down North and eating dinner together. And that's the sense of community that was created. And what was also created was 40 narratives that became a storybook of the neighborhood. And those interviews informed us and lit us up."
Building a movement
As the neighborhood grew more and more invigorated by the promise of change, the Adams' facilitated. They took 10 neighbors to Boston, where they met with Mel King, a politician, academic and activist who has spent his life advocating for families and prosperity for urban neighborhoods.
"We saw gardens. We landed on a day they were doing a street festival. They had high tech solutions and youth ambassadors," she says "And we thought 'Wow!' And one of the neighbors suggested we build a neighborhood center."
So they did.
"There was a beautiful home that had been a boarding house when I was growing up," she says. "But, by the time I moved back, the owner and her daughter had been murdered. The house was in awful shape, and it was scheduled to be torn down. And so we went to the city and asked if we could have the house."
Building the Walnut Way community resource center was a foray into a different sort of neighborhood investment, one which focused on providing employment for area residents.
"Larry was the contractor, but we hired men from the neighborhood," she explains. " And I will always remember this one guy who marveled at being paid to plaster the walls. And he was so surprised that he had a skill, and that it was valuable … So much of his life had been spent in prison …"
Adams takes a long pause. "If you ask me what our current issues are that are life blocking, the penal system is one, and education is another."
Once built, the center became a visible brick-and-mortar representation for the work of Walnut Way and the promise of change. It also became the birthplace for countless employment pathways, wellness and leadership programs for area residents.
"We began with a 30 block area that had natural boundaries … Fond du Lac, North Avenue, Walnut," she says. "But they invited us to expand our reach to 110 blocks."
Today, Walnut Way's boundaries stretch from I-43 to 20th Street and Walnut Street to Locust Street. And, over the course of a decade, the neighborhood organization has transformed vacant lots into gardens and orchards of thriving peach and apple trees.
"There are lots of trees!" Adams says, noting that when she came to the neighbors with the idea of planting trees, there was overwhelming support for the idea of fruit trees. It was an idea, she says, she didn't understand at first, but which has resulted in multi-faceted benefits. "Years later, people come from all over to be a part of our harvest. They are a source of community, a source of income and they have a value added product."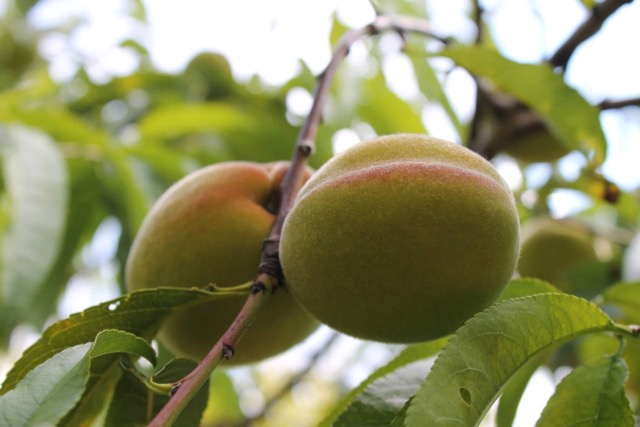 In recent years, Walnut Way has brought new life to numerous buildings in the area, adding benefit to the area with developments like the Innovations & Wellness Commons, community-driven, cooperatively funded multi-use commercial development on the corner of N. 16th and W. North Ave. They've also rebuilt over 100 homes, giving new family residences to people whose homes had been taken decades before. Most of all, they've created momentum for a forgotten neighborhood and hope for its residents.
In 2015 – nearly 20 years after her return home – Adams retired from her position as director for Walnut Way.
"One of the most important things I can say is that I've retired, but Walnut Way has not," Adams underscores. "We are still vibrant and working and growing. And we now have over 40 partners … and I'm understating that number. These are real relationships, and there is integrity there. We learn from one another, and we talk about things that we disagree on. And you see all of these marvelous things happen because we're experiencing one another and sharing."
The next chapter
"When I came back to Milwaukee, I didn't come back as a 22-year-old woman. I came back almost 50 years old, with lots of experience. And that made a difference. And it's been a privilege to both identify that experience and to be able to activate it. I know who I am now. And I am part of this."
Being part of the neighborhood is still important to Adams, who currently serves as president of the Marketplace BID as well as a board member for Walnut Way. In fact, she is actively pursuing a new real estate development project, which will not only reduce the number of vacant lots in the Lindsay Heights Neighborhood, but also provide additional commerce, jobs and opportunities for area residents.
"Market analysis showed that there are no garden shops in this area," she says. "And as we looked at it, there is yet a different type of calling that's coming into being. And it's really providing rental space for conservation and environmental groups to be a beacon for blue and green work creation, advocacy and education."
Adams Garden Park, which will be spearheaded by Sharon and Larry Adams along with Juli Kaufman of Fix Development, will make use of three vacant lots totaling over 10,000 square feet near West Fond du Lac Avenue and North 18th Street.
Plans include an urban retail garden center, which will focus on education and strategies related to urban gardening and the beautification of urban spaces. There will also be auxiliary gardens which will provide support for the retail center and an accompanying urban garden park. Future phases may include a café component and a bed and breakfast.
Adams says that she's also privileged, these days, to be able to have the time to concentrate on her family.
"Part of my life now that's so valuable to me is being able to sit and listen and sometimes reflect with my children on their next steps. It's a privilege I have to be with family in an ongoing, consistent way. And that's huge.
"I can't say enough about staying purposeful. When I came back to Milwaukee, I had that in mind. At the time, I just didn't know what my purpose would be." she says. "And at this point in my life that still remains so important."
Lori is an avid cook whose accrual of condiments and spices is rivaled only by her cookbook collection. Her passion for the culinary industry was birthed while balancing A&W root beer mugs as a teenage carhop, fed by insatiable curiosity and fueled by the people whose stories entwine with each and every dish. She's had the privilege of chronicling these tales via numerous media, including OnMilwaukee and in her book "Milwaukee Food." Her work has garnered journalism awards from entities including the Milwaukee Press Club.
When she's not eating, photographing food, writing or recording the FoodCrush podcast, you'll find Lori seeking out adventures with her husband Paul, traveling, cooking, reading, learning, snuggling with her cats and looking for ways to make a difference.