Check in early and stay late during OnMilwaukee's "Hotel Week" sponsored by VISIT Milwaukee. The next seven days will be packed with stories about historic area hotels, reviews, history, food and drink, staycations and more. Find out what it's like to be a tourist in this town. (Chocolate on your pillow not included.)
County Clare has been named by our readers as Milwaukee's best Irish pub annually for about the last decade and the best hotel bar every year since 2010. So, "sure and begorrah," we know this city loves the place like a perfect pour of Guinness. But, until this week, OnMilwaukee – despite having spent many a merry evening in the bar – had never officially stayed overnight at the inn.
That changed on Tuesday, when this green-blooded lad – whose ancestors hail from Counties Cork, Kerry, Meath, Tipperary and Roscommon, with apologies to the fine establishment's namesake – was dispatched to experience the famous Irish hospitality at the quaint and cozy County Clare Hotel, located in the leafy lower East Side residential neighborhood just north of Downtown and operated by Harp & Eagle Ltd.
Anyone who's ever passed by the coral pink building with its shamrock green-painted trim has no doubt peered inside the pub's stained-glass windows – adorned with customary Celtic symbols like the harp, spiral and triple knot – and observed the convivial scene within. Reflecting not only the food, drink and music of Ireland, but also the affability of the country's people, County Clare is known for being both highly enjoyable and truly authentic – and rightfully so, according to its many Irish-seasoned patrons, who say it's as close to the real thing as possible here.
I checked in with the friendly front-desk attendant and received my room key, free parking pass (the lot is in the back), breakfast voucher and fresh chocolate chip cookies – the latter of which I was glad wasn't soda bread; sorry, mom! After parking, I made my way back to the small lobby area to take the elevator to the third floor, which is the top. The elevator was excruciatingly slow, but I suppose one could euphemize that as charming. There are 29 rooms in the hotel, including four exclusive suites, all with open floor plans and interior designs influenced by traditional Irish inns.
Mine was a pink-wallpapered standard room, which contained a comfortable pillow-top queen bed with handcrafted blankets and a television. The back half of the unit, separated from the sleeping section by a white partition, was a sort of partially private bathroom space. It held the luxurious double-whirlpool bathtub, a standalone shower stall, a separate room for the toilet and the sink area.
The room was undeniably inviting, though it did seem a bit anachronistic; perhaps that's because it felt so distinctly like an actual Irish B&B room. It felt like it could have been 100 years old, with its old-fashioned warmth, but I could still watch "SportsCenter" and make instant coffee. (If only I could look out the window and see the bucolic beauty of Ireland, instead of a parking lot and low-rise apartment buildings.)
But put aside the local aesthetics of County Clare's surroundings, because that's not why you're here – and anyway, vibrant Brady Street, scenic Veterans Park and the lakefront and Downtown's attractions are all less than a mile away. Inside, County Clare is a lively, lovely and true Irish experience. At the restaurant, which wasn't quite busy yet at 7 p.m. on a Tuesday night, I was seated and served by Audrey, who was very attentive and professional. She brought me a Guinness that, naturally, was impeccably poured, gorgeous and delicious.
The restaurant is wonderfully decorated with Irish proverbs ("The pub is the poor man's university," "There are no strangers here, only friends you haven't met yet") and anecdotes, national maps and documents, the titles of towns in County Clare and neat little knickknacks. Everything in the pub seems to have a story. There's a Waterford wood burning stove in the Saint's Snug, an intimate seating area on the north side of the building.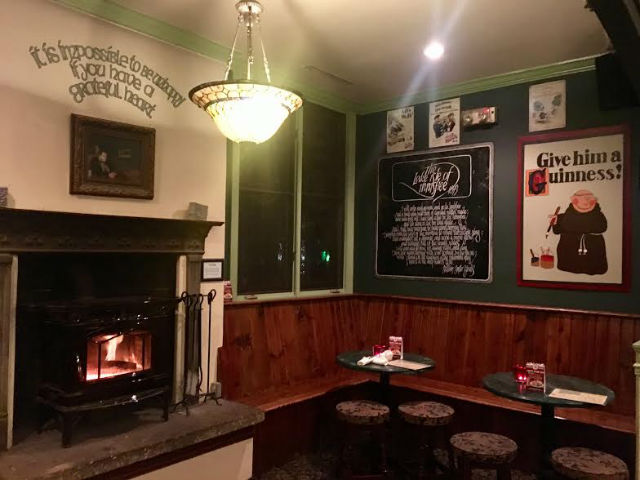 I was famished and after perusing the menu of traditional Irish cuisine, which also includes many vegan, gluten-free and dairy-free vegetarian options, I knew I wanted something loyal to my heritage – though it would be practically impossible to find anything else, except perhaps a sandwich or burger. I happily settled on the Cottage Pie, a variation on the classic Shepherd's Pie that was a made-from-scratch mélange of seasoned shredded beef with green peas, carrots and onions, topped with homemade mashed potatoes and baked to a golden brown.
Knowing what I know about Irish food (again, sorry family!) and even knowing County Clare's excellent culinary reputation, I was prepared for at least a little blandness and had the salt and pepper shakers ready.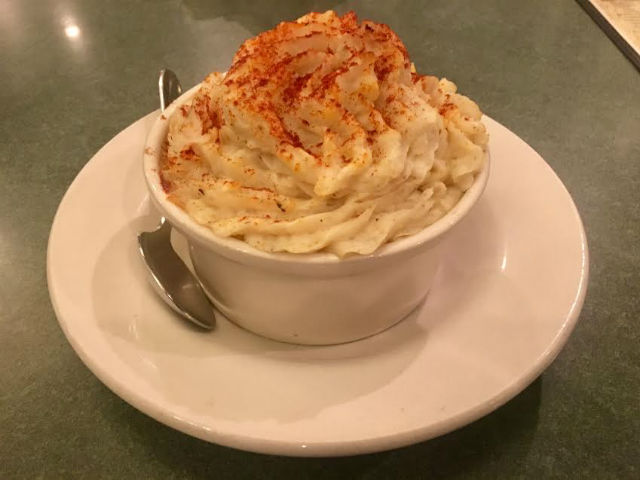 Didn't need them. The meal was fantastic; a very simple but flavorful bowl of hot, tasty comfort food that lasted about as long as Water Street sobriety on St. Patrick's Day. A more adventurous eater than me would surely appreciate one of the even more Ireland-y dishes, such as corned beef and cabbage, Shannon River grilled salmon, Ennis lamb shank and the signature Irish root soup.
After finishing, I made my way over to the handsome wood bar to watch the U.S. men's soccer game against Mexico. I ordered another Guinness, this time a blond instead of a stout – the beer and spirit lists are extensive – and talked to the eminently amiable Gregory Steffke, the bartender and general manager. Befitting the friendliness of an Irish pub, no one at the bar seemed to mind discussion of politics, though we all preferred the topics of sports and whiskey. At 8:30 p.m., weekly trivia started, with a few groups participating. Every Thursday and Friday, there's live music, and many Saturdays, too.
I slept peacefully that night and into the morning. After packing up, I headed back downstairs to the restaurant for breakfast. It's safe to say that County Clare's weekday first meal does not quite compare to the glory of its weekend Irish brunch, with an omelet station and some pastries and yogurt just about comprising it. But the eggs were good and the coffee strong. Checking out was easy, and I made sure to grab a brochure for Harp and Eagle's all-inclusive getaway tours of Ireland.
County Clare is as pleasantly, authentically Irish as it gets in Milwaukee. Stepping outside, I almost expected to see rolling green hills, grazing sheep and grand stone castles. Nevertheless, this Irish boy left happy.
Sláinte!
Born in Milwaukee but a product of Shorewood High School (go 'Hounds!) and Northwestern University (go 'Cats!), Jimmy never knew the schoolboy bliss of cheering for a winning football, basketball or baseball team. So he ditched being a fan in order to cover sports professionally - occasionally objectively, always passionately. He's lived in Chicago, New York and Dallas, but now resides again in his beloved Brew City and is an ardent attacker of the notorious Milwaukee Inferiority Complex.
After interning at print publications like Birds and Blooms (official motto: "America's #1 backyard birding and gardening magazine!"), Sports Illustrated (unofficial motto: "Subscribe and save up to 90% off the cover price!") and The Dallas Morning News (a newspaper!), Jimmy worked for web outlets like CBSSports.com, where he was a Packers beat reporter, and FOX Sports Wisconsin, where he managed digital content. He's a proponent and frequent user of em dashes, parenthetical asides, descriptive appositives and, really, anything that makes his sentences longer and more needlessly complex.
Jimmy appreciates references to late '90s Brewers and Bucks players and is the curator of the unofficial John Jaha Hall of Fame. He also enjoys running, biking and soccer, but isn't too annoying about them. He writes about sports - both mainstream and unconventional - and non-sports, including history, music, food, art and even golf (just kidding!), and welcomes reader suggestions for off-the-beaten-path story ideas.