If you like this article, read more about Milwaukee-area history and architecture in the hundreds of other similar articles in the Urban Spelunking series here.
In 1902, the Milwaukee Gas Light Company built a coal gasification plant in the Menomonee Valley to convert coal to natural gas and it hired architect Alexander C. Eschweiler to design the buildings.
While it's possible that it's purely coincidential that six years earlier the same architect designed a beautiful and palatial residence for the company's general manager, Edward G. Cowdery – after all the Boston-born transplant was a respected and busy artist – it's also entirely possible that it was no coincidence at all.
Eschweiler's coal gasification plant complex survives now as a home to City Lights Brewing, Zimmerman Architectural Studios and Four Seasons Skate Park, and the home he designed for Cowdery continues to shine as a stunning upper East Side gem.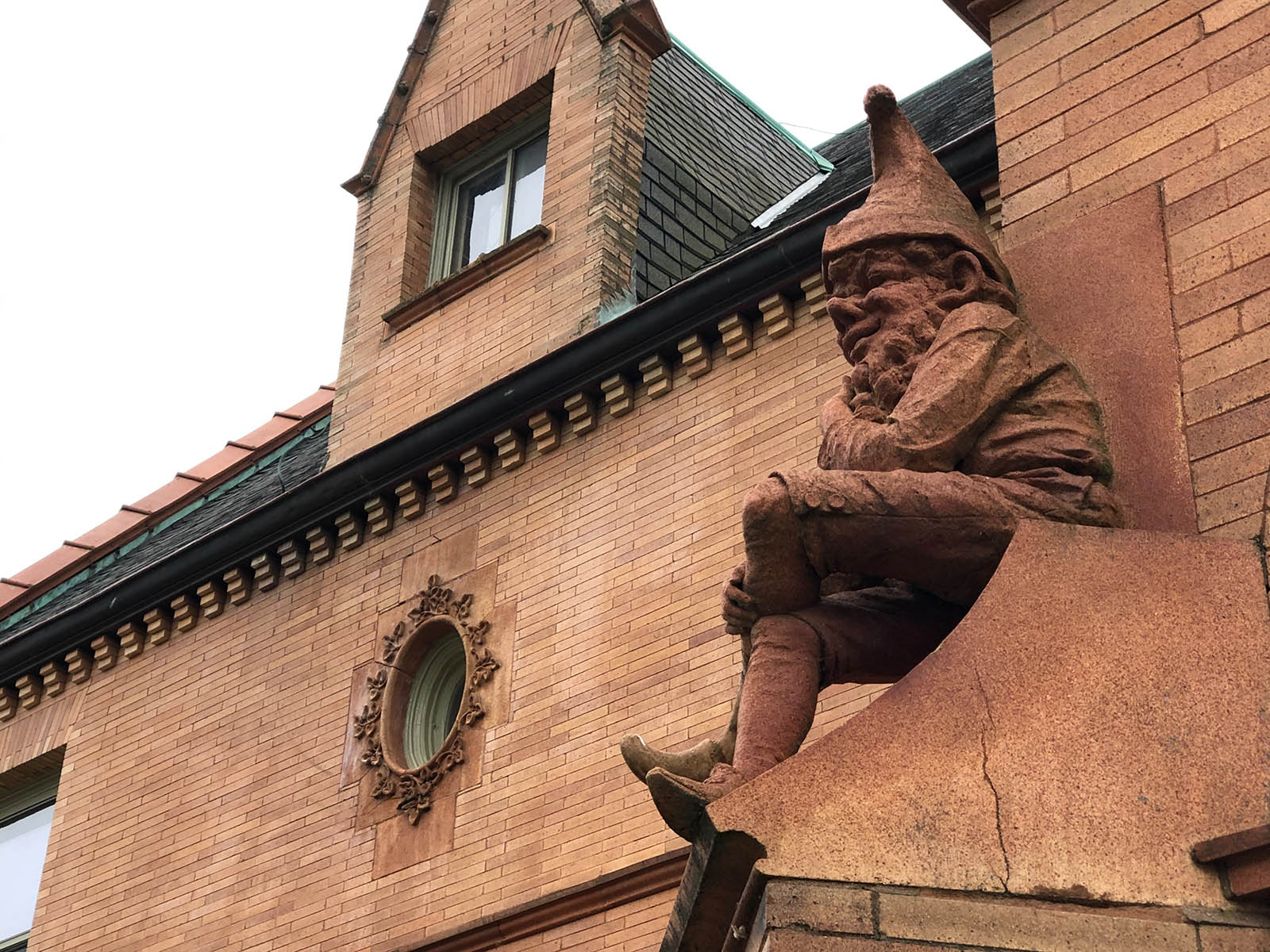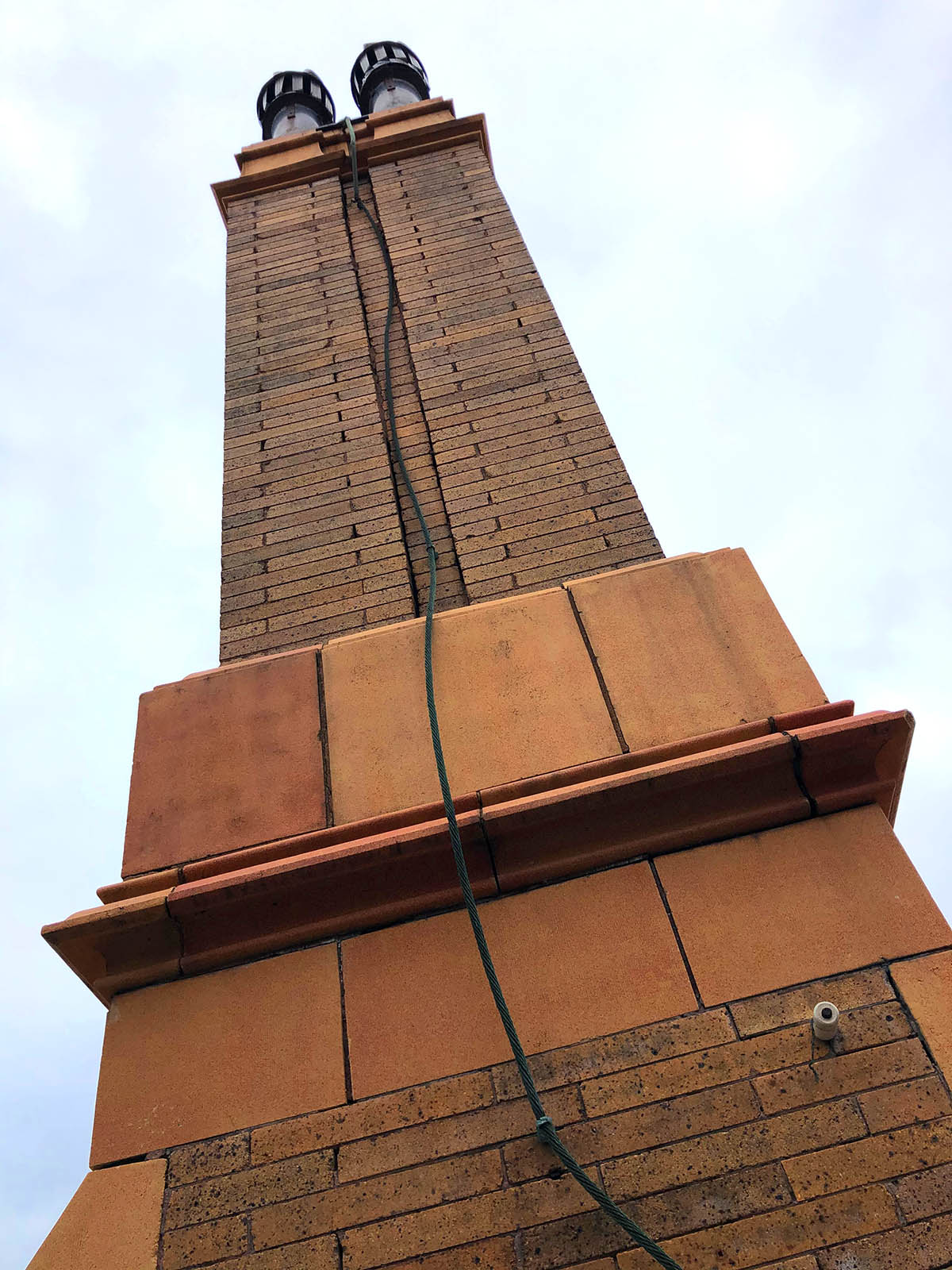 The roughly 10,000-square-foot 1896 Tudor Revival home at 2743 N. Lake Dr. is also for sale. The asking price is $2.85 million. You can see the listing here.
The home has been owned since 1997 by recently-retired Hal Leonard Publishing CEO Keith Mardak and Mary Vandenberg.
It's a striking one that you likely have noticed if you walk or drive along Lake Drive.
Set back from the street with an arching driveway – which these days passes in front of, rather than through a projecting porte cochere – the home is faced in an orange-ish pressed brick trimmed in lighter orange terra cotta details.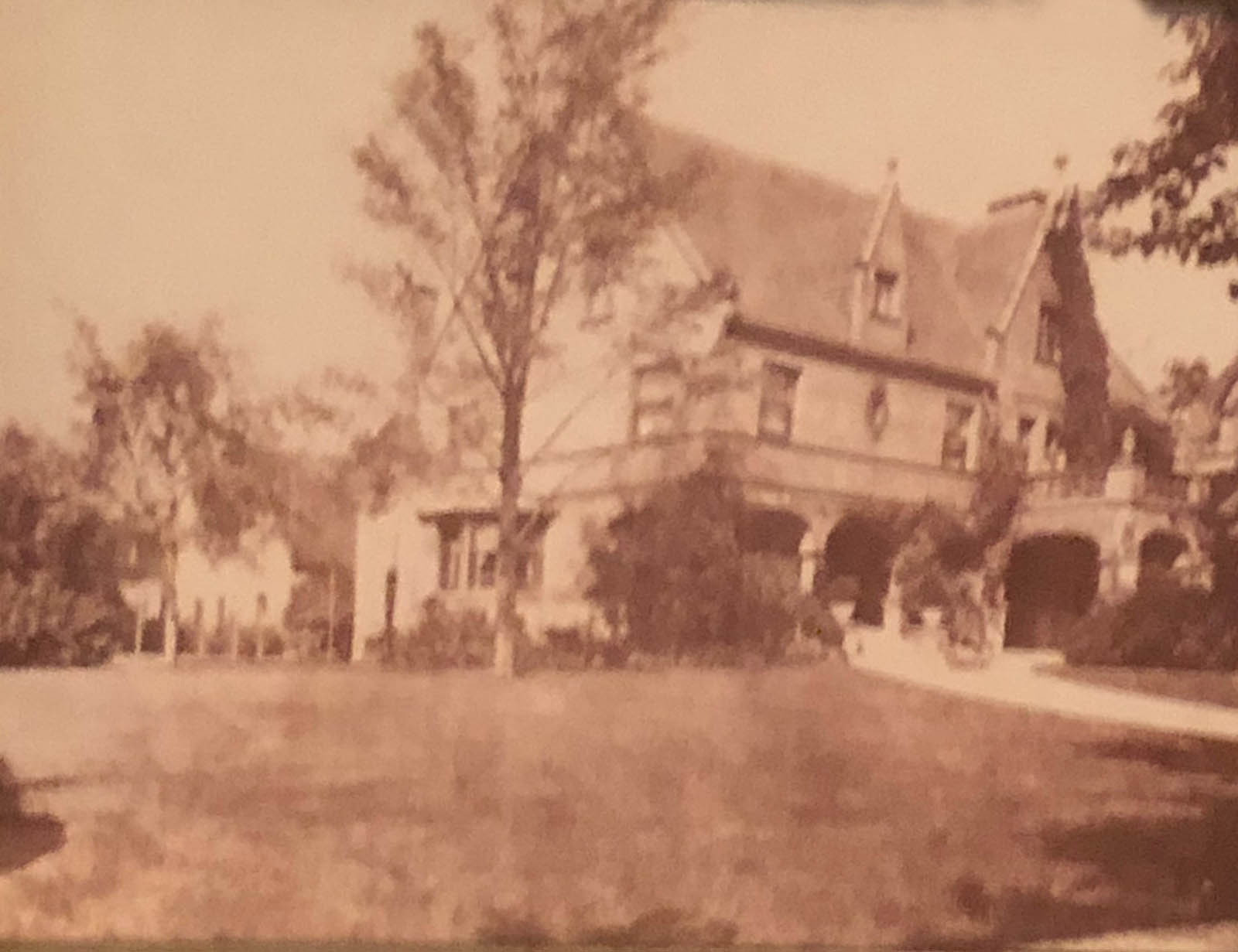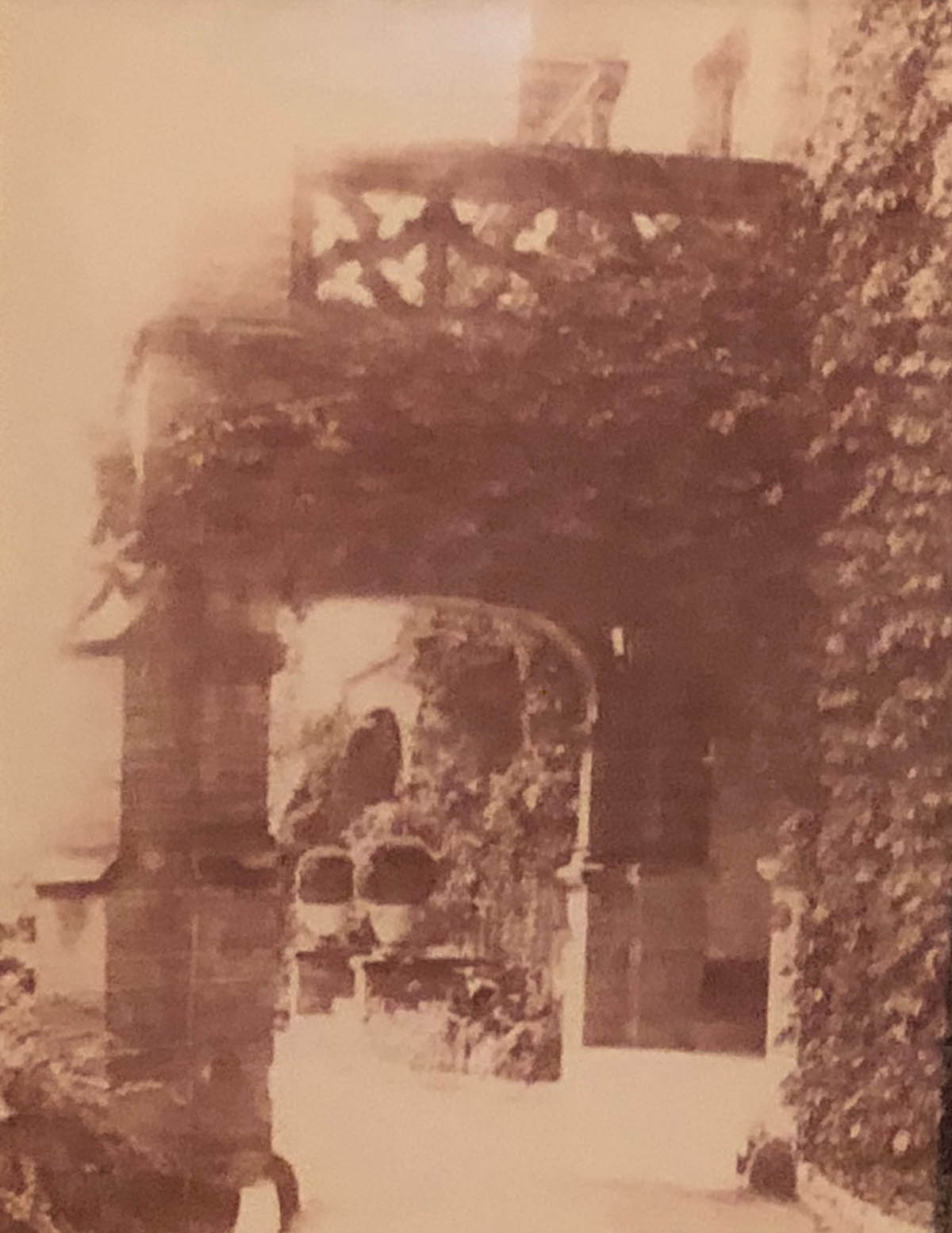 A report produced by Milwaukee's Historic Preservation Commission described it as, "a somber medieval inspired design with German overtones in the terra cotta ornament," though it feels lively to these eyes, especially thanks to the gnomes and dwarves that can be seen on its facade.
And it must've felt that way to a number of prospective home builders who purchased lots in the booming chi-chi upper East Side neighborhood in the following decades, as, noted the report, "although this was Eschweiler's first design to be built in the district, in succeeding years he would be commissioned to design many more large homes along Lake Drive."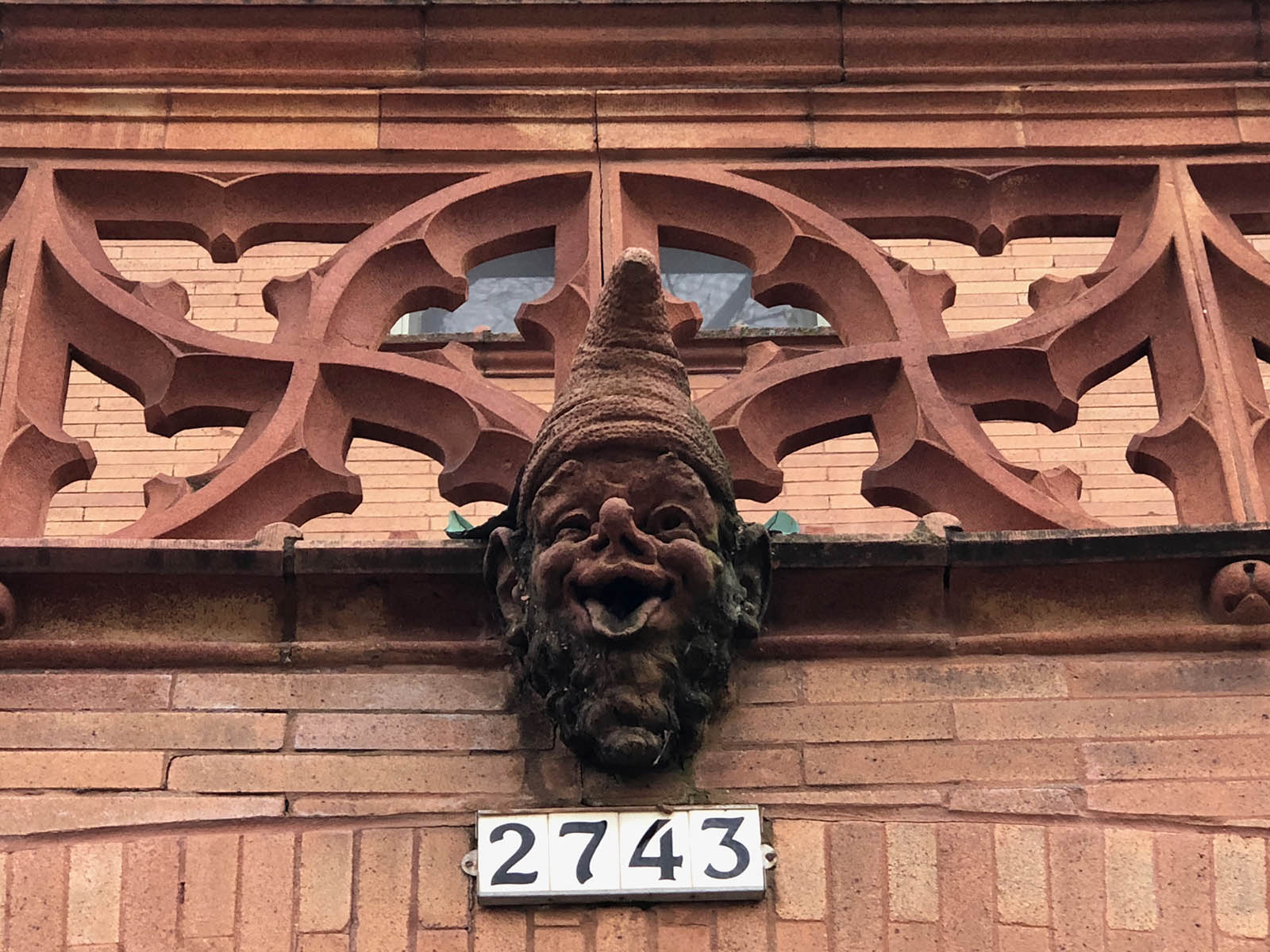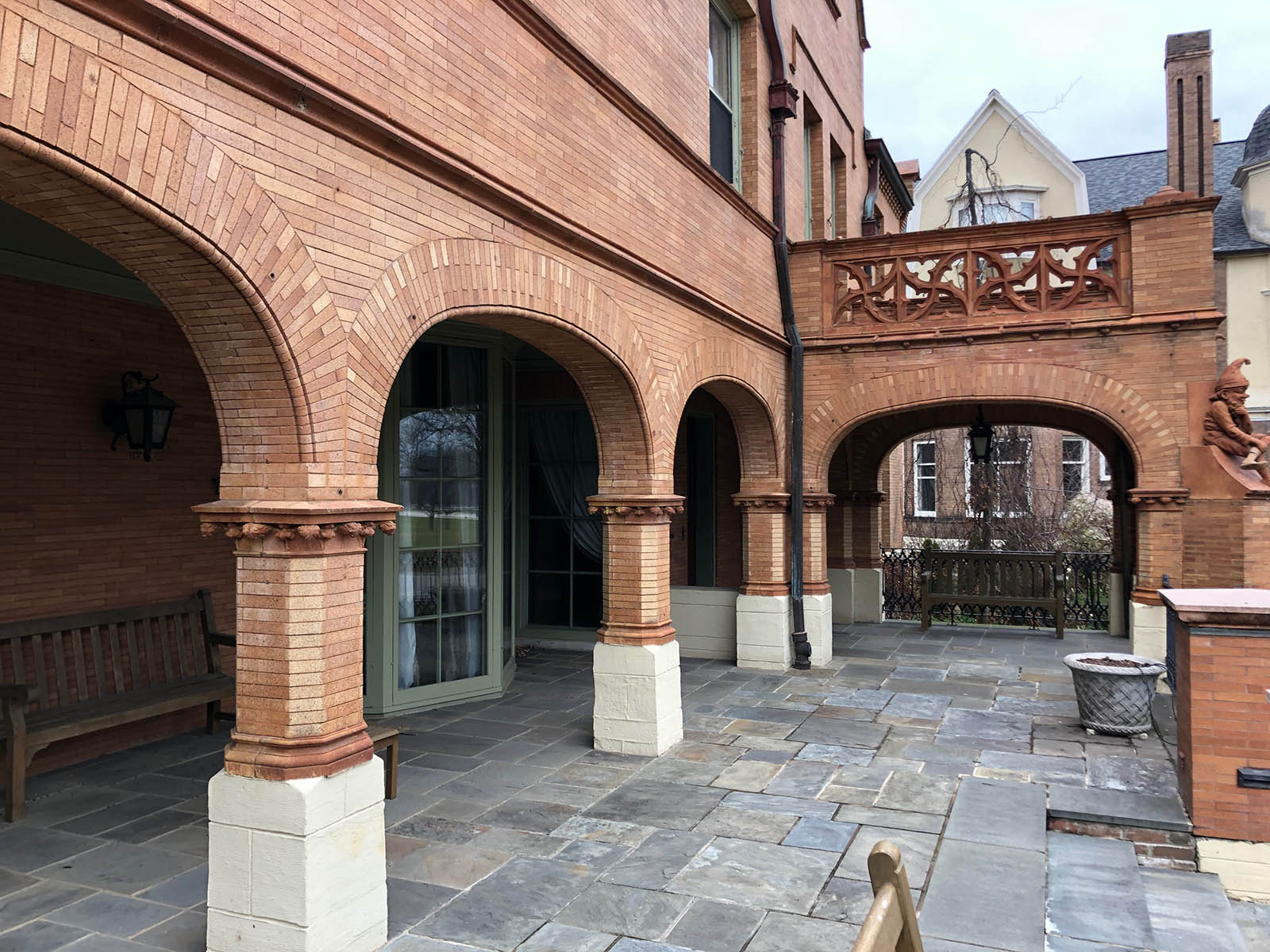 By the time the home was built, Cowdery – who had arrived in Milwaukee with his wife Jennie Van Fleet Cowdery in 1877 – had been an engineer and general manager at Milwaukee Gas Light Company for three years.
In 1896, he paid $10,000 to buy a lot in the fashionable and rapidly growing Prospect Hill neighborhood. The land was purchased from the Prospect Hill Land Company, which was developing the neighborhood (and about which I wrote a bit about here).
In that post, I noted that the neighborhood – which had been laid out by E.P. Hackett and S.H. Hoff after they purchased a farm in 1893 in the newly designated 18th Ward – was bordered by Kenwood Boulevard and Park Place to the north and south, and Downer Avenue and Lake Drive and the west and east.
Hackett and Hoff, noted architectural historian H. Russell Zimmermann in a Milwaukee Journal article, spent $50,000 laying asphalt streets and concrete curbs, which were groundbreaking developments in a residential neighborhood in Milwaukee at the time.
In addition to hiring Eschweiler, whose Milwaukee practice had opened in 1892, Cowdery (pictured below) enlisted carpenter Henry Ferge and mason George F. Graham of Graham Brothers to create his masterwork, which was estimated to cost $14,000.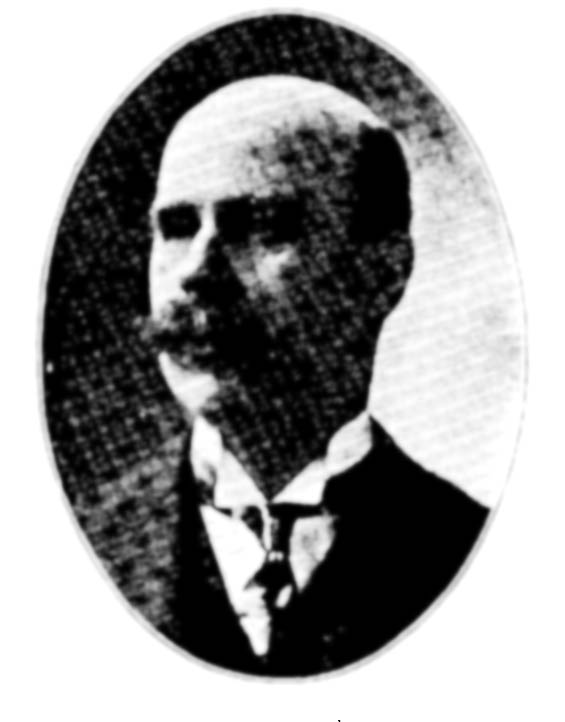 According to one online calculator that equates to a mere $433,980 in 2020 dollars. While that's a lot, of course, one can't help but wonder what it would cost to build the same home with the same craftsmanship today. Surely, at least one zero should be added to the right of this sum.
The lot was directly across the street from Lake Park, on which work had begun 1889 according to plans by the respected Frederick Law Olmsted.
Carving the park out of the landscape continued for many years and Cowdery and his family moved into their new home around the time the new "lion bridges" were built across the ravines.
Architect Howland Russell's striking Milwaukee Electric Railway and Light Company's tram station had been completed a little over a year earlier, just a block to the north.
However, Cowdery didn't enjoy the home very long, as his position with Milwaukee Gas Light came to end in March 1903 and he decamped to a new job in St. Louis.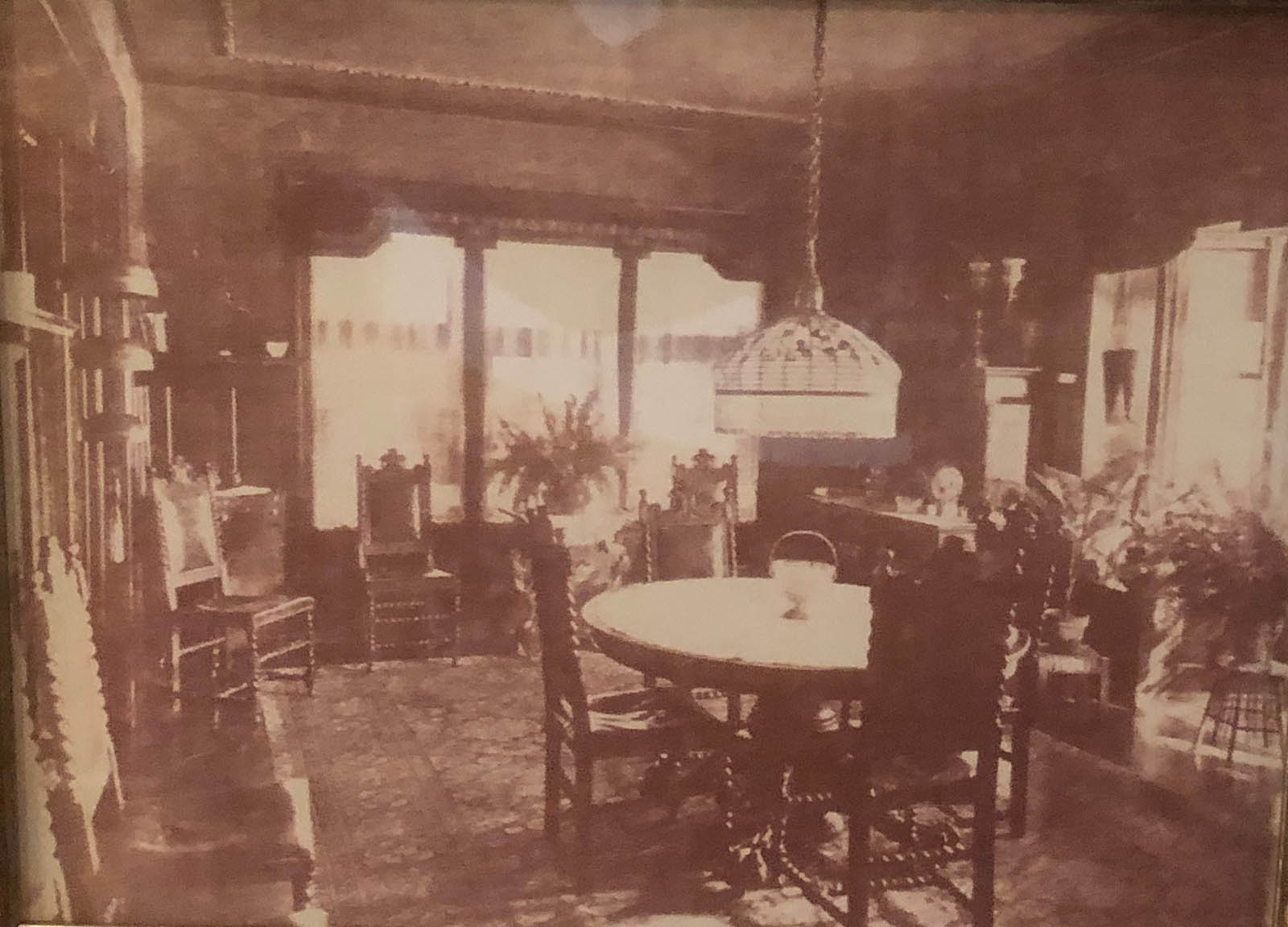 Later, he'd become president of the Peoples' Gas, Light and Coke Company in Chicago, which would itself become connected with Milwaukee in 2007 when it was merged into We Energies.
For the next few years, the home was rented to William Hinrichs, who was VP of the Wisconsin Bridge and Iron Co., until it was purchased by Albert C. Elser, either in 1906 or 1908, depending on whether you believe the Wisconsin Historical Society or the Milwaukee Historic Preservation Commission.
Elser, unlike Cowdery and his architect, was a Milwaukee native, born here in 1871, the son of German immigrant butcher John Elser, who had been born in Wurtemburg in 1835 and arrived 15 years later in in Milwaukee, where he opened his Water Street butcher shop in 1867.
The younger Elser attended Milwaukee Public Schools, the German-English Academy and the Spencerian Business College, and that education earned him a job as a clerk at Northwestern Mutual Life Insurance Company when he was 17, most likely working in what became known as the Loyalty Block, which you can read about here.
After three years, Elser left Northwestern Mutual to work as a cashier and bookkeeper in his father's meat business, and this was his position when he purchased the house that Cowdery built and moved in with his wife Mathilde and three young children, Gertrude, Elizabeth and Alfred (and later Marianne).
By the time a brief 1909 biography was published, Elser was active in society, including the Deutscher Club and Milwaukee Athletic Club, which between 1902 and 1917 occupied the Wells Building.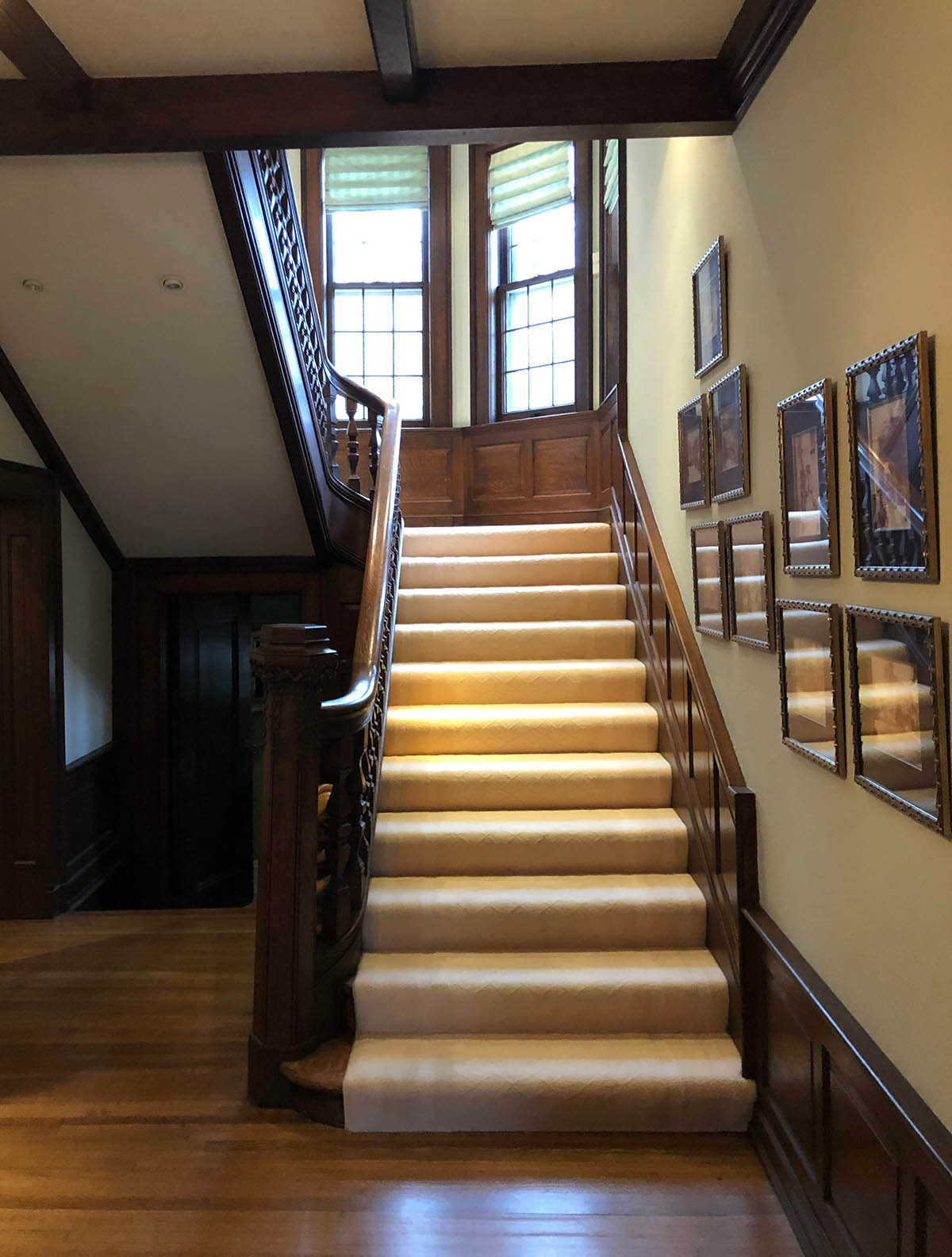 "He is allied with no political organization and exercises his right of franchise for men and measures that he thinks will best help the public weal," noted that biography in "Memoirs of Milwaukee County," edited by Jerome A. Watrous.
"Although a comparatively young man he has risen to a position of prominence in the commercial circles, and is much esteemed by all who know him."
Such was his standing in Milwaukee "society" that in 1900, Elser married into the powerful Uihlein family, of Schlitz Brewing fam. His wife Mathilde was the daughter of Alfred Uihlein, president of the brewery.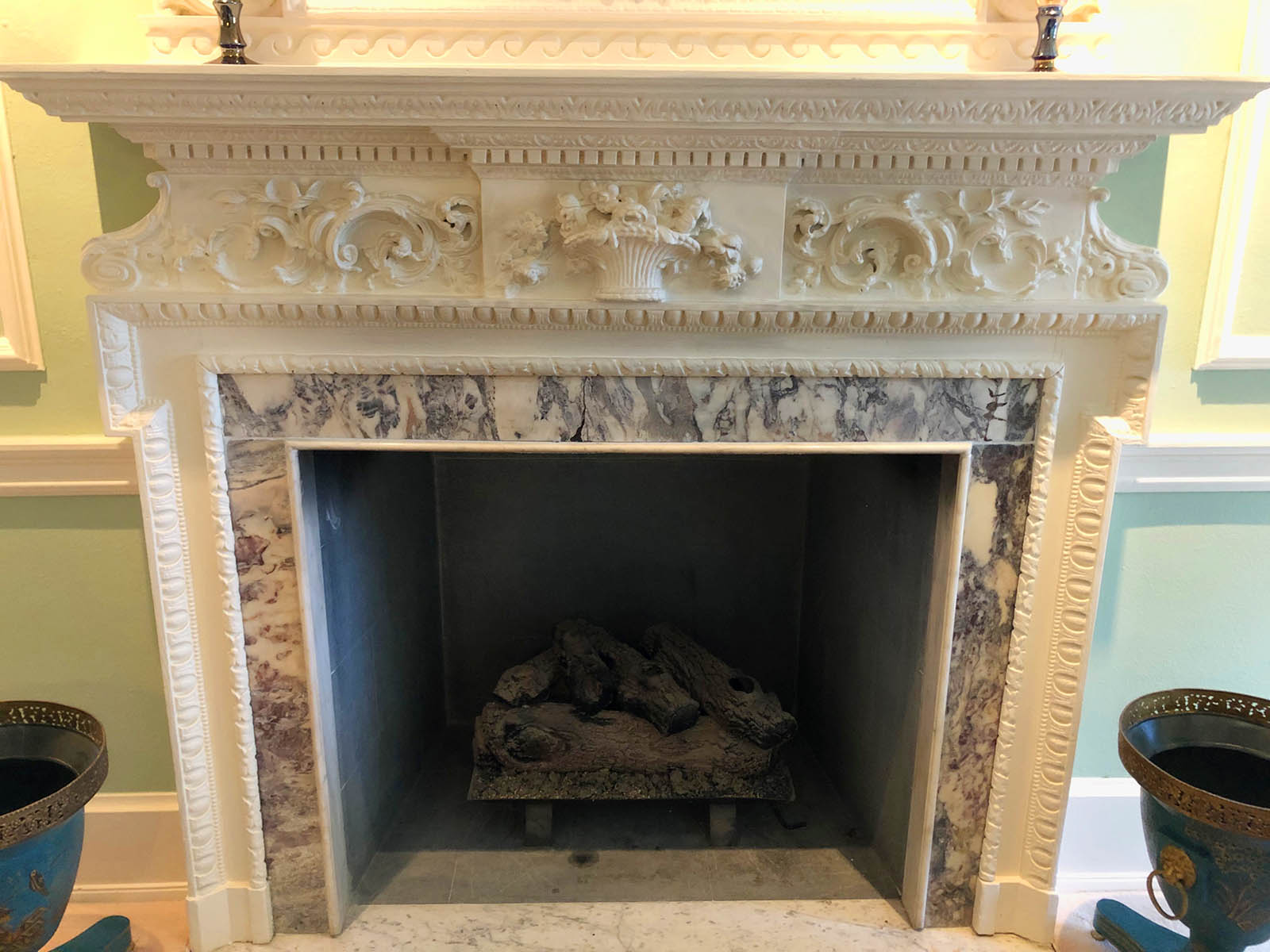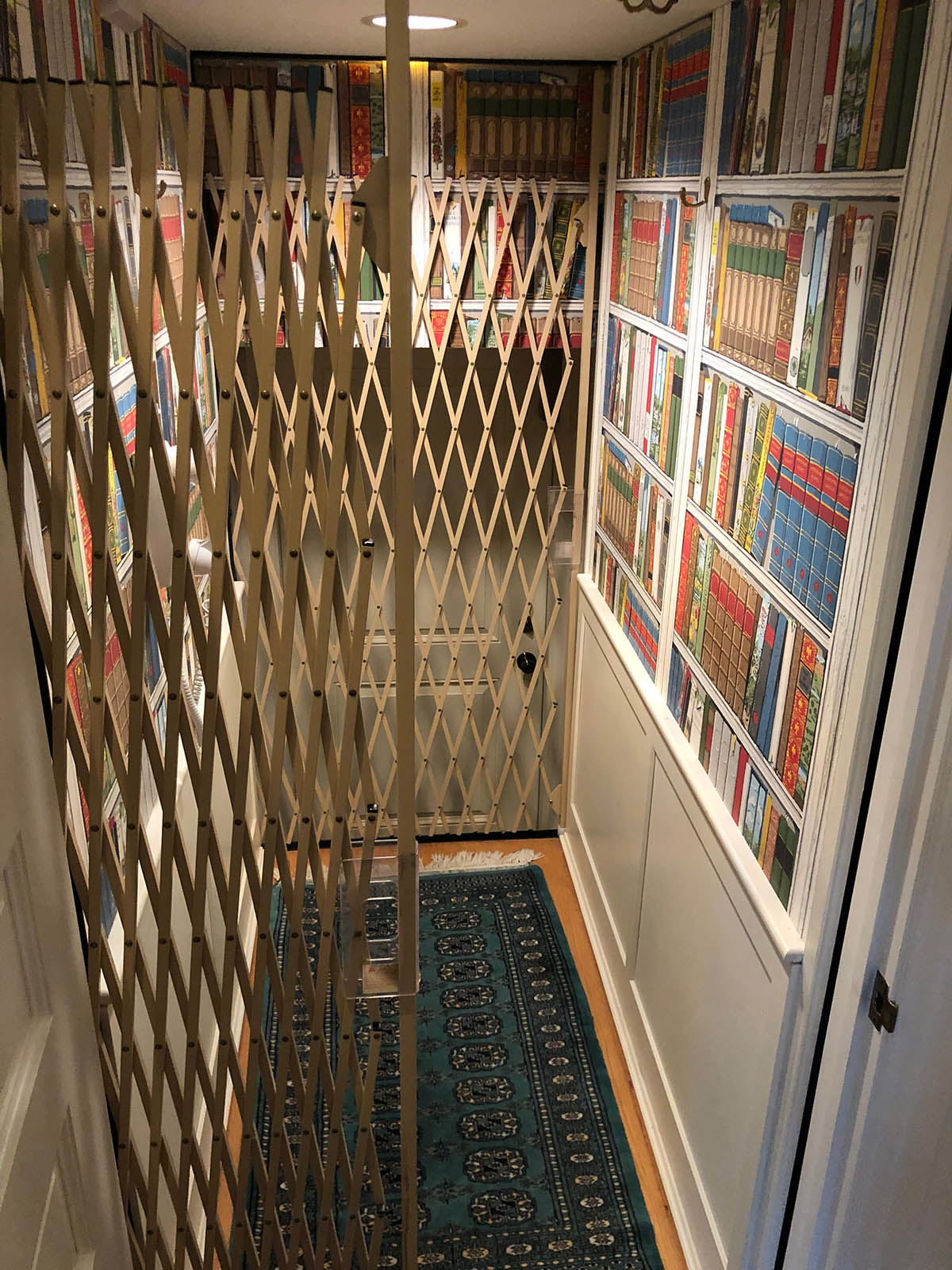 After 20 years working alongside his father, who had died in 1906, Elser became a director and vice president of the Second Ward Savings Bank (the headquarters of which are now home to the Milwaukee County Historical Society) in 1912, where according to William George Bruce's 1922 'History of Milwaukee, Vol. 2," he was, "active in formulating the policy and directing the activities of the Institution.
"During the world war Mr. Elser was active in promoting the various Red Cross and Liberty Loan drives. He is identified with the Association of Commerce and gives hearty aid and cooperation to the plans of that organization for the city's benefit and upbuilding. He is prominently and popularly known in club circles, having membership in the City, Rotary, Milwaukee Athletic, Milwaukee Country, Milwaukee and Town Clubs, and his friends in these organizations are legion."
Later, Elser became president of the bank and when it merged into the First Wisconsin National Bank in 1928, he was elected executive vice-president.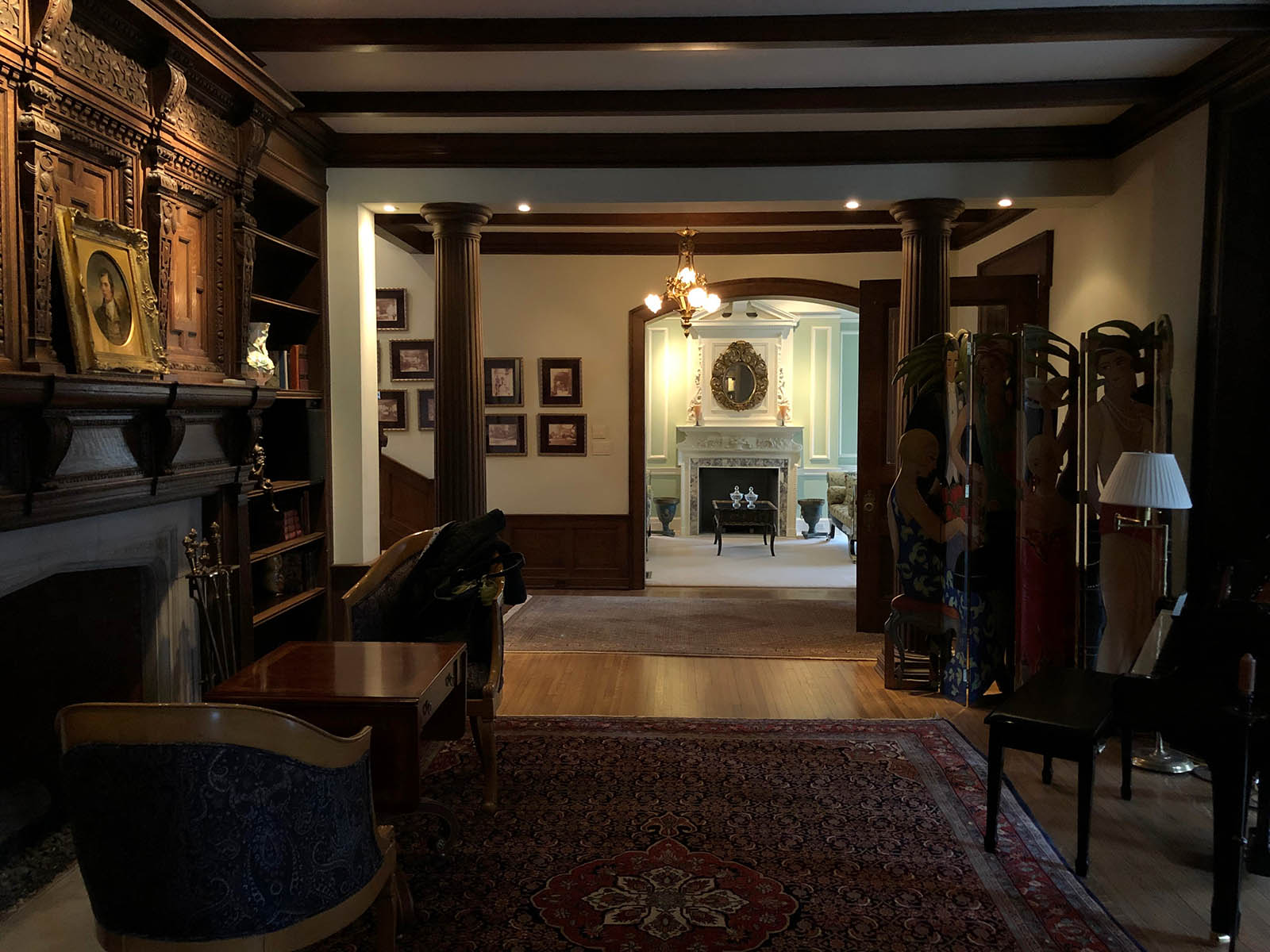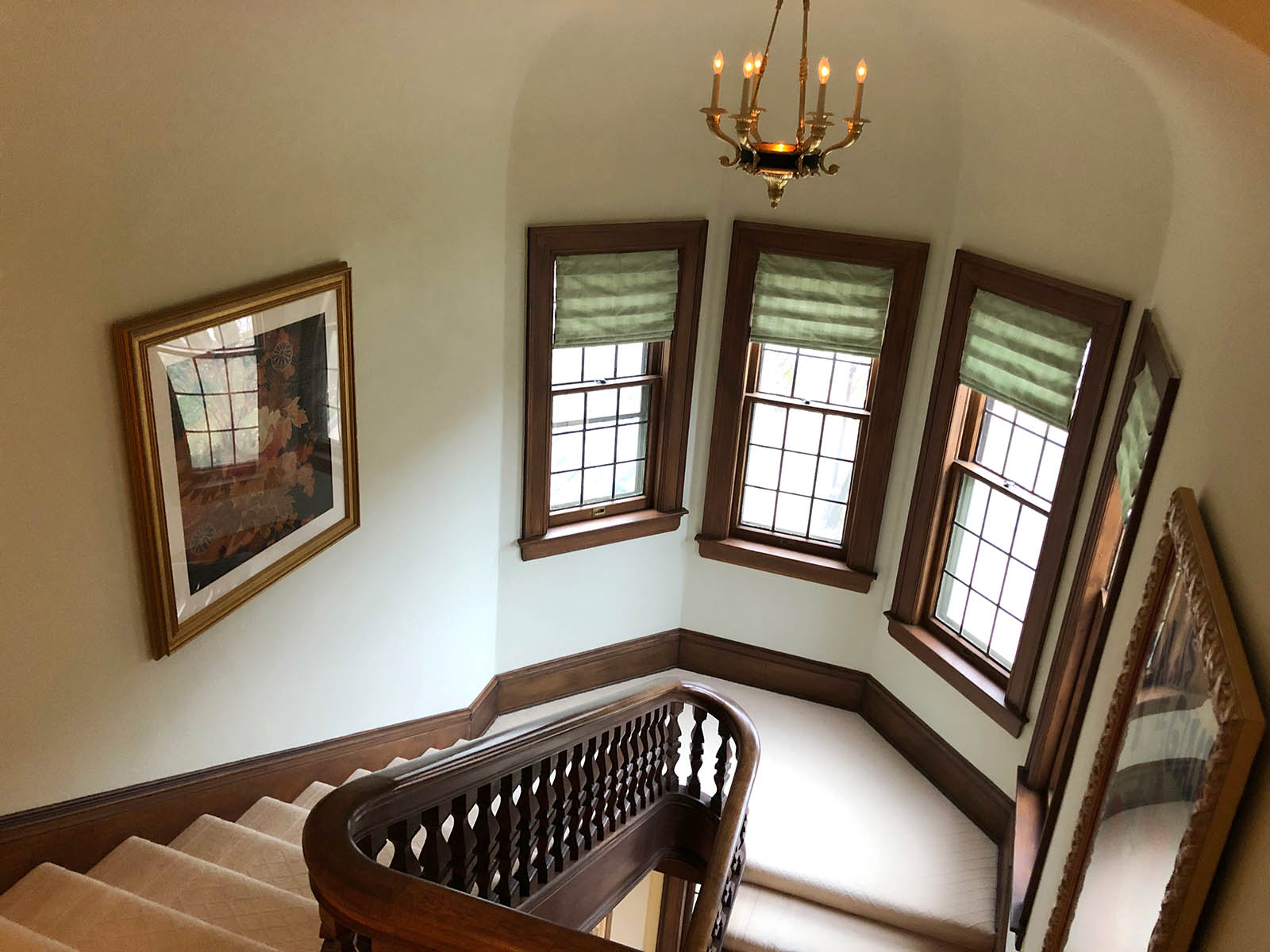 After moving into the Lake Drive mansion, Elser added a garage in 1911 and 12 years later a 22x34-foot addition on the south side of the house, both drawn by architect Max Fernekes. (A pre-addition view of the home is pictured further up in this article.)
In 1925, the home was the site of a 50th anniversary celebration for Mathilde's Uihlein parents, and the Elser family would long continue to be active in the Schlitz Brewery.
In fact, Albert Elser was a director at the brewery until his death in 1942 and, later, his son Alfred Uihlein Elser was also an executive there (as was his grandson, Alfred Uihlein Elser Jr.)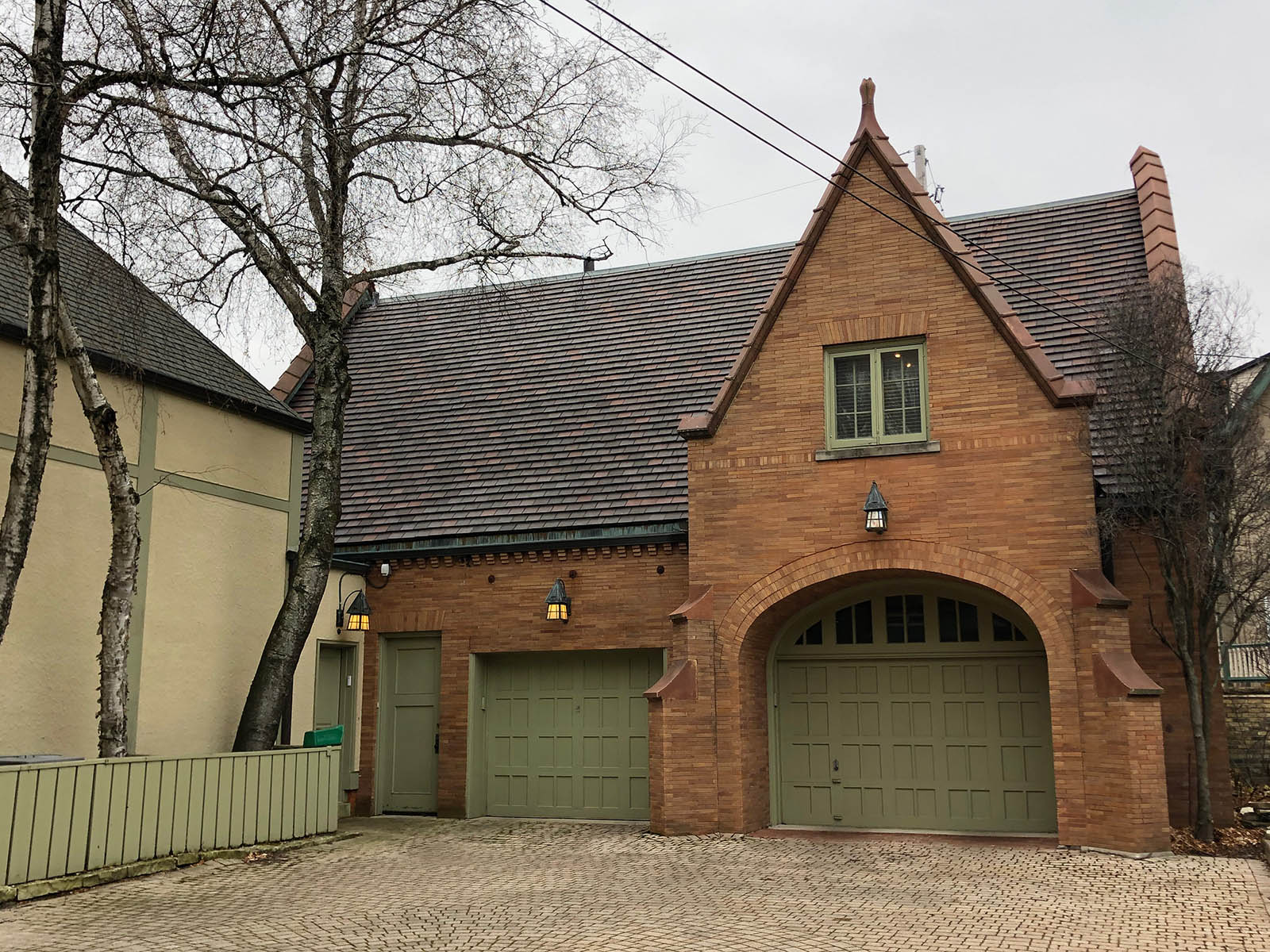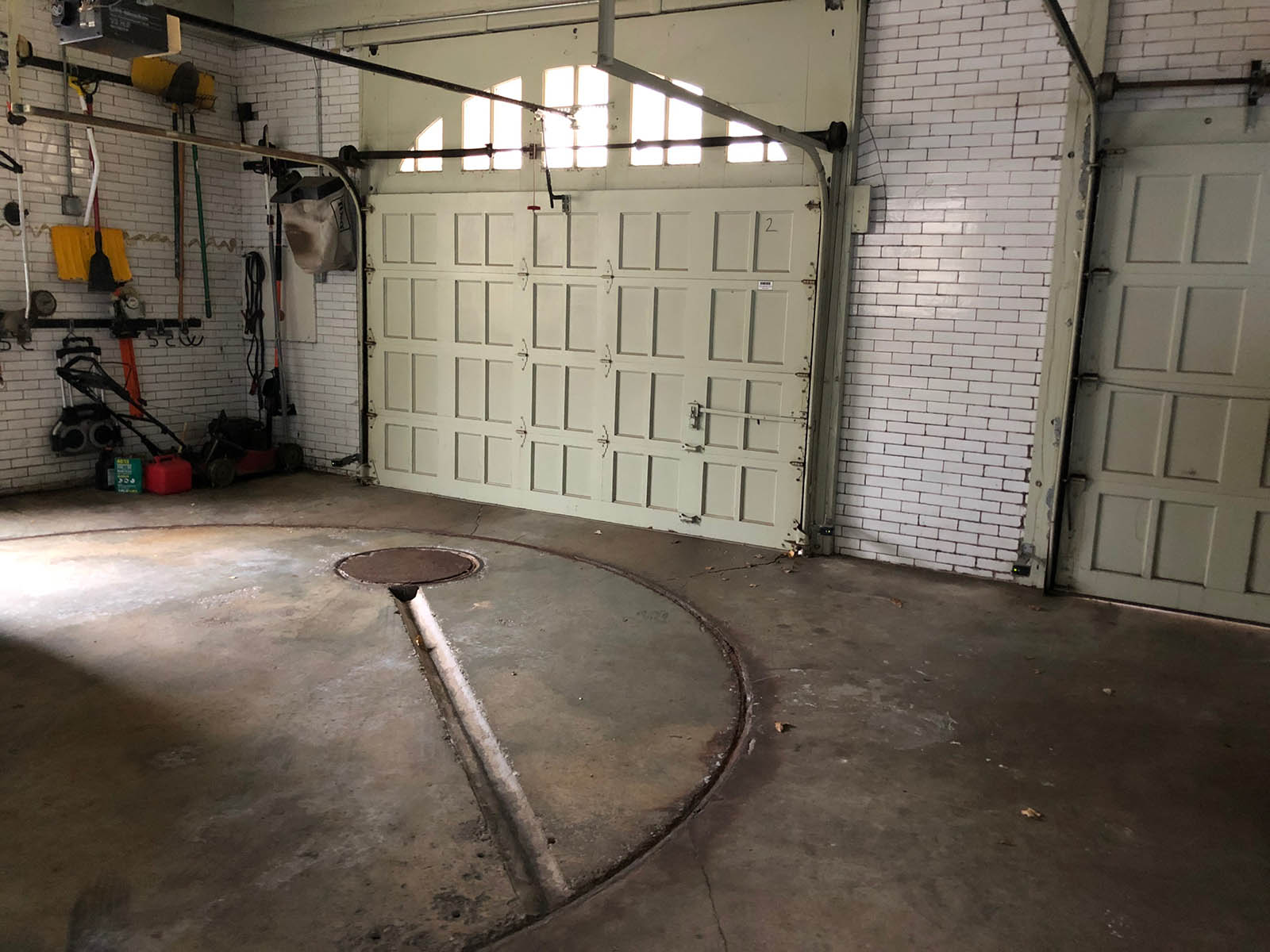 Two years after his passing, Mathilde died and their son Alfred Uihlein Elser and his wife Gertrude Deuster – daughter of a newspaperman and politician (like his father) – lived in the home, which remained in the Elser family until the dawn of the 1980s. (In an interesting aside, Deuster, after a divorce, married Gustave Pabst Jr., from whom she was also later divorced before marrying a third time, this time not, apparently, to a latter-day beer baron.)
Virginia Little bought the home in 1980, hosting Rev. Jesse Jackson there for an event in 1986 (between his two presidential campaigns) before selling it later that year to Dr. Thomas Pellino, who owned it for about a decade before selling it to the current owners.
Though Mardak and Vandenberg bought the house in 1997, they didn't move in until 1999 because they undertook so much work.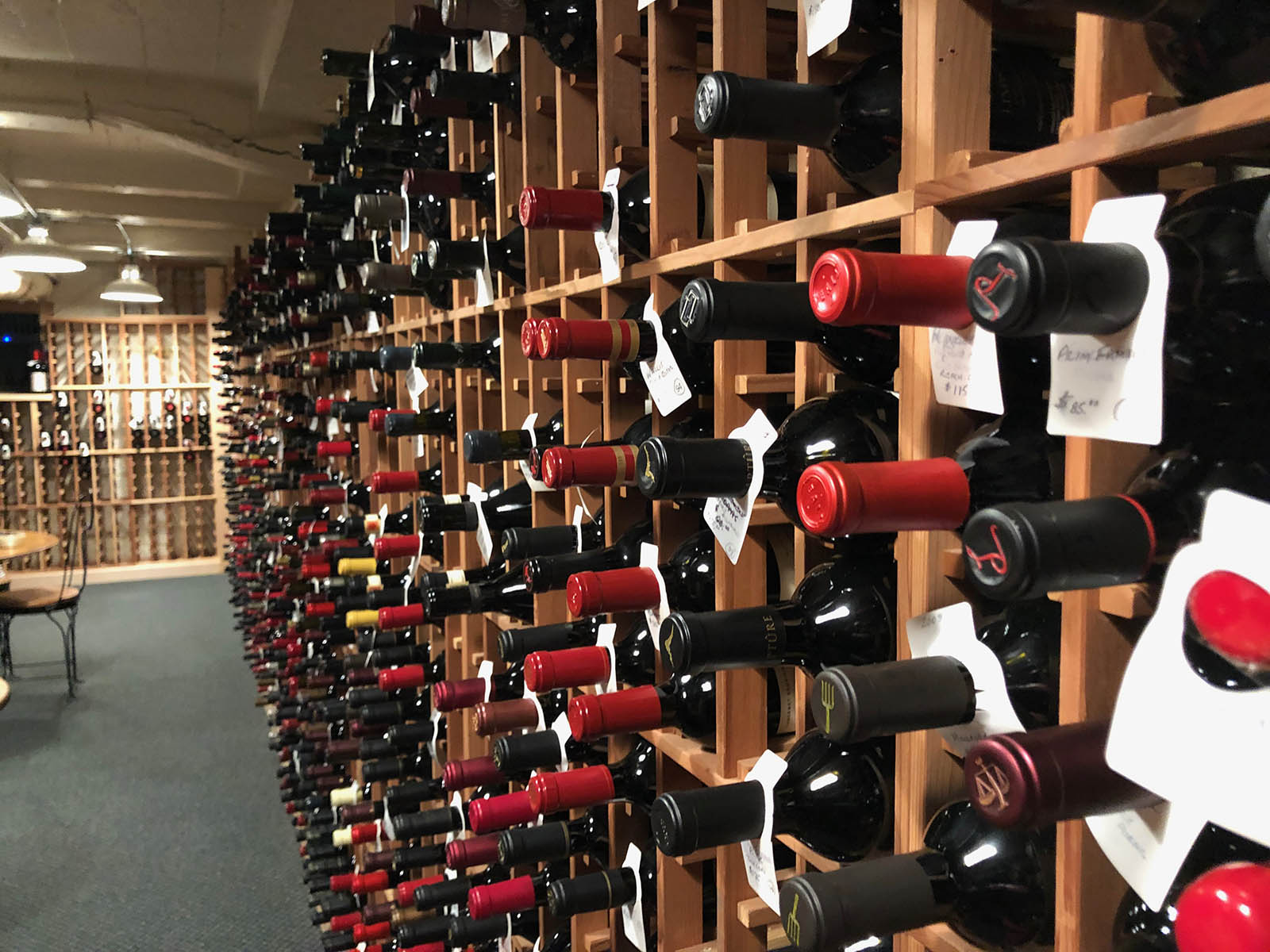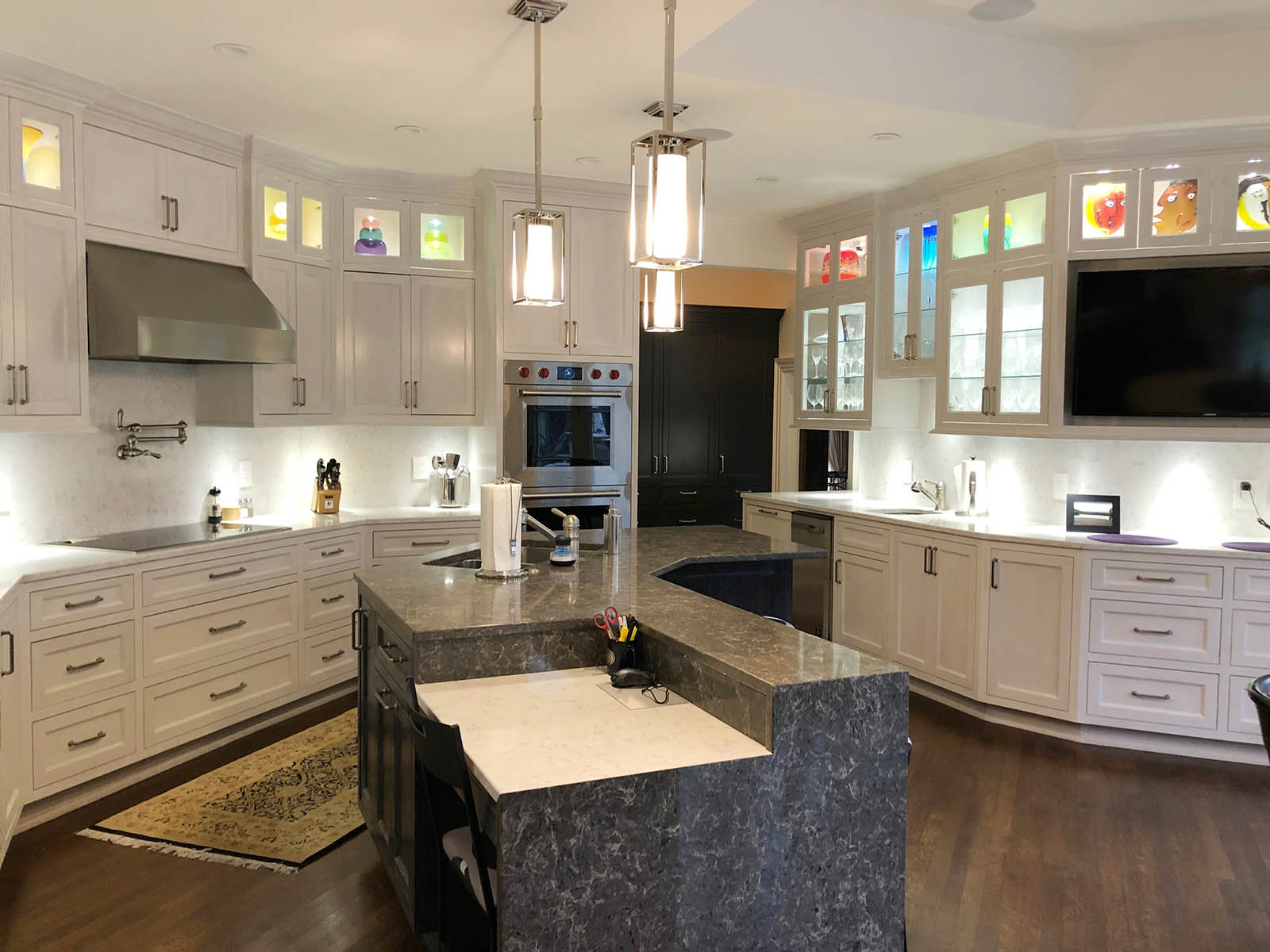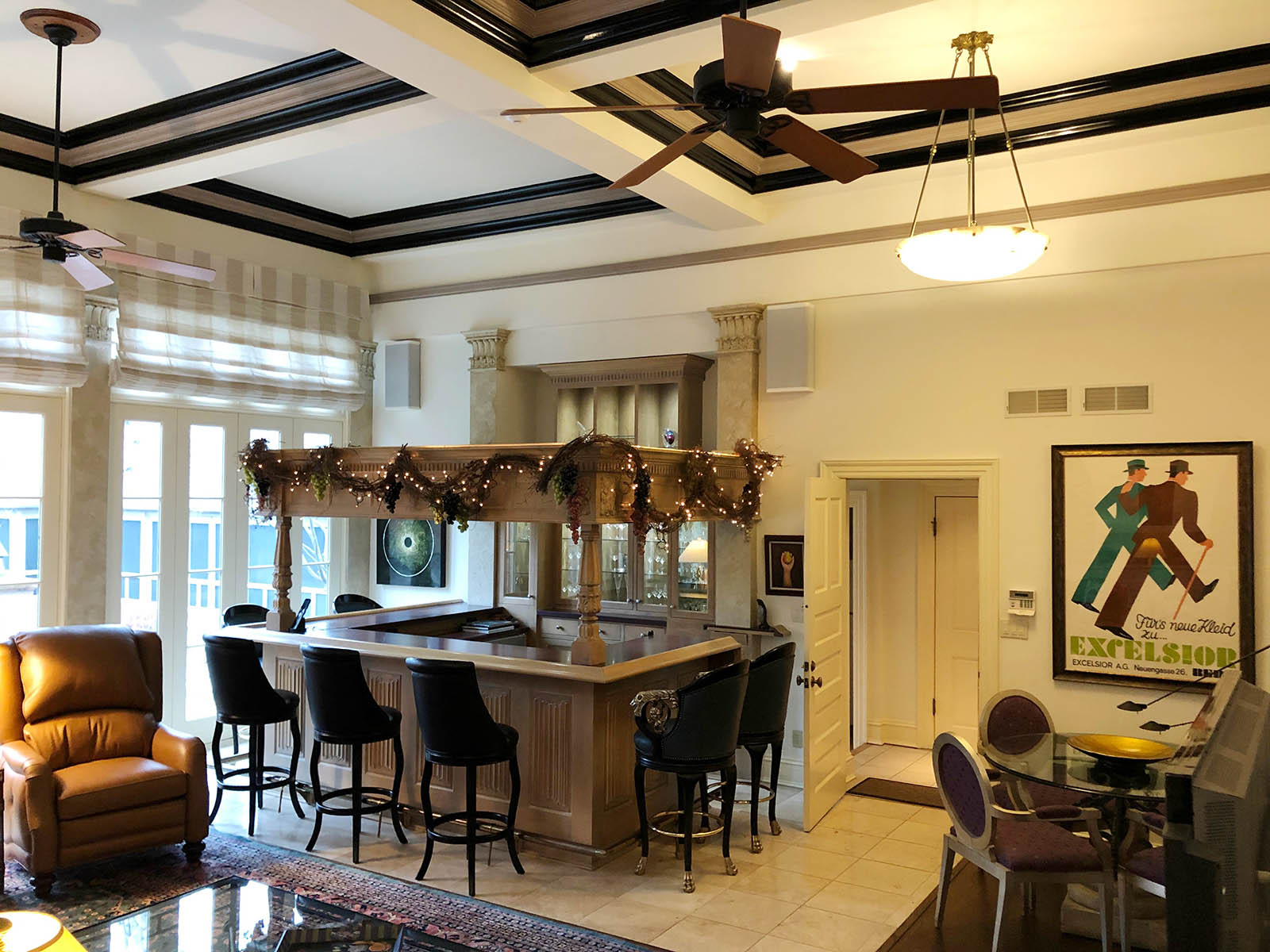 A 4,000-bottle, climate-controlled wine cellar was installed in the basement; the in-ground pool was moved to create a back patio with a hot tub; an elevator was installed; an addition was built with changing rooms and a sauna for the pool and hot tub users; a high-ceilinged entertaining space with a lavish bar (pictured above) and state of the art audio system (that controls speakers throughout the house and even outdoors) was installed; some of the second floor was reconfigured; a new kitchen was put in (and renovated again in 2016) and more.
They even had thousands of matching bricks made for the exterior projects, which included extending the boundary wall.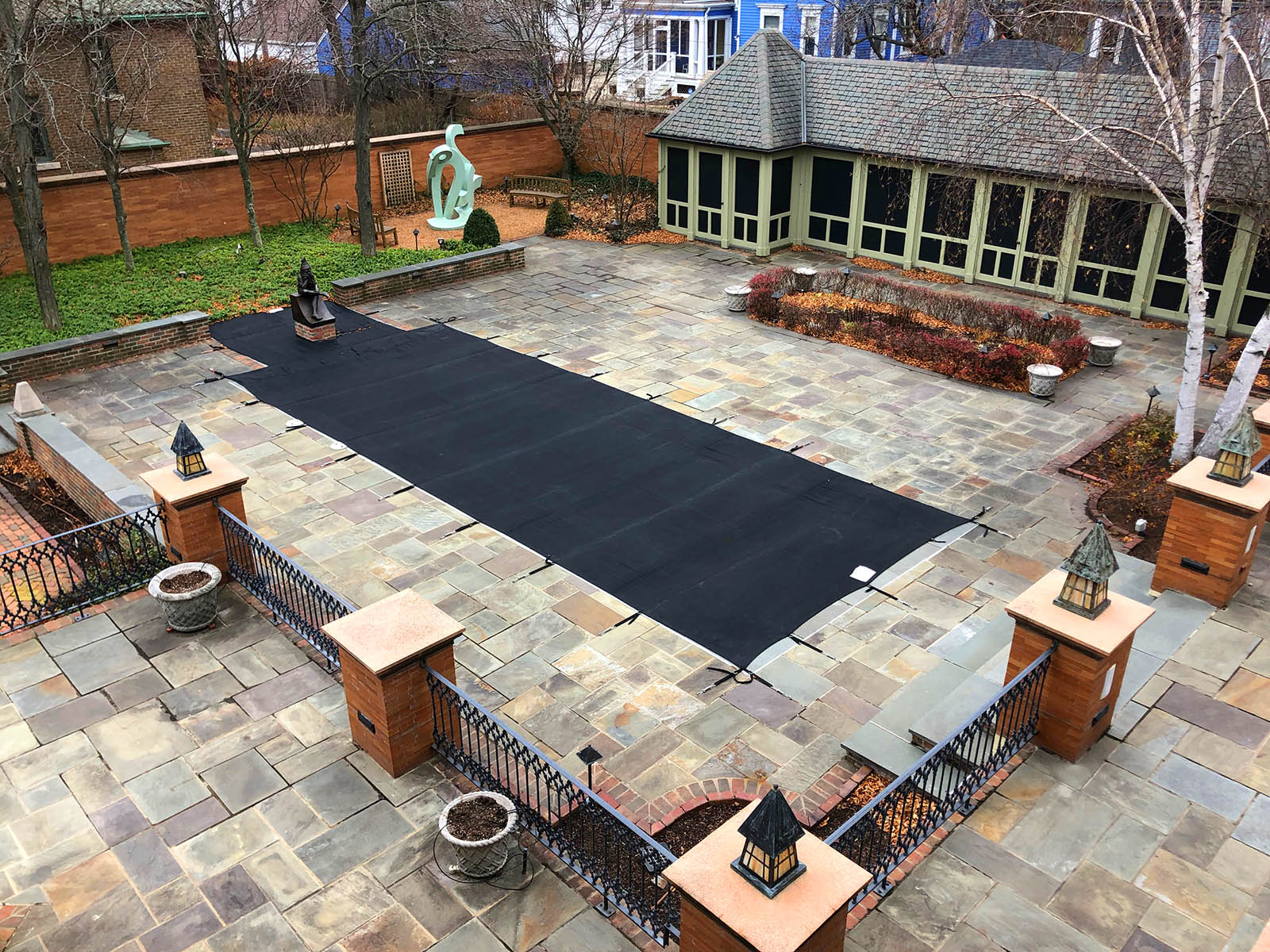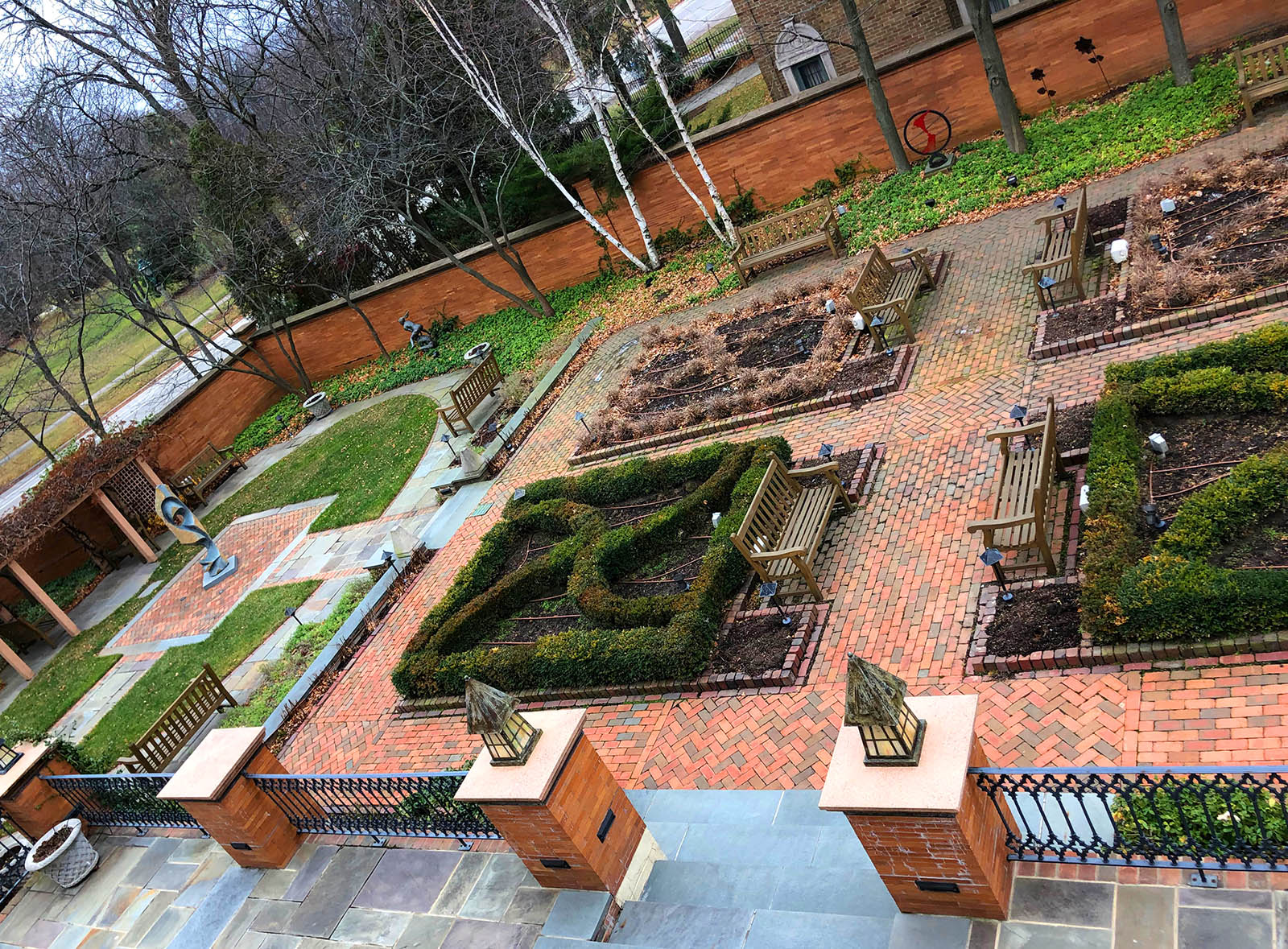 The result is that now, noted one person on the tour I got of the home this week, it feels like you're at a resort hotel, thanks to the amenities, not limited to the pool, patio, formal gardens and long screened-in porch that faces the yard, nor to the copious entertaining spaces inside, nor the white subway-tiled four-car garage with a (non-functioning) car turntable and an apartment above.
On the third floor of the house, there are bedrooms, including a little girl's room that has what I'm told are original built-ins, and an evocative rumpus room with a 19th century billiards table.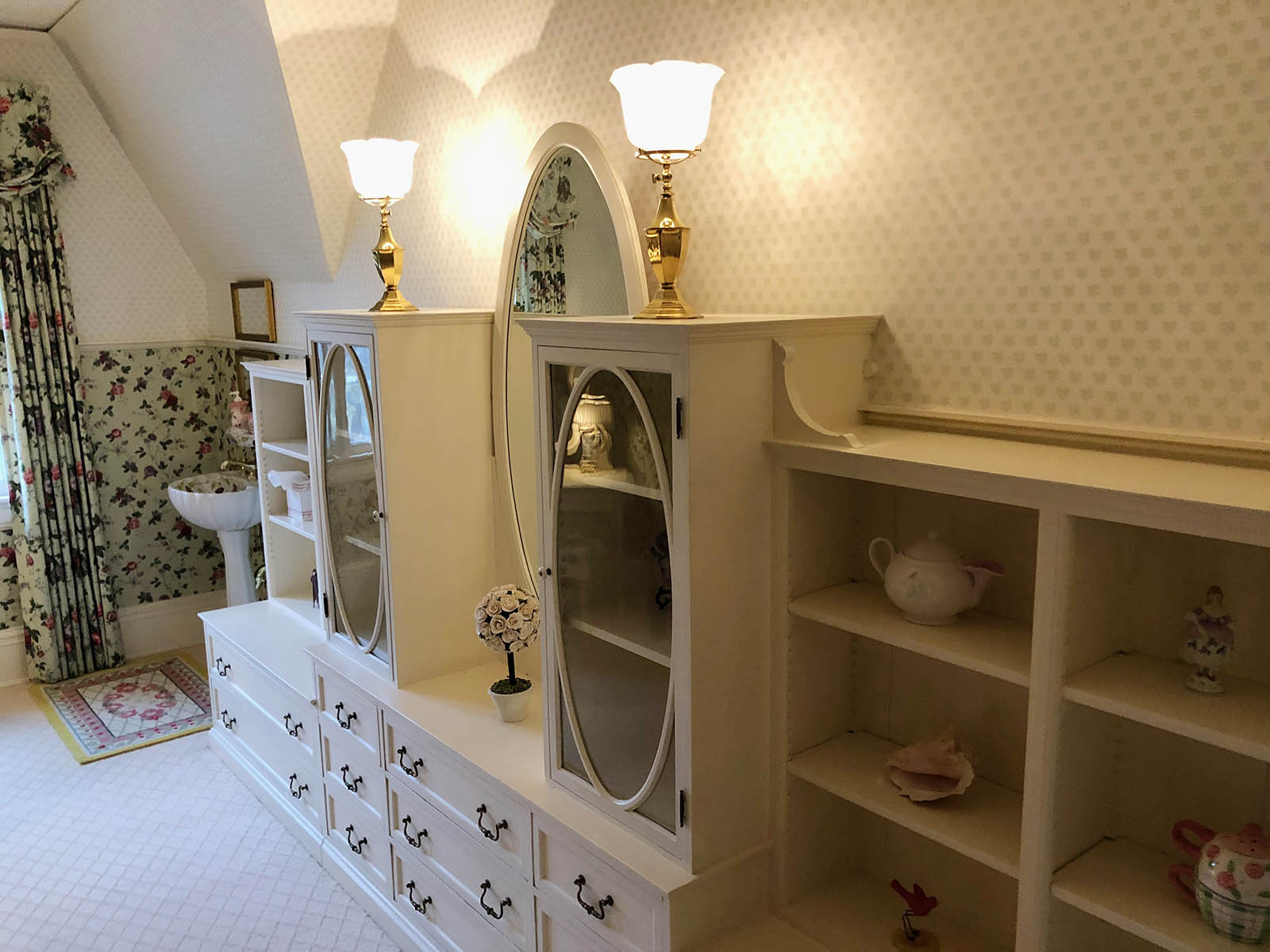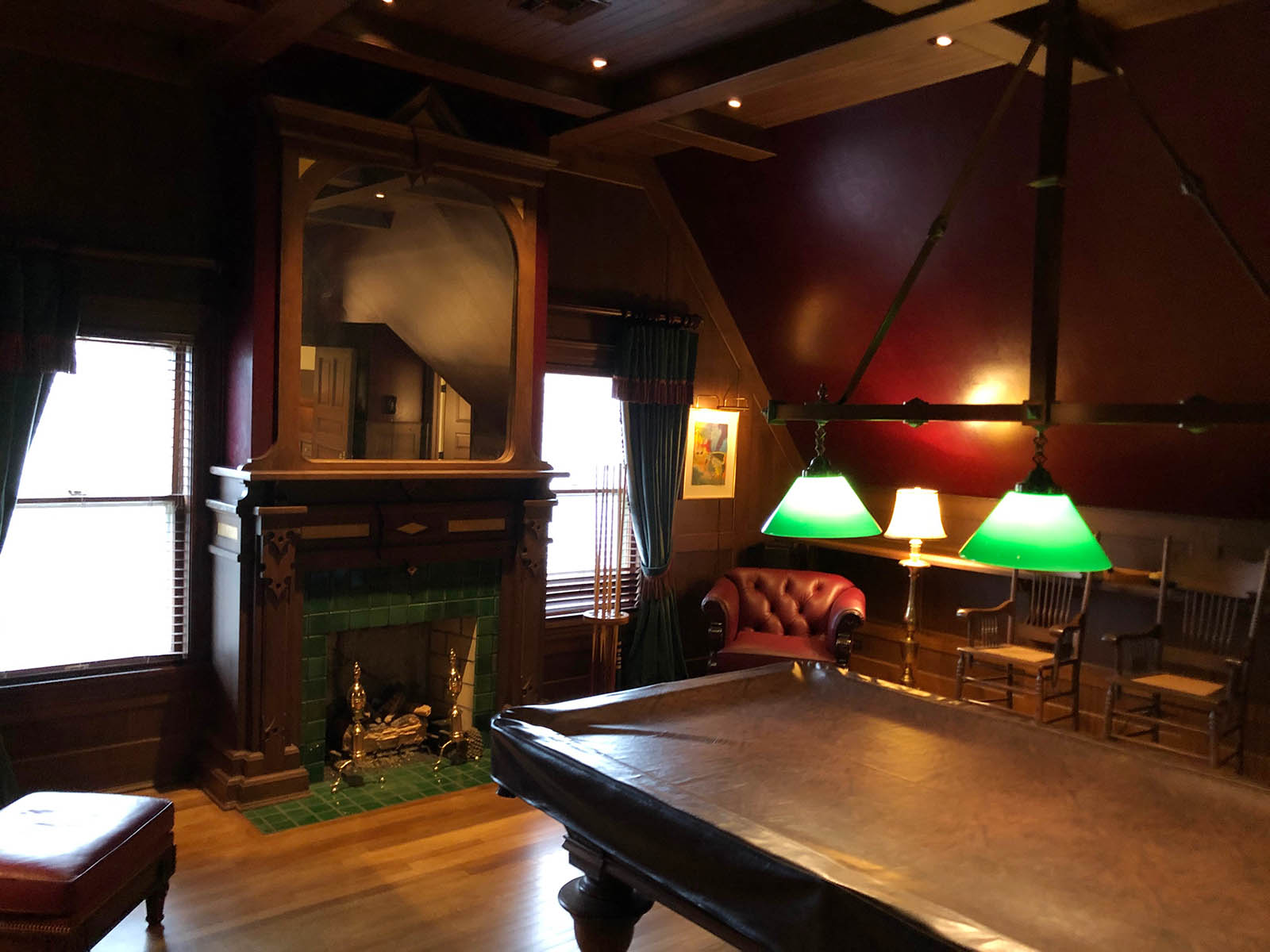 The owners are moving to a new place in Milwaukee and one that requires them to downsize a bit, including trimming that mind-boggling wine collection.
Realtor Katie Falk says there's already been quite a bit of interest in the Lake Drive home and that's no surprise.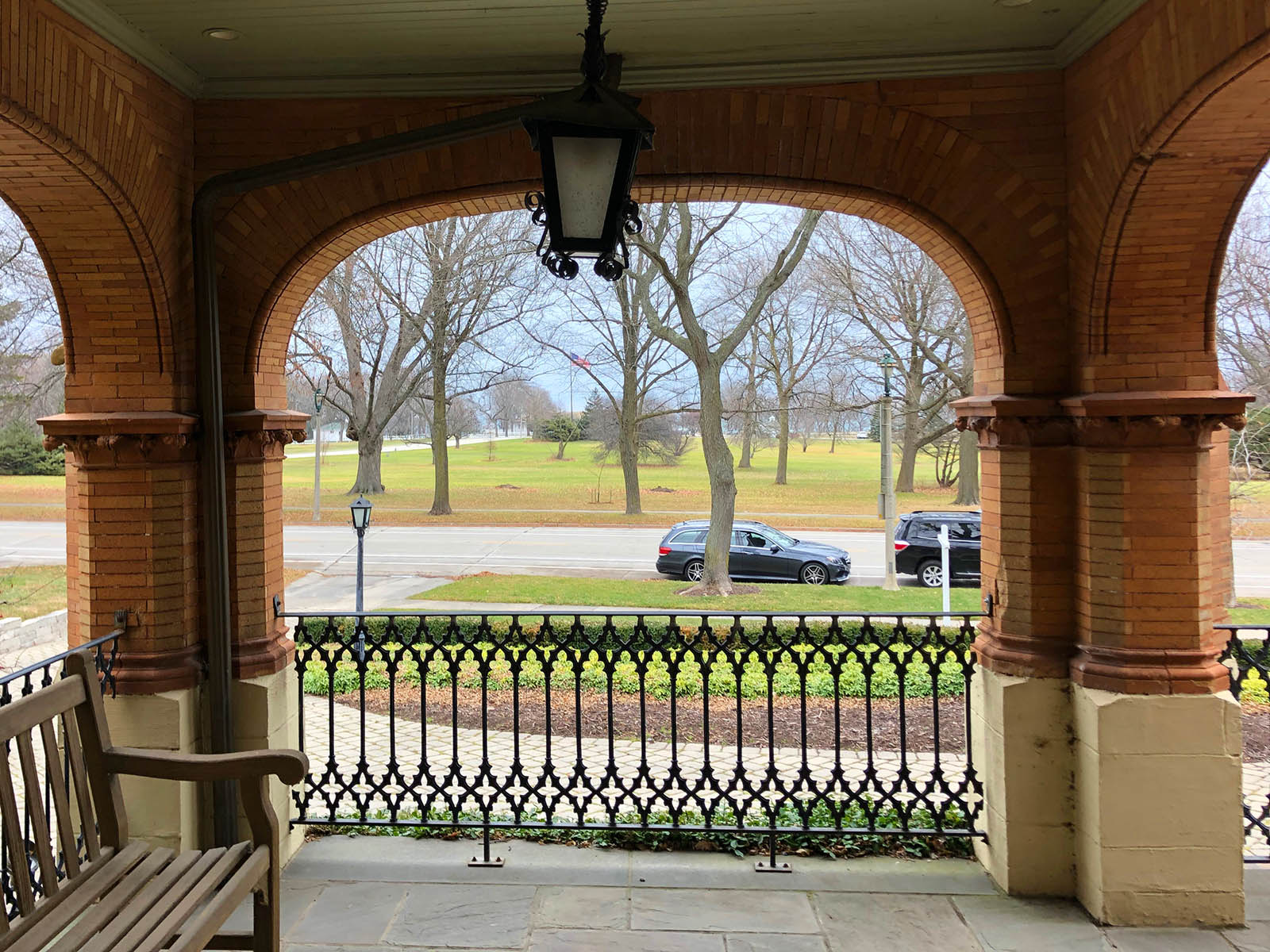 In addition to the modern amenities, there are six beautiful fireplaces (all converted to gas), a classic dark wood library, hidden cupboards in the dining room, lavish plaster ceilings and all the details you'd expect from a Victorian mansion.
If you can swing the price tag (which includes framed vintage photos of the home's interior and exterior, a water-spouting re-creation of one of the facade's terra cotta dwarves at the pool and, apparently, a painted portrait of Scots bard Robert Burns), it really is like a resort ...
... one with a view across to Lake Park.
Born in Brooklyn, N.Y., where he lived until he was 17, Bobby received his BA-Mass Communications from UWM in 1989 and has lived in Walker's Point, Bay View, Enderis Park, South Milwaukee and on the East Side.
He has published three non-fiction books in Italy – including one about an event in Milwaukee history, which was published in the U.S. in autumn 2010. Four more books, all about Milwaukee, have been published by The History Press.
With his most recent band, The Yell Leaders, Bobby released four LPs and had a songs featured in episodes of TV's "Party of Five" and "Dawson's Creek," and films in Japan, South America and the U.S. The Yell Leaders were named the best unsigned band in their region by VH-1 as part of its Rock Across America 1998 Tour. Most recently, the band contributed tracks to a UK vinyl/CD tribute to the Redskins and collaborated on a track with Italian novelist Enrico Remmert.
He's produced three installments of the "OMCD" series of local music compilations for OnMilwaukee.com and in 2007 produced a CD of Italian music and poetry.
In 2005, he was awarded the City of Asti's (Italy) Journalism Prize for his work focusing on that area. He has also won awards from the Milwaukee Press Club.
He can be heard weekly on 88Nine Radio Milwaukee talking about his "Urban Spelunking" series of stories.