After last week's mountain of emotion, Monday night's episode of "Dancing with the Stars" brought things up a bit with the magic and innocent child-like wonder of Corporate Synergy Night Disney Night. That meant all Disney songs, cartoon characters dancing around before and after commercial breaks, several video packages of dancers preaching the Gospel of Walt and more "Coco" references than a Hershey's factory. It's a little shameless ... and a little sweet too.
Unfortunately, even with all that Disney product placement, er, magic in the air, it doesn't mean a happy ending for everyone. Somebody had to leave – and going into the night, I had a feeling that it might be somebody unexpected. And my sixth sense was almost right, as Frankie Muniz found himself in the bottom two despite last week's quite nice quickstep. But instead, it was "Pretty Little Liars" star Sasha Pieterse who got the axe, a sad but not quite unexpected result. Her routines, including last night's "Little Mermaid" bit, were ... fine, never embarrassingly bad but never noteworthy either. They were always the hardest ones to remember while writing these recaps, just because there's only so many ways to say, "It was OK!"
Meanwhile, Malcolm gets to stay another week – which is good, because I don't think I can handle his "aw gee whiz," endlessly enthusiastic personality getting shown the door quite yet. It'll be like eliminating a puppy.
But what about the rest of Disney Night? Who conjured some Disney magic with their dancing, and who was a "Mars Needs Moms" or "John Carter"-level disaster? The judges had their say, but here's our scores:
9. Nick Lachey
Dance: Quickstep
Judges' score: 22 out of 30
Our score: Lachey's "Jungle Book" themed routine was cute and playful, bringing out more personality from the former boy band star than usual. But the reality is that Nick's currently the worst dancer on the show – and by a noticeable amount. He dances small with his arms and legs, and as Len pointed out, he has a droopy right arm. Everyone else on this show is holding serve or improving; Lachey's not going anywhere. Which means he should be going home.
8. Vanessa Lachey
Dance: Waltz
Judges' score: 24 out of 30
Our score: The opening moments of Vanessa Lachey's Snow White waltz, with the light streaming down onto her still, sleeping body? Gorgeous. When the dancing began? Less so. Not that it was a bad number, but several steps seemed a little awkward and off-balance – enough to knock her down to around her husband's scoring range. With everybody else stepping up their game, Vanessa picked a poor time to plateau.
7. Terrell Owens
Dance: Quickstep
Judges' score: 25 out of 30
Our score: If you had told me four weeks ago Terrell Owens would still be on the show right now, I'd have scoffed. And if you told me he'd be racking up a nine? Cackling like Ed the hyena. But that's what happened Monday night during his "Lion King" quickstep. His blasé approach on the dance floor has been replaced by strong technique, fittingly quick steps and winning performances. If he keeps this up, considering football players' reputations on this show, he might not have to wait to be king.
6. Nikki Bella
Dance: Jazz
Judges' score: 27 out of 30
Our score: I like that "jazz" on "Dancing with the Stars" basically translates to "however the music moves you." In the case of Nikka Bella's "Coco" routine (DID WE MENTION DISNEY'S "COCO," OUT IN THEATERS NEXT MONTH!?), it was authentic Mexican folk dance – a perfect match since Bella is of Mexican heritage, resulting in a pretty perfect routine. For possibly the first time, the wrestling diva seemed carefree on the dance floor, blithely performing a bright, fun and festive number. She's maybe a little low in my rankings because, as Carrie Ann pointed out, while everyone else gets memorable songs with iconic characters, Bella gets stuck with a tune and a storyline nobody knows – well, at least until the movie comes out ON NOVEMBER 22, DISNEY'S "COCO" JUST IN TIME FOR THANKSGIVING; BRING THE WHOLE FAMILY, TICKETS ON SALE NOW!
5. Drew Scott
Dance: Viennese waltz
Judges' score: 25 out of 30
Our score: We need to talk about the ever-increasing odds that Drew Scott could win this thing. His improvement since week one of the show has been remarkable – including tonight's waltz to "Rainbow Connection," which was remarkably smooth and pretty lovely. Guest judge Kermit the Frog certainly thought so, giving Drew a ten, but he's bias so SCORE THROWN OUT. Plus, he briefly frog-splained over Carrie Ann.
But in addition, if you made a Venn diagram of people who watch "Dancing with the Stars" and people who watch "Property Brothers," you'd probably just have a single circle. We officially have a dark horse – and if he doesn't win, at least he got to be Muppetized.
4. Victoria Arlen
Dance: Jazz
Judges' score: 27 out of 30
Our score: Arlen gets a lot of credit, and deservedly so, for pulling off these dance moves considering her condition, but she also deserves credit for being such a bright, fun performer. That was my takeaway from this Steamboat Willy routine, which could've been awkwardly cloying and clunky but, thanks to her radiant performance, was a delight instead. The cheeky and unabashedly retro cornball cuteness might not be everyone's favorite – especially in a night full of strong performances – but it certainly deserves to keep her around. Also somebody who needs to be kept around: that random kid throwing up gang signs or something in the crowd at the end. WHERE IS A GIF OF THIS?! INTERNET, YOU'VE FAILED ME!
3. Frankie Muniz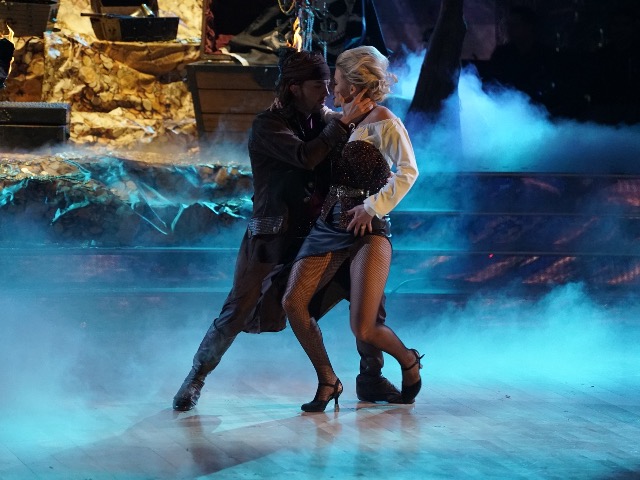 Dance: Argentine tango
Judges' score: 29 out of 30
Our score: I like to consider myself a pretty knowledgable movie guy, so when I say that I had no idea where the song for Frankie's tango came from in "Pirates of the Caribbean" – much less able to recognize it whatsoever – that's pretty deep-cut stuff. I WANTED DANCING TO HANS ZIMMER! Next week's movie night better bring an "Inception" routine.
Anonymous song-griping aside, Frankie's pirate tango was exceptional. I don't know if I would describe it as "steamy," their goal headed into the dance, but it was well performed and extremely well choreographed (a lot of the numbers tonight were very technique heavy, and the results were strong, pure, lovely dance and very little kitsch filler). Muniz was so good that the long notable mistake in the routine belonged to ... Witney, whose heel got caught on her dress. WALK THE PLANK!
2. Lindsey Stirling
Dance: Foxtrot
Judges' score: 28 out of 30
Our score: I know I say this every week – and I don't intend to take away from Stirling's fabulous work – but Mark Ballas's choreography is a treat to watch on "Dancing with the Stars." He can go big with conceptual stuff, like last week's Viennese waltz that left every eye wet or the cocoon number from earlier in the season, but also go clean, pure and lovely dance, like last night's elegant starlit foxtrot to "When You Wish Upon a Star." He's great at plugging in little unpredictable grace notes too – like a little kick up early on in the dance – and his partner is great at hitting them with panache and personality.
So yes, what I'm trying to say is that I enjoyed this dance quite a bit.
1. Jordan Fisher
Dance: Foxtrot
Judges' score: 30 out of 30
Our score: I will admit that I've maybe been a bit hard on Jordan Fisher. Maybe it's the Broadway background that makes me expect more from him. Maybe it's jealousy because he's four years younger than me and totally killing it – on the dance floor and also just, like, in life. But no matter the reasoning for my past harrumphy-ness, there's pretty much nothing to complain about with his "Moana"-themed foxtrot. It was so good, even Len couldn't complain about the rap breakdown bit – or, as he calls it, "mucking about" – and joined the rest of the judges in tossing a ten his way. Fisher even provided the song, a cool cover of The Rock's "You're Welcome."
Wait a second, the guy who helped provide the music for a Disney movie nabbed a perfect score on Disney night? AND he used to be a Disney Channel child star?! I see what's happening here ...
As much as it is a gigantic cliché to say that one has always had a passion for film, Matt Mueller has always had a passion for film. Whether it was bringing in the latest movie reviews for his first grade show-and-tell or writing film reviews for the St. Norbert College Times as a high school student, Matt is way too obsessed with movies for his own good.
When he's not writing about the latest blockbuster or talking much too glowingly about "Piranha 3D," Matt can probably be found watching literally any sport (minus cricket) or working at - get this - a local movie theater. Or watching a movie. Yeah, he's probably watching a movie.