Four judges. Three dancers left standing at the end of the episode. Two nights of frenetic finale footwork action. One mirror ball trophy. And only one question left remaining headed into the season finale of "Dancing with the Stars": Why is Fifth Harmony still called that when there's only four members now? Actually, two questions: What was that "American Idol" Golden Ticket contest thing with Lionel Richie? Hold on, one more: Was it just me, or did Bruno look like construction worker Daniel Craig when he popped up in a hardhat and sunglasses?
Not particularly in question headed into Tuesday night's finale: who's going to win this special 25th season of "Dancing with the Stars." Unless he literally took a dump on the stage before preaching to the audience about why DreamWorks is better than Pixar and why "Frozen" is overrated, Jordan Fisher has this thing in the bag – and even then, it'd be hard to vote against these last several weeks of stellar dance moves.
And in case his dynamite dancing wasn't enough, Drew Scott was eliminated last night – somebody I considered technically his toughest competition for the trophy. Certainly not because of the Property Brother's dancing abilities – last night's two numbers only cemented that, with his paso doble hindered by a blatantly missed move and his otherwise exuberant freestyle docked for some offbeat timing – but because of literally everything else. Despite being the worst dancer remaining on the show for a while now, Scott was never in the bottom two until last night's elimination thanks to his goofy personality, his HGTV show's wild popularity (and shared audience with "Dancing with the Stars") and his clear growth from episode one when he looked like a possessed marionette puppet. And now he's gone.
So could anyone left really knock off Jordan Fisher? The judges – complete with guest judge Julianne Hough – had their say last night, but here's where we think everyone stands less than 24 hours from the finale.
3. Frankie Muniz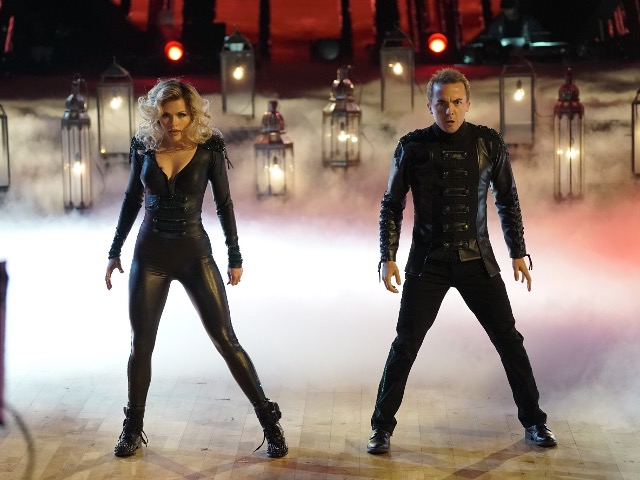 Dances: Foxtrot and freestyle
Judges' score: 38 out of 40; 38 out of 40
Did he do enough to beat Jordan Fisher? Well, he at least did enough to defy the odds and make the finale, that's for sure. After barely surviving these past few weeks, Muniz pulled off a miracle and beat out Drew Scott for the final spot on in the top three (he always was the better dancer between the two, so it's nice that footwork got the edge this week over fame). But making the finale is his victory, as I'm not convinced he did enough to steal the mirror ball trophy from Jordan Fisher.
His redemption foxtrot – complete with some swaggering solo steps – was old school glamorous, bringing some Fred-and-Ginger debonair dance moves that certainly impressed one particularly screamy audience member during the judges' critiques. There's something about his gracefully swooping arms in these traditional ballroom dances that's delightfully boyish. But the judges still dinged him for some posture problems – and it's a little late to be still getting those kind of criticisms if you intend to knock off Jordan.
Then there was his freestyle, and if you were expecting a boyishly charming final routine to put his best foot forward, well, sorry, his partner Witney misheard you and thought you said, "gothic fantasy rock routine dressed as extras from 'Van Helsing.'" It ... was a choice, one even the producers called Witney to second-guessi if maybe they should go in a not cultish sacrifice dance number, and while the judges appreciated trying something unexpected and something showing a different angle of the former child star, I have a hard time thinking it's the kind of routine that'll get people to vote. Rest easy, Jordan.
2. Lindsey Stirling
Dances: Quickstep and freestyle
Judges' score: 40 out of 40; 40 out of 40
Did she do enough to beat Jordan Fisher? For the entire season, Lindsey Stirling has quietly served as Jordan's main true competition. Others had the personal stories to compete for the mirror ball trophy, but Stirling often actually had the steps to sneak up on the "Hamilton" star and steal away the crown – thanks to her own finessed footwork and Mark Ballas's insanely creative choreography always allowing her to shine.
She cemented her place as the next best dancer of the season, the one we'd be insanely impressed by, with her impressively sharp – not to mention LONG – quickstep redemption routine as well as her fiddle-happy freestyle, complete with some literal fiddle-playing in the middle of the whole thing. What are the rules on one's dancing posture and placement in hold when one dancer is frantically strumming away on a violin? I'm not sure; all I know is that it was nifty as hell (as one who played violin for a decade of his life, anytime you can make the instrument look cool is appreciated) and Lindsey is made of rubber with some of those bendy lifts. Add in some of Ballas's signature cinematic storytelling, and you'd have a true competitor for the crown.
If only she wasn't battling against a dance demigod.
1. Jordan Fisher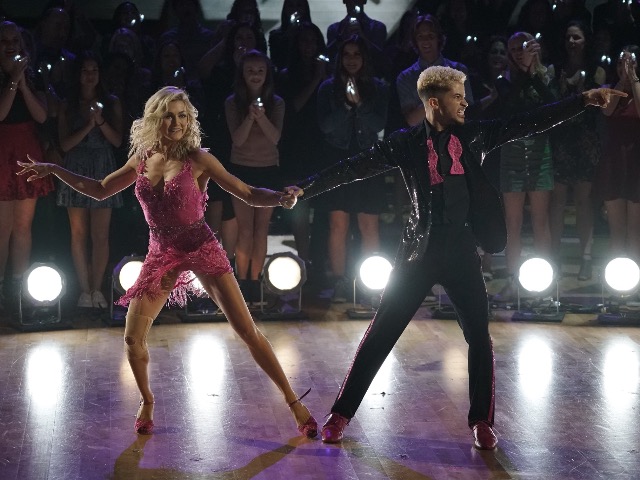 Dances: Charleston and freestyle
Judges' score: 40 out of 40; 40 out of 40
Did he do enough to not lose? Honestly, it's hard to come up with things to say about Jordan Fisher anymore – and Julianne did a nice job explaining why last night: When he dances, your brain turns off its critical functions and you just become a fan, watching and enjoying and taking it all in.
His Charleston redemption dance loaded up on actual Charleston content this time to please mentor Len – because duh, he was his mentor – and the results were mesmerizingly fun and bouncy, the kind of routine you expect to see the actual pros doing coming back from commercial rather than one of the star's amateur routines. Then there was his freestyle, which was everything you would hope an untethered Fisher on the dance floor would provide. You know it was an awesome number because partner Lindsay dropped from like 20 feet up in the air for a dance stunt, and it was barely a footnote amongst all the smoothly tricky footwork.
In short, Jordan did nothing to lose Monday night – except for people resenting him for making this season no longer competitive and pop culture editors running out of ways to write "wowwy-wowwy-wow-wow" every week.
As much as it is a gigantic cliché to say that one has always had a passion for film, Matt Mueller has always had a passion for film. Whether it was bringing in the latest movie reviews for his first grade show-and-tell or writing film reviews for the St. Norbert College Times as a high school student, Matt is way too obsessed with movies for his own good.
When he's not writing about the latest blockbuster or talking much too glowingly about "Piranha 3D," Matt can probably be found watching literally any sport (minus cricket) or working at - get this - a local movie theater. Or watching a movie. Yeah, he's probably watching a movie.