I hope you packed your Kleenex for Monday night's Most Memorable Year Night on "Dancing with the Stars." The judges certainly did – as well as their 8 paddle too, because everybody got a good score with glowing feedback tonight. And that makes sense. Even Len's not going to say, "Oh wow, incredible you almost died because of a surprise broken back and lost feeling in your lower extremities BUT YOU CALL THAT A PROPER BALLROOM HOLD!?"
The good news is that everybody pretty much deserved their strong scores tonight (seriously, did everybody get a 24?). Even Nick Lachey almost made me cry – and no one associated with a turn of the millennium boy band is allowed to do that.
But sadly, the final tears of the night went to Derek Fisher, who was voted off after a sweet jazz routine dedicated to his daughter and her tough battle against retina cancer. He was never the show's finest dancer – and we've quickly reached a point in the show where everyone's pretty good, so you need memorable routines each week, and he was often tragically forgettable.
He and his partner Sharna even looked resigned and accepting of their fate before their name was announced. But he always performed a fine job – and his "Dancing with the Stars" superfan mom should be proud.
As for the rest of our tearjerking tandems this week, whose sobbing steps reigned supreme? The judges had their say, but here are my rankings for Most Memorable Year Night.
10. Nick Lachey
Dance: Contemporary
Judges score: 22 out of 30
Our score: I don't think it'll save Lachey from the bottom two again next week – much less elimination – but this week brought out his best dance so far this season, performing a routine about growing up as a child of divorce then finding his love in Vanessa. While there balance issues according to Len and Bruno, there was also more genuine emotion than we've seen. And also he and Peta used a song from "Once," which is like 50 bonus points even when it's a mediocre cover.
9. Nikki Bella
Dance: Contemporary
Judges score: 24 out of 30
Our score: Ropes, scarves and harsh lighting: Hey, is this another guilty pleasure bondage routine? No, Bella's contemporary dance wasn't about kink this week, as instead it was about the injury that almost killed her: a close-to-broken back that took her out of the ring – almost for her entire career. It's a powerful story (reoccurring theme tonight) with an only fairly powerful performance. While impressive for an amateur, I think the acrobatics – physically and mentally – seemingly exhausted Bella rather than brought out more emotion, and in some places, it didn't look particularly smooth. Plus, additional points removed for using "Fight Song."
8. Terrell Owens
Dance: Viennese waltz
Judges score: 24 out of 30
Our score: T.O. just keeps sticking around on "Dancing with the Stars." After week one, he looked like an easy goner, but he's improved every week – including this one, where his footwork actually looked pretty good and he definitely conveyed the emotion in his dedication dance to his grandmother. He still looks blasé with some moves – and not in a good, smooth way, but in a "shouldn't there be more movement" way – but he's doing a decent job of dangling by a thread every week. Football players tend to do well on ABC's dance floor; T.O.'s now living up to that legacy.
7. Sasha Pieterse
Dance: Foxtrot
Judges score: 24 out of 30
Our score: It must be a bummer to get anything other than contemporary as your dance style on Emotional Draining Night Most Memorable Year Night. Contemporary gets to be free and overtly emotional, while the ballroom dances still require stern structure, positioning and finessed footwork and partnering (not that the former doesn't involve finesse as well). Still, everyone with ballroom dances dredged good routines and great emotion from the material – and that includes Sasha, who had a lovely routine about one door closing (Hollywood rejecting her post-"Pretty Little Liars" due to her weight gain) and one door opening (finding the love of her life). Her numbers are rarely the highlight of the night, but they're always solid enough to stay another week.
6. Drew Scott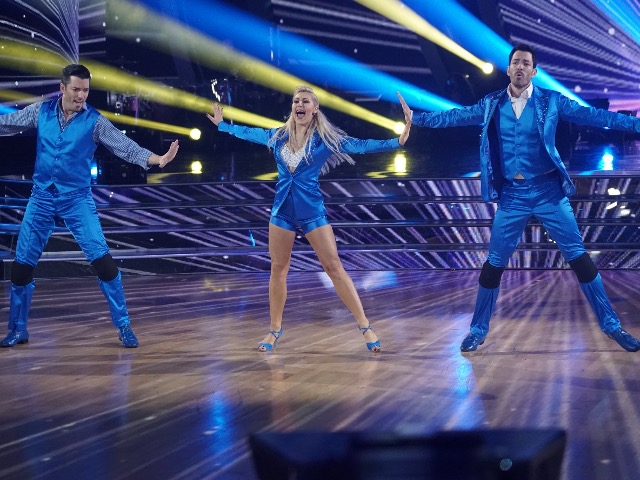 Dance: Jive
Judges score: 24 out of 30
Our score: In a night about people recovering from life-threatening ailments and mourning loved ones, a routine about not getting to be an actor and only getting to be a successful real estate agent seemed a little light. But then again, you're not going to do a sad jive. And in a night of emotionally exhausting numbers, it was nice to watch one that was just fun: bouncy and chipper and ALERT; BONUS BROTHER ON THE FLOOR! And ... he's good? Do you subtract points if a rando is able to pop onto the floor and dance just as capably? I don't know – but apparently you do not subtract points for "weird hand prongs" if you're Carrie Ann. Duly noted.
5. Vanessa Lachey
Dance: Rumba
Judges score: 24 out of 30
Our score: Hmm, pretty low on rehearsal footage of Vanessa and Maks this week. HMMMM! I kid (everyone's video package was fittingly more on their selected stories and less on training struggles) – and in fact, despite a week of gossip and supposed backstage drama threatening to upstage the steps, Lachey's heartfelt rumba dedicated to their difficult third child's birth was very lovely, elegant in its simplicity and emotion (her face doesn't hide a single feeling). Some balance issues kept her from grabbing the high score it could've snagged, but she's still one of the best contenders on the show.
4. Frankie Muniz
Dance: Quickstep
Judges score: 24 out of 30
Our score: Again, everybody's getting freeing, emotional numbers ... and you get stuck with the notoriously tricky, finicky quickstep? Brutal – though not as low-key brutal as Frankie Muniz's story, which ended up becoming about the actor's shocking amount of health problems, from his broken back to having nine concussions and several mini-strokes that have made his memory alarmingly weak for someone his age (his girlfriend writing down their days in a notebook is literally some Nicholas Sparks adorableness). AND THEN he apparently popped his ankle out of its socket during practice Monday, so all in all, Frankie's taken a beating. At least it was worth it for the dance, which had a lovely light bounce and skip alongside Muniz's now signature effervescent "gee whiz" delight to it.
3. Victoria Arlen
Dance: Foxtrot
Judges score: 27 out of 30
Our score: Gosh, I wonder what Victoria Arlen's story would be. Yep, you guessed it: She picked the time she played the tree in the grade school musical. A surprising choice but one that made for a startlingly powerful foxtrot. I sobbed, dear readers. As far as dance tributes to fifth grade "Our Town" productions go, this was the most emotional one I've seen.
Sorry, yes, of course Arlen's dance was focused around her literal fight for survival overcoming the odds and conquering her disease before overcoming the odds again and learning how to walk again. You'd think after a while, the story would lose even just a little power, but nope, it's still incredible – and heartbreaking when you watch the footage of her seizing every few minutes while her parents feel helpless. So yeah, anyways, her dance – and Val's lovely choreography – reflected all of that, movingly using a wheelchair to show her struggle and strength.
It was a night made for Arlen to succeed and make you sob – and she did not disappoint.
2. Jordan Fisher
Dance: Contemporary
Judges score: 29 out of 30
Our score: We've got our first 10 of the season – our first two 10s at that! And fair enough, as the Broadway star turned his story of adoption into a lovely contemporary routine, featuring impressive work on some tricky looking lifts and a beautiful explosion of joy and happiness in the backend.
I will say that something about this left me a little cold; maybe it's that it seemed a touch more actorly, a touch more performed as opposed to naturally felt like some of the other pieces. Maybe it's because I'm emotionally reserved about the stage actor because I'm convinced he'll get voted off prematurely, and I don't want to get my heart broken. But that's not enough to stop Fisher from being one of the performances of the night.
1. Lindsey Stirling
Dance: Viennese waltz
Judges score: 26 out of 30
Our score: This one got me. I couldn't even be snarky about how the red balloon made me think it was going to turn into a surprise "It"-themed dance; I was too busy holding back tears and trying not to get face rain on my laptop (I failed). The story behind Stirling's dance was sweet, paying tribute to her late father, who sacrificed his freelance writing passion for her early violin lessons.
The dance was even more so – with much of the credit going to Mark Ballas's beautiful, inventive and unpredictable storytelling. His use of silence and stillness in the middle of the routine? Devastating. And the ending with the shadow bringing the balloon back? Dammit, I'm gonna face rain all over these computer keys again!
It was a number so lovely that even Len seemed annoyed with himself for having to nitpick about the amount of Viennese waltz content. And I was annoyed too. I HAVE NO TIME FOR YOUR GRIPES, OLD MAN; CAN'T YOU SEE I'M SOBBING?!
As much as it is a gigantic cliché to say that one has always had a passion for film, Matt Mueller has always had a passion for film. Whether it was bringing in the latest movie reviews for his first grade show-and-tell or writing film reviews for the St. Norbert College Times as a high school student, Matt is way too obsessed with movies for his own good.
When he's not writing about the latest blockbuster or talking much too glowingly about "Piranha 3D," Matt can probably be found watching literally any sport (minus cricket) or working at - get this - a local movie theater. Or watching a movie. Yeah, he's probably watching a movie.