The stars were shining, both on the dance floor and off. The drama was kicked up a notch. Indeed, it must've been A Night at the Movies on "Dancing with the Stars" this week. And who better to serve as special guest judge on this tribute to the big screen than classic Hollywood movie legend ... Shania Twain? Huh. OK, maybe not the most fitting choice – but that's fine because she can at least provide her renowned expertise as a famed expert on ... ballroom?
OK, fine, it was an awkward fit that made for some awkward judges' tables thanks to Twain's stuttering struggles to find something to say (the Canadian couldn't even summon much about a hockey-themed routine). But the stars were out – from the country star, who unsurprisingly fared much better with her singing, to John Cena, David Ross and Winnie from "The Wonder Years" – the competition was intense and the drama was cranked to 11, with last week's voting results scattered throughout the show instead of all hurriedly crammed at the very end.
Even with all that extra suspense and drama, however, there wasn't much surprise in who got cut: Nick Lachey, who had already proven himself to be well out of his depths left before Monday's "Mad Max: Fury Road" by way of "Wild Wild West" steampunk samba as interpreted by a slightly intoxicated dad. Judging by he and Peta's reactions over the past few weeks, they've seen this coming for a while, and at least he went out on two of his more energetic and entertaining efforts. Plus, Vanessa's still on the show, so there's still a chance for a Hollywood ending in the Lachey household.
But how did she – and the rest of the remaining celebrity hoofers – do in the cinema-loving spotlight? The judges had their say, but here's our take on last night's ballroom blockbuster.
8. Frankie Muniz
Dance: Jazz
Judges' score: 31 out of 40
Our score: My first, immediate thought when I saw Frankie Muniz introduced, looking like a rejected purple-haired woodland tree sprite, was, "Oh god, he's in trouble this week." Unfortunately, his dance – inspired by animation – did not inspire any more confidence. He just straight-up missed steps this week, losing his timing on one early part, failing to spin on his knee at the very end and stumbling on several moves in the middle. Admittedly, there was a lot of content in there, but the whole forced smile of a routine played like a sugar rush: bright, colorful, energetic – and completely, sloppily uncontrolled.
With the worst dancer on the show now gone, the cuts are going to get painful on "Dancing with the Stars." And Frankie picked the wrong time to start going flat – so much so his partner Witney threatened to drug him with 'shrooms. Actually, I'm not sure what that was about.
7. Drew Scott
Dance: Paso doble
Judges' score: 30 out of 40
Our score: Even with the help of a Canadian connection between him and Shania Twain, Drew Scott's John Wick-ian paso doble was dire. It certainly looked cool, with the "Property Brothers" star doing karate somersaults, breaking pool cues and kicking all kinds of ass. But when it came to the actual dancing – and the resulting judges' scores – it was Scott's butt getting kicked thanks to a really unsynchronized group dance break and a generally out-of-control performance. The live audience seemed to really dig the dance – and the DWTS crowd loves Drew Scott – so I'd bet he survives another week. But he can't rely on a pity 9 from Shania next week to help him survive.
6. Victoria Arlen
Dance: Paso doble
Judges' score: 31 out of 40
Our score: The judges were surprisingly chilly toward Arlen's "Mighty Ducks"-inspired hockey routine – even with the aid of Val in a Speedo during the video package and a shirtless Alan Bersten riding around on a Zamboni (a manboni, maybe?). I thought it was a fun little number – complete with a sweet knucklepuck right into the back of the net – that was a good combination of character and choreography, but clearly something fell just short for the judges.
This might be a case, however, when landing in the bottom, like Victoria did last night (told you that old school routine was going to be a mixed bag), is a blessing more than a curse, inspiring her fans to vote like never before. She's near the bottom this week, but not particularly on thin ice.
5. Nikki Bella
Dance: Argentine tango
Judges' score: 36 out of 40
Our score: It's tremendously American for "Dancing with the Stars" to lump every other culture of film into the genre of "foreign" – which apparently translates to just French movies (sorry, Bollywood!). Other than that little semantics nitpick, however, Bella's Argentine tango was really nice. She (or maybe Artem) lost a bit of balance unfortunately right in front of the judges, but even they couldn't ding the dance too much thanks to the wrestler's surprisingly strong performance, which was romantic, sensual and chic. The dancing WWE diva picked a good time to have her strongest routine, as the eliminations are going to be ugly from here on out.
4. Vanessa Lachey
Dance: Quickstep
Judges' score: 36 out of 40
Our score: As the last Lachey now standing, Vanessa was asked to give her musical-inspired quickstep "some welly." Not really quite sure what that means, Len ... but I think she pulled it off?
Her routine was all old school glam and sassy, silly va-va-voominess – bubbly like a glass of fancy champagne and just as fun and finessed. Bruno noticed one small foot faux pas and Len wants some better posture, but it seems like everyone was willing to overlook those for the rest of the delightful dance – and the fact that she literally danced right out of her skirt in the beginning of the number and still didn't miss a step. Consider that routine welly-ed!
3. Terrell Owens
Dance: Jive
Judges' score: 37 out of 40
Our score: I'm both shaken and stirred that, all these weeks into the season and all the work needed after his first fail of a dance, we're still talking about Terrell Owens on this show. Even crazier? He's third on my weekly rankings. But his spy movie jive was really fun – so much so I had flashbacks to the kind of goofy joy Owens showed after a touchdown on the football field.
Usually, I find Owens' dance style a little too effortless, to the point of looking aloof and indifferent, but tonight's number was the perfect balance of carefree cool and sharp steps, the former helping the latter look even more smooth. Plus, it was just a clever, creative routine – and not just because it brilliantly put a wall between themselves and the judges for half the dance. Owens might just live up to the NFL's winning reputation on this show after all.
2. Jordan Fisher
Dance: Rumba
Judges' score: 39 out of 40
Our score: Hot take: Jordan Fisher is very good at dancing. Given drama as his movie genre, the Broadway and Disney star went in a Nicholas Sparks-esque direction with a routine of love lost and emotional scarves. It was a nifty concept, complete with some even niftier dance moves. Carrie Ann called the young star "taffy," and she's pretty much right on; he's just so silky smooth, stretching to infinity on each move and melting each movement into the next. He's even got the professional hip sway thing going on. Only problem: Len doesn't like his hand "twiddly fiddlies." Just gonna leave that one alone.
1. Lindsey Stirling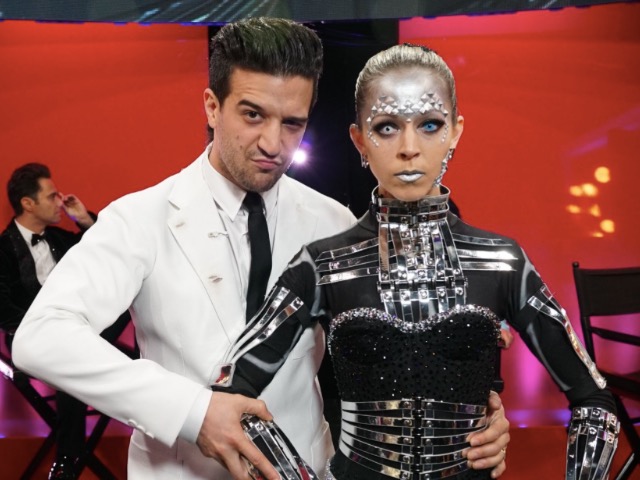 Dance: Argentine tango
Judges' score: 40 out of 40
Our score: Much like Frankie's "FernGully" getup, I was concerned when I saw Lindsey's creepy-eyed, almost unrecognizable alien makeup. I had no reason to be scared, though, after her mad scientist sci-fi routine that truly was the work of a mad genius. As always, Mark Ballas' choreography was incredible, so cool, so clever and so unique in its storytelling. But let's not sell Stirling's dancing short. The routine was great, but her sharp yet oddly seductive robotic movements brought his vision to life. Bruno called it the best dance of the season – the rare case where his typically hyperbolic praise undersold its greatness.
As much as it is a gigantic cliché to say that one has always had a passion for film, Matt Mueller has always had a passion for film. Whether it was bringing in the latest movie reviews for his first grade show-and-tell or writing film reviews for the St. Norbert College Times as a high school student, Matt is way too obsessed with movies for his own good.
When he's not writing about the latest blockbuster or talking much too glowingly about "Piranha 3D," Matt can probably be found watching literally any sport (minus cricket) or working at - get this - a local movie theater. Or watching a movie. Yeah, he's probably watching a movie.