It's been two weeks, and this athletes only micro-season of "Dancing with the Stars" is somehow already half over.
I know this was just a quick filler season to get ABC Mondays to "The Bachelorette" in cheap and easy fashion ... but does it have to feel that way? Watching these episodes is like fast-forwarding through a sports game you DVRed, no time to get into the rhythm or flow of the game, no time to really savor what you're watching – and also you already know how it ends. (In this case, with a young figure skater holding the mirror ball trophy.)
In just the second week, in addition to performing just their second dance on the show – and possibly in their lives – the athletes already had to learn a second routine: a team dance themed '50s Tennis and '70s Football. Because sure. To their credit, they both did solid work; '70s Football came out on top, probably because they had fun disco dorkiness to play with while '50s Tennis, I don't know, ended up dressing up like Elvis at some point. It was weird. This is what happens when you barely have enough time for personalities and dancing abilities to develop.
That especially hurt Milwaukee's own Arike Ogunbowale, who was one of the two celebrities kicked off at the end of the night. Dancing the much more subdued foxtrot, she didn't have the same flow and funk as week one, but she was still surprisingly solid, finding some nice moments of smooth and graceful movement in the routine. Given a few more weeks, she could've developed into a real dark horse contender; you can see the dancer coming out each week. But, instead, since we kill off two athletes a week (three next episode), she's already gone. SHE WORE HEELS FOR NOTHING! And now the poor girl's gotta go back to school for finals?! You done Arike dirty, "Dancing with the Stars."
As for Kareem Abdul-Jabbar, well, yeah, it was probably his time to go. His salsa this week was an improvement, but there's only so much improvement a 70-year-old with a mile of limbs can make on the dance floor. Honestly, I would've rather we skipped his dance and just let him tell stories about living in Harlem.
That leaves just six celeb athletes left on the dance floor. Who impressed – and who needs a shot of performance-enhancing dance – going into the second-to-last episode of the mini-season? Here's where we ranked them:
6. Jennie Finch-Daigle
Dance: Cha cha
Score: 26 out of 40
Poor Keo. Even when he finally gets a decent dance partner on this show, he winds up having to do extra work. Apparently the first song was too risqué and too uncomfortable for the former softball great, so her partner/coach had to set up a whole new routine with mere days to go until showtime. To Keo's s credit, the rejiggered cha cha still turned out pretty solid, with Finch-Daigle clearly comfortable and having fun on the floor (though her arm movement is still too small and restrained). To less his credit, he has a terrible poker face and didn't look super pleased about everything after the dance. No worries, Keo; I don't think you'll be on here much longer.
5. Josh Norman
Dance: Paso doble
Score: 30 out of 40
Any other season, Josh Norman would be in a good position to make the now-standard football player "DWTS" run to the finals. His dancing is very solid, only to be outdone by his performance on the floor. (He really got into the paso this week, maybe even too much with his swooping arms getting thrown away in the process.) But normally you've got at least a month to grow as a dancer, develop your on-air personality and pull out a good sad backstory for an emotional week. And also you're not up against three figure skaters whose ballroom movement is second nature. With three people leaving next week, he could be in trouble. Hopefully he has better luck snagging that date from Sharna.
4. Tonya Harding
Dance: Quickstep
Score: 33 out of 40
As far as dance routines set to "Redneck Woman" featuring bears go, this was one of the better ones I've seen. Going goofy with the infamous ice skater is a far better way to go than the emotional, woe-is-me storyline that "Dancing with the Stars" tried pushing last week, and the routine was amusing. (Once again, you can tell from her smooth movement that she was a former ice skater.) But this routine didn't really win me over – probably more kitsch than a single dance can bear, even if you removed the literal bear. And Tonya, more than anyone else, really needs the help winning people over.
3. Chris Mazdzer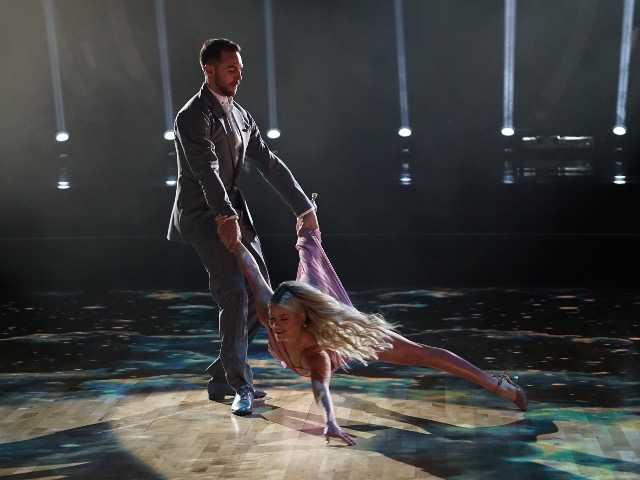 Dance: Viennese waltz
Score: 33 out of 40
Do we have a dark horse in the contest? It's pretty much guaranteed that the finale will be between the two most recent Olympic ice skaters, but maybe a different kind of winter sport Olympian could sneak into the final three. His dancing so far would deserve it – especially this week's Viennese waltz, which other than a less-than-graceful grab, was really smooth and well-framed. He did land in the bottom three this week, though, so maybe he's not a big enough name to slide ahead of the likes of Josh Norman or Tonya Harding. He's at least giving Luge-ists (still don't know what you call them) a good name.
2. Mirai Nagasu
Dance: Foxtrot
Score: 37 out of 40
Three cheers for corporate synergy! With the ice skater feeling down about her 7 last week, ABC sent Mirai off to its corporate overlord's HQ Disneyland to help her feel better about her dancing. Because, as Alan said, there's no tears in Disney. UHHH, ALAN, HAVE YOU NOT EVEN SEEN "THE LION KING"?! Or literally ANY Pixar movie?
Seeing all the new rides and attractions at Disneyland (book your flight today!) ending up doing the trick for Mirai, as her graceful, lovely princess-themed foxtrot scored the season's first 10. (It came from guest judge Rashad Jennings, though, so does it REALLY count?) One would think a 10 in week two would put Mirai comfortably out in front but ...
1. Adam Rippon
Dance: Quickstep
Score: 37 out of 40
Then fellow Olympic skater friend Adam Rippon got a 10 too. Womp womp. Apparently Adam was burned out this week from his country-spanning "Stars on Ice" travel schedule (which probably included a Milwaukee stop this past week, but I didn't catch any Cream City in the montage – mainly because I haven't memorized local hotel hallway carpeting). You wouldn't know from his quickstep, though, which was suitably bouncy, skippy and sharp. The contest is obviously between him and Mirai, and considering he's the bigger name and bigger personality, he's got the edge at the halfway mark.
Honorable Mention: Hayley
Lady danced an impeccable salsa – BLIND! – while holding up another dancer on her shoulders. Somebody wants to graduate into an actual coach next season.
As much as it is a gigantic cliché to say that one has always had a passion for film, Matt Mueller has always had a passion for film. Whether it was bringing in the latest movie reviews for his first grade show-and-tell or writing film reviews for the St. Norbert College Times as a high school student, Matt is way too obsessed with movies for his own good.
When he's not writing about the latest blockbuster or talking much too glowingly about "Piranha 3D," Matt can probably be found watching literally any sport (minus cricket) or working at - get this - a local movie theater. Or watching a movie. Yeah, he's probably watching a movie.