Join us on Saturday, July 23 for some lakeside munchies at the second annual OnMilwaukee Food Truck Fest. Choose from a menu of 20 trucks and enjoy the live DJ, games and entertainment. It's the biggest gathering of the best food on four wheels.
At OnMilwaukee, we believe in lifting up all voices and using our platform to support others' dreams. And that's what we hope to do for Dominic the Food Reviewer. When I first met Dominic almost two years ago, I was impressed by his passion, his curiosity and his interest in improving his writing. Over time, I've not only enjoyed getting to know him better, but he has taught me as much as I have him. My hope is that you'll not only enjoy reading Dominic's reviews, but also glean understanding and joy from seeing the world of food through his eyes. -- Lori Fredrich, Dining Editor
This weekend, I tried a new local business in Downtown Milwaukee. It is called Dawg City Hot Dogs. It is located inside of a stall inside the brand new Third Street Market Hall, 275 W. Wisconsin Ave.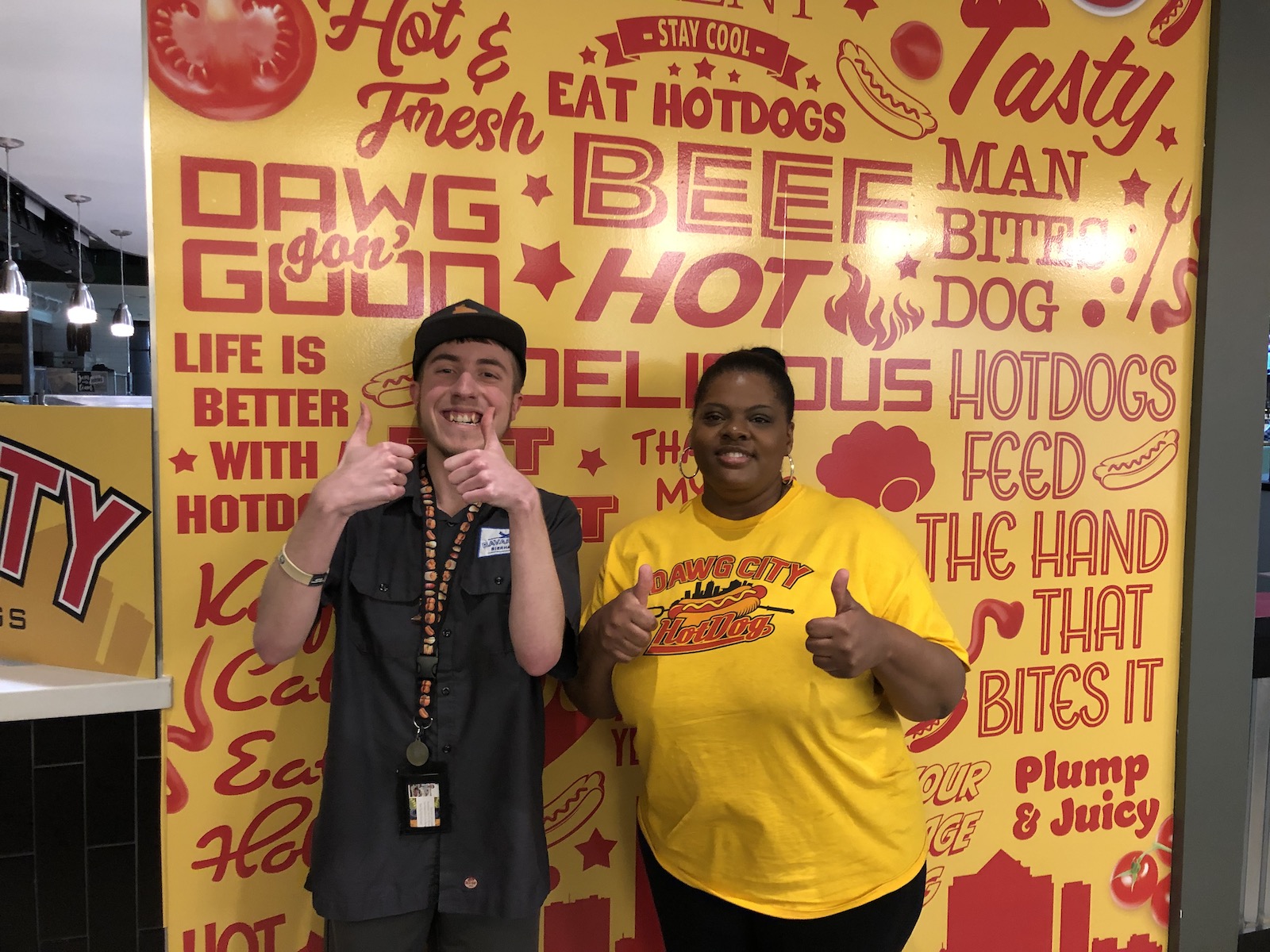 I had the pleasure to talk with owner, Tonya Hughes. She said her husband Ken Hughes and herself opened a storefront inside the food hall on May 2. Tonya mentioned that she wanted to serve hot dogs with a snap to them. Before Tonya and her husband Ken opened the hot dog stall, she and her husband visited Ben's Chili Bowl, a concept on the East Coast to get a ton of inspiration and ideas.
The food stall has very bright and beautiful red and yellow stickers that have positive sayings about hot dogs, some of which cracked me up. One sticker has Milwaukee skyline on it with most of the skyscrapers to represent the city. I really love how colorful and bright this stall is.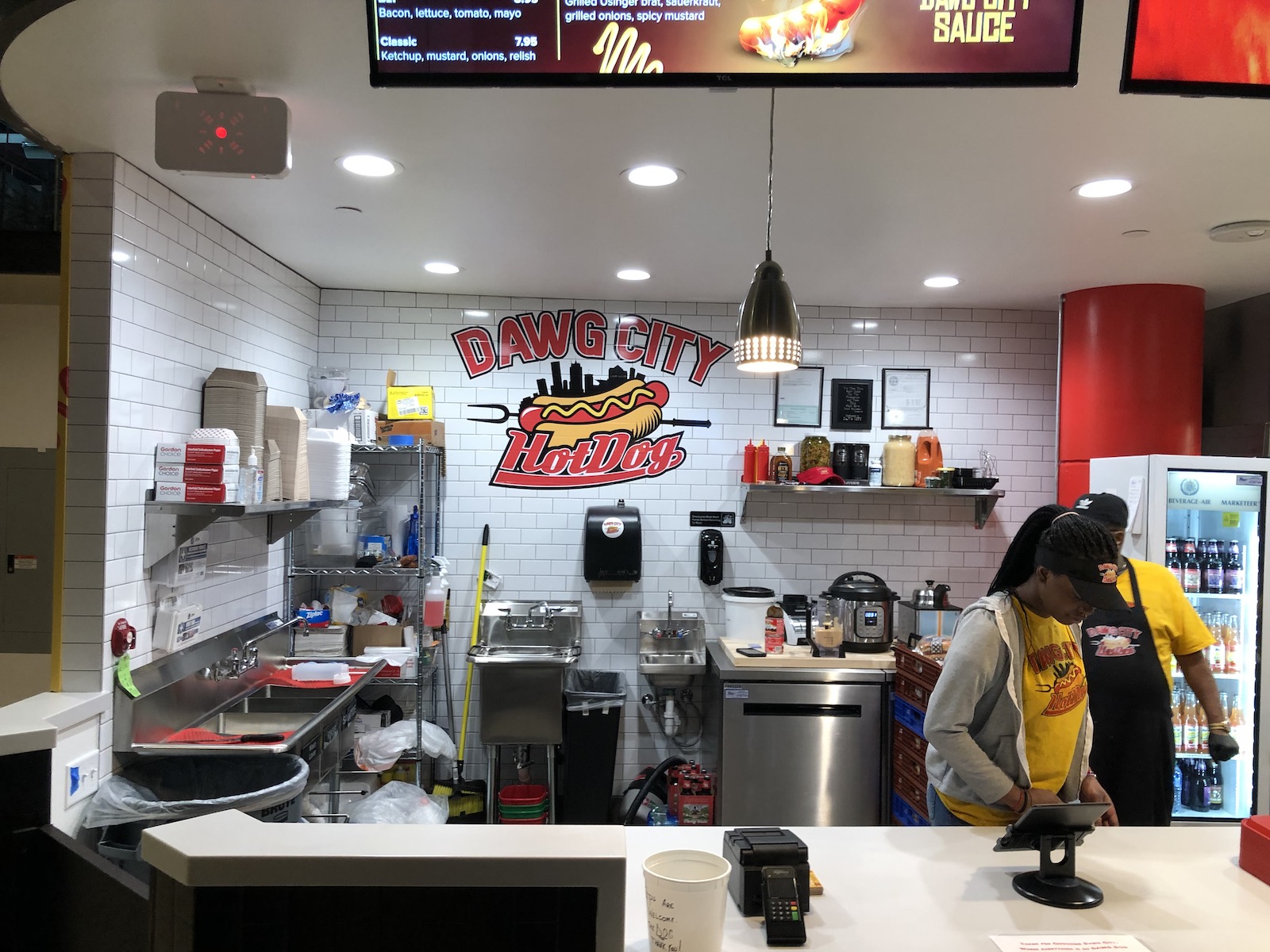 You can see them grilling your hot dogs or brats when you are waiting for your meal to come out. I thought that was super nice. They serve some tasty dishes like hot dogs, brats, Philly cheesesteak dogs, bbq nachos, Philly fries, party wings, and hot dogs that are filled with coleslaw inside of them. For dessert, they offer funnel cake fries and they have sides such as battered onion rings and cheese curds.
I ordered a Philly cheesesteak dog with shaved steak, grilled peppers, onions, melted provolone cheese and mayo. All their food is beautifully presented. I thought the shaved Philly steak was a great addition to the hot dog.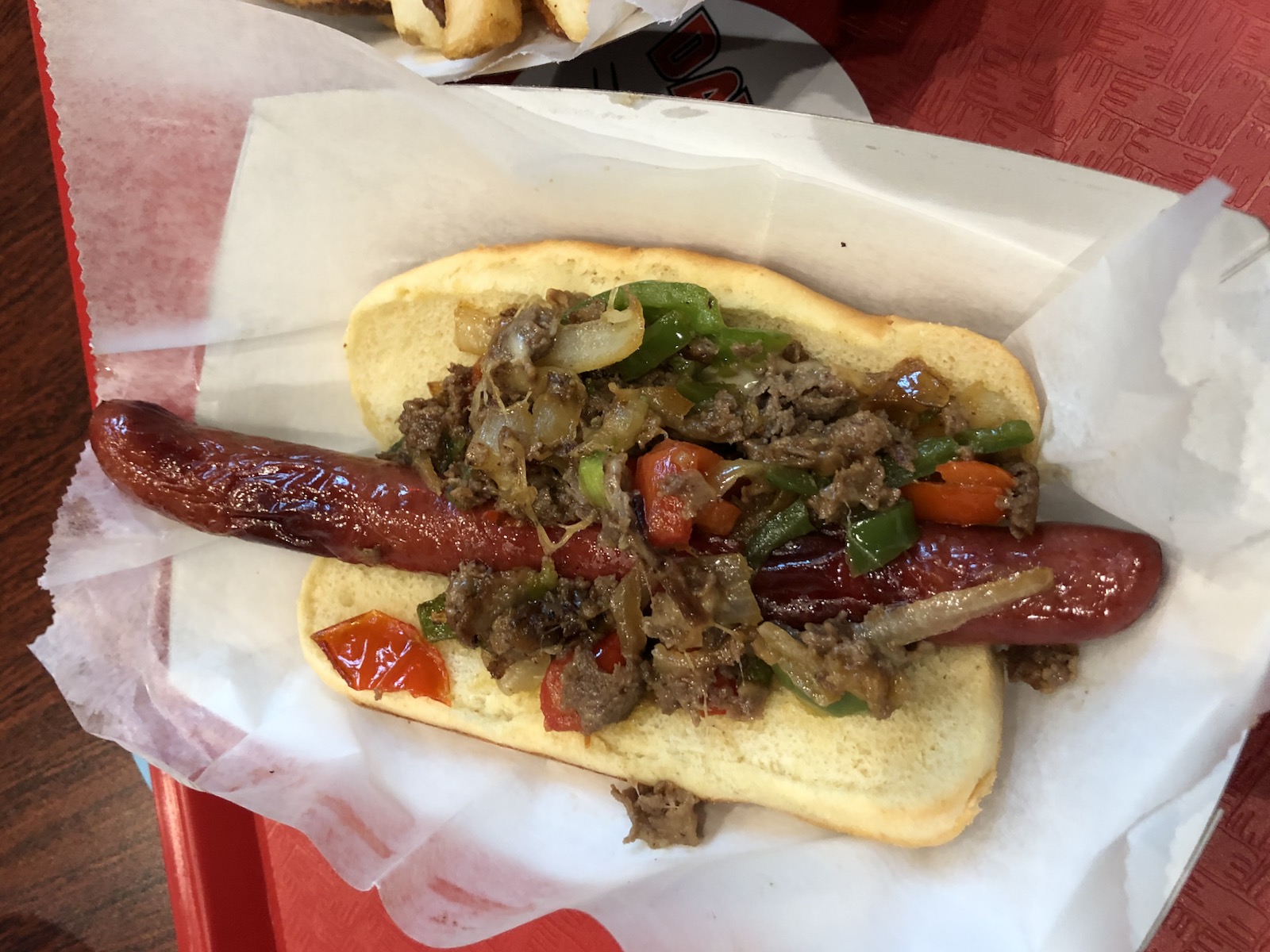 They use all 100% beef hot dogs at the restaurant. The hot dog was so nice and juicy tasting. The grilled peppers on the hot dog had a nice zing to it, and those peppers tasted very fresh to me. I loved the onions on my dog. It makes the Philly cheesesteak hot dog very tasty and – in my opinion – you can not get hot dogs without onions on them. I was in heaven with that Philly cheese hot dog and I would definitely get it again if I go back and try the vendor for one of my meals.
My dad ordered the Philly fries and he said it tasted delicious and had the perfect amount of spice.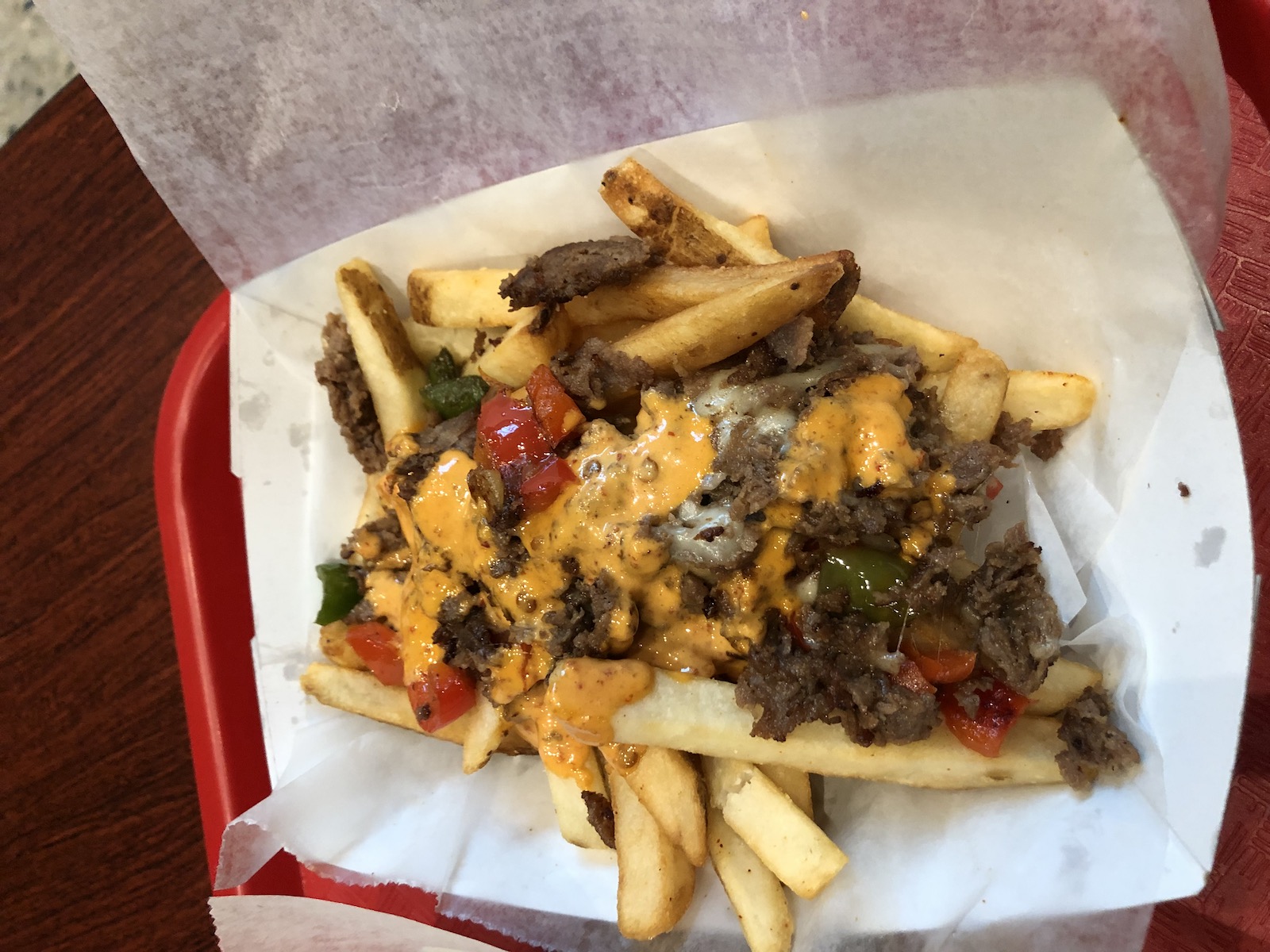 If you are at Third Street Market, I would highly suggest checking out Dawg City because of their amazing hot dogs. Tonya had so much positivity, and was so pleasant.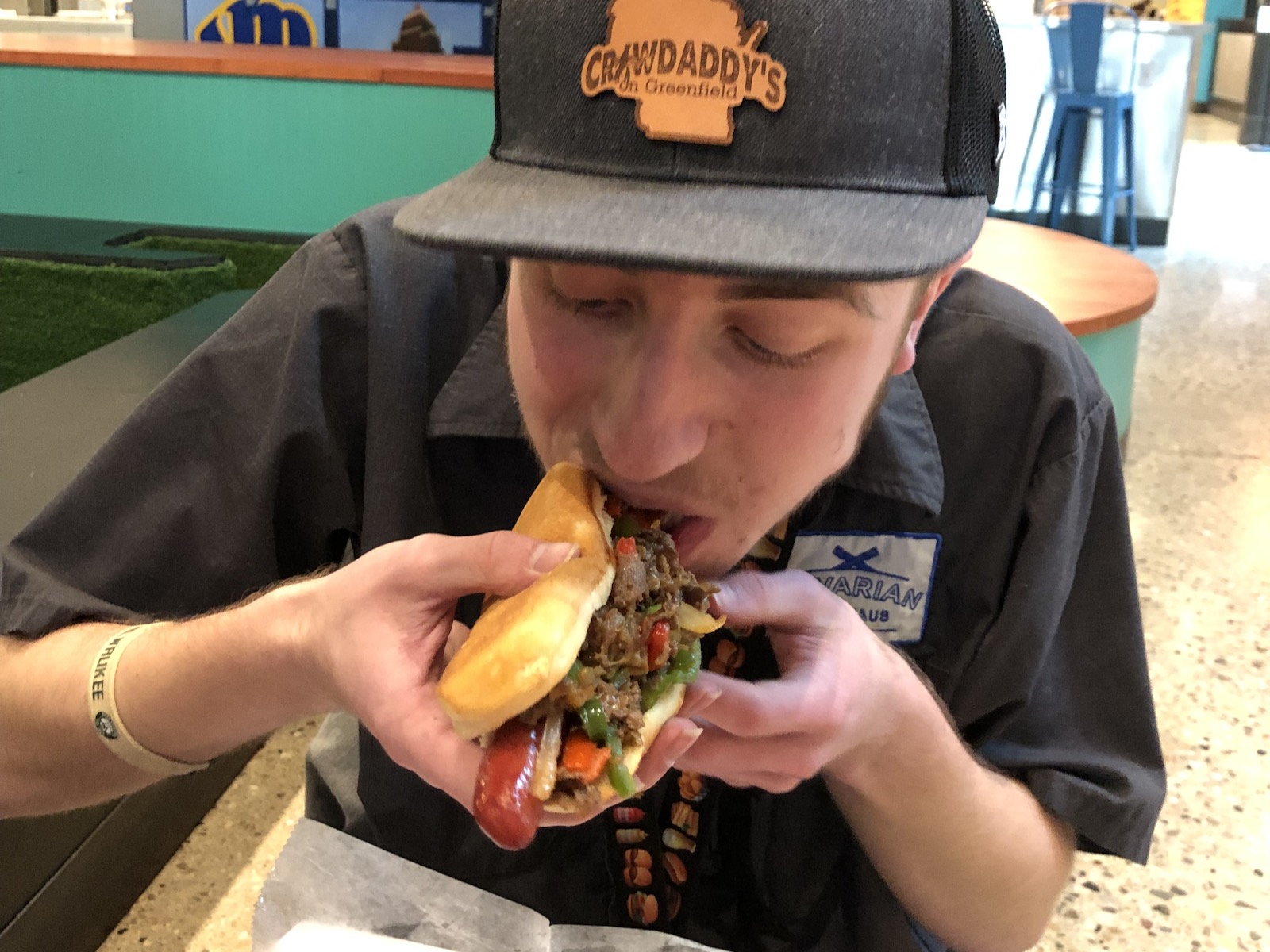 They offer so much more food that I want to try when I got back to the Market Hall, such as the Philly cheese steak fries and the Boss Hogg, which is a hot dog with pulled pork, crispy onions, jalapeños and bbq sauce. Spicy foods are my jam!
I promise all of you will think this place is great. They have so much to offer for American classics that have a nice twist.
Dominic the Food Reviewer is a teenage writer and student at St. Francis High School who began sharing his passion for food by posting positively-focused restaurant reviews on Facebook. Since he created his page in 2019, he has been featured by multiple media outlets including Fox6, CBS58 and TMJ4. Dominic says his goal is to inspire other kids with special talents to find their own voices and passions.