Join us on Saturday, July 23 for some lakeside munchies at the second annual OnMilwaukee Food Truck Fest. Choose from a menu of 20 trucks and enjoy the live DJ, games and entertainment. It's the biggest gathering of the best food on four wheels.
At OnMilwaukee, we believe in lifting up all voices and using our platform to support others' dreams. And that's what we hope to do for Dominic the Food Reviewer. When I first met Dominic almost two years ago, I was impressed by his passion, his curiosity and his interest in improving his writing. Over time, I've not only enjoyed getting to know him better, but he has taught me as much as I have him. My hope is that you'll not only enjoy reading Dominic's reviews, but also glean understanding and joy from seeing the world of food through his eyes. -- Lori Fredrich, Dining Editor
This weekend, I checked out Gus's Deli, which is located in the CBS 58 building at 813 S. 60th St. in West Allis. They have a wide selection of food to order including burritos, healthy salads, veggie burgers, enchiladas, kabobs, chips and salsa and baked goods.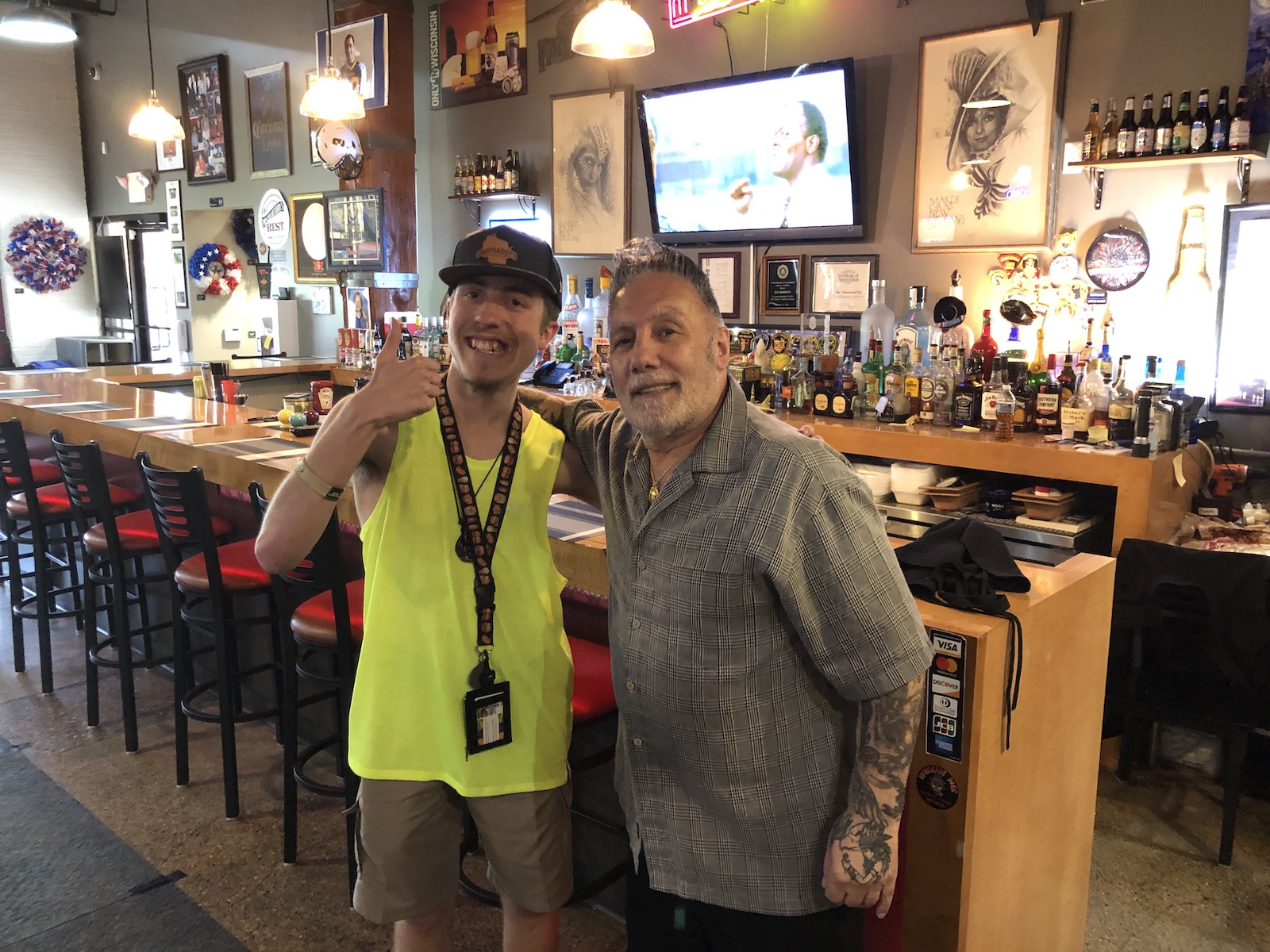 I got the chance to meet up with owner, Gus Hosseini, and his wife Debbie. Gus mentioned that he used to operate Gus's Mexican Cantina which had two locations in Downtown Milwaukee and another location that opened in Hales Corners. Gus's Mexican Cantina opened in the 1990's. He used to own another place called The Unicorn too. The owner said that he retired five years ago and went down to North Carolina. They lost everything in the hurricane, so they came back to Milwaukee. He is originally from Texas and served in the Navy and that is how he ended up near near Milwaukee, and he has been here for forty five years. Gus's restaurant and deli opened in 2018.
When I entered the restaurant I was suprised because it was so big inside. They had tons of pictures showing how Gus got started and a ton of history about all his places.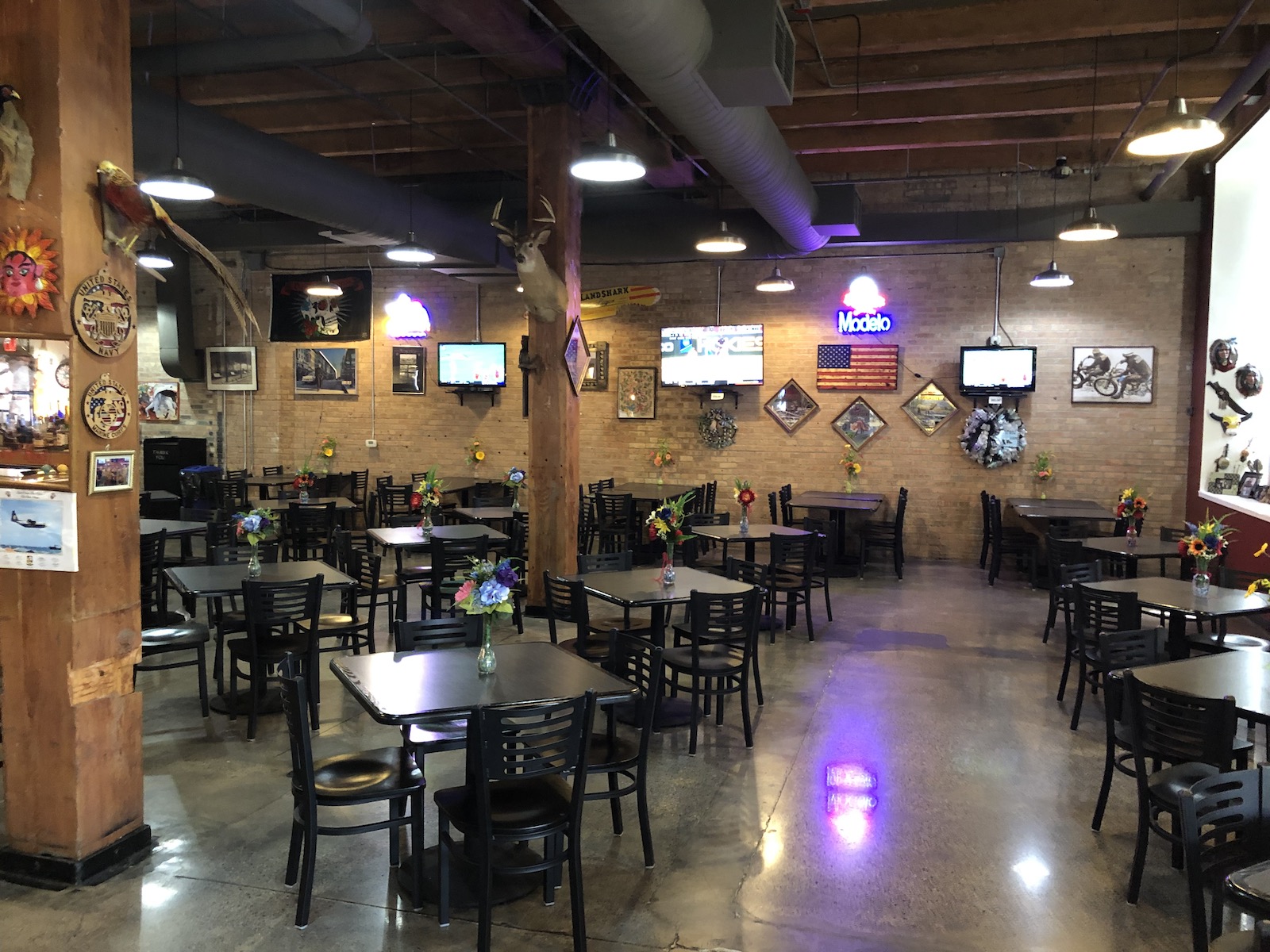 What I enjoyed about it was that it really represented him and what he all did at one point and he brought that history to his restaurant.
There is a small bar that is rapped around a corner with high stools with tv's that you can watch old television shows, movies, talk shows, baseball broadcasting, football games and so much more.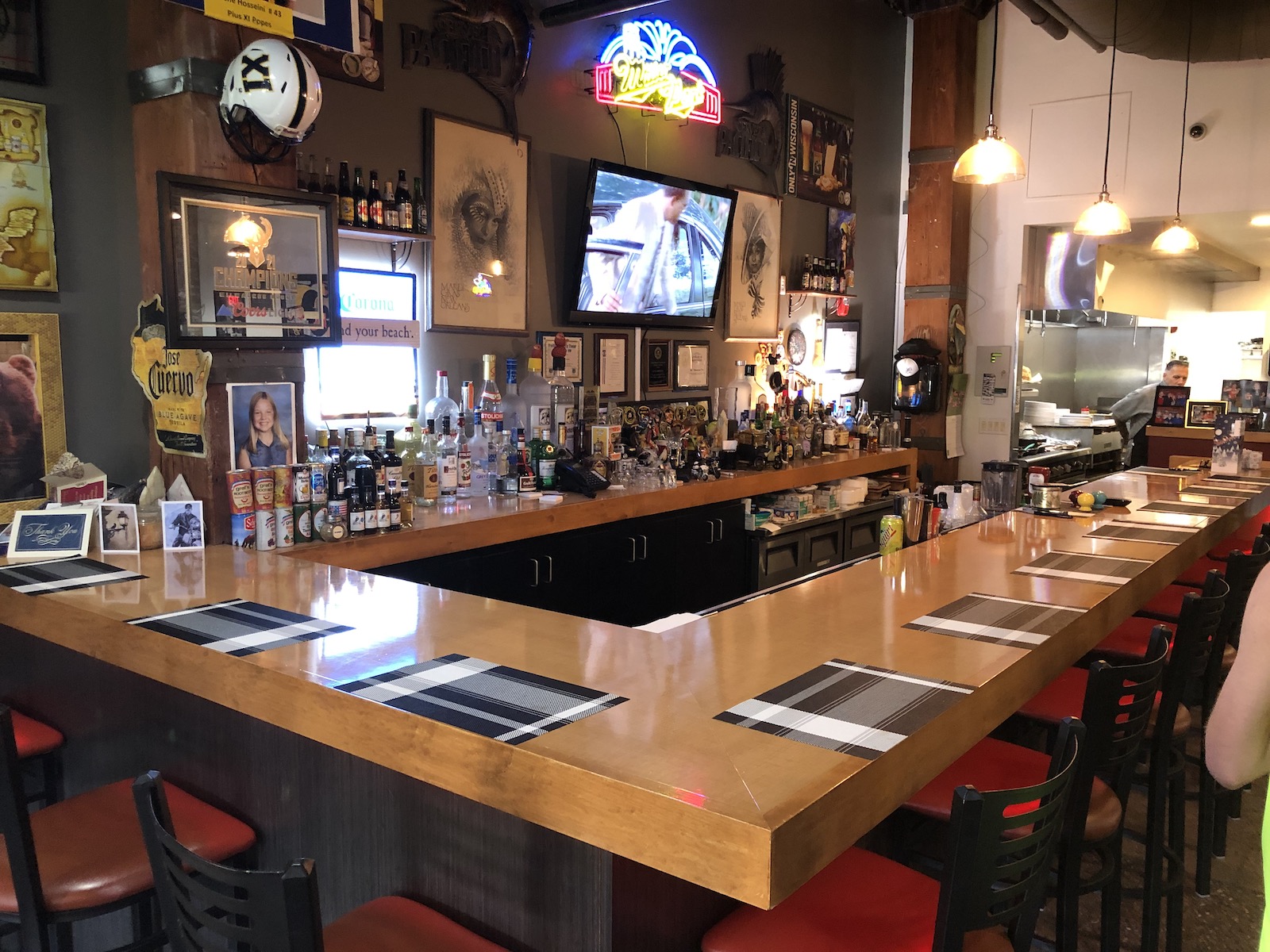 There are all kinds of modern new tables that are spread around the whole entire opened dining room of the deli and bar. All the floors inside Gus's are polished cement floor that is super shiny looking.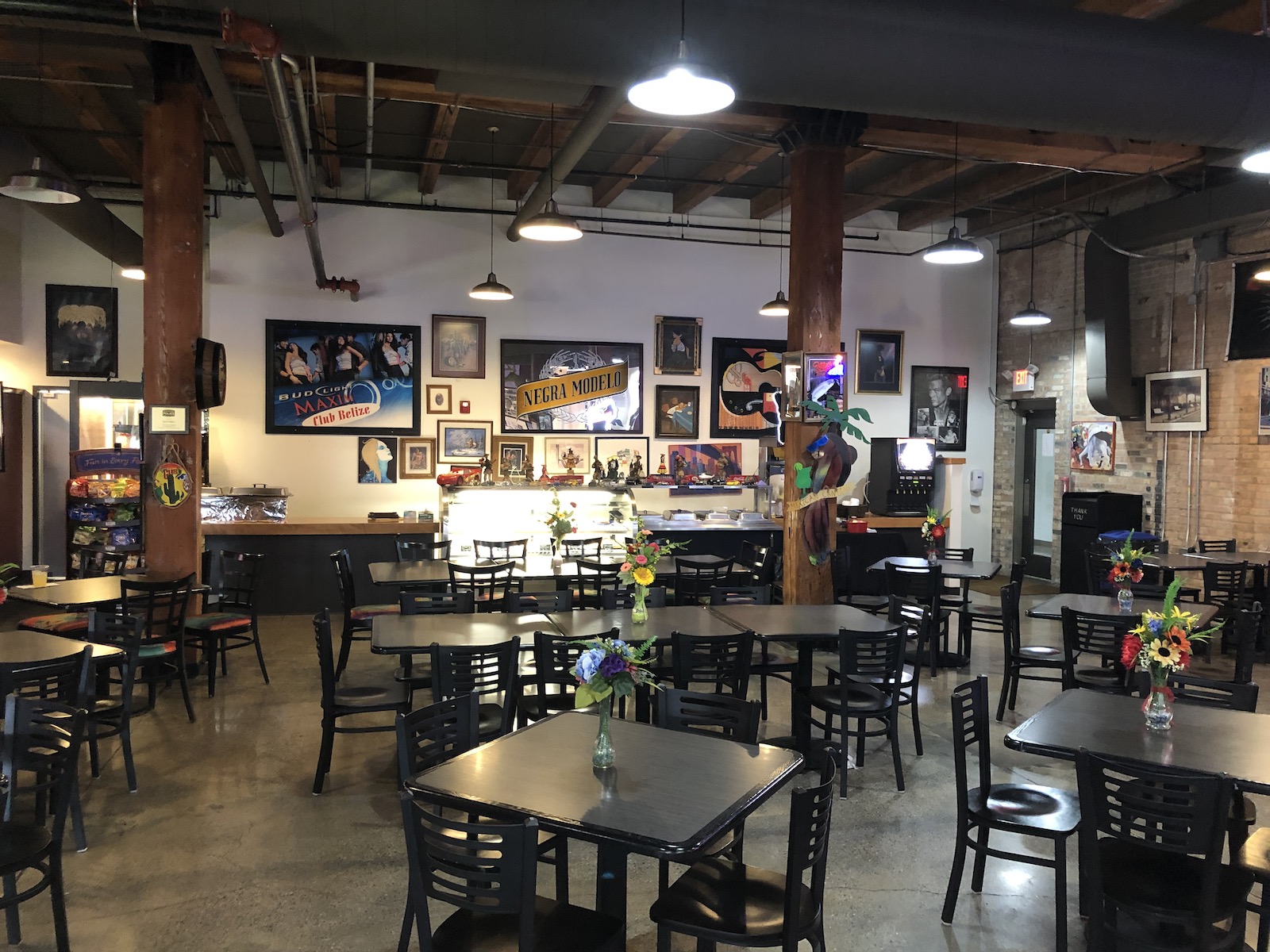 For my main course meal, I got to try out their home made Mexican tortilla chips and enormous burrito that is probably the size of your head. Gus, said that he makes everything homemade.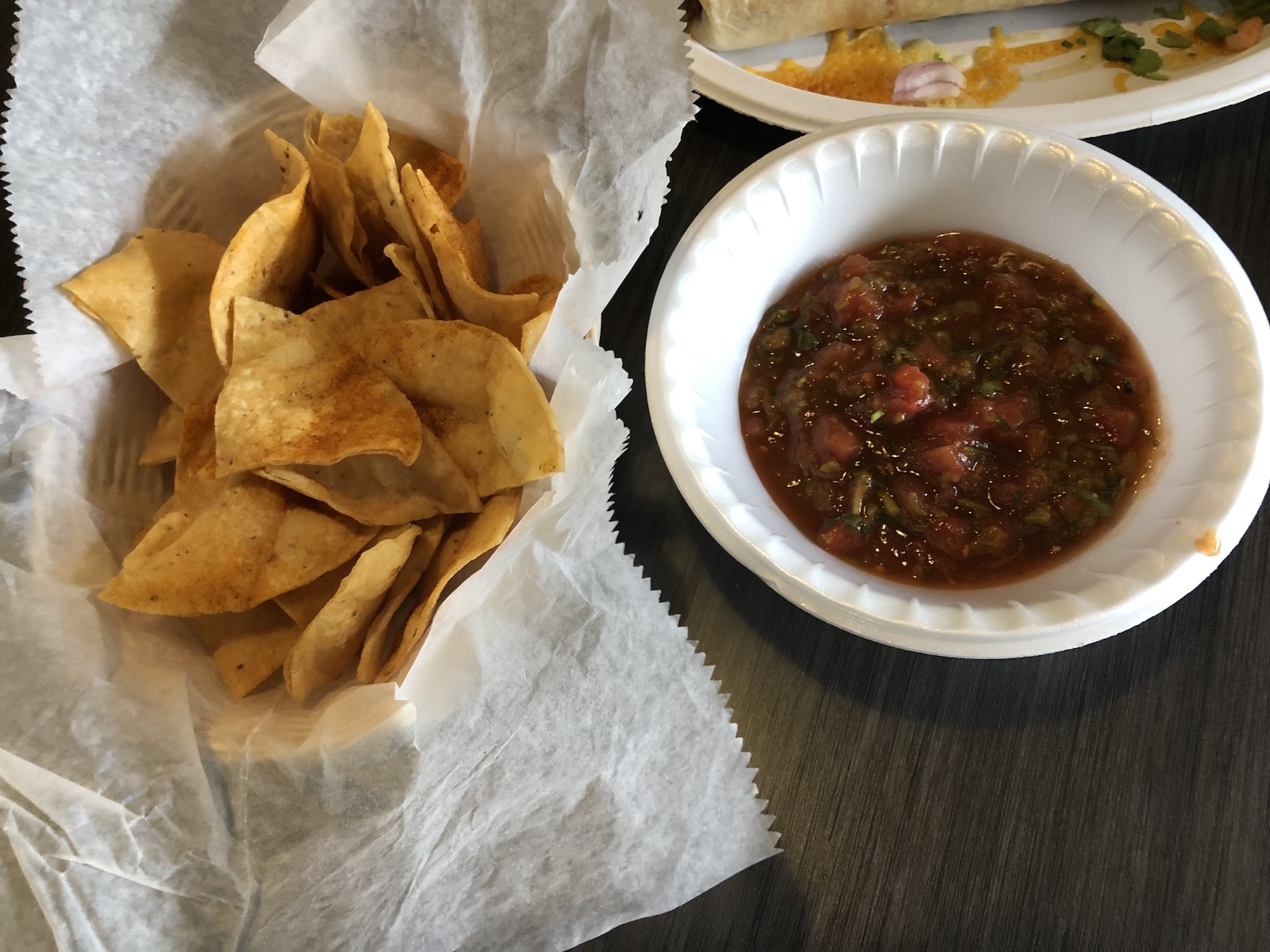 Those home made tortilla chips had just the right amount of seasoning on top of it and had a nice snap when you bit into them. Those tomatoes inside the salsa had a sweeter flavor to them that was out of this world.
My ginormous burrito was topped with melted cheese and had pork inside the soft tortilla. When the owner, Gus brought it out I was saying holy cow that burrito is huge and I think I'm going to crush this burrito eating it all up, and I did just that.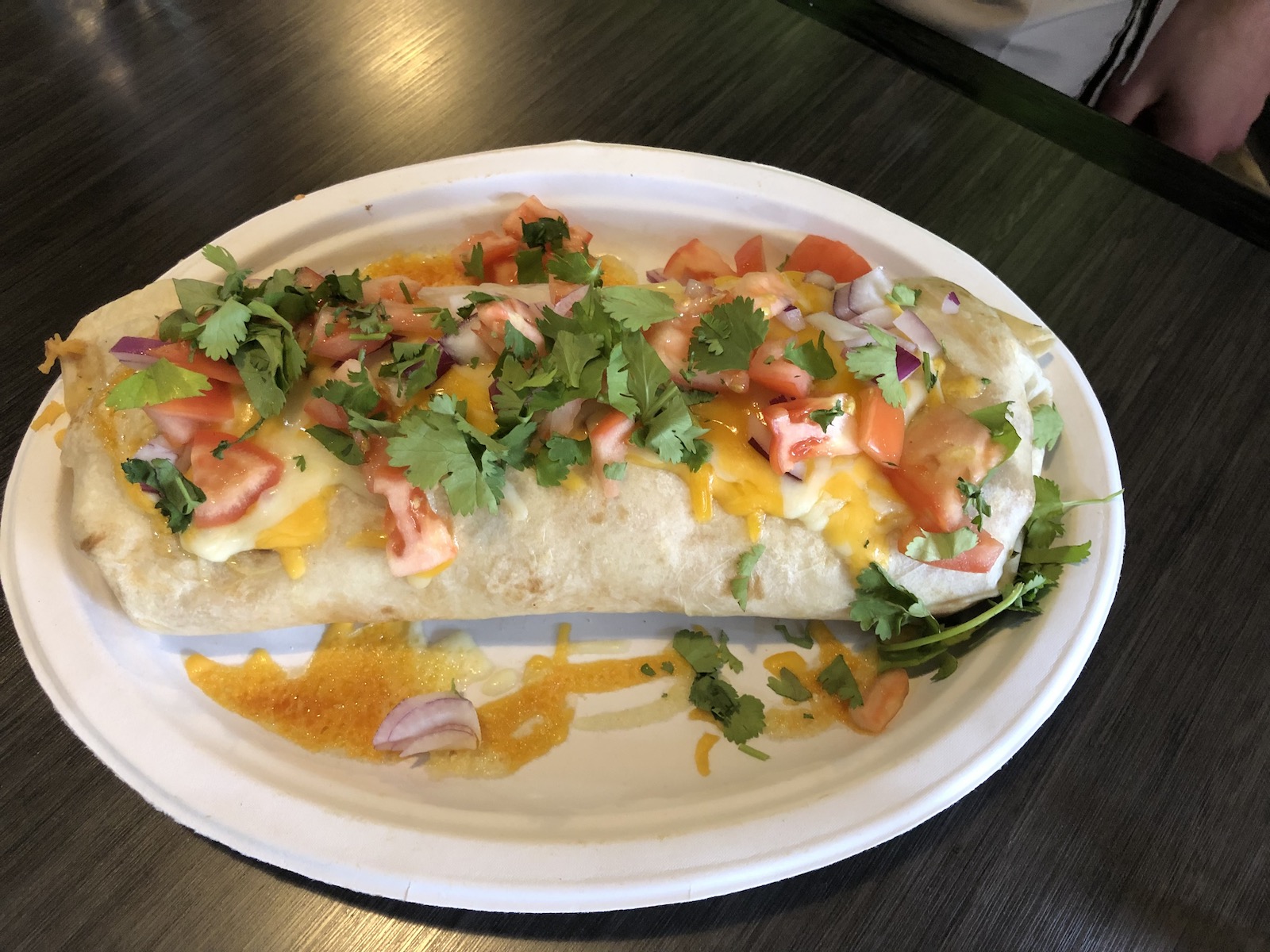 That burrito was nice and cheesy. When I took my first bite, cheese was pouring down like a waterfall, which I absolutely enjoy when I eat a burrito. The tortilla had a very soft texture and the refried beans had a nice mild taste to them. That pork inside was very tender and it melted right through my mouth when I ate my burrito all up. I have never ever seen a burrito that huge in my life. You could share that with a family member or friend if you wanted to.

I would highly recommend checking out Gus's Deli in West Allis because the owners Gus and Debbie are extremely friendly to talk to, and they will talk to you all about their deli and restaurant. Gus was super genuine and passionate about his food and the quality of it. Gus and Debbie made sure that we were taken care of and that we were comfortable in their restaurant.
I'm looking so forward to hearing what all of you think about this hidden gem in West Allis. I promise you will not be disappointed if you try this place.
Dominic the Food Reviewer is a teenage writer and student at St. Francis High School who began sharing his passion for food by posting positively-focused restaurant reviews on Facebook. Since he created his page in 2019, he has been featured by multiple media outlets including Fox6, CBS58 and TMJ4. Dominic says his goal is to inspire other kids with special talents to find their own voices and passions.