At OnMilwaukee, we believe in lifting up all voices and using our platform to support others' dreams. And that's what we hope to do for Dominic the Food Reviewer. When I first met Dominic almost two years ago, I was impressed by his passion, his curiosity and his interest in improving his writing. Over time, I've not only enjoyed getting to know him better, but he has taught me as much as I have him. My hope is that you'll not only enjoy reading Dominic's reviews, but also glean understanding and joy from seeing the world of food through his eyes. -- Lori Fredrich, Dining EditorLast Wednesday I had the pleasure of visiting and socializing with "Uncle" Guy Roeseler & David Lau, Owners of Ono Kine Grindz, 7215 W. North Ave. in Wauwatosa. Uncles Guy and David spoke with me about Hawaiin culture, their past experiences in the restaurant business and their philosophy as restaurant owners.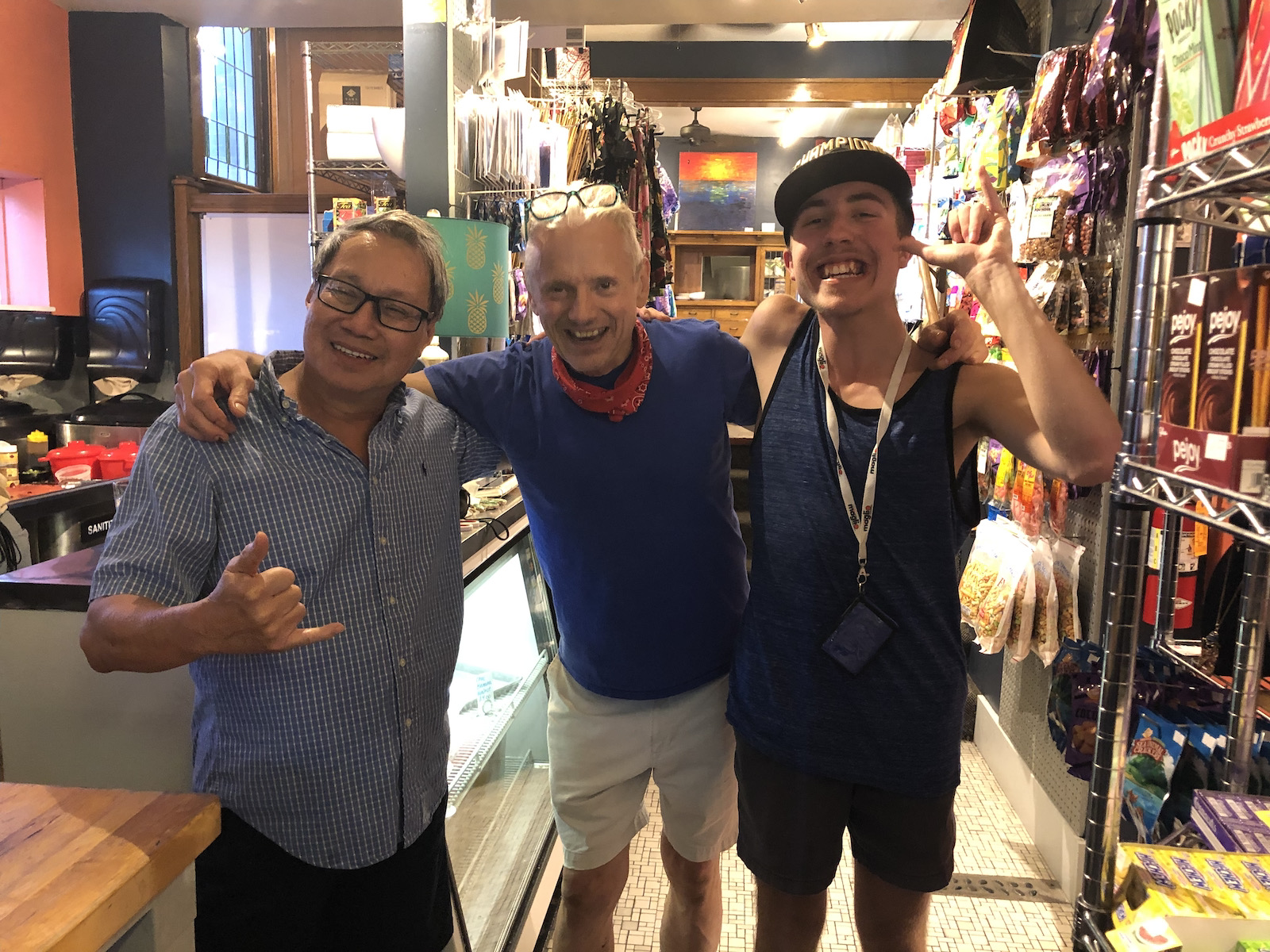 Ono Kine Grindz which translates into "that good food," is modeled off of a corner store named John's store that David would frequent after school as a child growing up in Hawaii, in the 60's. The little corner store would sell shaved ice and other Hawaiian treats. This experience as a child inspired David to open Ono Kine Grindz in 2010.
A small shop on the corner, Ono Kine Grindz is a wonderful experience whether you are shopping for authentic Hawaiian gifts, groceries or you are sitting down for a fantastic meal.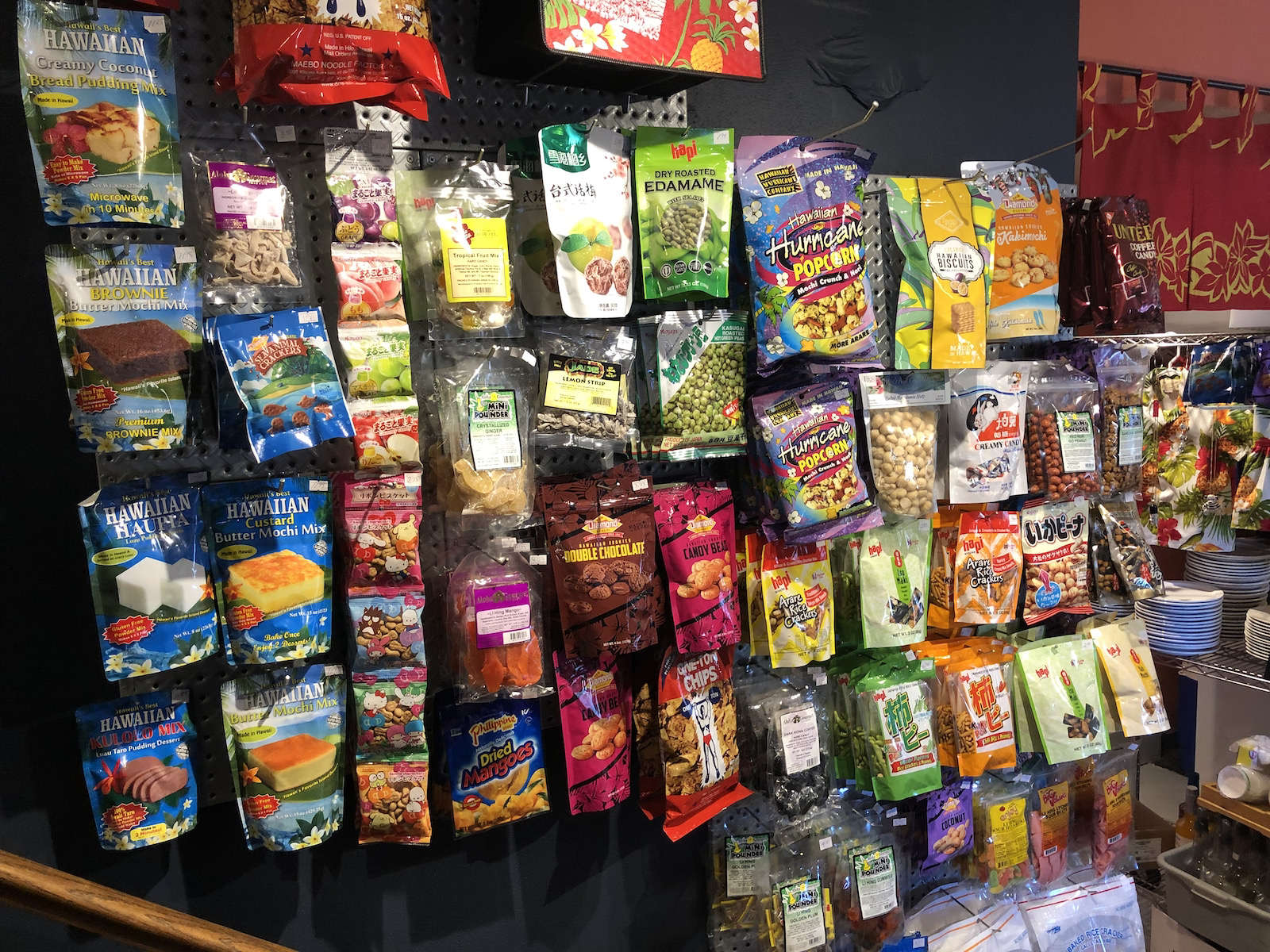 The front of the store is set up as a Hawaiian themed grocery store. They sell exotic items from Hawaii that include coffee, spices, candy and sauces. They also sell stunning Hawaiian button down shirts and jewelry.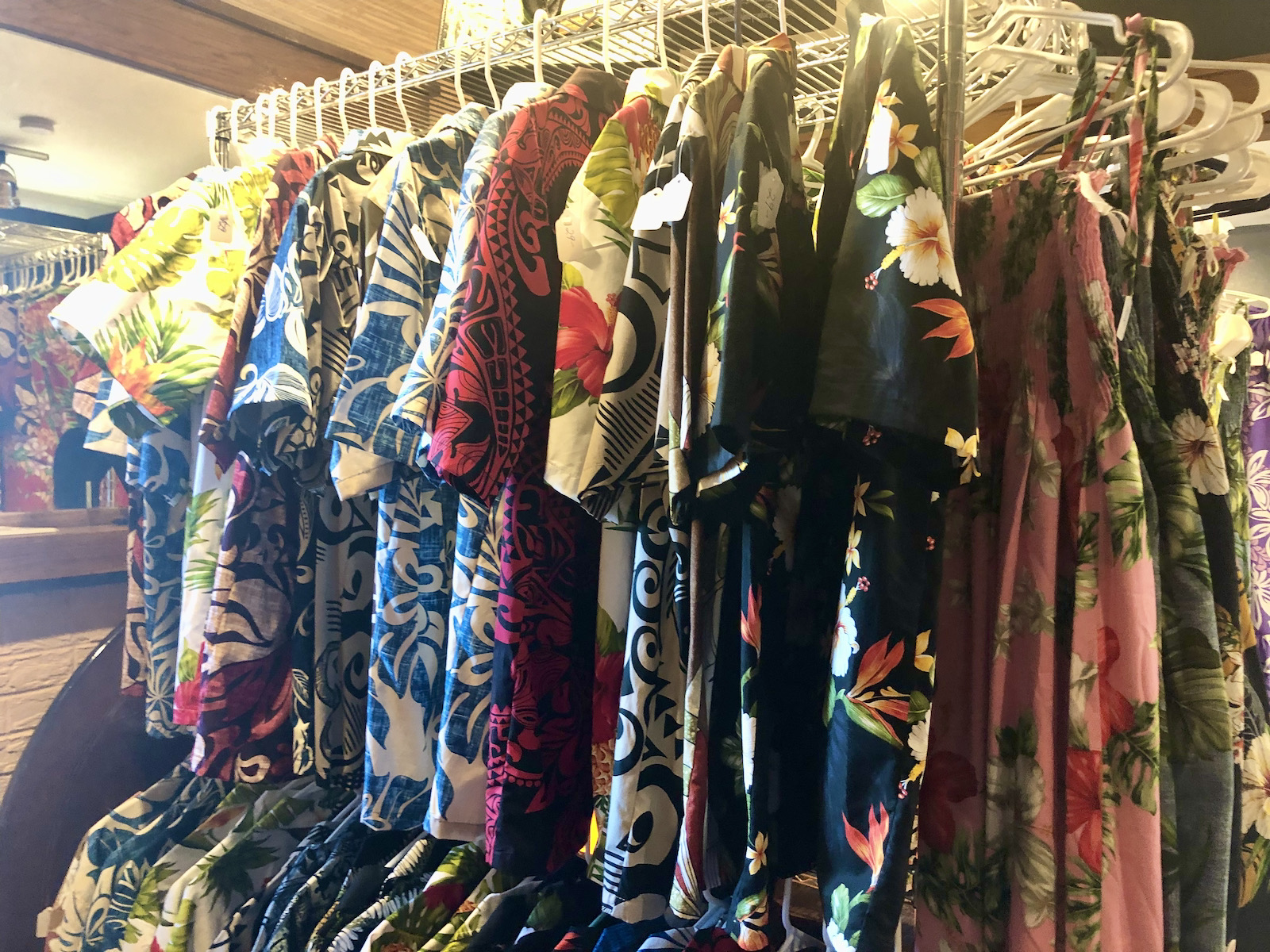 The restaurant part, which is up a set of short steps, is covered with beautiful pictures of Hawaiian beaches on the walls. The space is very vibrant and intimate.
For dinner I ate the Pork Loco Moco which is a Hawaiian dish that has brown gravy with Portuguese sausage, pulled pork, purple sticky rice, Japanese pickles and a fried egg on top of it ($15). For my side dishes I tried the macaroni salad and kimchi slaw.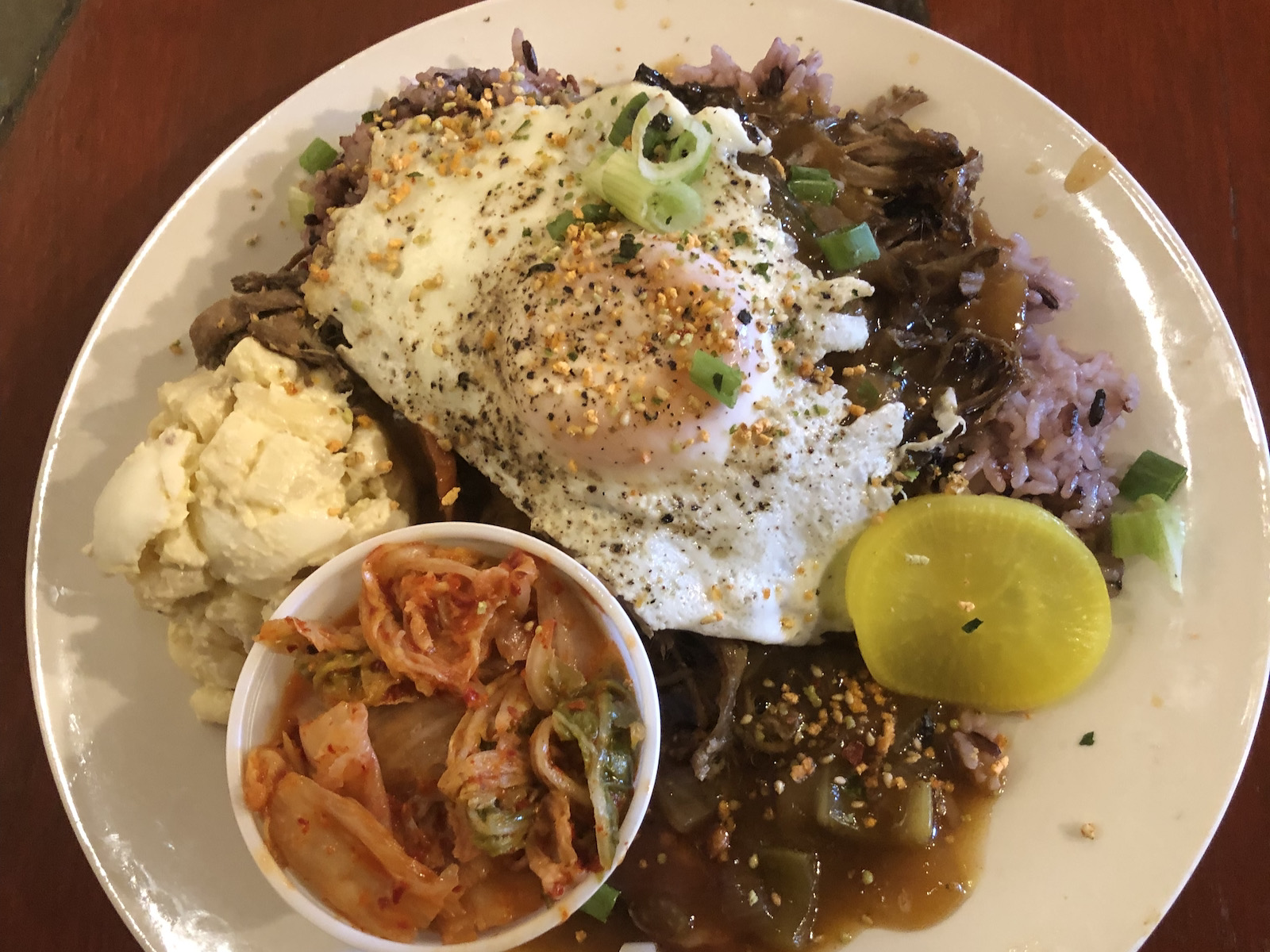 My meal was incredibly colorful and was overflowing with the large portions offered. The smoky pulled pork was mouth watering and juicy. The brown gravy with sausage had a perfect little kick to it. Their kimchi slaw was fresh and spicy and the purple sticky rice was nicely seasoned. All these different flavors and textures made for an incredible meal. The food which is influenced by a variety of different cultures is blended perfectly, as each item balanced the other one out.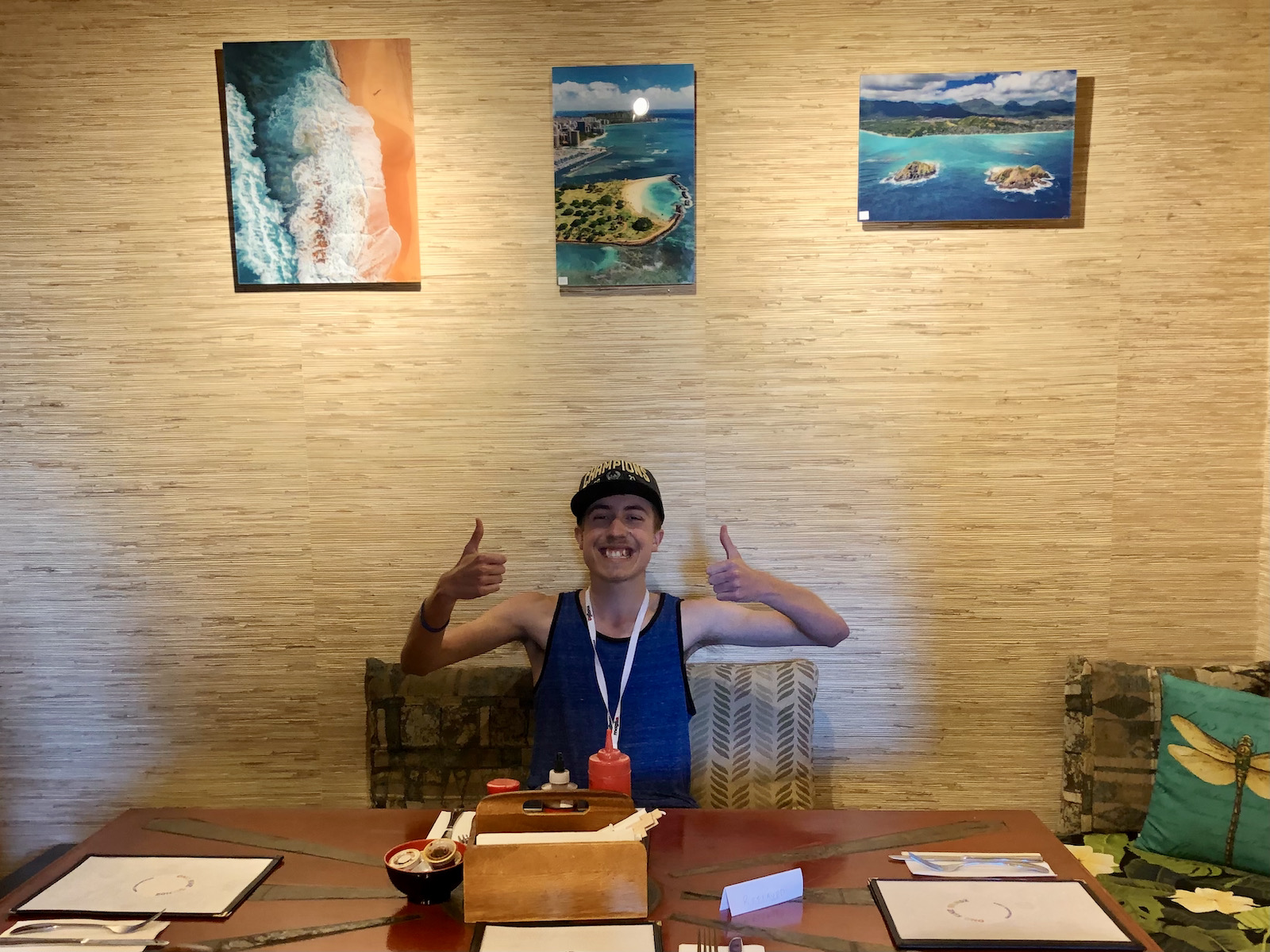 I also got to sample the Sriracha burger ($12.75), as well as the chicken teriyaki ($13.75). The chicken teriyaki had the perfect amount of spice and sauce mixed in together. The burger was perfectly cooked and the toppings made for a delicious and unique burger.
I would highly recommend checking this restaurant. The food is excellent and the owners are kind and genuine to everybody, truly making you feel like you are family.
Dominic the Food Reviewer is a teenage writer and student at St. Francis High School who began sharing his passion for food by posting positively-focused restaurant reviews on Facebook. Since he created his page in 2019, he has been featured by multiple media outlets including Fox6, CBS58 and TMJ4. Dominic says his goal is to inspire other kids with special talents to find their own voices and passions.