Join us on Saturday, July 23 for some lakeside munchies at the second annual OnMilwaukee Food Truck Fest. Choose from a menu of 20 trucks and enjoy the live DJ, games and entertainment. It's the biggest gathering of the best food on four wheels.
At OnMilwaukee, we believe in lifting up all voices and using our platform to support others' dreams. And that's what we hope to do for Dominic the Food Reviewer. When I first met Dominic almost two years ago, I was impressed by his passion, his curiosity and his interest in improving his writing. Over time, I've not only enjoyed getting to know him better, but he has taught me as much as I have him. My hope is that you'll not only enjoy reading Dominic's reviews, but also glean understanding and joy from seeing the world of food through his eyes. -- Lori Fredrich, Dining Editor
This weekend, I tried a place called Spanky's Sports Bar & Grill, located at 485 S. Jefferson St. in Waterford. They are most known for their amazing pizza. It was even voted second best in Racine county after Wells Brothers' pizza.
The owners who operate Spanky's Sports Bar & Grill are Matt and Karen Allen. I had the pleasure to meet with Matt to talk about the background of Spanky's and what inspired them to open a sports bar and grill.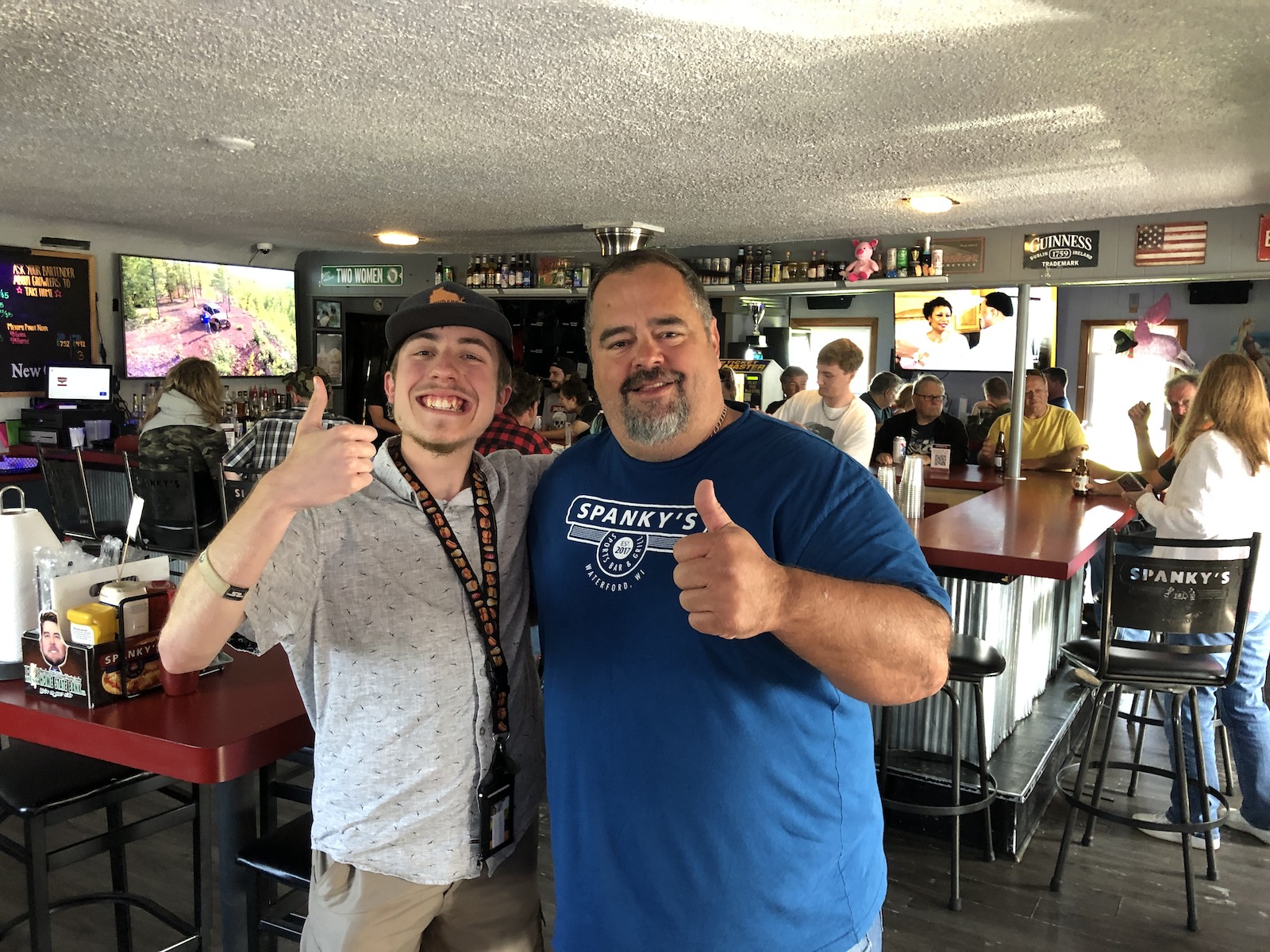 Matt mentioned that he is originally from Ohio. They had a family pizza recipe for many years and they used to always make pizzas for their friends and family. They even used to put out pizza at Halloween. Matt used to work in marketing for many years and, five years ago, he and Karen made the leap to open their own business. Matt worked in Franklin and they both fell in love with the community of Waterford and have been in Wisconsin for twenty two years now.
Matt told me that Spanky's opened in December of 2017. The owner said they often offer veterans free meals on many holidays, as Matt loves supporting all the veterans since he is a veteran of the Navy himself.
The inside is a nice bar with pub tables and chairs around the outside of the bar. It was very clean inside and a very inviting place to come in and have a nice time.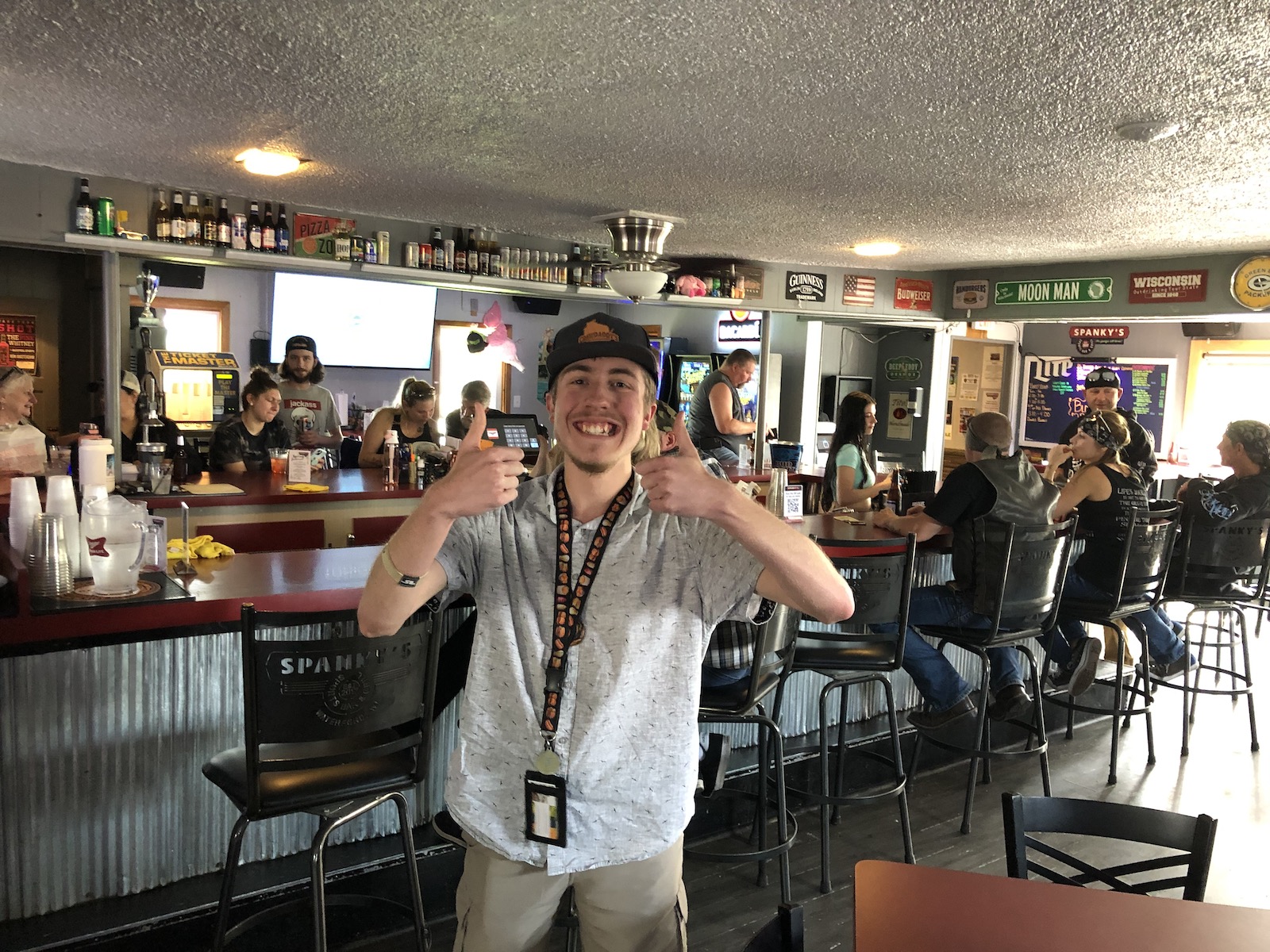 They also have an outdoor patio that has tables and a bar. They host live bands that are going to be playing this month too.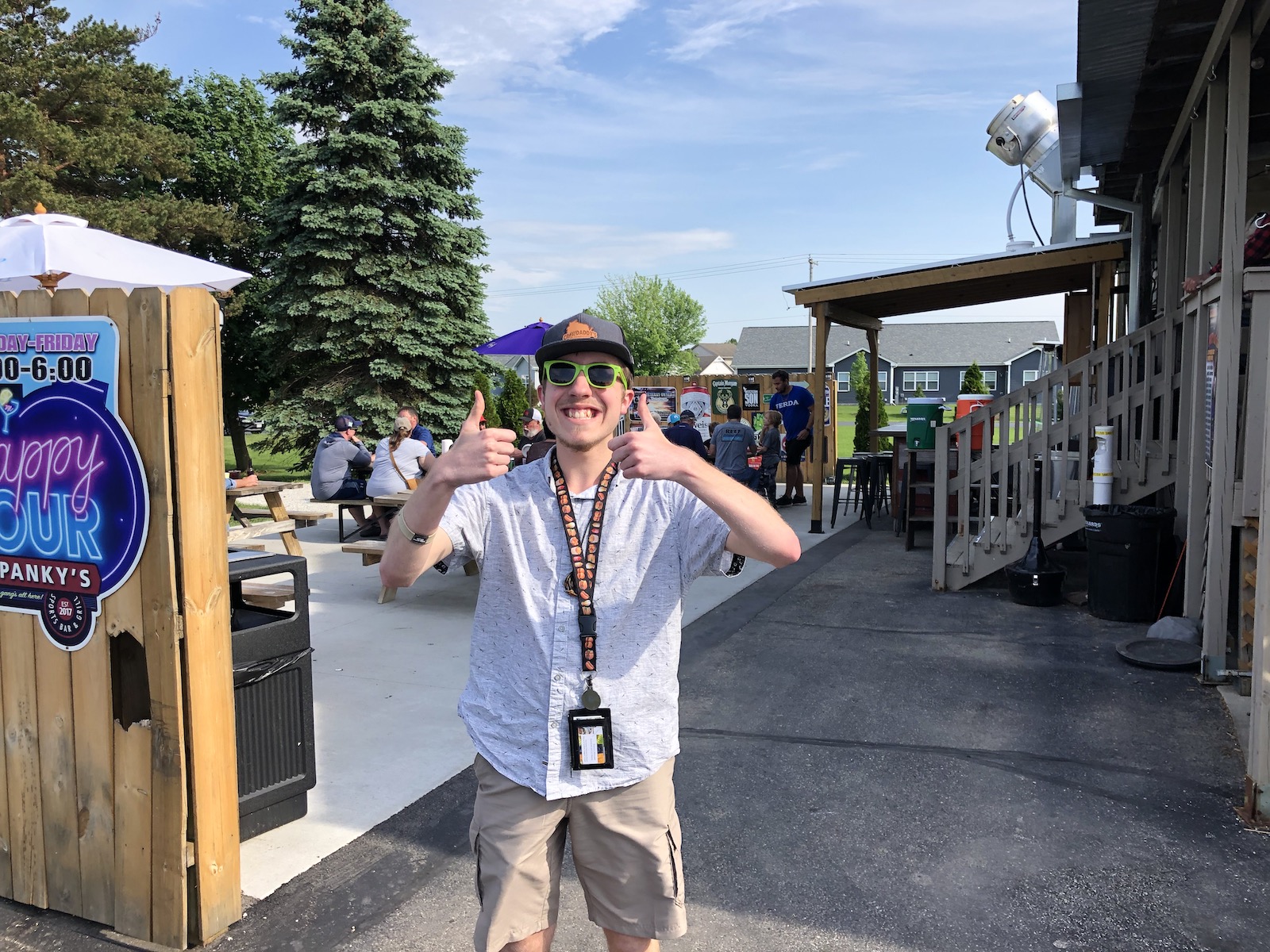 Matt said that their sausage, pepperoni and cheese pizzas are all local. They make all their dough fresh every morning and they make their own sauce too. They have very high standards for quality that goes into their food. They also have a fish fry on Friday nights and some of their other popular dishes include: a shaved hot honey ham sandwich, a pulled pork sandwich and duck bacon and sweet corn wontons.
For my two appetizers, I tried the duck bacon and sweet corn wontons and their cheesy garlic bread. The duck bacon and sweet corn wontons include duck bacon, charred sweet corn, and cream cheese stuffed inside wontons.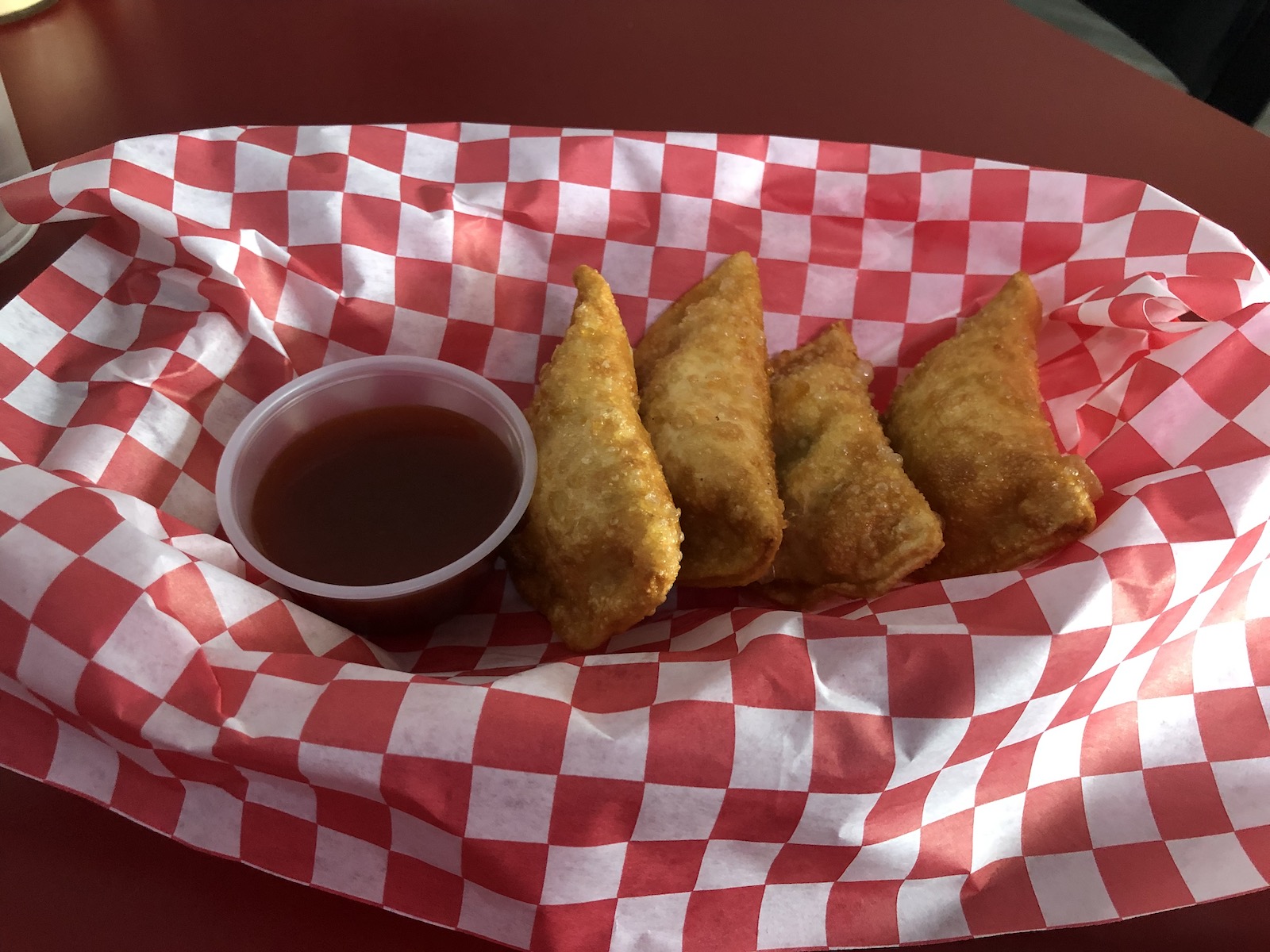 The duck bacon wontons had a very soft texture inside the wonton and the corn and cream cheese mixed so well together. This was an absolutely amazing appetizer.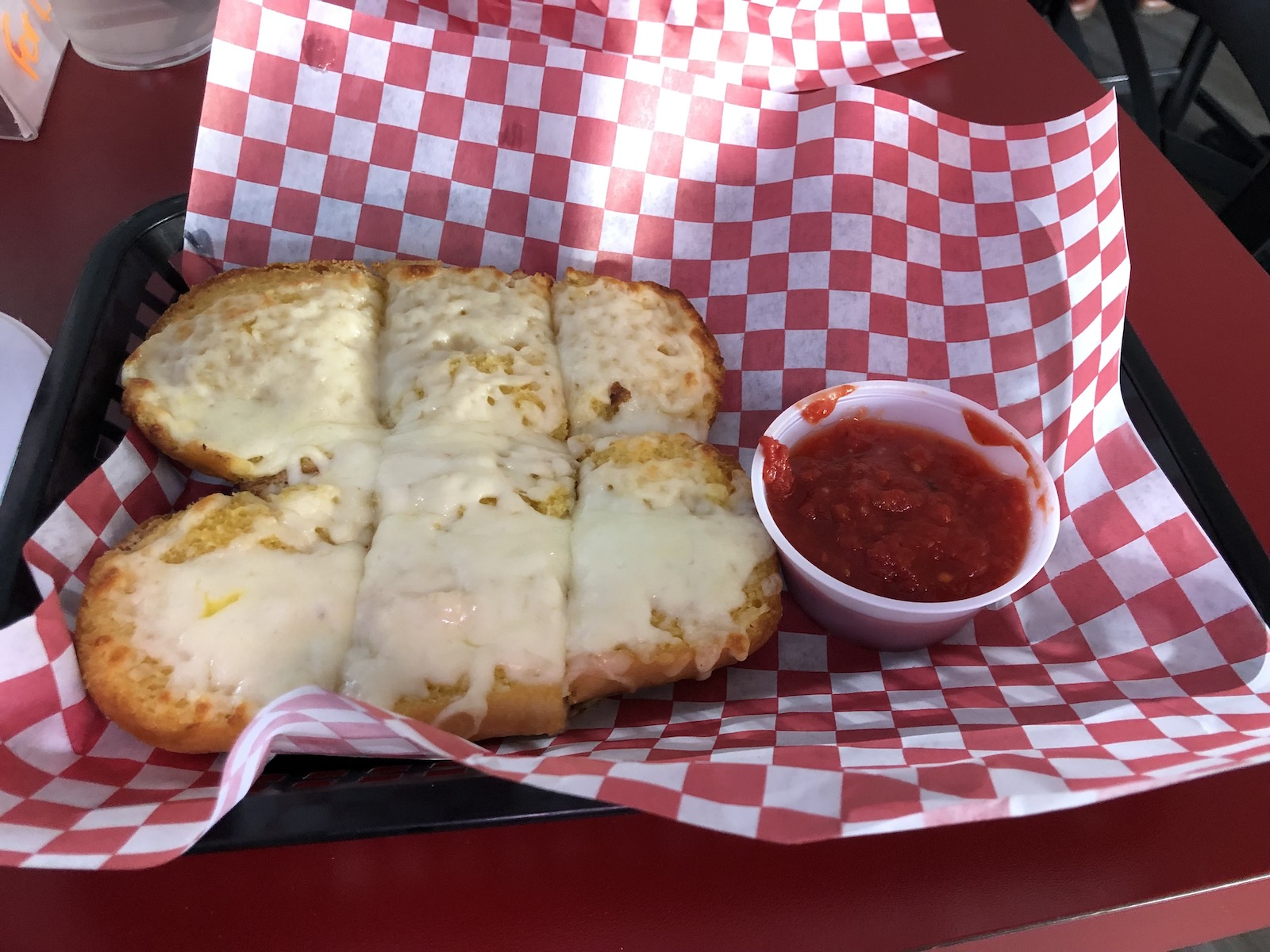 I would say that the cheesy garlic bread that I tried had a fluffiness to it and just the perfect amount of cheese. You could tell it was freshly made too. I dunked the garlic bread in the marinara sauce and it was saucy to perfection.
For my main course I got to try The Luisa pizza which is a pizza with no sauce. Instead of tomato sauce, it comes with olive oil on it. It also includes toppings such as sausage, spinach, tomatoes, artichoke hearts, ricotta, mozzarella and provolone cheese.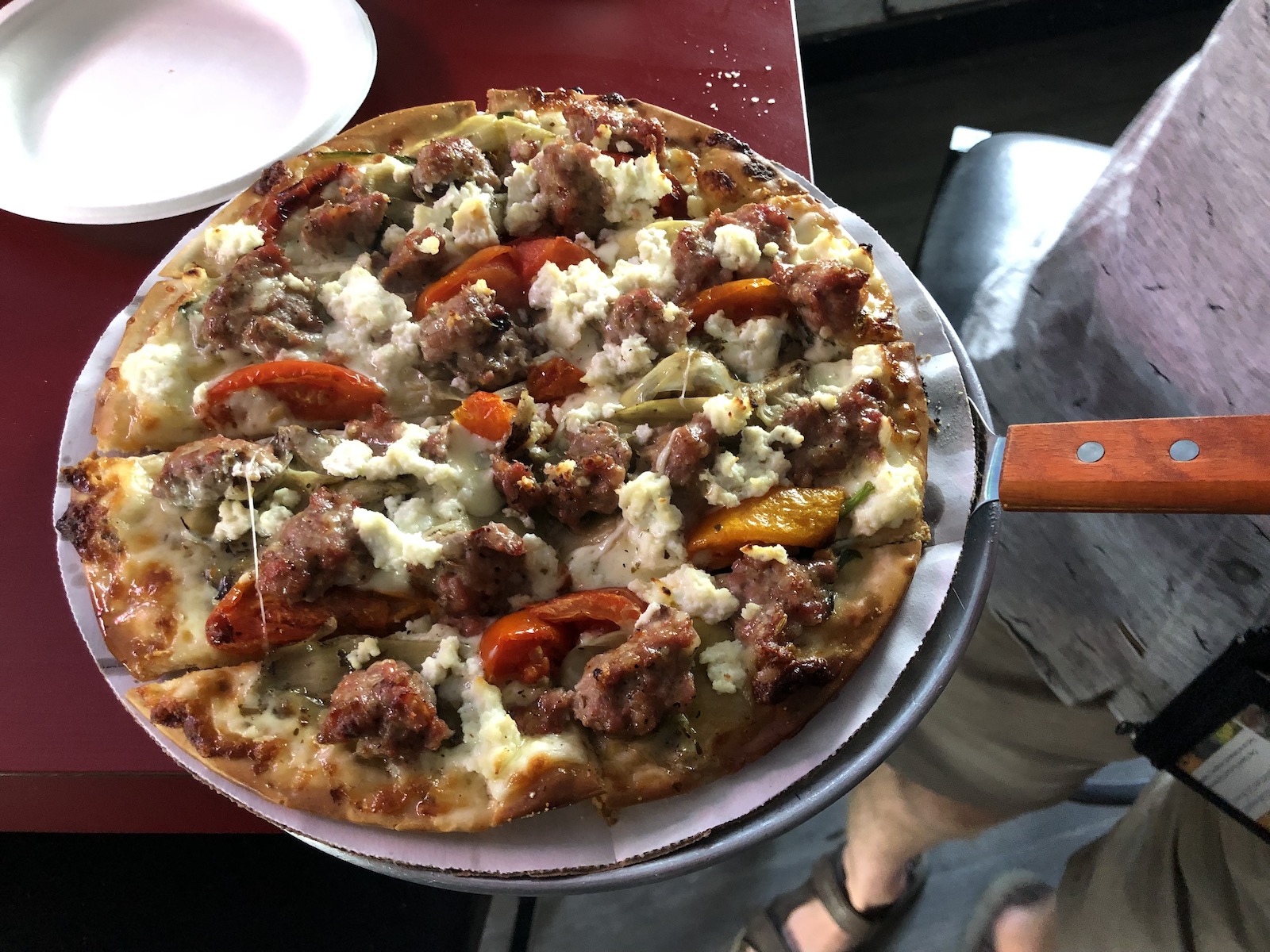 The artichokes had a slight crunch to them. The ricotta cheese that was on top of the Luisa pizza had a very creamy texture. All the tomatoes that I ate on the pizza had a sweeter flavor and tasted like they came right out of the garden. The Dean of Cuisine enjoys his cheese – and why not? – because we are in a state that is super known for cheese. Those mixes of different kinds of cheeses and flavors went together so well. The mix of colors and flavors made my day. Their pizza has a cracker crust which I absolutely love. I ate almost the whole entire pizza myself.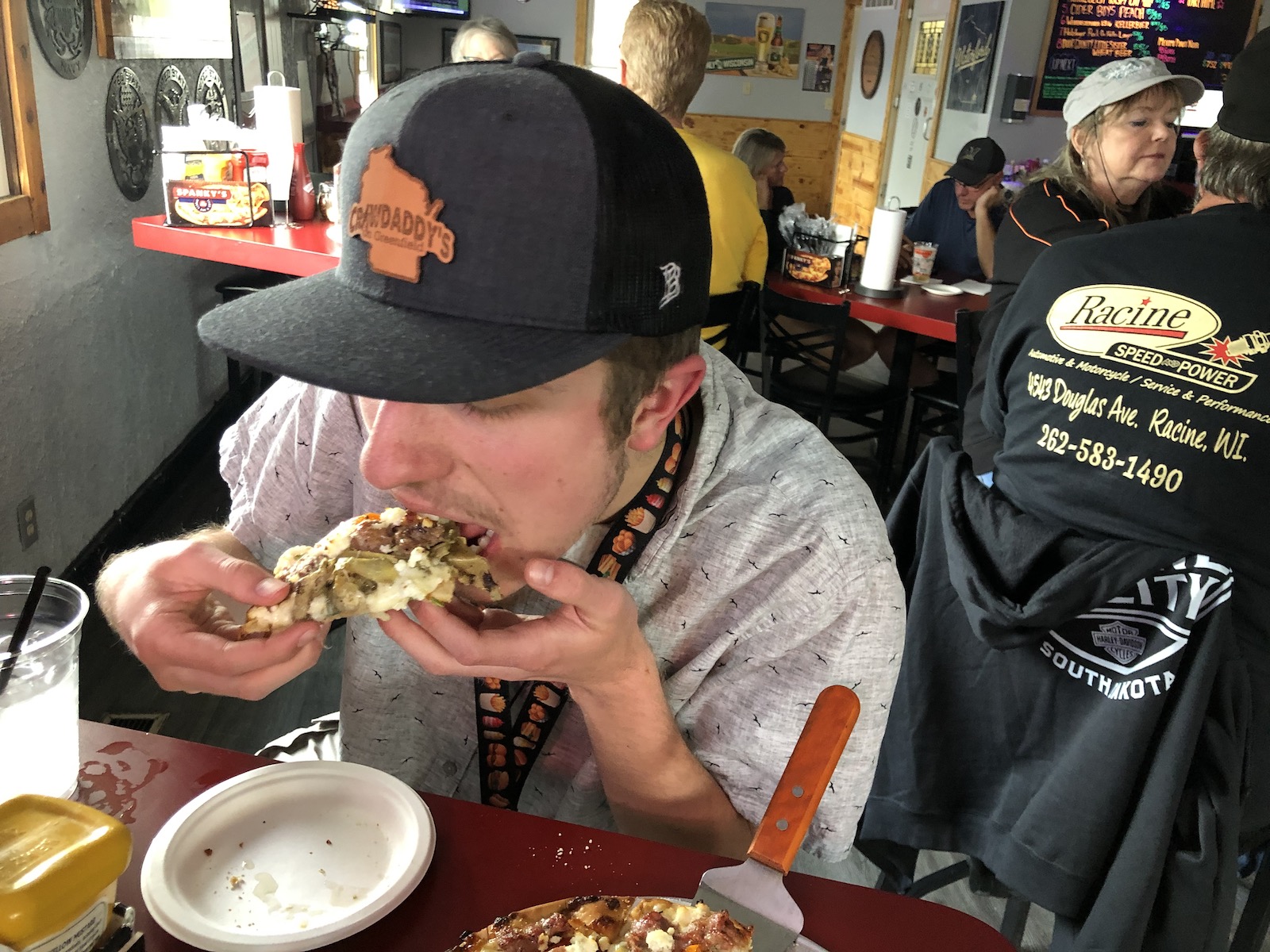 When I was done with my pizza, I saved some leftovers for the next day and I could not stop thinking about that pizza after I ate it.
I also tried their cheese and sausage pizza with their homemade sauce on it.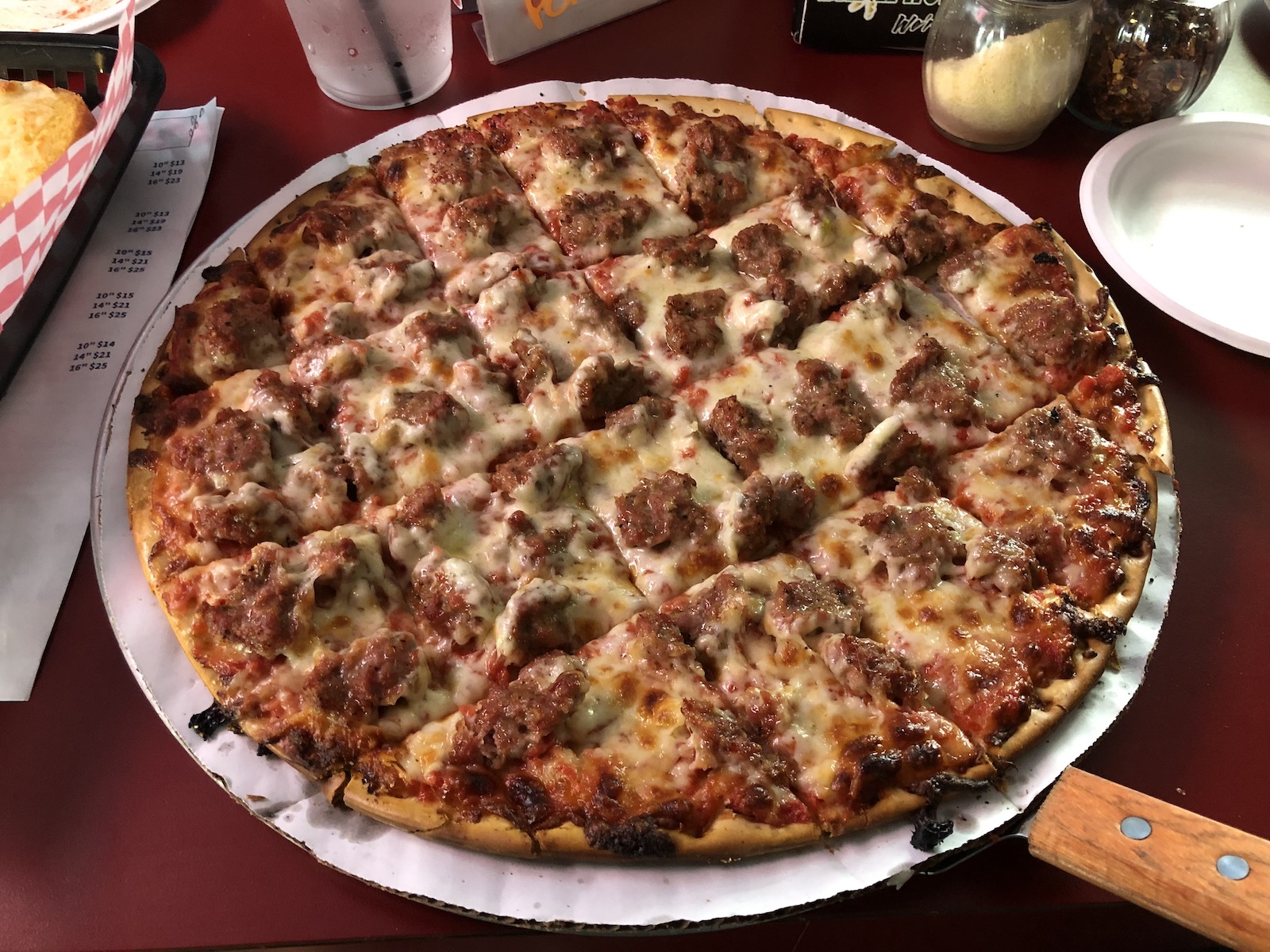 My family likes to say we have pizza sauce running in our veins because we always eat pizza and Spanky's pizza was some of the best I have ever tried. This is a true hidden gem if you are a pizza lover. Their other food I tried was excellent too, so I know they really know what they are doing at Spanky's.
The owner, said they are going to build a new location, that is twice as big as the current one this coming April. It's about two miles from their current location they have now.
If you live in Waterford, or anywhere in the state of Wisconsin, and want to try some of the best pizza you will ever taste, I would highly recommend checking Spanky's out. The owner Matt is super positive and they will make sure that you are getting taken care of when you are at the restaurant. Our waitress Anita was also great and I loved her positive energy. This place is a must try and is now on my short list of best pizza around.
Dominic the Food Reviewer is a teenage writer and student at St. Francis High School who began sharing his passion for food by posting positively-focused restaurant reviews on Facebook. Since he created his page in 2019, he has been featured by multiple media outlets including Fox6, CBS58 and TMJ4. Dominic says his goal is to inspire other kids with special talents to find their own voices and passions.