OnMilwaukee has partnered with MillerCoors to highlight some of Milwaukee's legendary watering holes. Don't you forget about them! Read all of them here. AND please celebrate this summer responsibly.
It's been a challenging year for owners Brian James and Marie Street, but they made some smart decisions during the still-going pandemic era that have helped bring customers back and into a safe environment.
"We made a lot of changes, but the Bucks winning didn't hurt either," says James.
The expansion of the patio is the most recent and the most valuable addition to Liquid Johnny's. "We are still focused on staying safe while having a space where people can really enjoy themselves and the patio is perfect for that," says James.
Investing in their business is not new for the couple. Every year since James and Street purchased Liquid Johnny's – a West Side pub and grill that's been around since 1981 – the couple have invested 5 percent of annual sales back into the building.
"It's always been important to us that we make the place better and better for our customers," says James.
The couple bought the business in 2015 and since then, have put in a new parking lot, new kitchen appliances including a low-energy deep fryer and purchased new bar stools, table tops, patio furniture and more.
2020 was going to be the same as previous years: James planned to work on designated upgrades during his off time, which falls between 2:30 and 10 a.m. But then the pandemic required the bar to close and suddenly James had plenty of day and evening hours to make improvements.
"We made the best of it and we got a lot done," says James.
Since last March, James, with the help of a couple of friends and contractors, has completed multiple year's worth of projects. The bar has a completely new look after James and friends ripped the carpeting off the front and replaced it with different types of wood. They also built a step around the bottom and placed moveable plexiglass on the bar top to create a safe barrier between patrons and bartenders.
The back bar was refinished with new mirrors, the original coolers upgraded and two vintage Schlitz lamps / statues were added.
Liquid Johnny's also received new entrance doors, a tin-like ceiling and circulation fans. Both the rest rooms were remodeled with new sinks and handmade beer tiles on the walls crafted by Street. There's also a new urinal in the men's room that's constructed from beer kegs.
James also masterminded changes to the layout of the long-and-narrow space. He added a collapsible partition and fold-down tables to accommodate all of his customers which range from early evening diners to late-night dart players and drinkers.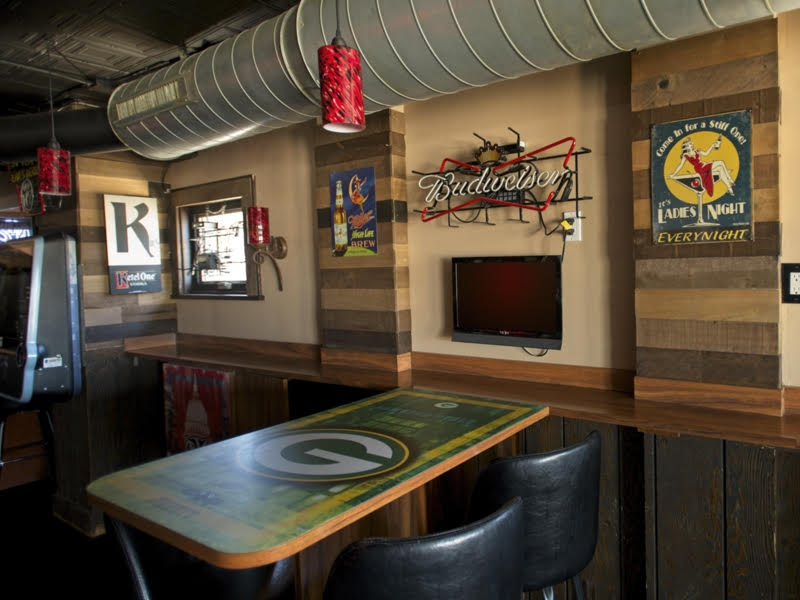 After the mandatory shutdown was lifted, Liquid Johnny's reopened for only a few hours at a time and has slowly expanded its hours as the staff feels more comfortable.
"During the shutdown, the community bought so many fish fries that our Fridays met previous years' numbers – and that's without selling alcohol," says James. "It kept us alive."
During State Fair, which runs through Sunday, Aug. 15, Liquid Johnny's has limited kitchen hours and menu offerings. The kitchen will be open on Friday, Aug. 6 and again on Friday, Aug. 13. It will resume regular daily hours after the Fair.
"Considering our kitchen is probably smaller than your closet, it's pretty impressive what comes out of there," says James.
James, a fan of the Star Wars character Yoda, has both obvious and subtle references to the wise green guy throughout the bar. The Liquid Johnny's logo is abstractly shaped like Yoda's head, there are Yoda masks hanging above the door and there's even a Yoda beer tapper – made by a customer – that dispenses special "LJ's" beer.
James says he inherited both his appreciation for Yoda and many Yoda items from his stepdad after he passed away. "I brought in a couple more Yodas during the shutdown," says James. "It's fun for the customers."
Liquid Johnny's is currently open Monday-Thursday from 2 to midnight and Friday through Sunday from 11 a.m. to close. Note special kitchen hours during the Wisconsin State Fair.

Molly Snyder started writing and publishing her work at the age 10, when her community newspaper printed her poem, "The Unicorn." Since then, she's expanded beyond the subject of mythical creatures and written in many different mediums but, nearest and dearest to her heart, thousands of articles for OnMilwaukee.

Molly is a regular contributor to FOX6 News and numerous radio stations as well as the co-host of "Dandelions: A Podcast For Women." She's received five Milwaukee Press Club Awards, served as the Pfister Narrator and is the Wisconsin State Fair's Celebrity Cream Puff Eating Champion of 2019.