OnMilwaukee has partnered with MillerCoors to highlight some of Milwaukee's legendary watering holes. Don't you forget about them! Read all of them here. AND please celebrate this summer responsibly.
Over almost a century of existence, Real Chili has endured through multiple moves, a World War, not one but two fires and – perhaps the most harrowing of all – midnight throngs of drunken Marquette students and festival goers. The Milwaukee institution has seen and served through it all – so maybe it shouldn't come as a shock that this Brew City staple has thus far been able to survive a global pandemic too. Once you've made it through a late-night Badgers-Golden Eagles postgame rush, you're probably prepared for just about anything.
During the pandemic, however, it'd be easy to assume the worst for the comfort food favorite – found at two Wells Street locations, one on Marquette's campus and one Downtown by Cathedral Square Park. With bars closed, many Downtown businesses shifting to work-from-home arrangements and Marquette adapting a hybrid approach for much of the past year, the dives' prime traffic – lunchtime work breaks and late-night recoveries – would seemingly be at risk.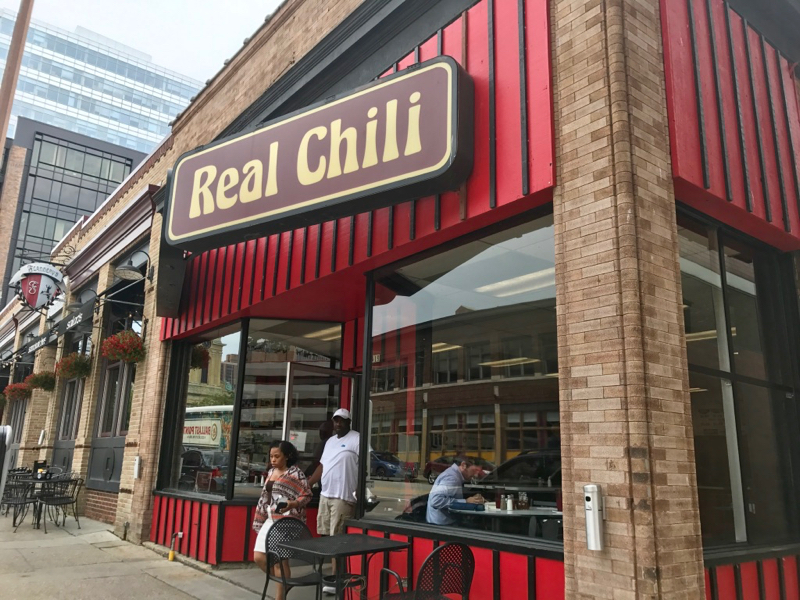 But thankfully, according to staff, the reality hasn't matched the fears at Real Chili.
"We didn't take as much of a hit as most places," said Brian Van Spankeren, manager at the Marquette location and a 12-year veteran with Real Chili. "Aside from losing the festivals and the Marquette home games, we're doing really well."
Just because quarantine wasn't the nightmare feared for the location restaurant doesn't mean it didn't have its struggles. Early in the pandemic, while the Marquette location stayed open for pick-up orders, the Downtown location was temporarily closed, and sales took a hit. Even now, with the city reopened and hours reverted close to normal, Van Spankeren notes his location's coping with some staffing struggles and their typical summer slow-down – not made any easier with the many festival and music series cancelations.
And yet, even with the COVID changes, Real Chili kept cooking – and customers kept coming.
"Daytime didn't change much – even during COVID," Van Spankeren said. "It was carryout instead of dine-in, but we didn't lose regulars or the same faces. Things didn't change as much for us; we just kept going. We were really lucky."
When asked why he thinks people keep coming – even when the typical rhythms of late nights and lunch breaks have been so sporadic for so many – Van Spankeren just gave one word: "Loyalty."
But what fostered that loyalty? One easy answer: the food.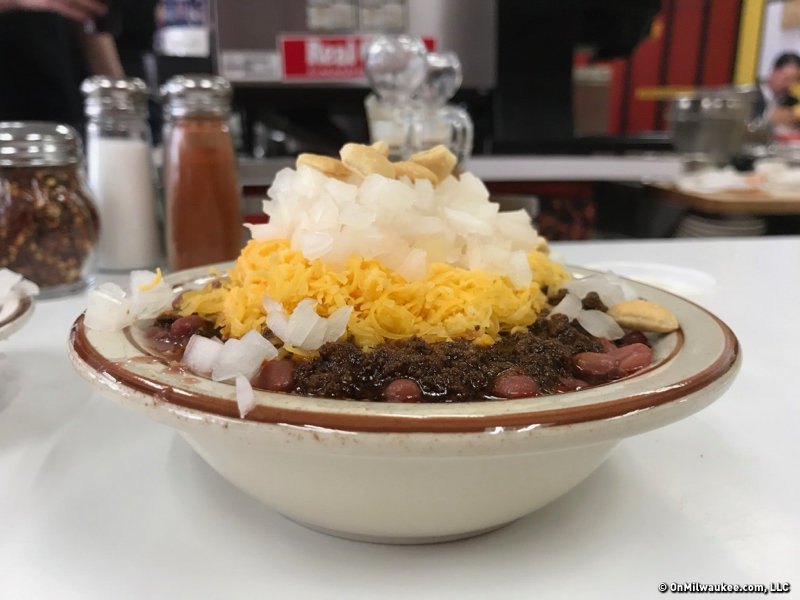 While the signature dish can be divisive, for many Milwaukeeans, there's not a better lunch, supper or drunk savior than a warm, greasy and unpretentious bowl of noodles, beans and beefy chili with maybe some sour cream or cheese on top and a pile of oyster crackers on the side (plus, at the Downtown location, perhaps a bonus High Life or Miller Lite to wash it all down). Slightly spicy and soul-warmingly satisfying, the flash-free combination has been sating hungers and soaking up nights out for Wisconsinites young and old for more than a century. (The recipe's origins go all the way back to 1910 in Green Bay.) And while plenty of culinary trends have come and gone in that time, the simple but flavorful tandem has barely changed over the years.
"We use really good food, and we change as little as possible," Van Spankeren noted.
Something else that hasn't changed: the atmosphere inside. The two Real Chili locations mark some of the few remaining traditional counter service restaurants in the city, and the interiors look just as classic, with the age-old red, black and yellow walls still greeting starving guests.
The vibe is just as warm as the dishes and décor, too. You can always find a conversation or five breaking out at Real Chili, whether day or night – albeit probably a lot louder in the latter's case, and maybe with a few more flying oyster crackers. (When asked if he missed the late-night, uh, "energy" at the on-campus spot this low-key past year, Van Spankeren shot me a dead-eyed look and responded: "Is that a serious question?" Another employee hanging around just laughed.) While those bustling buzzed crowds are more about handling the quantity of orders for Van Spankeren, when things slow down, he gets to focus on the quality of orders, chatting with customers, adding to the conversational atmosphere and bringing a laid-back personal touch that hopefully inspires return trips – especially during these tricky times.
And now – as well as for decades upon decades before – that old-school approachable angle has done exactly that for Real Chili, turning the delicious dive into a time-honored Milwaukee must.
"There's a lot of nostalgia. You'll see three generations of people come through here – grandpa, son, grandson," Van Spankeren said. "It's an institution – it really is."
One that hopefully keeps serving and satisfying people of all kinds (and BACs of all ranges) for another 90 years.
As much as it is a gigantic cliché to say that one has always had a passion for film, Matt Mueller has always had a passion for film. Whether it was bringing in the latest movie reviews for his first grade show-and-tell or writing film reviews for the St. Norbert College Times as a high school student, Matt is way too obsessed with movies for his own good.
When he's not writing about the latest blockbuster or talking much too glowingly about "Piranha 3D," Matt can probably be found watching literally any sport (minus cricket) or working at - get this - a local movie theater. Or watching a movie. Yeah, he's probably watching a movie.