EPHRAIM – It's funny how time can feel so bendable. On one hand, despite missing two summers of an annual trip to Door County that dates back to 1994, snapping back into a blissful vacation routine was nearly effortless. On the other hand, so many things have changed, certainly over the last 27 years, but also just since last summer, when Covid clobbered much more than just our collective take on travel and leisure.
But looking at Wisconsin's most magical county with a fresh set of eyes, it's obvious that Door County has fully rebounded. It's crowded again. People are smiling – and you know that, because you can see their faces without masks. Some businesses didn't make it through the pandemic, but new ones took their place.
Vaccinated tourists are enjoying indoor and outdoor experiences. The sun is shining, and the clear blue waves are lapping at the miles and miles of pristine shoreline. The world may still be broken, but up here, life is finally good again.
With that optimism, one of my oldest friends, Eron, and I returned to Door County to witness what's changed – and what hasn't. And that includes us; this wasn't the same trip we took when we were 20. Older, arguably wiser and definitely more present, we set out to revisit old memories and make new ones, too.
It was a mission easily accomplished.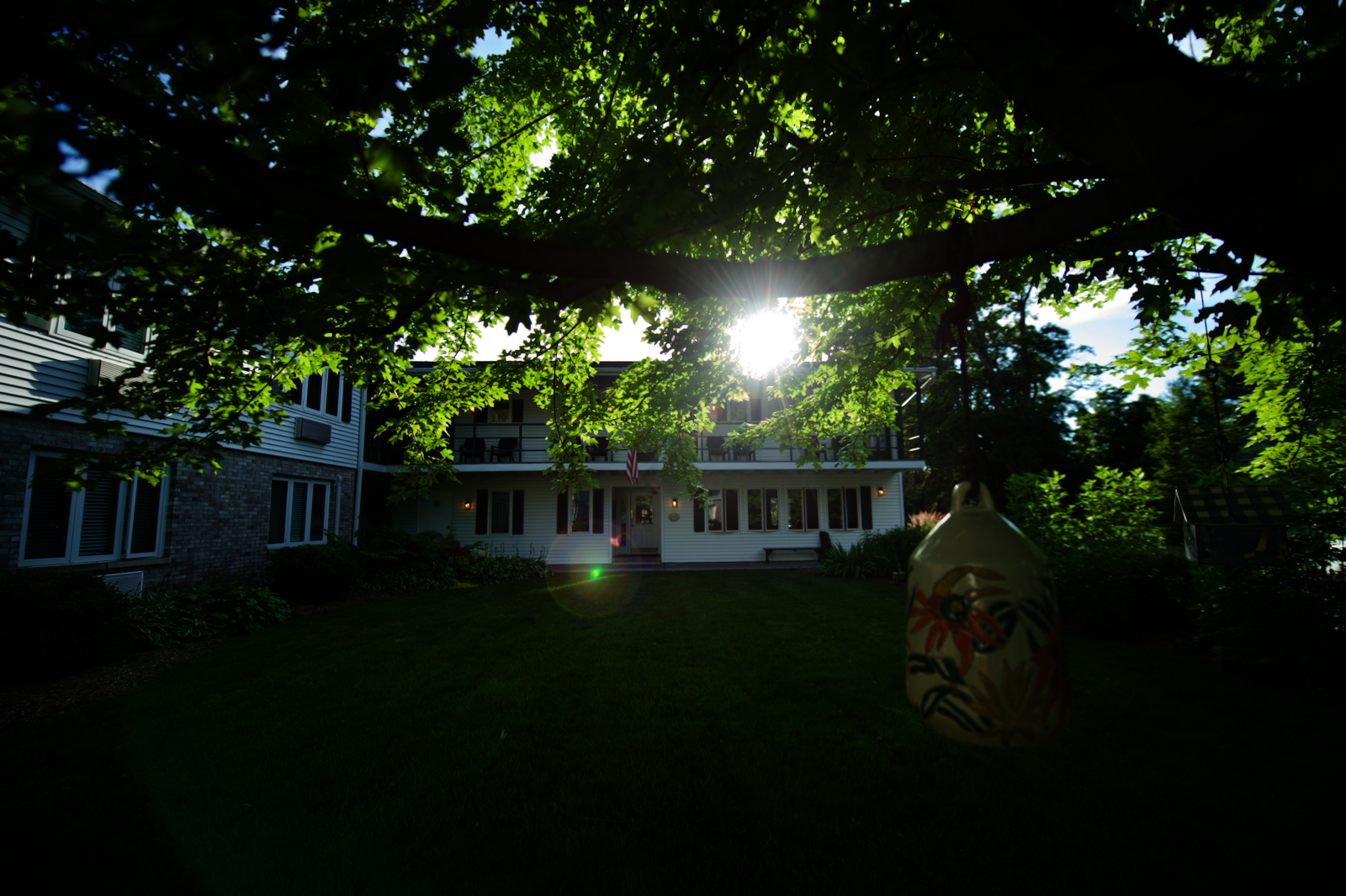 As usual, our longtime friends at Destination Door County helped make this long weekend in July a reality, securing us scarce lodging, mid peninsula, at the Village Green Lodge in Ephraim. Over the years, we've stayed in places with varying levels of luxury – including sleeping in tents or in our cars – but the Village Green Lodge can rightfully boast about its clean, solid rooms, walkability to the beach and quiet, woodsy property. It was an excellent jumping off point for destinations both north and south, and the owners had a warm and welcoming attitude.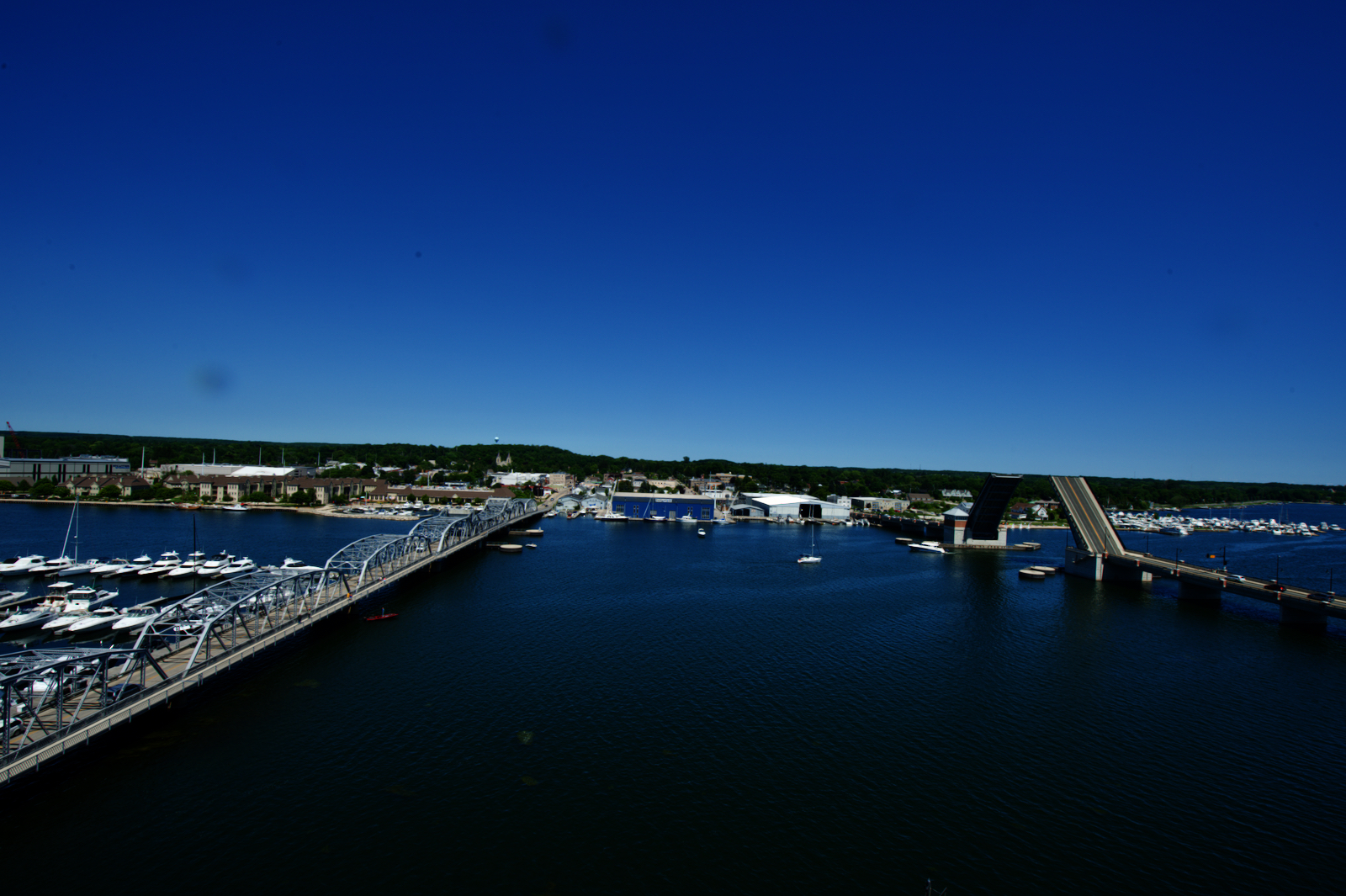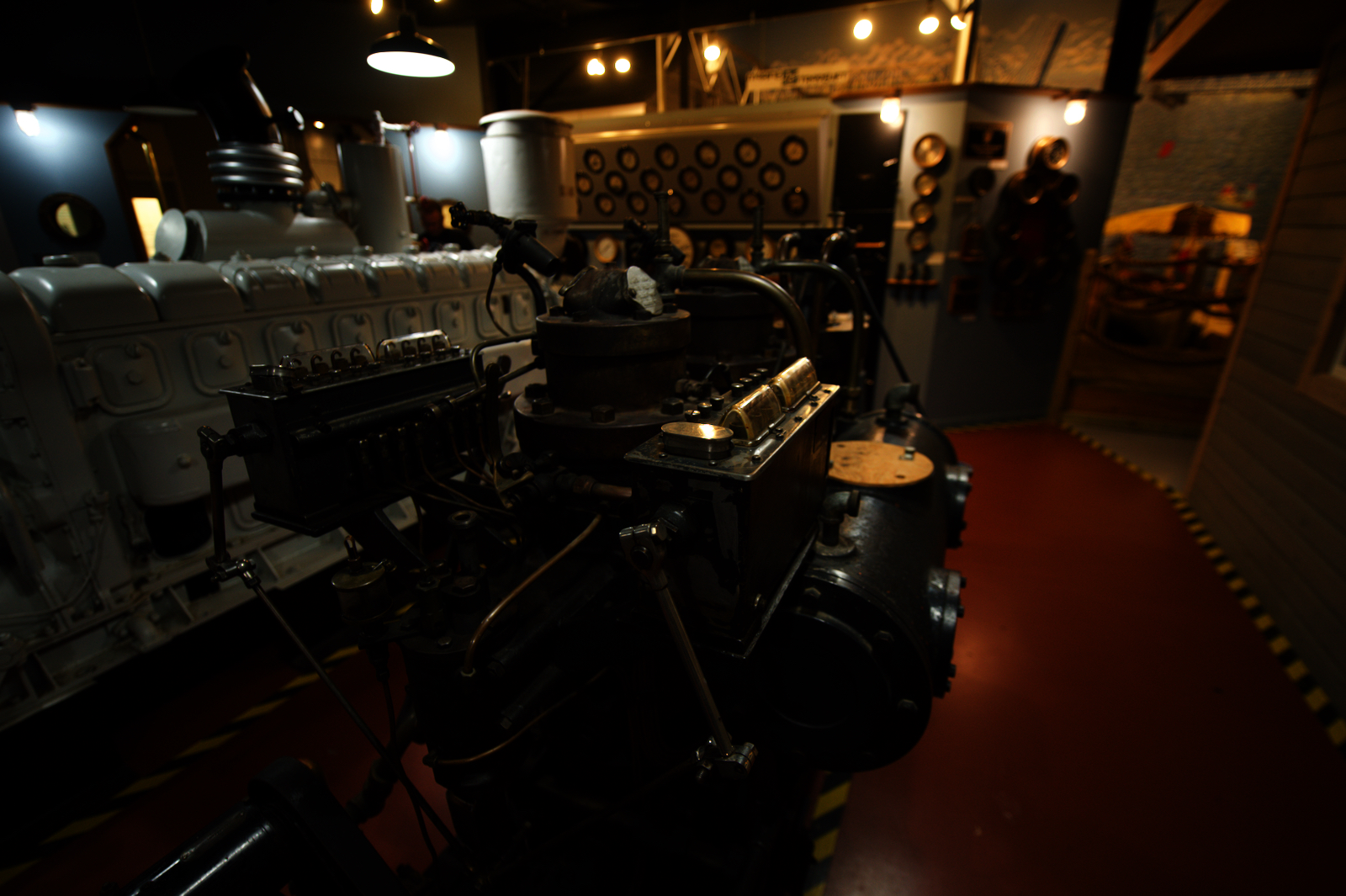 But, before we arrived in Ephraim on Friday afternoon, we stopped at three places on the way up. The first was the brand new Door County Maritime Museum, and its 12-story observation tower that provides an amazing view of Sturgeon Bay. Still a work in progress, you begin with an immersive and interactive stroll through the museum on the first floor. It's a cool look into Door County's history on the water, with antique ships, periscopes, outboard motors and decompression chambers. It will prime visitors nicely for a well-produced 12-minute video on the history of the peninsula – and one that pays respect to the Native American people who were there first. Then, you take the elevator to the top of the tower to take in the breathtaking view for up to 30 minutes. Eventually, the museum will open more floors in between, but for now, it's a great entree in Door County, a community steeped in maritime history.
We also stopped for lunch at Sonny's Pizza (which has a cherry dessert pizza!) and a drop-in to see our friends pat mAcdonald and melaniejane at the iconic Holiday Music Motel. melaniejane told me that occupancy is back up, and once we settled into our place in Ephraim, it was clear why.
"We have been busier than ever, earlier than ever," says melaniejane. "We have had really great experiences with our guests and have found that they've been very supportive of the changes we needed to make moving forward. Things are not what they once were, so the more people are open and adaptable to change, the more fun they have."
Destination Door County's Interim CEO/Director of Communications & PR Jon Jarosh agrees. "Door County's ability to adjust to conditions in 2020 helped put us in a better position heading into this year," he says. "And based on early summer inquiries we should see a robust rebound in tourism for 2021."
Robust is right. Everywhere we went was busy, far more so than when I brought my daughter to Door County for our "social distancing" trip last summer. We dined at old favorites like JJ's La Puerta in Ellison Bay and the Carroll House in Sister Bay, and a new-to-us Old Post Office in Ephraim. We sipped cocktails at the ever-growing Stabbur Beer Garden and Husby's in Sister Bay – all were packed. Live music has returned to Stabbur, an extension of Al Johnson's Swedish Butik (yes, the one with goats on the roof), and we saw more than a few bachelorette and wedding parties jumping on stage to lend a cover band a hand. Only the ever-reliable dive bar, The A.C. Tap, and the Bayside Tavern, felt sleepy. Everything else had an energy that I haven't seen in a while.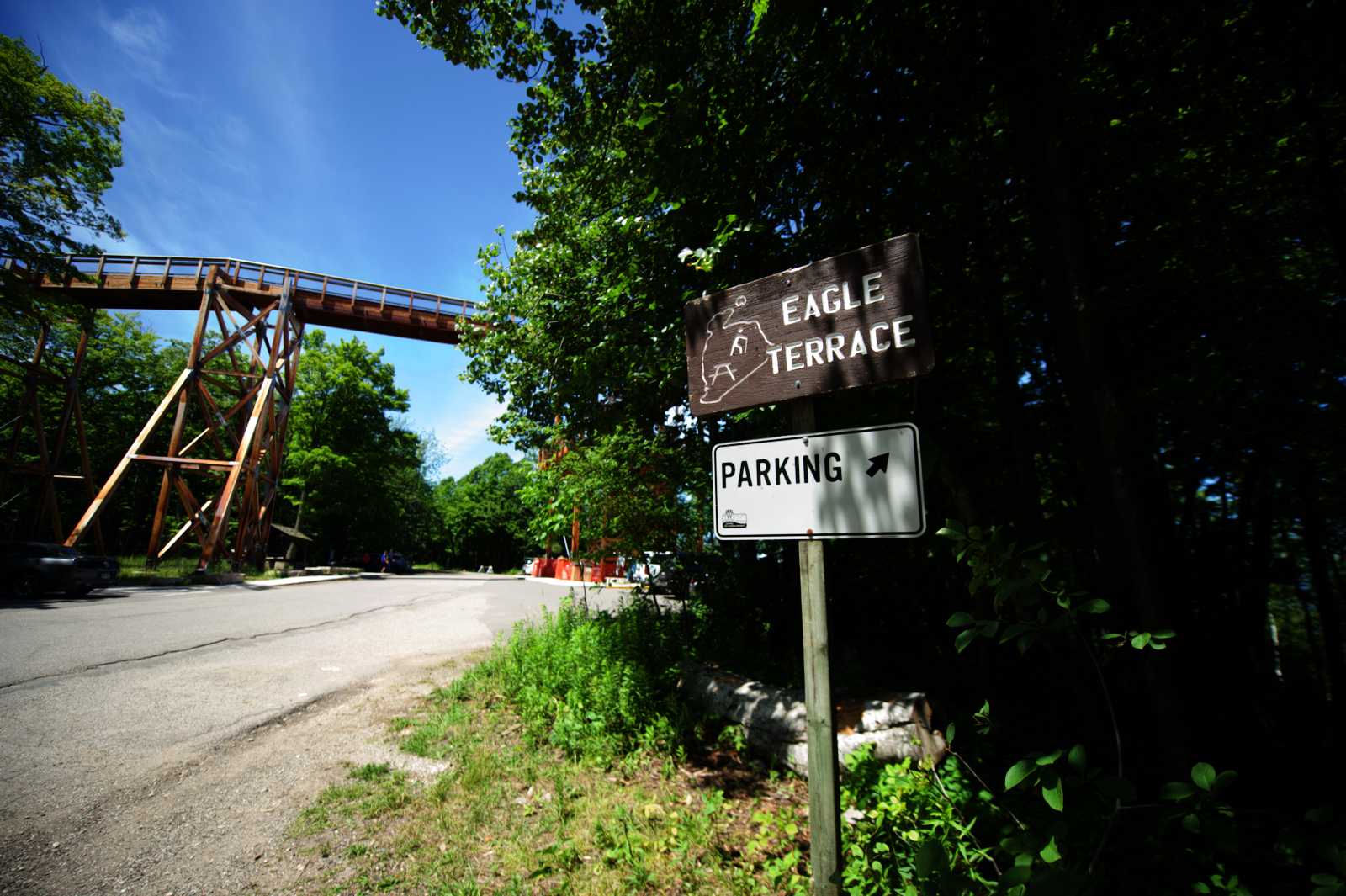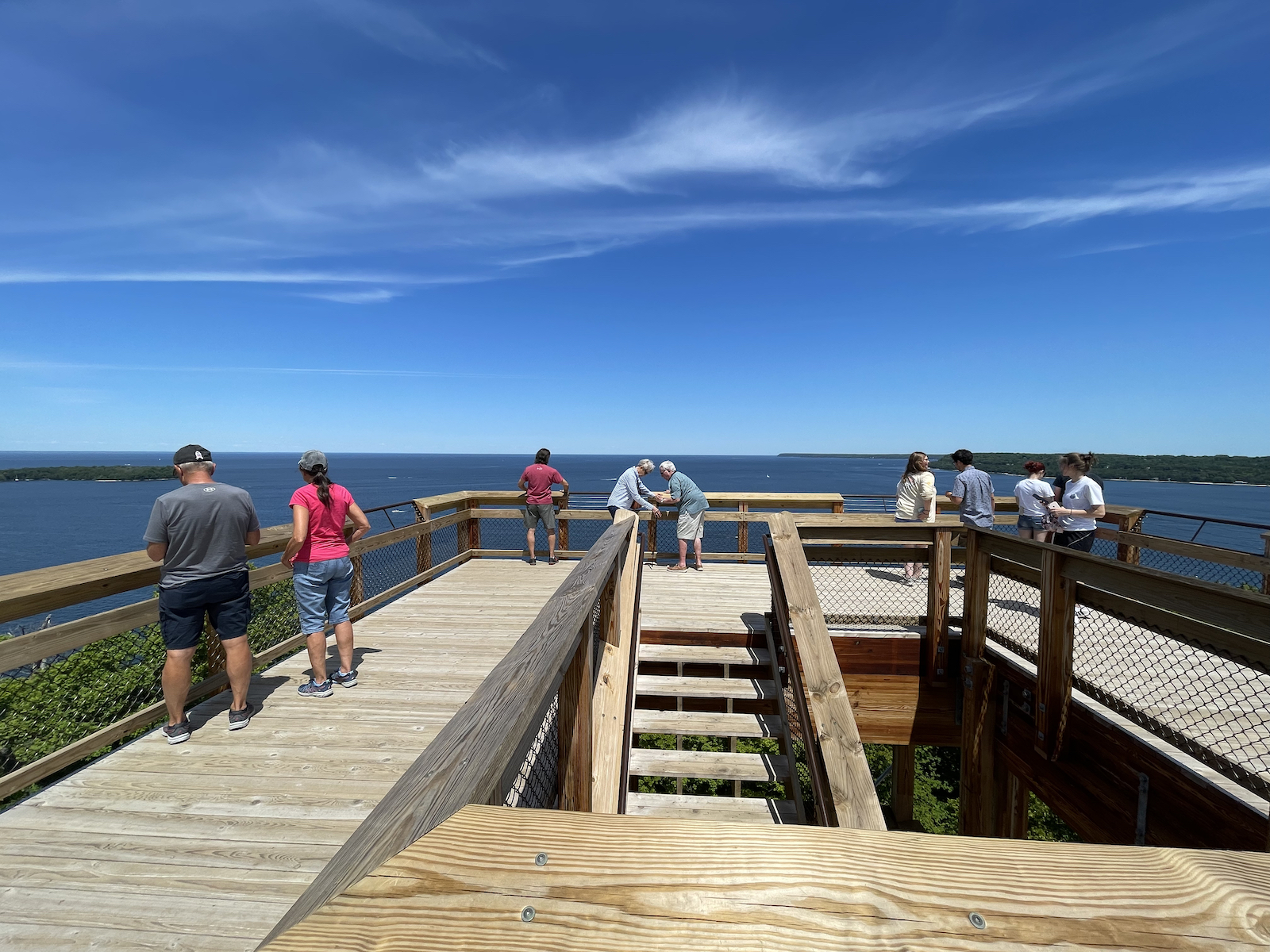 The Peninsula pulsed with that fresh energy at other attractions, too. We experienced the new 60-foot tall Eagle Tower in Peninsula State Park, which was holding its official grand opening on the day we arrived. If you remember the old tower, which was demolished in 2016, prepare yourself for a big upgrade. At a cost of $3.5 million – some of which was donated – this version offers 100 steps to the top, but an 850-foot long, accessible canopy walk gets you there, too, where you can peer down on the Green Bay. Definitely add this to your must-see list while in Door County.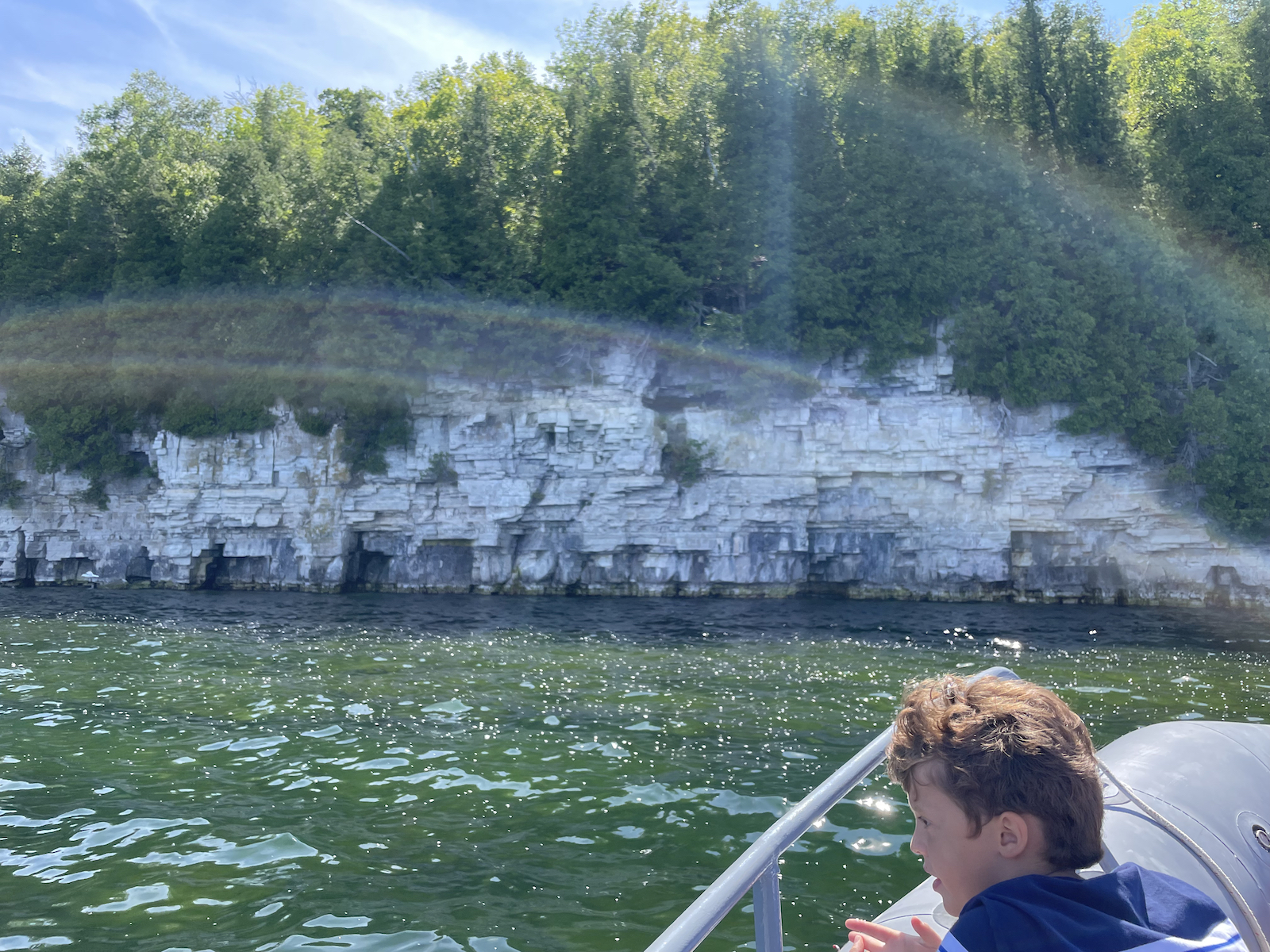 We also took a trip with Door County Adventure Rafting, a name that I think doesn't hype up this tour quite enough. While The Belafonte is technically a raft because it's inflatable, it's actually a very-bad ass 24-foot speedboat with a 225-horsepower motor that flies through the water at about 40 miles an hour. Seating 12 passengers, owner and captain Matt Olson offer a variety of different tours – we did the 90-minute Death's Door version – and I witnessed landmarks I've never seen in decades of visiting.
Matt is a local, steeped in knowledge. He took our group around the Door Bluff Headlands County Park, to Death's Door Passage and the lighthouses on Plum and Pilot Island. The scene at Pilot Island is about as remote as you can get, an eerie abandoned pair of Cream City brick lighthouses keeping guard, with only the sight (and smell) of the Cormorants and seagulls perched on the dead trees that their guano killed over the years. It's the perfect place to film a horror movie, actually.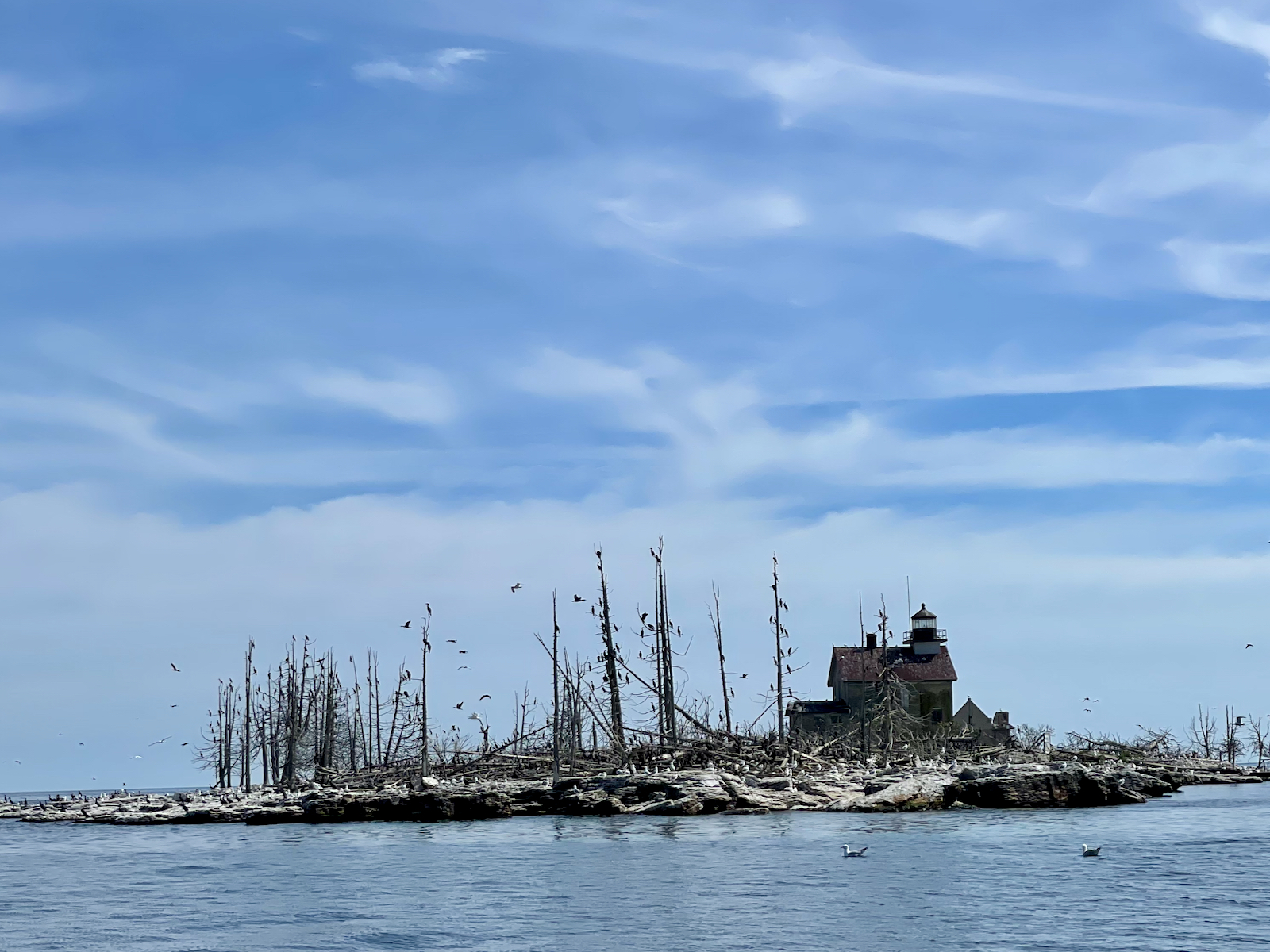 Of course, we only learned this because of Olson, who paused along the way for tons of insider info. Whether he's talking about Native American pictographs on the face of the Niagara Escarpment, or the evolving technology of lighthouses, he's incredibly knowledgeable about these remote islands' history and future.
Finally, he'll float you over two shipwrecks (the Grapeshot and the Fleetwing) before starting the return trip to Ellison Bay as he blares hard rock to feed the group's need for speed. At $50 a person, this is an excellent upgrade for the Door County visitor who thinks he or she has seen it all. Trust me, you haven't.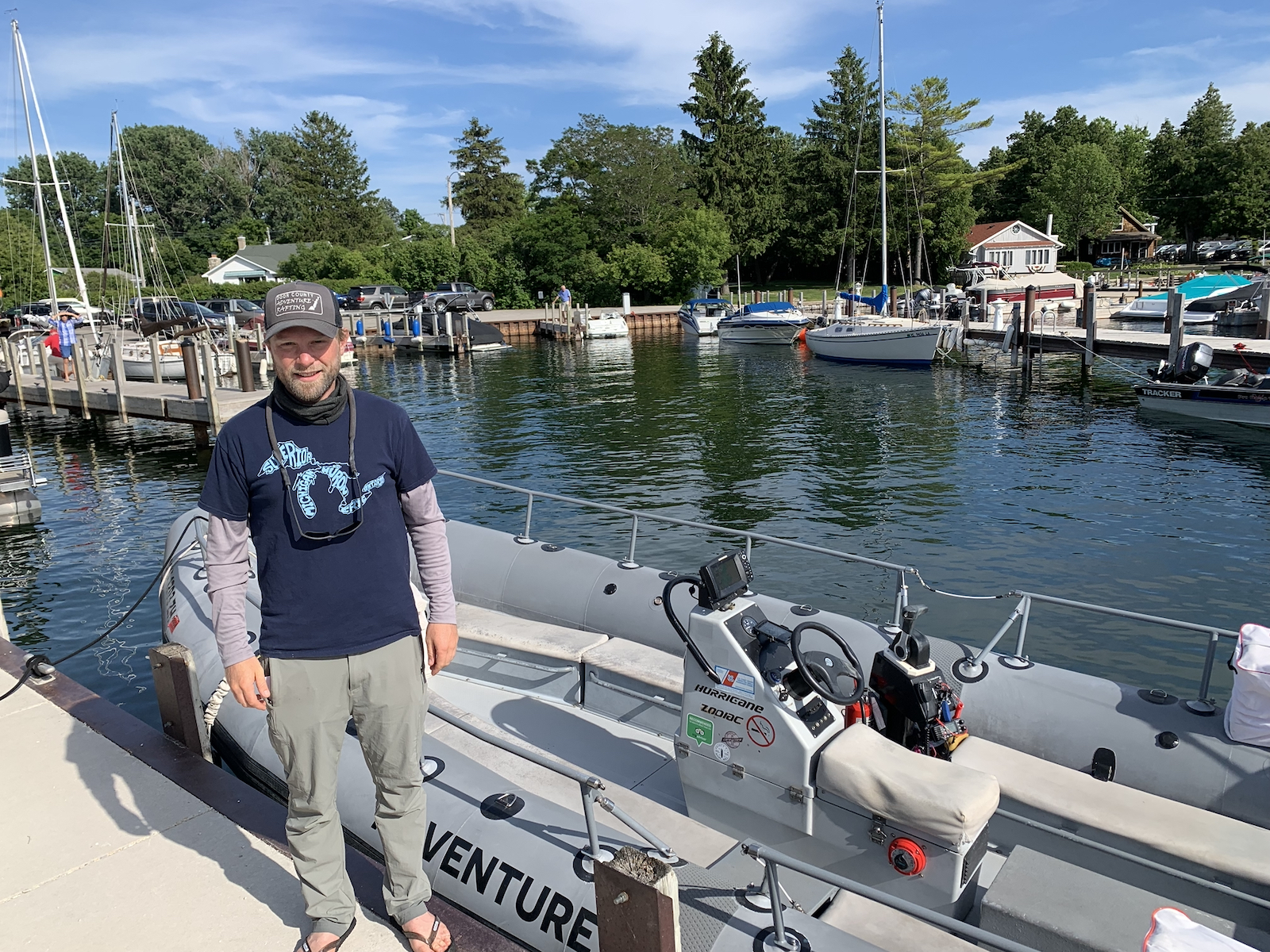 But, while shops and restaurants have come and gone (farewell Cookery and Mr. Helsinki), in so many ways, Door County feels stable and familiar. Natural beauty abounds in this immaculately clean haven, and we made sure to check some of the old traditions, too. While in Peninsula State Park, we spent some time at Nicolet Bay Beach – also delightfully crowded – throwing the baseball around and taking photos at the graffiti decorated Hardy Gallery back in Ephraim. We walked the shops of Founders Square in Fish Creek, and popped in to see the international treasures of Touch of The World Gift Shop, which has been there as long as I can remember. We watched a fish boil at Pelletier's and ogled some pie at Sweetie Pies, now owned by our friend Olivia Lowery (who, naturally, we ran into at the A.C. Tap).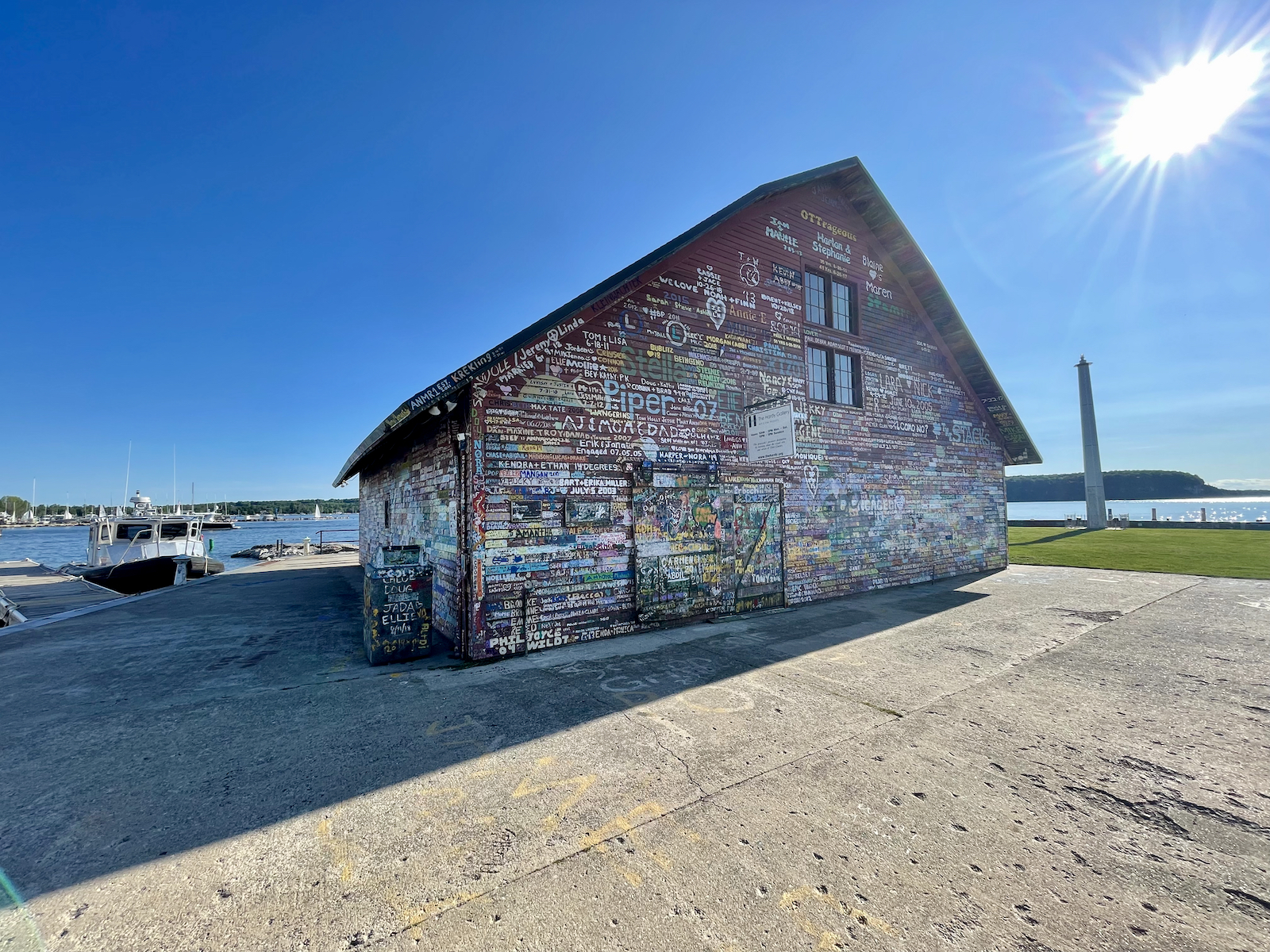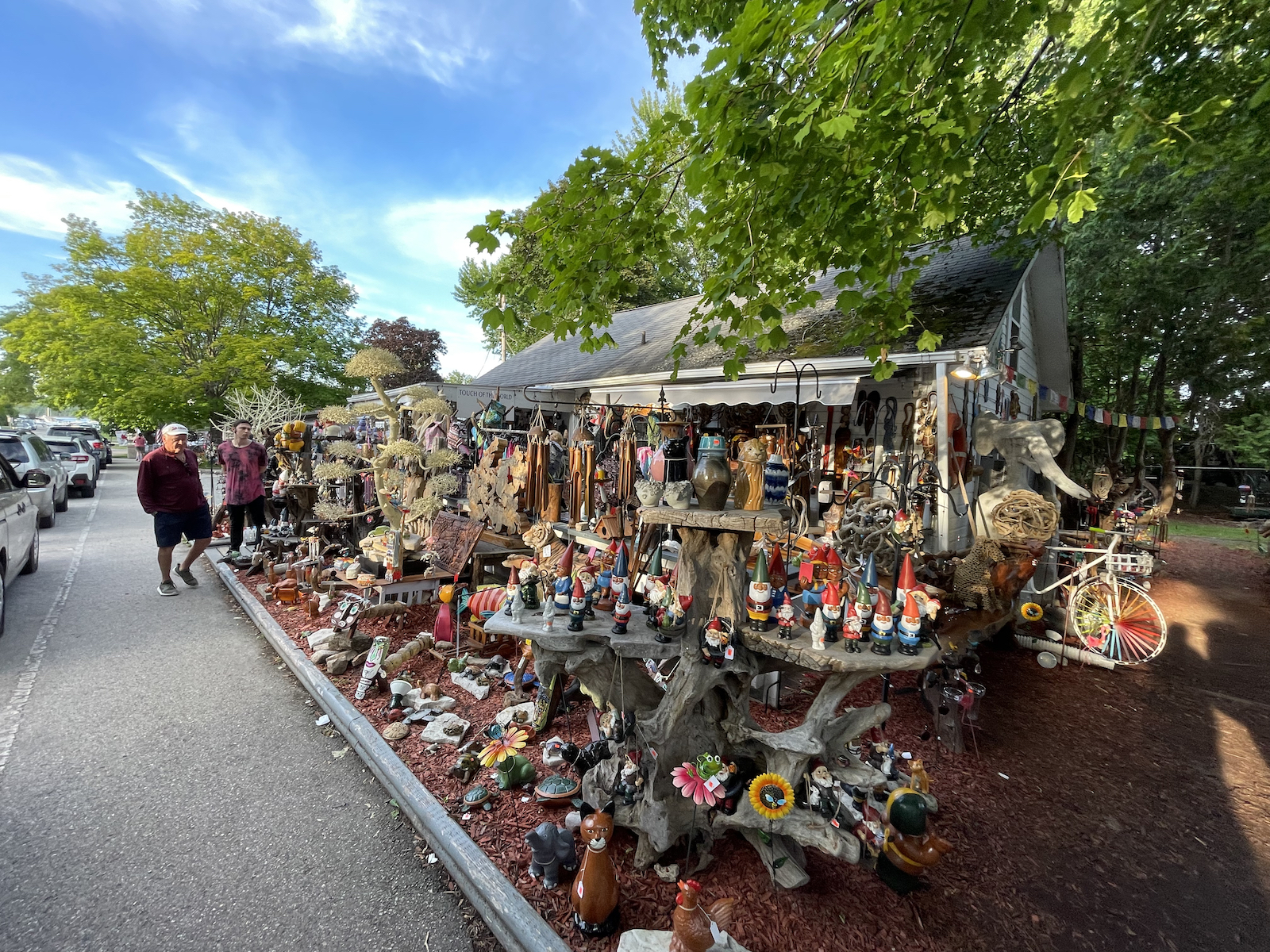 Not everything is perfect in 2021, however. Like everywhere else, Door County is suffering from a shortage of service workers, and in the case of this specific destination, the overseas seasonal college students who come for the summer had a hard time getting here. So, you will notice fewer employees and slower service in most places, but that's a caveat you could apply to Milwaukee, as well.
However, this weeked just felt delightfully … normal. And it left us wanting for more.
Hey, life happens, and between a back surgery and the summer of quarantine, Eron and I missed out on our favorite annual tradition in 2019 and 2020. But if we can help it, we'll never miss another summer trip to Door County. It's clear that my favorite peninsula remains in very capable hands.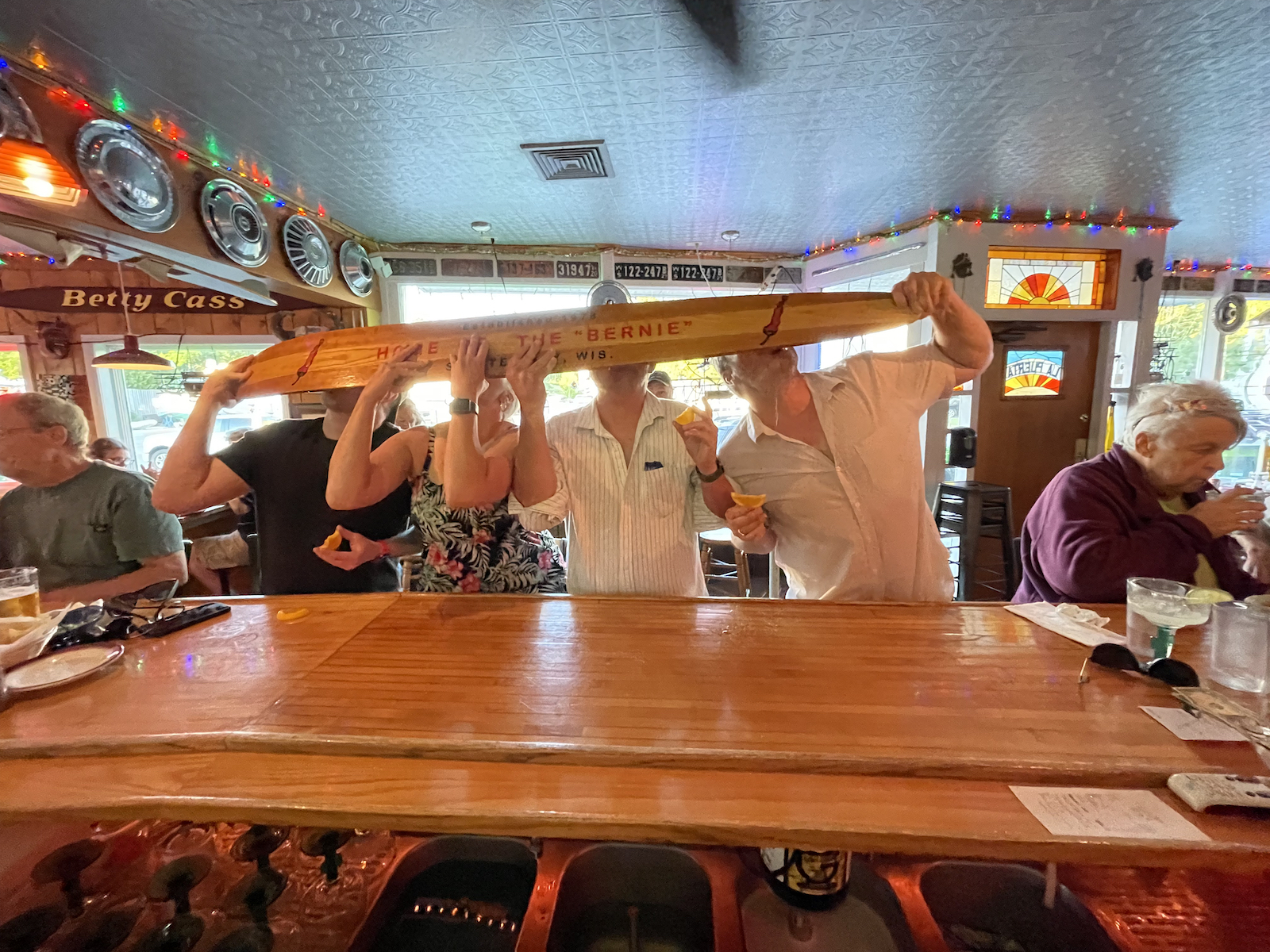 Andy is the president, publisher and founder of OnMilwaukee. He returned to Milwaukee in 1996 after living on the East Coast for nine years, where he wrote for The Dallas Morning News Washington Bureau and worked in the White House Office of Communications. He was also Associate Editor of The GW Hatchet, his college newspaper at The George Washington University.
Before launching OnMilwaukee.com in 1998 at age 23, he worked in public relations for two Milwaukee firms, most of the time daydreaming about starting his own publication.
Hobbies include running when he finds the time, fixing the rust on his '75 MGB, mowing the lawn at his cottage in the Northwoods, and making an annual pilgrimage to Phoenix for Brewers Spring Training.