STURGEON BAY — If you're a longtime reader of OnMilwaukee, you know my love for Door County. In the last 27 years, I've explored every nook and cranny, but save for a few visits last century, only during the summer and fall.
Even in its busiest times, there's not much hustle or bustle on this magical peninsula. But in the dead of winter, Door County comes alive in a different sort of way. Quiet, less expensive and blanketed with snow, it's a unique time to experience Wisconsin's not-so-hidden gem.
I bestowed my love for Door County upon my daughter at a young age, and now as a teenager, she begged me to take her up there for a long weekend in January. I was happy to oblige.
For one thing, it's just easier on the wallet.
We stayed again with our friends who own the Holiday Music Motel in Sturgeon Bay, which is not only the oldest motel in Door County, but also one that oozes with immaculate Art Deco charm. In the summer, rooms in this funky motel at the base of the historic Steel Bridge are almost ridiculously reasonably-priced. In January, they start at just $79 a night, and you'll have the place almost all to yourself. I actually told owner and Milwaukee native Melaniejane that she should raise her rates. She shot that down immediately, because she said she wants to keep her prices accessible for visitors to come here, fall in love and come back again. Hard to argue with that logic.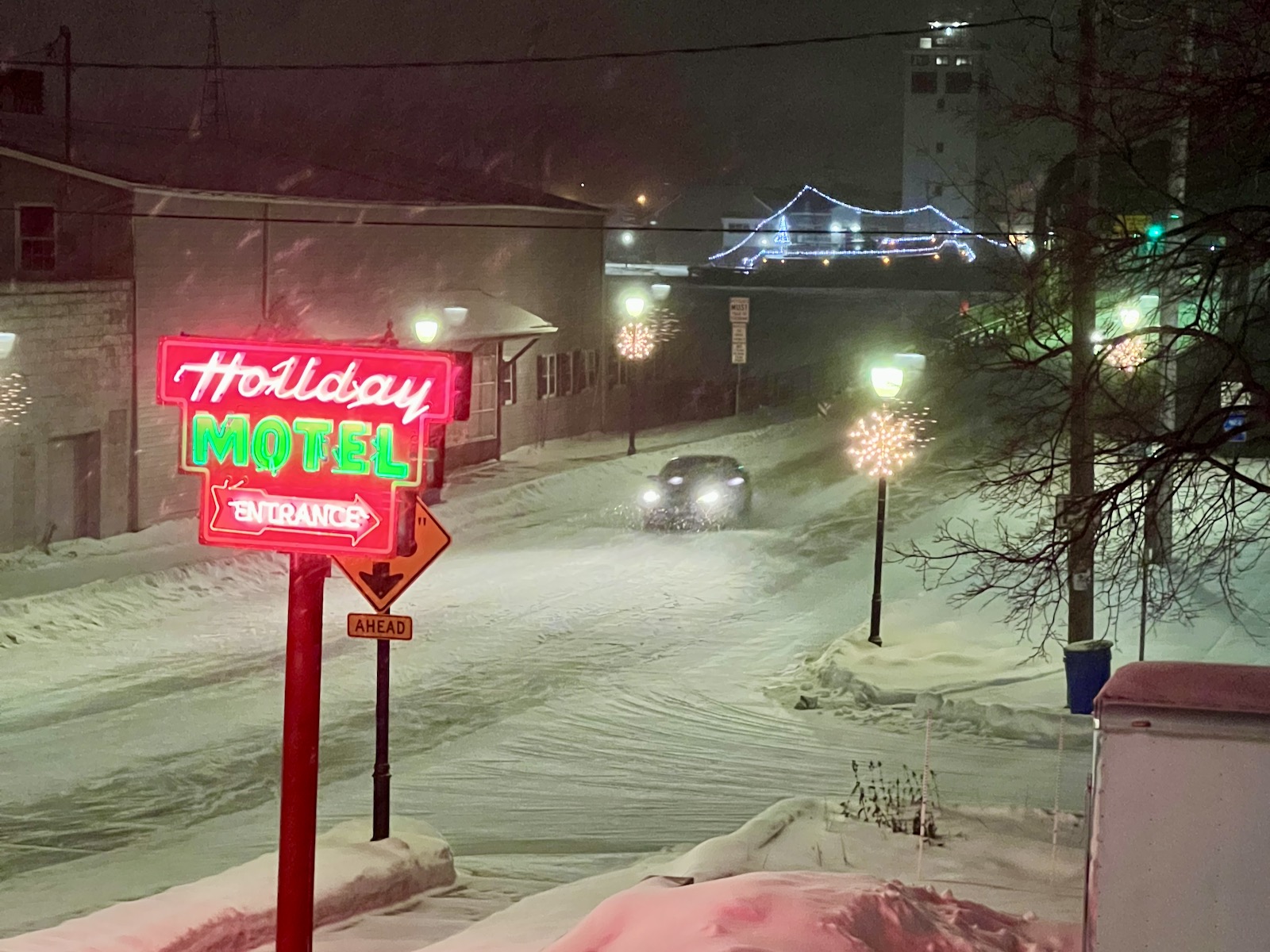 Same goes for the surprisingly free ways to get out and enjoy nature. If you'd like to try cross country skiing and snowshoeing, you can take a short drive to Crossroads at Big Creek, where a booster group will give you skis and poles. It's completely free. You read that right: you can ski for free on 200 acres of beautiful groomed trails. We were smiling even when we fell on our butts, which happened several times.
Granted, not everything up here is open during the winter. Shops and galleries are hit and miss. But the places that are normally busy, simply are not in January. Have you ever tried to walk into Wild Tomato in Fish Creek on a summer night? Expect a two-hour wait.
Or, visit in January like we did and just sit down and eat this legendary pizza and keep 'er moving.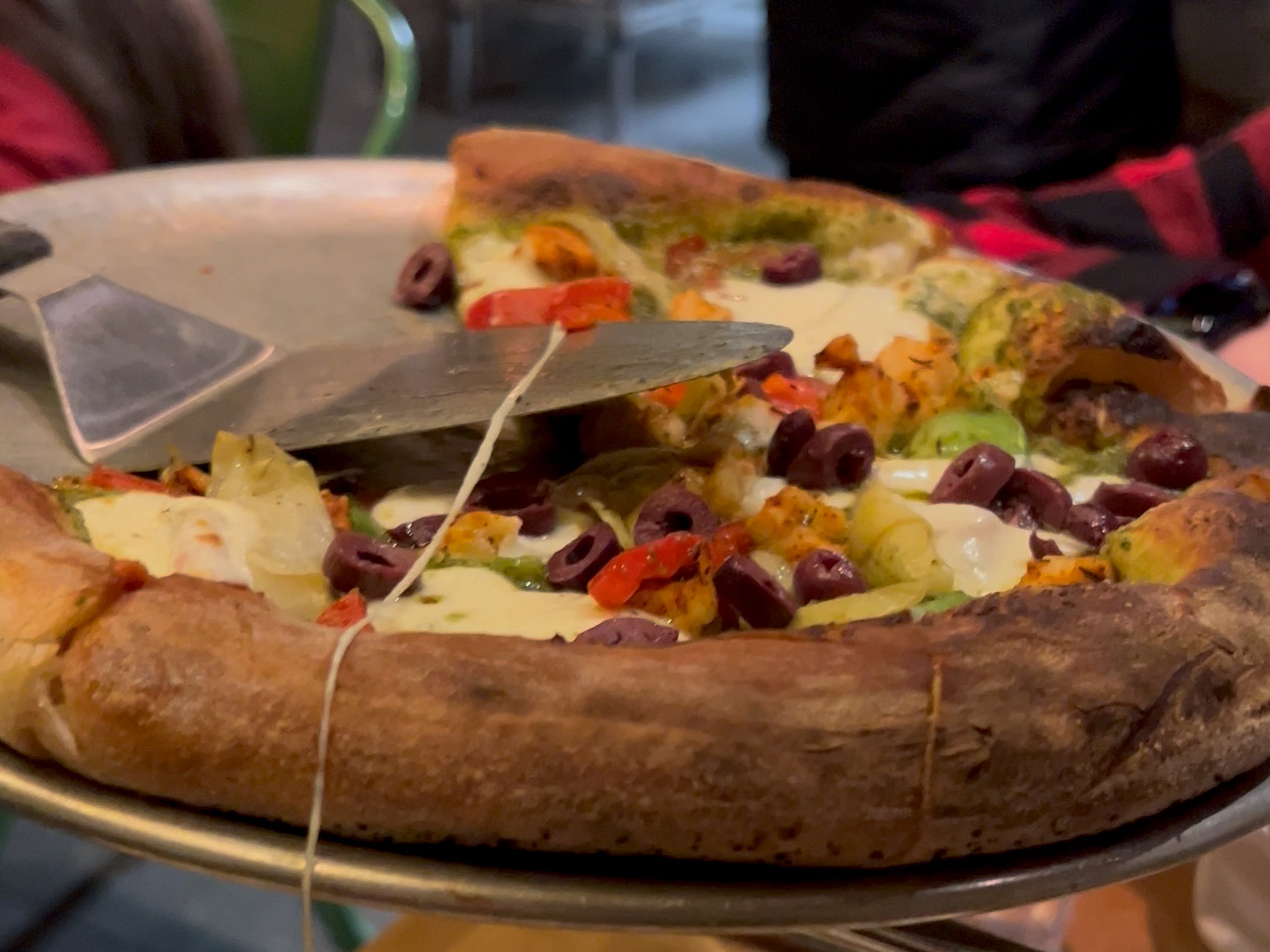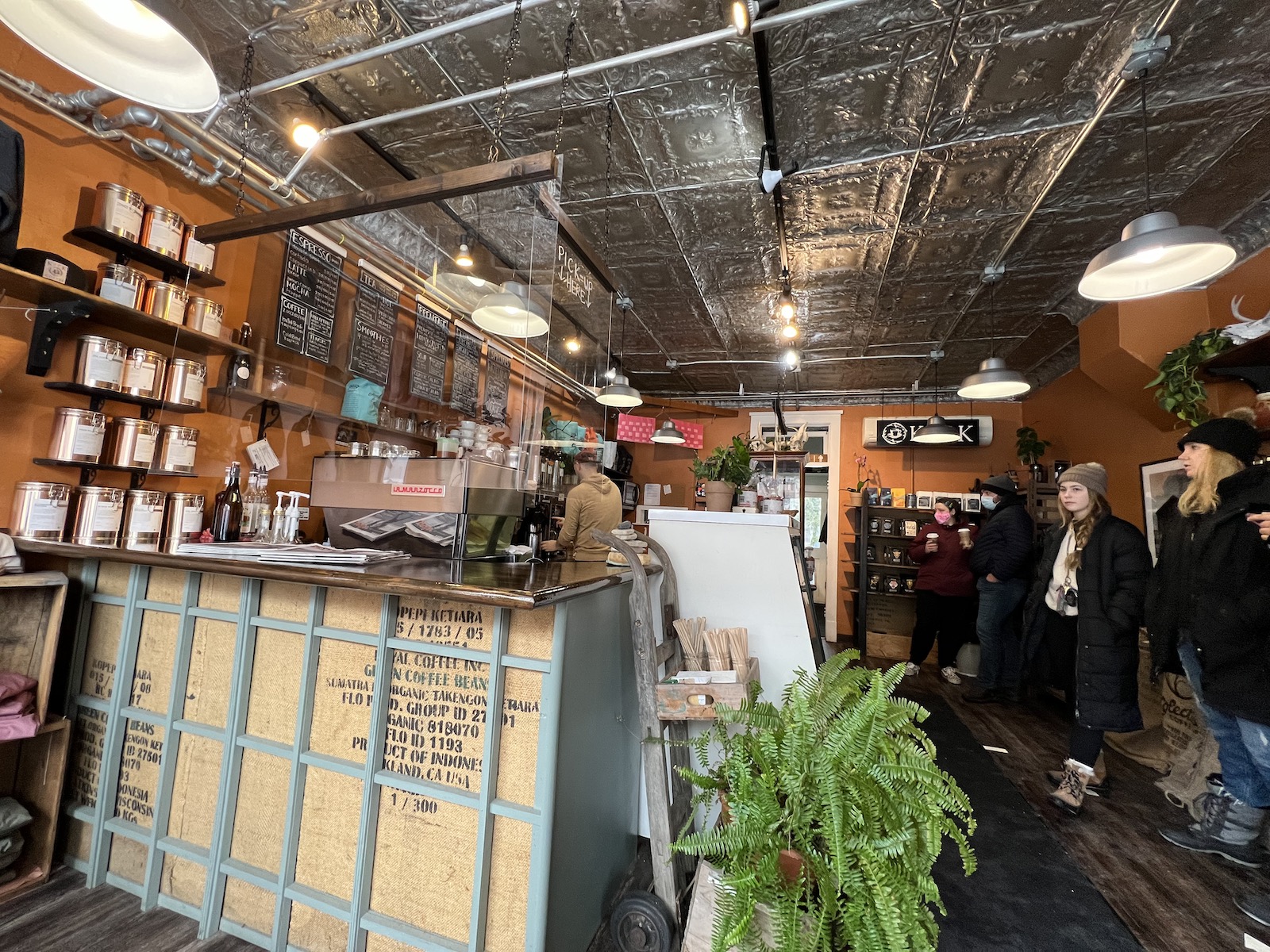 Same goes for delicious breakfast cafes like 5th and Jefferson Coffee House or tiny shops like Kick Coffee, or the quaint but classy Trattoria Dal Santo (try the chicken and spinach ravioli) or Cedar Crossing Restaurant (try the chicken risotto). No reservations, no lines, no crowds – it's like social distancing is just baked into the Door County cherry cake.
Door County's scenic beauty is still there, too, in January … it's just different. Watching the sun go down at Sunset Park has a special glow, as angular ice chunks fill the shoreline with an otherworldly glacial landscape that feels like watching from inside the Superman movie. The ice formations at Cave Point seem like something you'd have to travel much farther than three hours from Milwaukee to experience.
And you can still try those family-friendly indoor activities that you'd do in the summer. For example, we spent hours at the Hands On Art Studio making our own homages to vacations past and present, the helpful artists on staff fully available to guide us along the way.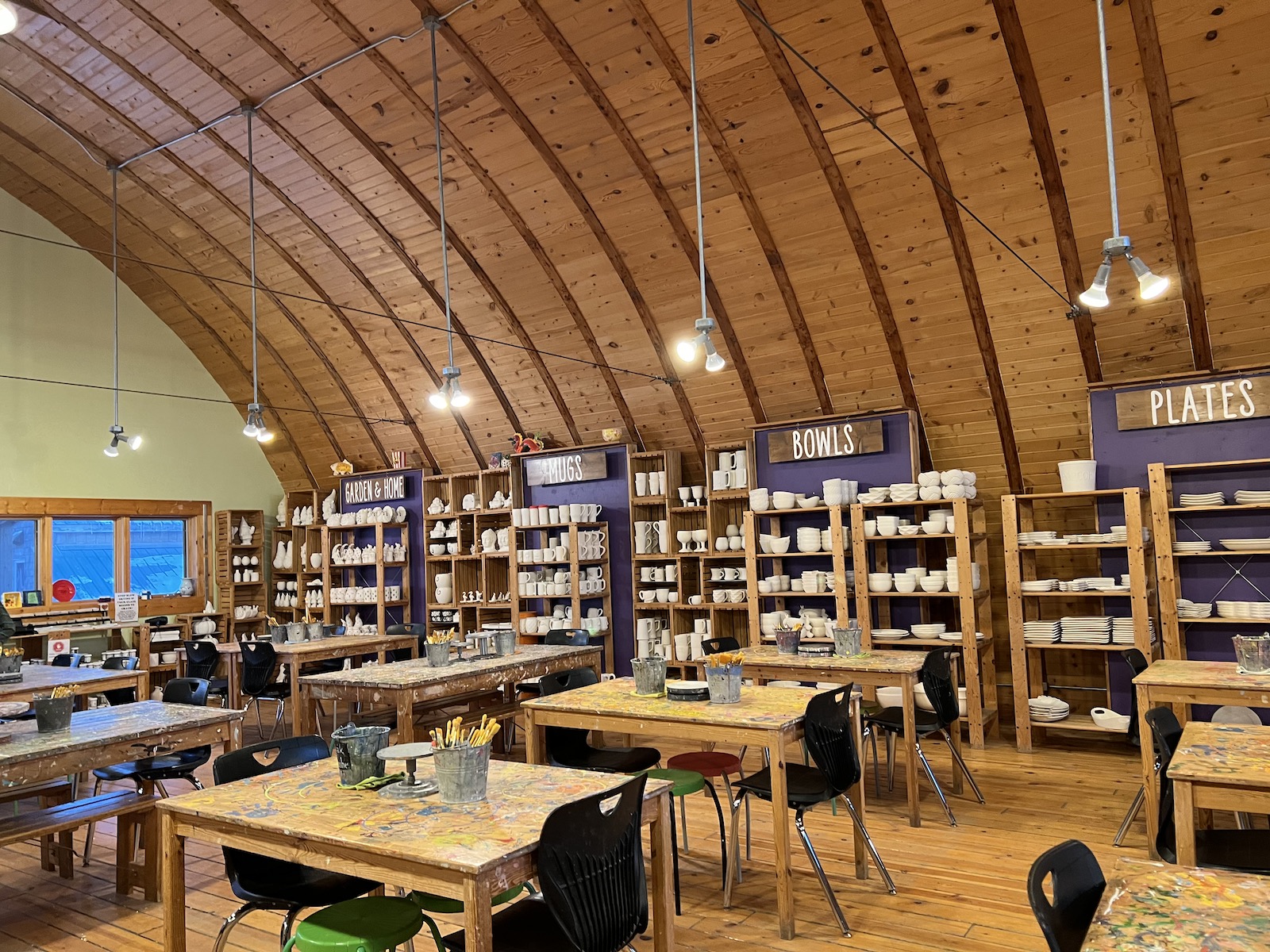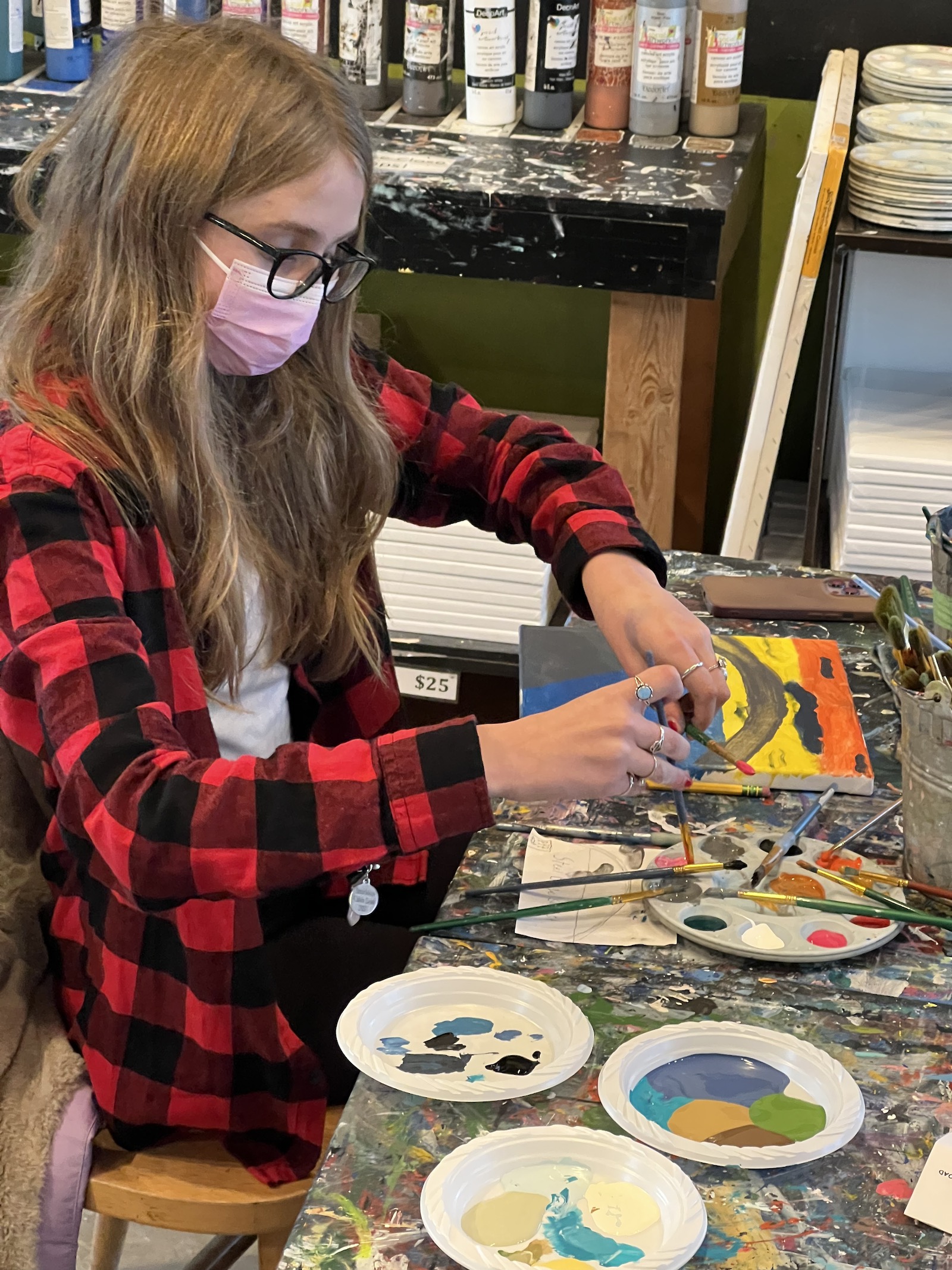 What you won't get in January in Door County is nightlife shenanigans, but traveling with my kid and not my friends, that's a good thing. Sure, the hearty locals and tourists will still find a few places for libations (A.C. Tap, I'm looking at you!), but if you're here for quiet, quality time and slow, scenic beauty, you won't be disappointed.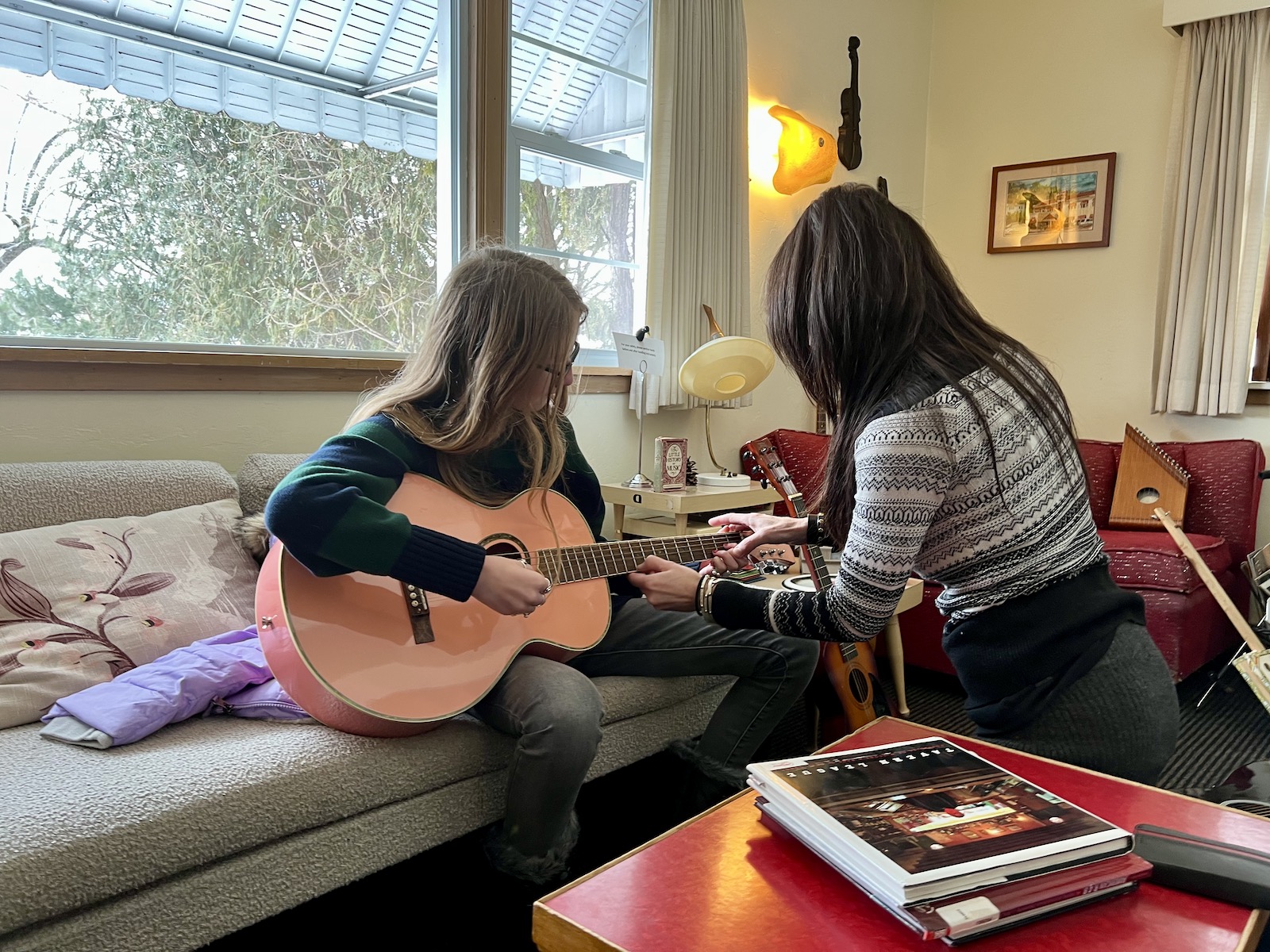 Sleep in. Sip coffee. Ski. Read. Watch one of the big ships cross Sturgeon Bay. See old friends and make new ones, too. We actually ran out of time to visit friends and ice skate in front of a bonfire in Sister Bay because we were too busy teaching my daughter a few guitar chords in the lobby of the Holiday and playing with the motel's dog and unofficial mascot, Toad.
And that was just fine.
Much more than fine, actually. At the end of our long weekend, I asked my daughter how this trip compared with our other visits to Door County.
"Is there anywhere in Wisconsin that's as great in winter?" she replied wryly. Then, without missing a beat, she added, "I don't want to go home."
Andy is the president, publisher and founder of OnMilwaukee. He returned to Milwaukee in 1996 after living on the East Coast for nine years, where he wrote for The Dallas Morning News Washington Bureau and worked in the White House Office of Communications. He was also Associate Editor of The GW Hatchet, his college newspaper at The George Washington University.
Before launching OnMilwaukee.com in 1998 at age 23, he worked in public relations for two Milwaukee firms, most of the time daydreaming about starting his own publication.
Hobbies include running when he finds the time, fixing the rust on his '75 MGB, mowing the lawn at his cottage in the Northwoods, and making an annual pilgrimage to Phoenix for Brewers Spring Training.