STURGEON BAY – This summer, I took a look at Door County, my favorite Wisconsin vacation destination, from a really different perspective: as a responsible and mature adult. Continuing on that theme of laid-back leisure, I brought my wife and daughter to Sturgeon Bay last weekend for some fall family fun.
It was the first time we visited Door County together since 2014, and not surprisingly, it made for another amazing trip. No matter how many times I experience this magical place, I always find something new and memorable. This family vacation was no exception.
Our friends at the Door County Visitors Bureau arranged for Sturgeon Bay to be our base of operations this time. It was a nice change; for the dozens of times I've visited, I usually wander quite a bit farther north. We stayed at the Bridgeport Waterfront Resort, and for the most part, did stuff nearby. Sturgeon Bay feels quite a bit different than Fish Creek and Sister Bay; it's a place where people live and work, and it's much more than a tourist trap.
The Bridgeport is a big property, quite a bit larger than most of the family-run inns I've visited, and our suite looked out over the bay. My daughter loved the resort's big pool, hot tub and splash pad; I most appreciated the in-room hot tub and fireplace in this clean and spacious suite.


We visited a few restaurants in town that were new to me: Sonny's Italian Kitchen for dinner the first night, then, for our two breakfasts, the Inn at Cedar Crossing and Scaturo's Baking Company and Cafe.
At Sonny's, which is legendary for its pizza, we instead felt like trying the pasta. I didn't mind the hour wait to get seated, but after 45 minutes in our booth, I was very ready to devour my pesto gnocchi. My wife loved the pumpkin ravioli, and my 9-year-old put a healthy dent in her generous serving of baked ravioli.
This is a cool place with a well-done nautical theme and huge portions. The clientele on the bustling night of our visit comprised about a quarter families, rounded out by large groups enjoying food, drink and good company.
A short walk over the historic Michigan Street Steel Bridge led us to the Inn at Cedar Crossing, and I loved the smoked beef brisket hash.
Scaturo's, a quick drive from the hotel, was also super busy, but the service was nonetheless great, and I thoroughly enjoyed the breakfast buffet.
Our other meal brought us back to my old stomping grounds in Fish Creek: a fish boil at Pelletier's, which is one of my favorite breakfast spots on the peninsula. Even though I've visited Door County at least once a year since 1994, I've never tried a fish boil.
And now, my feelings on this tradition are a bit mixed.
I'm not a big seafood guy, but watching the fish boil presentation is impressive. I was told that the process of the over boil really eliminates any fishy taste. And it's true: the simple dish of fresh whitefish (with butter, of course), potatoes, onion, coleslaw and a slice of cherry pie left me full but not unpleasantly stuffed. I didn't know, however, until I sat down, that the diner is responsible for deboning the fish and peeling off its skin.
That was a little much for my snowflake-ish sensibilities. While my wife had no problem picking out tiny bones, both my daughter and I were just too overwhelmed by all this effort in dodging the fish skeleton. I probably wouldn't eat this dish again – although I'm glad I finally tried it – unless we did the fish boil at the White Gull Inn, for example, where they remove the bones and skin before you dig in. I'll just have to close my eyes during the process.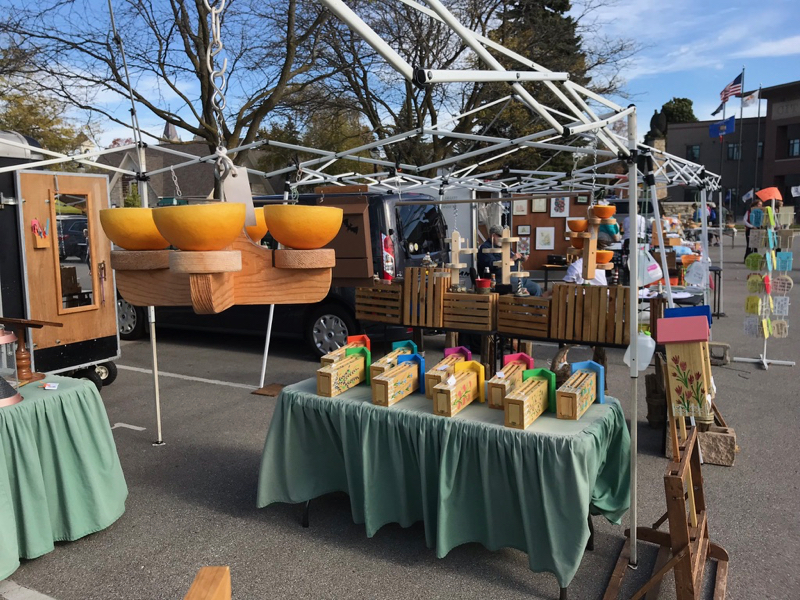 Of course, food wasn't the only item on our agenda. On Saturday morning, we visited the Sturgeon Bay Farmers Market, which is a great opportunity to chat with some of the local artisans. We left with local cheese as well as some honey from Door County bees.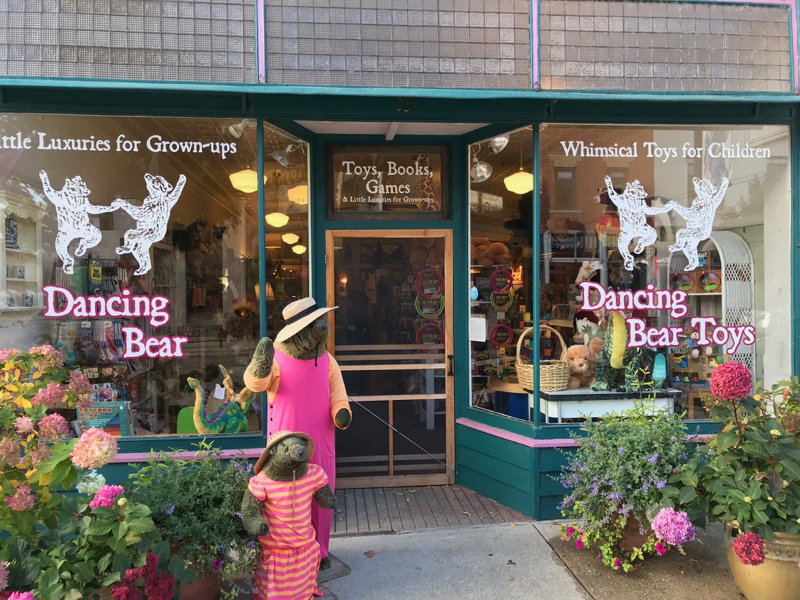 We also found time to amble through the shops of downtown Sturgeon Bay. My wife gravitated toward Samara Jewelry Designs; my daughter preferred the Dancing Bear gift store – with a friendly cat in the front window; and I most enjoyed Door County Traders antique store.
Just for fun, we visited the old Younkers, which is a small, stand-alone department store and hearkens back to a time long-before shopping on Amazon from the convenience of an iPad.
On Saturday afternoon, we drove to Carlsville to the Schopf's Hilltop Dairy, where you can watch farmers milk cows, then eat ice cream from the very same bovine. Outside, they have ponies, goats, calves and pigs to pet and to feed, as well as a corn maze and playground outside the farm.
Next, we dropped into Door County Candle Company, where our daughter dipped her own rainbow-color candle while we browsed. Then, we headed east on County Rd. I for our favorite part of the trip: horseback riding at Kurtz Corral.
For the next hour, our guide, Ashley, took a group of about nine on a peaceful trail ride through the property, across the pasture and through the forest, resplendent with the bright orange leaves that hadn't yet fallen from the trees. The pace was just right for our kid's first horseback ride. She loved her gentle horse, Levi, who pretty much led herself. As the peninsula's only remaining stable, this is an absolute must-do for families, and we will certainly be back.
On Sunday morning, we intended to hike through Potawatomi State Park, but as the weather was windy and rainy, we called an audible and visited the Door County Historical Museum, also in Sturgeon Bay. I really enjoyed this quiet look back in time, with its historical fire engine display and old-fashioned Door County village that reminded me of the Streets of Old Milwaukee at the Milwaukee Public Museum. Door County boasts a fascinating history, and through the years, I've learned a lot about it anecdotally, but this museum brought it together, keeping the attention of both my daughter and myself (and that's harder than you might think).
As we headed home on Sunday, I noted how different this family trip was compared to our last one. Even though we strolled through the shops in Fish Creek, we didn't even have time to go farther north. We had planned to do some apple picking, and maybe visit Plum Loco Animal Farm in Egg Harbor … but in only a weekend, we just couldn't squeeze anymore in while still maintaining a relaxed, comfortable pace.
How does Door County do it? For what many consider a seasonal destination, the peninsula offers so many different and genuine experiences, and no matter how many times you visit, you can find something new.
If I had to guess, I'd say it's because Door County is that perfect blend of natural beauty, miles and miles of waterfront, and that tacit understanding between locals and visitors who realize they're sharing something really special.
For me, I'm glad that I can continue to expose my daughter to these kind of experiences, so she can grow to appreciate Door County as I have. Summer is obviously a great time to visit – but if you're looking for a quaint and comfortable family vacation experience – fall in Door County is even a little bit better.
Andy is the president, publisher and founder of OnMilwaukee. He returned to Milwaukee in 1996 after living on the East Coast for nine years, where he wrote for The Dallas Morning News Washington Bureau and worked in the White House Office of Communications. He was also Associate Editor of The GW Hatchet, his college newspaper at The George Washington University.
Before launching OnMilwaukee.com in 1998 at age 23, he worked in public relations for two Milwaukee firms, most of the time daydreaming about starting his own publication.
Hobbies include running when he finds the time, fixing the rust on his '75 MGB, mowing the lawn at his cottage in the Northwoods, and making an annual pilgrimage to Phoenix for Brewers Spring Training.