STURGEON BAY – COVID-19 can't take away the Door County sunset.
While summer travel isn't what it was last year, it's neither dead nor impossible. Hopping on a plane for a far-flung vacation isn't advisable, either. But a mere three hours from Milwaukee sits the beautiful, magical Door County peninsula. And if you travel carefully and responsibility, Door County is open for business.
That's not to say that every visitor in Door County is playing by the socially-distanced rules put in place. Even though it's Wisconsin law, you will see some people not wearing masks. Some of the better restaurants offer only tiny patios that will surely be filled. While every shop's employees are fully masked-up, some of the more legendary attractions on the peninsula are just not happening this year – there's no theater, for example, and many places face staffing issues as tourism is unpredictable and seasonal overseas workers who keep Door County running smoothly largely weren't allowed to travel here this summer.
In other words, Door County isn't having its best summer – but it's also not having its worst.
Recently, I brought my daughter to Door County for a three-day vacation. While we had to adapt and be flexible, it also felt even more fulfilling, because the distancing approach meant more quiet time, more nature and more bonding.
Here's how we did it. And you should do it, too:
Lodging
This summer, we stayed at two properties: the amazingly retro Holiday Music Motel in Sturgeon Bay, and the Sunset Resort on Washington Island. On properties like these, staying safe is easy. The Holiday is operating at limited capacity, and obviously its cafe is closed, but otherwise it feels exactly the same. The Sunset Resort has only a few rooms, anyway, and the staff has taken meticulous precautions to comply with COVID best practices.
The Holiday Music Motel is perhaps my favorite property in the dozens of times I've visited Door County over the years. It's the oldest motel in Door County, originally built in 1952. Now owned by local music fixture pat mAcdonald (yes, that's the correct capitalization) and melaniejane (also the correct spelling) from Milwaukee, it's been totally renovated in in 1950s style, complete with retro furnishing throughout. Having investors like Jackson Browne probably doesn't hurt, either.
The rooms are small but cozy, but the entire property feels like a throwback to a different time, and nothing is rundown nor dingy. Spotless and updated with modern amenities, you won't find this experience anywhere else in Door County.
Both pat and melaniejane take COVID very seriously, which was much appreciated by Mara and me. Masks are required – and enforced – in public areas, as they should be. A haven for musicians and artists, the owners organize the Steel Bridge Songfest, as well as two other singer-songwriter events each year. For now, they're virtual, and mAcdonald, who you may remember from Timbuk3, the band behind the '80s mega hit "The Future's So Bright, I Gotta Wear Shades," has transformed his studios into a virtual video hub. COVID is certainly changing the way the Holiday does business, but like the rest of Door County, it's adapting to this new reality.
All the way on the other end of the peninsula on Washington Island, you'll find a very different experience at the Sunset Resort. This quaint, Scandinavian-inspired inn is retro, too, but in a different way. Generations of family have kept it running, and with its common lounge and library, it feels more like your grandma's house. It's known for its Icelandic pancakes, which are pretty much crepes, but those are now delivered on disposable plates. Each room gets its own spread out table in the lobby to dine or relax, but we opted to bring our food back to the room for breakfast in bed.
But the draw for us was the primo view of, as you might expect, the Door County sunset. With an unobstructed view to the west, the resort offers its own private, swimmable beach, fire pits and plenty of chairs for watching the sun go down. It's a beautiful way on a beautiful island to end the day.
Activities
With some of the traditional Door County opportunities off the table, you just have to get creative. We found the perfect mix of outdoor activities and light shopping, all of which felt as responsible as can be.
We found the most adventurous part of our trip to a two-hour Segway tour, which stretched into three hours, hosted by Segway The Door. Starting in Sturgeon Bay, our competent, friendly guide, Linda, taught our small group how to operate these unique machines. Mara, at 11, is just on the cusp of being old enough to ride, but Karen was patient and stayed with her to help her safe. We rode to the canal and the picturesque Sturgeon Bay Lighthouse on the remote east end of Sturgeon Bay, staying mostly on rural country roads. The entire experience felt both safe and thrilling, one that Mara will never forget.
We also took a free hike at the Door County Land Trust's Sturgeon Bay Ship Canal Nature Preserve, and we had the trail completely to ourselves. We found it easy, quiet and scenic, spotting tons of monarch butterflies as we walked to the canal and back.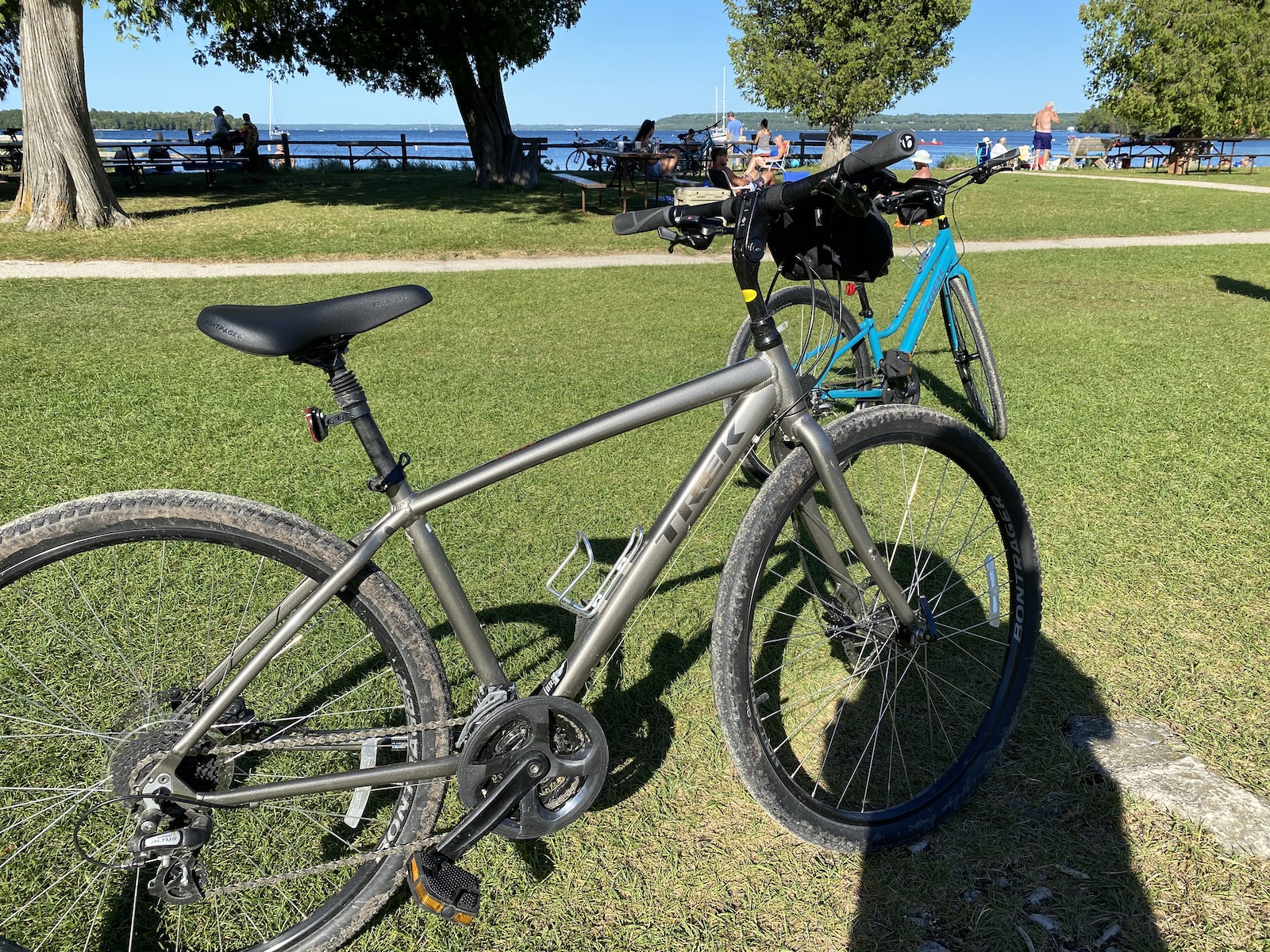 Further north, we rented bikes from Nor Door Sports and Cyclery, then pedaled through Peninsula State Park to Nicolet Bay Beach. Unfortunately, there wasn't much social distancing on the beach – people were right on top of each other – but we found a quiet spot to dip our feet in the clear water and relax after our ride.
Shopping is still happening, and in Fish Creek, everyone wore masks in the retail stores. Shopkeepers did a good job keeping the stores from getting too full. Not everything is open right now, but most places are.
On Washington Island, we experienced two of my all-time favorite activities, both of which were new to me (and Mara). In the middle of the island sits Fragrant Isle, an expansive and magnificent lavender field. Not only does it smell great; it makes for gorgeous photos as you sit with your head peeking over the purple flowers. You can watch lavender oil being distilled in the barn next store, and browse around the gift shop. Don't miss out on our their delicious lavender lemonade.
If you travel to the north end of the island, you'll find Schoolhouse Beach Park, one of only five smooth limestone beaches in the world. Here, there's no sand, just rocks made for skipping. It's a little tough on bare feet, but once you get in the water, it's amazingly clear and blue. On all of Washington Island, we found the visitors to better at distancing themselves, and since the pace is slower here, the beach just wasn't packed, even on a beautiful day.
On our way home, we stopped at The Farm in Sturgeon Bay, which is pretty much the best petting zoo and living history museum you can imagine. Baby goats, sheep and kittens roam free, and you can buy bottles of milk to feed them. They also keep full-grown cows, goats, pigs and more that anxiously stick out their long tongues to receive dried corn. It's hilarious and adorable, and a must-see if you're bringing children to Door County.
But our favorite experience was the simplest one: the sunsets. They are simply glorious, and if you want to get your tween daughter to hold her dorky dad's hand, this is how you do it. Mara's favorite view the rainbow and sunset over Sturgeon Bay, followed by a quiet moment on an empty pier, watching the cars go over the Steel Bridge – which was almost lost until Steel Bridge Song Fest and Citizens For Our Bridge stepped in to save it.
We found the sunset experience to be different back in Fish Creek, where we strolled to Sunset Beach Park – along with lots of other people – to witness this nightly tradition. It felt crowded but still special, though more distancing would've helped put our minds at ease.
And of course, the private experience on Washington Island was so totally unique. Sitting on a pier, wading into the water, it felt like our own father-daughter memory to make. Once you can get your kid off TikTok for a few minutes to watch the sun go down with her own eyes, it's just so magnificent.
Dining
The restaurant vibe is a bit of a mixed bag in Door County right now. While many of my favorite places already had patios, some have added them since COVID – and some have not. For example, we needed a quick bite when we arrived in town, so we walked to the Door County Fire Company … but their tiny patio was full, so we had to eat indoors. Fortunately, they spread out their tables. It wasn't ideal, but we grabbed a quick cup of chili and went on our way.
You can't really avoid going inside the Door County Candy in Sturgeon Bay, but employees did a good job working behind plexiglass to serve fudge and ice cream and other sweet treats.
Some places are naturally socially distant, like Lumberjack's Taco Shack, a funky food truck in Sturgeon Bay. Carroll House in Sister Bay has plenty of outdoor seating (as well as delicious cherry-stuffed French toast). The Bayside Tavern in Fish Creek has some patio space, but it was full, so we took our pizza to the park outside and ate on a picnic table. It was pretty perfect.
Same goes for the Albatross Drive-in on Washington Island. Known for their burgers and ice cream with little M&M eyes that make it look like Cookie Monster, we found plenty of outdoor space and time to play a bit of cornhole, too. Try the Cowboy Burger.
Not Licked Yet in Fish Creek does a great job of keeping people outside – since there's no inside – and you can sit at the edge of the water and watch the ducks go by as you snack on frozen custard.
But our favorite dining experience came from breakfast at 5th and Jefferson Coffee House in Sturgeon Bay. This cafe has really leaned into the outdoor dining experience. Strong coffee, tasty egg sliders and a red velvet frappe for Mara in a lovely garden setting – it started our day off just right.
Getting around
Save for staying in a small town and walking around, Door County requires a lot of driving – it's about an hour from Sturgeon Bay to the tip of Gills Rock. But it's fun driving, as you pass through so many small towns, each with their own flavor, on Highway 42, or more quickly on the other side on of the peninsula on Highway 57. The impossibly windy road between Gills Rock and Northport has been called one of the most scenic short drives in the country, and I agree.
Of course, getting to Washington Island requires taking the car ferry, which is an inexpensive and great experience for kids. It's a short ride, and during the summer, the ferry runs all day. If one boat fills up, just take the next one 15 minutes later.
On Washington Island, you can certainly drive or bike, but we made it a little more fun by renting a UTV from Island Adventure Company. The policy prohibits off-roading, and these beasts are limited with a governor to about 28 miles per hour. But it's a really different and unique way to tool around this low-key island.
Final thoughts
It's a tough time to be a kid right now. Most camps and activities were canceled this summer, and even hanging out with groups of friends is frowned upon. Parents have indefinitely postponed family vacations, and certain types of travel are out of the question.
But even during a pandemic, Door County remains a great, albeit potentially pricey option, and it's guaranteed to evoke stories for life. For me, I already knew how great this place is, but this summer was just Mara's third visit, and her memories are fuzzy from when she was little. My daughter is experiencing the peninsula now with her own eyes, and falling in love with it just like I did. And she wants to come back again and again.
2020 is the hardest year we've all ever endured, but Door County is a break from the real world. Done safely and carefully, it's still my favorite destination in Wisconsin.
Andy is the president, publisher and founder of OnMilwaukee. He returned to Milwaukee in 1996 after living on the East Coast for nine years, where he wrote for The Dallas Morning News Washington Bureau and worked in the White House Office of Communications. He was also Associate Editor of The GW Hatchet, his college newspaper at The George Washington University.
Before launching OnMilwaukee.com in 1998 at age 23, he worked in public relations for two Milwaukee firms, most of the time daydreaming about starting his own publication.
Hobbies include running when he finds the time, fixing the rust on his '75 MGB, mowing the lawn at his cottage in the Northwoods, and making an annual pilgrimage to Phoenix for Brewers Spring Training.