SISTER BAY – Door County doesn't pay me to tell readers this, but I happily do it, anyway: there's something for everyone on Wisconsin's most magical peninsula.
I know this because I've visited every single summer (and sometimes in fall and winter) since 1994 with both friends and family. That first camping trip in college with my friend, Eron, has remained an annual tradition, and while we like to act just as silly as we did at age 20, sometimes a trip has to evolve a little.
"Adulting" has a pretty negative connotation on social media. Parenting, paying bills, sitting all day at a desk – on its surface, it doesn't quite have the luster of the memories of our glory days. But going full-throttle during the day and sitting in a bar until closing time doesn't scratch the itch for a relaxing vacation when you're in your forties.
One of the reasons Door County is so special is because it gives you a chance to disconnect as much as you're willing. You can actually slow down and appreciate nature, good food and the company of the lucky and wise residents who have found a way to make a living on the peninsula. While slowing down never sounded like something to aspire to for my younger vacationing self, I figured it beared taking a closer look at. So, for the first time ever, we approached this trip as adults. As it turns out, it was just as fulfilling as ever, just with a different flavor. The bonus: no hangover. Here's how we did it:
Caffeinated and primed for relaxation
The journey has always been the reward for Eron and me. We're both way too busy in life to spend three hours catching up, but the drive up to Door County allows us the chance to retrace the route up Hwy. 42 North as we transition from city mode to vacation paradise. While we typical blow through Sturgeon Bay to points farther north, this time we stopped in Carlsville for lunch and a tour of the Door County Coffee & Tea Company. We found it to be a very adult and deliciously fitting launching point for our 2017 adventure, and not just because owner Vicki Wilson plied us with caffeine.
Door County Coffee is a much bigger operation than you would imagine from the cozy atmosphere in their quaint and delicious cafe. Their sandwiches, quiche and chili are great – and are well-paired with their cold-brew coffee and espresso flights. But the real magic happens behind the scenes, where their facility extends far beyond what visitors can see through a viewing area. Here, the company is roasting and exporting top-notch coffee throughout the country. They're quietly one of the largest operations on the peninsula, and yet, their coffee tastes like it was produced in small batches. It's a family business with long-time employees who love their jobs. Quality is their hallmark, and they source beans from small farms all over the world to achieve their standards. We took a bunch of coffee home with us, too, and the car smelled like delicious roasted beans the whole weekend.
Home base
For the second straight year, we made Sister Bay our home base – after years of staying in Fish Creek, Sister Bay has continued to up its game and is now the epicenter of fun on the peninsula. We stayed at the Yacht Club at Sister Bay, which provided both a gigantic suite and an awesome location. Lodging in Door County is interesting – even the most expensive places have a seasonal feel to them; it's more about finding somewhere clean and comfortable and close to the action, and the Yacht Club is all of this. From the balcony, we looked right over the bay and toward the beach; there's something cool about hearing the gleeful screams of kids swimming while watching the boats roll in.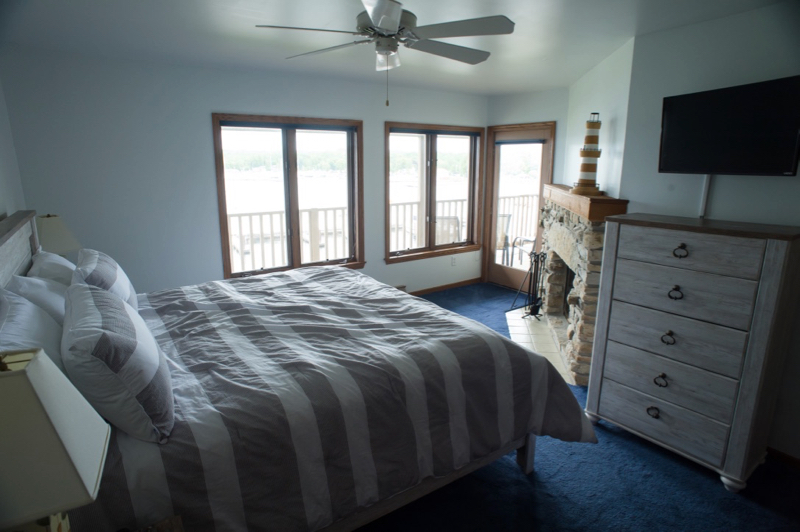 If Fish Creek and Egg Harbor were once the places to be, Sister Bay has leapfrogged them both. You can still check out an old-school dive bar like Sister Bay Bowl or a rejuvenated Husby's with an outdoor music area, but the town has also added the Stabbur beer gardens and arts fair – all walking distance from our hotel. The main drag is full of newer shops, too, but the classic goats on the roof of Al Johnson's remain. Like last year, we hit the fair and the beer garden, and cooled down with ice cream, too (you have your choice of at least four shops in one block).
A dash of culture
If you're adulating in Door County, you might as well take the theme all the way, and for the first time ever, we made a trip to Peninsula Players Theater for their musical version of "The Bridges of Madison County." Eron and I were the youngest people there who were not with their grandparents – and the friendly seniors next to us assumed we were a couple (we are not) – but this is a surprisingly great place to watch a play. I don't know what I expected from America's oldest professional resident summer theater, but I was very impressed from the quality of the casting and music in this very Dirty-Dancing-esque setting. Speaking of which, this play (which started great but clocked in a little long at 2 1/2 hours) was about adultery and felt plenty risqué.
Adultery, adulting … check. The grounds surrounding the theater were tranquil and beautiful. It seemed like watching the waves lap against the shore mere yards from the entrance while enjoying a pre-play glass of rose is a coveted part of the experience for the regulars; we, of course drank beer. We're not that adult. Yet.
Farm to table
Like every year, we dined very well in Door County. Of course, we hit our two favorite breakfast spots, Carroll House and Pelletier's, but we mixed it up for our Friday and Saturday dinners. The first night we visited the Whistling Swan in Fish Creek. I picked the New York Strip, while Eron opted for the fish fry. Both were excellent. We'd wandered past this Fish Creek staple for years but this was our first time dining in their screened-in porch.
The next night we went to Wickman House in Ellison Bay, and it was really a magical experience. Situated in an old prairie house on a sprawling property, Wickman House blends a farm-to-table philosophy with stellar service.
The founders came up from Chicago with a dream: keep it local and creative and customers will find you. From the craft cocktails (try the Old Fashioned) to the crudo appetizer, to our entrees of organic "stammering" chicken and swordfish, we were amazed how the freshness of the vegetables can lead to such a stuffed but still light feeling. Wickman House is about as close to high-end fine dining as you'll get here, but its prices and vibe are very reasonable compared to Milwaukee. We thoroughly enjoyed the atmosphere, with the separate gazebo bar, and the closeness that allows patrons to talk to each other and share stories. I'm always heartened by how friendly Door County's visitors and locals are – people come here on their best behavior and genuinely want to include each other in their adventure. No matter how popular Door County gets, it still feels like a secret, and the farther north you go, the more special it gets.
Adult education
We may have adulted our way through the weekend, but that didn't stop us from making the time to relive our traditions, like throwing the baseball around until our arms hurt, grabbing a "Bernie" shot from J.J.'s and people-watching throughout (pro tip: it gets better the later it goes at Husby's). Yet, we still found time for just a little more culture with a stop to Fine Line Designs Gallery.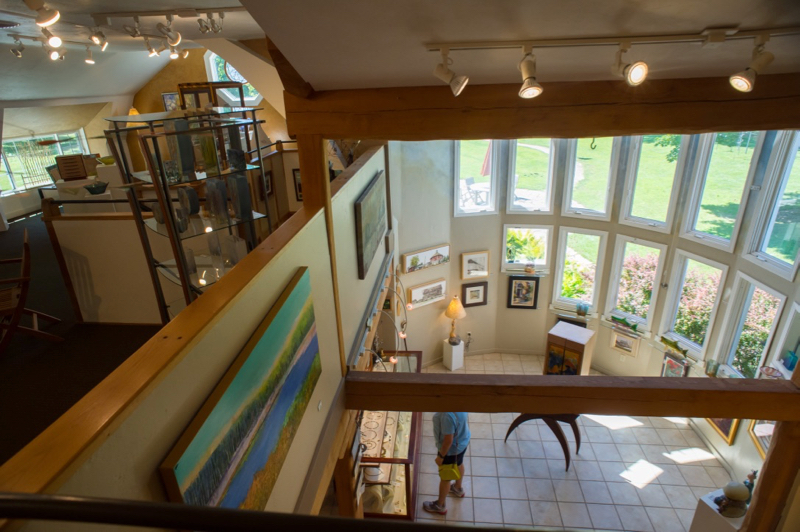 At first glance, perusing expensive paintings and exquisite ceramics feels oh-so-adult, but also a little unapproachable. But we spent some time talking to owner Shari Gransee about her gallery's philosophy: She not only showed us pieces that were more affordable than the gorgeous $10,000 works, but we also discussed in length just how hard it is to make a living on this peninsula. While tourists of great wealth travel here, business is still very seasonal. People who choose to live here and run a business work hard, often with two jobs, to make it possible. They make a lot of sacrifices to pursue the dream of making Door County home. We found that these business owners generally took one of two routes to get here: they either grew up here, explored the world, then chose to come back and set down roots, or they started as tourists, and eventually found a way to never leave.
Talking to Gransee, or Door County Coffee's Wilson, or the Wickman House's Mike Holmes and Ashley Cramer, you can't help but feel inspired – especially as an adult. We have a keen awareness of where the momentum of life can take you. We've dreamed of living up here forever. These adults made it happen.
Of course, you can see see this stuff when you're tearing around the peninsula as a twenty-something, too, but you have to slow down a little and look. With age comes a little perspective (or so I'm told), and adulting our way through Door County gave me even more appreciation of this spot in Wisconsin that I will continue to visit, year after year.
Andy is the president, publisher and founder of OnMilwaukee. He returned to Milwaukee in 1996 after living on the East Coast for nine years, where he wrote for The Dallas Morning News Washington Bureau and worked in the White House Office of Communications. He was also Associate Editor of The GW Hatchet, his college newspaper at The George Washington University.
Before launching OnMilwaukee.com in 1998 at age 23, he worked in public relations for two Milwaukee firms, most of the time daydreaming about starting his own publication.
Hobbies include running when he finds the time, fixing the rust on his '75 MGB, mowing the lawn at his cottage in the Northwoods, and making an annual pilgrimage to Phoenix for Brewers Spring Training.