FISH CREEK – When you've visited the same place well over 20 times, sometimes you have to look at it a different way.
Whether that means taking a bird's eye view from the treetops, or a fisheye perspective from just a atop the water, Wisconsin's crowning jewel that is Door County still looks spectacular at any angle, even if it's an angle that requires some flexibility to see just right.
One of my oldest friends, Eron, and I have been making the trip up to the Door County peninsula annually since 1994, and we've watched the bay and lake side change and evolve, while somehow keeping its unspoiled charm. Traditions from our teenage years are still there, and we love to indulge them, yet we also seek new experiences to continue building on this legendary journey.
This summer was no different. On a hot July weekend and with much help from our friends at the Door County Visitors Bureau, we again made our launching point Fish Creek, this time up the hill to the comfortable and quiet Apple Creek Resort. We planned something high and something low on our three-day, two-night adventure – then let the rest fill itself in, as per usual.
The steep angle came from a new zip line adventure just north of Bailey's Harbor. We had tried this activity a few years ago on the end of the peninsula, but Lakeshore Adventures did it better. This tour encompasses 2,000 feet of zipping, beginning with a 35-foot tower that feels significantly higher than that. Bordering the Ridges Sanctuary, each visit includes three canopy zip lines and one head-to-head race. The $59 tour isn't really scary when you consider all the safety measures the crew takes, though it is a little bit of an arm workout if you hang on for dear life and find yourself spinning in circles as you descend through the treetops.
Jet skiing, however, is more of a work out than I expected, and two hours speeding through the Green Bay, over waves and through wakes, left us both sore and exhilarated. For this "low angle" tour, we rented a pair of skis from Fish Creek Boat Rentals. We could go anywhere we wanted, as long as we stayed in water 10 feet or deeper. We decided to jet north to Sister Bay; at an astounding 55 miles per hour, we got there fast. I used the brakes a little; Eron did not. That is until we decided to tie up the boats and stop for lunch at Fred & Fuzzy's. We'd only previously taken in a sunset cocktail at this classic Door County haunt. As expected, the view, food (try the brisket sliders) and drink were a perfect respite in the middle of a really fun but taxing adventure.
In retrospect, I'm still astonished that neither of us fell off these beasts. Apparently, we rented two of the smaller skis, but I couldn't imagine taking corners and jumps any faster. I definitely felt sore for days after.
When we slowed down enough to appreciate it, we saw angles of Door County we hadn't seen before. Sure, we'd toured the area by boat, but never so close to the water and in full control of our navigation. We saw ducks snacking on a huge fish and the backs of glorious private lake homes that would otherwise not be visible. We spied a boat house that seemingly grew out of the bluffs, and peaceful paddle boarders and kids swimming. A friend saw my obligatory Facebook video from the experience, and astutely commented that money can't buy happiness, but it can buy jet skis. It's hard not to giggle when racing through the water on top of one.
Comparing and contrasting the angles from the lake to the zip line gave us rare views into this glorious and familiar land. From our perch atop the trees lines, you can see the tips of lighthouses and tall pines; on the water, you feel so low, alone and at peace, far away from shore or other boaters. From the controlled chaos of hurling through the trees from point A to point B to the peaceful freedom of the open water, choosing your own pace and destiny, we really covered the whole spectrum.
Another great angle in Door County is the one that comes from tilting your elbow toward your mouth: drinking a cold craft beer on a hot summer day. For that, we visited the Door County Brewing Company, which, with its reclaimed barn wood decor, has a vibe that looks as good as its beer tastes. Just inset a bit from Bailey's Harbor on Highway F, this is a brewhouse in which you could you could gladly dedicate an entire afternoon sipping and sampling. Its owners took us into the basement to see where the magic is made, and instructed us to look up (another key angle) at the dusty old rafters. Built in the style of Belgian farmhouse breweries, the years of cobwebs and gentle neglect actually give their beers its unique flavor.
Of course, with all that delicious beer, you've gotta eat; and as is now tradition, Eron and I ate well. We enjoyed old favorites like Carroll House (Uncle Roo's hashbrowns) and Pelletier's (cherry stuffed French toast) for breakfast, and the wonderful Mr. Helsinki (Bang Bang chicken) for dinner, but we also checked off another item from our Door County bucket list: soup from the amazing Czarnuszka Soup Bar in Ephraim. I won't go over the top explaining this magical tiny place to you; rather, I urge you to pay a visit for yourself. Hot soup and chili may not seem like a destination spot in the middle of summer, but, from now on, the trip won't be complete without a hearty sweat in to clear out the cobwebs.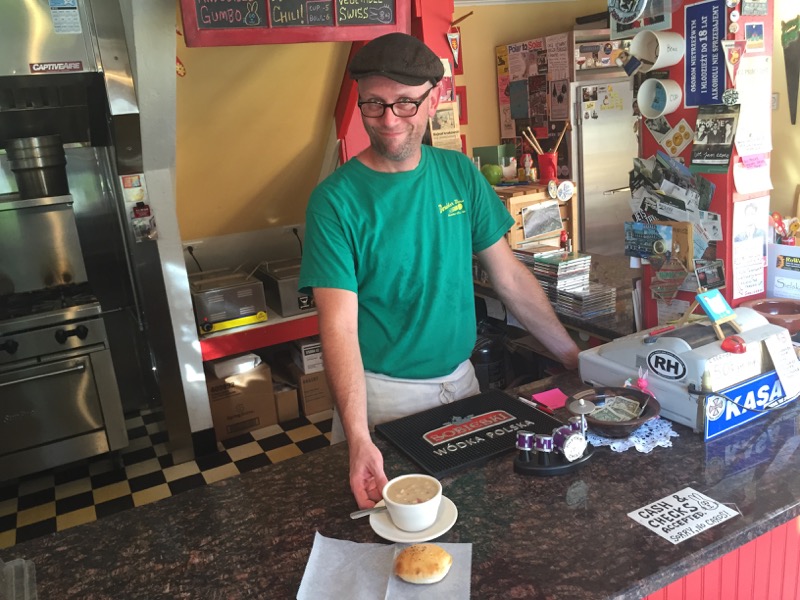 Owned by a friend of a friend, Paul Wanish, the seriously unique and affordable soup shop draws from his years of cooking experience in Milwaukee, Green Bay, Las Vegas and Poland. Wanish, if you get to talking to him, is a creative post-punk rock genius, and you might learn a secret or two about what makes his place tick. The Door County angle on display here is all about unassuming, authentic soup for the masses, and is easily the only legit Polish food on the peninsula.
Eventually, all that physical and gastronomical exertion sent me into my favorite angle, though: horizontal. I enjoyed the in-room hot tub at the Apple Creek suite while Eron napped at a slightly less horizontal angle on the patio. And the clean, quaint but far-from-fancy motel offers suites with king beds and pull-out Murphy beds. So even though we've been friends for 30 years, neither of us had to hear the other one snore.
Over the course of the weekend, we ran into no fewer than three groups of friends all experiencing their 20th annual – or longer – trip to Door County. It was a nice reminder that plenty of people, like us, get here every summer, whatever angle they take to do so. For the record, we prefer the Hwy. 42 shortcut through Manitowoc. It's much more scenic than skirting around Green Bay.
I wish I could share more crazy stories with you (there was no late-night karaoke or open mic this summer, and for the first time ever, we felt a little out of place at the Bayside Tavern) but 21 years into this friends' trip – Eron and I actually skipped last year's trip and I went up with my wife – it really is about finding that perfect angle on each mini vacation.
I'd say it was mission accomplished. As we grow and evolve, the trip changes in some slight but meaningful ways. Old memories are rekindled, and new ones mingle their way into the mix. Taking the GoPro made us look at the angles a little differently, but these are the kind of details that make for great memories. By sky or by sea, Door County is a beautiful place. You owe it to yourself to visit and take it in from every angle.
Andy is the president, publisher and founder of OnMilwaukee. He returned to Milwaukee in 1996 after living on the East Coast for nine years, where he wrote for The Dallas Morning News Washington Bureau and worked in the White House Office of Communications. He was also Associate Editor of The GW Hatchet, his college newspaper at The George Washington University.
Before launching OnMilwaukee.com in 1998 at age 23, he worked in public relations for two Milwaukee firms, most of the time daydreaming about starting his own publication.
Hobbies include running when he finds the time, fixing the rust on his '75 MGB, mowing the lawn at his cottage in the Northwoods, and making an annual pilgrimage to Phoenix for Brewers Spring Training.