Check in early and stay late during OnMilwaukee's "Hotel Week" sponsored by VISIT Milwaukee. These seven days will be packed with stories about historic area hotels, reviews, history, food and drink, staycations and more. Find out what it's like to be a tourist in this town. (Chocolate on your pillow not included.)
For all the many times I've driven over the 6th Street viaduct toward Downtown, I never once noticed the DoubleTree by Hilton, 611 W. Wisconsin Ave. It's not a flashy building, and on the western side of Westown, it's not immediately close to some of Downtown's most notable landmarks.
But it is kitty-corner from the Wisconsin Center, and the freshly renovated rooms are modern and sparkling clean. In other words, it's exactly what a business traveler or visiting Marquette parent could ask for: consistent quality and a comfortable night's rest when the bulk of your day is earmarked for standing on a trade show floor or moving your kid into the dorms.
Like most other Downtown hotels – in Milwaukee and in other cities – the DoubleTree rooms aren't huge, at least compared to their suburban counterparts. Our upgraded corner room on the fifth floor had plenty of room for an extremely comfortable king sized bed, sofa, workspace and small but beautifully tiled bathroom – but don't expect to throw a party in here. Appointed with a modern, minimalist design and light woods, it looked brand new, even though the hotel, itself, once housed a fairly bland Holiday Inn until 2007.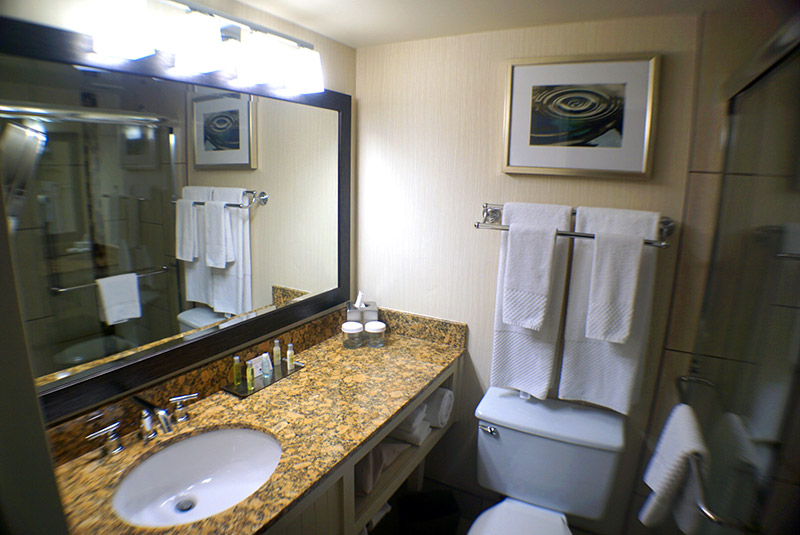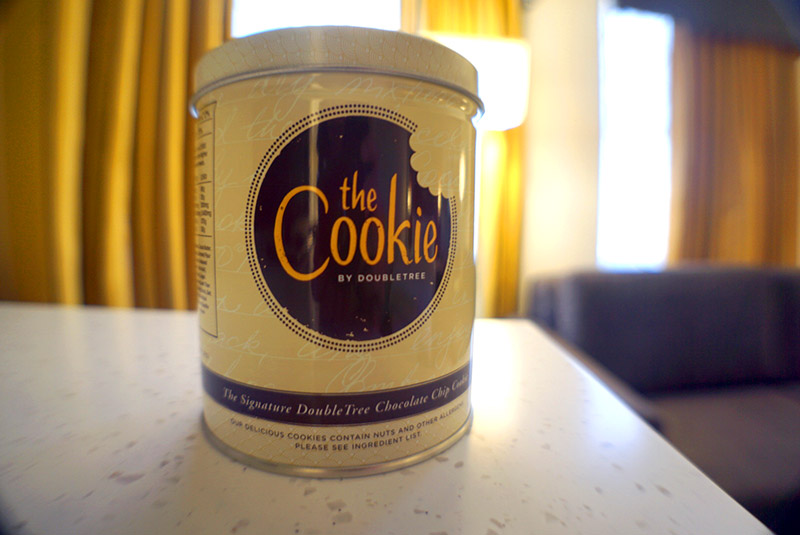 What some might view as a negative, I saw as a positive: you can definitely hear the hustle and bustle of Downtown from the room, a reminder that you're in the heart of the city and not in an office park by the airport. Our view overlooked the Wisconsin Center, with the Hilton City Center on one side, and what will eventually be the entertainment district surrounding the new Bucks arena to the north.
All guests in the 243-room property get a chocolate chip cookie upon arrival (we were also greeted with a tin of more cookies), and wi-fi is free in the room. You also don't have to step outside to grab dinner or a drink at the Avenue Bar & Grill.
And, with the wind howling on the blustery November night that we visited, the on-property restaurant served some decent and unique comfort food that left us full and ready to plop down and watch a James Bond movie on the 50-inch TV back in the room (hey, when you're parents of a 9-year-old, a date night is a date night).
For dinner, I had the beer cheese meatloaf, which is made with Lakefront Brewery's East Side Dark Lager and local cheddar (yum), while my wife opted for the pulled pork sandwich special. The decor at the Avenue is somewhat basic, but as we left, we noticed the bar starting to fill up with travelers watching football on the big screen TVs – this spot isn't exactly a destination if you're not staying at the hotel, but located slightly outside what I'd call the Downtown entertainment zone, it's extremely convenient – and the service was unusually good, too.
I probably didn't need the extra cookies back in our room, but I ate them, anyway. (Date night, woo!)
I know several business travelers who swear by Hilton, and it's easy to see why. Traveling for work can be exhausting, and this hotel quietly makes sure the experience is smooth and seamless. The DoubleTree offers $20 valet parking, a seasonal sundeck patio, a complimentary laundry facility and a 24-hour fitness center – all the perks mobile warriors have come to expect.
If you're in town for a convention, it's just steps away from the action. And even in the winter, you easily enter into the skywalk and traverse Downtown through Boston Store just two blocks away.
The DoubleTree by Hilton isn't a water park or a resort, but it doesn't need to be. And it's certainly not a bad way to visit Milwaukee, or sneak away for a quiet date night, too.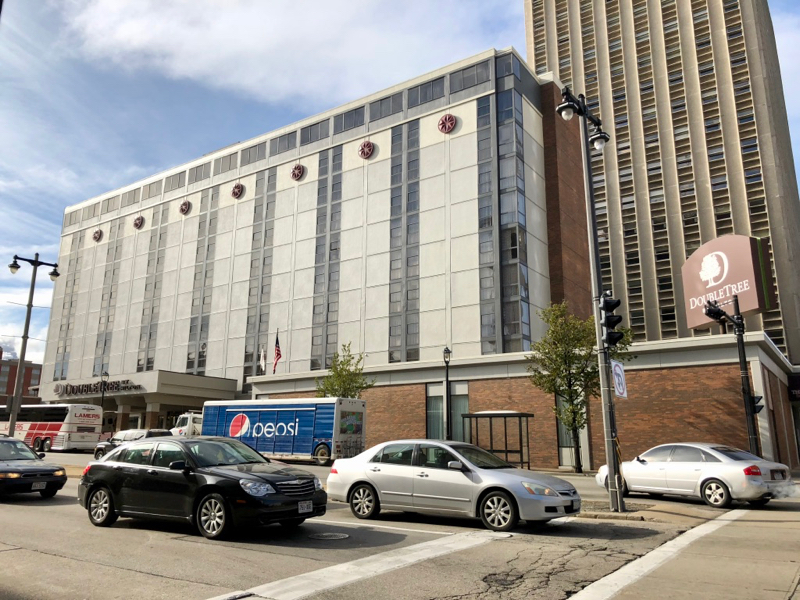 Andy is the president, publisher and founder of OnMilwaukee. He returned to Milwaukee in 1996 after living on the East Coast for nine years, where he wrote for The Dallas Morning News Washington Bureau and worked in the White House Office of Communications. He was also Associate Editor of The GW Hatchet, his college newspaper at The George Washington University.
Before launching OnMilwaukee.com in 1998 at age 23, he worked in public relations for two Milwaukee firms, most of the time daydreaming about starting his own publication.
Hobbies include running when he finds the time, fixing the rust on his '75 MGB, mowing the lawn at his cottage in the Northwoods, and making an annual pilgrimage to Phoenix for Brewers Spring Training.